There's nothing quite like aerial photography. Truly, the expansive nature of it can be so breathtaking. And the thrill of capturing such photos has to rank pretty high on a photographer's bucket list.
Even so, it's vital to have a solid understanding of how to take photos from the sky and what accommodations you need to account for to make aerial photography possible.
---
With this in mind, let's take a look at:
what is aerial photography;
a brief history of this genre of photography;
a list with 8 of the most important tips;
more things you should know for taking better aerial images from the sky.
---
---
What is Aerial Photography?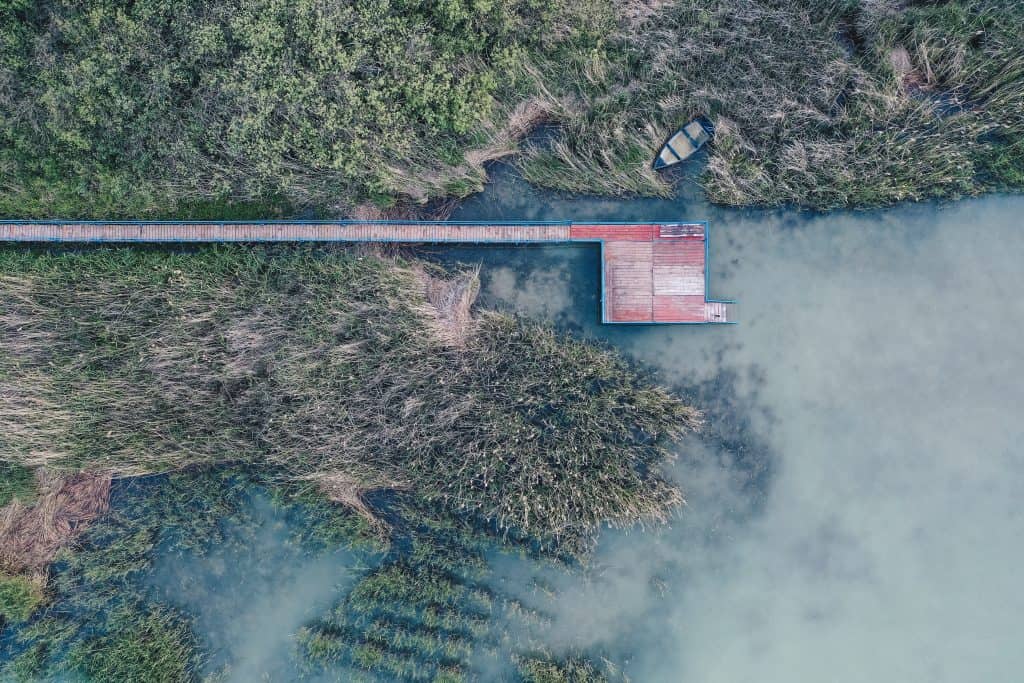 According to Encyclopedia Britannica, aerial photography is the technique of photographing the Earth's surface or even the Earth's atmosphere through the use of cameras that are used within an aircraft by a photographer or that are mounted on an aircraft like an airplane, helicopter, drone, rocket, balloon, blimp, parachute, or satellite.
---
A Brief History of Aerial Photography
Aerial photography has an interesting history. It was first put into practice by Gaspard-Félix Tournachon, a French photographer and balloonist. In 1858, he flew a balloon over Paris and captured photographs.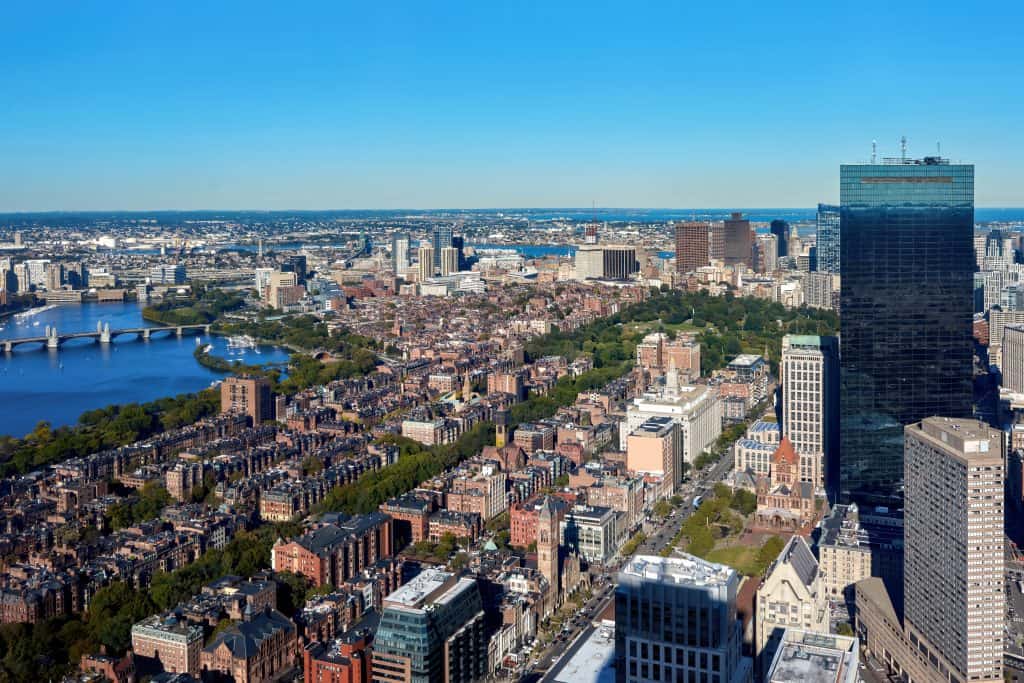 Unfortunately, these photos have not survived, and the earliest aerial photography still in existence today was taken in 1860 by James Wallace Black and Samuel Archer King. The subject of the photo is the city of Boston.
---
Tips for Taking Stunning Aerial Photography
If you're looking to take aerial photographs on your own, there are some things you need to know to go about it successfully.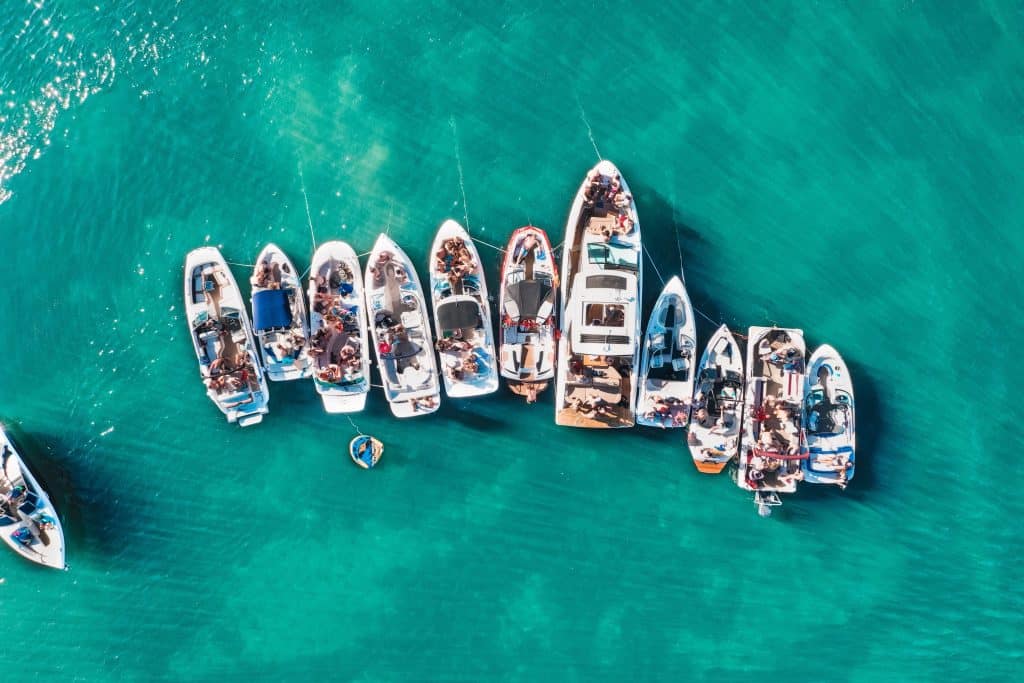 What follows is a collection of 8 tips you must keep in mind before you either book a flight or send up a drone to capture photos.
---
1. Choose the Right Drone or Aircraft
Before you snap a single photo, you need to figure out how you'll be taking them. Will you be going up in a helicopter to snap these shots or will you be using a drone?
If you've decided to pick a drone to enhance your aerial photography skills, make sure you check out our list of the top drones for photography.
If you plan on taking photos from a helicopter or airplane, you'll need to bring up the right equipment with you.
This means the right zoom lenses, safety straps, and perhaps most importantly, gloves.
Higher altitudes mean colder temperatures, and your hands will get quite uncomfortable trying to operate your camera with the cold wind rushing across your knuckles.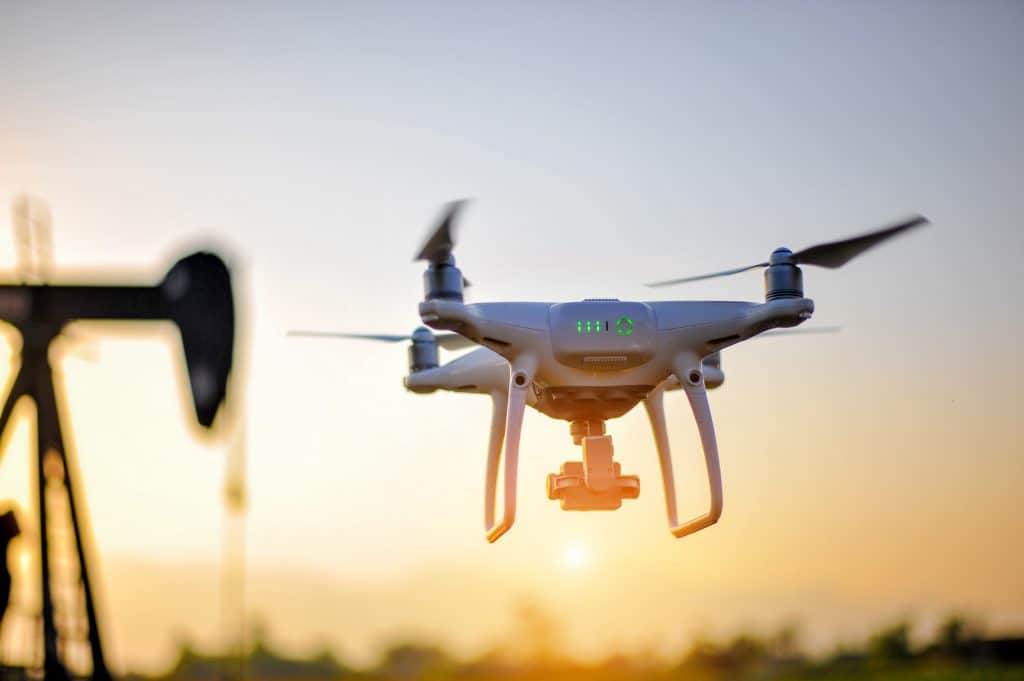 If you'll be using a drone instead, there's plenty of prep work to be done there as well. Take the time to practice flying your drone first before taking any photos.
You should also be aware of any laws governing the use of drones in your area before setting to the skies.

For instance, The US FAA began requiring the registration of UAVs weighing between .55 and 55 pounds in 2015. These are pretty lax rules but still something to be aware of before planning a photoshoot.
---
2. Pick a High ISO Range Camera
Because the light conditions and speed of travel will be changing rapidly when taking aerial photography, you'll need to ensure your camera supports a high ISO range. Using auto ISO is a good idea, too, when shooting during the golden hour, for instance.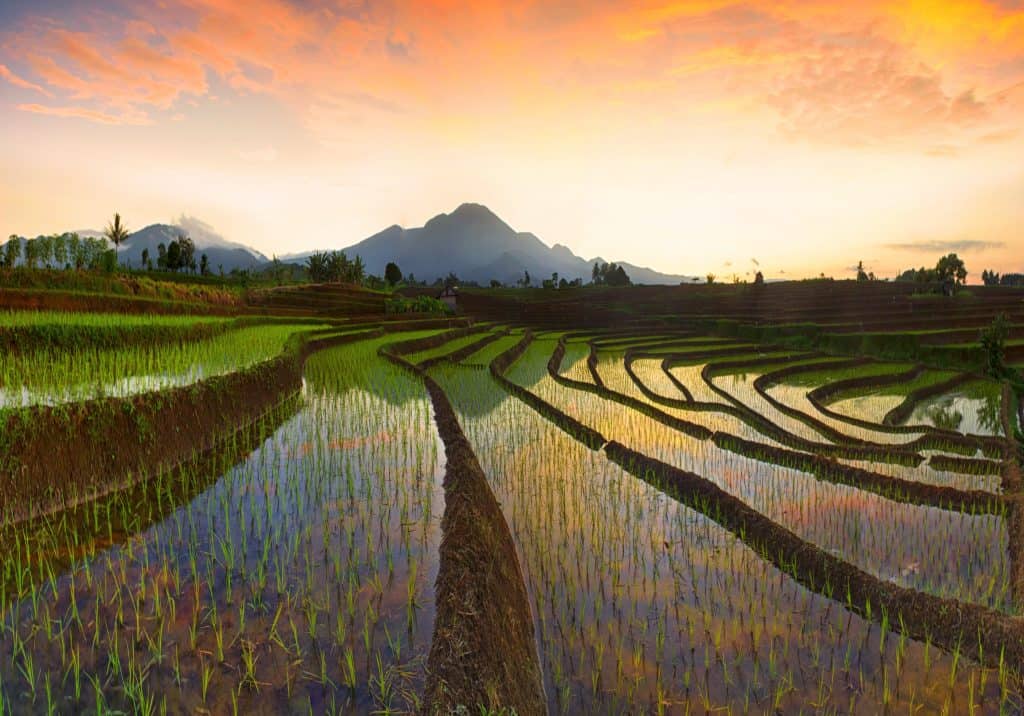 Sites like Shutter Muse recommend an ISO of 2000 or even higher to ensure it can handle the fluctuating light conditions. This will also make it more forgiving for the higher shutter speed and aperture you'll need to take in focus, beautiful photos. Make sure you take care of your camera settings properly.
---
3. Select the Right Shutter Speed
Since the camera will be moving around very quickly, and it'll be hard for anything to stay in focus, it's vital to use a really fast shutter speed when taking aerial photography. We recommend anything over 1/1000th of a second.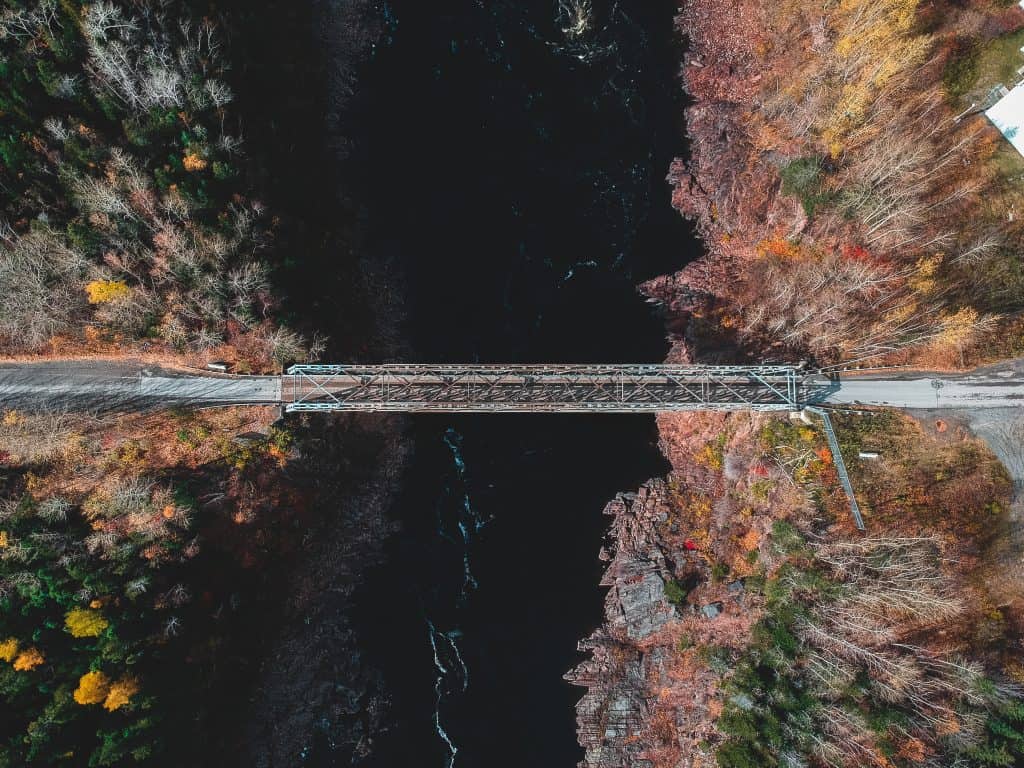 The longer the focal length, the faster you'll need to shoot. The higher the shutter speed, the higher the ISO will need to maintain a proper depth of field and get sharp images, so keep that in mind when adjusting your camera settings.
---
4. Select the Right Aperture
Along with ISO and shutter speed, you also need to pay attention to the right aperture. Doing so will ensure your photos are sharp at the edges as well.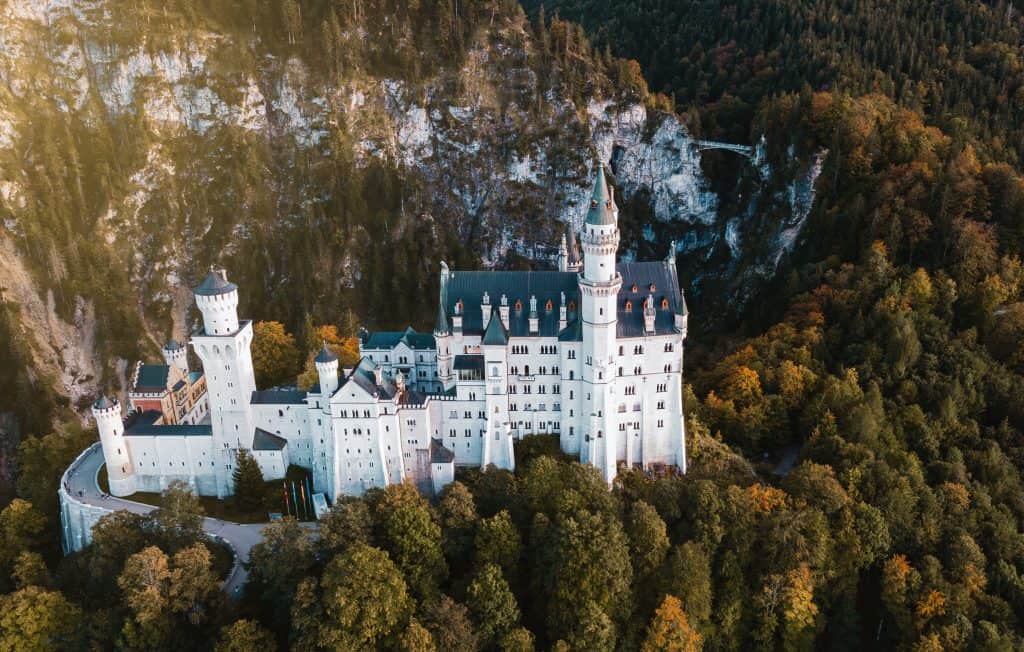 You should aim for an aperture of f/2.8 or more to achieve the greatest amount of clarity across the entire image, not just in the center. Some adjusting may be required to get the right balance between shutter speed, aperture, and ISO. 
This is why it's also important to make a note of the camera settings you used during a photo shoot and then review the photos you took to ensure they came out in a way you're happy with. If you're not happy, you can make some adjustments and make a note of them to use on a future photoshoot.
---
5. Keep Your Composition in Mind
Though you need to keep a lot of different settings in mind when taking aerial photography, you need to pay mind to the composition of your photos, too.
Even though you're taking photos from the air, you still need to keep your photographic basics in mind: depth and foreground, for instance.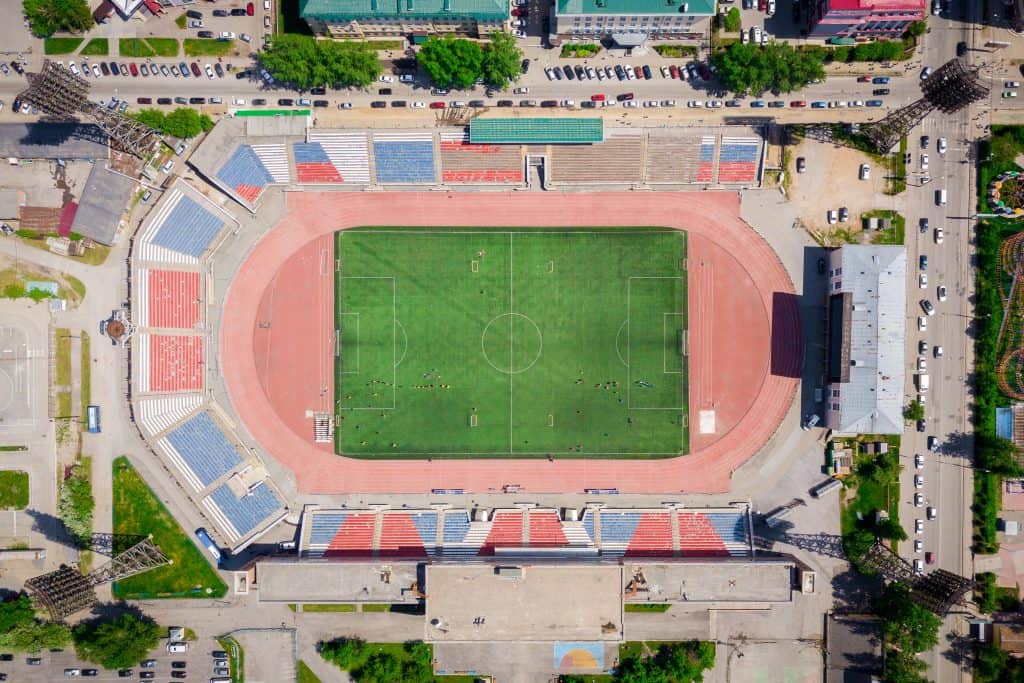 Come up with a list of the types of shots you want to capture before your camera hits the sky.
While there's always some element of being in the moment during a photo shoot, if you book a flight to take photos, you're going to want to make the best use of your time. And that means planning accordingly.
---
6. Take Photos at the Right Time of Day
Time of day always matters when taking photographs.
The golden hour is always lovely, but you'll need to take your flight path and a wide-angle of the sun into consideration here, even more so than when doing traditional landscape photography on the ground.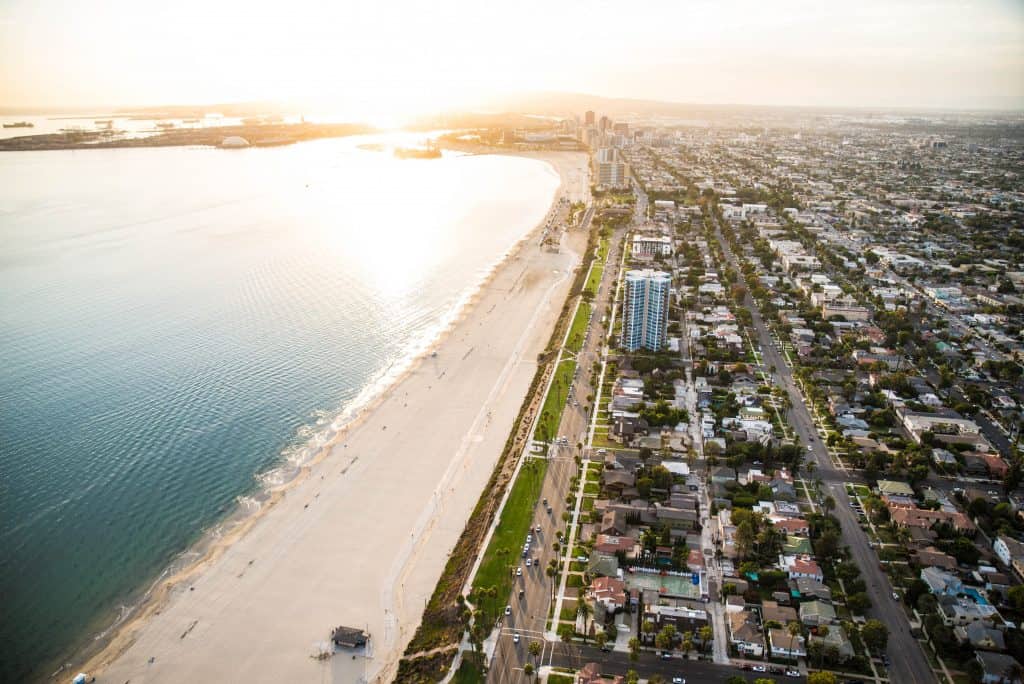 With aerial photography, there are no obstructions blocking the sun — from any direction — so you'll really need to be selective to get the look you want.
---
7. Remember Image Stabilization
Airplanes, helicopters, and drones all have something in common: vibration: The former two produce a great quantity more vibration than drones, but it's an issue for photography across the board.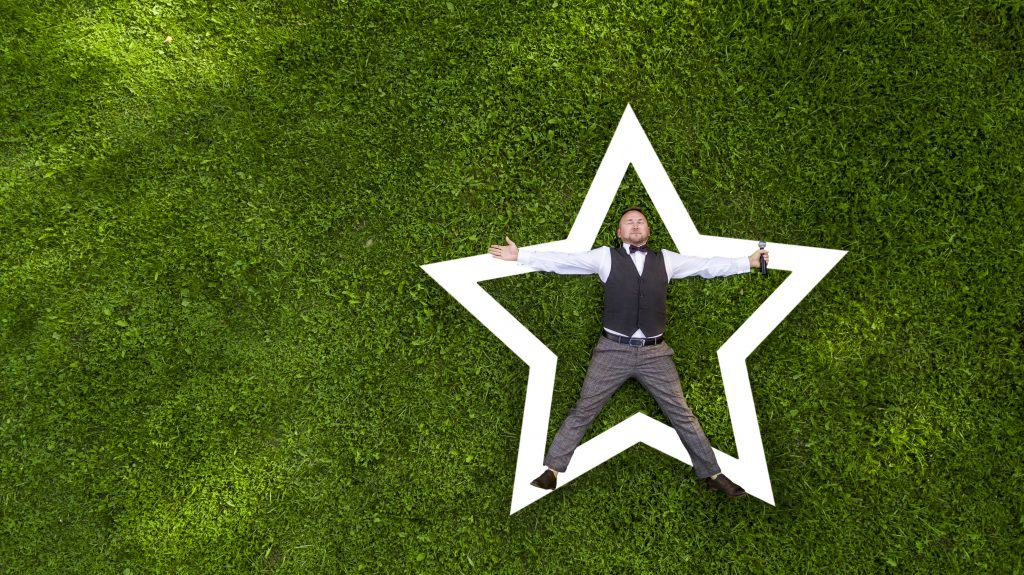 That's why having proper stabilization is key. If your camera has an automatic image stabilization feature, use it.
You should also check your drone to see that it stabilizes each photo it takes and if it adjusts for wind variances. Without these features, your aerial images will be blurry, out of focus, and unusable.
---
8. Post-Production is Your Friend
Even if you have all your settings right, there might be some distortion element left in the aerial images you capture. A common issue is perspective distortions that result from how high up in the sky you are when taking the photos. Think fish-eye, but to the extreme.
Photo editing software like Photoshop or Lightroom makes it easy to fix these distortions as well as make any other adjustments to your images.
Software like Luminar is also helpful because it has automatic perspective distortion tools that take some of the guesswork (and time spent) out of photography editing.
---
Use These Tips to Take Stunning Aerial Photography
Taking aerial photography is an exciting prospect. If you've never done it before, this quick collection of tips will hopefully help you hone in on the planning phase of taking aerial photos and help you ensure you have all the equipment you need for a successful shoot.
No one wants to get up in a helicopter only to realize they left something at home.
With these tips in mind, you won't be making assumptions about what works in aerial photography and instead, you'll be making concrete plans for what will work for your next photo shoot.
You can become a Shutterstock contributor with your amazing work or you can become a freelance photographer and start your own business. No matter the case, you'll ace it if you follow these pieces of advice. Good luck!