Is it worth it to become a Shutterstock contributor in 2023?
Whether you're a professional photographer, an aspiring artist, or a creative enthusiast desperately seeking to fund your avocado toast addiction, finding the right platform to showcase and sell your images is absolutely crucial.
Let's talk about Shutterstock, the big kahuna of stock media agencies. It's been around for ages, but is it still the cool kid on the block or just another controversial meme? 👀
In this article, we will delve into the rocky world of Shutterstock, explore its alternatives, and the exciting realm of selling images on your website. Buckle up, folks, it will be one heck of a pixel-packed adventure!
Shutterstock throughout the years
Like any other new thing on the market, jumping into it while it's still hot is best. Many platforms were a heck of a profit when they first launched, but they also changed their policies throughout the years. But was Shutterstock any different?
Here is a brief history of Shutterstock's payout rates:
2005: Shutterstock launched with a flat-rate commission of $0.25 per image download, which was fairly decent then.
2010: Shutterstock introduced a tiered earnings structure, with contributors earning more for each level of sales – so they say.
2015: Shutterstock increased the flat-rate commission to $0.38 per image download – hopeful sounding but wouldn't be enough for what comes next
2020: Shutterstock moved to a percentage-based earnings model, with contributors earning up to 40% of the price paid by the customer for each image download. But with a HUGE twist. And people are not happy about it. Let me explain why…
To summarize, before June 1, 2020, Shutterstock's payment structure was based on the total sales generated since the account's inception. When a photographer made a sale, they received a minimum payment of $0.25 per photo sold. As their sales accumulated and reached the milestone of $10,000 in total earnings, the payment per photo gradually increased to $0.38.
We all know that microstock prices are already pretty low, with photos selling for just a few dollars or even over $100 for those fancy extended licenses. But hey, the silver lining is the potential to sell the same content multiple times, right? Well, hold on to your tripods because here's where it gets absurd.
What's the deal with Shutterstock now?
Shutterstock's new CEO, Stan Pavlovsky, decided it was a brilliant idea to slash photographers' earnings by a jaw-dropping 70% in a move that could only be described as a masterpiece of short-sightedness. And get this, folks, he didn't even have the courtesy to lower the prices of the photos! Talk about a punchline that falls flat.
But wait, there's more! To add insult to injury, this news was casually emailed to contributors. And you know how much time they graciously provided to process this life-altering change? A whopping… drumroll, please… six days! Six measly days to adjust their budgets, rethink their life choices, and ponder the mysteries of the universe. Comedy gold, right?
So, in essence, today's official earnings values for images, illustrations, and vectors are as follows:
Image Levels
Number of image licenses
this calendar year
You earn
Level 1
Up to 100
15%
Level 2
101 to 250
20%
Level 3
251 to 500
25%
Level 4
501 to 2,500
30%
Level 5
2,501 to 25,000
35%
Level 6
Over 25,000
40%
Earnings breakdown for photos, illustrations, and vector
And for videos:
Video Levels
Number of video licenses
this calendar year
You earn
Level 1
Up to 10
15%
Level 2
11 to 50
20%
Level 3
51 to 250
25%
Level 4
251 to 5,000
30%
Level 5
5,001 to 25,000
35%
Level 6
Over 25,000
40%
Earnings breakdown for videos
As if that wasn't enough to make photographers break out in a cold sweat, brace yourselves for the next act. The new commission model has bid farewell to the concept of total sales and opted for a grand reset to Level 1 for all photographers starting January 1st. Yes, you heard that right.
So, even if you fought tooth and lens to reach the coveted Level 6 and enjoy a 40% commission, SURPRISE! January arrives, and you're sent spiraling back to Level 1, where a measly 15% commission awaits you. It's like taking one step forward and tumbling ten steps back. Cue the facepalm.
Pros and Cons
To be honest and show both sides of the coin, let's compare both the pros and cons of becoming a Shutterstock contributor.
✨ Pros
Additional Income: As a Shutterstock contributor, you can earn money by licensing your photos or videos to a broad customer base.
Passive Income: Once your content is uploaded and approved, it can generate passive income over time as customers continue to license and utilize your work.
Global Audience: With over 1.5 million users in over 150 countries, Shutterstock provides a platform for your images to reach a diverse global audience.
Flexible Work Schedule: As a contributor, you can submit images to Shutterstock at your own pace and from anywhere worldwide, offering flexibility in your work schedule.
Skill Development: Shutterstock offers valuable resources such as tutorials, webinars, and blog posts that can help you enhance your photography skills and broaden your knowledge.
Mobile App Convenience: The Shutterstock mobile app, available for Android and iOS users, allows you to upload photos on the go and track sales efficiently conveniently.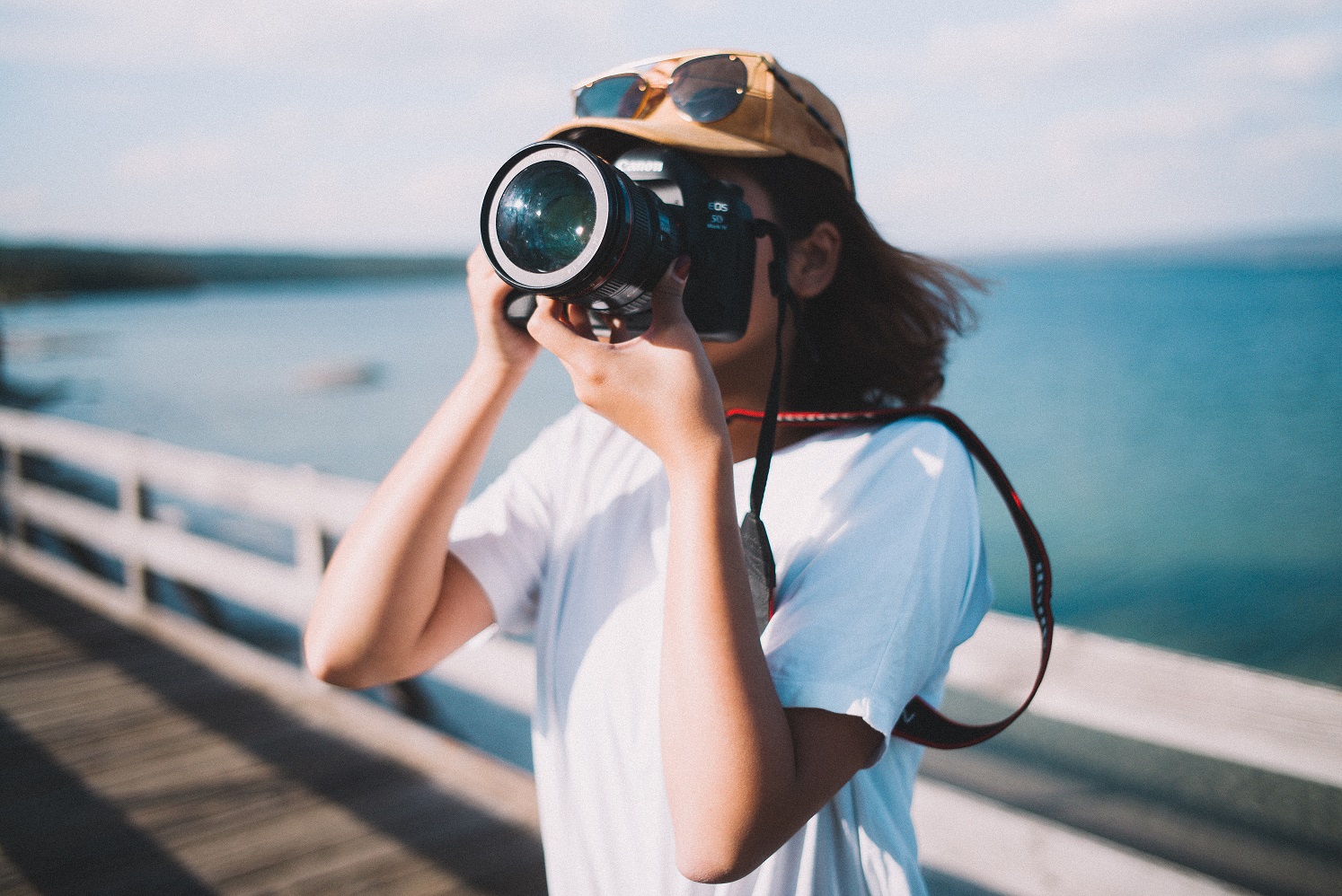 😬 Cons
Royalty Rates: Although Shutterstock offers competitive royalty rates, it's important to note that they may be lower than other platforms, impacting your potential earnings.
Stringent Quality Standards: Shutterstock maintains strict quality standards for submitted images. This necessitates capturing high-quality photos that are well-lit, focused, and without distractions.
Competition: The existence of numerous stock photo agencies means you'll need to find ways to make your images stand out.
Market Saturation: Certain popular topics or genres may already have an oversupply of content, making it more challenging for your work to gain visibility and be licensed.
Time to Build a Successful Portfolio: Building a successful portfolio of images that consistently sell well takes time and effort. Immediate substantial earnings should not be expected.
Concerns of Contributor Engagement: There have been reports of Shutterstock not adequately addressing contributors' concerns or suggestions.
Image Rejection: Some contributors have reported declining images without apparent or valid reasons.
Online criticism
Of course, the changes weren't received well by the community. The reasons for the criticism are many and pretty valid. These are some of them summed up:
Changes were communicated only six days in advance. Talk about being caught off guard! It left many scrambling to find alternative sources of income, desperately trying to avoid being left high and dry.
The lack of communication from Shutterstock only fueled the flames of discontent. Some photographers even found their accounts closed for simply asking questions.
Instead of building upon the previous year's sales, the pricing structure takes a nosedive every 1st of January. It's like hitting the reset button on an already uphill battle. It's enough to make anyone's head spin.
Net earnings were reduced by about 70% – ouch.
Shutterstock's hypocrisy in trying to spin the news as a positive thing. They claimed it would create better opportunities and reward performances. Ah, the sweet sound of corporate-speak.
And let's not overlook the timing. This decision dropped like a bomb during the dark depths of the COVID-19 pandemic, when photographers were already grappling with the harsh realities of a world turned upside down.
But don't take my word for it. If you want real feedback and unhappy customers and artists, Trustpilot accurately represents Shutterstock's downfall. Out of 2100 reviews on Trustpilot, 93% are one-star reviews from customers and contributors.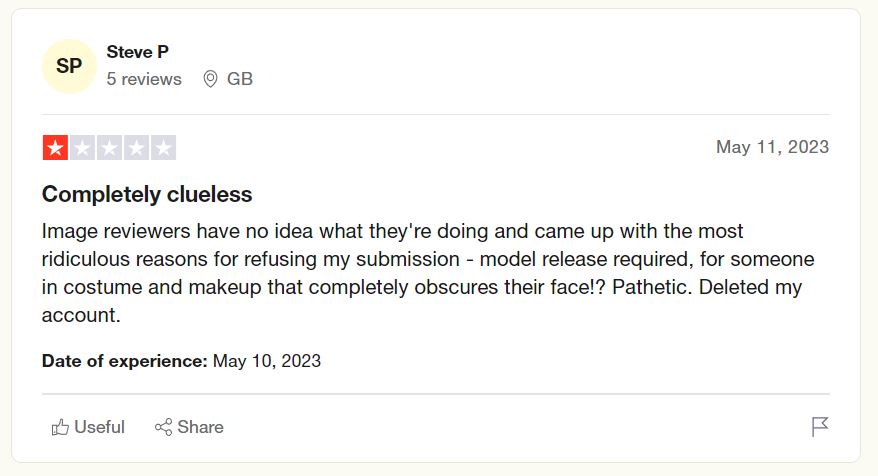 Not only the payout rate is ridiculous, but they made it even harder to get uploaded images approved.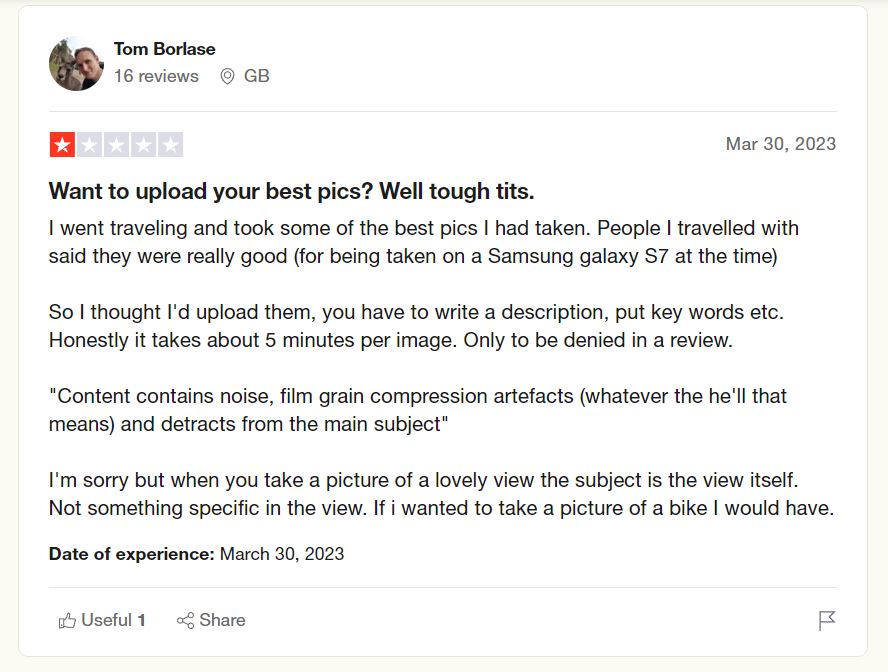 After the wave of backlash in 2020, Shutterstock gave a statement on Facebook but still hasn't made any changes to help its contributors – the backbone of the company- and people STILL are upset about it.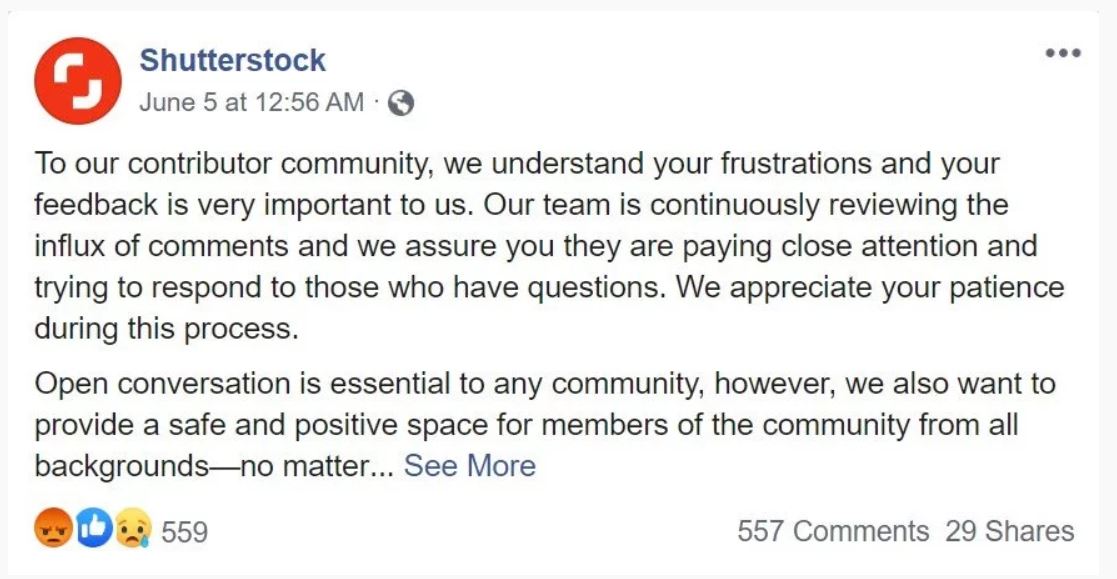 Needless to say, even after this, there haven't been any real changes or anything addressed in particular, which made people even more upset. Some even boycotted Shutterstock and removed all of their images.
Becoming a Shutterstock contributor
So, in case you still want to try Shutterstock despite its downsides, let me show you how to become a contributor and their submission guidelines, payout system, and review process.
What you need to know before you start
If you aspire to become a Shutterstock contributor and embark on a journey in freelance photography, it's crucial to equip yourself with the knowledge and skills necessary for success. To help you on this path, we recommend exploring this guide that will give you valuable tips on how to become successful at freelance photography.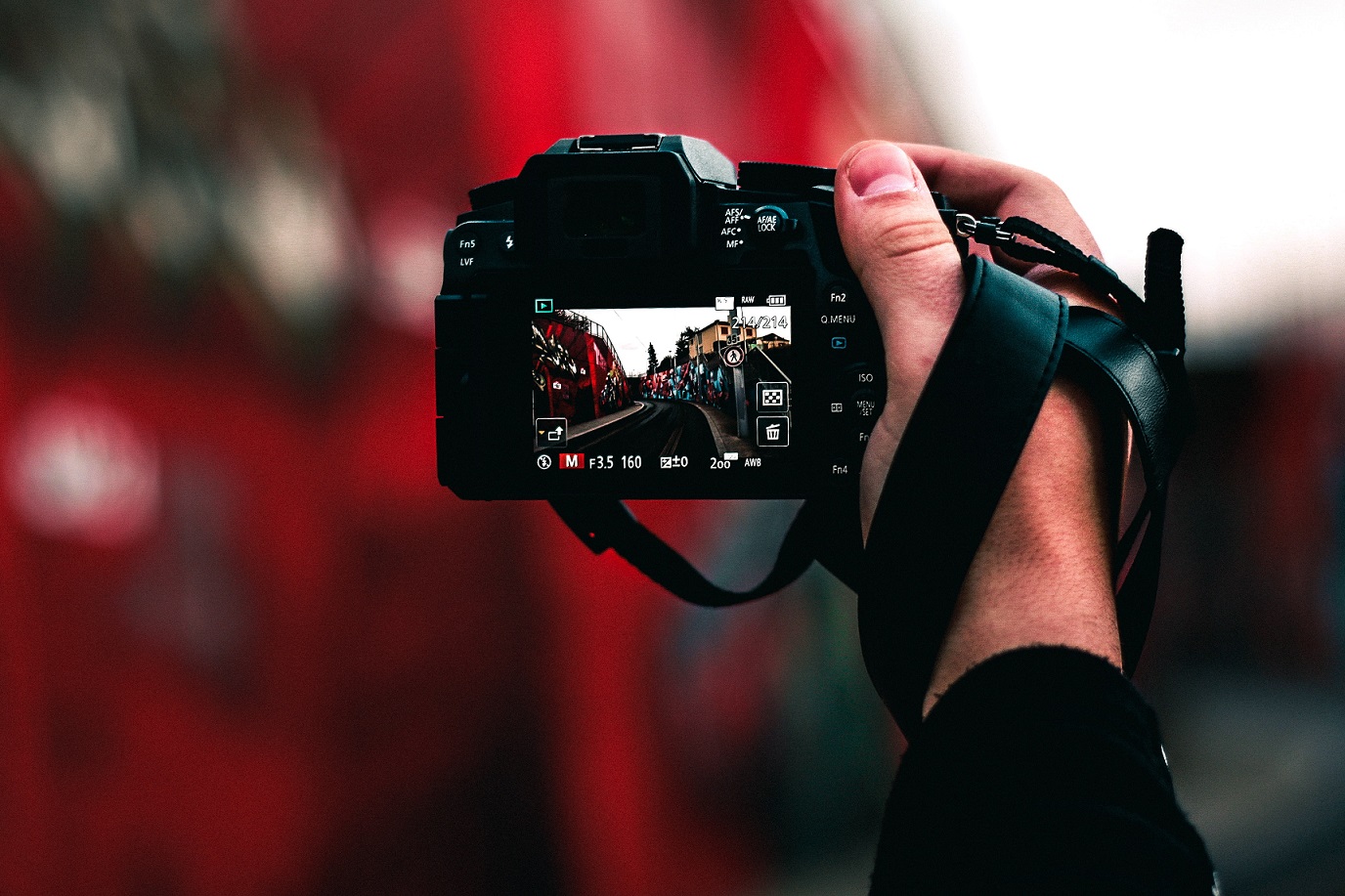 Signup Process
To sign up for Shutterstock as a contributor, you must create an account on their Contributor platform. Remember that while you can have a free customer account on their main site, you can only submit your photos and other content through the Contributor platform.
🟢Step 1 – Visit Shutterstock: To start the sign-up process, visit the Shutterstock website and click the Sell Content link in the top menu on the left.
🟢Step 2 – Fill Out The Application: Once the application loads, you must enter your information, such as your name, username, and email address. If you're registering as a business, enter your business name.
🟢Step 3 – Verify Your Email: Shutterstock will send you a verification email when you submit your application. All you have to do here is follow the instructions in that message to verify your email, which involves clicking a link.
🟢Step 4 – Add Your Address: Once you have verified your email address, you must enter your residential and mailing address. If you're not from the USA or a country where English is an official language, keep in mind that you must fill out the form in English i.e. no special characters will be accepted.
🟢Step 5 – Start Uploading Your Photos: Congratulations, you are now an official Shutterstock contributor and can start uploading your photos to the platform.
Review Process
It's worth mentioning that your first submission requires you to submit a few of your best photos or illustrations. In-house experts will review this content to ensure it meets the platform guidelines and quality expectations.
Once this first submission is approved, your account will be fully active. This means that you will be able to submit any file without limitation.
On top of the initial review, your images will still be regularly reviewed when you upload them to Shutterstock. You can submit the photos for review once you have uploaded images and added keywords and other information.
Shutterstock will send you a confirmation email that your submission is in review, and when the review process is done, you'll get another email. Typically, the review process may take up to 72 hours, although it may take up to 7 days during peak submission times.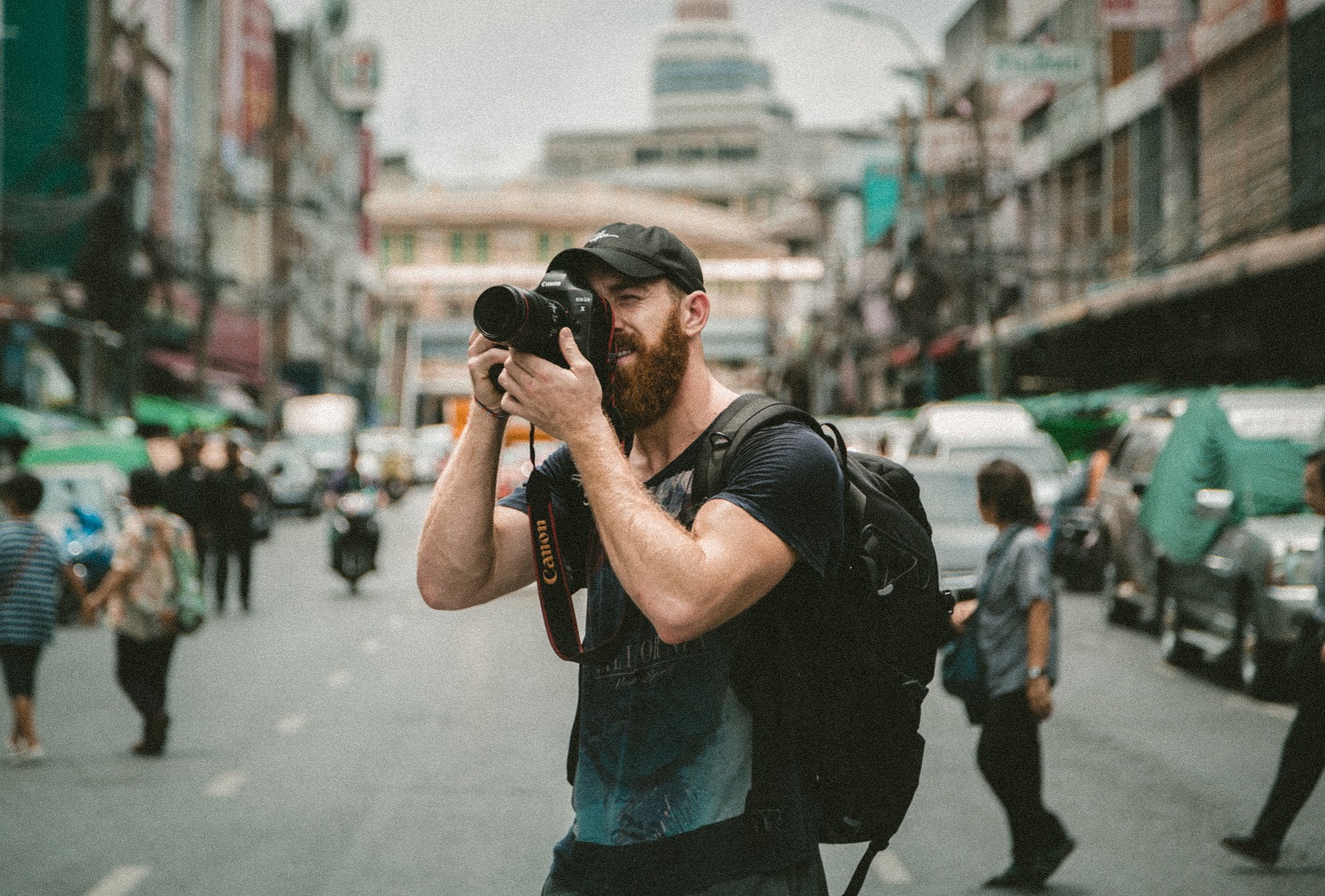 Guidelines
Shutterstock maintains specific guidelines for the submission of images to its platform. These guidelines encompass various aspects, such as image quality, copyright, and content.
✨Image Quality: To meet Shutterstock's quality standards, images must adhere to the following criteria:
Resolution: Images should have a minimum resolution of 4 megapixels.
Focus: Images must be clear, sharp, and devoid of blurriness.
Lighting: Images should exhibit adequate lighting without excessive shadows.
Composition: Images must be well-composed and devoid of distracting elements.
✨Copyright: Shutterstock mandates that all submitted images be original and free from copyright infringements. Consequently, it is essential to either possess the copyright for the image or obtain permission from the copyright holder before submitting it to Shutterstock.
✨Content: Shutterstock has established content guidelines that restrict certain types of images from being submitted. The prohibited content includes:
Nudity or explicit sexual content
Violence or graphic gore
Hate speech or discriminatory elements
Material protected by copyright
Non-original images
Contact their support team for assistance if you are uncertain whether an image aligns with Shutterstock's guidelines.
There are also general tips that you have to follow when making stock photography to be successful, and we have a full guide covering this topic.
Payouts
When it comes to payments, Shutterstock pays its contributors monthly. Payments are issued through PayPal, Skrill, and Payoneer. They are calculated at the end of the month for contributors who meet their minimum payout amount and sent to your preferred payment method. A few things to keep in mind when it comes to payments include:
Your earnings will be reset to zero if you meet the payout requirements.
You will receive a notification email about the upcoming payment.
Payments are usually sent between the 7th and the 15th day of the month.
What about alternatives?
Based on what I have told you so far…it's not worth relying solely on Shutterstock as your main source of income.
However, you can view it as a passive side hustle objective. It's worth putting your content on multiple platforms and claiming income from all of them. Here are some alternatives you can consider:

Adobe Stock: Adobe Stock pays its contributors a 33% commission on each sale. This means that if a contributor sells an image for $10, they will earn $3.30. We compiled a comprehensive guide on how to become an Adobe Stock contributor to get you started in no time.
iStock: iStock pays its contributors a royalty rate of 15% on each sale. This means that if a contributor sells an image for $10, they will earn $1.50.
Dreamstime: Dreamstime pays its contributors a 25-60% royalty rate on each sale. This means that if a contributor sells an image for $10, they can earn anywhere from $2.50 to $6.00.
Alamy: The commission rate is 50% for images that are exclusive to Alamy and 40% for images that are not exclusive. Alamy also offers a 100% commission rate to student photographers. If you're interested in joining this platform and don't know where to start, check our guide on how to become an Alamy contributor.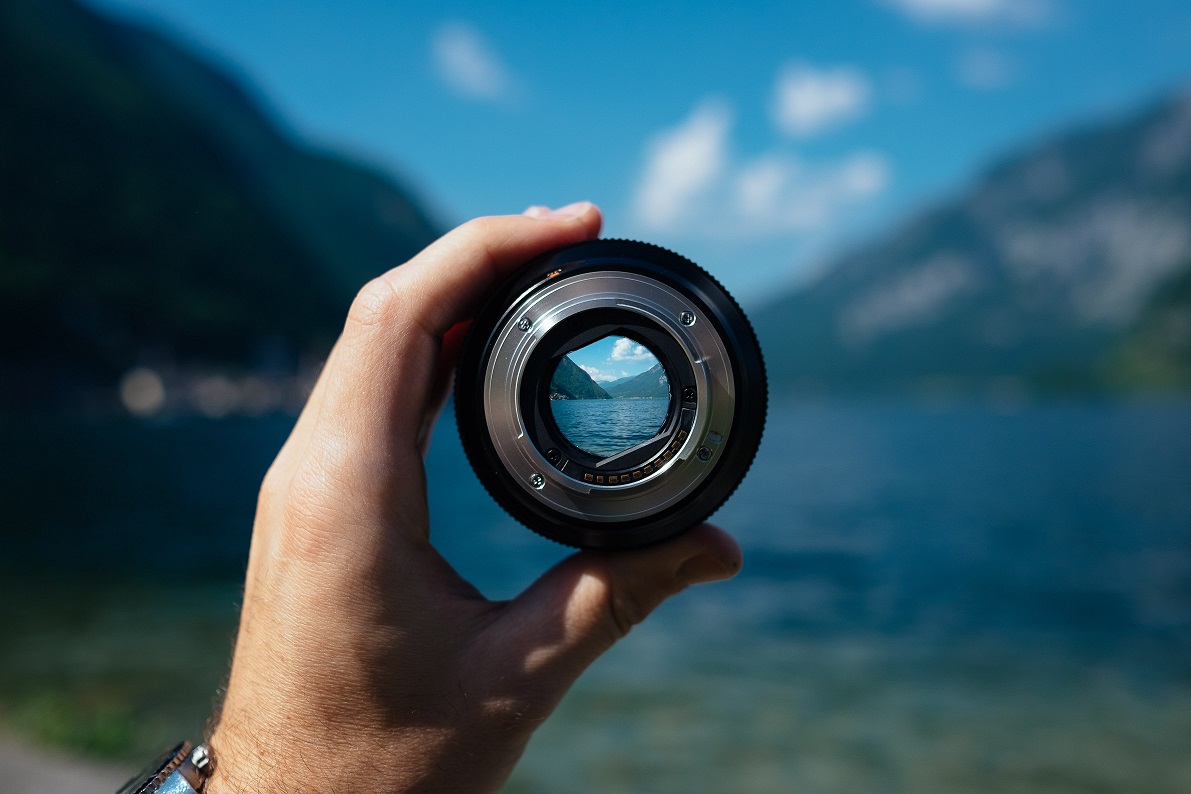 The amount of money that a contributor can earn on all of these platforms can vary depending on a number of factors, including the type of asset, the type of license, and the subscription or pack that the user has.
But checking their Trustpilot pages and online feedback, customers and contributors are still not 100% happy with these.
That way, the smartest move would be to upload the same images on all of these platforms and gain revenue from everywhere, sell them on your own website and keep all the money. No cuts, no funny business.
Keep 100% of your sales
The best option to keep 100% of your sales is to sell your images and graphics directly on your WordPress website. Indeed, your website (especially if it's new and you're not a big name in the industry yet) may not have the organic reach of big platforms like Shutterstock or Alamy. Still, you can work on increasing your traffic by building a following on social media, reaching better ranks with SEO, running paid ads, and more. This option might not generate immediate results, but it's a better choice in the long run. Therefore, while your website is in its early stages, we recommend you keep around other income sources – like those big stock platforms we discussed earlier.
You can leverage tools like Modula to effectively showcase and sell your images. A feature-rich WordPress gallery plugin that lets you display images in many juicy ways. It's even super easy to install and activate it. You don't need to be a tech wizard to handle it.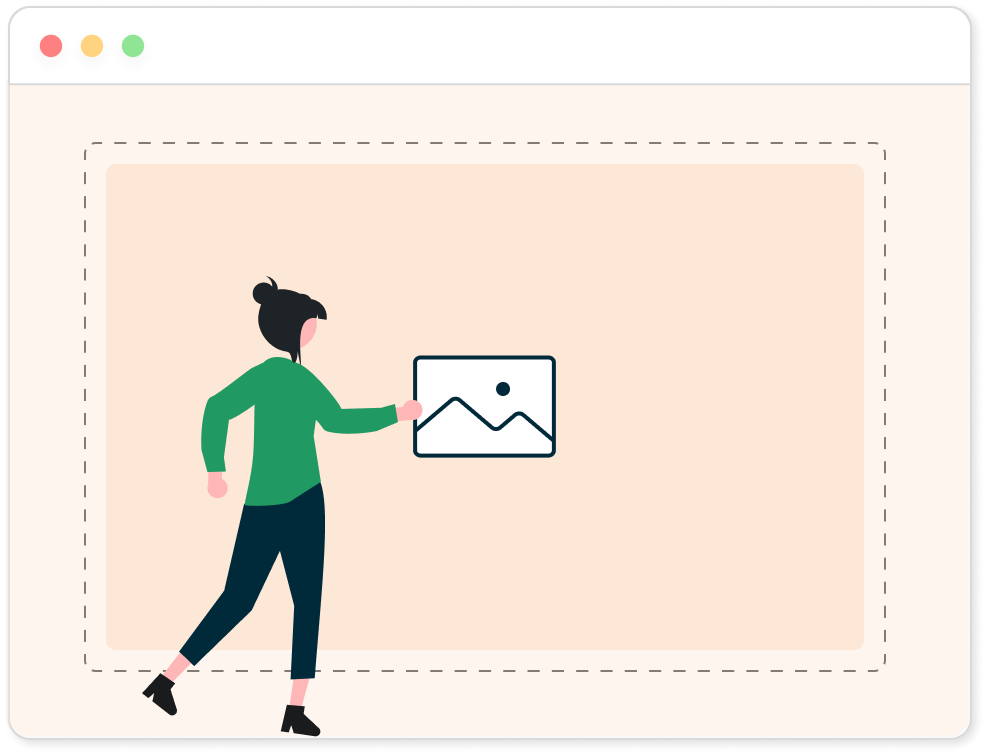 Modula Gallery Plugin
Create stunning, responsive photo galleries with ease. Showcase your work, captivate your audience, and boost engagement. You don't need to do any coding.
Modula can help you with the following:
Drag-and-Drop Builder: Modula offers an intuitive drag-and-drop builder that makes it easy to create custom galleries. You can rearrange images, adjust sizes, and create unique layouts effortlessly.
Customizable Gallery Layouts: Modula provides a variety of pre-designed gallery layouts, including grids, masonry, sliders, and more. You can choose the one that best suits your style and customize it to match your website's aesthetic.
Hover Effects: Add interactive and eye-catching hover effects to your images within the galleries. Modula offers a range of options such as zoom, blur, grayscale, and overlays to enhance the user experience.
Lightbox and Full-Screen Mode: Modula includes a lightbox feature that lets visitors view images in a larger format without leaving the gallery page. Users can also activate a full-screen mode to immerse themselves in your visual content.
You can make an awe-inspiring image portfolio on your landing page, and from there, you can take the users to your available images for sale.
You're in luck because there's a handy tool called Easy Digital Downloads (EDD) that can make selling your images a breeze. It's a game-changer you don't want to miss. Specifically created for WordPress websites, this powerful plugin streamlines the process of selling digital files effortlessly.
EDD has gained immense popularity among eCommerce enthusiasts, making it a go-to tool for photographers and creative professionals. With EDD, selling your photos online becomes a breeze, offering you the added benefit of keeping all the earnings for yourself. The best part? The core plugin is free, providing you with many features to enhance your online photo sales.
Suppose you're hungry for more insights and strategies on selling your images through EDD, other platforms, and your website using Modula and Easy Digital Downloads. In that case, our complete guide has got you covered. Get ready to unlock the secrets of successful image sales and take your online photography business to new heights!
Selling images on your own website empowers photographers to maintain control over their work, brand, and pricing. So why not go for it? 💪
Wrapping up…
So, while Shutterstock may have been a go-to platform for many photographers in the past, it's clear that the tides have shifted. The changes in Shutterstock's commission structure, the lack of transparency, and the significant reduction in earnings have left many contributors feeling frustrated and undervalued. Platforms like Adobe Stock, iStock, and Alamy offer viable options for those looking to expand their reach and diversify their income streams.
However, one of the most exciting prospects lies in selling images on your own website. With the help of tools like Modula and Easy Digital Downloads, you can take full control of your photography business. It provides financial benefits and fosters a deeper connection with your customers.
Embrace the opportunities that align with your goals and values, and remember that your creative vision deserves to be celebrated and rewarded in a way that empowers you as a photographer.
And don't forget about the awesomeness of Modula! Try it now today and see how it can elevate your portfolio and help you sell your images on your own website 🥳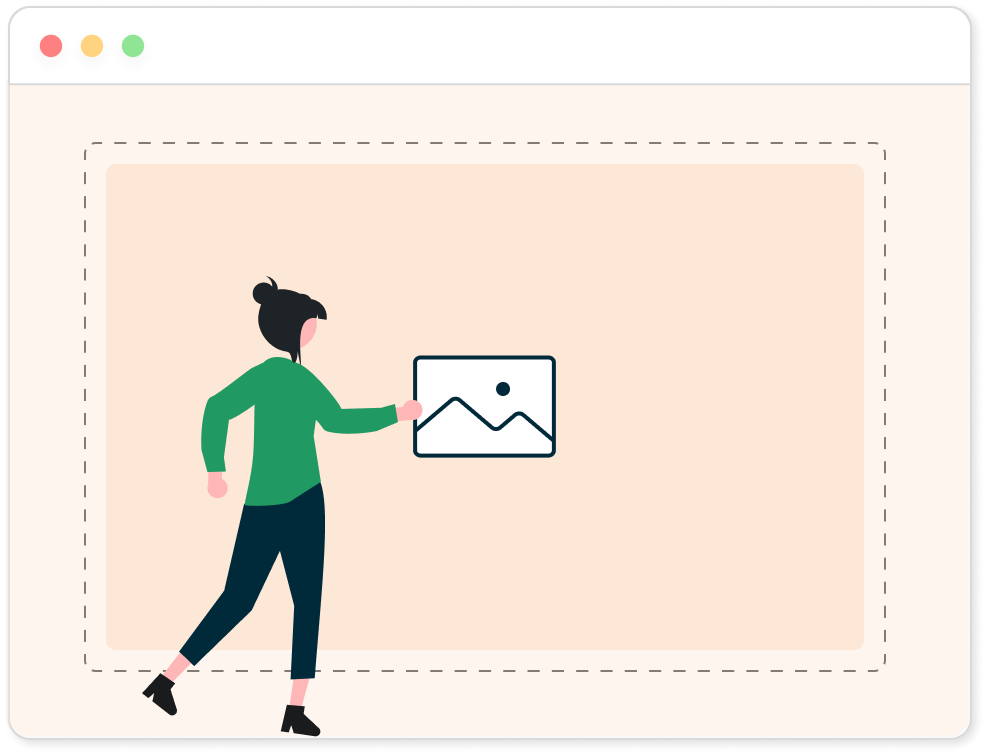 Modula Gallery Plugin
Create stunning, responsive photo galleries with ease. Showcase your work, captivate your audience, and boost engagement. You don't need to do any coding.
F. A. Q.
✔️How much do Shutterstock contributors get paid?
Contributors on Shutterstock receive a portion of the licensing fees customers pay, determined as a percentage of the price. Six different earning levels are available, with rates ranging from 15% to 40%.
✔️Does Shutterstock really pay?
Indeed, Shutterstock ensures compensation for its contributors. Since its establishment in 2003, the company has disbursed more than $1 billion to the individuals who contribute their content to the platform.
✔️Is it hard to be a Shutterstock contributor?
The difficulty of being a Shutterstock contributor can vary based on several factors, such as your photography skills, marketing abilities, and the level of competition in the market. However, initiating your journey as a contributor on Shutterstock is a simple process. As long as you have reached the legal age of 18, registering and commencing the submission of your content can be accomplished effortlessly by following a few straightforward steps.
✔️How much does a Shutterstock contributor earn per download?
There are six earnings levels ranging from 15% to 40%. For example, if a contributor has an earnings level of 15% and a Standard license is purchased for an image, the contributor will earn $0.20 for each download.
✔️Does Shutterstock pay monthly?
Yes, Shutterstock pays monthly.
✔️What is the minimum payout on Shutterstock?
The minimum payout for Shutterstock is $35, and the maximum is $2000.
✔️What type of photos sell best on Shutterstock?
The types of photos that sell best on Shutterstock may vary depending on the time of the year and current trends. However, some of the most popular categories include:
People: When it comes to marketing and advertising purposes, photos of people are in high demand.
Nature: Usually, photos of landscapes, flowers, and animals are also popular.
Business: Photos of businesses and workplaces are often used for presentations and marketing materials.
Technology: Regarding product reviews and tutorials, images of computers, smartphones, and other gadgets are popular.
Food: If you're looking into cookbooks, recipe websites, or food blogs, images of food are in high demand.
Apart from the broad categories mentioned earlier, various specific types of photographs have a high demand on Shutterstock. For instance, capturing images of trending subjects like the latest fashion trends or popular sporting events can yield significant success in terms of sales.
✔️Which stock photo site pays the most?
Alamy offers a generous compensation model for its contributors, providing them with 50% of every sale made. Furthermore, contributors are not obliged to sell their content exclusively through Alamy, allowing them to explore other avenues for selling their work.
✔️Why Shutterstock rejected my photos?
Multiple factors may lead to the rejection of your photos by Shutterstock. Some common reasons include:
Low quality: Shutterstock maintains stringent standards for image quality. Your photos should exhibit proper lighting, sharp focus, and minimal distractions.
Copyright infringement: Submission of copyrighted images is prohibited by Shutterstock. If your photo is copyrighted, it will not be accepted.
Technical issues: Shutterstock has specific technical requirements for images, such as format and size. Failure to meet these requirements may result in rejection.
Duplicates: Submitting duplicate images is not permitted on Shutterstock. It will be rejected if your photo duplicates an existing image on the platform.
✔️How long does it take to start earning on Shutterstock?
Once you have successfully had many images accepted, typically ranging from 50 to 100, it is reasonable to expect your first sale within a week or two. However, it's important to note that the exact timeframe for making a sale will ultimately depend on the quality and appeal of your images.
✔️How do I become successful on Shutterstock?
To increase your chances of success on Shutterstock, consider the following tips:
Upload high-quality images: The quality of your images plays a crucial role in your success as a Shutterstock contributor. Ensure your photos are well-lit, sharp, and free of distractions.
Utilize relevant keywords: When submitting your images, use appropriate keywords that potential buyers are likely to search for. This will enhance the visibility of your images in search results.
Promote your portfolio: Don't limit yourself to passive waiting. Take the initiative to promote your portfolio on social media and other online platforms to attract potential buyers.
Practice patience: Building a prosperous portfolio and generating a substantial income on Shutterstock takes time. Don't be discouraged if you don't see immediate results. Stay persistent by consistently uploading high-quality images, employing relevant keywords, and actively promoting your portfolio. Success will come with time and dedication.
Maintain consistency: Increasing your likelihood of success involves regularly uploading new images. Aim to add a few fresh images each week to your portfolio.
Stay informed about trends: Stay abreast of the latest photography trends and the preferences of your target audience. By staying updated, you can ensure that your images remain relevant and meet the needs of potential buyers.
Embrace creativity: Be willing to explore various techniques and styles without fear. Experimenting with different approaches can make your images more distinctive and increase their chances of standing out in the vast collection.
✔️Can I sell iPhone photos on Shutterstock?
If the quality standards are met, it is indeed possible to sell photographs taken with a phone on Shutterstock.
✔️Does it cost money to sell on Shutterstock?
No, selling on Shutterstock is completely free.
✔️How many photos should I have on Shutterstock?
Establishing a monthly goal for yourself is advisable, such as adding 50 to 100 images to your portfolio. This approach helps to build momentum in terms of your earnings. By increasing the number of images in your portfolio, you can expect a more consistent and steady revenue stream.
✔️Should I watermark my photos on Shutterstock?
Shutterstock has a policy against using watermarked images, even if the watermark contains your logo. To deter theft, Shutterstock automatically applies a watermark to the images. Once a user makes a purchase, they will receive a clean, unwatermarked image.
✔️Who pays more for photos, Getty or Shutterstock?
Determining which stock photo agency pays higher for photos can be challenging since Getty Images and Shutterstock offer different royalty rates to their contributors. However, as a general observation, Getty Images offers higher payments for photos than Shutterstock.
✔️What size image is best for Shutterstock?
To ensure the submission of acceptable file dimensions to Shutterstock, all images must have a minimum resolution of 4 megapixels (MP) or larger and be set at the highest quality settings. When using your web browser, the maximum file size for photos is 50 MB, while for EPS files, it is 100 MB.
✔️Is it worth uploading photos to Shutterstock?
It is important to highlight that Shutterstock is not typically considered a career opportunity. However, many photographers utilize Shutterstock as a means to earn additional income on the side.
✔️How long does Shutterstock take to approve?
The review process for your Shutterstock content typically takes 1-2 days to complete. However, during periods of high submission volumes, the review process may take a bit longer.
✔️Can you get banned from Shutterstock?
You can get banned if you break their ToS (Terms of Service). If your account on Shutterstock is terminated, obtaining written authorization from Shutterstock before creating a new account is necessary. Failure to obtain such authorization and attempt to establish another account may result in a permanent ban from the Shutterstock website and its affiliated websites and services.
✔️Can I sell my Shutterstock images elsewhere?
Shutterstock allows you to sell the same images on other websites as well. Remember that you'll be selling images in non-exclusive mode, which means you'll get a lower rate every time someone buys any of your images.
✔️Does Shutterstock accept edited photos?
Both images and vectors offer substantial flexibility for editing, allowing for a wide range of modifications. However, it is important to consider certain limitations. When dealing with images labeled as "Editorial Use Only," edits should be limited to minor adjustments that do not significantly alter the depicted content. For instance, cropping an image of a celebrity is permissible, but it should not affect the representation or portrayal of the subject in the image.
✔️Is it better to sell photos on Shutterstock or Adobe Stock?
Both vary greatly regarding quality standards, payout fees, consumer base, etc. Why not try both, and you have double the possible earnings?
✔️How many photos can I upload to Shutterstock?
Shutterstock allows contributors to submit a maximum of 500 images and up to 100 video clips within a period of 7 days. It's important to note that this 7-day timeframe operates as a rolling window. For example, submit 100 images on a Monday, followed by 200 on Wednesday, and an additional 200 on Friday of the same week. You will be unable to submit more content until the subsequent Monday.
✔️Does Shutterstock accept JPG?
Yes, Shutterstock does accept JPGs.
Get Modula PRO
Get the #1 gallery plugin for your WordPress site today!
100,000+ happy users
Shutterstock pay only $0.10 per image and $0.67 per video clip. Don't bother starting there.

I Don't Think So,.. Hahah Most of My Pictures sold at $ 0,66 per image..

Is it? Mine still 0.10 per image. Btw, I am still working on it. 😄

You can get various rates for photo sales at shutterstock – the lowest is usually $0.10 and yes most go for that because the buyer has paid a monthly fee to choose a set number at low rate.
One off sales can be much more, I sold one file recently for $147 which was a nice surprise.

I stopped my account over a year ago. No interest in Shutterstock anymore. They have reduced their rates to an insult. It's not worth the effort of supporting a company who act against their suppliers. Adobe in contrast pay me 74cents a sale on average Shutterstock went down to 10cents. Neither is great but I prefer Adobe's rate. Are you a 10cent photographer?

No offence but Shutterstock is absolutely without question the last place anyone should be advised to sell their images through, the company has TOTALLY and inexcusably shafted their contributors in the past year! Hopefully the other big contenders will not follow suit!

if i contribute an image to be sold on shutterstock can i upload that same image for sale on a different platform at the same time?

does shuttestock charge me a fee for being a contributor?

You can, but that means you'll be selling images in non-exclusive mode, which means you'll get a lower rate every time someone buys any of your images.

Ss is a waste of time. They pay almost nothing for most imaged sold. They are destroying stock photography.

I uploaded images, have not heard back after 10 days. Can I just close my account and sell them elsewhere? Great blog, thanks.

in 2021 May I had 38 downloads on Shutterstock and made $25.87. Now in 2022 May I so far have 44 downloads and have made $6.83! More downloads and almost 3x less profit!

I closed my account of 20 years about a year ago, too many other good stock agencies to fool with some kid CEO manipulating contributor's profits for selfish reasons. Please don't buy from shutterstock!