The Best Elementor Gallery Plugins in WordPress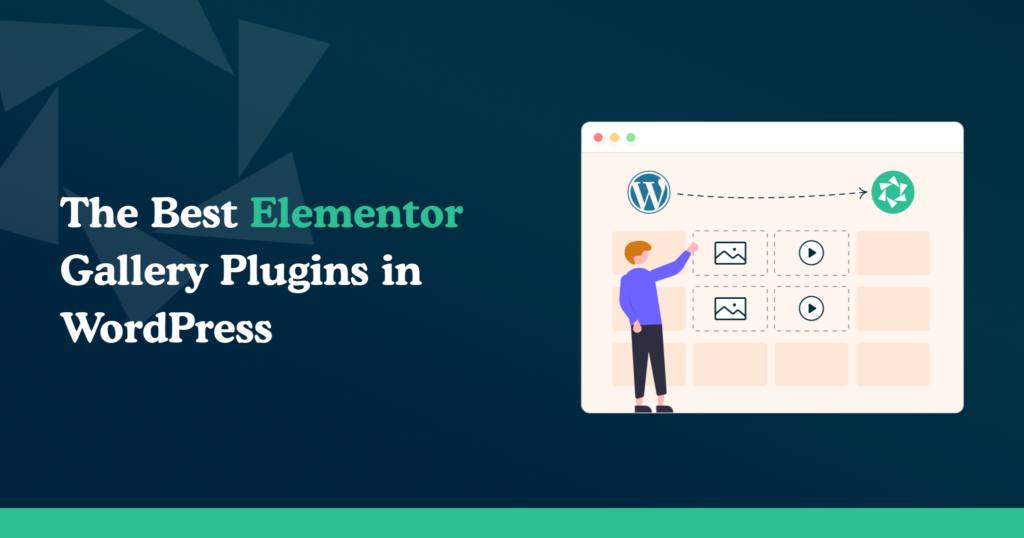 Designing and building a website is no mean feat; it's hard work. As the saying goes, "you get out what you put in."
With the rise of WordPress plugins to help streamline the building process, one that shines (and is often widely touted as the best) is Elementor.
If you're reading this guide, you're likely using Elementor and looking at gallery plugins to work with it. To help you decide on a compatible solution, we'll cover some of the best Elementor gallery plugins available.
---
---
A bit about Elementor
If you're unfamiliar with Elementor (or at the very least thinking of using it), here's a brief explanation of what it can do.
Aimed at those with no coding skills, Elementor is a WYSIWYG builder (What You See Is What You Get), essentially a visual site builder for WordPress. With its native drag-and-drop interface, users can design and build websites quickly and easily.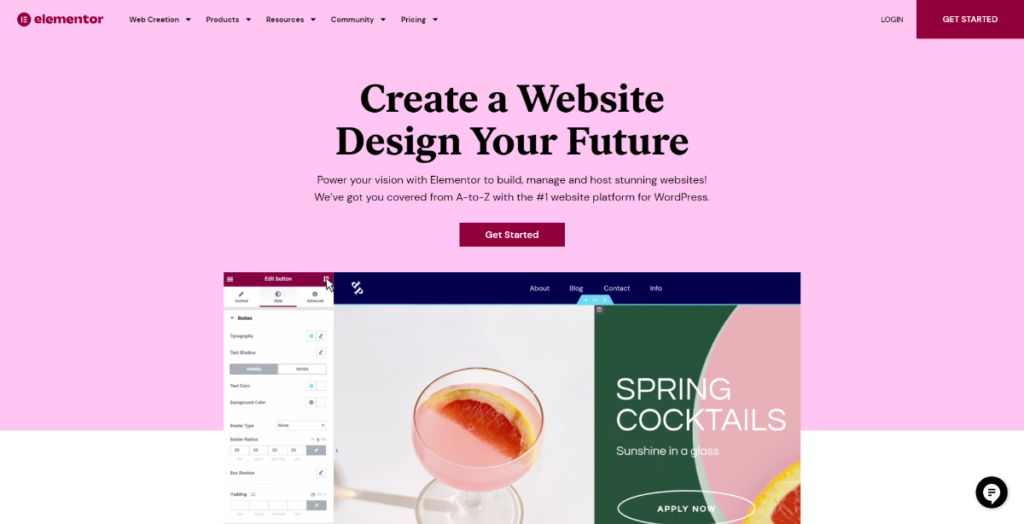 Elementor comes in two flavors, a free version and a premium one. To get the most out of it, it's worth upgrading to premium. This gives you additional features like a theme builder, contact forms, pro templates /widgets, and more.
---
Why use a Gallery Plugin with Elementor?
Galleries are vital to showcasing your work; they catch a visitor's attention and can help generate new business opportunities.
Elementor is extremely powerful; there's no denying that. When showcasing galleries, it has its own way of handling things, and its gallery solution can be limited.
For some, the standard gallery solution could be enough. What if you need more functionality?
When you're thinking of creating a gallery in Elementor, using a compatible plugin is the best method.
This reduces your technical debt, meaning if you ever decide to move away from using the page builder, you'll have galleries ready to use for whatever WordPress builder solution you choose next.
Combining Elementor with a gallery plugin makes perfect sense. Use Elementor to build the site and use a gallery plugin to showcase your work.
---
What are the Best Gallery Plugins Compatible With Elementor?
We've picked four of the best gallery plugins compatible with Elementor for creating and building stunning galleries for your website.
Pricing Chart
Let's start with addressing the elephant in the room. Pricing. Everyone has a budget, and as a website owner, you need to know how much these plugins cost.
| | | | |
| --- | --- | --- | --- |
| Plugin | Free Plan | Starting Price (USD) | Duration |
| Modula | ✔ | 39 | One year |
| FooGallery | ✔ | 34 | One year |
| Envira Gallery | ✔ | 29 | One year |
| NextGEN Gallery | ✔ | 69 | One year |
Pricing chart of gallery plugins
Features Comparison at a Glance
In the following table, we've listed the functionality on offer via these four plugins. It's good to know what each can/can't do, and it should help you if you choose one option over the other.
| | | | | |
| --- | --- | --- | --- | --- |
| Features | Modula | FooGallery | Envira | NextGEN |
| Elementor Compatible | ✔ | ✔ | ✔ | ✔ |
| Image Galleries | ✔ | ✔ | ✔ | ✔ |
| Video Galleries | ✔ | ✔ | ✔ | ❌ |
| Albums | ✔ | ✔ | ✔ | ✔ |
| Drag-and-drop builder | ✔ | ✔ | ✔ | ✔ |
| Deep Linking for SEO | ✔ | ✔ | ✔ | ✔ |
| Download Images | ✔ | ✔ | ✔ | ✔ |
| Custom Grid Builder | ✔ | ❌ | ❌ | ❌ |
| Pagination | ✔ | ✔ | ✔ | ✔ |
| Password Protected Galleries | ✔ | ✔ | ✔ | ✔ |
| Watermarking | ✔ | ✔ | ✔ | ✔ |
| Right-Click Protection | ✔ | ✔ | ✔ | ✔ |
| Lazy Loading | ✔ | ✔ | ✔ | ✔ |
| User Role Management | ✔ | ❌ | ❌ | ❌ |
| eCommerce | ✔ | ✔ | ✔ | ✔ |
| Social Sharing Buttons | ✔ | ❌ | ✔ | ✔ |
| Lightbox Display | ✔ | ✔ | ✔ | ✔ |
| Elementor Compatible | ✔ | ✔ | ✔ | ✔ |
| Hover Effects | ✔ | ✔ | ✔ | ✔ |
| Client Proofing | ❌ | ✔ | ✔ | ✔ |
| Custom CSS | ✔ | ✔ | ✔ | ✔ |
| Mobile Responsive | ✔ | ✔ | ✔ | ✔ |
Feature Comparison of gallery plugins
Now we have the pricing and functionality down for each gallery plugin. Let's look at the features and the pros/cons of Modula, FooGallary, Envira Gallery, and NextGEN.
---
Modula
Modula is a freemium gallery plugin with more than 100K active installations and 400+ 5-star reviews; Modula is the go-to choice for anyone looking to create stunning galleries on their website.
Easy to use and with lightning-fast load times and a wealth of customization options. Upgrade your gallery game with Modula's seamless compatibility with Elementor.
Combine the two plugins and create stunning and responsive galleries in no time.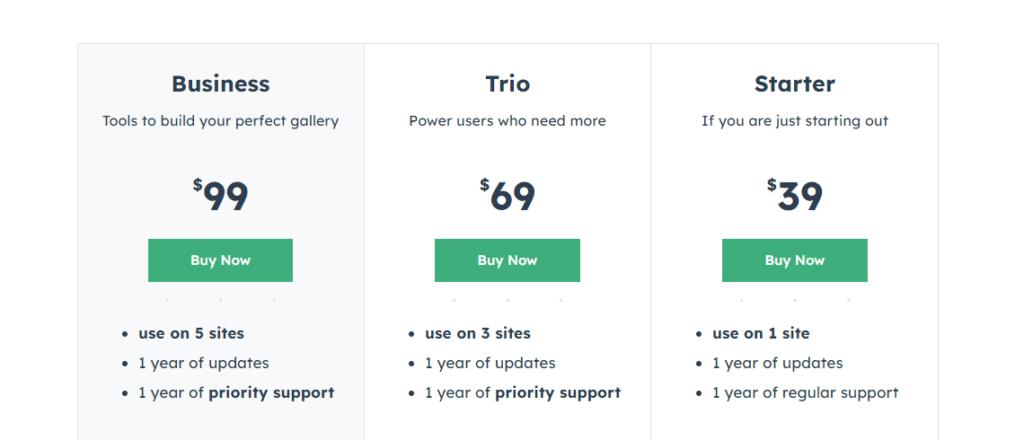 Modula Core Features
Video Support – Add Videos to your galleries from the media library or external services like Youtube and Vimeo.
Hover effects – Choose from 42 hover effects to make your gallery stand out!
Pagination – The pagination addon offers infinite scroll and load more buttons. Meaning your visitors have more visibility of your body of work.
Gallery Filters – Filter your galleries easily; the filter addon makes it easier for visitors to sort and find what they need.
Defaults – The defaults extension enables you to create and apply saved settings for new galleries.
SpeedUp – The SpeedUp extension automatically optimizes your images and uses StackPath's content delivery method to ensure lightning fast load-times.
Gallery Type – Three free (Creative, Custom Grid, and Masonry) and one paid (Slider) option. With Modula's custom grid, leverage a quick drag option on the bottom right of each image to easily alter the heights and widths to get a pixel-perfect gallery.
Lightbox – Fill your screens with a lightbox view of your images with the option to turn them into a full-screen or auto-play slideshow.
Watermarks – Protect your images from theft with the Watermark addon. Upload your logo and choose a location to display it. Deter would-be thieves with this simple-to-use addon.
Right Click Protection – If you're tired of people taking image credit by passing off your images as their own. The Right Click Protection addon is for you; it does what it says on the tin and stops users from using the right click of a mouse to copy the URL or download the image.
Modula's list of features is vast, and we haven't even mentioned White Label, Password Protection, Advanced Role Management, and more! The list goes on and on; take a look at what else you can achieve with Modula.
For now? Let's explore the PROS and CONS.
Modula Pros and Cons
| | |
| --- | --- |
| PROS | CONS |
| Easy-to-understand user interface, irrespective of user ability. | Lack of features like client proofing, WordPress content galleries, and Lightroom integration. |
| Create lightweight and quick-to-load galleries. | It can function on up to 5 websites with a single license. |
| Allow adjustable heights and widths with custom grid functionality. | |
| Top-notch documentation and technical support. | |
| Elegant gallery layouts. | |
| The ideal combination of customization options makes it perfect for users from any niche. | |
| Strong emphasis on user experience. | |
Pros and Cons of Modula
---
FooGallery
FooGallery is another excellent gallery plugin to add on top of Elementor. Known for its ease of use, and advanced features, FooGallery is among the top gallery plugins on WordPress and has over 200K active installations and 700+ 5-star ratings.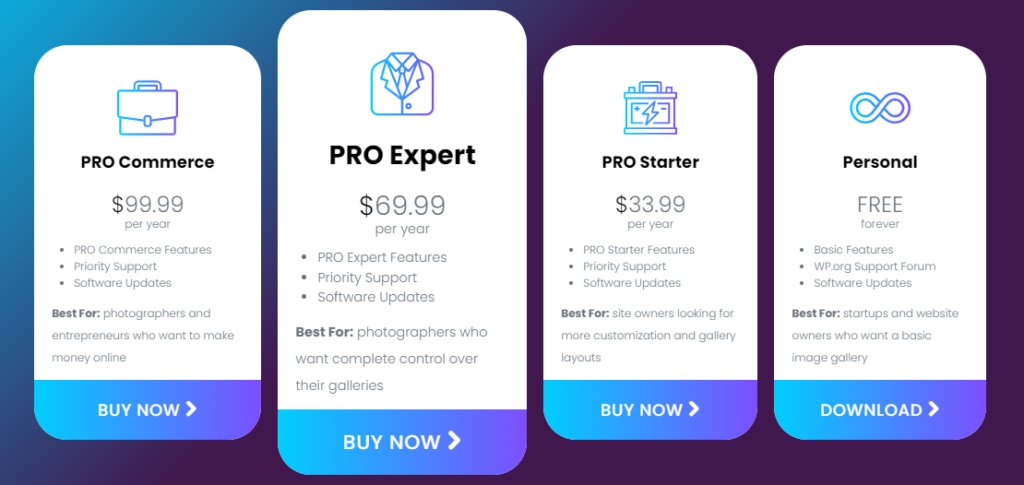 FooGallery Core Features
Video Support – Create video-only galleries or mix them with images to set up a nice collection. Add videos from the media library or import them from external platforms like Facebook, Youtube, Vimeo, etc.
Multi-level filtering – Allow users to look for the images and videos of their preference with multiple filter options via tags and categories to optimize the gallery's search for your users.
Hover effects – Easily customize your images' themes, colors, and scaling when someone hovers over your images with hover controls. Choose from a collection of pre-made hover effects to get the job done quickly.
Retina-ready images – Want to create retina-sized images for higher quality thumbnails automatically? By default, it will resize the image via HTML to display them in the correct resolution on different screens.
Pagination – Pagination options, comprising of Simple Dots, Numbered, Load More, and Infinite Scroll.
Master Gallery – Choose a ready-made master template for creating new galleries with saved settings.
Content Post Galleries – Create galleries from your posts, pages, or products listed in Woocommerce.
eCommerce functionality: Seamless integration with Woocommerce allows selling gallery images directly from your website.
Social Sharing – Add social media icons on hover to share images on platforms like Pinterest, Twitter, Linkedin, and more.
Gallery Type – Choose from 10 templates to display galleries on the WordPress website – 7 FREE (Responsive Image, Image Viewer, Masonry, Simple, Justified, Single Thumbnail, and Carousel) and 3 PRO (Polaroid, Grid, and Slider).
FooGallery has many features, such as Instagram integration, password protection, etc. Why not take a quick peek at what else is available at FooGallery.
FooGallery Pros and Cons
| | |
| --- | --- |
| PROS | CONS |
| The free version has a lot of wonderful options to explore. | Pricing varies significantly on Pro plans based on features and the number of websites. |
| Multiple layers of filtering (simple and advanced) make search more convenient. | Gallery layouts lack the style that Modula provides. |
| Retina-ready thumbnails to make the user experience lit. | Lack of options like the custom grid, advanced user management, etc. |
| A nice mix of simple and advanced features comes under pro plans to help out professionals like Photographers, etc. | |
| eCommerce functionality to turn your website into an online store. | |
| Build galleries that are lightweight and load quickly. | |
Pros and Cons of FooGallery
---
Envira Gallery
Next on our list is another very familiar yet intuitive gallery plugin often considered for its excellent blend of features. With over 100K active installations and 1300+ 5-star ratings, Envira Gallery is very popular.
The Envira Gallery plugin integrates well with Elementor, making it an excellent choice for our use case. As a freemium plugin, you can try it out for free before subscribing to a premium plan.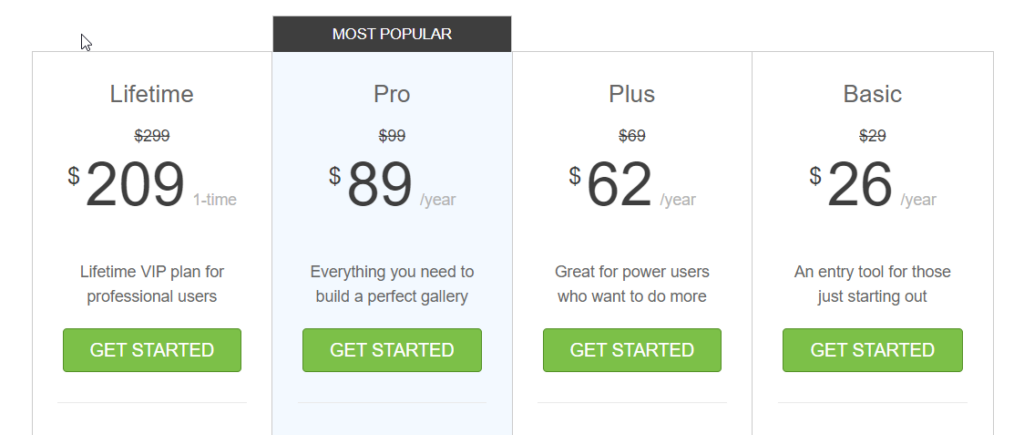 Envira Core Features
Video supporter – Create standalone video galleries or mix and match images with videos.
Importer add-ons – Users can directly import images from Dropbox, NextGEN, Instagram, or as a ZIP. Envira also provides the flexibility to sync photos from Adobe Lightroom.
eCommerce – Sell photos directly from your site with WooCommerce integration.
Pagination – With the pagination addon, organize your galleries into multiple pages, resulting in a more user-friendly and visually appealing presentation.
Schedule add-on – Have control over your galleries to decide which collections you wish and do not wish to display at any specific time of the day.
Galleries options – Create standalone galleries with unique URLs to have dedicated gallery pages, and create new galleries from your various post types, pages, products, and testimonials.
Lightbox: Display images at full scale with a supersize lightbox or turn the lightbox into a slideshow of your choice with configured settings.
Posterize theme: Add flair to your image galleries by showcasing your thumbnails with a posterize theme.
Defaults: Create pre-made templates with desired settings to use for new galleries.
Gallery layouts: Envira comes with one base and five in-built gallery layouts (Caption, Polaroid, Showcase, Sleek, and Subtle)
Find out more information and view the full range of features Envira Gallery offers.
Envira Pros and Cons
| | |
| --- | --- |
| PROS | CONS |
| A user-friendly dashboard for easy navigation with any experience level. | The free version is limited; most features are available in paid plans. |
| Create lightweight and quick-to-load galleries. | Lack features like advanced user management, custom grid, etc. |
| Various importer options, including Dropbox, NextGEN, and a few more. | A few more options in gallery layouts would have been great. |
| Cheapest starter package. | |
Pros and Cons of Envira
---
NextGEN Gallery
If you're looking for a WordPress gallery plugin that can integrate with Elementor, NextGEN could be a good choice. Developed and maintained by Imagely, this plugin has over 600K active installations and 3100+ 5-star ratings, making it the most used gallery plugin on WordPress.
Whether you want to create an eCommerce gallery, add styles and effects, or customize every detail, NextGEN has plenty to offer.
NextGEN is a freemium plugin, so you can test it out for free before opting for a paid plan.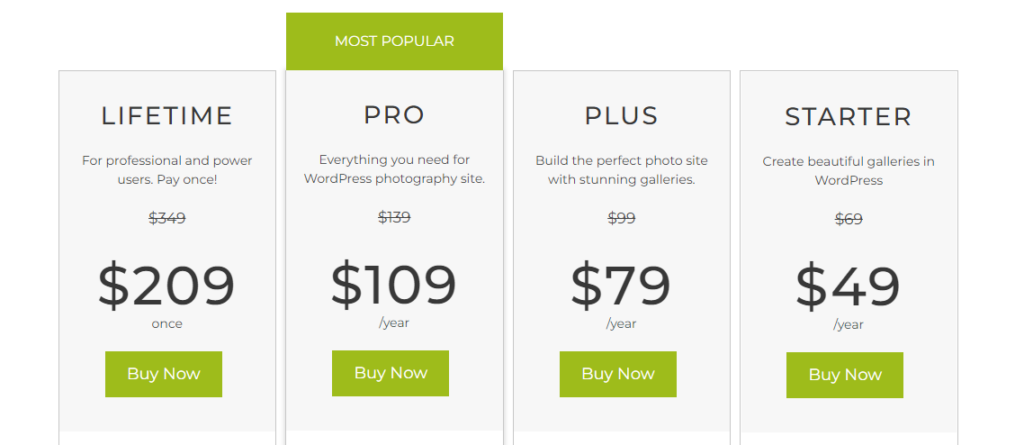 NextGEN Core Features
E-commerce support – Sell images directly from the website through Paypal and Stripe while having the option of an auto-tax calculator powered by Taxjar. The users can also choose to sell photos with manual or automated print fulfillment through WHCC, all thanks to NextGEN's integration with the Print Lab.
Commenting and client proofing – Users can share their thoughts on individual photos with the commenting option enabled. NextGEN handles client proofing, so users can proof individual photos from within your website.
Image uploading – Upload through a ZIP import, transfer via FTP from a local server, or sync directly into the NextGEN engine from Adobe Lightroom.
Hover effects – Incorporate social sharing icons, titles, and stunning hover effects on your images.
Pagination – NextGen has an Ajax pagination feature, enabling you to seamlessly divide your larger galleries into multiple pages and images, resulting in faster loading times.
Lightbox – Offers multiple lightbox options, including Pro and Full-screen lightbox, that automatically display your images in the right resolution on different screens.
Gallery templates – NextGEN has 12 of them to choose from. Seven options are available on the free plan (Thumbnail, ImageBrowser, Slideshow, Grid, List, Film, and Mosaic), and five paid options ( Masonry, Filmstrip, Tiled, Sidescroll, and Blog Style).
Keen to know the full list of features, check out NextGEN for more details.
NextGEN Pros and Cons
| | |
| --- | --- |
| PROS | CONS |
| NextGEN has the highest number of gallery templates to choose from (a total of 12). | Lack of video support. |
| It is the most popular gallery plugin with the most activation for any WordPress gallery plugin. | The dashboard could be more user-friendly. More customization options could complicate the gallery creation process for beginners. |
| NextGen has a featured-packed gallery plugin that could be great for various professional needs. | Most expensive starter package. |
| By far the best eCommerce setup with additional functionalities like Print Fulfillment, Coupons, etc., limited to NextGEN. | Most of the valuable features are locked behind Pro plans. |
| NextGEN provides unique functionalities limited to it, like image commenting, etc. | Lowest average rating among the competition. |
| | Lack of features like custom grid builder, advanced user management, etc. |
| | Too many features could slow down the website. |
Pros and Cons of NextGEN
---
So What is the Best Elementor Gallery Plugin?
Let's summarize our top picks for displaying galleries on WordPress websites.
Modula
FooGallery
Envira Gallery
NextGEN
Well, weighing things up, there's a lot to choose from. Modula is the best gallery plugin to integrate with Elementor. That said, it would be remiss of us not to mention the competition.
Competition is healthy; it spurs our plugin onwards and upwards and helps us build new features and cater to new users. Looking at the pros/cons of these plugins should help you find the right solutions based on your needs.
After all, your needs need to be serviced, not ours. We hope this roundup of the best Elementor gallery plugins helps you somehow.
All the aforementioned are killer plugins, so the only question is to choose your weapon. Whether it's Modula or the others listed, the choice (as they say) is yours.