If you take the start in the photography industry seriously, it is vital to present your clients with an online portfolio to share your work, that also acts as a marketplace and communication channel. The good news is that a website builder for photographers represents an easy and cheap way to go online.
We have conducted a fair bit of research and compiled a list of the best website builders for photographers that offer you features that allow easy customization, alongside an affordable price tag and SEO tools.
Summary of best website builders for photographers
If you are in a hurry to choose the best website builder for your photography portfolio, please find a compiled list below of our choice, with their respective advantages and disadvantages.
You can click on the title of each website builder, that will take you to its dedicated section where you can read more about our review in detail.
Each website builder for photographers listed above is, in its own way, unique and a must-try. You don't have to complicate things, however, and start from top to bottom. See what's best suited to your needs and get your work published for the world to enjoy in the most suitable shape of an online photography portfolio!
Before getting too lost into the conversation, let's deep dive into our list…
Page builder
👍 PROS
👎 CONS
Wix
✅ A lot of creative control

✅ Sites automatically optimised for mobile
❌ Unable to change a template once a website goes live

❌ Overwhelming features for beginner users
Weebly
✅ Unlimited additions of extra features

✅ A balance between customizability and structure
❌ No manual restore option
SquareSpace
✅ Magnificent templates optimised for creative people

✅ High standard of functionality
❌ High price tag

❌ Steep learning curve
SITE123
✅ Excellent customer support

✅ A highly intuitive user interface, guidance tooltips
❌ Creative freedom limited

❌ Cannot change the template once the website is live
Weblium
✅ A simple and fast editing process

✅ Ability to add a custom domain and SSL
❌ Suits only one-page websites

❌ Lacks e-Commerce integration capabilities
Ucraft
✅ Infinite possibilities to add extra pages, features, and integrations

✅ No coding is necessary
❌ A small number of pre-made
templates

❌ The free plan comes with fewer benefits
Smugmug
✅ Robust protection and security features

✅ Ability to manage both print and digital
❌ Fewer features compared to others

❌ High price tag
Adobe Portfolio
✅ Modern, slick look & feel of predefined templates

✅ Interface easy to use, no coding skills required
❌ Unable to sell photos directly from the platform

❌ Choice of templates quite limited
PhotoShelter
✅ Comprehensive functionality

✅ Blog and content delivery integration
❌ Limited choice of templates

❌ Lack of SEO compatibility
WordPress.com
✅ A plethora of built-in tools for portfolio building

✅ Generous features offered by paid plans
❌ Cannot integrate plugins and themes on the lower-end packages
🏆 Editor's Choice: WordPress.org with Modula
✅ Unlimited themes and plugins to choose from

✅ Unlimited possibilities for branding and functionality extension

✅ Ability to link your domain name, SSL certificate and hosting provider
❌ Might require a bit of documentation on operating the dashboard
GoDaddy
✅ Launch a website in minutes with AI builder

✅ 24/7 friendly customer support for beginners
❌ Lack of creative control

❌ Burdensome advanced features
Strikingly
✅ Friendly for beginner photographers

✅ Features for blogging and sales
❌ Limited to one-page designs

❌ Not scalable in the long run
Jimdo
✅ A plethora of predefined templates

✅ Flexible choice of page builder interface
❌ Limited choice of templates and extensions
Pixpa
✅ Built-in User Experience into predefined templates

✅ A choice of the editor based on the expertise level
❌ Limited choice of templates and integrations
Format
✅ Integrated blog and online-store

✅ Extremely easy to use, no coding skills required
❌ Dashboard interface lacks esthetics

❌ Limited customizability of templates
Zenfolio
✅ Friendly, 24/7 customer support

✅ Integrated marketing tools at no additional cost
❌ Limited SEO unity and template choice

❌ Complicated User Interface
Beaver Builder
✅ Easily create astonishing landing pages

✅ Variety of WordPress templates and widgets
❌ A high price tag for premium features

❌ Limited support for colours and links settings
Elementor
✅ FREE version with plenty of features

✅ A vast range of custom templates and layouts
❌ Difficult to debug misaligned elements

❌ Difficult to customise colours and links

🏆 The winner website builder for photographers

🔖 Summary of the article
---
A top of our selected website builders for photographers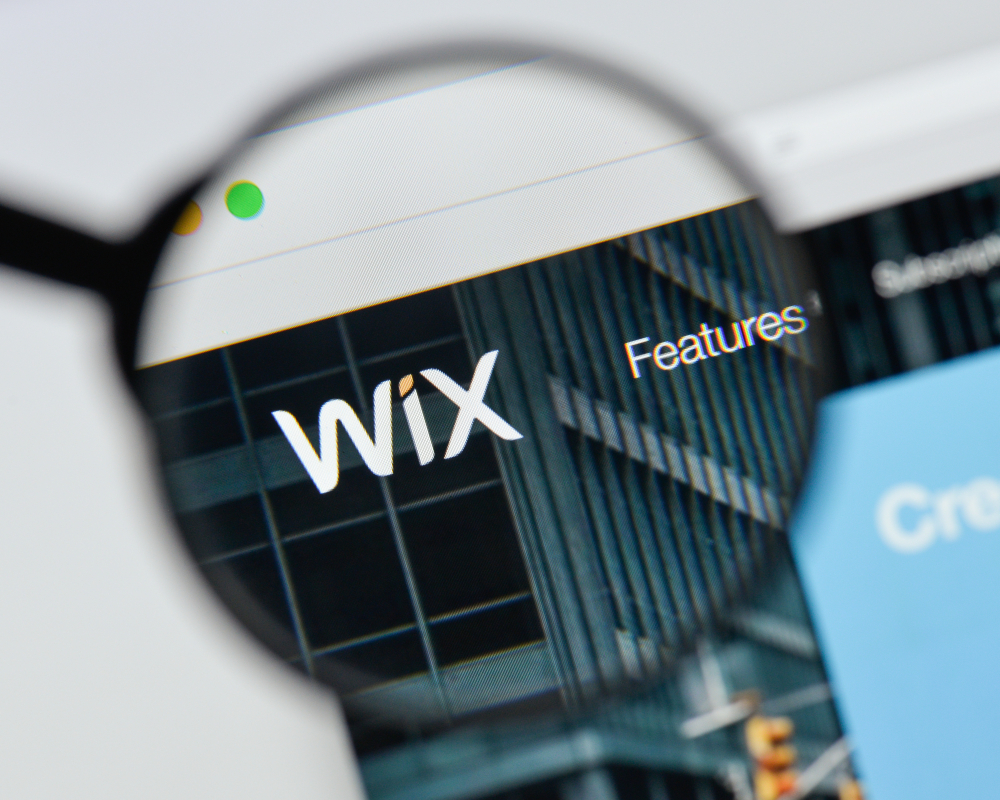 Wix is a state-of-the-art page editing software that helps users to build a website and to attract new visitors. You don't even need to start with blank linen with the many photography-exclusive templates Wix offers. Similarly, you can simply select and improve the web design template that works best for your photography business. It is easy and quick to customize every template available in the gallery.
Wix is also suitable for all levels of expertise. If you are truly a complete beginner, the Wix feature called Artificial Design Intelligence (a.k.a. ADI) allows you to start with a readily generated design with placeholders. Quite simply, you just need to fill it in with text and images, and you are good to go! Wix Editor and Wix Code are other approaches that you can make use of if you have more experience in web development.
👍 Wix Advantages

A lot of creative control is available in Wix, so any particular design idea or layout arrangement you can imagine can be implemented with the drag and drop editor.

Secondly, sites built on Wix are automatically optimised to work on a variety of platforms.
👎 Wix Disadvantages

Once a site goes live, you can not change your template, leading to limited customizability in the long run.

Secondly, advanced creative control features might be overwhelming for beginner users.
---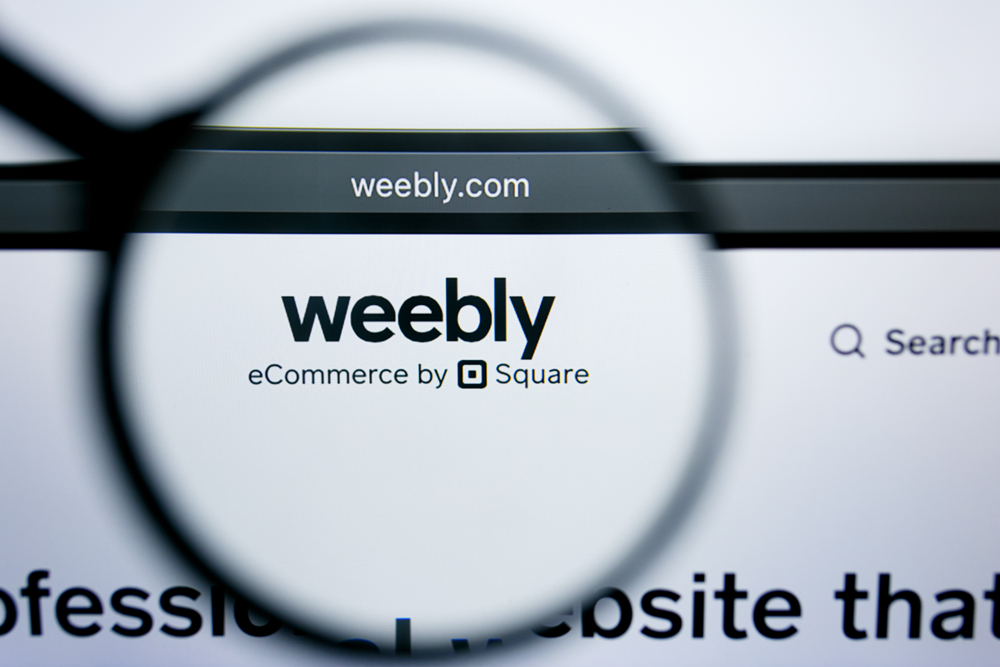 Another popular name in the world of website builders for photographers, Weebly is a powerful editor that offers a wide range of features. Weebly's free version is adequate if you're just looking to get your images online quickly, but it's limited to 500 MB of space and places (usually unwanted) ads on your site. If you need more from your photography website and your expectations are higher, the premium plan offers unlimited storage (one of Weebly's biggest draws for photographers), custom domain association and access to many other highly useful tools to help you fully customize your photography website. There's also an impressive Weebly App Center, which offers incredible scope to drive the functionality of your site. However, this is only available to premium access subscribers, which is not cheap.
Similarly to Wix, Weebly operates as a simple drag & drop builder. With just a few clicks, you are able to create an entire gallery with images of your choice, making a good option for the beginners to create their own corner of the internet.
👍 Weebly Advantages

Unlimited possibilities to add extra features, making Weebly more than a website builder.

The website builder interface achieves a good balance between customizability and structure, allowing additional features if you are a more advanced user or simplicity if you wish.
👎 Weebly Disadvantages

No manual restore option – if your website goes down, you'll have to wait for Weebly support to restore your site for you.
---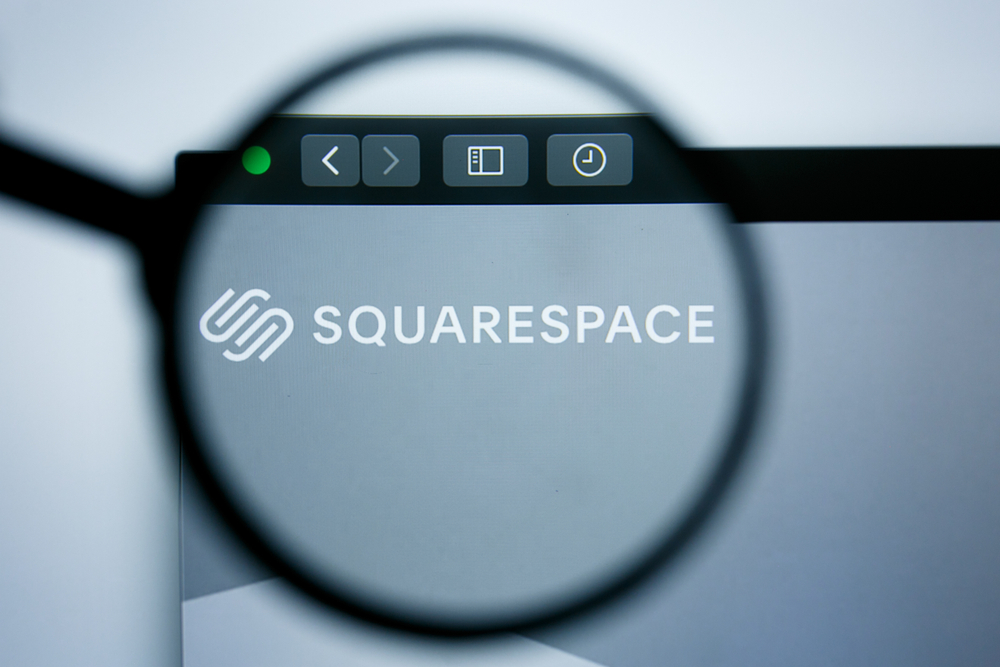 Squarespace enables you to quickly create your own internet space, which will speed up your photography services delivery. Unquestionably, this platform is a high-end, advanced and one of the best website builder for photographers. While you can continue shooting action, taking pictures and enjoying the natural environment, capturing the countryside and the portraits of beautiful people, you can still fully sort out your photography website with the Squarespace website builder.
Squarespace – an ideal website builder for photographers featuring amazing templates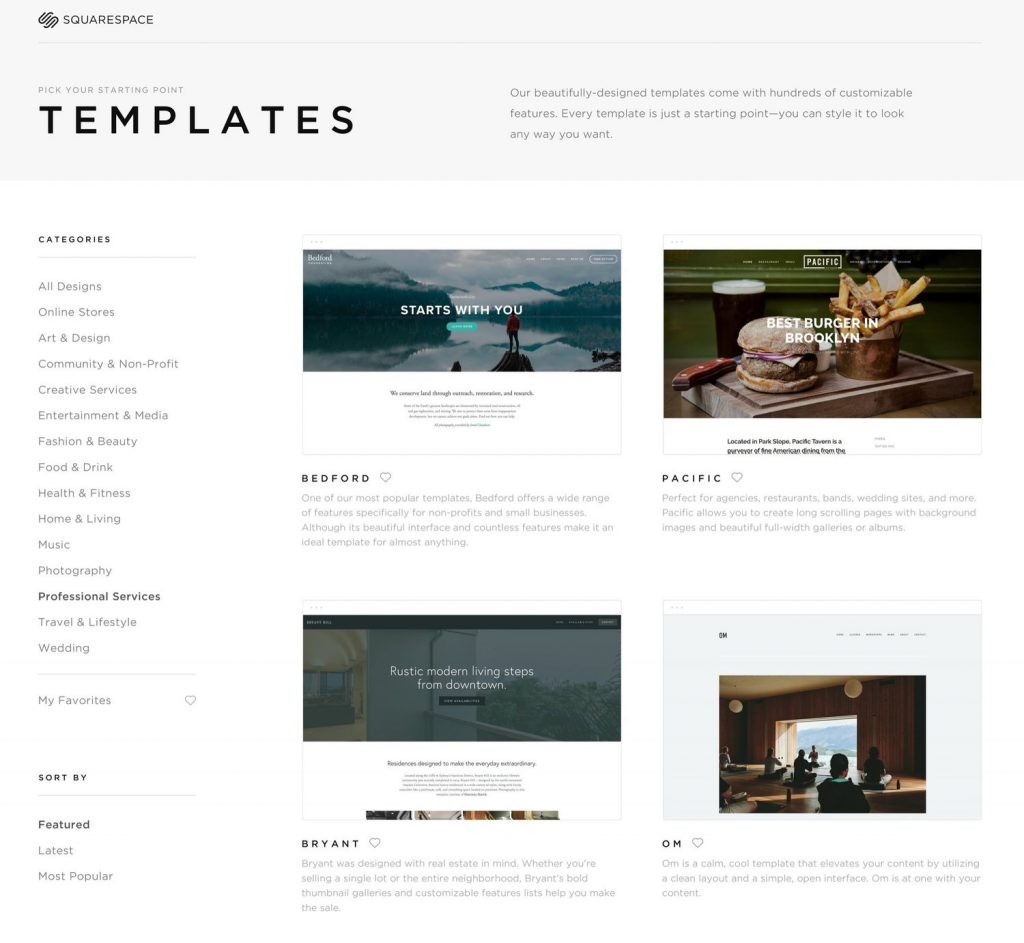 Squarespace has designed numerous ready-to-use layouts that will be of immense assistance. This is certainly the easiest and nearest instant technique to achieve a professional website. You can delight yourself with the performance that each demo achieves on desktop, mobile and tablet devices. Naturally, all the Squarespace pages are mobile-ready and responsive.
A multitude of professionals, including famous people, use Squarespace, so you have no real reason to avoid it. On their page and blog, you can see for yourself how Squarespace is used by actors, musicians, and other popular people and visit their websites. Yes, Squarespace is even used by Keanu Reeves!
👍 Squarespace Advantages

The Squarespace templates are absolutely magnificent and fit especially well for creative people.

All the features are developed in-house, so you can rest assured that you benefit from the highest standard of functionality.
👎 Squarespace Disadvantages

A slightly higher price tag compared to other website builders, requiring greater initial investment.

Advanced features in terms of functionality, requiring a steeper learning curve.
---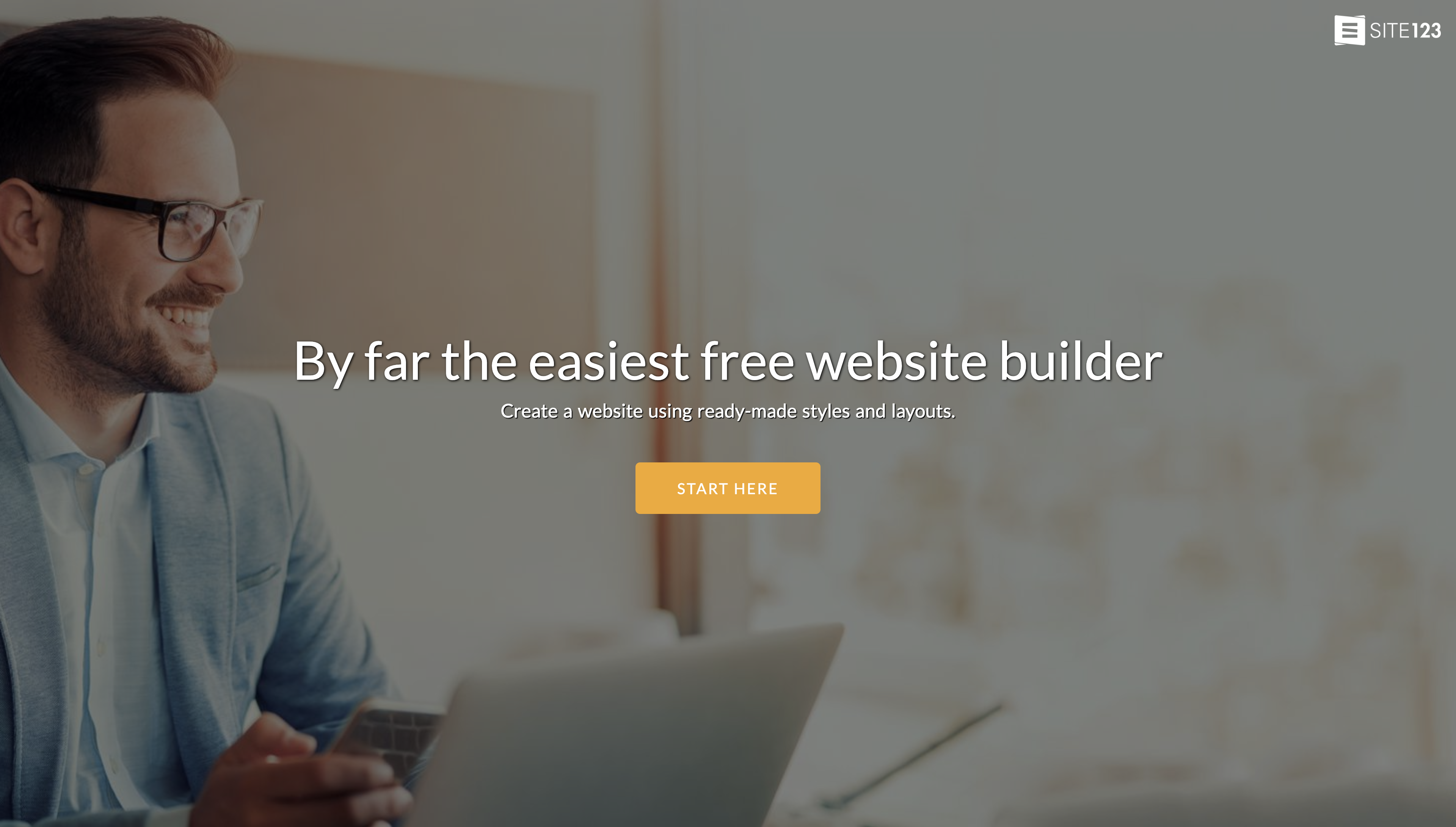 SITE123 is a relatively simple website builder that stands out through its customer support. Therefore, it is a perfect choice if you feel you need to have some guidance when creating your website.
The website builder for photographers is also easy to use and features a full range of help and support options – ranging from email support to 24/7 live chat. With questions everywhere, and helpful instructions to guide you, the SITE 123's interface looks like having a friendly mentor hold your hand and is willing to help you succeed.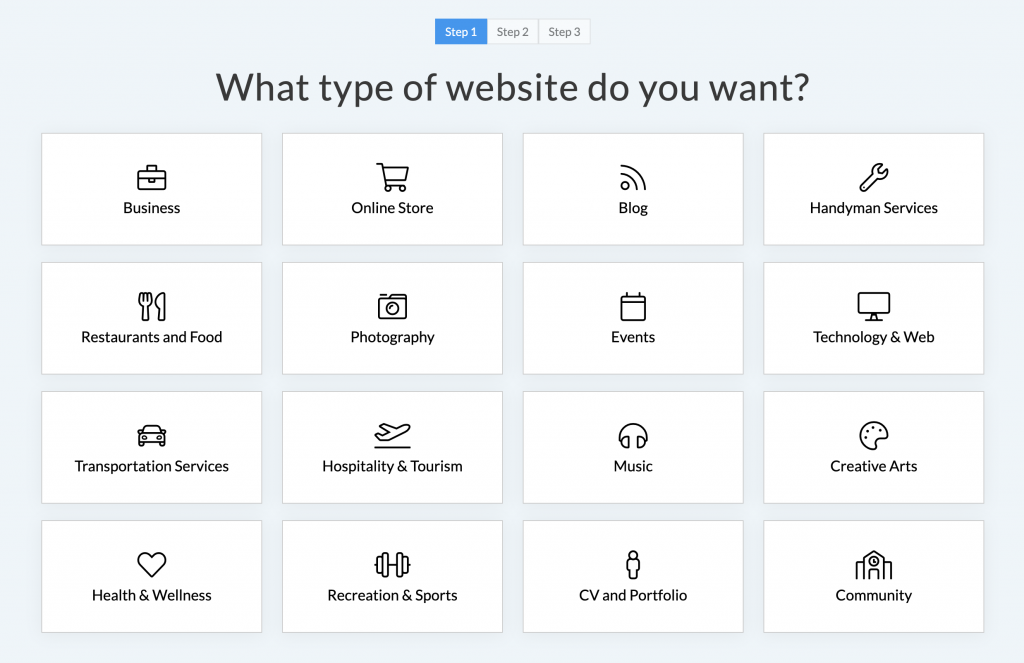 You simply need to choose what category the website belongs in, for example, 'Photography' and enter your name, email and password.
Moreover, SITE123 provides all the fundamental elements for a photography website automatically. Large picture areas, an embedded portfolio and gallery, integrated social media and a contact form were provided, all without lifting your finger.
👍 SITE123 Advantages

Excellent support to help you set up your photography website

A highly intuitive user interface, with helpful guidance tooltips.
SITE123 Disadvantages

Creative freedom is quite limited, and when your website is live, you can no longer change the template, making customisation burdensome down the line
---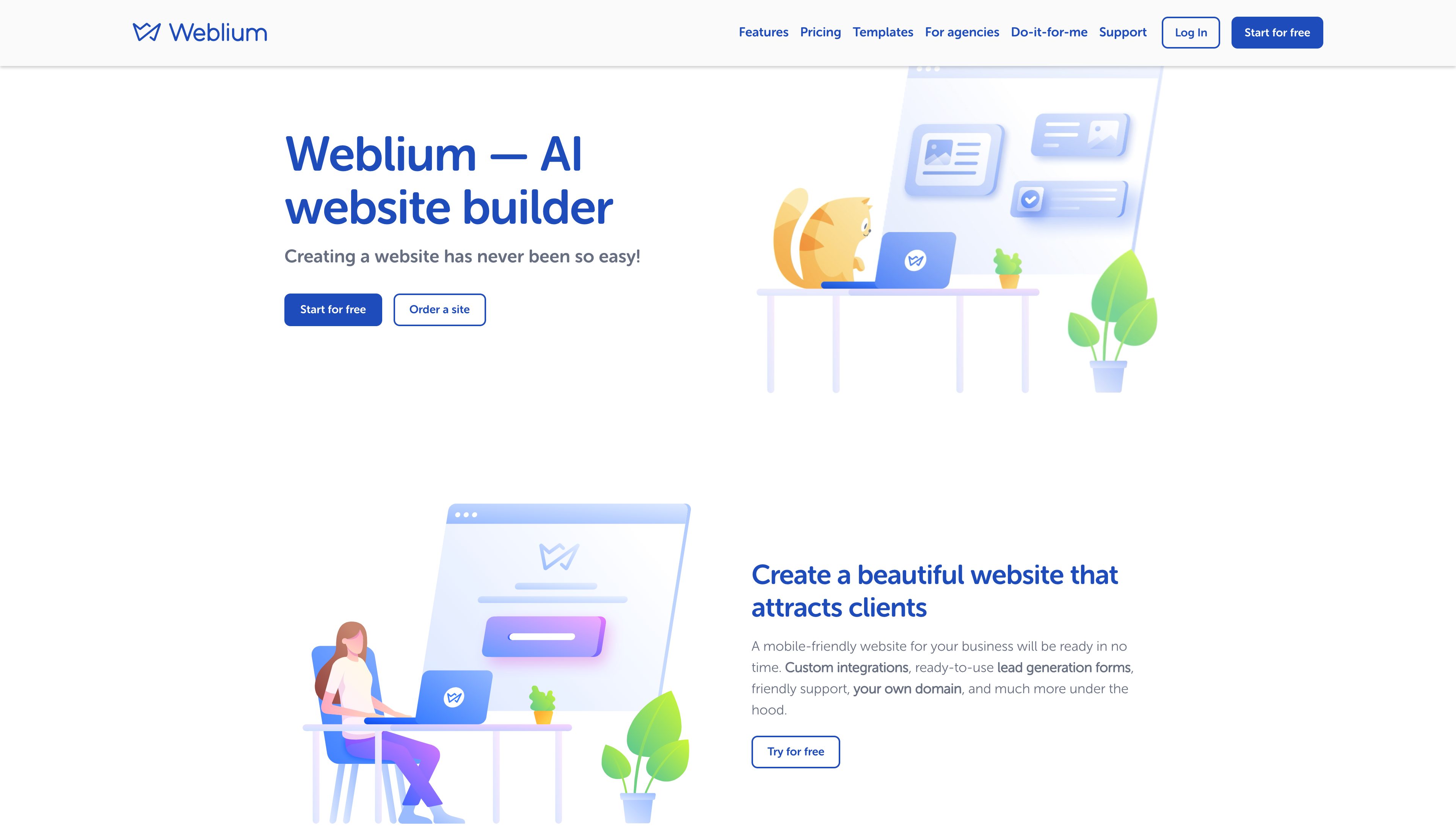 With a website builder for photographers like Weblium, you can achieve a striking online presence that will maximize your potential. In the free package, you can discover a large range of over 200 modelling designs, all innovative, sleek and very eye-catching. Weblium's AI and Drag & Drop editing also allow you to change the layout and customize the template to suit your taste.
In addition, you can have a domain name with Weblium (in the paid plans), alongside with an SSL certificate, hosting, website security, unlimited storage, event monitoring and integration of Google Analytics. Your photography portfolio will also benefit from responsive design and an adaptive layout, compatible with both smartphones and desktop.
👍 Weblium Advantages

A simple and fast editing process, featuring a variety of adaptive, stylish designs and an AI editor

The ability to associate a domain name with your portfolio, alongside an SSL certificate
👎 Weblium Disadvantages

Mainly suits small and one-page websites, due to the lack of integration capabilities and eCommerce features.
---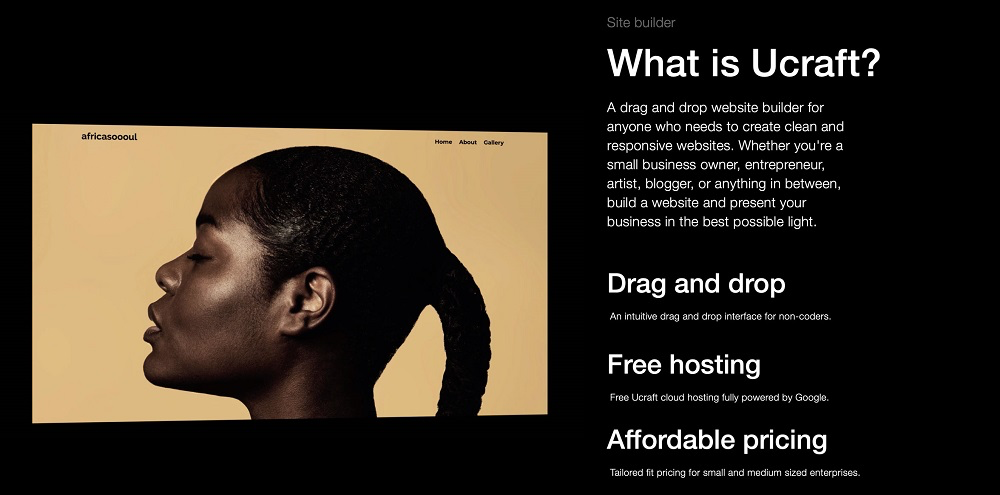 Next on our list of best website builders for photography is Ucraft. With its elegant templates and features that freelancers do not usually find in other website builders, Ucraft made a name for itself in the past years. Non-tech entrepreneurs who want to build a presentation website or portfolio page will enjoy Ucraft's pre-made templates designed with a host of industries in mind. The photography section contains a handful of streamlined, contemporary templates and layouts that artists can customize by using the drag-and-drop interface.
One reason why Ucraft stands out from the competition is that it offers a few free features that photographers, freelancers, and reviewers appreciate. Some that are worth mentioning is:
free and secure hosting on Google Cloud so everyone keeps their content, projects, and data safe;
free connection of an already existing domain;
a logo builder, which is always a plus, especially for photographers and freelancers who do not have the budget to hire professional graphic designers;
streamlined and intuitive addition of new web pages in the Ucraft website;
👍 Ucraft Advantages

The unlimited plan offers artists infinite possibilities to add extra pages, features, and integrations to their websites, along the lines of blogging, e-commerce, customer support tools, and more;

Designed with startups, small businesses, solo entrepreneurs, freelancers, and artists in mind;

It is a promoter of the no-code movement, allowing non-IT people to build a multi-functional website or a highly converting landing page without much effort.
👎 Ucraft Disadvantages

In comparison to other website builders, it offers a small number of pre-made templates;

The free plan comes with fewer benefits, features, and integrations in contrast to those provided to the free accounts by other website builders.
---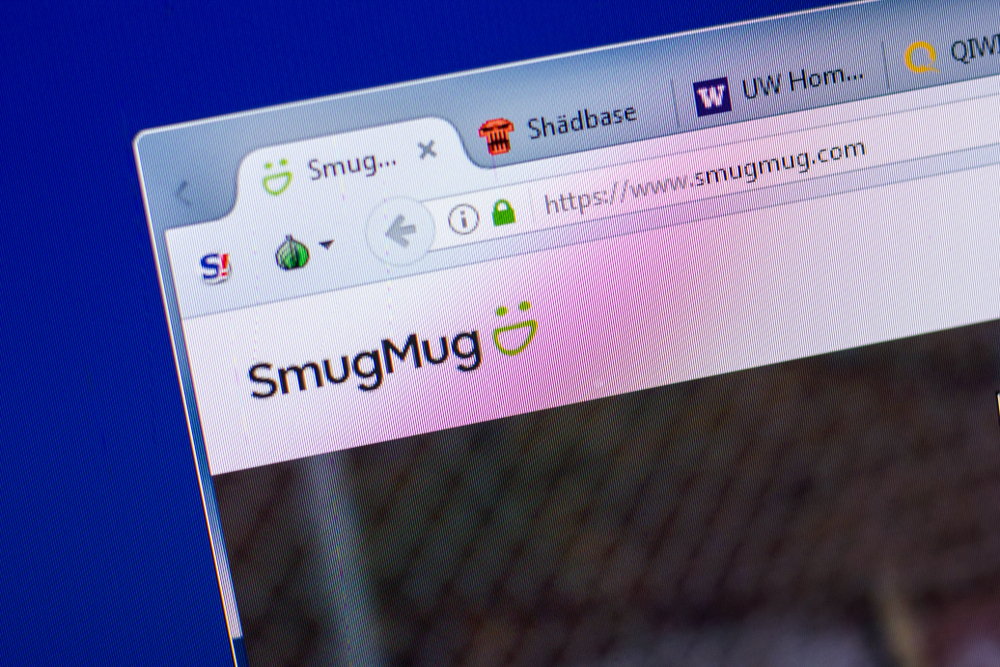 SmugMug is a website builder for photographers that offers a simple way to publish and sell your images. In contrast to more flexible builders like Wix or Squarespace, SmugMug is excellent as a specialist website builder in photography security, offering you the ability to prevent third-party downloads of your hard-worked pictures.
The paid plans include several options of protection you can apply to your photos:
right-click protection which shows a copyright notice when somebody attempts to right-click on your website;
custom watermarks on top of your pictures;
password protection for pages, files, galleries or even your entire photography website.
Our Modula plugin also features amazing security features that allow protecting images on your website.
👍 SmugMug Advantages

Excellent photograph specific features, including robust protection options for photos uploaded to your website

A great for monetizing your photos, helping you to sell both digital and print-based products, as soon as you sign up
👎 SmugMug Disadvantages

The specialty portfolio will make it feel a little low compared to all-rounded website builders.

The full portfolio plan can be a bit pricey at $15 per month (billed annually)
---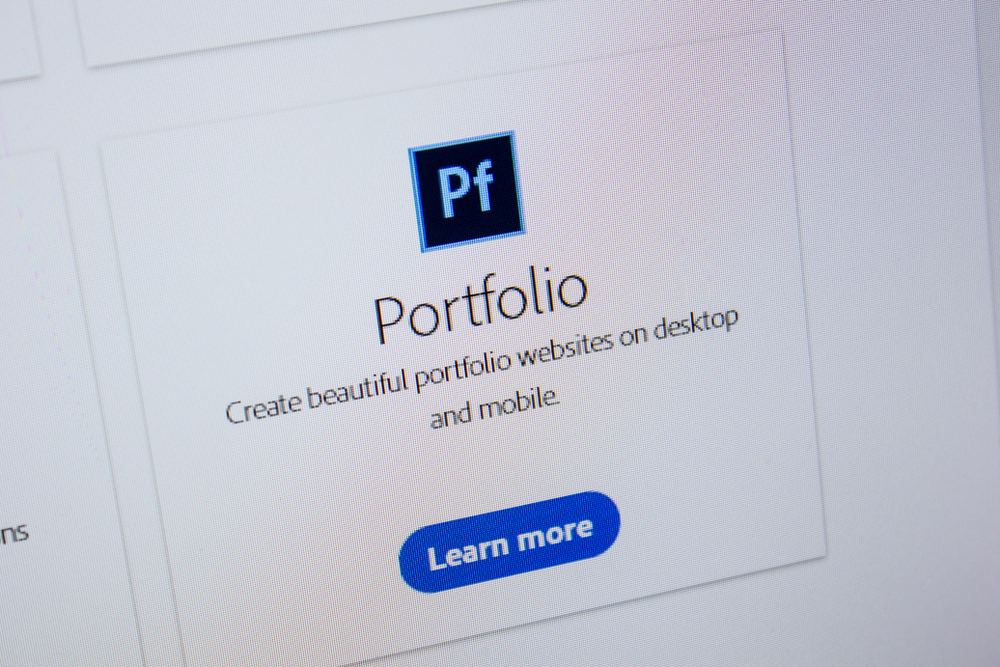 We are all familiar with Photoshop. To those who do not know, there is also Adobe Portfolio, a website builder for photographers, artists and other creators who are willing to put their works before the public. You can first test a selection of examples before you start with Adobe Portfolio. Combine these with your imagination and you can achieve amazing visual results.
With collection sets, Adobe Portfolio links to Adobe Lightroom. It is easy to update a gallery by adding or deleting images from the collection. You can also tailor your website by personalising your URL, integrate tracking analytics, Adobe fonts and password-protected pages.
The pages in Adobe Portfolio are all designed for mobile devices, browsers and the new search engines.
👍 Adobe Portfolio Advantages

The predefined themes come with a modern and slick look and feel, while also being highly customisable.

The interface is easy to use and does not require any coding skills.
👎 Adobe Portfolio Disadvantages

You are unable to sell your photos directly from the platform.

The choice of templates is quite limited.
---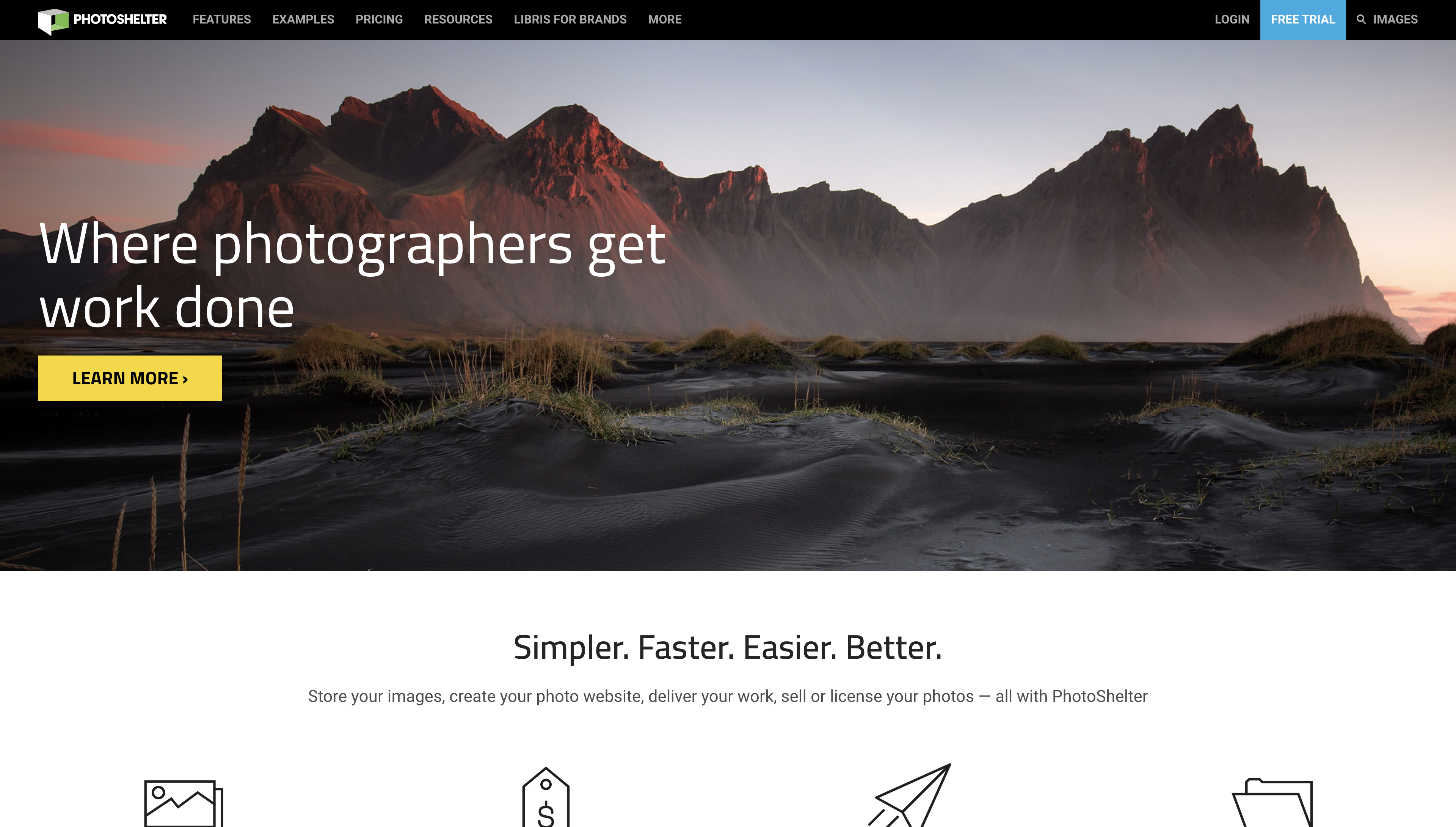 PhotoShelter is an all-in-one service that off-loads a lot of work from the shoulders of a beginner photographer, ready to bring your ideas to life. Apart from helping you to build a website, PhotoShelter also enables you to store your images, communicate with your customers and sell your photos, everything from a single, easy to use centralised interface.
The website builder enables you to personalise your page and helps you to follow your brand accurately. Once online, visitors or your customers can navigate and download their assigned content in a few clicks.
👍 PhotoShelter Advantages

Comprehensive platform for photographers, integrating pricing tools, connection with online labs for ordering prints, blog integration and content delivery for customers
👎 PhotoShelter Disadvantages

The choice of templates is quite limited and there is a lack of SEO compatibility
---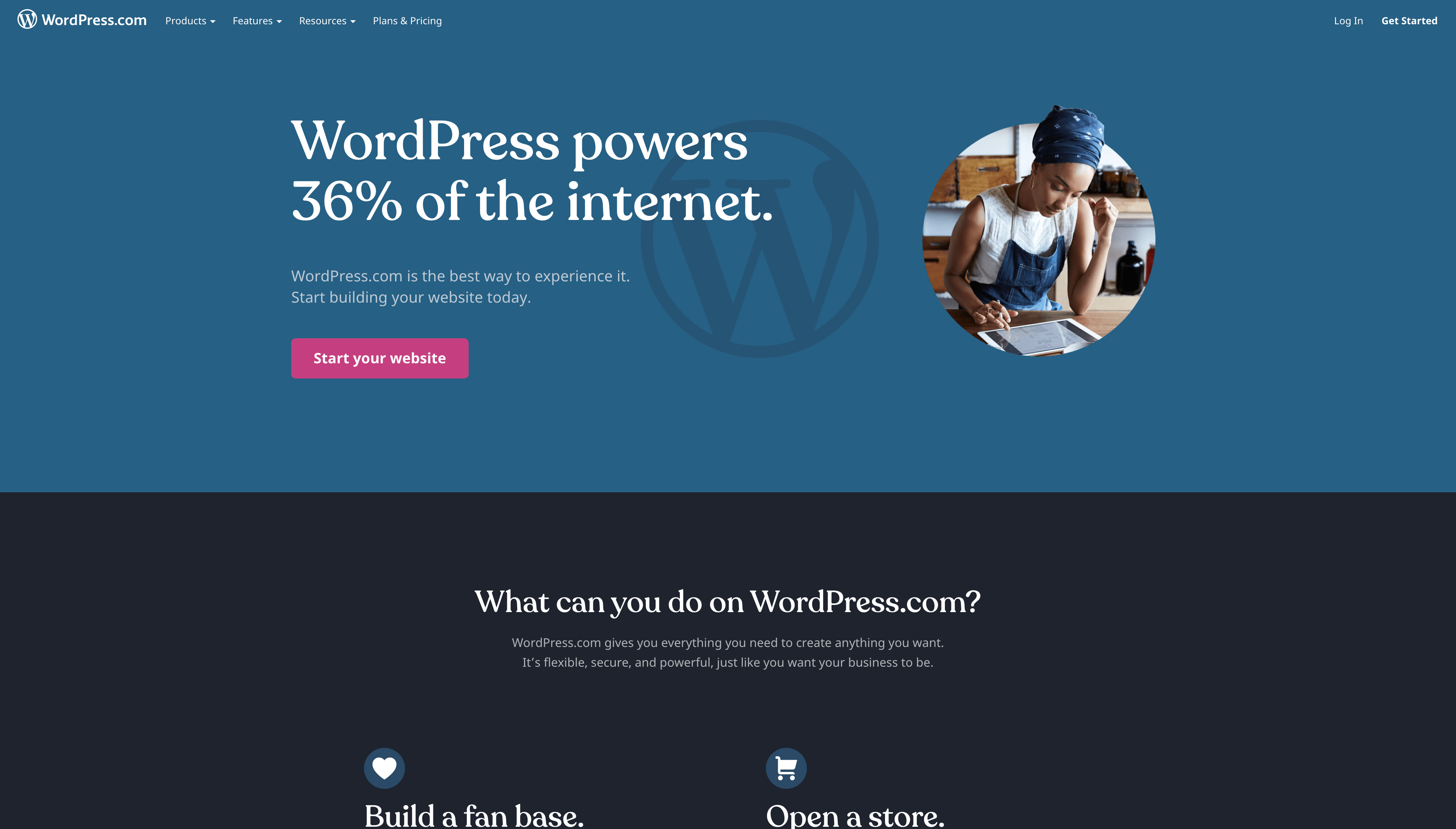 WordPress.com is an easier-to-use version of the famous giant counterpart, WordPress.org. It combines WordPress.org's power and blogging skills with its more streamlined, user-friendly editor.
The result is a powerful but quite challenging website builder for photographers, which can not be defeated for its blogging tools and also offers great value for money.
WordPress.com provides you with the complete range of blogging tools, from social bookmarking to comments. However, it does not assemble its photo-specific features, having a quite standard structure compared with, for example, SmugMug. Therefore, it might not be your best bet if you don't combine your photography portfolio with a blog.
👍 WordPress.com Advantages

Best website builder for bloggers, providing a full range of built-in tools.

Great cost-benefit balance due to the generous package of features offered by the paid plans.
👎 WordPress.com Disadvantages

The complexity of WordPress might represent a challenge for beginners.

Because WordPress is primarily built for blogging, the features might not be as robust as competitors such as Squarespace or SmugMug.
---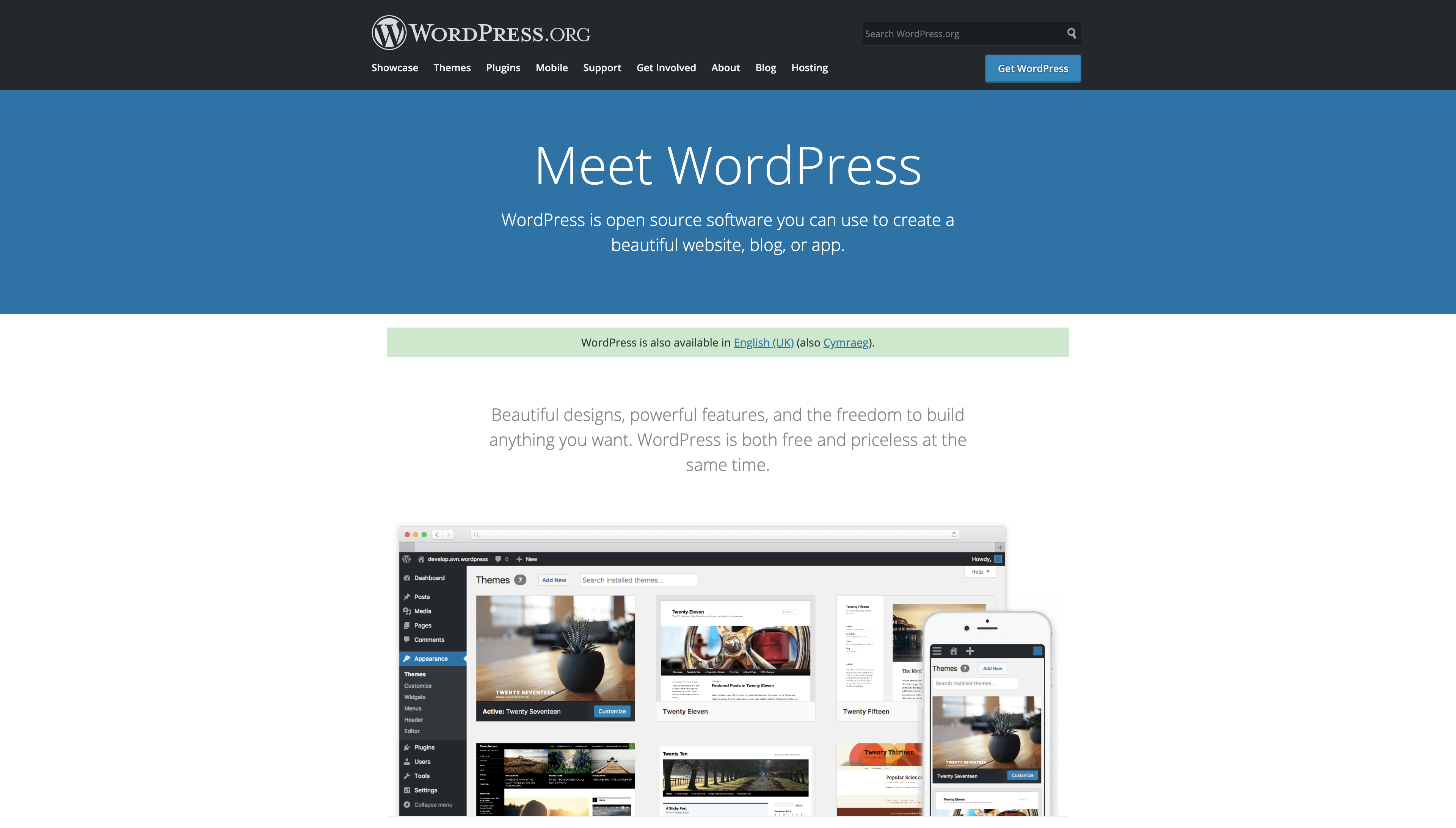 The top website builder for photographers is a self-hosted version of WordPress.org. In addition to WordPress.com, this version offers the possibility to install additional plugins and themes. WordPress offers creative freedom for website owners with unlimited combinations of themes, plugins, and integrations.
You need to register for a WordPress hosting account to get started.
👍 WordPress.org Advantages

Highly customisable, with unlimited plugins and themes to choose from.

The ability to link your own domain name, SSL certificate or even self host it with a provider of your choice.
👎 WordPress.org Disadvantages

Might require a bit of setup, but our Modula plugin is here to help!
Integrate your photography portfolio into WordPress with WP Modula
We did our best to make a fair evaluation of WordPress.org, which might seem daunting for beginners. However, the long-term benefits of having a highly customised portfolio, such as high SEO value given by a blog rich in content and a stunning photography portfolio, that can even by migrated from other platforms.
Plugins like Modula are compatible with WordPress.org help you to avoid any difficulties you might encounter in setting up your photography portfolio on a complex website builder!
Designed to showcase your photography portfolio in its shiniest version, Modula has everything you could need when it comes to features:
Modula is currently proud to have over 80,000 active users. You should consider Modula as your primary option if you're looking for a WordPress gallery plugin. Creating a WordPress gallery with Modula is much simpler and faster than with the awkward and restricted functionality of the core features in WordPress.
Download and activate Modula

The first step that you need to take is to navigate to Plugins > Add New and search for WP Modula Gallery in the WordPress repository.
Once the Modula Gallery plugin is installed, you also need to activate it by clicking on the blue button highlighted in the image below.
Add a new Modula gallery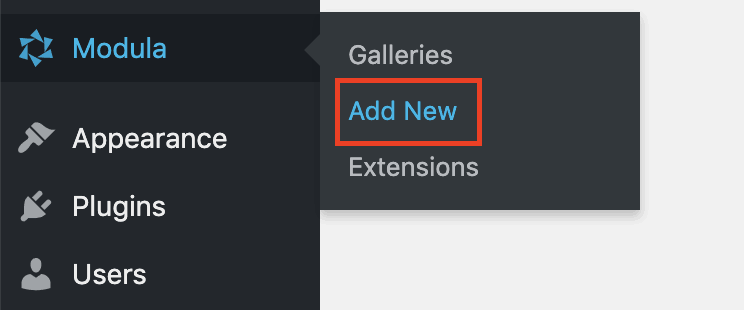 Once you have both installed and enabled Modula, you can float over the menu item called Modula on the left-hand side of the WordPress Admin Dashboard and click Add New to create your first WordPress gallery!
On the following screen, you can immediately start uploading images to your WordPress gallery. On the same screen, you can also modify the settings of your gallery.
Give your first freelance photography gallery a title!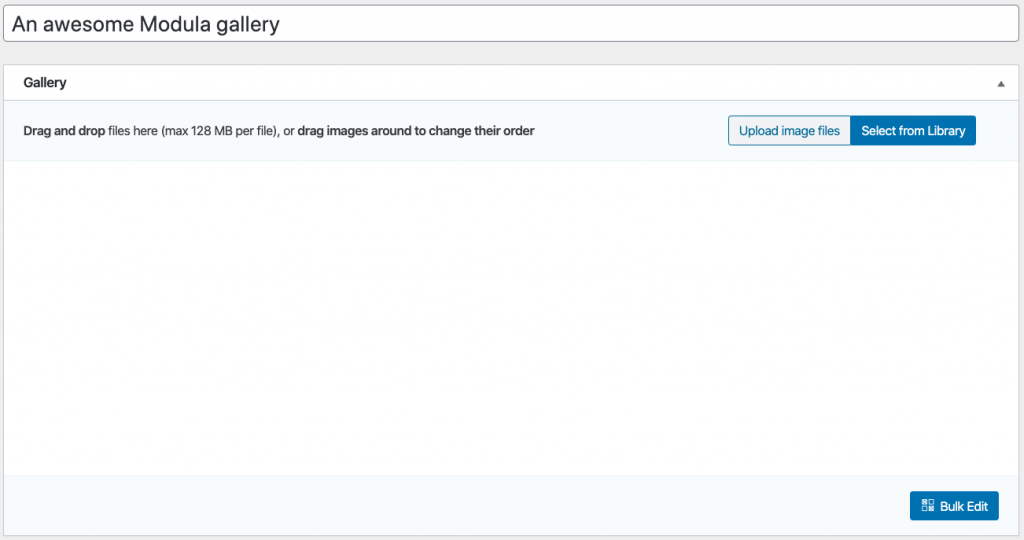 Using descriptive names will help you make modifications to this gallery even when you have multiple galleries in your freelance photography portfolio.
Make sure you use a descriptive title to help you find the gallery later on – in this case, we chose to do something factually exact😉
Upload images to your WordPress Modula gallery!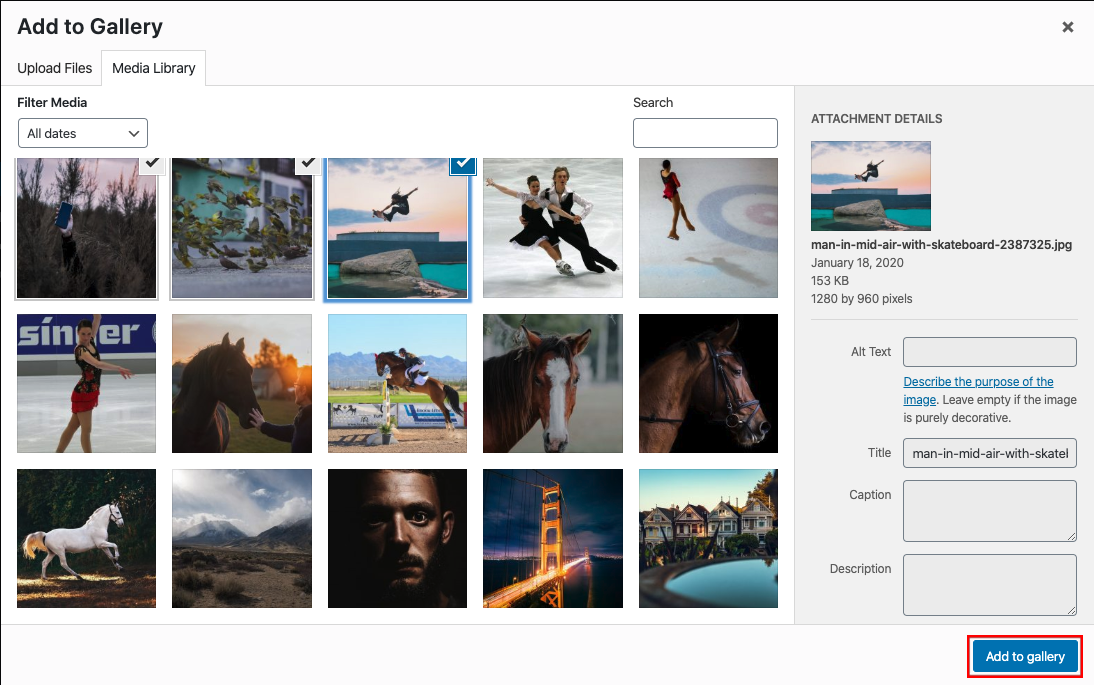 After selecting the pictures that you wish to add to the Modula WordPress gallery please, you must not forget to click on the Add to gallery button to add them to the gallery.
After clicking Add to gallery, your images will be present in the gallery edit area, as outlined in the image below: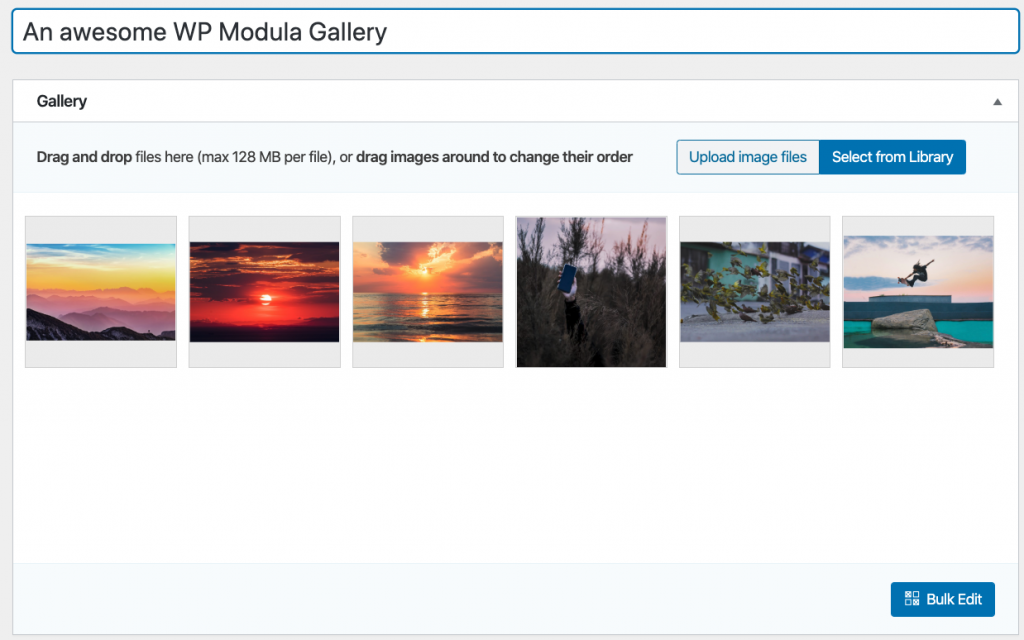 This area has been developed to be highly convenient and easy to use, irrespective of your WordPress experience. In particular, the rearrangement of images is so easy to click and drag through thanks to our drag and drop interface!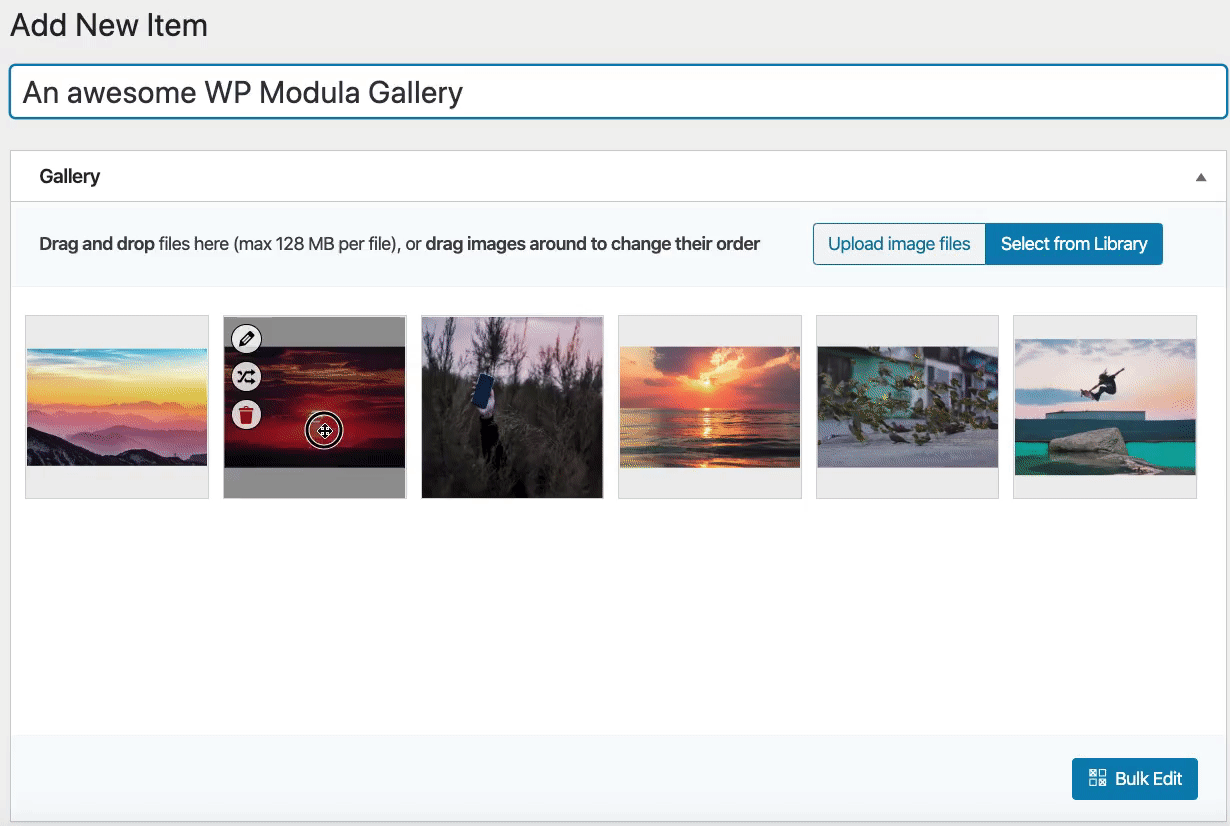 Publishing and inserting your gallery into WordPress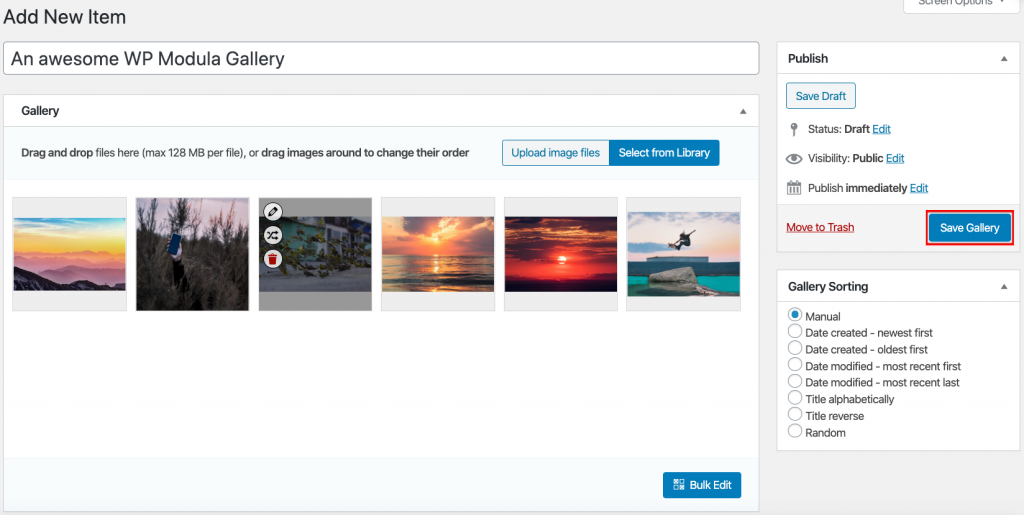 Now that you have some fascinating images (and we do too!) in your galleries, take a step forward and click Save gallery!
The gallery shortcode is then placed in the gallery editing area as shown below after you have published your gallery. If you want to publish a link to the WP Module gallery, you can also copy the gallery link.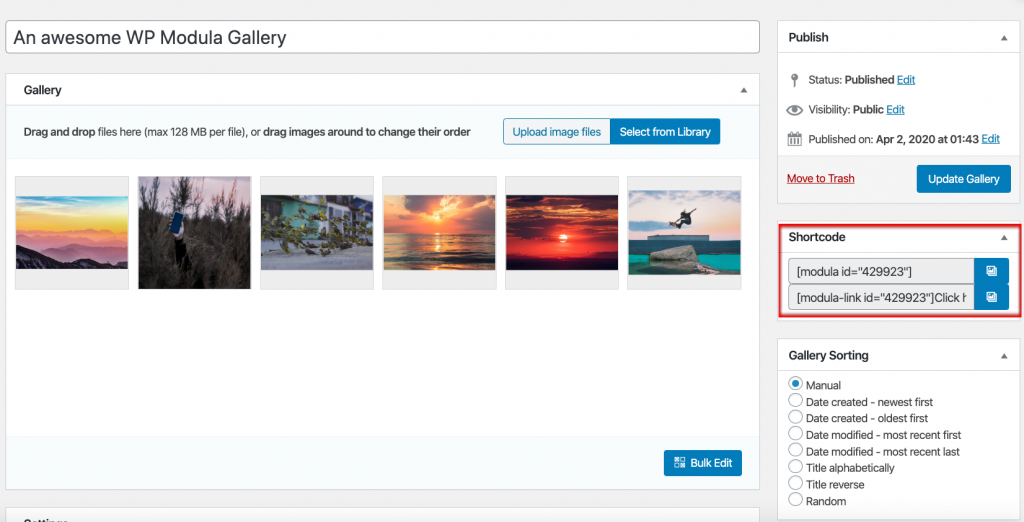 The next step is to insert your gallery into the posts and pages of WordPress, where they appear. This is so easy to copy and paste the shortcode anywhere you want it to appear.
Inserting Modula Galleries into Posts using the Gutenberg Block
it's also very easy to use the Gutenberg Block Modula to insert galleries.

Simply type /modula to insert the Gutenberg block and then select your gallery from the following appearing dropdown menu.

Click the icon of the Modula (shown above), and then select the gallery you want to insert via the above-mentioned dropdown.
Customising your gallery!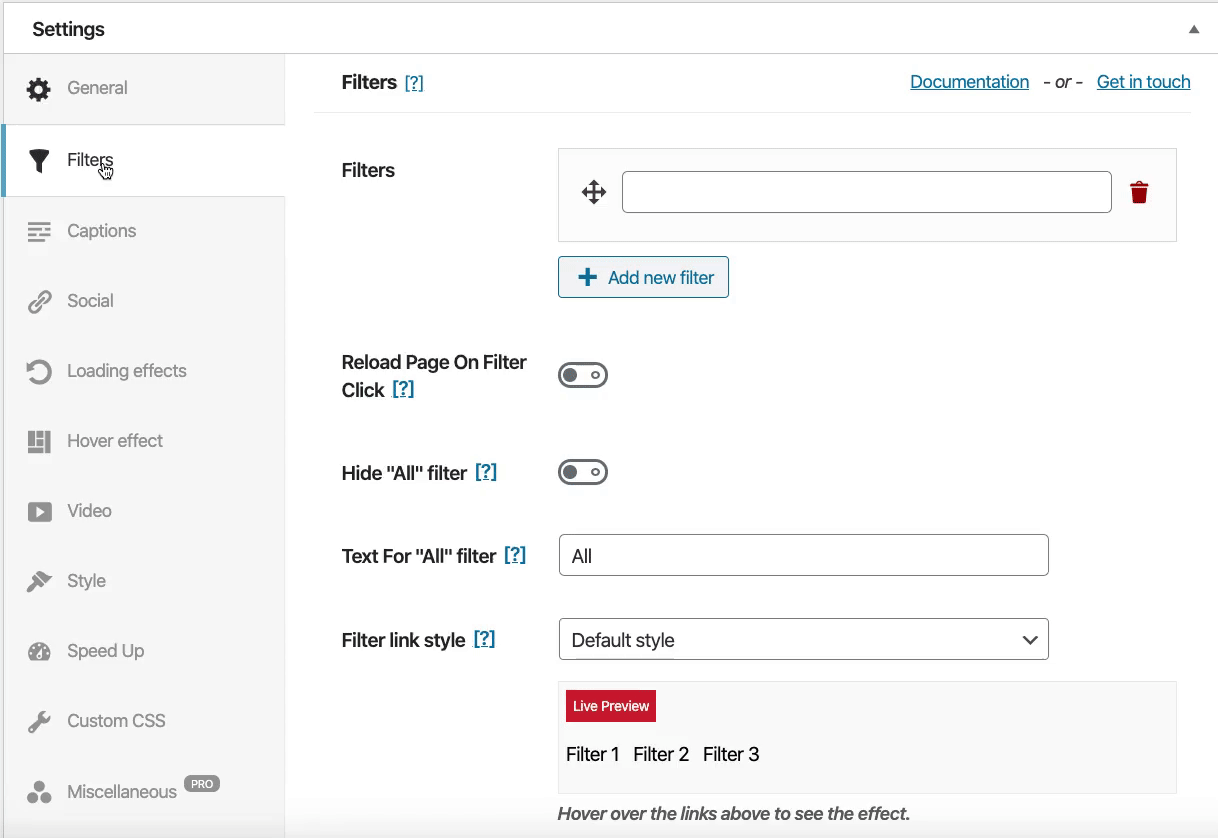 We have done everything possible to make Modula the easiest gallery plugin available. For beginners and intermediary users, it is extremely easy to take advantage of advanced, previously unthinkable functionality.
After purchasing a license for Modula that will allow you to use the settings of Modula fully. – to get started, click here.
---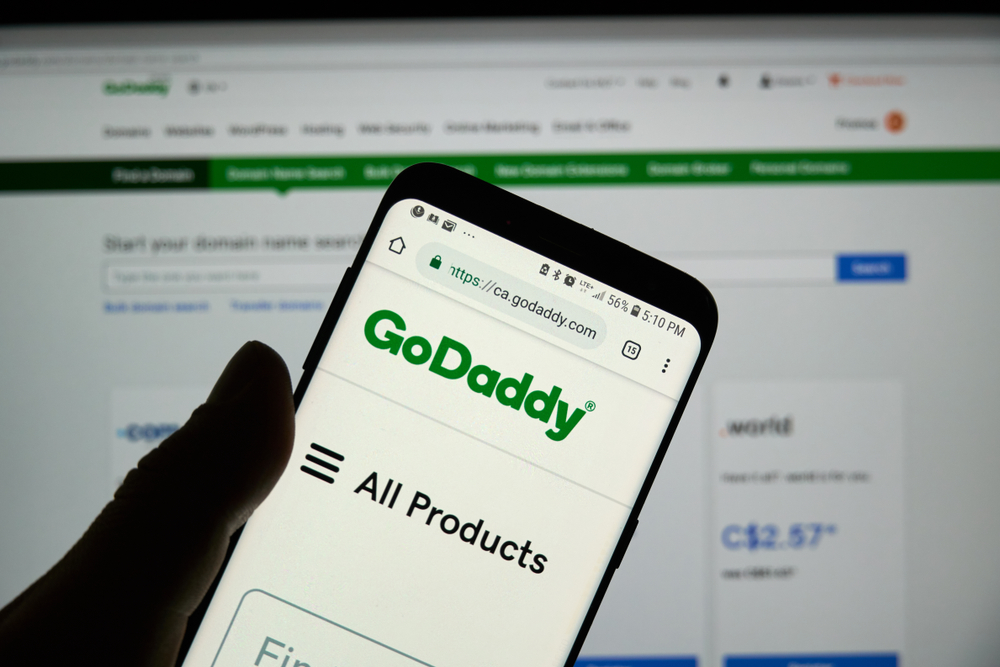 You may know that GoDaddy is the world's largest domain registrar, but this is no trick.
GoDaddy has a popular website builder which has improved steadily over the years.
GoDaddy's website builder is simple but effective. One of the most prominent features is ADI (Artificial Design Intelligence). Based on the answers to a few questions, such as the name and industry related to your website, GoDaddy builds you a personalized site based on your answers.
Since GoDaddy builds your site on the basis of your responses, you automatically incorporate features related to industry (for example, a gallery, a contact page, a booking form, a subscription newsletter, etc.).
👍 GoDaddy Advantages

Great time saver – if you wish, you can get your website live in minutes!

Easy to use for beginners, with 24/7 customer support.
👎 GoDaddy Disadvantages

A lack of creative control that could become frustrating for photographers that wish to have the best output out of their work!

A lack of advanced features such as integrations or extensions
---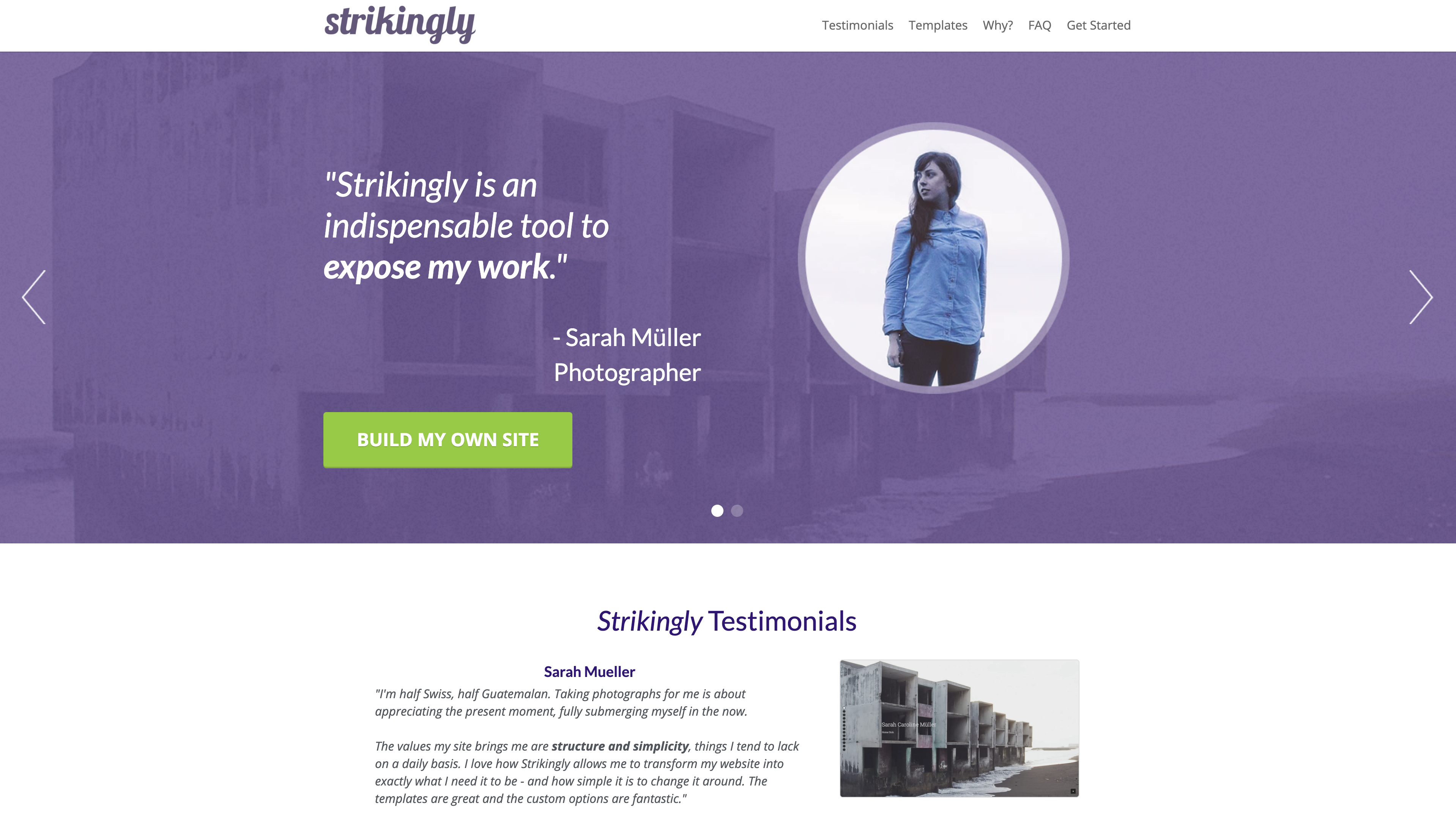 Strikingly could be the photography website builder companion for you if you wish to keep things small and simple as you remain stylish. This platform is designed mainly for the construction of minimalistic landing pages.
The website builder seeks to give everyone an opportunity to have an online presence, regardless of their technical experience. This is accomplished with basic tools and well-designed, easily customisable templates.
Finally, this website builder makes the perfect choice for hobby photographers who want a website that shows all their work in a centralised, easily manageable location. It might not be the straw for a large or complex portfolio, but a small collection of photos will display nicely.
👍 Strikingly Advantages

Highly manageable for beginner photographers wishing to showcase a small collection of work.

The presence of useful features for blogging and sales, helping you to create an all-rounder photography portfolio.
👎 Strikingly Disadvantages

Limited to one-page designs and basic features, not suitable for larger, more complex portfolios

It is not scalable in the long run
---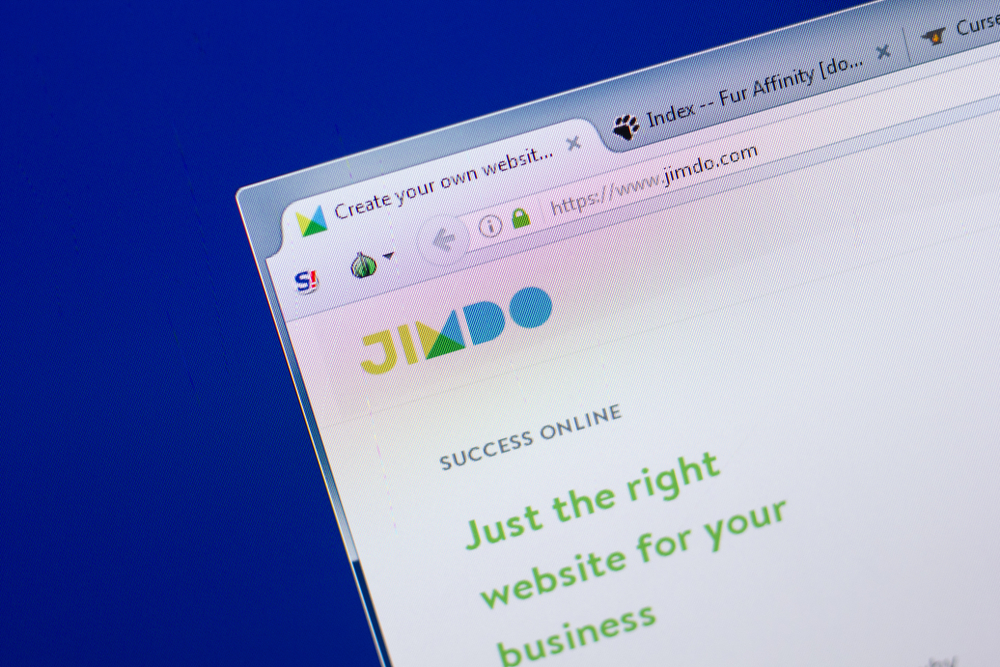 Should you take Jimdo for a ride as your photography website builder, the whole process of compiling a page will be as funny and cool as the name is.
Jimdo is a website builder for photographers is comprised of two main modules: Jimdo Creator (the main platform) and Jimdo Dolphin. Jimdo Creator is an intermediate website builder similar to Wix, Weebly, and other similar website builders. Meanwhile, Jimdo Dolphin uses ADI to instantly build websites based on the information provided, similarly to SITE123, GoDaddy, and Wix.
Jimdo's main asset include the incorporation of templates having UX (User Experience) in mind. Having a strong UX for your photography portfolio is crucial because it makes people enjoy your website. Think of sites you visited which were clunky, awkward, or hard to find – you probably haven't stayed for a long time! With a Jimdo template applied to your photography website, your bounce rate will be low!
👍 Jimdo Advantages

Great User Experience built into the predefined Jimdo templates

You have a choice of the module that you wish to use (Jimdo Creator or Jimdo Dolphin based on your expertise level).
👎 Jimdo Disadvantages

A limited choice of templates, extensions and integrations.
---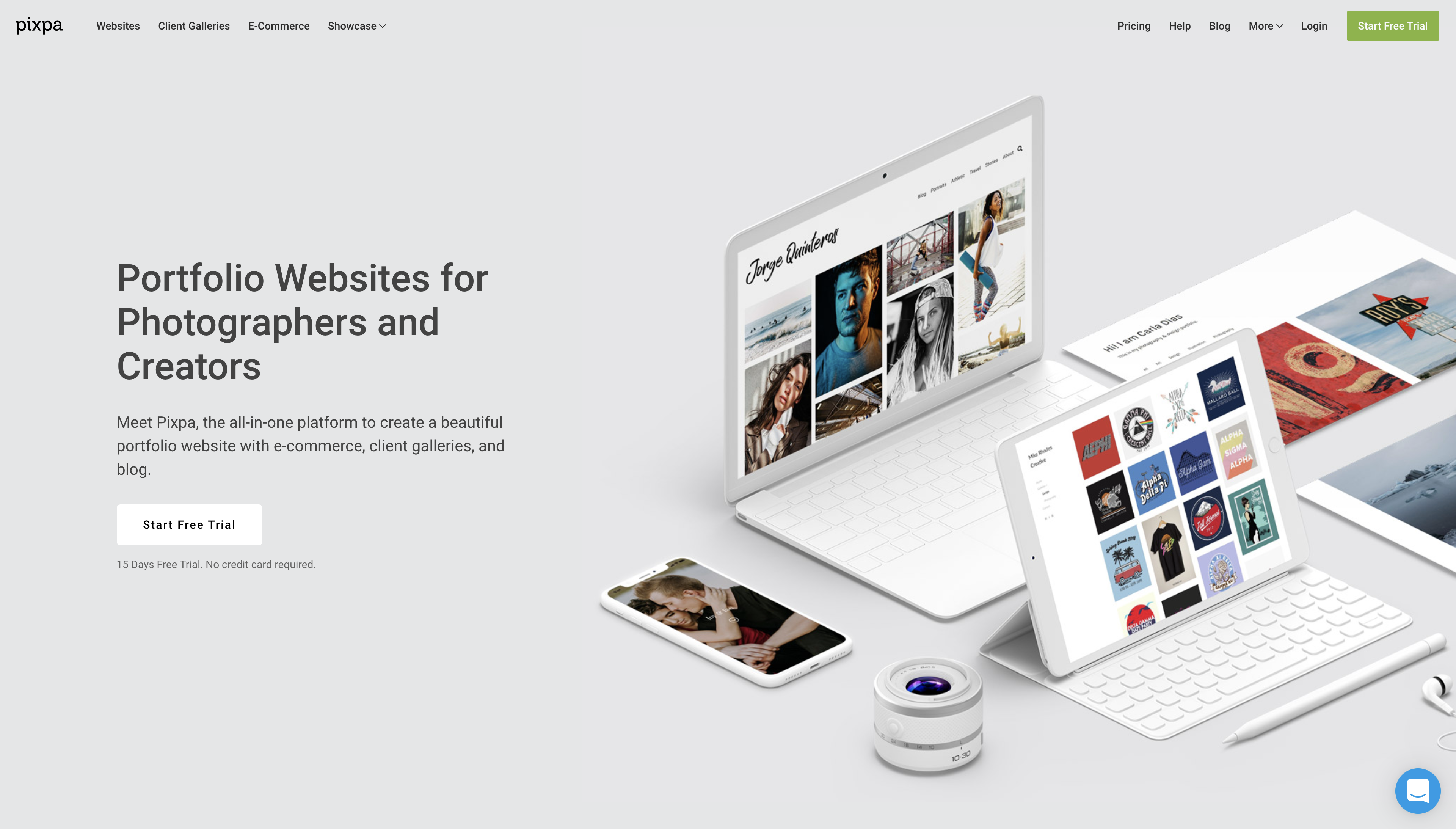 Pixpa is a website builder that, from the very beginning, because of its niche specialisation, has found his target audience. Therefore, the platform stands out from the crowd, as a special website builder for creators and artists –those who need to present their work to potential customers in the form of an imposing and high-quality portfolio, personal and business websites, blogs or even web stores.
Pixpa has slick templates, starting at only $8/month. We think there's a way forward before Squarespace, Wix and SmugMug challenges, but it usually has positive feedback.
👍 Pixpa Advantages

Versatile third-party integrations and highly-customisable SEO settings

Several pricing options to cover a variety of needs, and the inclusion of a blogging platform
👎 Pixpa Disadvantages

Limited template selection and no option to integrate a domain name

Lacking a feature for image editing
---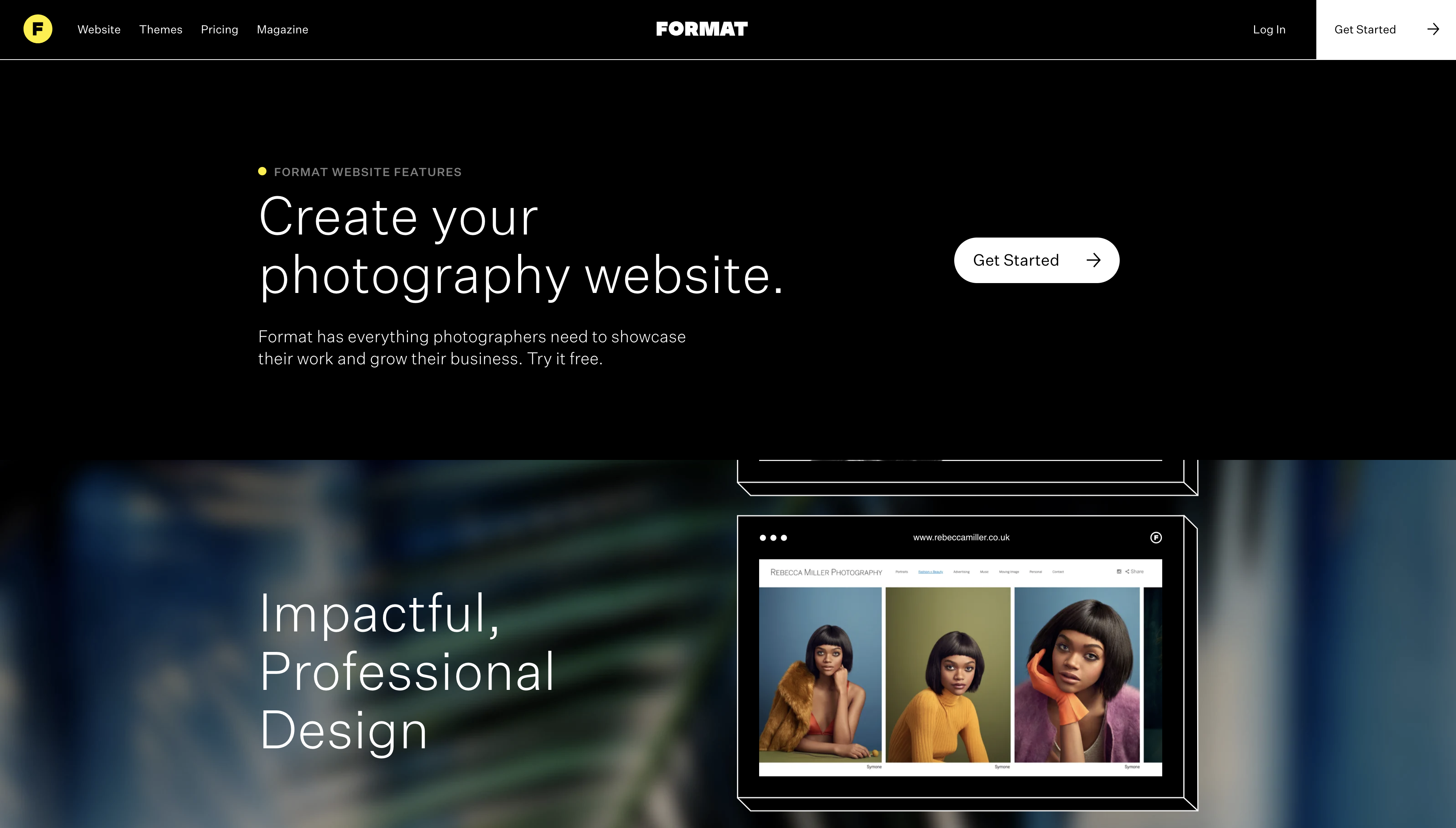 Another website builder designed with photography portfolios in mind is Format. The plans starting at only $9/month makes this definitely an affordable option and popular with photographers, because of its focus on copyright and privacy.
Portfolios launched by the Format website builder can include blogs, webshops, powerful gallery design configurations, themes and other kinds of web pages. You don't need any coding expertise to create websites with Format. The focus on users intuition eliminates the need to master basic programming or to have a background in web design.
By all means, Format Design Center, like many of its counterparts, is very simple and comprises a choice of 23 topics from which four are considered prime for an extra couple of dollars a month. You are able to select and customize the theme you like. You can keep the exact topic word for word and substitute each particular component with your own images or start a page from scratch to fit your esthetic.
👍 Format Advantages

The availability of an integrated blog and online store, with a strong focus on copyright and image gallery protection.

The opportunity to edit the HTML code of the web page should you have advanced web development knowledge.
👎 Format Disadvantages

Firstly, the dashboard interface design lacks esthetics.

Secondly, limited customizability of the predefined templates.
---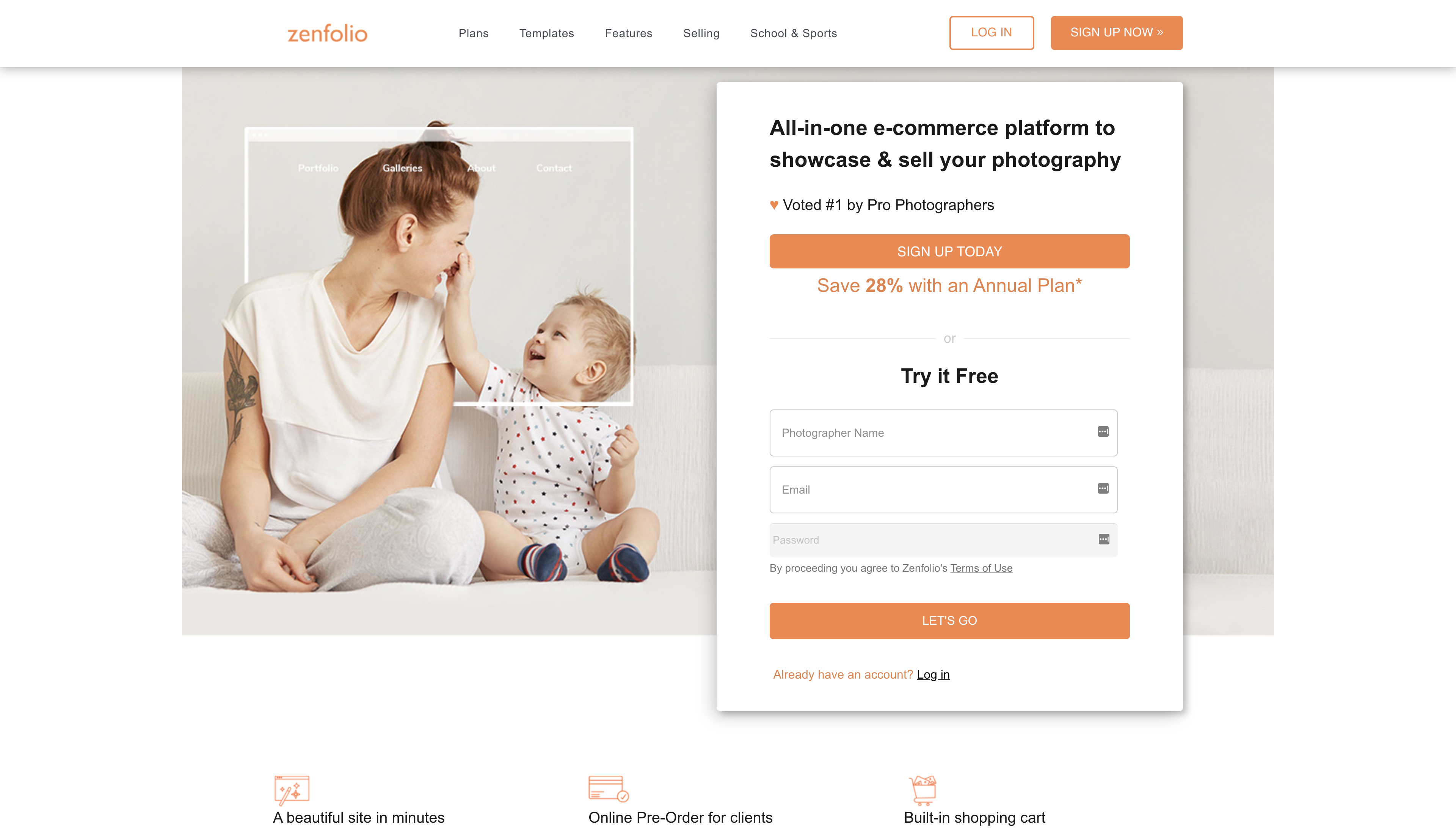 Zenfolio is a good choice for event photographers because it has customer logins and extensive storage options.
This website builder enables the creation of websites that support eCommerce functions with multiple use cases. As a result, the users are provided with a unique combination of a portfolio (photo/video), a blog and an online shop.
Either way, Zenfolio helps professionals and niche fans to create truly unique and vision-related web sites with versatile goals in mind. Whether you want to show your fans your creative work or sell it to the target audience, the system offers you a range of measures, tools and features to best complete the task and to make the profit that you desire.
👍 Zenfolio Advantages

Good customer support, available 24/7.

Unparalleled marketing tools and mobile optimisation
👎 Zenfolio Disadvantages

Limited SEO settings availability, with a limited choice of templates

Unintuitive interface, with a complex and complicated interface
---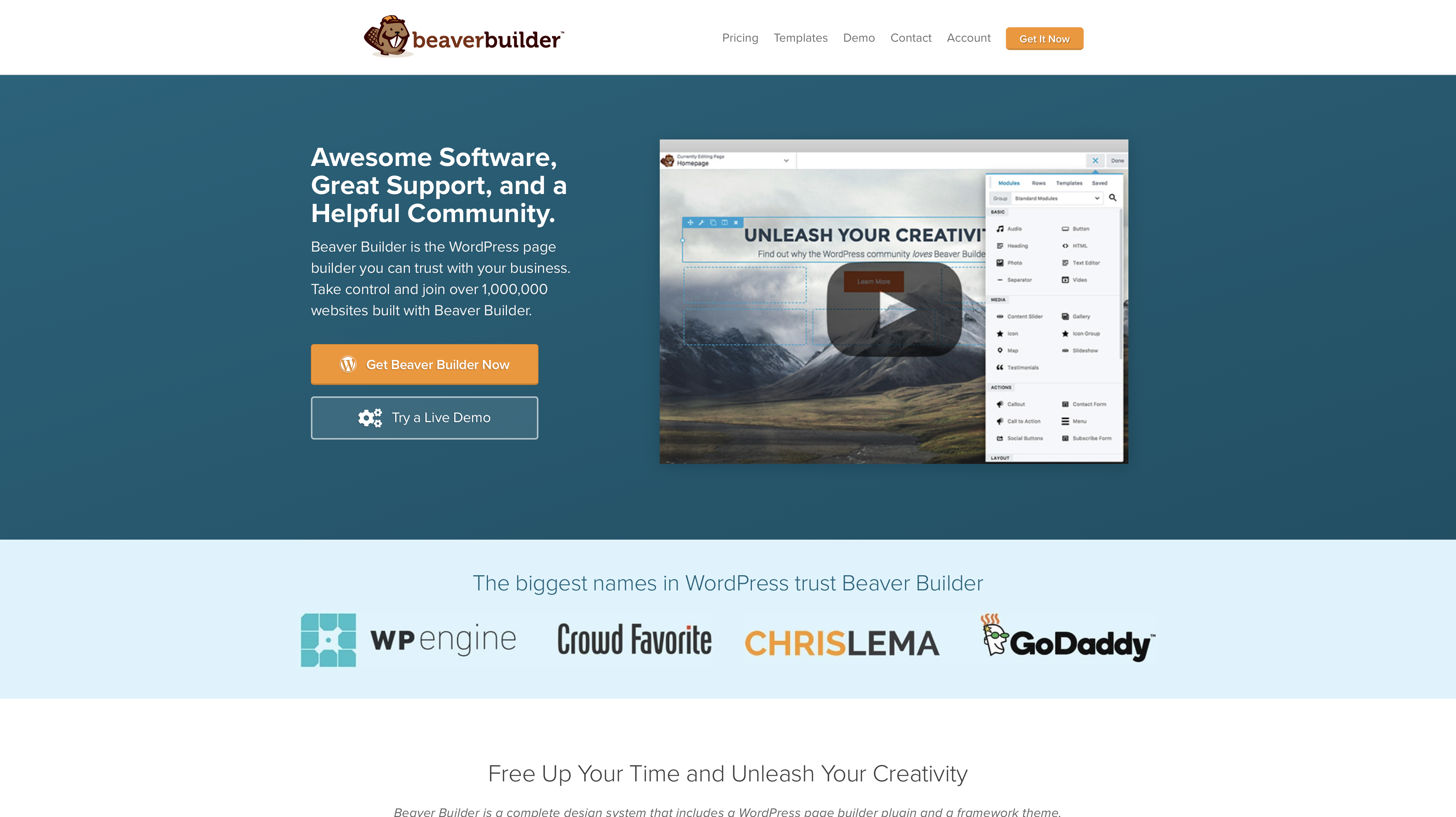 Despite its limitations, Beaver Builder is still a trustworthy, easy-to-use WordPress website builder plugin that I used to create stunning sites. Its clean code, developer facilities, reliable updates and excellent support make it one of the market's best page builders.
Beaver Builder is an extensive drag and drop website builder plugin that makes it as easy as possible to create fantastic content in WordPress.
By moving or dropping element to a canvas you don't have to code anything manually, with Beaver Builder: you can build custom posts and pages and you can not still use your current WordPress theme to see the results of their work straight away. You can do this with HTML knowledge.
For the vast majority of the users, site owners and WordPress developers, Beaver Builder should be useful in this respect. The main point of sale is that working with content on websites is much faster and more efficient – including the creation of websites from scratch.
The fact that Beaver Builder is not very easy for users with no experiences with websites — especially for people who want to produce great-looking content on their own— actually deals with some of the main issues with WordPress as a platform.
👍 Beaver Builder Advantages

Allows you to create professional, visually-stunning pages

Offers a variety of WordPress templates and widgets inside the blocks
👎 Beaver Builder Disadvantages

Expensive pricing for premium features, starting at $99 / year

You cannot overcome the limitations of your WordPress theme, as there is limited support for extensions and integrations
---
Elementor allows you to create original posts and pages that are unique to your WordPress theme and offer a multitude of visual enhancements when compared to standard post/page templates. This is achieved through a completely separate interface is provided to work on your posts and pages. The bulk of the workload to build a page is not done in the standard WordPress-enabled block editor.
What is more, no HTML / CSS / PHP / coding skills are needed — all can be done via a handy user interface. Elementor works on the front end of your website, which means it will instantly display the results of your customisations (good for people needing instant gratification 😉 ). You can use this to create every layout of content or page you can imagine. Nevertheless, the only limits are set by the functionality of your installed WordPress theme.
Most importantly, it works with all WordPress themes, so you can maintain your current design and still have all the good things that Elementor has to offer, without the need to migrate any dirty blocks or problematic code sequences.
WP Modula's Elementor widget
Previously in this article, we have showcased how we can integrate WP Modula into WordPress. In addition to that, we are going to outline below how Modula can be integrated into Elementor.
With the Elementor widget feature of Modula, you can build a photography portfolio with your WordPress sites in minutes, in just a few clicks. This feature is available for both free and PRO users of Modula!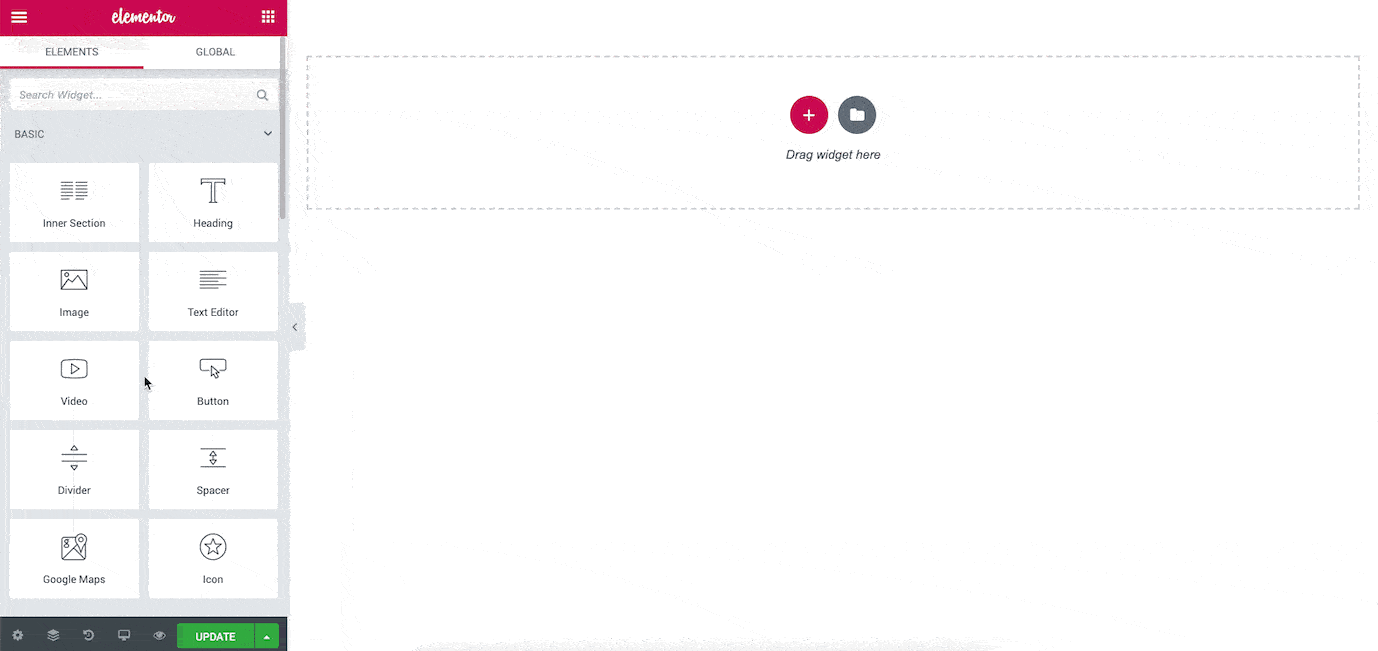 You can now simply drag the Elementor widget onto your page, select the gallery you wish to insert and start customising it to fit your tastes. 💥
This means that there are no more jumps you need to make between the Modula edit page and your Elementor pages, rendering the whole process much more smooth and convenient. And if you need help to get started with Elementor, I recommend checking their official documentation, here.
The Modula WordPress plugin was and will always remain fully compatible with page builders, by using a very well-known and common shortcode system for WordPress.
This officially makes the Elementor integration the third method of inserting Modula galleries onto your WordPress posts and pages – along with the traditional shortcode method and Modula Gutenberg block
👍 Elementor Advantages

The FREE version is good enough for most websites, that will not need upgrading to pro

An exceptional range of features and custom layouts to choose from
👎 Elementor Disadvantages

Limited choice in terms of typography and links colour settings

Difficult to debug misaligned elements
---
The winner website builder for photographers
A combination of Modula and WordPress
If you're still wondering which one is the top website builder, we have an answer. By all means, Modula paired with WordPress is the best website builder for photographers and their business. Firstly, you have an unlimited choice of themes and plugins to customize and extend the functionality of your website. Secondly, you can associate your own domain name, with an SSL certificate. Thirdly, you can use a hosting provider of your choice, making it the most cost-effective option, as you don't need to pay for any extra add-ons, customizations, watermark removals, or other messy monthly or annual plans.
It is not difficult to start configuring your website builder with Modula. All you have to do is follow the steps in our dedicated section of this article.
Summary: the best website builder for photographers in 2020
All in all, building a website for your photography business is not that difficult. In fact, the easiest and most cost-effective option is to use a combination of Modula and WordPress, hosted with a provider of your choice. Keep in mind that this is the best website builder for small businesses as well. So even if you're just starting out, this is an amazing choice.
Particularly, if your photography business is at the beginning of the road to success, the articles below will help you launch your website and more:
We hope that this guide has made it easier for you to decide what website builder to use for your photography business!