Copyright photos now or regret it down the road. Whether you're a professional photographer or hobbyist, protecting your photos is crucial. In the United States, copyright is established as soon as you click the shutter on your camera. On top of that, according to the Berne Convention you automatically own the copyright on any original photographs that you take.
However, that's not enough to protect you in case you need to file a lawsuit for copyright infringement. As such, registering your photos with the U.S. Copyright Office is a smart decision.
---
In this post, we'll explain:
what is copyright;
how to copyright photos through the United States Copyright Office;
other ways to copyright your photos;
and so much more.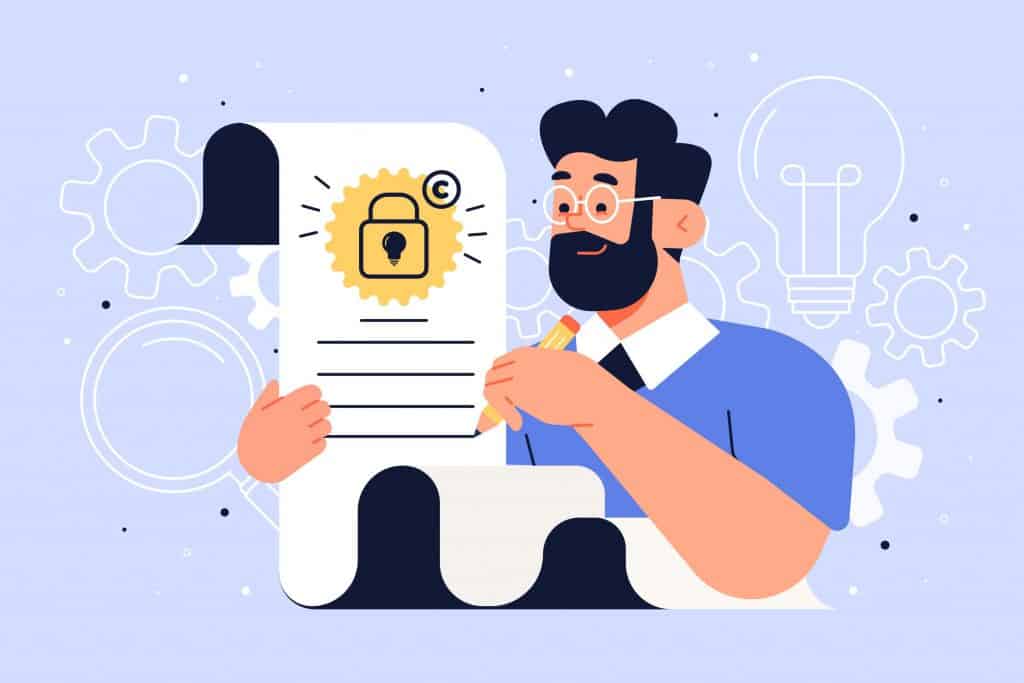 ---
---
What is Copyright?
The copyright law was created to protect designers, artists, and creators. Possessing a picture's copyright means that you have the exclusive right to replicate the photograph. You can also create derivative works based on your photo, distribute copies, and showcase them on social media.

If you're a professional, we advise you to register a copyright so that you can pursue statutory damages.
Poor man's copyright is a basic alternative to copyright registration. This method is used to register data by the postal service, notary, or via email.
---
How to Copyright Photos With the U.S. Copyright Office
This copyright protection platform allows you to register copyright ownership and add a copyright notice for 750 photos at one time for a $55 fee. Let's go through the process, step by step.
---
1. Visit their Website
To start, you'll need to visit the official website for the U.S. Copyright Office and create an account.

---
2. Start The Registration Process
Once you've completed the registration process, you'll be redirected to the portal where you can start to register your copyright. You can choose to register a singular photo or a group of photos by clicking the appropriate link on the left-hand side.

---
For this tutorial, I've selected the option to register a group of published photos.

---
3. Choose Group Type
When you click the start button, you'll need to select group type from the drop-down and confirm that you meet eligibility requirements.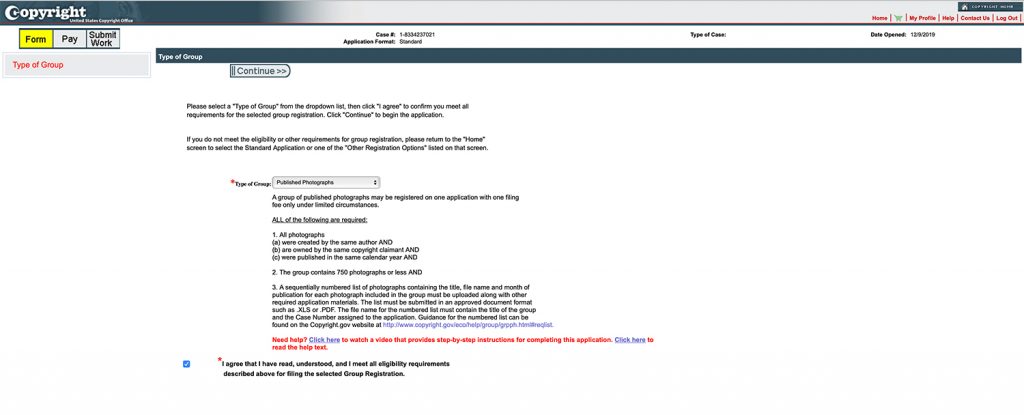 ---
4. Submit Group Information
The next step requires you to fill out information for the entire group of photos you're submitting. You'll need to create a new group for the photos by clicking the New button.

Then, enter the group name and fill out the information about the photos which include publication year, number of photos, and year of completion.
---
5. Submit Photo Titles
Once you're done entering group information, you'll need to click the New button again and enter the information for individual photos.

Enter how many photos will be submitted on this screen and then enter their titles. Keep in mind that the titles are limited to 1955 characters so if you're submitting a large number of photos, you'll have to repeat this step until all the photo titles have been added.
---
6. Enter Author Information
When you're done entering titles for your photos, click the Continue button to proceed with the registration process. You'll need to enter your name or your photography business name.

---
7. Enter Claimant Information
The next step requires you to enter claimant information. You can easily do this by clicking the Add me button to have your information automatically filled out.

---
8. Fill Out Rights and Permissions Information
You'll also need to provide the information for the person who should be contacted regarding copyright management information. If you have a lawyer or an attorney who handles this for you, you can fill out their information. You can also enter your own information by clicking the Add me button.

---
9. Enter Correspondent Information
On the next screen, you'll need to enter the contact information for the person that should be contacted regarding your copyright registration application.

---
10. Enter Your Address
On this screen, enter your mailing address where your copyright registration certificate should be mailed to.

---
11. Fill Out Special Handling Information
Here, you can request expedited service if you meet certain criteria. This includes any pending litigation. Note that this section is optional and you can simply click Continue if you don't need expedited service.

---
12. Certify and Review Application
On the next screen, you'll need to certify your application and confirm that you are indeed the author of the photos. You'll also need to review your application and make sure all the information has been entered correctly.

---
13. Pay and Upload Your Photos
The last step is to submit payment for your copyright registration application. Once you have submitted payment, you can upload a copy of all the photos that you want to copyright as well as an Excel file with the photo titles in a zip file. This platform has a template that you can download and use.
---
14. Wait For Your Copyright Registration to Be Processed
All that's left to do is wait for your registration to be processed and for your certificate to arrive in the mail. Standard processing time for online applications is 3 months but can range between 1 and 6 months.
👍 Advantages

– The U.S. Copyright Office will help you if you decide to take legal action against the person, company, or organization that's using images without your permission.

– When you register your photos, it puts your copyright ownership into public record. This automatically makes it impossible for people to claim they didn't know your photos are copyright protected or that they belong to someone.

– You can recover statutory damages and fees for attorneys that represented you in the lawsuit against the infringing individual. You can recover fees as long as you filed your registration within 3 months of publishing work or at any time before someone used your photos.

👎 Disadvantages

– You can register up to 750 photos for a one-time fee. If you're a professional photographer, this means that you will more than likely need to file several copyright owner registrations over the course of your professional career. The one-time fee cost can add up pretty quickly. 

---
How to Enforce a Copyright Claim
When someone else uses your photograph, and you want attribution, you can simply request it from the website owner.
However, if you want your picture deleted to protect your copyright, you will need to contact a lawyer and file a lawsuit for copyright infringement. You can write a cease and desist letter or ask a lawyer to do it for you.
Copyright protects the exclusive rights of your work and makes you the only owner. So, if you find your work published on a website, ask the owner to give you attribution or pay for it. But if you can't get along with him, use a DMCA takedown notice. Whatever you choose, you need to protect your work.
---
Other Ways to Copyright Photos
Aside from registering the copyright ownership for your photos, there are a couple of additional ways to protect photos from being stolen and used without your permission.
Adding a watermark – adding a watermark (with the copyright symbol) can help deter people from using your photos in the first place. Modula's Watermark extension can help you watermark photos on your site.
Disabling right-click on your website – likewise, disabling right click can help prevent people from downloading and using images posted on your website. You can easily enable this with Modula's Protection extension.
Enabling hotlink protection – lastly, consider enabling hotlink protection so people can't add a link to your photo on their website in order to display them.
If you're a professional photographer you might be interested in learning How to sell your stock photos online for money & get up to $120 per image as well as finding out more about how to create an authenticity certificate for your photos.
---
Final Thoughts
Unfortunately, online theft is a common place occurrence. As such, protecting your photos is necessary, and adding copyright information to your photographs will also help.
If you are a social media influencer, you'd better add a watermark to your pictures.
If you're a professional photographer, consider registering your photos with the U.S. Copyright Office so you can take appropriate legal action in the event the worst happens and your photos are used without permission.