The best free Photoshop alternatives for 2023 that make sense
Looking for a Photoshop alternative because it's too expensive? Look no further, here are the 7 best alternatives just for you.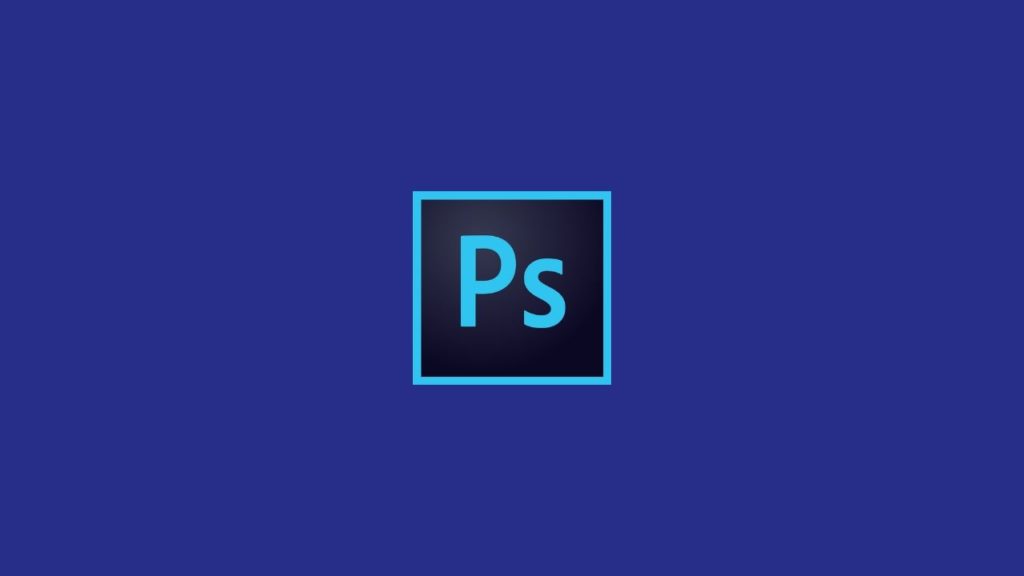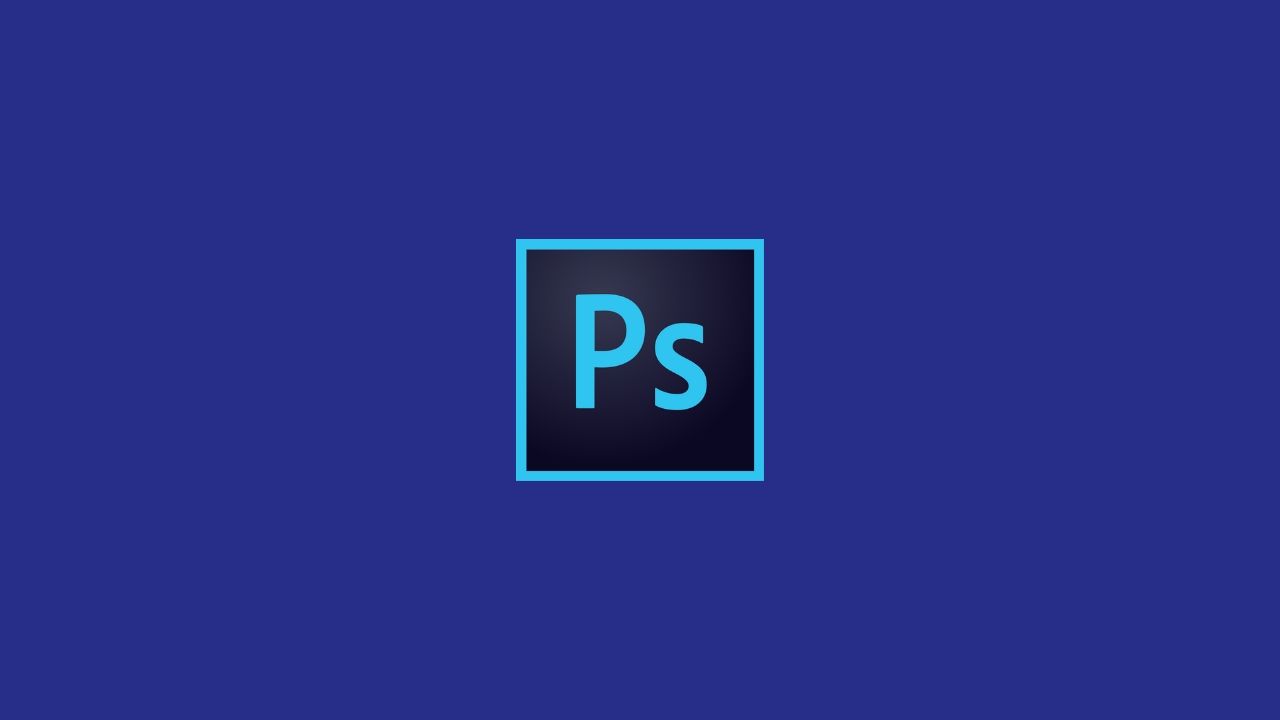 Are you on the hunt for a solution that's just as powerful as the highly reputable Adobe Photoshop software, but without the high price tag? Great! In this post, we'll be taking a look at the 10 best free Photoshop alternatives available, plus a few more with free trials.
Adobe Photoshop, Camera Raw, and Lightroom have been the industry gold standard photo editing software for decades. And for good reason — the feature-rich programs are powerful tools for photographers. However, as the need for affordable gear increases, so does the need for more affordable software, including quality Photoshop alternatives.
Although they don't provide all the same extensive functionalities as Adobe Photoshop, here's our list of the best free photo editing software for 2022, that has similar features to Photoshop. Some of these work with Mac and are open-source, so you can easily achieve your small day-to-day editing tasks in a proficient manner. These free Photoshop alternatives are definitely a game-changer!
On the other hand, if you're a digital artist that prefers to use Adobe Illustrator, you should check out this article on the best free Illustrator alternatives that you can start using right now.
Top Photoshop alternatives with free trials
Some Photoshop alternatives have become powerful tools with professional features that are the same or better than the Adobe image-editing package. You can take advantage of their free trials and, if they suit your needs, you can pay for them at a low price.
1. PhotoWorks
PhotoWorks is a smart photo editor for PC that hits the perfect balance between user-friendliness and impressive functionality. Designed for both newbies and pros, this software offers all the essential photo editing features, along with some niche tools.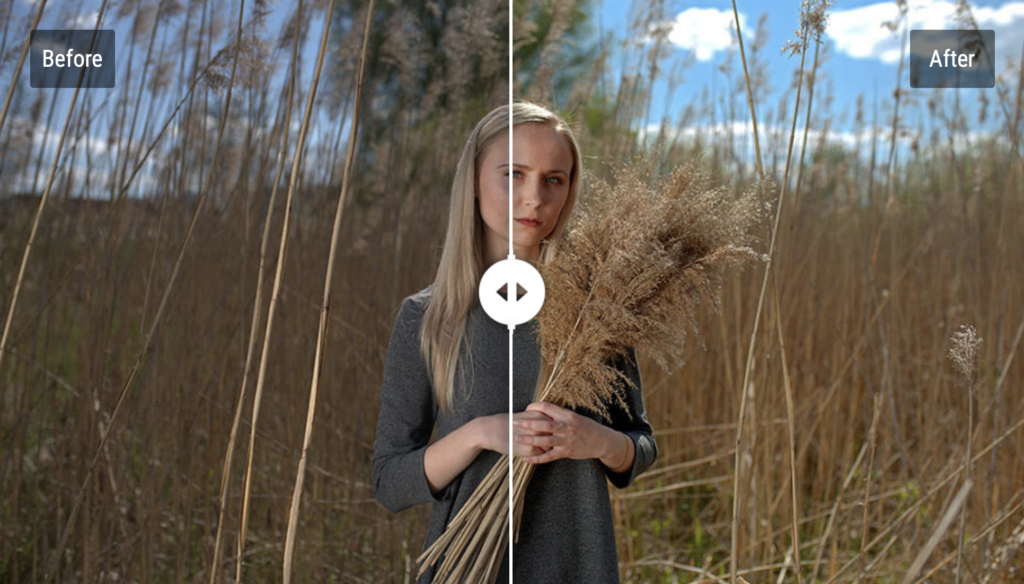 Perhaps the biggest appeal of PhotoWorks is its content-aware AI that significantly simplifies the editing process of both landscapes and portraits. Supporting over 450 RAW formats, this photo editing software boasts a clear, intuitive interface and a wide range of tools – from basic to pro-level – aimed at turning your lackluster shot into eye candy.
PhotoWorks is refreshingly undemanding when it comes to hardware, operating smoothly even on low-spec computers. It offers non-destructive editing, and an array of one-click effects, but does not shy away from old-school manual adjustments as well.
One of the brightest features of PhotoWorks is its portrait retouching. Thanks to PhotoWorks' advanced face-recognition technology and a library of beautifying presets, this photo editor turns a tedious retouching routine into a one-click thing — without sacrificing the quality of the end result.
The Face Sculpt feature is yet another tool that takes portrait retouching to the next level, as it allows to tweak the model's facial features if they have been warped by bad lighting or a weird shooting angle.
Notable PhotoWorks Features Include:
AI-driven auto-correction based on the photo's genre
Portrait auto retouch and face sculpting tool
Easy background change, removal, or blurring
180+ artistic filters: HDR, vintage, Color splash, etc.
Color grading tools and a library of 3D LUT presets
Odd objects removed in a few brushstrokes
Smart cropping, perspective, and lens distortion correction
| | |
| --- | --- |
| PROS | CONS |
| Undemanding hardware-wise | Only for Windows |
| Requires little time to master | Subpar layer tools |
| Supports 450+ RAW formats | Does not support the PSD format |
| AI-driven editing and retouching | Now drawing tools |
| Pro-level tools like Curves, Radial filter | Some tools like an Adjustment brush can be slow |
| An abundance of tutorials available online | ⚠️ Free trial does not allow you to save or download your work. |
---
2. Affinity Photo
Affinity Photo is a powerful Photoshop alternative that's a great choice for photographers who want to create HDR images, create panoramas, or do focus stacking.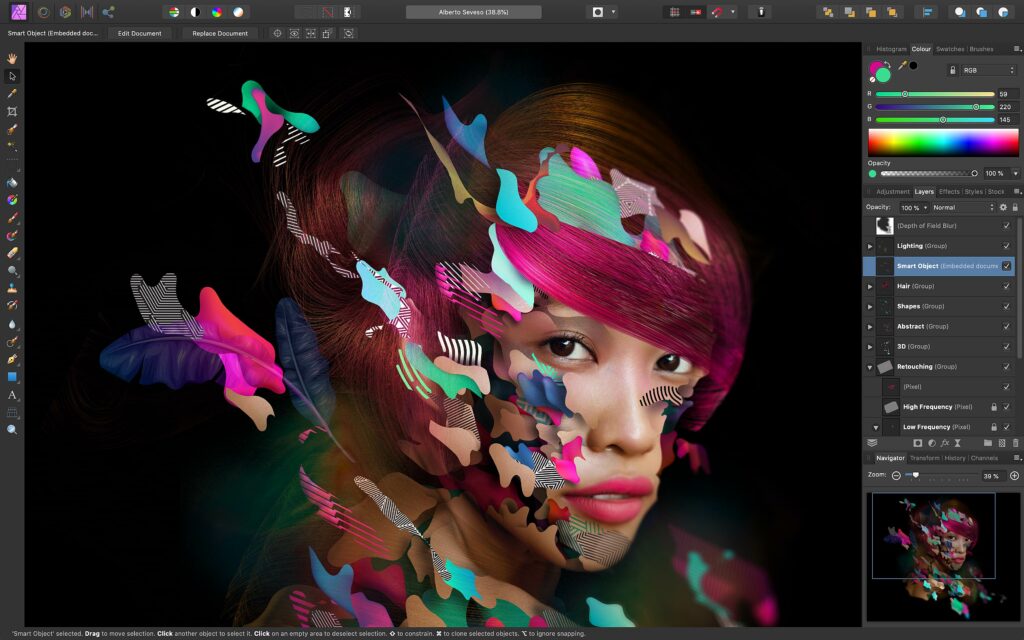 Affinity Photo is part of a trio of apps by Serif that includes Affinity Designer (an Illustrator alternative) and Affinity Publisher (their answer to InDesign). Users who are familiar with Photoshop will find Affinity Photo's layout to feel like second nature. They look and feel very similar — and the software is the most similar in terms of usability and features, too.
One thing that Affinity Photo has that you won't find in Photoshop is a dedicated frequency separation filter — a pretty neat feature for those who do a lot of this type of editing. Affinity Photo is also the first pro-level photo editing app to work across Windows, Mac, and iPad, so you can edit the same file across all of your devices. Photoshop finally released an iPad version in 2019, but with limited features.
Just like Photoshop, Affinity Photo supports layers, so you can do non-destructive editing. This is a major advantage over some of the other options on the market. However, it lacks some of the advanced editing tools that its major competitor boasts.
The other downside is that there's no built-in file management system like you get with Lightroom.
Notable Affinity Photo Features Include:
Supports RAW files
Tools for HDR, panorama stitching, and focus stacking
Batch processing
Import PSD files
Layer-based, non-destructive editing
Single-price, no monthly subscription
Supports various file types on import and export
| | |
| --- | --- |
| PROS | CONS |
| Similar in look & feel to Photoshop | Not as many advanced features as Ps |
| One-time cost, free lifetime updates | No image file management system |
| Many retouching tools and filters | Can be slow with very large files |
| Built-in lens corrections | |
| Huge brush library | |
| Powerful text tools | |
---
3. Luminar AI
Luminar AI is a revolutionary new type of photo editing software that uses artificial intelligence to speed up the editing process. It is geared toward landscape and portrait photographers.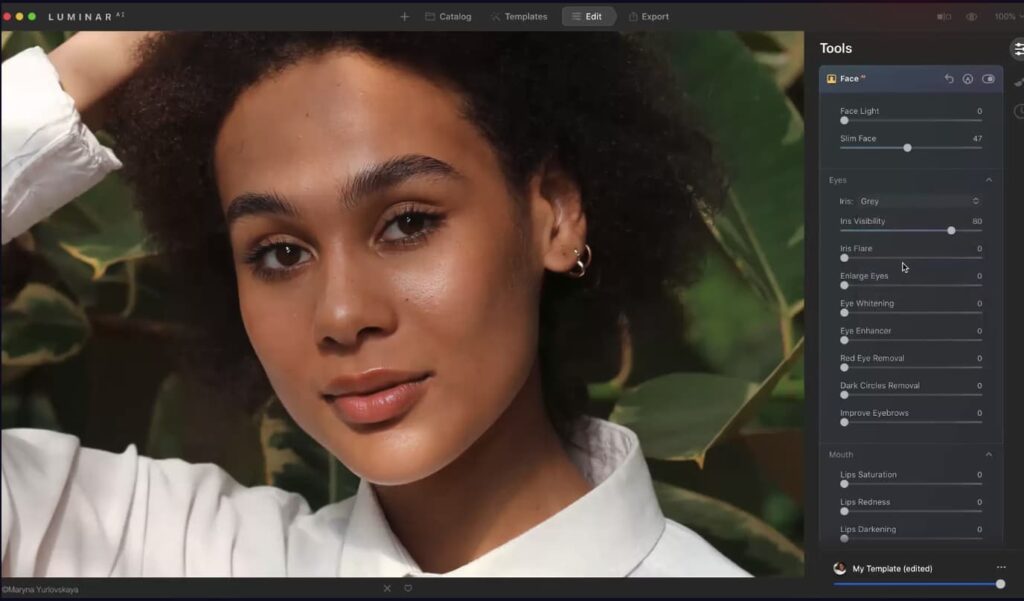 Luminar AI is unlike any of the other Photoshop alternatives that made it onto our list. The developers at Skylum, Luminar's parent company, took a non-conventional approach to photo-editing with this version of Luminar — it's fully powered by artificial intelligence. What that means, is that Luminar can automatically detect and mask parts of the image (like the sky, hair, skin, or eyes) that you would normally have to do manually.
At the heart of Luminar AI's technology are Templates. They are basically like presets or filters, but the software chooses them based on your photo. Artificial intelligence studies your image and suggests the best templates that would work with that image. Of course, you can alter each template to suit your taste.
Luminar AI excels at sky replacements, body slimming, eye enhancements, adding fog to landscapes, and more. Honestly, some of the things it can do are jaw-dropping!
However, as a standalone app, Luminar does fall short in other areas. For example, there is no layer-based editing. You can't compare images side by side, and there's no batch editing. For this reason, many photographers use the plugin version of Luminar AI along with Photoshop.
Notable Luminar AI Features Include:
Makes advanced edits easy enough for beginners
AI automatically detects and masks parts of the image
Jaw-dropping sky replacements
Fantastic portrait editing tools
Supports RAW files
Available for Windows or Mac
Standalone app or plugin for Photoshop
| | |
| --- | --- |
| PROS | CONS |
| User-friendly, easy to use | No layer-based editing |
| One-time cost, free updates | High system requirements |
| Excellent for landscapes and portraits | Missing many advanced features of Ps |
| Time-saving | |
---
4. Capture One
Capture One is a sophisticated program that is Lightroom's biggest rival. If you do most of your editing in Lightroom and are looking to break away from Adobe, this just might be the answer.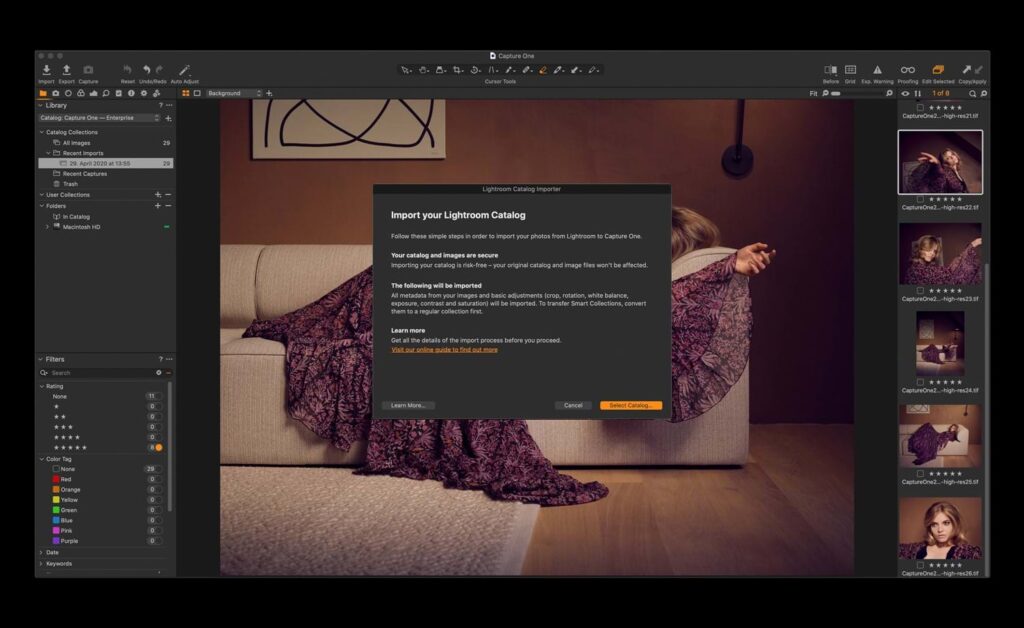 Capture One is widely regarded as the best alternative to Lightroom, without the hefty monthly subscription payment. It's a comprehensive image management software and photo editor from Phase One, manufacturers of high-end cameras.
Capture One isn't as beginner-friendly as some of the other programs on our list. New users may find the interface challenging to use at first. However, it can be customized to suit your needs. And, there are plenty of free tutorials to help get you started.
Capture One, at its core, is all about image management — and that's where it excels. However, this list is about Photoshop alternatives, so we'll focus on the variety of image editing tools the software includes.
The software does allow for editing RAW files, it offers layers-based editing, lens correction, levels, and curves adjustments, spot removal and cloning, and color grading. The program is available for Windows PC or macOS.
Notable Capture One Features Include:
Efficient file management system
Renders Fuji and Sony RAW files better than Lightroom
Best Lightroom alternative
Create your own keyboard shortcuts for tools
Customize the interface to suit your own needs
| | |
| --- | --- |
| PROS | CONS |
| No subscription required | The interface is difficult for new users |
| Discount for Fuji and Sony users | No advanced retouching tools |
| Excellent RAW rendering | No panorama, HDR |
| Supports layers-based editing | No layer blend modes |
| Advanced color grading | |
---
5. ON1 Photo RAW
ON1 Photo RAW is a strong competitor for a Lightroom/Photoshop alternative. It's got some excellent presets and even allows for the use of some Photoshop plugins.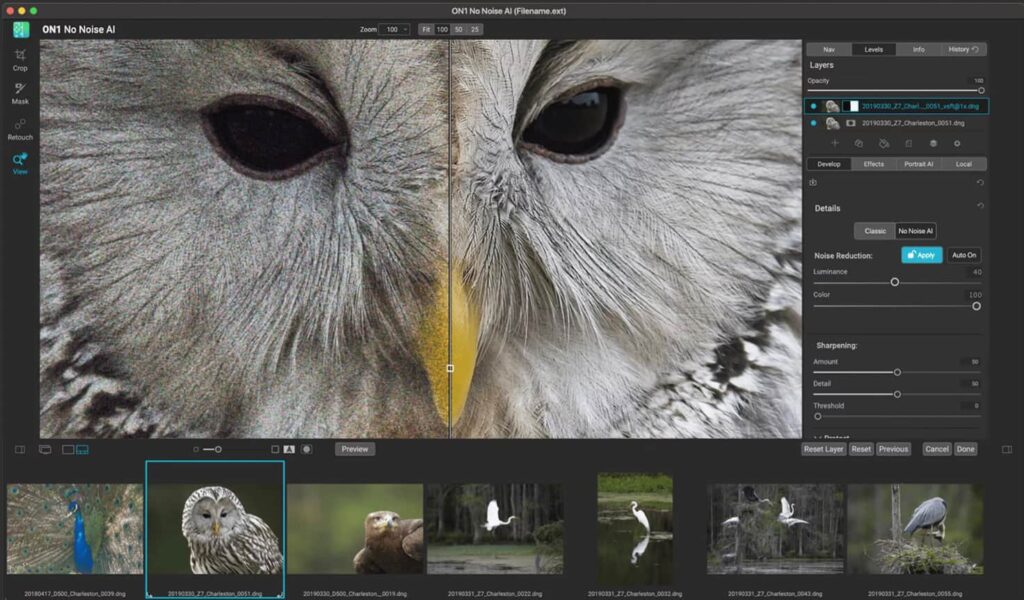 ON1 Photo RAW is similar to Lightroom Classic. You get an image management system with a powerful RAW processor and a Develop module that gives you access to all the typical photo adjustments, like exposure, luminance, and sharpening. Users who are used to Lightroom will have an easy time making the switch, as the interfaces are similar.
On the other hand, if you're more familiar with Photoshop, you'll like the layers-based editing you get with ON1. It's even got the ability to add text! Unlike Photoshop, however, all edits with ON1 are non-destructive.
Like Luminar AI, ON1 also incorporates a number of artificial intelligence options, including AI Auto Tone and AI Match, although they don't seem to work as well as the competition.
ON1 Photo RAW supports RAW files and, in fact, its RAW photo rendering is considered by some to be even better than Lightroom! But, what ON1 is really known for is its filters and effects. Besides the standard curves and vignette, it also has others, like Grunge and Sunshine, to broaden your creative edits.
Notable ON1 Photo RAW Features Include:
Proprietary photo enlargement tool ON1 Resize is worth the price alone
Basically does the job of Lightroom and Photoshop in one
Artificial Intelligence features for portraits and landscapes
Works with some Photoshop plugins
Includes HDR, focus stacking, and panorama stitching
| | |
| --- | --- |
| PROS | CONS |
| Single purchase option | Cataloging is not very sophisticated |
| Non-destructive editing | The sync option requires a subscription |
| RAW rendering is even better than Adobe | Ties up bandwidth on a computer |
| Supports layers-based editing | Doesn't work with older macOS |
| Lots of creative filters and effects | |
---
Top free Photoshop alternatives
There's really nothing wrong with using free photo editing software like the popular Photoshop alternatives that we're going to be taking a look at in this post.
Many of the solutions that we're recommending in this post do not have an excessive number of built-in tools – something which Adobe Photoshop is notorious for.
This means less of a learning curve and more time for photo editing.
In addition to this, for new photographers in the industry, it might not make sense to pay for the expensive Adobe Creative Cloud subscription.
So without further ado, let's dive right in and take a look at some of the best free Photoshop alternatives.
---
1. Darktable
Darktable is an open-source image editor that offers the ability to process RAW files, non-destructive editing, tethered shooting, and advanced color management. The software is often marketed as a Lightroom alternative because the interface is so similar.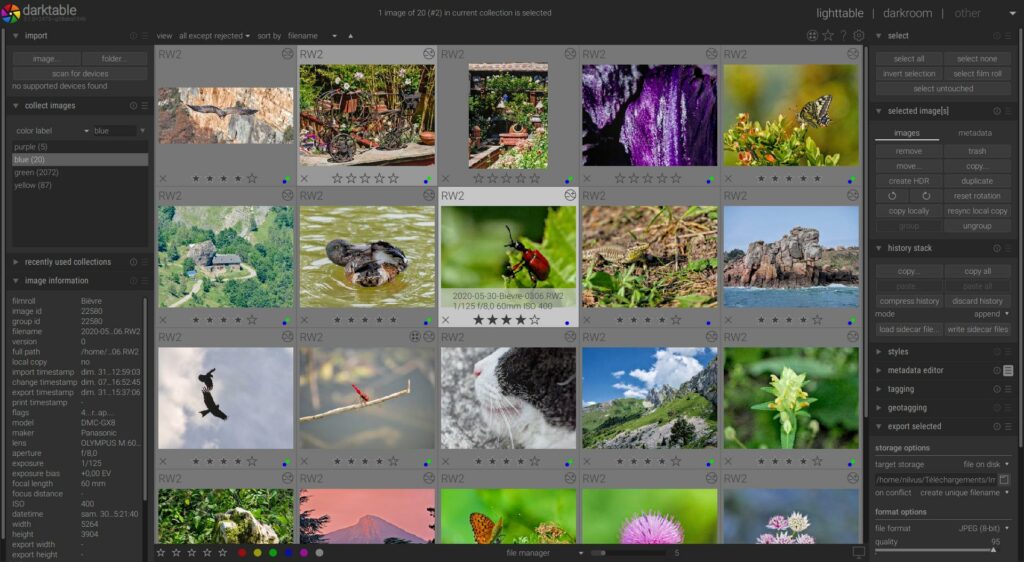 Darktable boasts that it was created for photographers by photographers. It is limited in functionality compared to Photoshop but does have some basic photo enhancement tools and an interface similar to Lightroom that allows you to apply edits to multiple images at once. Some of its key features include RAW non-destructive editing, the ability to create and save your own presets, and color correction.
Darktable also allows for exporting in a wide variety of file formats from low res JPG and PNG to 16-bit TIFF and high dynamic range EXR images. The program works with Mac, Windows, and Linux.
Where the software lacks, is in up-close detail editing, like spot removal and retouching tools. Users also complain that the program can be slow and "buggy" and often crashes when working on large files.
Notable Darktable Features Include:
Non-destructive editing
Ability to edit RAW files
Tethered shooting support for many camera brands
Darktable is currently available in 21 different languages
61 image operation modules for adjusting image color, tone, balance, sharpness, contrast, and artistic effects
| | |
| --- | --- |
| PROS | CONS |
| Simple interface nearly identical to Lightroom | Not enough tools for detail editing or retouching |
| Works on Apple, Windows, and Linux devices | Buggy and crashes |
| Can edit RAW files | |
| Non-destructive editing | |
| Powerful exporting options | |
---
2. GIMP
GIMP (short for GNU Image Manipulation Program) is an excellent, open-source Photoshop alternative for those on limited budgets that still need advanced image editing capabilities. This program is an advanced raster editor similar to Photoshop.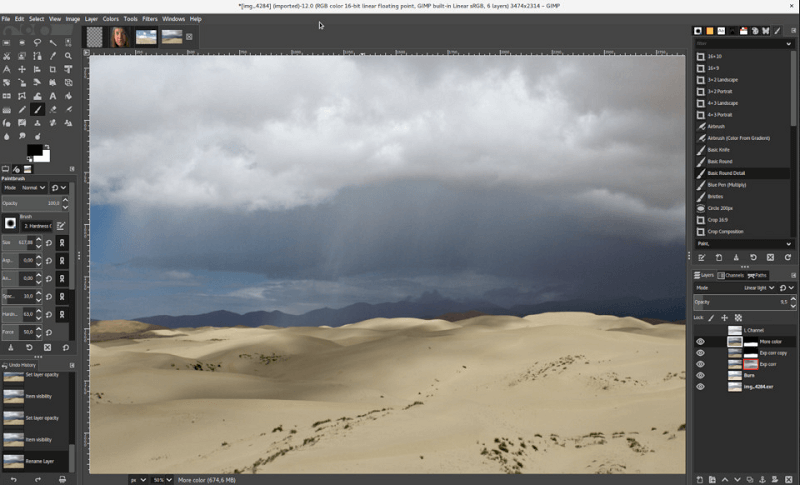 In fact, GNU Image Manipulation Program can be used as a basic paint program, an expert photo retouching program, an online batch processing system, an image format converter, and more depending on what it is that you're looking for.
You'll be happy to hear that it's available for both Mac and Windows as well as Linux, making it a versatile tool for photographers.
This program as a free photoshop alternative also recognizes most of the popular file formats that you'd expect in a paid editor like Photoshop, including GIF, JPEG, PNG, and TIFF. You can also find support for some PSD, though not all layers may be readable.
With an active developer community that listens to user feedback and suggestions, this program comes packed with what most photographers need to edit their photos before publishing them.
Notable GIMP Features Include:
Paint features like paint tool (brush, pencil, airbrush, and clone)
Custom brushes and patterns
Transformation tools like rotate, scale, shear, and flip
Editable text layers
Color correction
MNG support for animations
Editing tools like layers, masks, curves, and levels
Huge collection of plugins to extend (some even pre-installed)
| | |
| --- | --- |
| PROS | CONS |
| Tons of advanced editing options | A steep learning curve, proving difficult for beginners |
| No ad displays or limitations | Cluttered and outdated UI |
| Comprehensive layer support with blending modes | Preset brushes share the same settings |
| History toolbar | No drawing capabilities |
| Support for image slicing | No Camera RAW filter |
Both Gimp and Photoshop use vector methods (mathematics) for general layout and elements such as text, but are equipped to deal with raster images down to the pixel and often have special capabilities in doing so, such as brightness/contrast, and even adding "lighting" to a raster image or photograph.
---
3. Pixlr x
Pixlr X is the newest version of the older (and super popular) Pixlr editor. The old Pixlr editor comes with plenty more advanced features and improvements and seeks to become one of the best free Photoshop alternatives out there.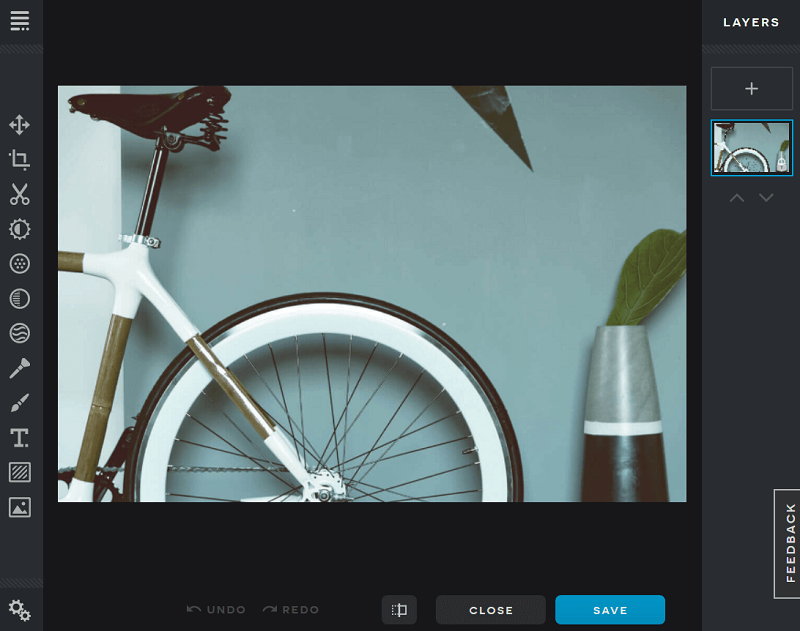 Based on HTML5, rather than Flash, this program will work well in any modern browser (even iPads and iPhones!). This expands its usability and makes it more appealing to photographers around the world. Plus, it comes with a slick and modern interface, complete with dark and light color schemes.
Pixlr X is an online photo editor, meaning you can use it with any operating system. In other words, it won't matter if you use Linux, Mac, or Windows, you'll be able to access this program with ease. Not to mention, it comes with all the basic adjustments you might need to create well-edited images, and some extras too, like the de-hazing and curves tools.
Feeling overwhelmed by the number of modifications you can make? Pixlr x also has an Auto-Fix tool that helps prevent over-editing.
Notable Pixlr X Features Include:
Rotate, flip, and straighten all images
Crop using one of seven preset image ratios
Instagram-worthy filters to add to any photo you upload
Built-in text tool, complete with stylish font sets to choose from
Tweak vibrance, highlights, and shadows
Extensive layer support with multiple blending modes
| | |
| --- | --- |
| PROS | CONS |
| Accessible on any platform, including mobile devices | Must have an internet connection to access |
| History tools | Since it's new, some tools are still in beta |
| Uses HTML5 rather than Flash | Some tools, such as the healing brush are slow (even Pixlr developers admit so) |
| Opens images from desktop or URLs | Not as easy to install additional font sets as it is with Adobe Photoshop |
---
4. Paint.NET
Paint.NET is another Photoshop alternative for digital photo editing that was initially designed to be a free replacement for the Microsoft Paint software that came with Windows.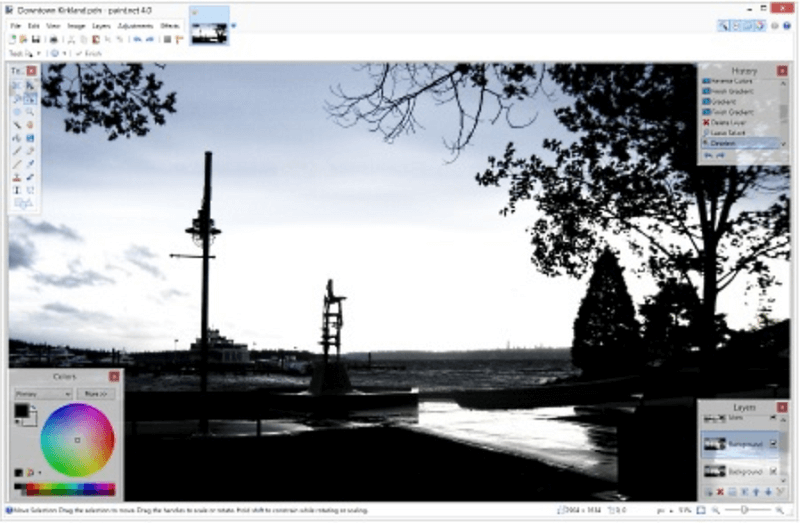 Fast forward to now, and Paint.NET is one of the most powerful yet simple image and photo editing tools on the market.
One of Paint.NET's most notable features is the fact that it uses a tabbed document interface. In other words, you can work with multiple documents or panels within one single window and use the tabs to move between them all. And to make things even simpler for you, Paint.NET displays a small thumbnail image of each tab instead of a text description.
Adding to this, the developers behind Paint.NET have worked hard to make sure the editing software is blazing fast for users. This not only speeds up editing time, but it also prevents a lot of frustration. And when it comes to performance, don't worry about a thing. Paint.NET automatically updates and always comes with new features, improvements, and bug fixes.
Notable Paint.NET Features Include:
3D rotate zoom function to help with the re-composition of images
Support for multiple layers with blending modes (one of Photoshop's most used features)
History tool for multiple quick undo's (unlimited)
Supports rulers, drawing, and gradients
Clone stamping for copying or erasing parts of images
Tons of formats supported like PDN, BMP, GIF, JPG, PNG, TIFF, TGA, and DDS
| | |
| --- | --- |
| PROS | CONS |
| Easy to use interface, even for beginners | Only works for Windows operating systems |
| Great support – forum, tutorials, and plugins to extend the software | Does not natively support PSD |
| Free to use for business and commercial use with no restrictions | UI lacks a way to manage plugins |
| Doesn't support auto-snapping | No text correction after applying other effects |
| Very lightweight and never sacrifices speed and performance | |
---
5. Krita
Works on Mac Also
Krita is the perfect free Photoshop alternative for photographers that need a little more flexibility when it comes to creativity.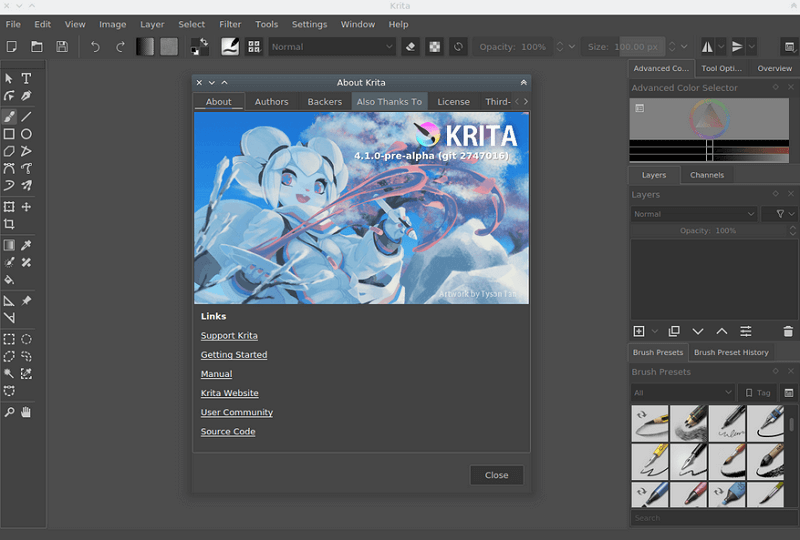 In fact, artists looking to give everyone affordable art tools built Krita for conceptual artists, texture and matte painters, illustrators, and comic strip creators.
When it comes to coloring your photos, you can use a unique pop-up color palette. Plus, take advantage of Krita's exclusive tagging system to swap out brushes that are being displayed. Also, access commonly used colors and configure all color settings with a few clicks.
Need something Krita doesn't have? You can easily import brush and texture packs from other artists and expand your toolset. And if you need additional help, there's always the Krita forum where other artists hang around to share their best work and ideas.
Notable Krita Features Include:
Create shortcuts for commonly used tools
Brush stabilizers to take the shakiness out
Seemingly endless brush customizations
Assistant tools for helping you create the perfect shape
Open, save, edit, and author HDR and scene-referred images
| | |
| --- | --- |
| PROS | CONS |
| Very similar look and feel to Photoshop | No RAW filter |
| Customizable interface | No history toolbar |
| Supports most PSD | Can be slow at times |
| Includes advanced layer management system | Very few updates released |
| Available for Linux, Mac, and Windows | Outdated documentation |
| | Poor touch controls |
---
6. Photopea Online Photo Editor
For starters, Photopea Online Photo Editor is a good web-based alternative for Photoshop that aims to solve the problem of having to download and install another program onto your computer.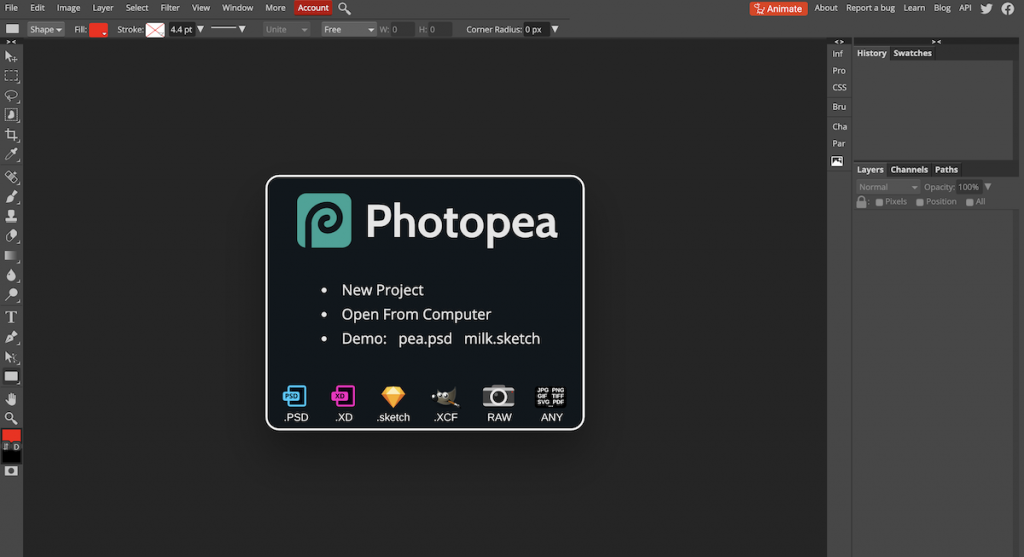 It also aims to speed up the editing time, especially when it comes to simple tasks such as resizing a photo; instead of having to wait on Photoshop to load.
Since this is a web-based editor, it's compatible with all platforms and it comes with native support for PSD, XCF, Sketch, XD, and CDR formats. You can also export your work as PSD, JPG, PNG, or SVG files.
Features in Photopea Online include:
Powerful pen and brush tool
The ability to work with layers and apply layer masks
Blend modes similar to Photoshop
Various procedural adjustments such as changing brightness, sharpness, adding blur, and more
Decent selection of premade templates to start from
| | |
| --- | --- |
| PROS | CONS |
| Photopea Online Photo editor comes with support for PSD and other popular file formats | The free version displays ads in the sidebar which can be distracting |
| Can export to SVG format as well as PSD format | |
| Has a free plan which is good for basic use | |
| Doesn't require a special browser plugin to work | |
---
7. Photo Pos Pro
Photo Pos Pro is a complete image editing suite rivaling the expensive Photoshop software when it comes to enhancing photos and creating stunning pieces of art.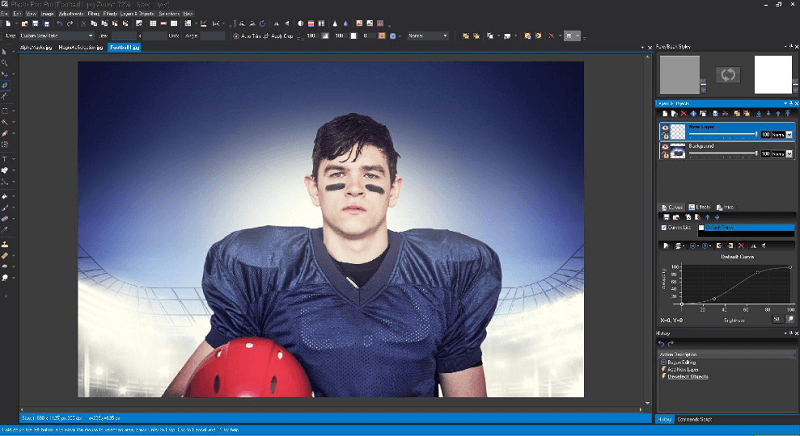 The interface is organized in a simple and easy-to-understand way, unlike other free Photoshop alternatives like GIMP. And if things become a little too overwhelming for you, you can always enable the 'novice' layout to help you stay on track and edit what's important.
For those with a little more experience, the 'expert' layout offers users access to editing tools for fine-tuning works, such as manual curves and level adjustments.
And it doesn't matter if you use a Mac or prefer Windows, Photo Pos Pro works on both.
Features in Photo Pos Pro include:
Magic eraser tool (remove, erase, and replace backgrounds)
Add frames and collages
Tons of pre-designed extension packs
24-hour customer support
Plenty of layers and masks
Healing and clone brushes
Filter creation and saving to use later
| | |
| --- | --- |
| PROS | CONS |
| Beginner and advanced modes to meet your needs | The 'expert' layout can be haphazard and have a steep learning curve |
| Lots of help tutorials | Can run slow at times |
| Balance of one-click and manual editing tools | The exported file size is limited |
| Support for RAW files | |
---
8. Sumopaint
Sumopaint is one of the best free Photoshop alternatives when it comes to design and functionality. The layering, editing tools, and brush and wand types make it a viable option for anyone looking for mid-range editing features at zero cost.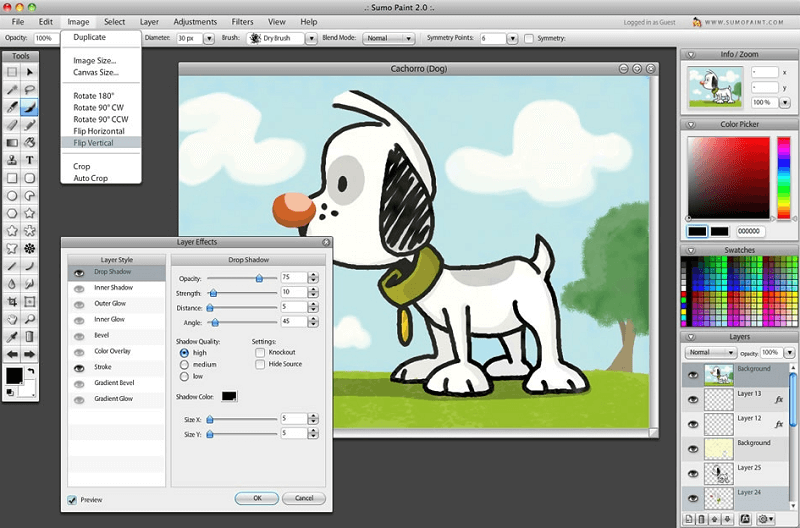 This photo editing tool runs in most Flash-based browsers, though there is a Chrome Web App available for Chromebooks. It's also cloud-based, meaning you never have to download or install anything to your computer or device.
You can open files with extensions such as GIF, JPEG, and PNG, and save projects using the same formats, as well as the native SUMO format.
Notable Sumopaint Features Include:
Sumopaint online community
Exclusive SUMO format for working offline
Over 300 brushes
Comprehensive color picker
Selection tools with undo feature
Clone stamping for real-time drawing
Layers, layer effects, and layer blending modes (up to 100 layers with effects)
| | |
| --- | --- |
| PROS | CONS |
| Very similar to the Photoshop interface | Requires Flash and runs on-page ads |
| Always updated every time you open the application | Limited file support with no support for Photoshop's default PSD format |
| Symmetry tools with symmetry points, gravity, and modes to help | No support for rulers or guides |
| Gradient editor with a collection of preset gradients | Lacking pen tool, Camera RAW filter, and auto-snapping |
---
9. Seashore
Works with Apple – doesn't support .psd files
Seashore is a basic image editing solution that still competes with the top free Photoshop alternatives in the market. Though inspiration was drawn from GIMP, Seashore seeks to offer a simpler interface for Mac users.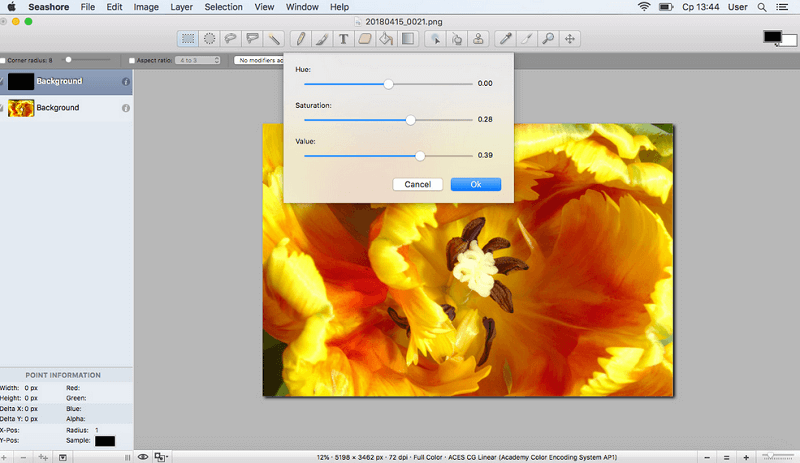 It comes with support for TIFF, PNG, JPEG, JP2000, BMP, PICT, PDF, XBM, and GIF, making it one of the most versatile editing tools in terms of file formats. Plus, there's support for layers so your creations can go from being okay to amazing with a few simple edits. And if you need gradients, textures, and anti-aliasing for both text and brush strokes, Seashore has you covered.
Most notable, however, is the fact that Seashore supports pressure sensitivity. So what does this mean? If you're using a pressure-sensitive drawing tablet, you'll be able to use all of its pressure levels to customize your photos.
Notable Seashore Features Include:
Layers and merging effects
Anti-aliased paint brushes
6 gradient effects, including transparency
Full support for TIFF, PNG, GIF, JPEG, JPEG 2000, XCF, and HEIC formats
Arbitrary selections using a lasso tool
| | |
| --- | --- |
| PROS | CONS |
| Very user-friendly and suitable for beginners | Only available in the Apple App Store |
| Menu layout mimics Photoshop interface | No built-in effects |
| Stripped down version of advanced GIMP solution | UI looks outdated |
| | Doesn't support any PSD files |
---
10. Colorcinch
Colorcinch is a very user-friendly web-based editor and a great alternative to Photoshop. It has an extensive collection of presets, graphics, and other creative assets.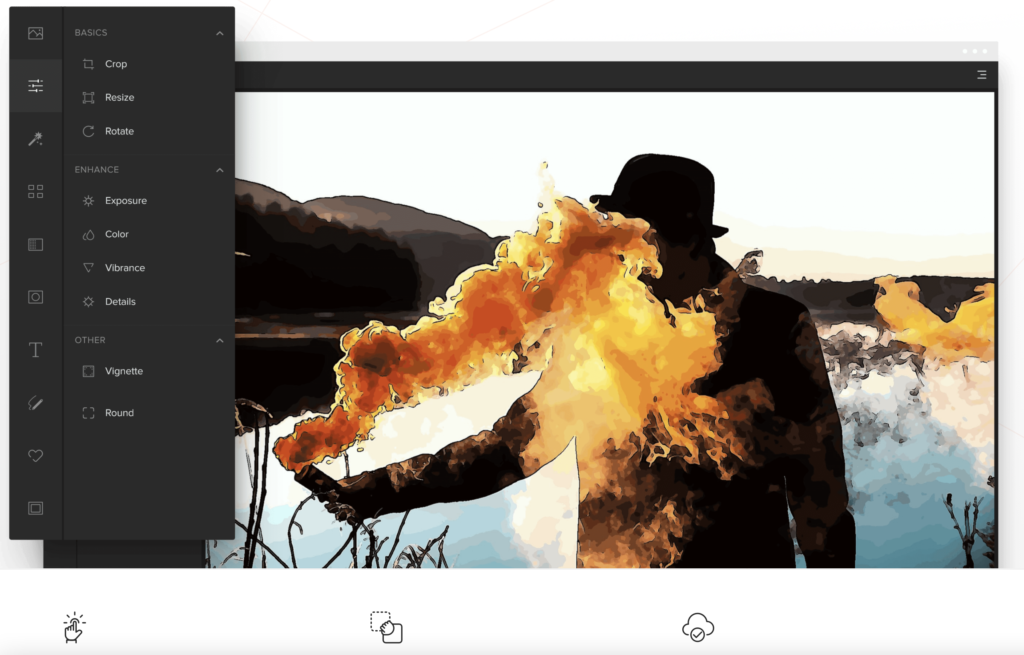 One of the biggest strengths of Colorcinch is the fact that it features a handful of AI-powered specialty effects. The Cartoonizer is one of them and it can neatly transform images into cartoons, sketches, and paintings.
This photo editor is a web platform, so you don't have to download and install anything in order to use it. It works on Mac, Windows PC, and Linux, as long as you have a reliable internet connection.
Colorcinch gives you access to over 1.5 million high-resolution stock photos for both personal and commercial use. There are also hundreds of artistic borders and mask to choose from, as well as tens of thousands of vector graphics & icons.
Colorcinch allows you to export your work in PNG, JPG, or PDF format. The available quality goes up to 300DPI.
Notable Colorcinch Features Include:
AI-powered filters that can turn photos into cartoons, sketches, and paintings
A modern text tool and hundreds of overlays, frames, and masks
A collection of non-generic artistic effects and filters
Thousands of vector icons and graphics to add extra details
Tools to crop, resize, straighten, and rotate pictures
Built-in options for enhancing your photo's look (vibrance, exposure, color, brightness, contrast, etc.)
| | |
| --- | --- |
| PROS | CONS |
| Intuitive, clean, and user-friendly interface | Doesn't work offline, you need access to a good internet connection in order to use the photo editor |
| It is web-based and works on Apple, Windows, and Linux devices | |
| It features some great AI-powered filters that can transform your photos into cartoons, sketches, and paintings | |
| No registration is needed, you can edit for free | |
| 50,000+ vector graphics & icons to choose from | |
---
Conclusion
Photoshop and Lightroom are the industry standard for good reason — they are packed with features that get the job done. But, when Adobe changed to a subscription model, many users started jumping ship, looking for a more affordable option. Why pay hundreds of dollars a year for features you don't use?
If you're looking for the best Photoshop alternative, for whatever reason, you're not alone. Whether you go for one of the free options or you choose to edit with one of the paid options, we hope you found in this post the perfect Photoshop alternative to fit your needs!
If you're just starting out and you want to discover which tools suit you best, check this article on the best photo editing software for beginners!