The Best Places to Find Free Stock Images for Your Blog (2023)
Are you looking for royalty-free stock images for your blog? You could be a Shakespeare of the 20th century but stuck on knowing the importance of images in a post and where you should find them. Don't worry! We are here to give you some tips.
---
In this post, we are going to show you the following:
the importance of photos in a blog post;
a list of places where you can find free stock images for your blog;
a short review of each site mentioned;
a few other things you should consider before searching for photographs.
If you're a photographer looking for stock photography sites to showcase and sell your work, check out our article on the matter.
Without further ado, let's jump right in!
---
Table of contents
---
🥁 Benefits of using images in your blog
"One picture is worth a thousand words." – Albert Einstein.
Your posts will be more visually appealing by introducing images that match the content.
Adding images in a blog post will make it easier to divide paragraphs and text for better structure.
The right image can support your point and make it more believable.
If there is complex information, images will make it easier to understand.
Sometimes, pictures can create an emotional connection with the reader. Or make them laugh. It all depends on the main subject of your post.
Images colorize your post and add some vibrancy to your blog.
People are more interested in seeing images than reading content.
They will improve Search Engine Optimization (SEO) and help you get a better ranking on Google.
Introducing images with graphics or diagrams will make you look more professional.
---
🔎 Things to consider before searching for images
Respect the work that belongs to other creators and only use their work if they've shared it in a way that suggests it would be ok with them, such as uploading it to a website.
Avoiding the hassle and danger of having a photographer notice you're using their images without their permission or, worse having to deal with a copyright/DMCA complaint.
But don't be disheartened; engaging your website visitors is still extremely important, and we'll show you the perfect places to get your images for that.
We always encourage people to use their own photos when possible (especially photographers), but sometimes finding the perfect image is impossible.
Many people search Google for images and pick their favorite ones for their blog posts. This is actually prohibited since you don't have the license nor the right to use the image from its original creator without permission.
Even if credit is provided, it is not ok.
This is because any image you may come across on Google doesn't belong to Google – the photos that appear in Google's search results are just images that have been indexed and organized by Google.
This means that images uploaded to any public website will appear in search results – even those belonging to professional photographers and graphic designers, some of which may be your direct competitors. 🤯
One option would be using a paid stock photography website like Shutterstock. However, this can be ruled out as an option because it requires a monetary investment.
If that's the case, this post is for you. We'll look at websites that provide exceptional, high-quality free stock photos. I must admit that the creators who share their work on the following free stock photography websites are incredibly talented and generous.
---
💸 What does royalty-free mean?
Royalty-free images aren't necessarily free.
In most cases, you'll have to pay a one-time fee to obtain the rights to use the image. Then you can use it as many times as you like. And you can use it for commercial and noncommercial purposes.
The royalty-free protects copyrighted material and cannot be used without permission or payment of royalties.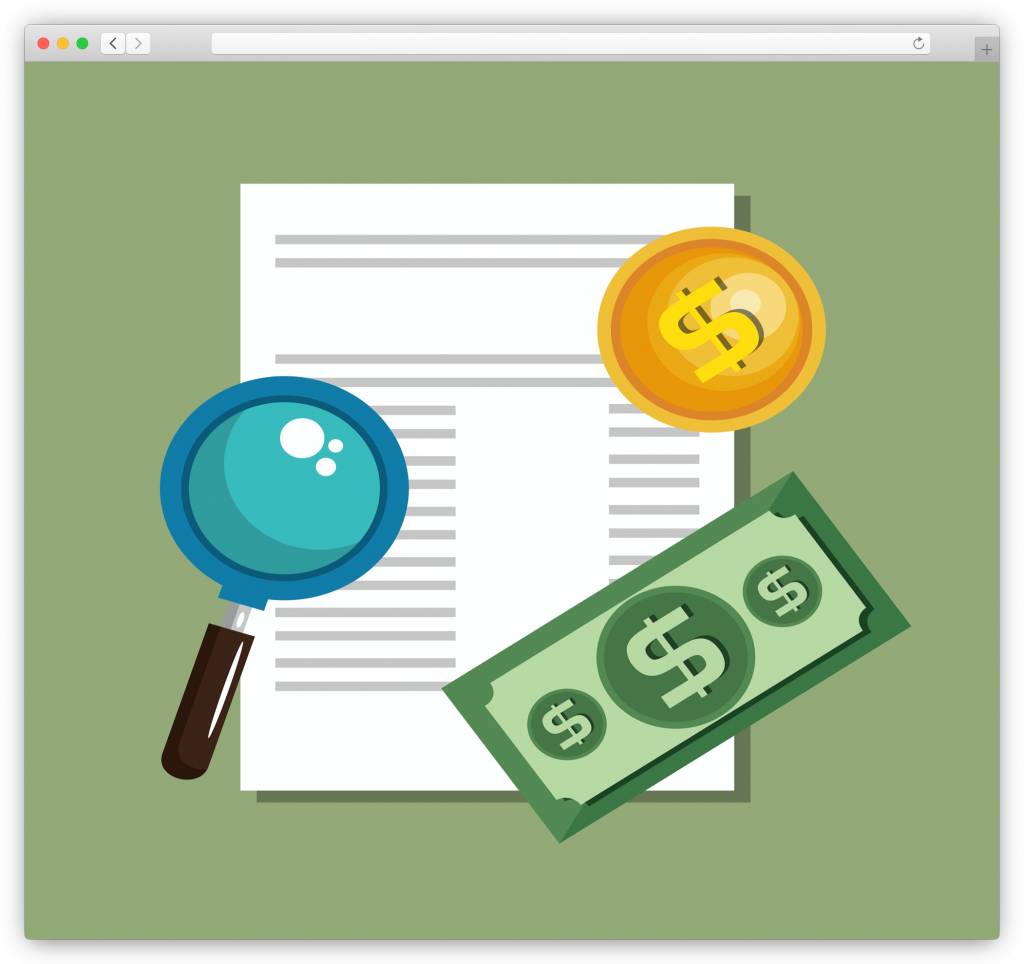 The "free" in "royalty-free" means that you don't have to pay royalties to the owner of the image every time you use it.
For a comprehensive read on royalty-free images, check out this guide by Amos Struck.
---
⬇ What's in for you?
---
🚀 Our picks for best stock photo sites
We've selected the best free stock photo sites to colorize your blog posts with the right images. You will find many options once you search for images and understand that your posts will look more stunning with the proper photographs.
---
♟️ Pexels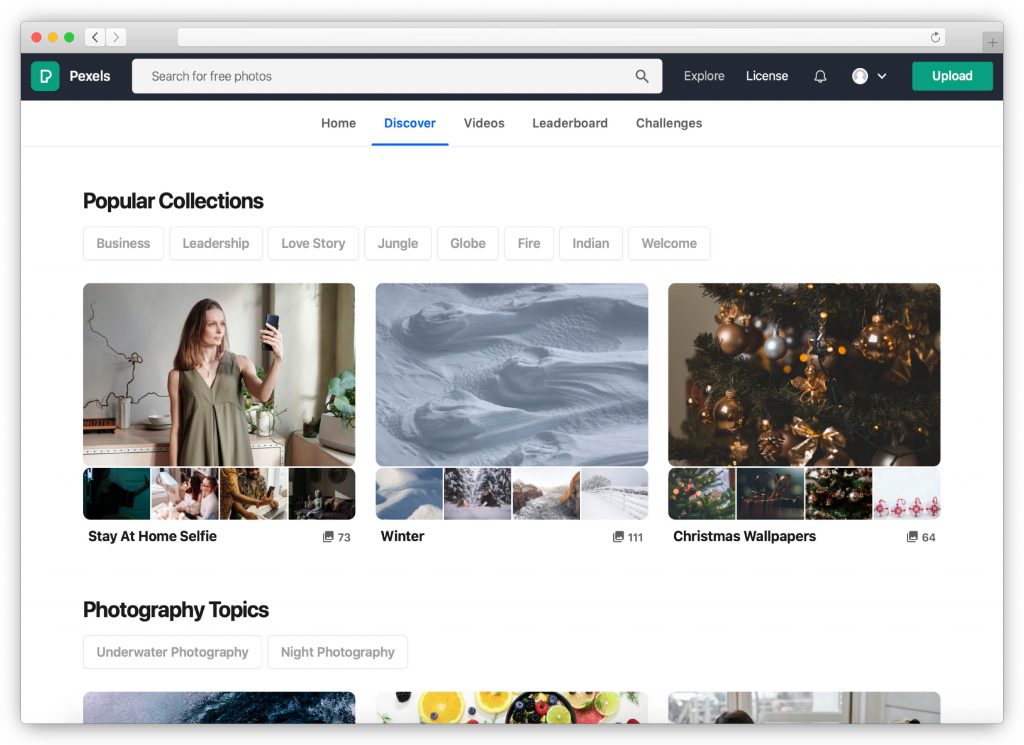 Pexels allows users to use pictures for personal or commercial purposes without attribution.
Every image and video on this platform is free without membership or a paid subscription.
You can modify the photos and videos downloaded from this platform. Pexels also includes sponsored images from paid sites, such as Shutterstock. So, this is the only exceptional case in which you have to pay for photos.
If you want to download pictures, you must sign up for free. Having an account will let you keep track of everything (downloads, adding images to a collection, or favorite them) and get in touch with contributors.
⭐ Pexels Review
Pexels is best described as a search engine for free stock images. They aim to become your go-to destination when searching for a photo for your next project.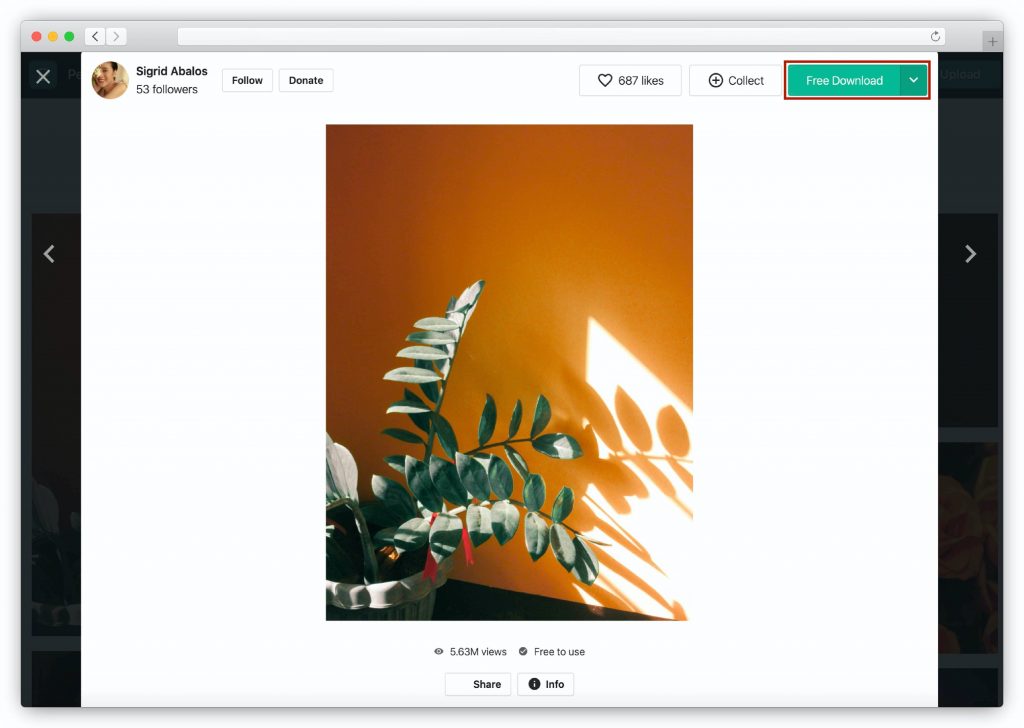 With Pexels, you can even search for specific colors by, for example, entering 'Color: Blue', and browsing a curated Discover tab (shown below).
On top of that, the Pexels website is now extremely fast, easy to use, and well-designed.
👍 Advantages
Pexels allows you to download unlimited free stock images.
You can contact contributors directly through the platform if you like their work.
You can thank the artist on Twitter, Instagram, share their work or make a donation.
👎 Disadvantages
If you want to download pictures, you have to create an account.
---
♟️ Unsplash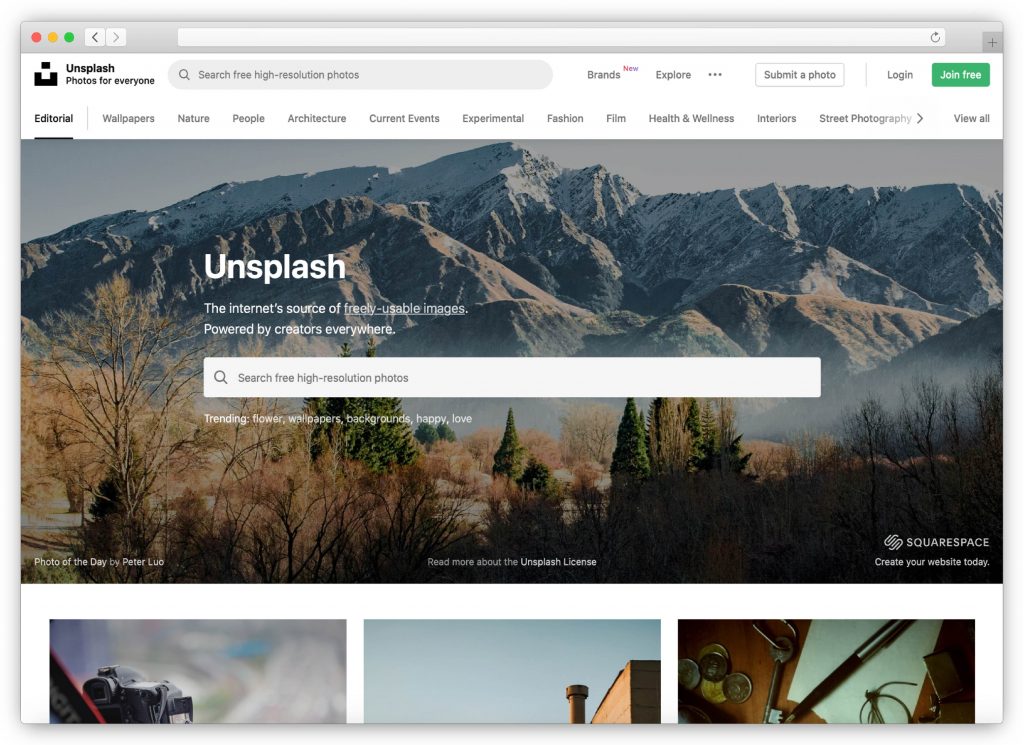 Unsplash is a platform powered by a beautiful community of photographers and creatives that allows you to download unlimited free stock images.
You can do whatever you want with the pictures and use them for any purpose you need (download, modify, distribute, and use photos). There's no required permission, but attribution will be appreciated.
This platform allows you to download images without creating an account. You can sign up for free or not. It is up to you.
⭐ Unsplash Review
Unsplash is a great place to go if you want royalty-free CC0 licensed and public domain photos. They've made it easy and fast to sort through images by searching or selecting one of the themes you like – for example, business or nature.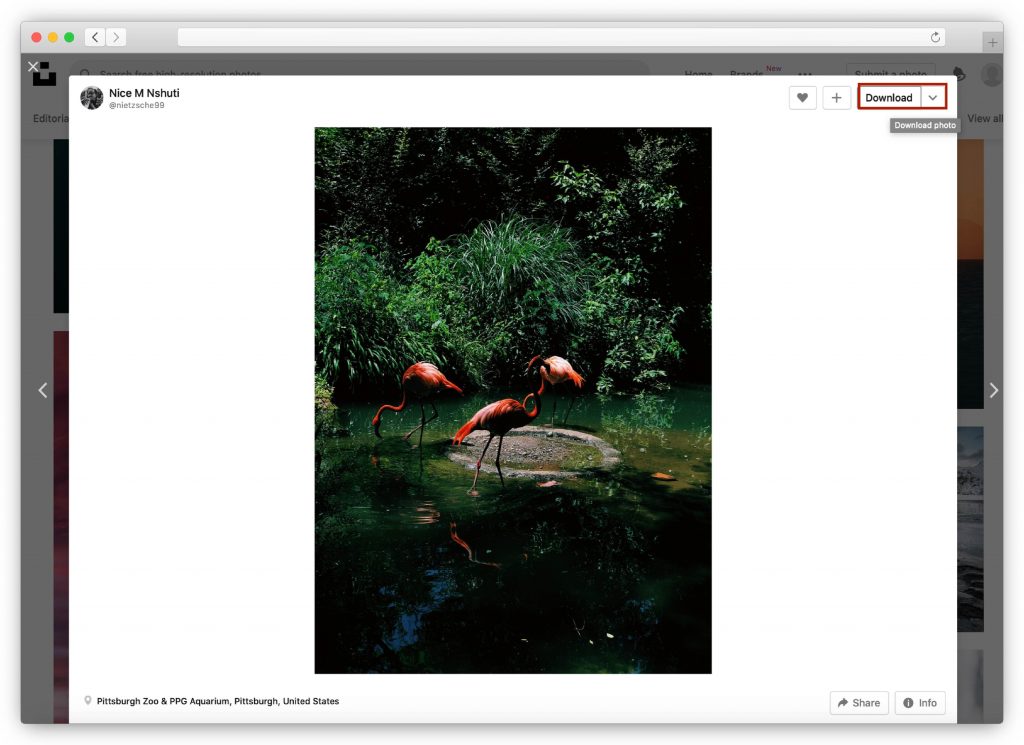 Like Pexels, Unsplash curates and sorts images so you can easily find the right royalty-free image for your project or piece of content by browsing through one of the related categories.
👍 Advantages
You can download unlimited free stock images.
There is a large variety of quality photos in high-resolution.
The emotion in the photographs is excellent compared to other stock sites.
👎 Disadvantages
Pictures can be a little bit repetitive at times.
---
♟️ Pixabay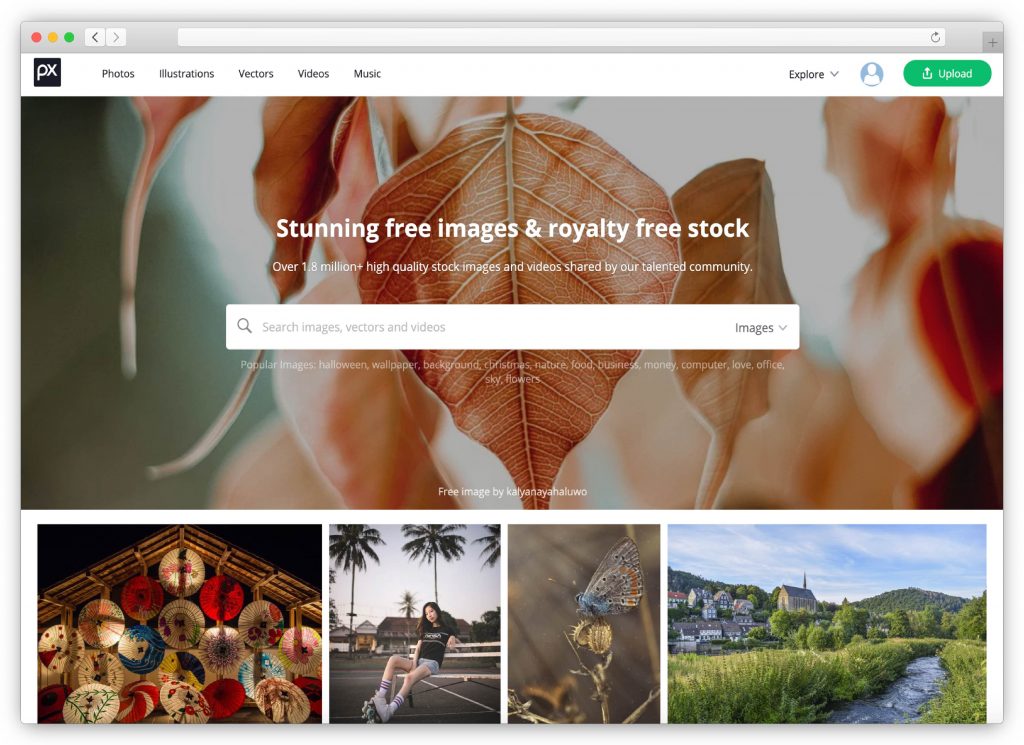 Like Pexels and Unsplash, Pixabay provides free stock images and videos without asking for permission or giving credits to the artist.
All content on Pixabay can be used for commercial and noncommercial purposes. You can also make edits on pictures and keep it all legal.
You can download pictures even if you don't have an account. However, if you want to create one, it is entirely free.
⭐ Pixabay Review
Pixabay is a popular place to find freely accessible and usable royalty-free stock photos, videos, and vector graphics.
As you would expect, the only exceptions are that you are not allowed to redistribute images or videos on another stock photography platform or directly profit from selling copies of an image or video.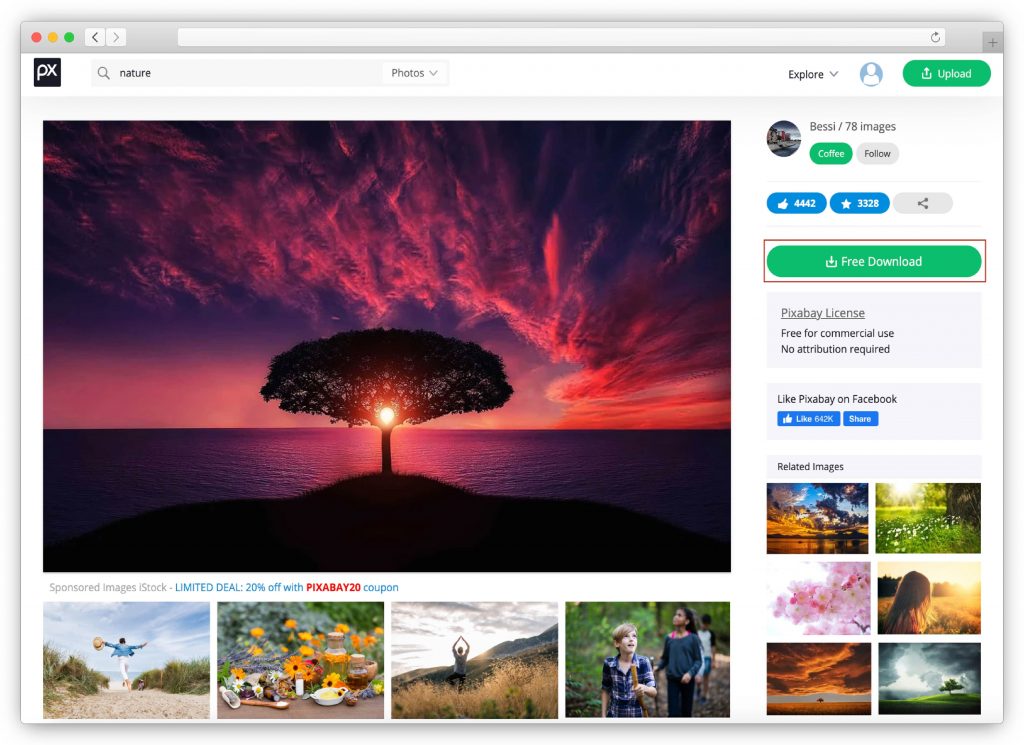 This still means you can use it on your website as you wish, so it's a great way to quickly find suitable photos and videos to make your content more engaging.
Most stock photography websites like Pexels and Unsplash don't have a section dedicated to vector graphics, which in some cases, may be the more suitable choice for your website's imagery.
👍 Advantages
Images are unlimited and free.
Besides the fact you can download pictures, Pixabay allows you to use vectors and graphics.
👎 Disadvantages
It doesn't provide a huge selection of photos.
---
♟️ Moose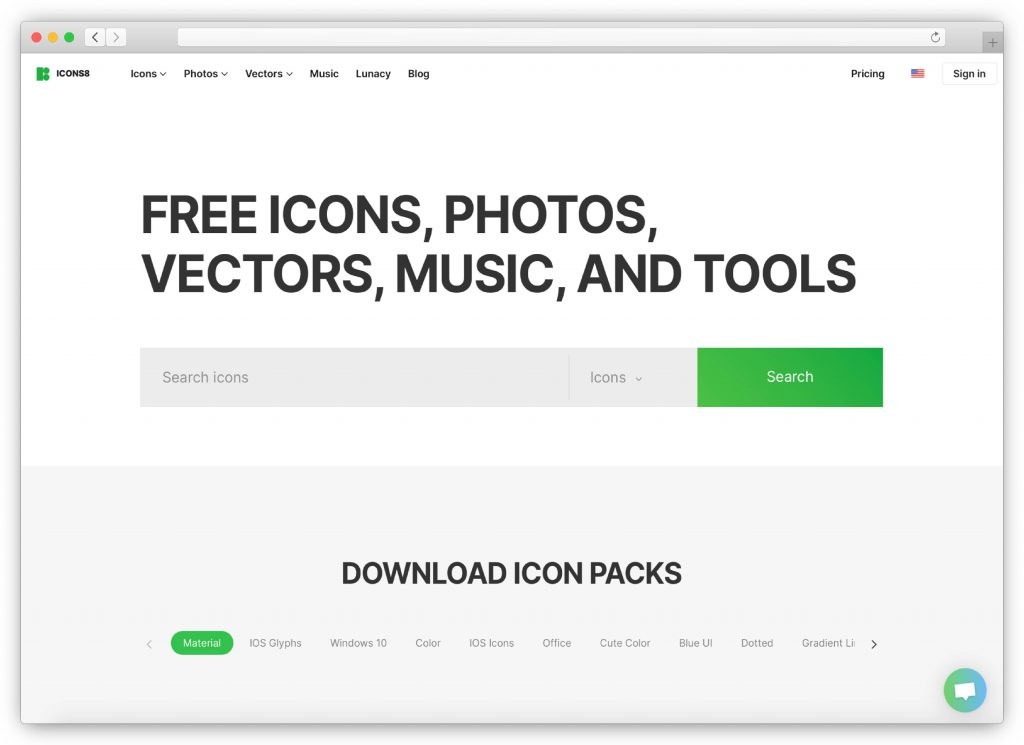 Sometimes you're looking for more than a single photo – that's where Moose (by Icons8) comes in.
Moose has a series of collections that contain images that are aesthetically similar and designed to work together.
Moose's main downside is that if you want to use the images without paying, you must link back to their website (as described in their license), which may be a deal-breaker.
However, you can register with Moose for a free account. Also, you can buy a subscription for downloading high-resolution pictures, with no linking required.
⭐ Moose Review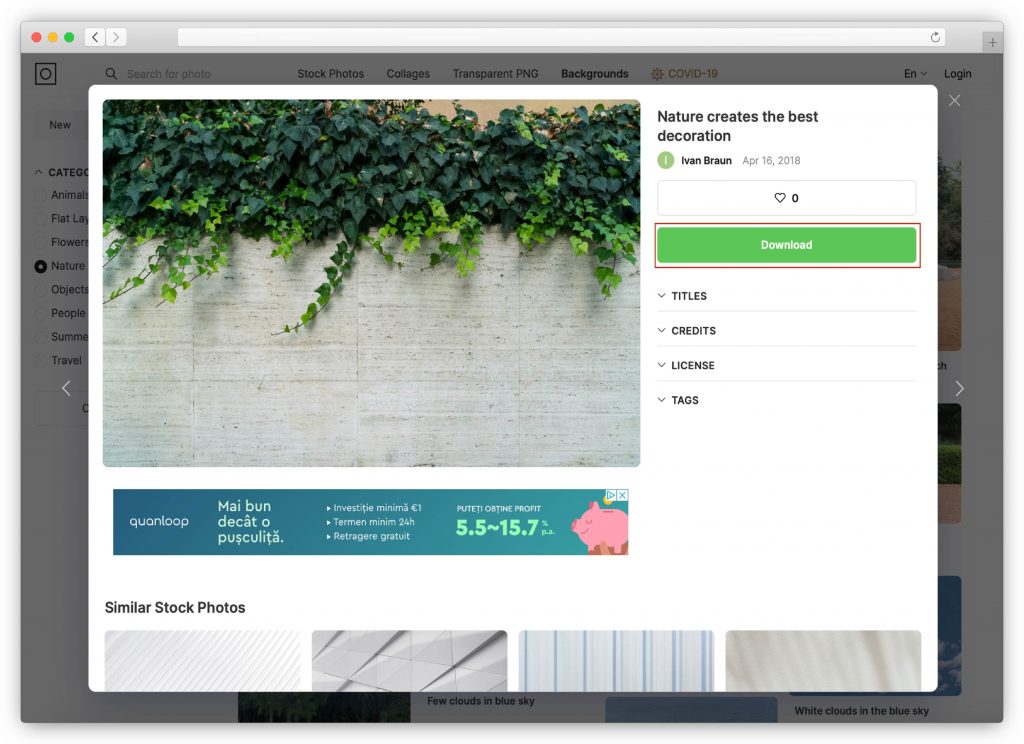 The stock photos look brilliant, and I like that they all have a similar aesthetic. You can download photos, vectors, and even icons.
If this isn't the case for you, then the other stock photography websites mentioned in this post, like Pexels, Unsplash, and Pixabay, would be more suitable.
If using images that work perfectly together is vital to you, then it is worth it to pay to be able to use them. We created one of our demo galleries using pictures from Moose, which looks stunning!
👍 Advantages
Moose has an elegant minimalism design in their photos.
The way the images are organized makes this platform more visually appealing.
👎 Disadvantages
You can't make collections of favorite pictures or share them via social networks.
You can use images for free, but you will have to link back to their website.
---
♟️ Canva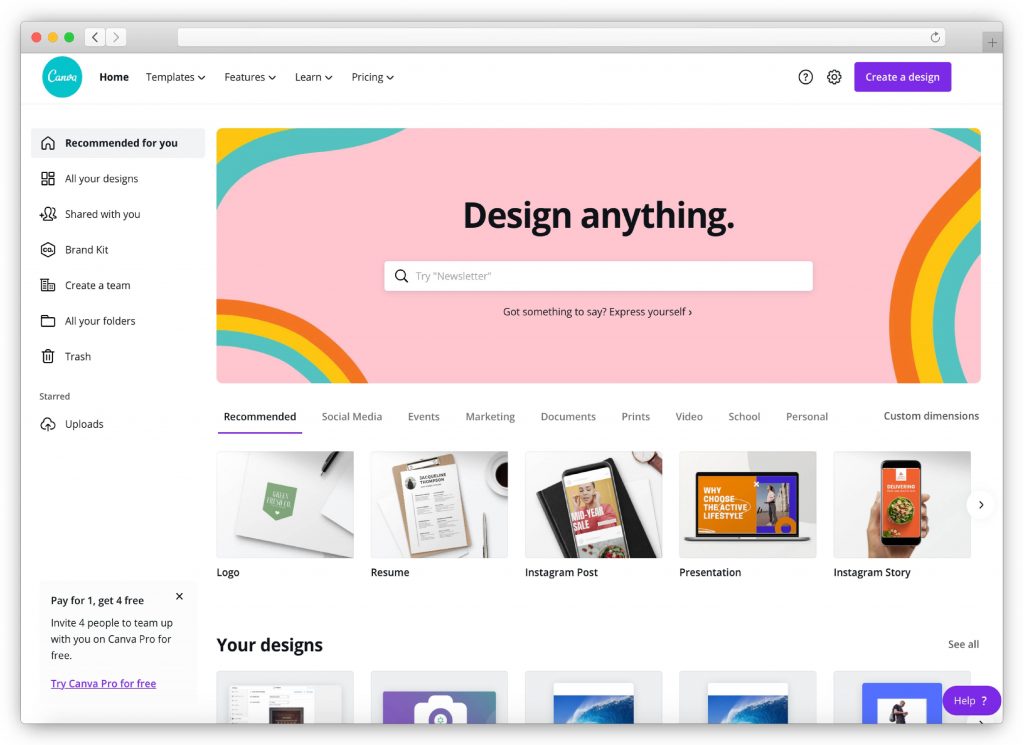 Canva is a great way to design optimized graphics for various social networks.
However, you might not know that they also have a massive collection of stock photography that you can use for these graphics (for free).
So, if you are looking for stock photos that you want to use on social media posts or infographics, Canva is worth checking out.
You must create an account to benefit from all its features for free. Also, you can choose one of its plans if you want more designs.
⭐ Canva Review
I like Canva, and you can't argue with the reviews. It is a brilliant way for beginners to dabble in graphic design. Some have even described it as being a phenomenal graphic design tool.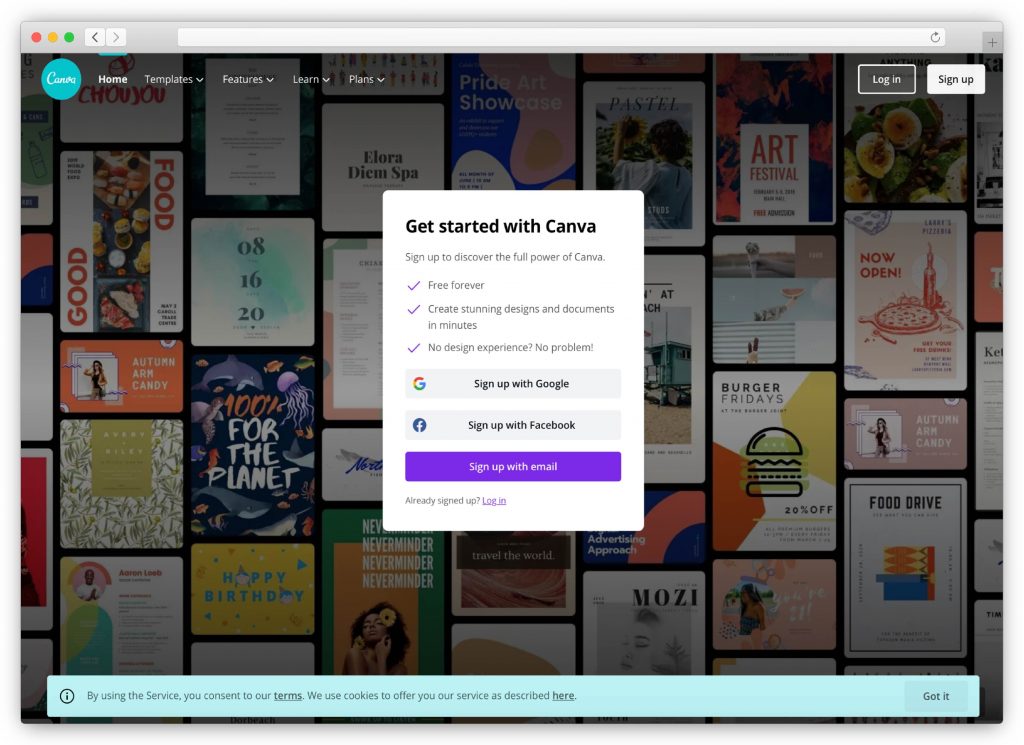 The free version of Canva is suitable for most designers and website owners who want to create designs using free stock images provided (or even images from other websites).
I've personally managed the free version for years already. The great thing is that Canva for Work only costs $12.95/month.
👍 Advantages
You can use unlimited images for free.
Besides photos, you can create any kind of visual project.
Canva offers a vast number of templates and graphics.
👎 Disadvantages
You will have to create an account to use this platform.
---
♟️ ISO Republic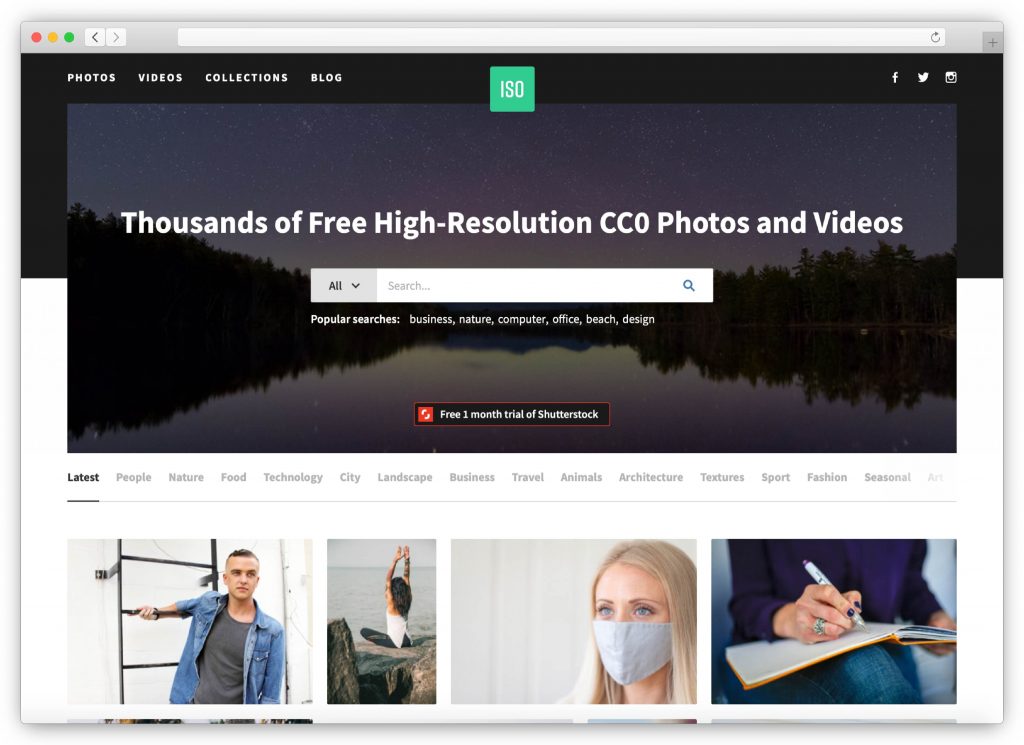 ISO Republic is perfect for people on a budget looking for great stock photos to add to their website.
It's worth adding that they also have a great blog, which you'll enjoy because they publish posts about the 9 Must Watched YouTube Channels for Photographers.
You won't have to create an account to download free high-resolution CC0 photos and videos from ISO Republic.
⭐ ISO Republic Review
ISO Republic also curates collections/categories like animals, architecture, and business that make finding the right royalty-free image for your content easier.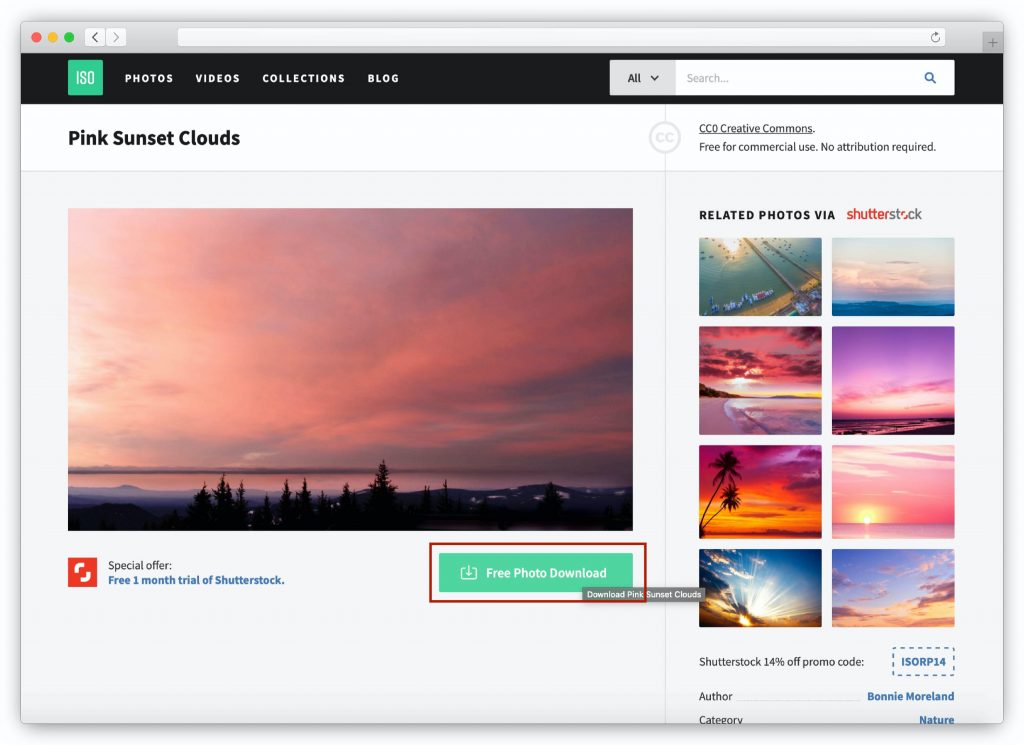 ISO Republic isn't limited to well-curated stock photography; they also have stunning videos.
👍 Advantages
ISO Republic allows you to download unlimited images and videos without permission or giving attribution.
You can use, copy, or share any CC0 licensed photos and videos.
👎 Disadvantages
Some images from ISO Republic are owned by private companies, so you will need the company's permission to publish them.
---
♟️ Shutterstock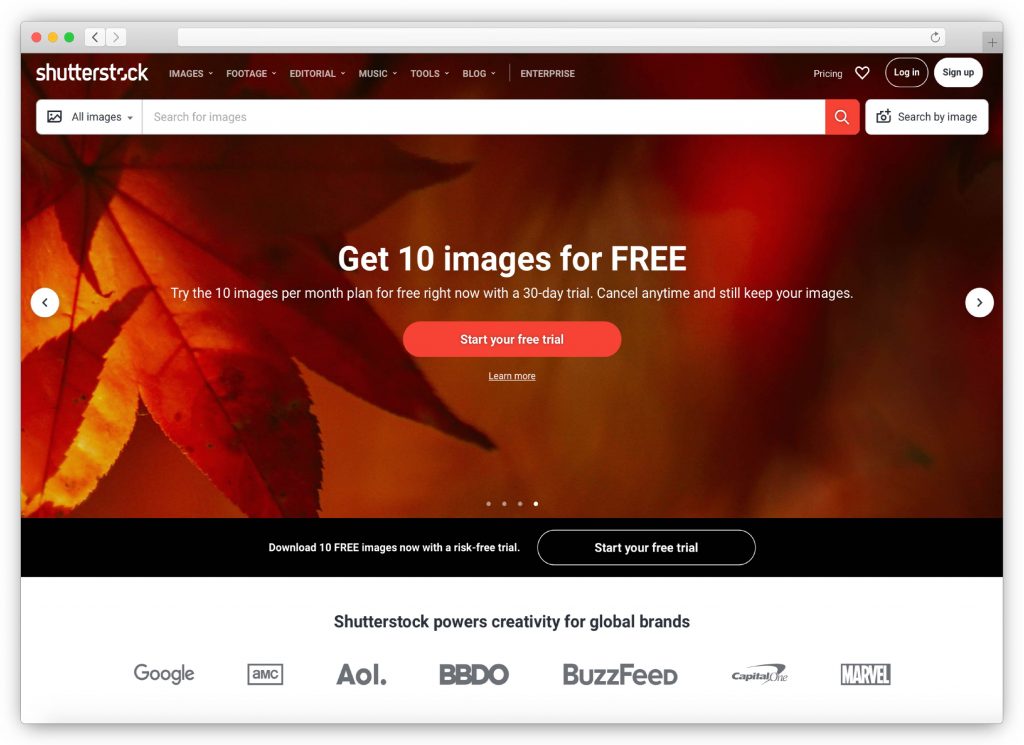 If money isn't a factor, then Shutterstock is the absolute best place for the best stock photos, vectors, illustrations, icons, videos, and even music.
But, for some, it simply wouldn't make sense to pay as much as $99 per month for up to 50 images from Shutterstock – especially if the website you're running is simply something that you're doing on the side for a bit of fun and don't want to incur an expense that would make you reconsider whether or not it is worth the money.
Register for a free trial allowing you to download ten images. Before that, you can delete your account or choose one of the annual plans.
If you need particular photos but also have some to sell and you're wondering whether Shutterstock is a good option or not, check out our article on this topic.
⭐ Shutterstock Review
Just because you pay quite a high price for Shutterstock doesn't mean that the images you find on their stock photography website will be significantly better than those you can find on the free sites in this post.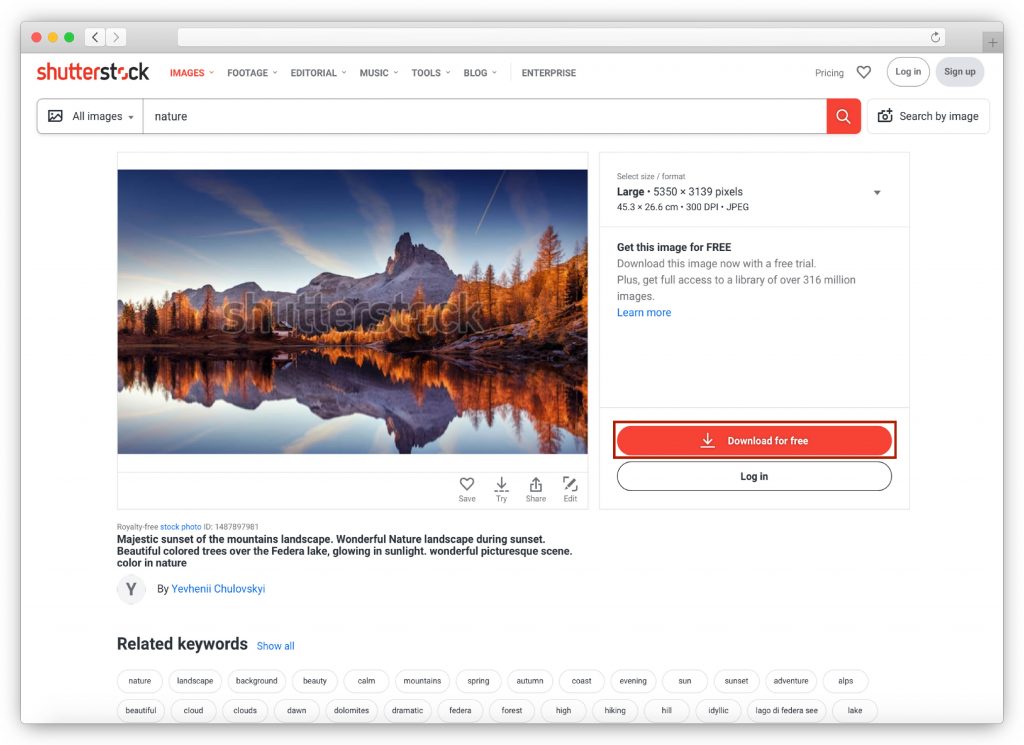 The public can view all of Shutterstock's images without paying, so I recommend you look through their available images. If you feel like they provide what you need, then it's worth considering whether Shutterstock is the right choice.
👍 Advantages
Shutterstock provides a free trial and you can download 10 images in a month.
If you cancel the annual plan within the first month, you pay nothing.
👎 Disadvantages
You have to sign up for an annual plan to get the free trial.
After your downloaded 10 images, you have to pay to get more photos per month.
♟️ Envato Elements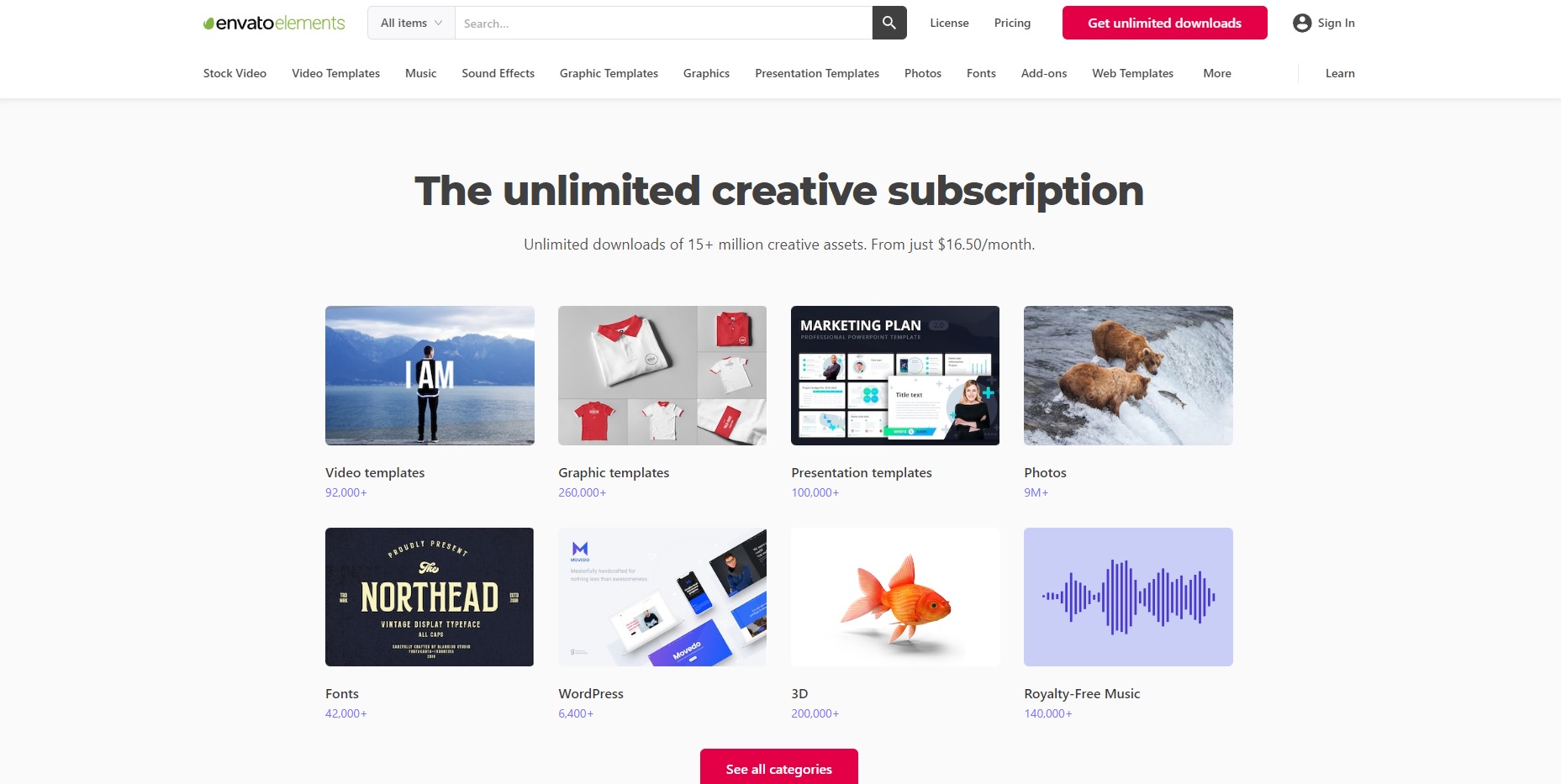 When considering the best places to find high-quality stock images for your blog without breaking the bank, Envato Elements emerges as a great contender.
Whether you're a seasoned blogger or just indulging in a creative side project, Envato Elements offers a treasure trove of stock photos, vectors, illustrations, icons, videos, and even music to cater to your content needs.
Unlike some premium options that might dent your budget, Envato Elements has a more budget-friendly approach. If you're hesitant to commit to a substantial monthly fee for your blog or website, you'll find Envato Elements to be a compelling alternative.
⭐ Envato Elements Review
Envato Elements offers a fantastic deal for newcomers: a monthly allocation of free downloads. It's a great way to test the waters and explore the platform's offerings.
You can access this feature by signing up for a free account. This means you can regularly refresh your content with fresh images without incurring any additional expense.
It's a particularly appealing option if you're running a project purely for enjoyment and don't want cost considerations to dampen your creative spirit.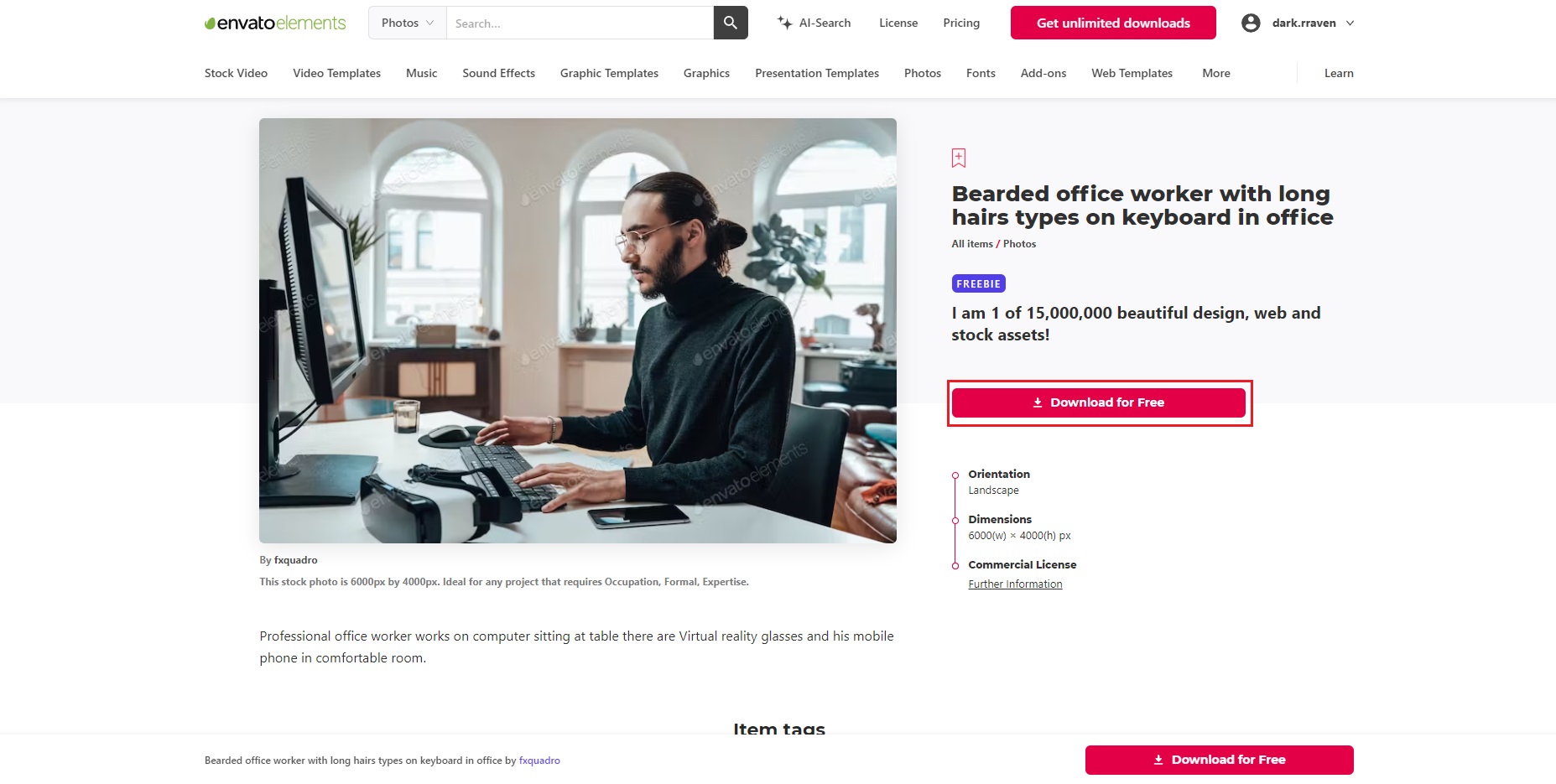 Additionally, for those who require specific images and are also exploring the option of selling their own content, Envato Elements presents an attractive choice.
👍 Advantages
New users can access a monthly allocation of free downloads, making it cost-effective.
Envato Elements offers a wide range of multimedia resources, including images, vectors, illustrations, icons, videos, and music.
👎 Disadvantages
The primary offering is a subscription-based model, which may not suit those with limited content needs.
The free download selection is limited compared to the full library available to subscribers.
---
📜 CC0 License
All stock/royalty-free images downloaded from the websites listed above are free for personal and commercial use. They come with a CC0 license.
In short, here's what you need to know about the CC0 license before using any of the images above:
You can use any CC0-licensed photo or video for personal or commercial purposes.
Use, copy, edit, or share a CC0-licensed photo or video.
You can use a CC0-licensed photo or video without purchase, permission, or attribution to the work's creator.
You can't advertise the photograph(s) or video(s) as your work or portray yourself as the author of the work.
---
💡 Finding the right royalty-free images for your blog
If you are still unable to find the image you're looking for on Unsplash or Pexels, then you might be interested in searching on one of the following sites that also provide a wide selection of photos that you can choose from:
Using the above websites, you can start a WordPress blog even if you're on a budget and don't have a camera to go out and take awesome photos to share with your posts!
---
Introducing Modula
Modula is the ultimate WordPress plugin designed to bring your website's galleries to life with a touch of creativity and elegance.
As the best tool for creating visually stunning galleries, Modula empowers users to showcase their unique vision by seamlessly integrating images and designs obtained from stock photography.
With Modula's user-friendly interface, anyone can effortlessly build custom, responsive galleries that captivate audiences and leave a lasting impression. Whether you prefer enchanting lightbox galleries, captivating masonry grids, or personalized custom grids, Modula caters to all your gallery needs.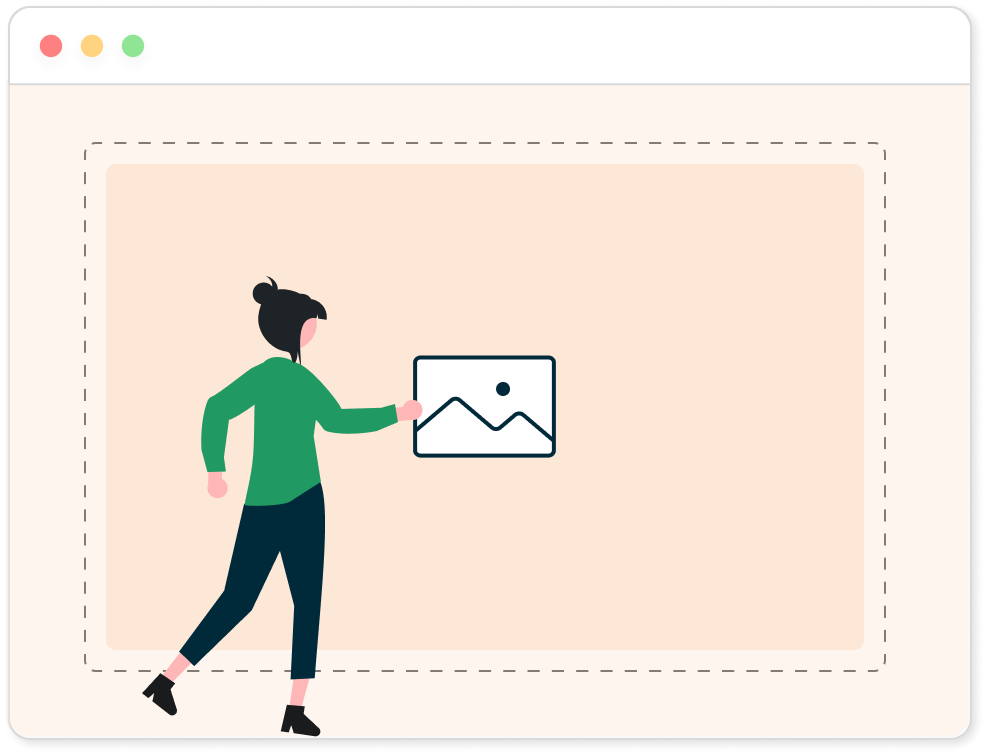 Modula Gallery Plugin
Create stunning, responsive photo galleries with ease. Showcase your work, captivate your audience, and boost engagement. You don't need to do any coding.
---
🏆 The verdict
All the stock photo sites mentioned in this article allow you to download free images, but which one should you choose?
🥇 If you want to download, share, and professionally edit beautiful images for your blog, you should choose Canva. Create an account and take advantage of the best and unlimited photographs.
🥈 If you are looking for a stock photography site that allows you to download unlimited stunning images without creating an account, Unsplash is your match.
🥉 If you need a minimalist tone for your blog, look at Moose (by Icons8) and simplify your posts.
Get Modula PRO
Get the #1 gallery plugin for your WordPress site today!
100,000+ happy users