For some, photography is a passion, a way of expression, art, a form of protest. For others, it's a job that's fueled by this passion. No matter which one you identify yourself with, we're here to help you create your own photography studio at home.
When it comes to setting up such a studio, you have to be prepared to invest both money and time in this. We're not saying it's an easy process, but if you're really determined to start on it, you'll see how it pays off. We'll present you with everything you need to know and some extra steps that you can make in order to be successful in the long term.
What do I need to know before getting started?
Well, you need a reason. Since it is an investment, you should sort some things out before diving into it. Maybe you want to experiment or become a professional. Or you're already in the business but want more control over how things are handled. No matter what your goal is, we'll provide you with some interesting options along the way. Our objective is to help you build your photography studio at home. What you're up to next is your own choice, but you might get inspired and turn to one of our suggestions.
If you're doing it just for fun, you can start experimenting with things and see where it leads you. You might not have given it a lot of thought, but you can start building your portfolio for future use. If you're in for the pro ride, you may have some things figured out, but maybe we'll help you find your niche. Or change it. You could start being interested in horse photography, for example. As you can see, we can help with that too. Exploring is always a great option.
Besides your motivation and future ambitions, there are some logistics behind building a photography studio at home. First things first, you'll need a space. After that, comes the equipment. And then, comes life – how you edit, where you post, and many other options. You may already have yours, but we'll display some of our ideas as well.
---
Space
Space is a very important aspect that depends a lot on what type of photography you're doing. If, for example, you're making portraits or you're into a certain field of commercial photography, such as product or food photography, you won't need a huge place. But if you're doing family pictures, you may consider a space bigger than the spare corner of your living room. It doesn't mean that you should go big investing in renting a space or something like that. But you should take into account the fact that it may be challenging to work in a smaller one. This can help you in the next steps as well because it will give you a sense of what pieces of equipment you can use or not.
For the braver ones who are not satisfied with space their home offers, you can rent out a place. Finding it can be difficult, but here are a few tips on how to find the perfect space for your activity.
---
Budget
This is the part that anyone looking to build a studio needs to figure out on their own. But it's also a very important step in this process. There are a few things to consider before jumping directly into purchasing the equipment. If you have a fixed budget, you should look at things that you can afford, but don't be very cheap. Buy things that are trustworthy in terms of quality. Of course, the high price doesn't always guarantee the best, but neither does the cheapest version on the market. Be balanced when making choices, and if you can't afford everything at once, don't panic. Start with the essentials and the rest will come along. Here are a few tips on how to work on a budget.
The same goes for the ones of you who set some money aside and are ready to make a big move. Don't go overboard and spend a lot of money on either too expensive pieces of equipment or stuff that you don't need. It's good to have quality things, but as we already said, there are a lot of affordable items out there. And extras are good but don't always come in handy. Try to investigate a bit, make pros and cons list, or ask someone who has done this before. Find inspiration in other people's stories and see what they managed to do with a small amount of money.
---
Equipment
We're finally to the fun part, where you can see what you need to actually take great shots. Well, there are a few things to be mentioned, each with its specificities for you to choose from. Assuming you already own a camera and a laptop, which are essential to your work, let's see what you need to step up your game. For those of you who don't have the patience to hunt the products individually, Amazon has some pre-made packages for you.
---
Backdrop
For those of you who have just started with photography and are not very familiar with everything, a backdrop is basically the background for your pictures. These have some variations, so you should see which one fits your style, purpose, and so on. Choosing the right one could really step up your game from the beginning. If you want to play the safe card, you can choose a multi-purpose backdrop that will save you both time and money. One of the best choices is Lastolite LL LB56GW Fondale because it is affordable, it has two sides, and it's easy to transport.
Here are the best types of backdrops:
Muslin
Seamless Paper
Canvas
Muslin
This one can be something great to start with, as it is perfect for portraits, as well as other set-ups. The material it is made of prevents wrinkles. It's also very affordable, comes in a variety of sizes and colors and it's very lightweight. You can carry it with you wherever you want. Neewer PRO Pure Muslin is a great choice both money and quality-wise and you can choose between black and white.
Seamless Paper
This is a good option both in terms of looks and price. Usually used for fashion shots, it is versatile enough to give you what you need. Be careful tho, because, at the end of the day, it is still paper that needs to be handled properly. The last thing you want is your shot ruined by a hole in the background. Here you can find good quality seamless paper in a wide variety of colors to choose from.
Canvas
This has been THE choice a while ago because it's a durable and very detailed option. It usually has a very good quality, but the cost and heaviness made it less popular. People have turned to the first two options we presented before because they are easier to work with. Even though they are a bit pricy, here is a website that offers a lot of options, both in price and patterns.
Of course these are the most popular options out there. You can experiment with anything you feel like, and who knows what you can get out of it?
Besides this, be careful with the size of your backdrop. Be sure it fits in your working space as it is. If you start altering it yourself, you may not end up doing the right thing. You're also going to need a structure to support your background. You can improvise or buy one, but be sure you can achieve what you want with it. As we advised earlier, you don't have to go out of your way. You can buy something for a decent price in order to make this as professional as you can. Amazon offers a great deal on these.
---
Lighting
This is a crucial item on your equipment list. Professional studios usually have more lights than you could think of. With the right ones, everything you do will look amazing the least. There are a few things to consider, such as color, direction, quality, and quantity.
You will need some light stands that will take up some of the space you have, but remember that this is an important part of how your photos will look like. Do your best when it comes to purchasing these, because they will reflect in the work you do – literally. You can buy some for a great price here.
If you want to step up your game, you can choose a few modifiers for your home photography studio. Here's what you can opt for:
Metallic or white reflects. This can change a lot the ''temperature'' of your photos. The white and silver ones will give you a cool glow, while the golden ones will imitate the warmth of the sunlight. Amazon comes to save the situation again with a great deal on these.
Gels. This is a whole new touch to photography. Gel sheets are pretty inexpensive, so you can have a bunch of them to play around with. Use them as they are or combine them, and you'll obtain shades you didn't think were possible. If you're looking to buy some, this store has some cool options, along with a few helpful tutorials that you can use.
Softboxes. These give you control over how the light falls on your subject. They create an even look and make it seem like you're next to a window on a sunny morning, rather than in a photography studio. B&H has a variety of softboxes that you can choose from.
Umbrellas. Not your usual, it's-raininy-outside umbrellas, but some that work similar to the softboxes, to help you contain light and focus on your subject. There are two types of these, the ''shoot through umbrellas'', that give you the soft, warm light and ''reflective umbrellas'', that works the same as the reflects we discussed earlier, but with more control over where the light goes. eBay is here to help with your purchase. Choose the color, brand, or scroll through their list to find the best fit for you.
---
Other things you might need
Well, as we said before, assuming that you already own a camera and laptop, the equipment list is not very long, depending on how much space and money you have at hand. Lenses are something you might want to look up, depending on your camera. If you're not sure about how to choose your lenses, you can find some insights here. You'll also want to invest in some power cords because some of the things we mentioned will need something to feed on in order to work.
A tripod is another item that might interest you as well, for steady shots. Depending on your preferences, check out this website can help. An SD card, comes in handy as well, for those about to practice or for that perfect shot that takes up space. The SanDisk Extreme PRO SDXC UHS-I seems to be the number one choice right now. Other than that, it's at your choice if you want to experiment with what you have around. We provided you with the basics, but you have the freedom do try things out.
---
What's next?
If you don't already have one, you should create a place to showcase your work. And the best way to do it is, of course, online. Some of the greatest photographers out there use WordPress to display some of their most prized shots. It's a way of showing that you're good at what you do, to gain recognition and look for opportunities. This platform offers you a lot of options, as well as a great number of plugins that make your life easier.
You can make galleries, sort them by different filters, and appear as a professional in front of the people who stumble upon you. The way your gallery looks is very important as well, so make sure you're using the right tools.
Now that we have everything sorted, it's up to you to make everything happen. Remember that building a photography studio at home requires some effort. But if you're really in for the long run, you will see the results of your work in no time. Of course, in order to be able to nicely display your work, we strongly recommend creating a website and using a really good gallery plugin. This will show that you are a professional in everything you do. Below you'll find a step by step guide on how to showcase your greatest pictures.
---
Manage your pictures in WordPress
After we solved with the bare minimum equipment that we needed to create a home photography studio, it's time to see what are we going to do with the photographs. You should display your work in such a way that people will both admire them and want to work with you. So let's get started on it!
---
Install a suitable WordPress theme
Showcasing your work is the first step towards getting a return of investment after you built your studio. Because everything is online nowadays, and it's the most comfortable way of finding what you need, start by installing an appropriate WordPress theme. It has to go with your vision, so we'll provide you with some options to choose from.
The official WordPress Repository offers a great range of free WordPress themes. Go to your WordPress dashboard and click on Appearance > Themes > Add New. After that, the search bar will help you find the suitable theme for your website.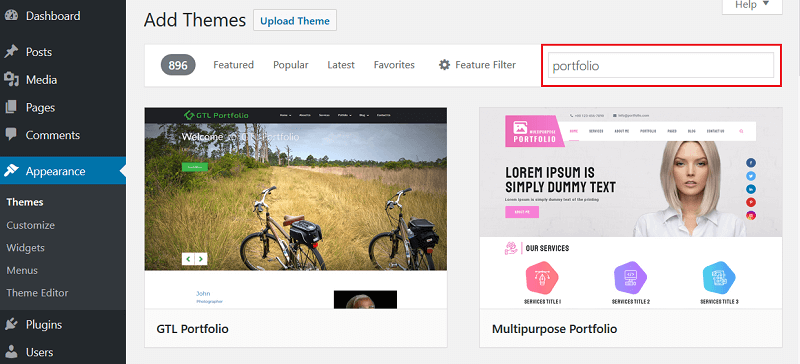 You also have a Feature Filter that can make everything easier for you. It will customize your results if you click on one of the checkboxes – in your case, the 'Photography' one.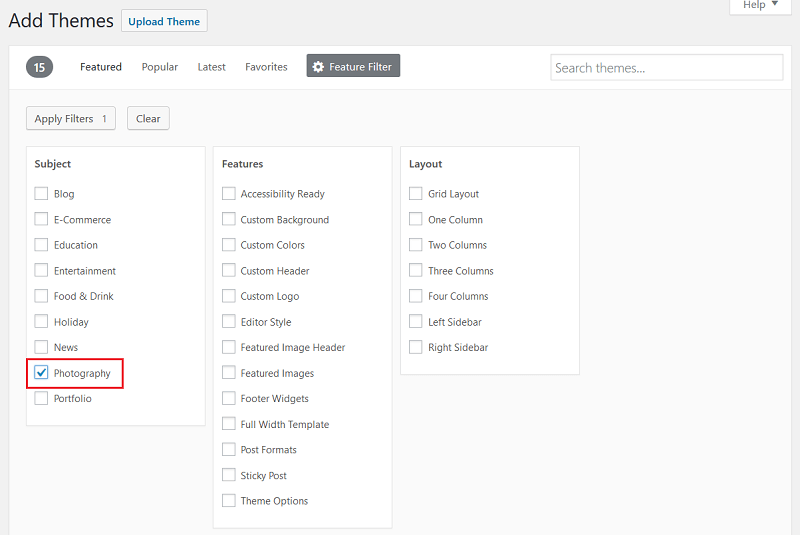 After you find the theme that goes best with your vision, press Install. You'll activate WordPress on your website. The next step is to press Activate to make it live.
If you don't feel like what you found is good enough for your preferences, you can always go for premium ones from different trading platforms and theme providers such as ThemeForest and StudioPress.
---
Install the Modula Plugin
If you already have a website but it doesn't have the things you need in order to show off your greatest pieces of work, Modula is here to help. It's not necessary to go through all the trouble of installing a new WordPress theme. You just need the right plugin to do the job for you.
Wondering what can Modula do? Well, first things first, you're in for the pro run with this plugin. Here are a few of its features:
Modula has 70,000+ active downloads and the numbers speak for themselves. It definitely makes your life easier, because this plugin is pretty self-explanatory. However, if you don't feel like you master it from the beginning, their website hosts tutorials for each feature, so you can have a look whenever you feel like it.
Download and activate Modula

In the WordPress repository, go to Plugins > Add New and find Modula Gallery. After you have the plugin enabled, activate it y clicking on the blue button outlined below.
---
Add a new Modula gallery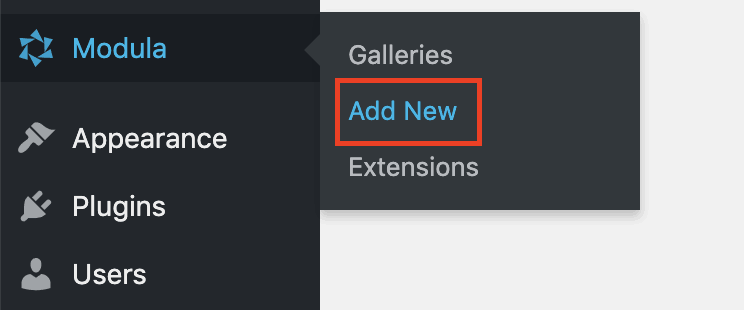 In order to create your first gallery, go to the WordPress Admin menu, and click on Add New. From now on you can start adding photos and customize your gallery according to your wishes.
Name your gallery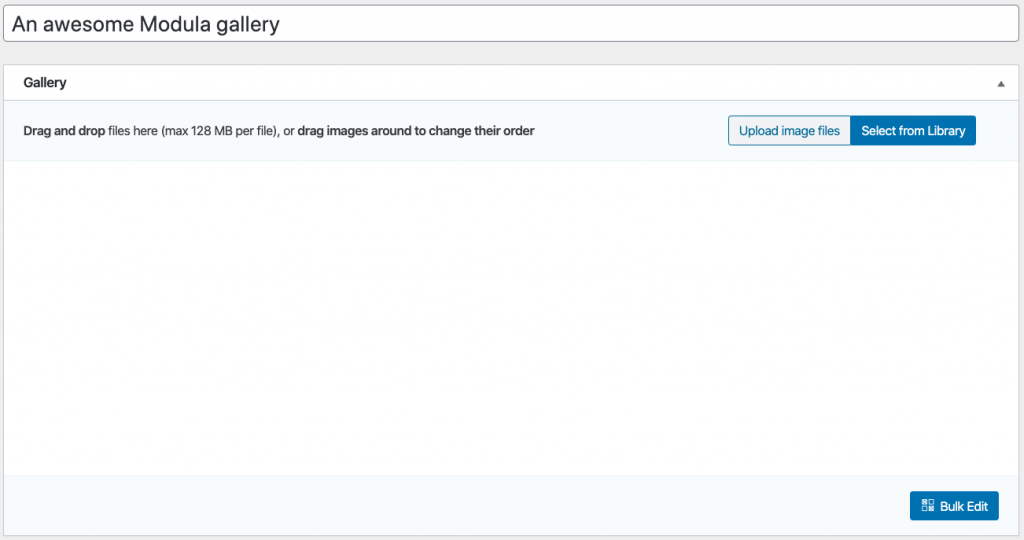 Naming your galleries will help you easily recognize and make changes whenever you want. You'll see that using all the features this plugin offers will act as a game-changer in the way you see professionalism.
Upload images to your first photography gallery!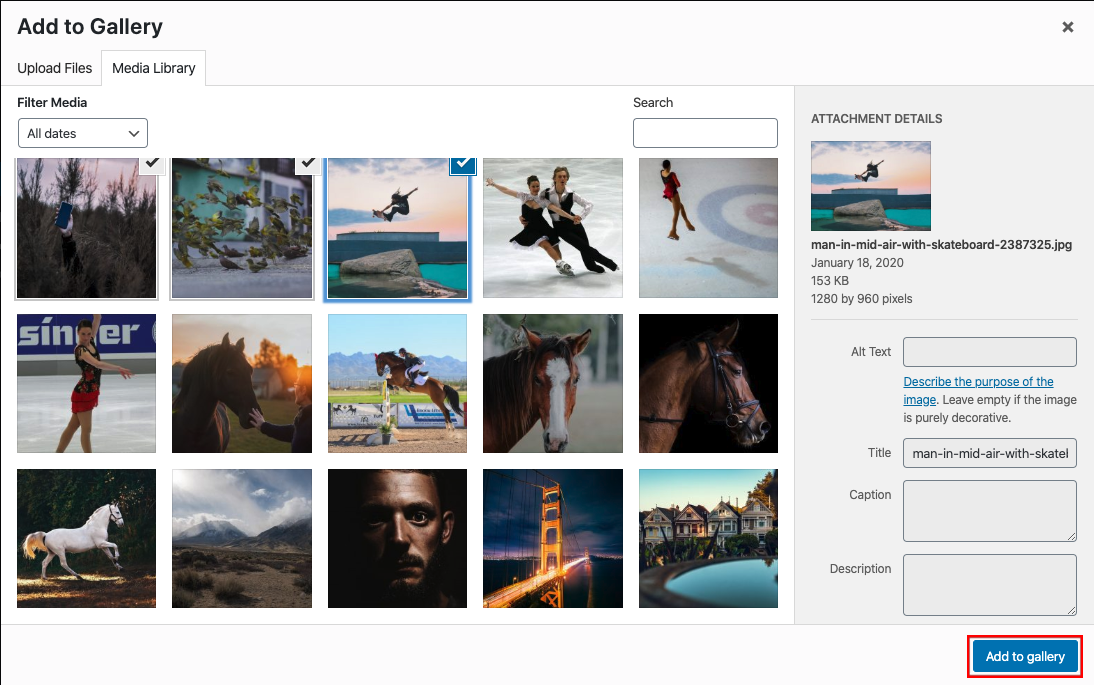 After you have your pictures sorted and ready to be uploaded, don't forget to click Add to Gallery. We know it sounds obvious, but you can never have enough guidelines!
After clicking Add to Gallery, you'll see your photos in the gallery edit section as seen below: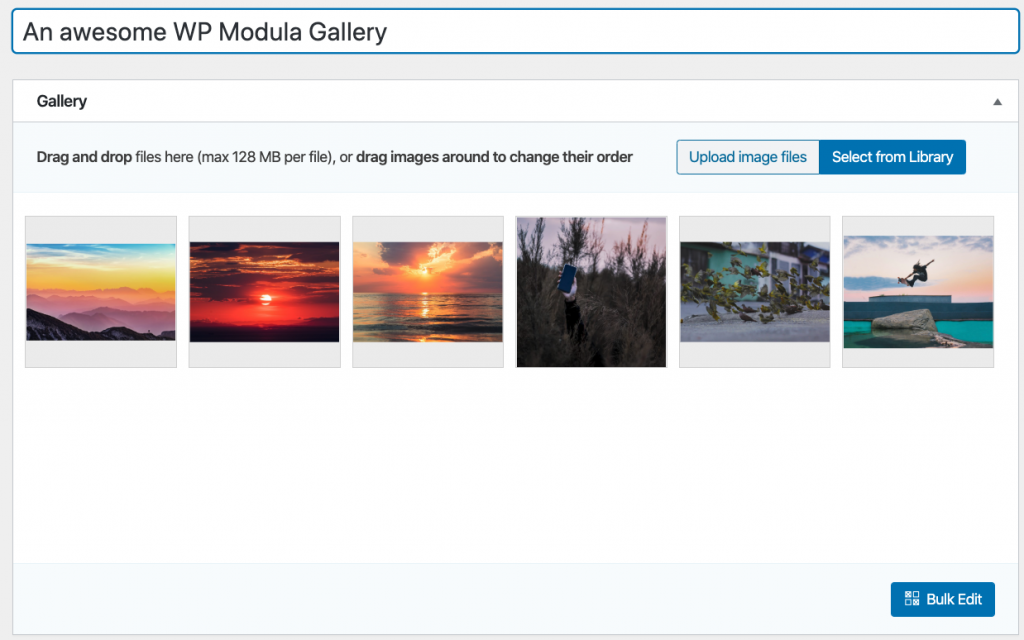 Modula is built to be the most user-friendly plugin out there. Drag and drop, click and move pictures around – it's easier to use than you could imagine.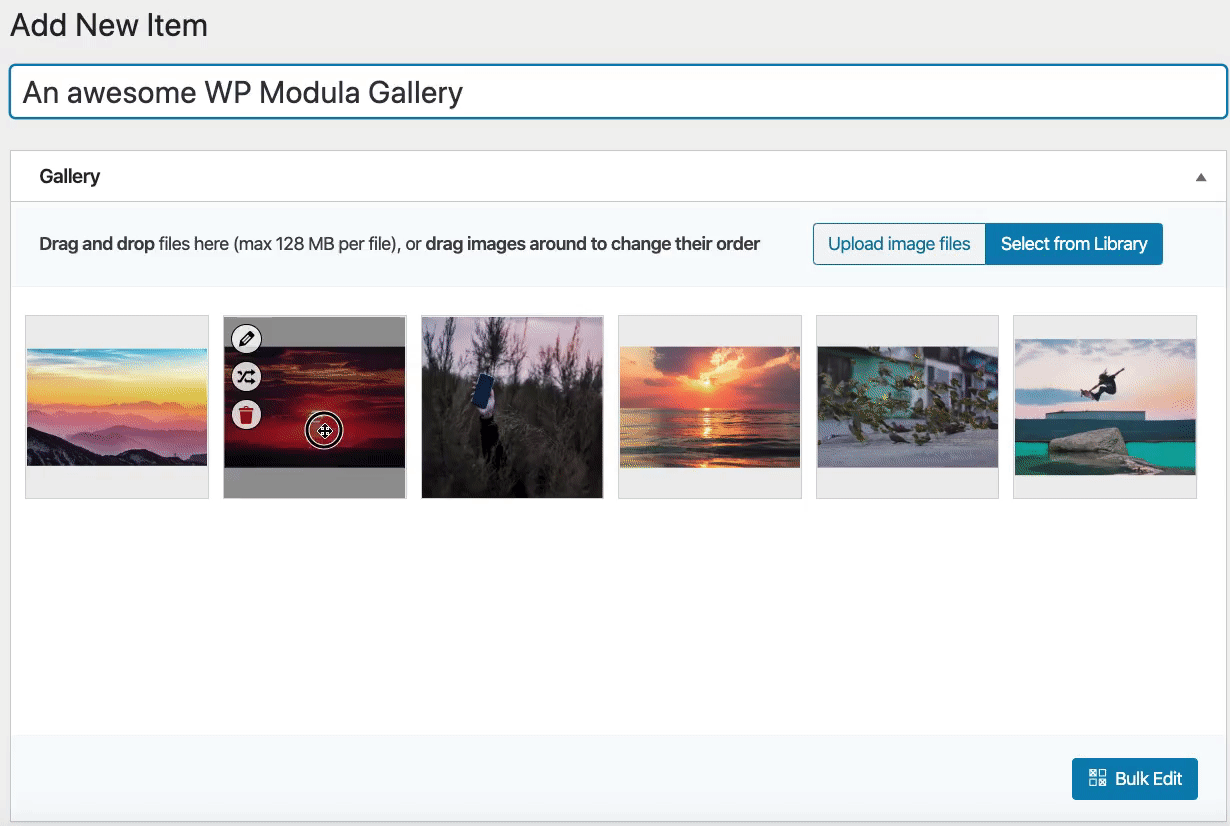 ---
Publishing and inserting your gallery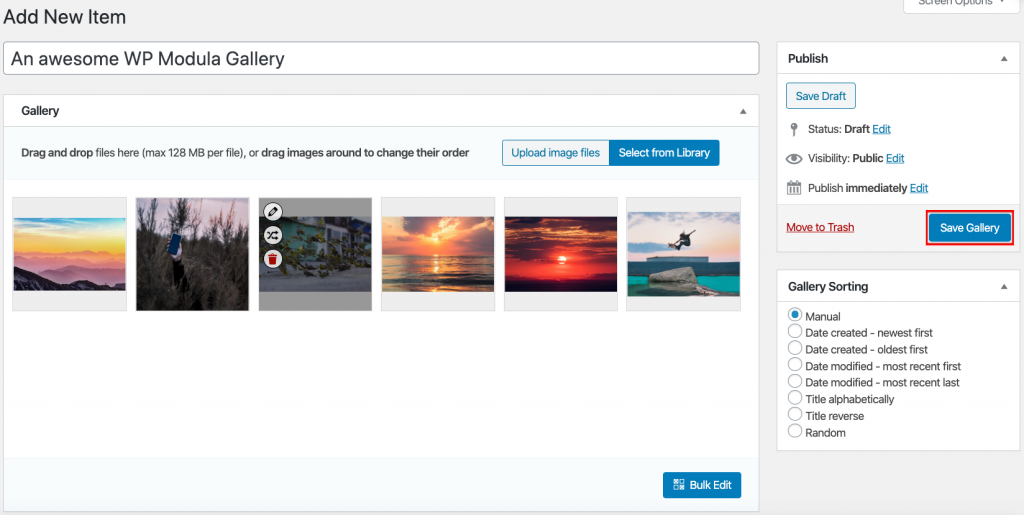 Now that everything is sorted out, you just have to press Save List.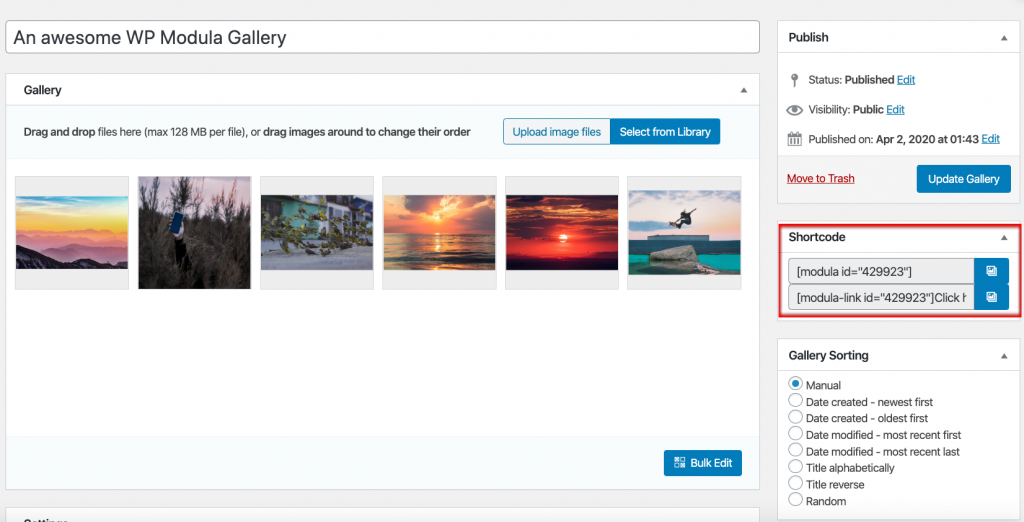 As seen above, the shortcode will appear in that section. In order to integrate it in your posts, just copy it and paste it wherever you want to appear.
Instead, however, you can also use the Gutenberg block from Modula to create galleries.
---
Inserting Modula Galleries into Posts using the Gutenberg Block

To do this, you just have to pick your gallery from the dropdown after typing / modula. Another option is to click on the Modula icon and then pick the gallery you want to include.
Customize your first gallery!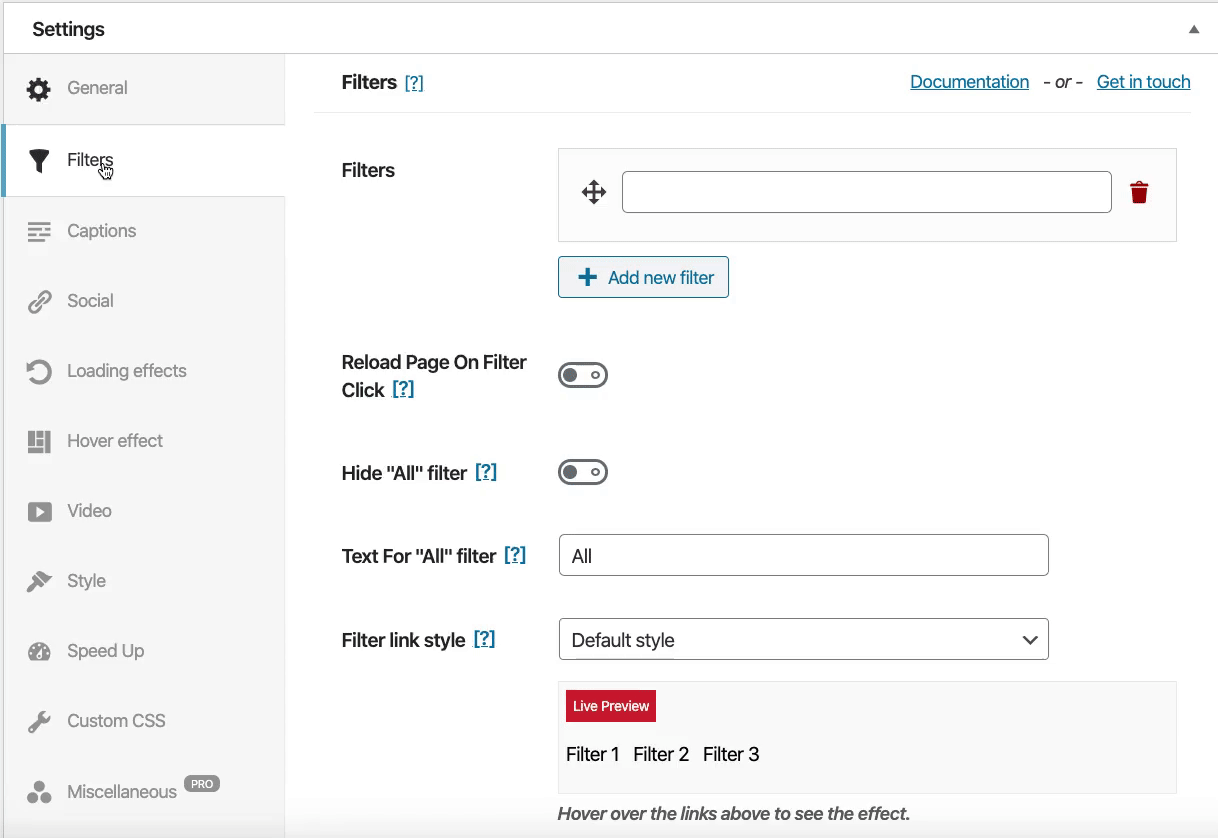 Everything is up and running with this super easy tutorial – you could have done it without us anyway because Modula is pretty self-explanatory. Be sure to take advantage of every single feature included and you'll see results coming in no time.
We also send our subscribers a few emails that serve as tutorials on how to make sure you're using Modula to the fullest.
Summary
Now that we presented everything there is to know, you just have to figure out how you want to approach everything. Here are some of the most important things that you have to keep an eye on at all times:
Make sure to plan ahead and take everything into account before starting – your budget is in place and you have enough space to set your home photography studio up.
The equipment you'll be working with is essential so that your snapshots look the way you want them to look. Take into account everything we've presented so far and buy the things that are necessary first – you'll have enough time to purchase extras or things to spice things up a bit.
Showcase your work in the most professional way possible. What you do is mainly of visual nature, so the way you present it should be as beautiful as the picture themselves. Because you're already working hard enough for the pictures, Modula will simplify everything, as it is incredibly user-friendly and good looking.
Final thoughts
Being creative and having a passion like photography requires both determination and some investments. Now that everything is said, you just need to get to the "done" part. See what's best for your needs and desires and try things out. But if you want to be seen as a professional, you should be all in – from the set-up and equipment to displaying your work in a beautiful way.
Keep in mind the fact that having such a studio is not enough. Either you want to build your portfolio, show off your work or gain clients, make sure your website has what it takes. Get started with Modula and take some weight off your shoulders – you'll only have to worry about taking the pictures. Use these tips to start off something great.