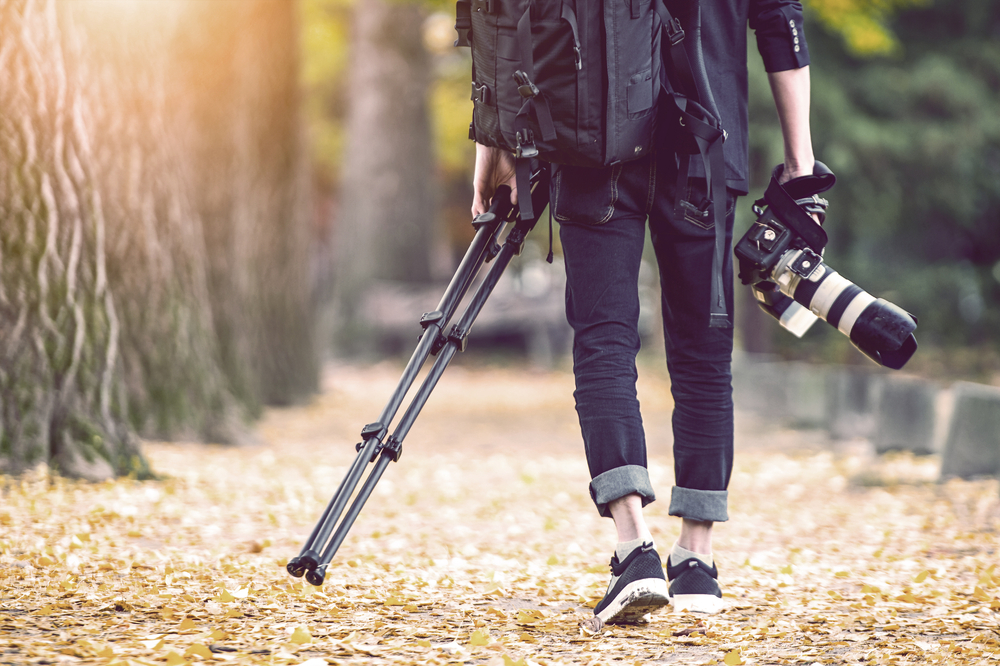 You have probably landed here because you have decided to take your hobby to the next level and become a professional freelance photographer. Since your early childhood, you have always loved capturing unique, worth treasuring moments in the confinements of a photo frame. After all, all that we sometimes wish is for some minutes to resist the test of time so that we can relive them at a later stage, as realistically as possible. The years have passed, and you made magnificent shots, receiving a significant number of compliments from people who asked you to take a photo.
You may be aspiring for a lot about the freedom and fulfilment with your own photography business. After all, you might be thinking of quitting your 9-5 job in favour of what you love to follow what a theologian affirmed about hobbies:
Success is not the key to happiness. Happiness is the key to success. If you love what you are doing, you will be successful.

Albert Schweitzer
At this point, your horizons might be foggy when it comes to practicalities. We will try to shed some light by sharing a collection of pieces of wisdom. We hope they will help you pave your way to a successful freelance photographer!
You will need a good understanding of photography techniques to succeed in your freelance photography business. An initial investment in some quality equipment is also generally expected. Please keep your head up, as there are ways in which you can get your business off the ground with relatively little expense.
Before starting your freelance photography business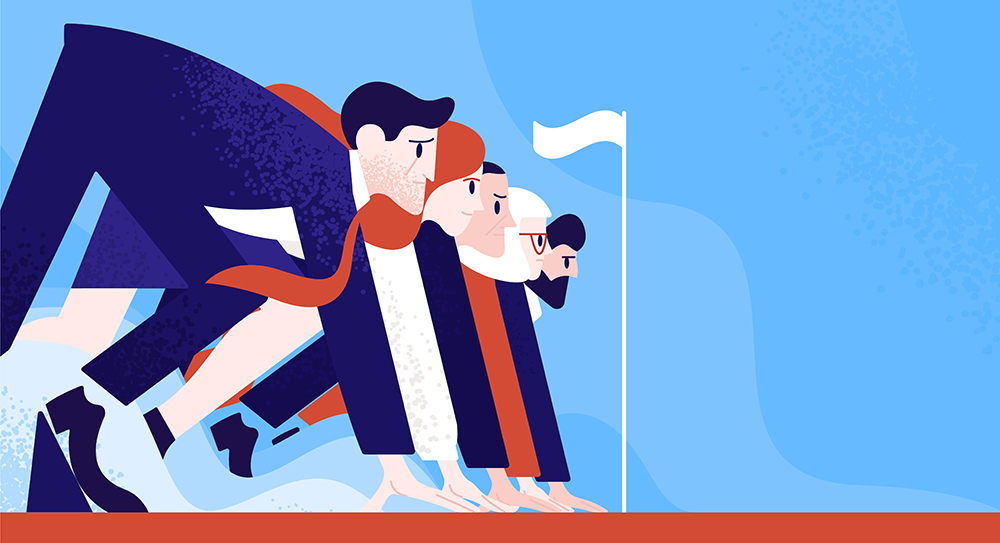 Purchase high-quality equipment
Quality equipment significantly augments the quality of the work of a freelance photographer and enhances your level of confidence when performing in the field.
The average cost of a high-end professional camera is about $2400. However, you might not need the most expensive camera. Find anything with high-quality features (i.e. quick frame rate for action, high MP count and large portrait sensor) that is adapted to your niche. A popular camera for freelance photographers is Canon EOS Rebel SL3. Another good option, at a slightly higher price tags, that also features burgeoning lens is Panasonic Lumix GH5.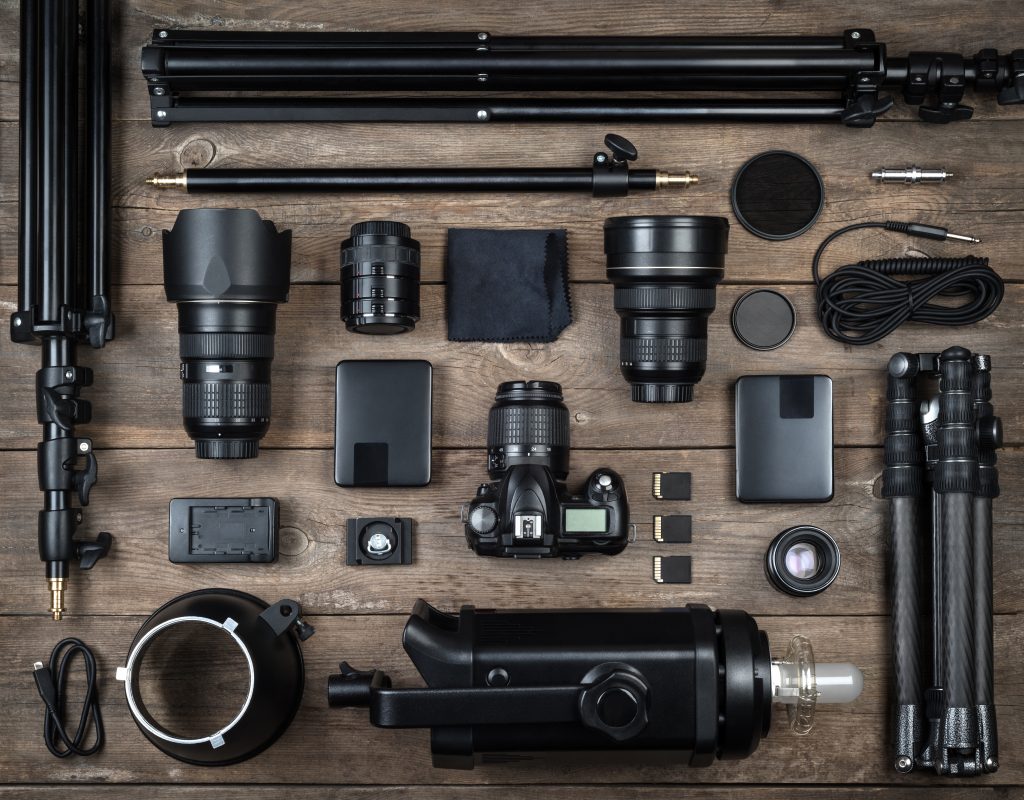 You might wish to add telefocus lens and a separate flashgun. A tripod is essential whether you are shooting landscape or paintings, and for the later, a remote trigger is vital.
If you wish to impress your clients with on-the-spot samples or even perform the whole printing process in-house, you might also benefit from a professional printer. It might, however, make more sense to defer this to a printing professional in the early days. This will decrease both your mental and physical workload, leaving you more room for acquiring more clients and improving your skills.
Invest in photo editing software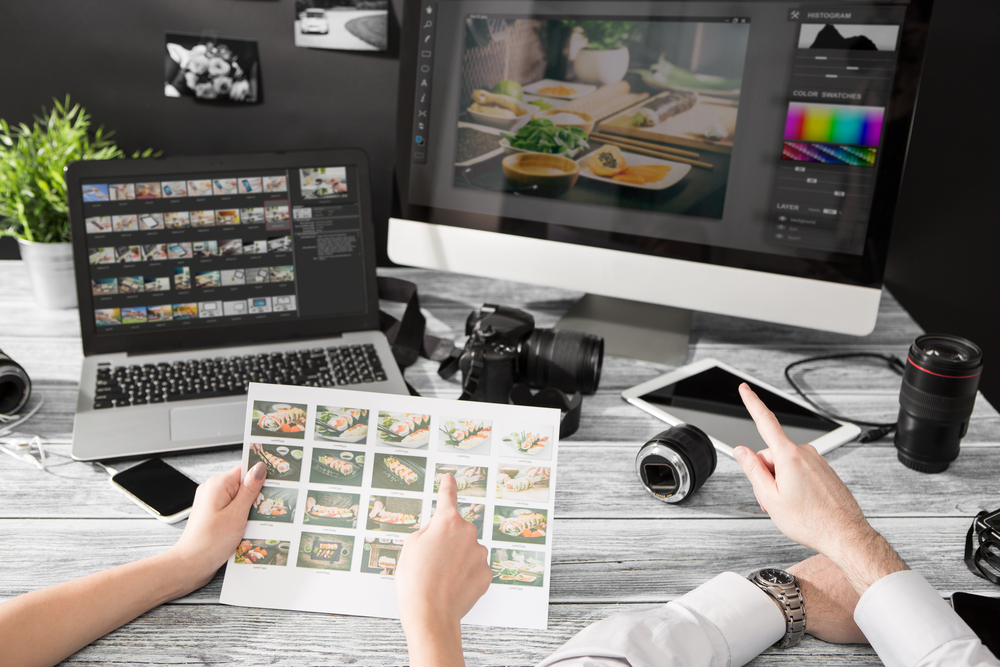 In addition to all the core hardware mentioned, in order to be successful in your freelance photography business, it is also essential to purchase professional editing software, such as Adobe Photoshop and Adobe Lightroom. Students and teachers can now benefit from 2 months of Creative Cloud for free!
Images of special occasions, such as weddings, birthdays, graduation ceremonies and anniversary celebrations, will make the occasions even more exciting and vivid. For years, photo editing would have loved the photographs even more and would have made memories more enduring.
Many tasks can be accomplished through photo editing:
Removal of unwanted background materials;
Enhancing colours;
Changing colours;
Retouching;
Cropping;
Enhancing looks by adding makeup, fixing hair;
Adding a person in a group photo or removing a person from a group photo;
Adjusting brightness and contrast;
Photo cleaning;
Correcting colours;
Sharpening photos;
Applying levels, contrast, curves, noise, grains, artefacts, colours, etc., to enhance photos;
The possibilities of adding effects with photo editing are endless. You can transform the looks of a child into a movie star. The colours of paradise can give life to a simple landscape. With photo editing, you can make any event look vibrant and enjoyable. You can make your old black and white photos exist in colour.
Nevertheless, if you are on a budget, you can temporarily make use of great free alternatives to commercial editing software, that have similar features.
Choose a speciality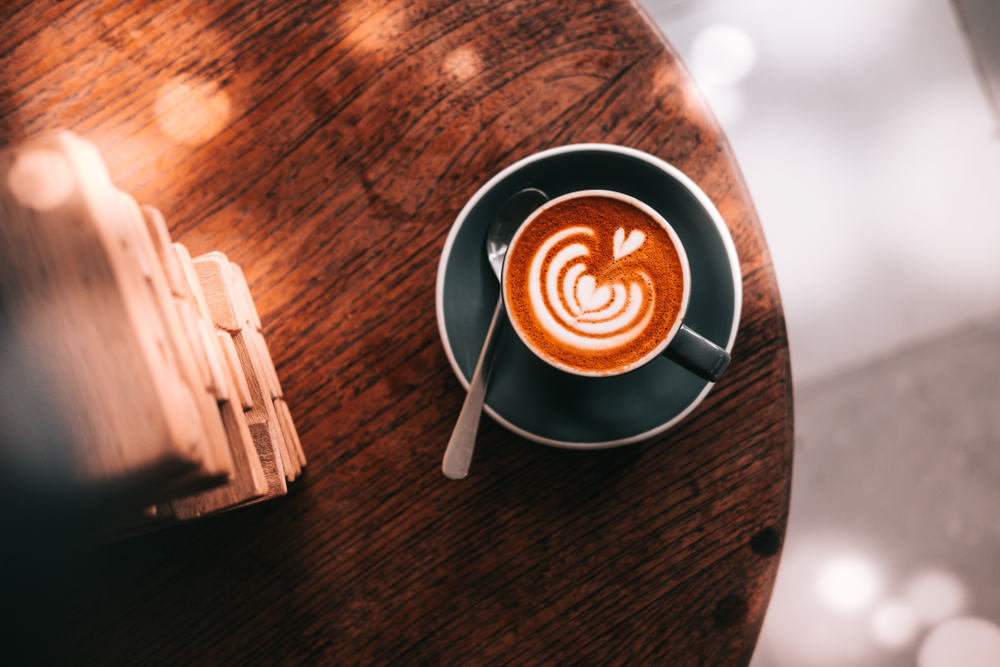 We would all love to know a bit of everything, but when it comes to freelancing photography, focusing on more subjects and trying to multi-task can prove challenging.
The type of appliances and accessories that are the most suitable for your work and can help you to unleash your potential also depends on your speciality.
Some of the most profitable freelance photography ventures include:
Please remember that you do not need to restrict yourself exclusively to one speciality. If you provide more services, you can also attract more customers.
---
Build a strong, eye-catching freelancing photography WordPress portfolio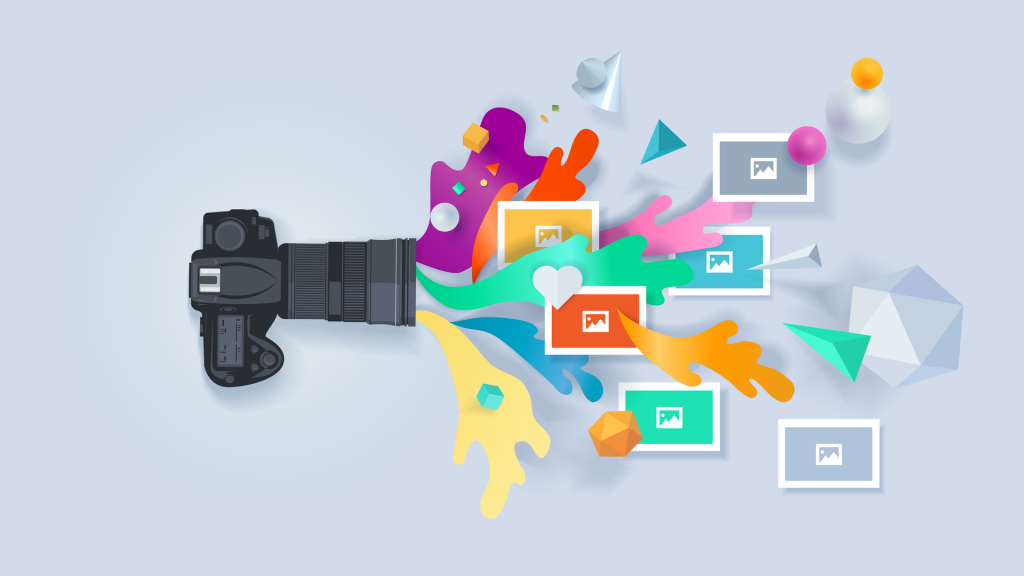 A freelancer photographer showcases quality work accumulated in years of experience and reviews of satisfied customers.
Start with installing a suitable WordPress theme
As in any other niche of the industry, the role of your portfolio is not only to attract customers. It can truly make a difference between being hired and being placed in a backlog of backup alternatives.
You can find free WordPress themes in the official WordPress Repository. You can search in your WordPress dashboard for themes by going to Appearance > Themes > Add New. From there, search for portfolio in the search bar to filter the theme choices.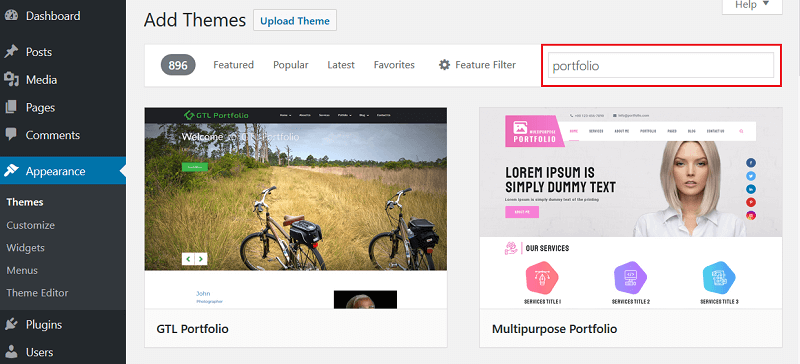 If you wish, you can also refine your theme results by clicking on the Feature Filter button and clicking the 'Photography' checkbox.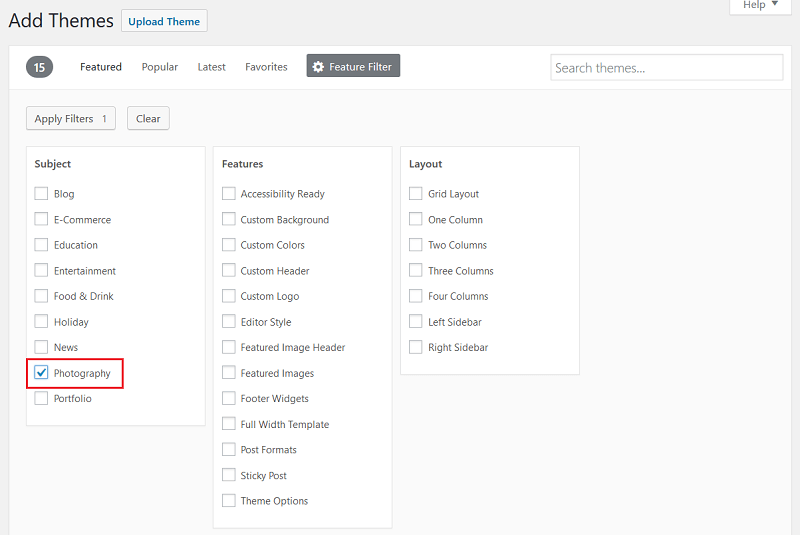 When you find a portfolio theme you like, click Install. WordPress will install it on your website, then you can click Activate to make it live on your site.
The features of a free WordPress theme might not be pleasing enough for your needs. You can check out premium WordPress themes on the internet from various marketplaces and theme companies like ThemeForest and StudioPress.
Install the WordPress Modula Plugin
If you already have a website up and running, but just want to add a portfolio to it, the last thing you probably want to do is switch themes and reformat everything that changes. Freelance photography portfolio plugins like Modula help you to avoid this!
Designed to showcase your freelance photography portfolio in its shiniest version, Modula has everything you could need when it comes to features:
Download
Learn More
Modula Image Gallery
Photo Gallery by Modula – an advanced solution for Photo Gallery users. Create beautiful image galleries in minutes or less.
Active Installations
70,000+
Rating
With over 70,000 active installations and a ream of gleaming 5-star reviews, you have plenty of reasons to consider Modula as the primary choice if you are looking for a WordPress gallery plugin. The creation of WordPress galleries with Modula is much easier and quicker than with the uncomfortable and limited of the functionality of the core features incorporated in WordPress.
Download and activate Modula

First, you need to navigate to Plugins > Add New and search for WP Modula Gallery in the WordPress repository.
Once you install the Modula gallery plugin, make sure that you also activated it by clicking on the blue button highlighted below!
Add a new Modula gallery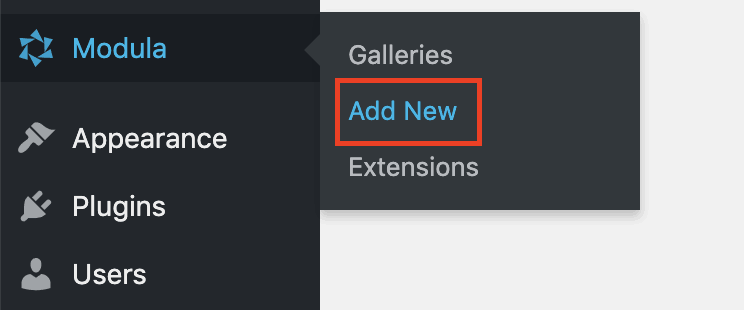 Once Modula is both installed and activated, you can hover over the Modula WordPress Admin menu item and click Add New to create your first gallery in WordPress!
On the following screen, you can immediately start uploading images to your WordPress gallery and modifying the settings of your gallery.
Give your first freelance photography gallery a title!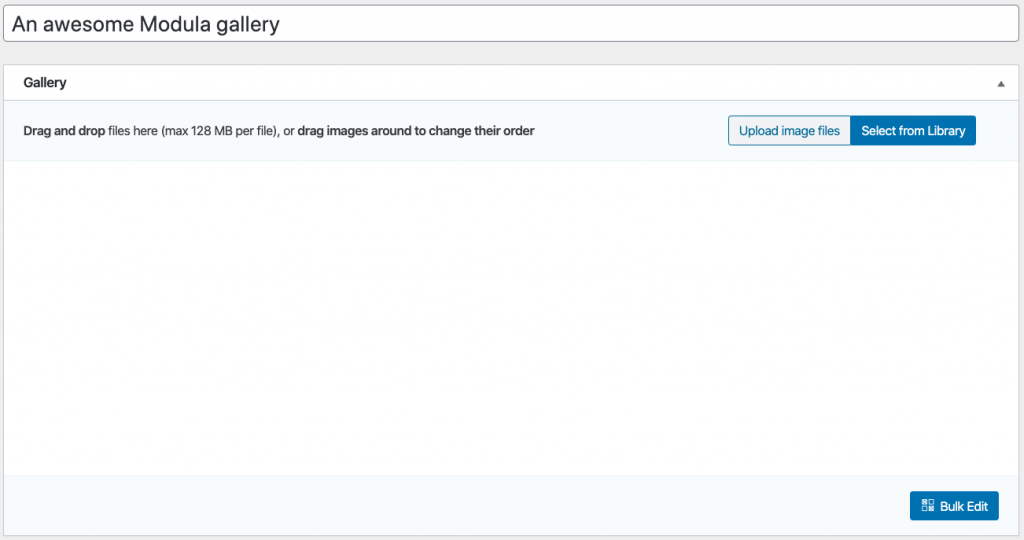 Using descriptive names will help you make modifications to this gallery even when you have multiple galleries in your freelance photography portfolio.
Be sure to use a descriptive title that will help you find the gallery later – in this case, we opted to go with something factually accurate 😉
Upload images to your freelance photography gallery!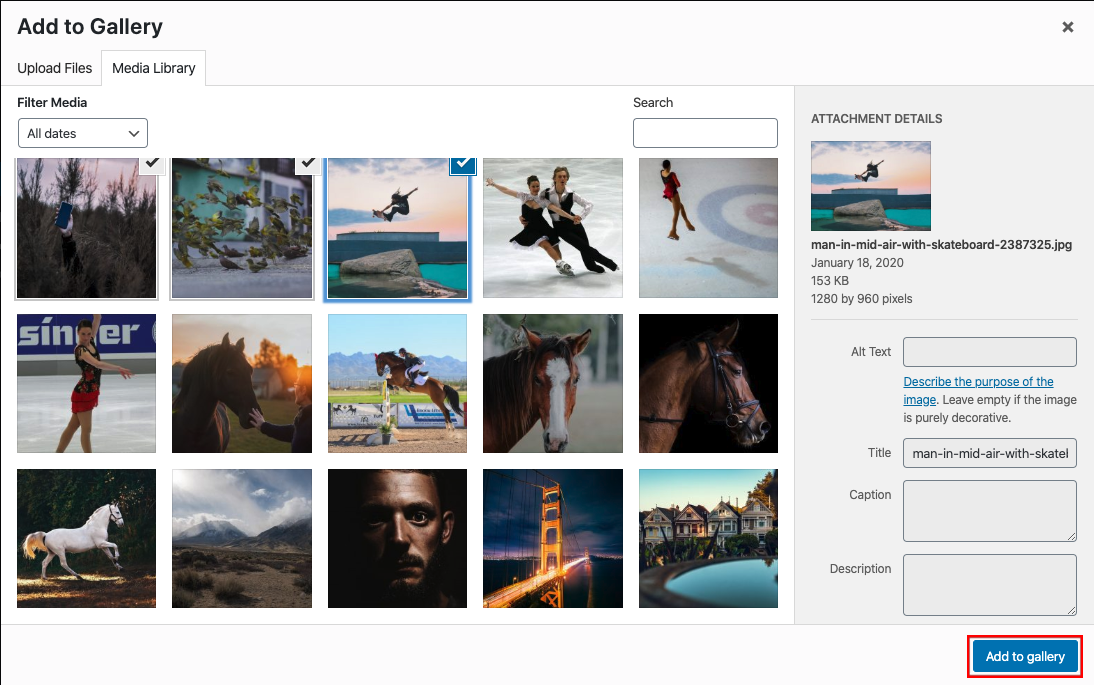 After choosing the images that you want to add to your Modula WordPress gallery, do not forget to click Add to gallery as this is surprisingly easy to do when you get caught up having fun using Modula 😀
After clicking Add to gallery you will notice your images in the gallery edit area, as shown below: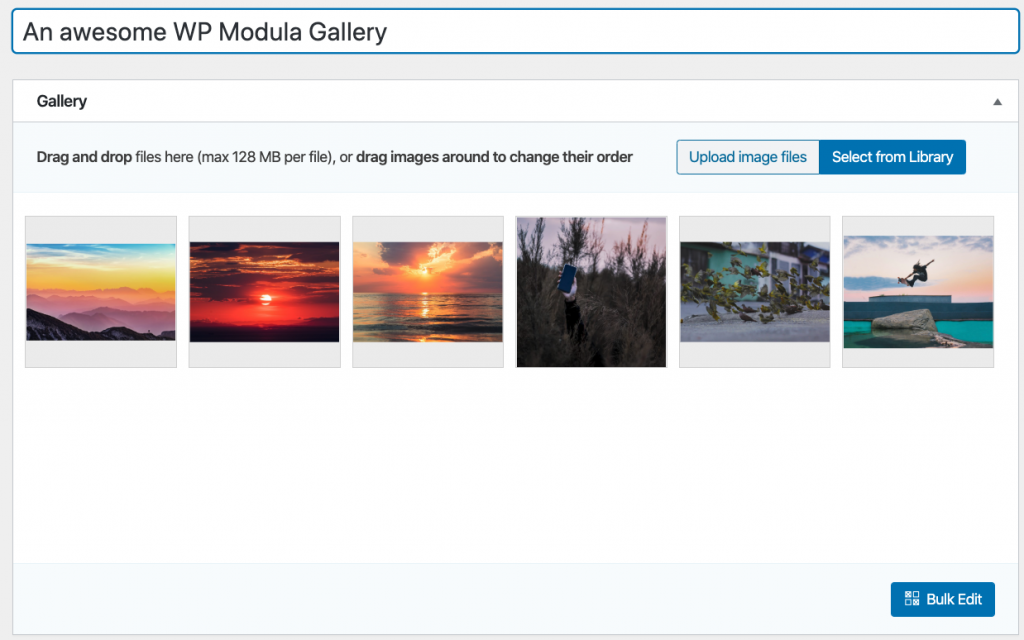 We've designed this area to be extremely user-friendly and easy-to-use regardless of your experience with WordPress. Thanks to our drag-and-drop interface, rearranging images is as easy as clicking and dragging them around!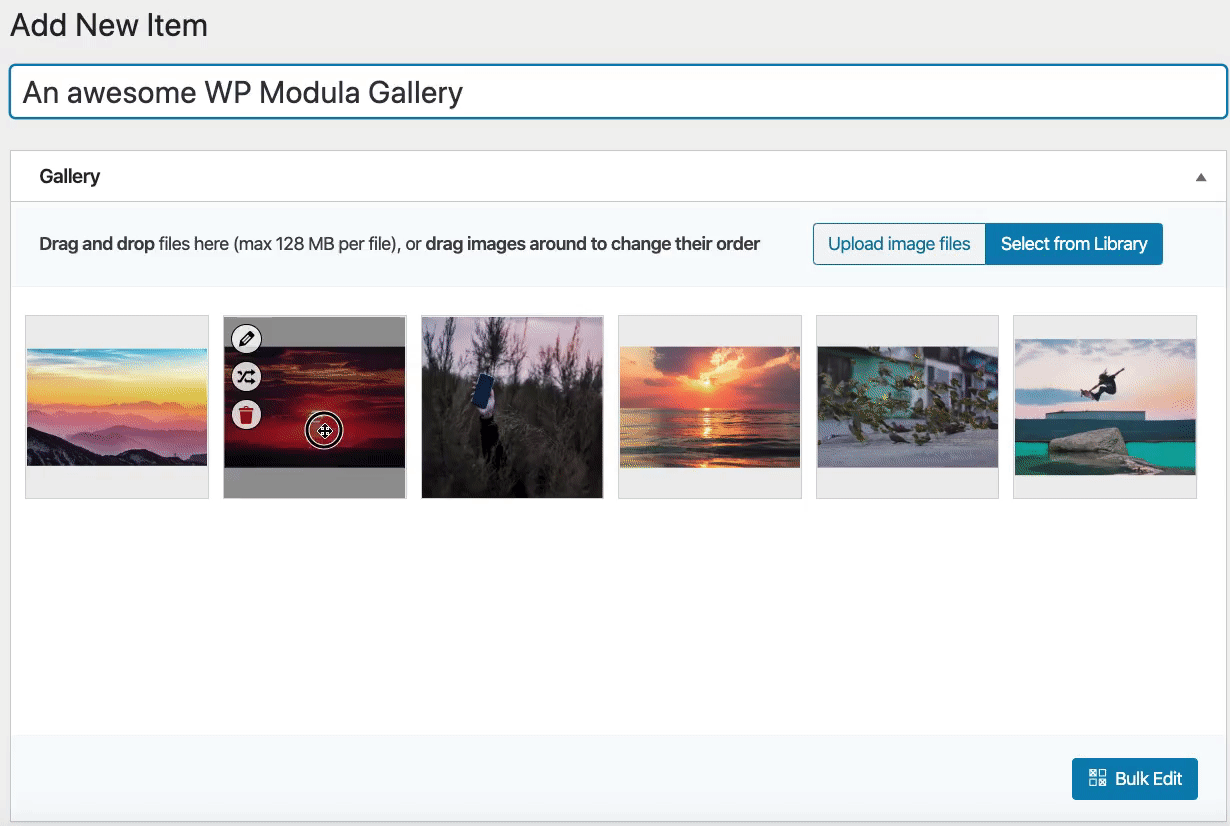 Publishing and inserting your gallery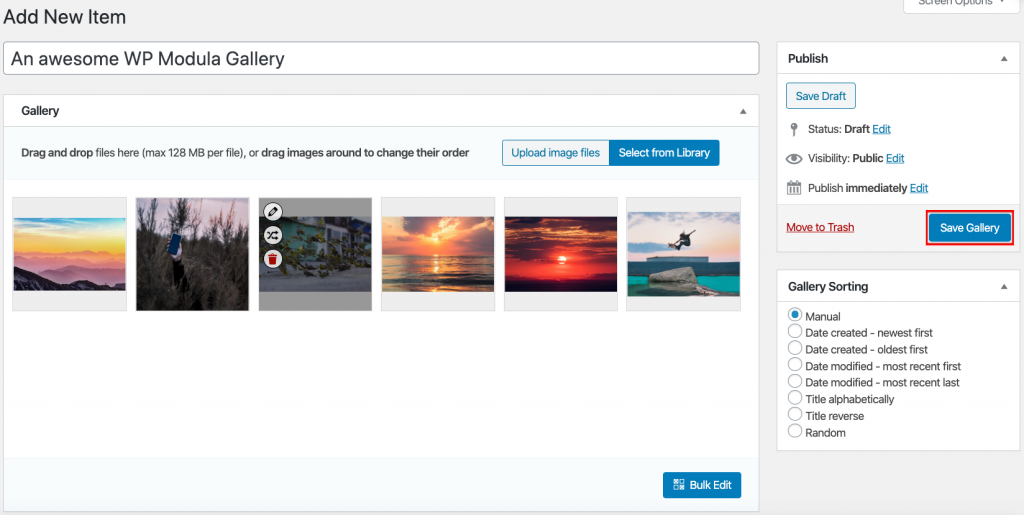 Now that you have what you have some eye-catching images in your galleries (and we do too!) – go ahead and click Save gallery.
Once you have published your gallery, the gallery shortcode will be placed in the gallery edit area as shown below. You also have the option to copy the Gallery link if you wish to publish a link to the WP Modula Gallery.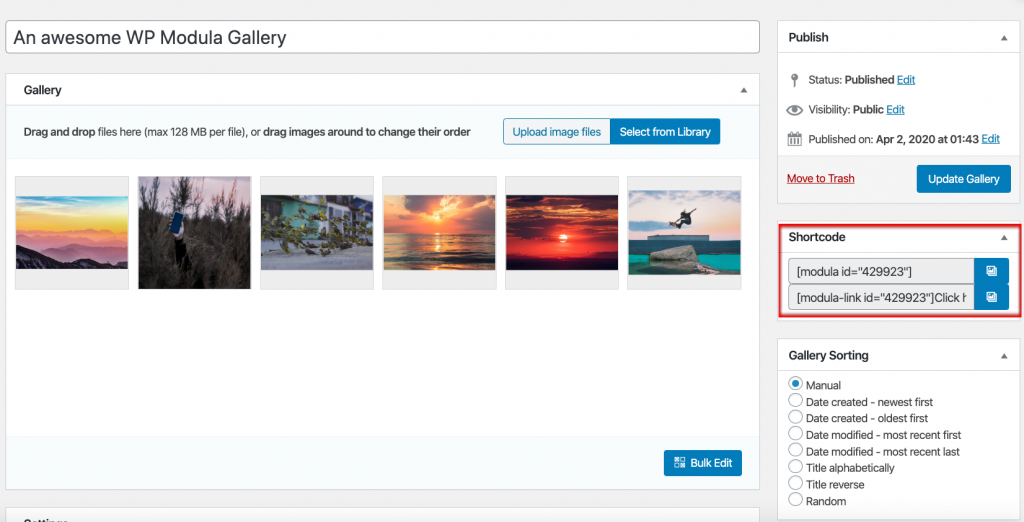 Now the next step is to actually insert your gallery into the WordPress posts and pages where you want them to appear. This is really as easy as copying and pasting the shortcode wherever you'd like it to appear.
However, you can alternatively also use Modula's Gutenberg block to insert galleries – which is also very easy to do.
Inserting Modula Galleries into Posts using the Gutenberg Block

Simply type /modula to insert the Gutenberg block and then select your gallery from the dropdown.
Or, alternatively, click the Modula icon (shown below) and then also proceed to select the gallery you wish to insert using the dropdown shown above.

Customising your gallery!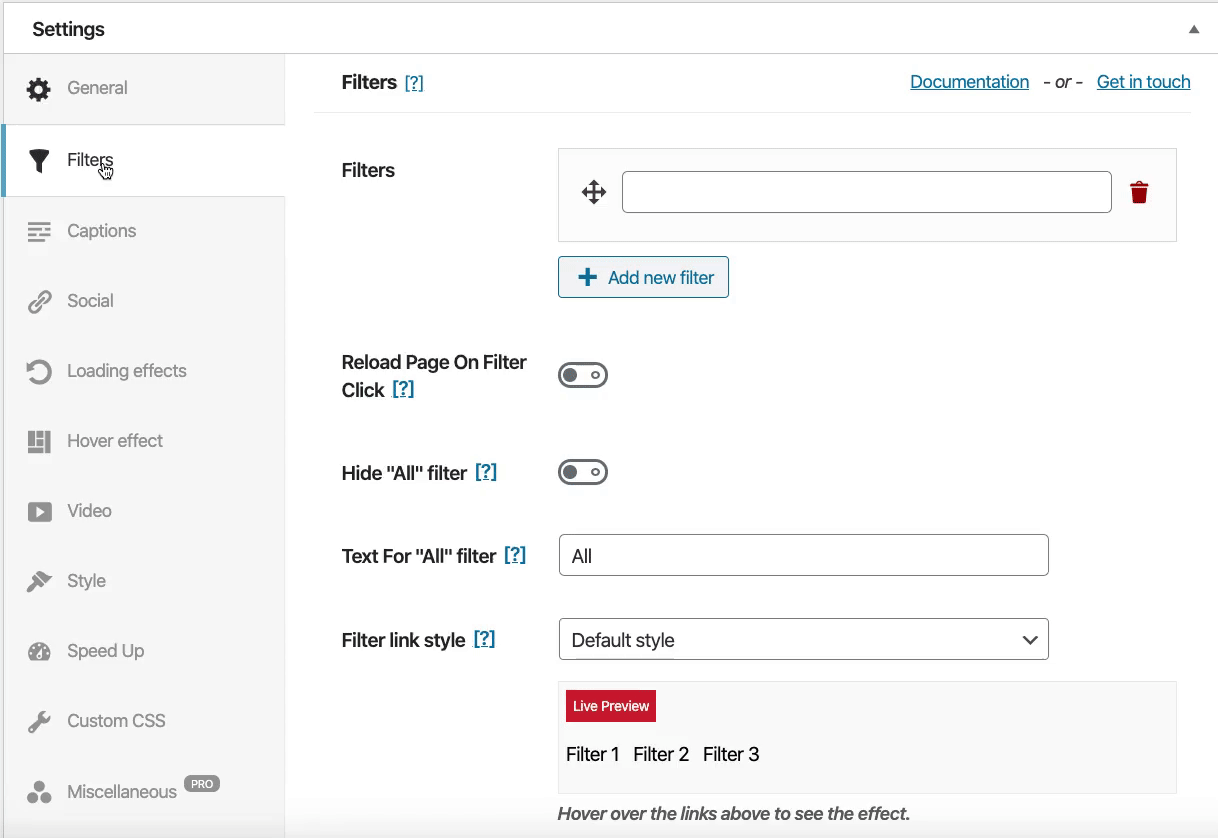 We did our best to make Modula the most user-friendly gallery plugin available. It is extremely easy for both beginners and intermediate users to take advantage of advanced functionality which was previously unthinkable.
If you crave for even more functionality juice out of Modula for your freelance photography portfolio, can find more about the Elementor Widget in our dedicated article.
After purchasing a license of Modula, all of our users receive a series of emails that take you through how to take full advantage of Modula's settings – to get started, click here.
Extend the features of your freelance photography website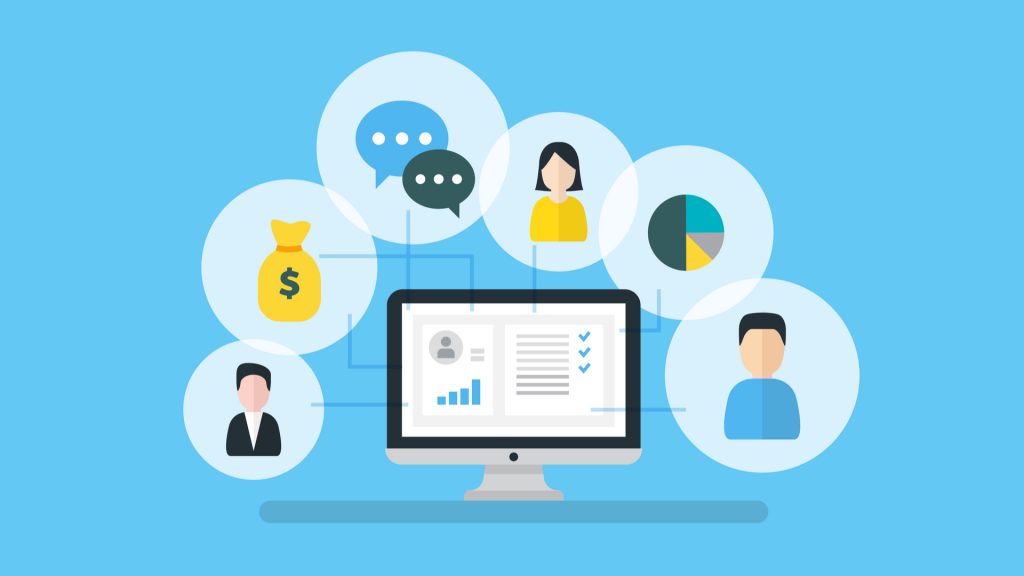 Depending on your budget (if you chose to hire a web specialist) or your own skillset, you can go beyond a static presentation portfolio. You can also use your website as a platform of communication with clients, scheduling sessions, managing orders, and even delivering your completed work! You can achieve this through an integration with a Customer Relationship Management (CRM) platform with a feature that unlocks digital content after validating electronic payment transactions.
This will streamline and even automate a lot of administrative tasks, enabling you to focus on what is essential!
Additional advice for a successful freelance photography portfolio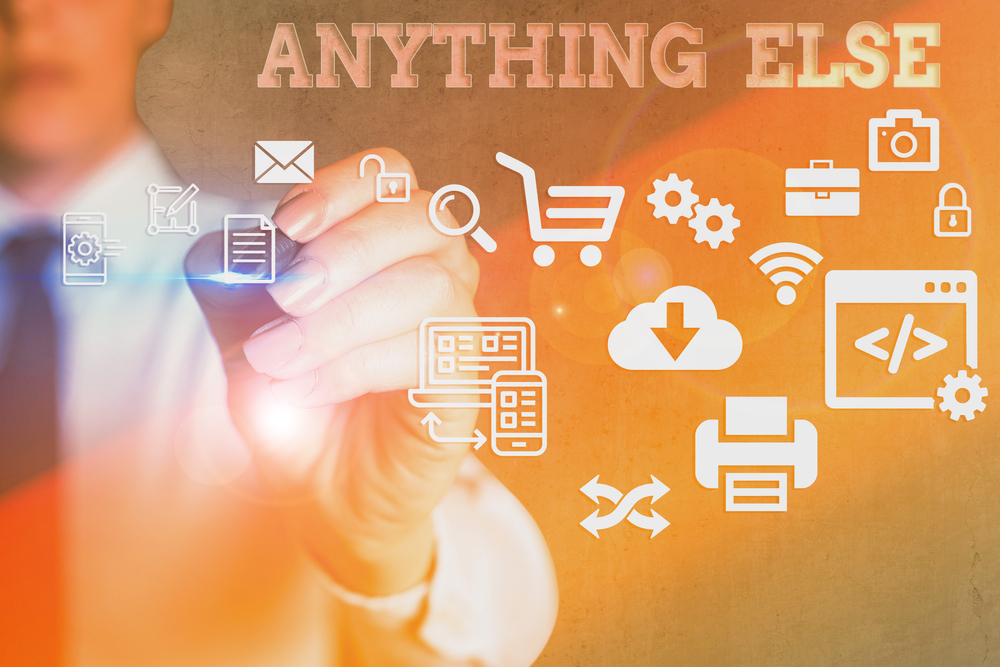 When building your online freelance photography portfolio, please remember to consider your audience. You should not fill your portfolio only with landscapes if your objective is to market yourself as a wedding and event photographer.
Build a hard copy of the portfolio in addition to the digital one! Some clients are more impressed by actual images, enjoying to physically touch and feel their texture. Printed portfolios offer the highest quality version of your works and can to the delight of your viewers have the best impact on potential buyers, clients, or even gallery owners.
Online portfolios might open the gate for someone to take advantage of your work. Luckily, we've got you covered – check out how to protect your images from theft, so you never have to worry.
---
Maintaining a high standard as a skilled freelance photographer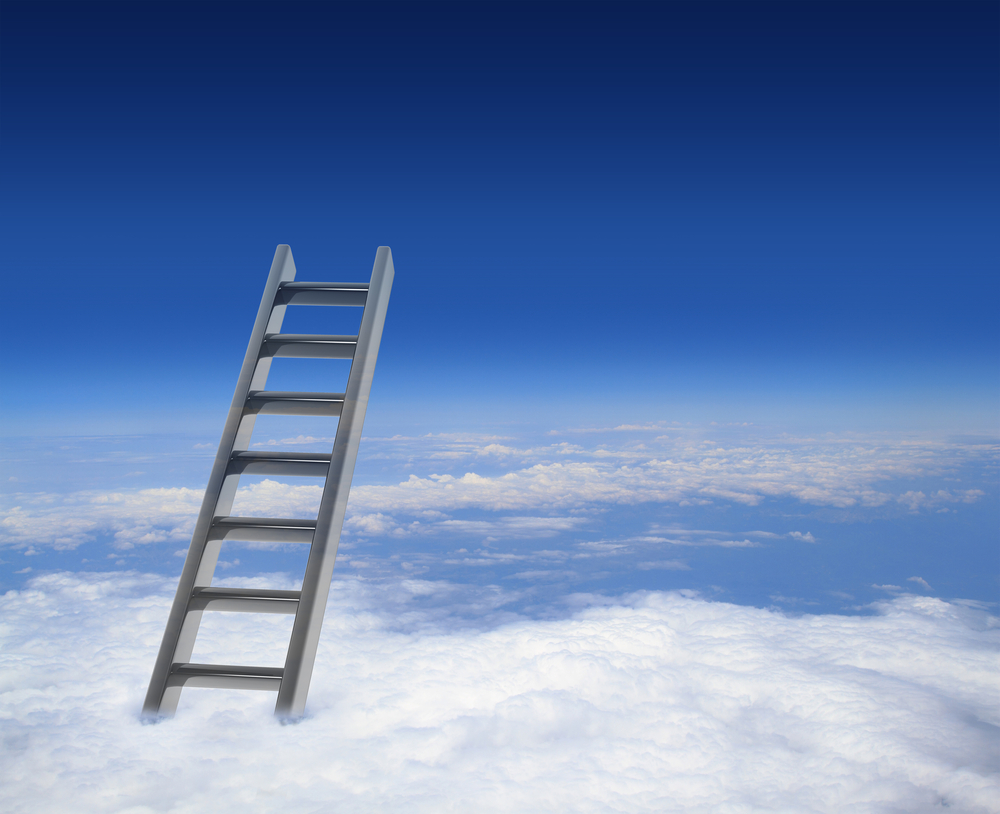 Improve constantly
An inexpensive and facile way to stay ahead of the curve with the latest trends in the freelance photography business is to attend regular meetings of people sharing the same interests. Look for professional photography associations in your area or look for a larger one, such as The Federation of European Photographers or Professional Photographers of America.
If you feel that you wish to go more informal, you can search for a meetup group close to your location to attend on a regular basis.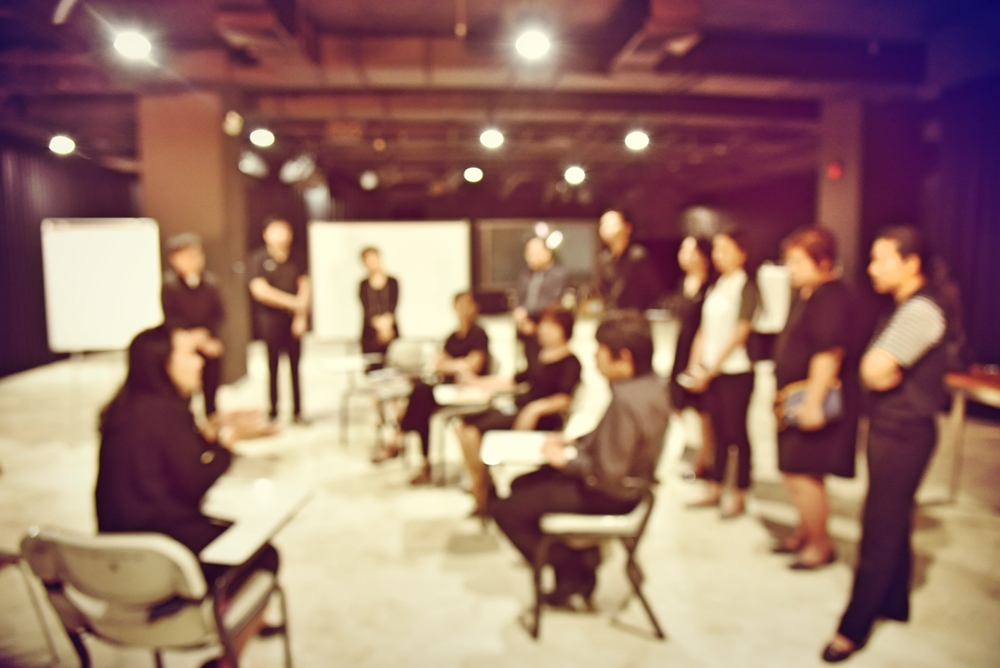 Continuous education is essential to freelance photographers, as it helps in lifting your standards and constantly replenishing your reservoirs with fresh passion for work. You have plenty of options to achieve this: attending a local photography workshop, signing up to a college course or mini-degree, or studying an online course on platforms such as Linkedin Learning, SkillShare or other platforms.
Practice your interpersonal skills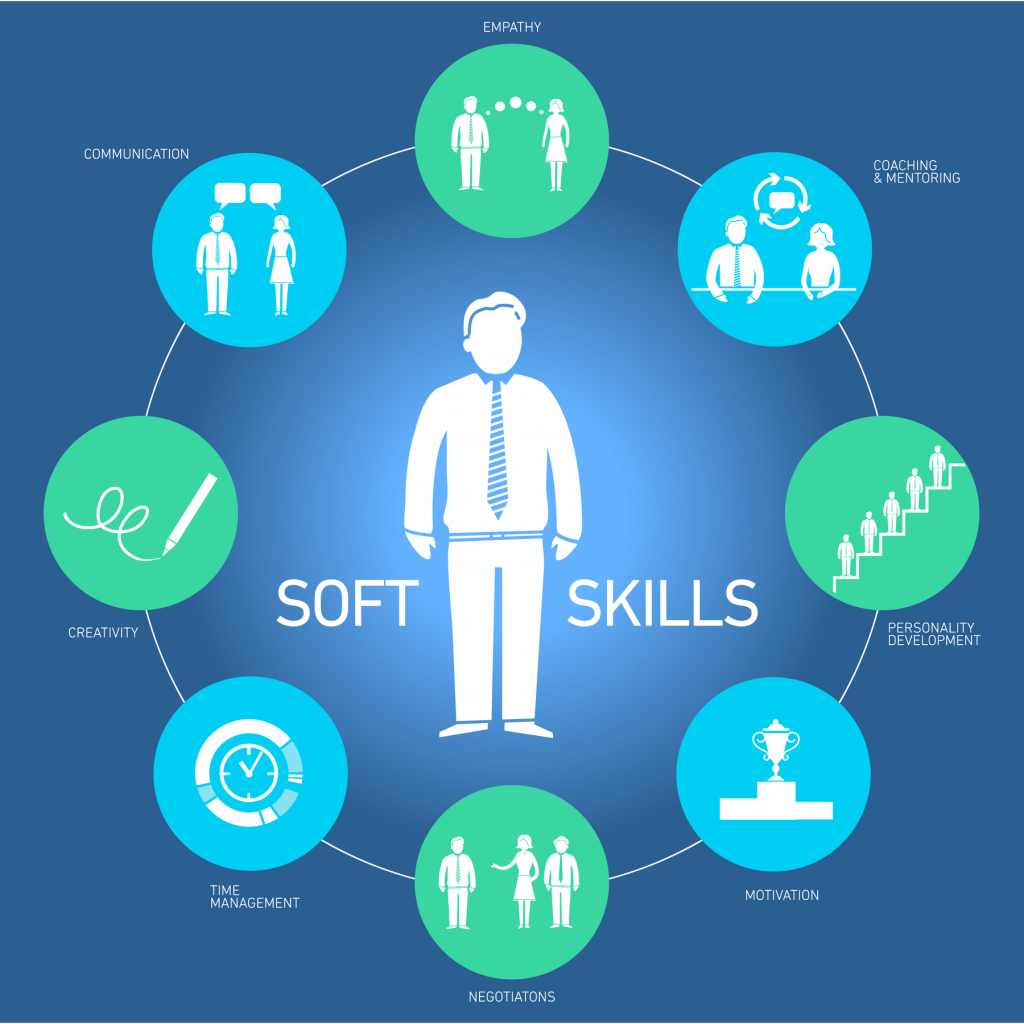 Finally, do not neglect the other credentials you may need as a freelance photographer. Patience and compassion are essential qualities when connecting to your clients, primarily if you deal with children or animals.
Moreover, feelings can be powerful during special events such as weddings. Therefore, it is crucial that you maintain a positive, calm attitude and to give a warm, welcoming smile as your customers float. You should also pay attention to what you are wearing.
Finding new customers might seem difficult at the start of your career as a freelance photographer. You might significantly benefit from conducting some free work when you launch your portfolio as a freelance photographer. Ask your family and friends if you can take pictures of them for your portfolio. If portraits represent one of your specialities, you might benefit from seeking local models that align with your needs.
Your relationship with existing customers should also be a priority, as client retention is beneficial both financially and psychologically. You should attach reminders to your calendar of current customers and ask about their schedule. Reach out and ask them if they need a photo every month or two! Offer loyalty discounts. These strategies have always proven to be effective. You will be surprised by how satisfied you will feel!
Boost your confidence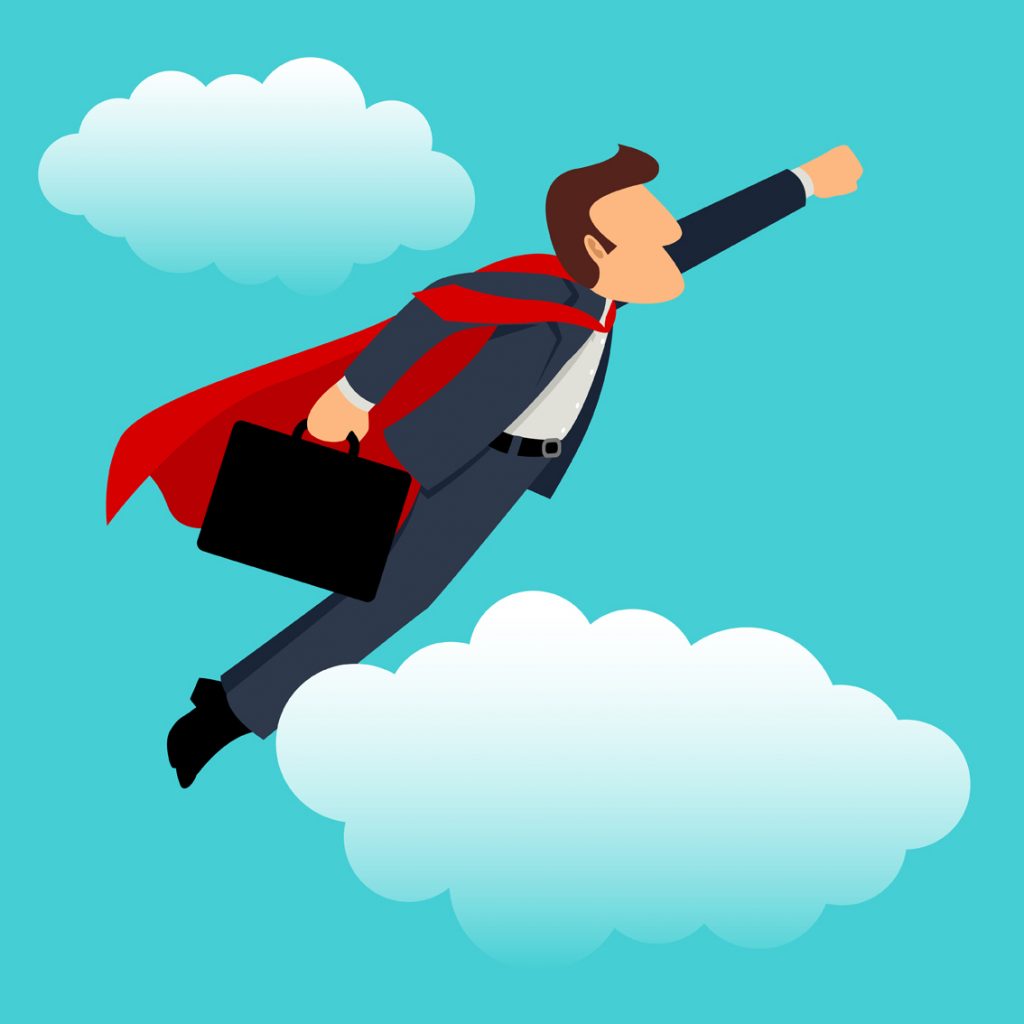 You should be positive in your photography skills: you are a competent freelancer photographer. If you wish to achieve success as a freelancer, you need showcasing prospective customers confidence. Show that you have what it takes to successfully complete their work!
Take the experience of multiple shoots! Write down what was working and where you discovered flaws in your workflow! The more practice you have, the more you are going to refine your skills. Remember: slow progress is still progress! Along with every step, you will become a more confident freelance photographer!
Wrapping up
We sincerely hope that all the tips highlighted above helped you in planning your freelance photography career! We are looking forward to receiving your comments on what additions the list above could benefit from!