Exploring the Power of jAlbum Tool: A Comprehensive Review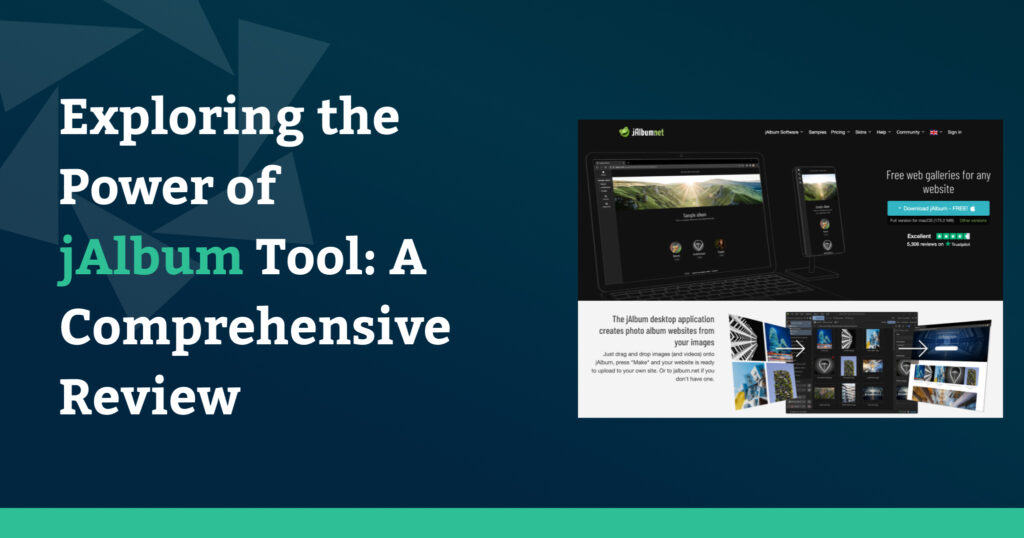 Do you want to turn your Pixels into WOWs? Well, cue your spotlight on jAlbum – the feature-packed yet user-friendly tool that turns your photos into awesome albums with zero tech skills required! In this in-depth jAlbum review, we'll explore its features, user experience, and whether it stands out as the ideal solution for crafting stunning photo albums.
So, let's get started!
---
---
jAlbum Review: Brief Overview
jAlbum is a popular software application that allows you to create online photo albums or galleries without wrangling with any code. It is an advanced yet user-friendly platform that makes building online photo albums seamless.
You can easily organize your photos, customize the album appearance, and generate HTML code or other formats to share your albums on the web.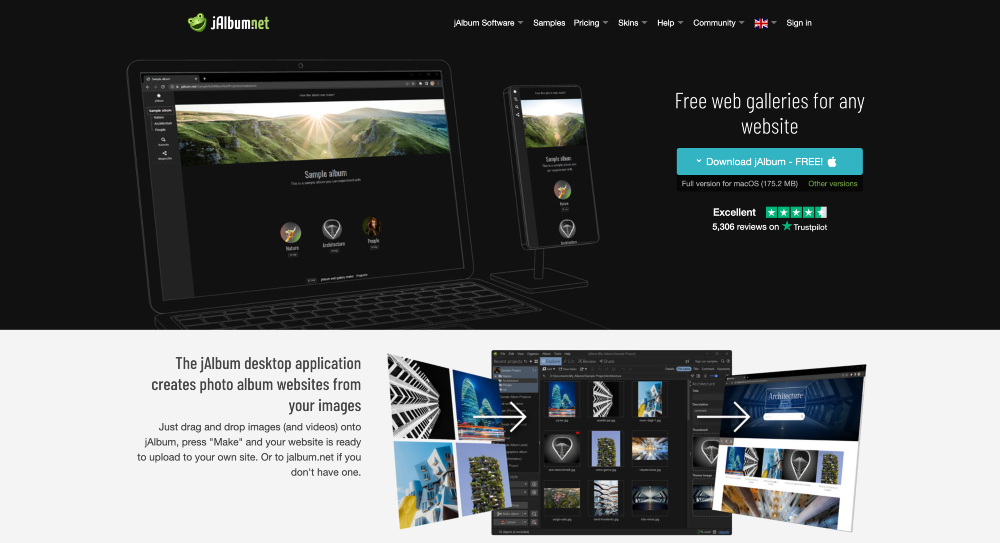 jAlbum was created by David Ekholm, a Swedish programmer, and was first released in 2002. The initial version focused on providing users a simple and efficient tool for creating web photo albums. As time has passed, the software has undergone multiple updates and enhancements, broadening its features and capabilities.
When it comes to making albums with jAlbum software, it's a breeze! Just drag and drop your photos, pick a template, and voila! You've got a stunning photo gallery ready to share.
jAlbum caters to everyone. Whether you're just into taking casual photos or a budding photographer, jAlbum makes it easy to turn your pics into shareable visual stories.
And here's the cool part about jAlbum: it works great for people who own websites and those without!
If you have a website, jAlbum easily fits in. You can embed your photo albums into your web pages, making your site look beautiful and giving visitors a nice visual treat. Plus, the software creates HTML code, so it plays nicely with different web platforms.
And if you don't have a website, jAlbum is still super handy. It lets you make standalone albums that you can easily share through email, social media, or messaging apps. So, whether you want to share your photo albums with friends, family, or a wider audience, jAlbum has you covered – no need for a dedicated website.
One of the notable features of jAlbum is that it lets you choose between the web-based version and the desktop-based application – whatever suits your working preference.
---
jAlbum Key Features
jAlbum allows you to customize and add cool features to your digital album. Let's dive into some of its awesome features:
User-Friendly Interface: jAlbum offers a user-friendly interface that allows users to create photo albums without requiring extensive technical knowledge. Its drag-and-drop functionality makes it easy for users to organize and arrange their photos.
Customizable Album Skins: Everyone has their unique style, and jAlbum gets that. Users can choose from various designs to customize the look and feel of their photo albums. These templates are often customizable, allowing users to tailor the appearance to their preferences.
Responsive Design for Various Devices: jAlbum ensures your albums look great on any screen, whether a large desktop or a small smartphone. Your photo collection will consistently appear fabulous to friends and viewers.
jAlbum Desktop Application: The central product is the jAlbum desktop application, which is available for Windows, macOS, and Linux. Users can organize their photos, customize album layouts using templates, and generate HTML or other web-friendly formats for publishing online.
jAlbum Hosting: jAlbum provides its hosting service, allowing users to upload and share their albums directly through jAlbum's dashboard. This hosting option includes additional features such as storage space, traffic statistics, and a personalized jAlbum.net domain for the user's albums.
Multimedia Support: With jAlbum, it's not limited to just photos; it's a multimedia celebration! Elevate your albums by incorporating videos and music, transforming your photo collection into a blockbuster movie with its soundtrack.
Online Storage Integration: No more hassle with manual uploads! jAlbum smoothly integrates with online storage, making sharing a breeze. Your albums can be easily accessible from anywhere with an internet connection.
Social Media Sharing Capabilities: Don't keep your masterpiece to yourself! jAlbum lets you flaunt your albums on social media with just a click. You can share your photo albums on popular social media platforms like Facebook. The integration includes features like direct album sharing, posting album links, or embedding albums within social media posts.
WordPress Integration: If you have a WordPress-powered website, jAlbum has your back. It seamlessly integrates with WordPress and offers a dedicated plugin named jAlbum Bridge, letting you showcase your albums on your website without breaking a sweat.
Built-in Editing Tools: jAlbum has handy built-in tools to tweak and perfect your photos in the album-making process.
Supports Huge Image Volumes: Even if you have large images and videos, jAlbum handles your content efficiently. This software is optimized to process large volumes of media content. You can sync it with your folder setup, making it a breeze to update your albums super quickly.
Image Protection Feature: Privacy matters, and jAlbum understands that. Protect your precious moments with an image protection feature – add watermarks or stamp your logo onto them in batches. You can even include copyright notices in the metadata of your images.
Web-Ready Output: jAlbum doesn't just stop at album creation; it goes further by generating HTML code and various other formats optimized for online sharing. This ensures that your albums are visually appealing and easily accessible online.
Mobile Apps: jAlbum has mobile apps available for iOS and Android. These apps may offer additional features for viewing and sharing albums on mobile devices.
Cross-Platform Compatibility: jAlbum is available for multiple operating systems, including Windows, macOS, and Linux, ensuring that a broad range of users can access and use the software.
---
Now that we understand jAlbum's capabilities let's dive into the installation process. We'll create an album and assess how user-friendly and straightforward the setup process is.
jAlbum Review: Installation and Setup
1. Download and Install jAlbum
Visit the official jAlbum website and download the installer for your operating system. The installation process follows the typical steps for installing software on your platform.
Once you open the website, click the Download jAlbum button to get the latest software version. Below the button, you'll also find the option to check all other released versions of jAlbum based on different operating systems.
You must follow the installation instructions for your operating system (Windows, macOS, or Linux).

As soon as you click the button, the downloading process starts. The process might take a few seconds, so wait till the process completes.
After the download process is finished, go to your computer's Download folder and double-click on the jAlbum.dmg file. Once the file opens, simply drag the jAlbum folder into the Application folder.

And that's it! Start jAlbum by clicking on the icon located in the Applications folder.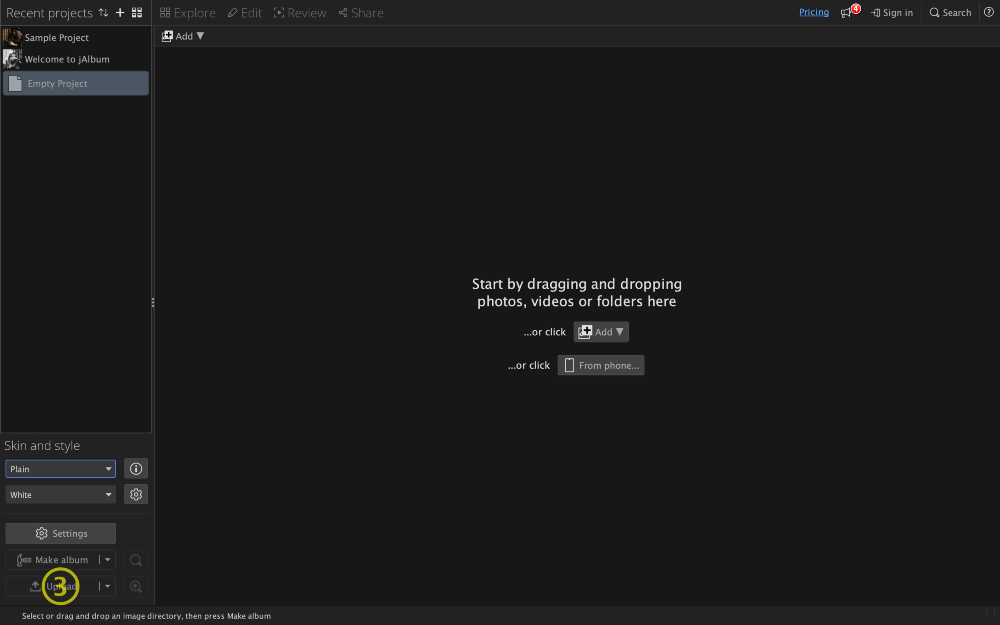 As you can see, the installation process is quite simple and takes less than 2 minutes to complete the setup process. Now, let's create our first digital album with jAlbum.
If you prefer not to download the jAlbum desktop application, you can also log in to the web-based application and begin creating your albums directly.
2. How to Create Albums with jAlbum
Upon launching jAlbum, you'll be greeted by a clean and intuitive interface. The main workspace lets you easily navigate your albums, while the menus and toolbars provide quick access to essential functions.
jAlbum's interface mainly consists of three sections:
First Section from where you can upload your photos and videos
The Second Section allows you to choose skin and style for your album
The Third Section includes all the essential options for your album's general settings, customizations, and more.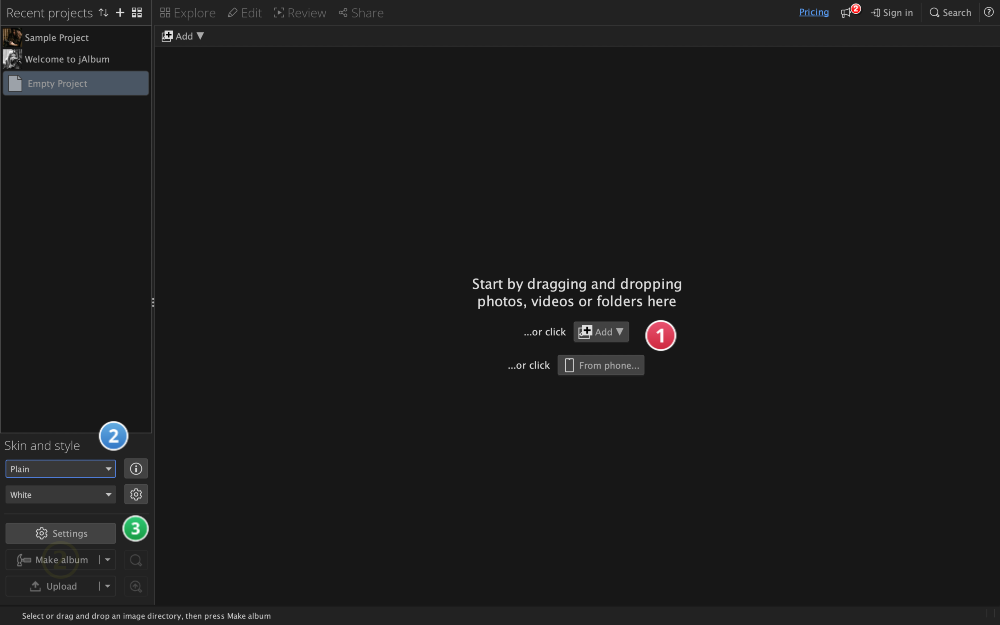 To create a new album, hit the "Add" button and navigate to your images folder. Next, select the ones you want to include. jAlbum supports various image formats, making it easy to compile your favorite memories.
Once you choose your pictures, you can name your album and add a description about it.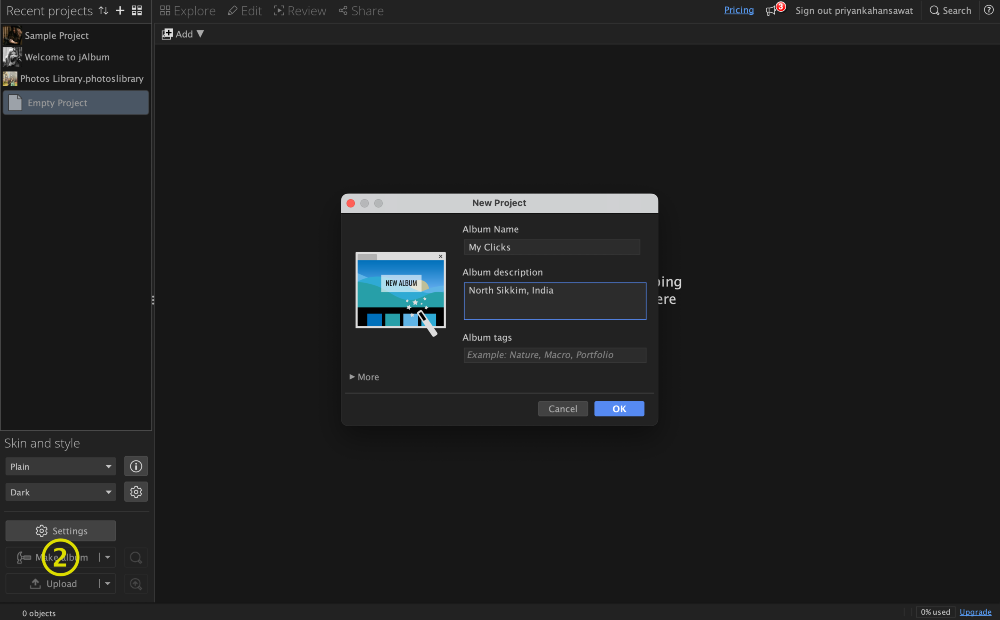 Once you've added your Album Name and description, click the "OK" button to import all your selected photos into the jAlbum software.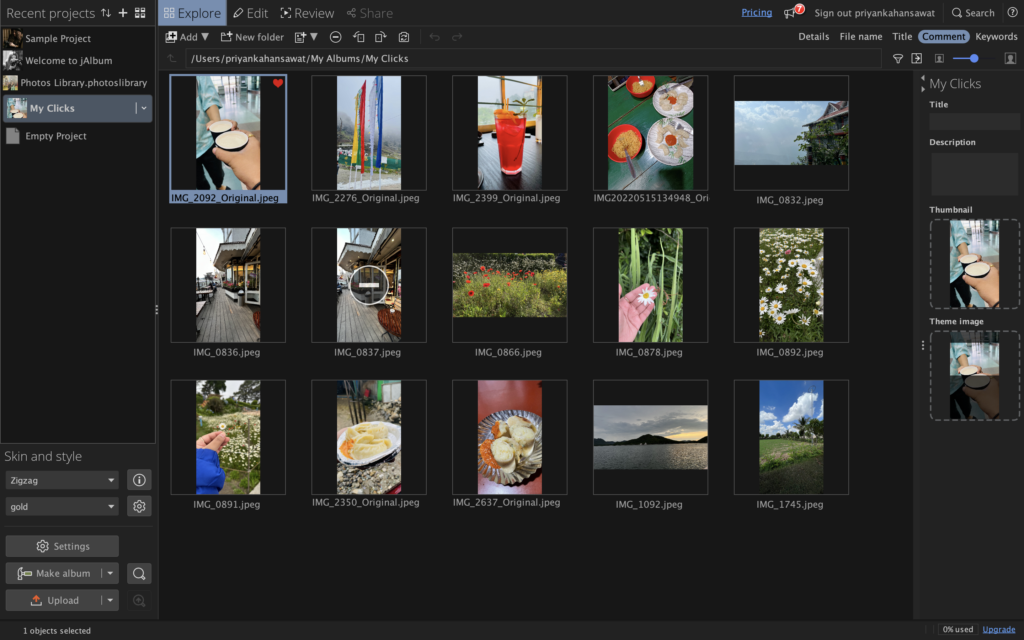 3. Image Customization Features of jAlbum
You can arrange the order of your photos by dragging and dropping them within the jAlbum interface. Additionally, if you wish to organize your images into folders or sub-albums, that option is available as well.
To configure album settings such as title, description, and other preferences, click the "Settings" button on the left.
Also, jAlbum offers tons of image editing features. In the free version, you get basic image editing features that allow you to
Crop images easily to remove or frame them in a specific way.
If you mistakenly took the image from the wrong angle, you can rotate images freely in any direction.
Flip images horizontally or vertically.
To make your photos more eye-catching and interactive, apply advanced features like filters, brightness, and contrast adjustments and alter image levels.
Like any other advanced photo editing software, jAlbums also allows you to perform actions such as blurring, red-eye removal, adding captions, desaturation, and presenting images in black and white or sepia.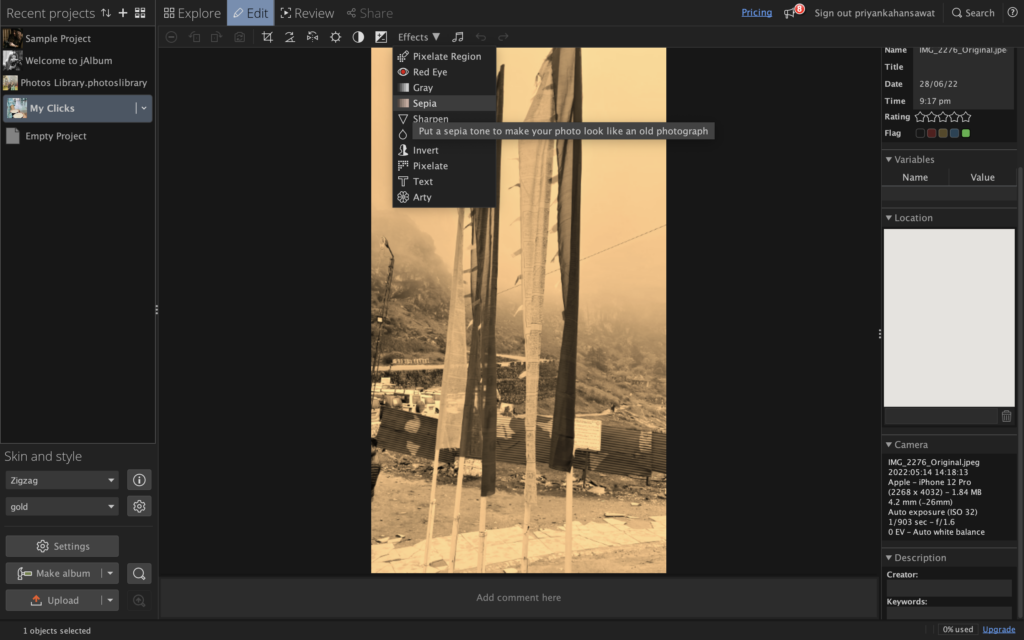 You can find plenty of options to customize your images and albums. You can take your time and play around with the features.
Before publishing, don't forget to click the "Preview" button to ensure everything's just right. You can navigate the entire album using the next arrows and dive into the details.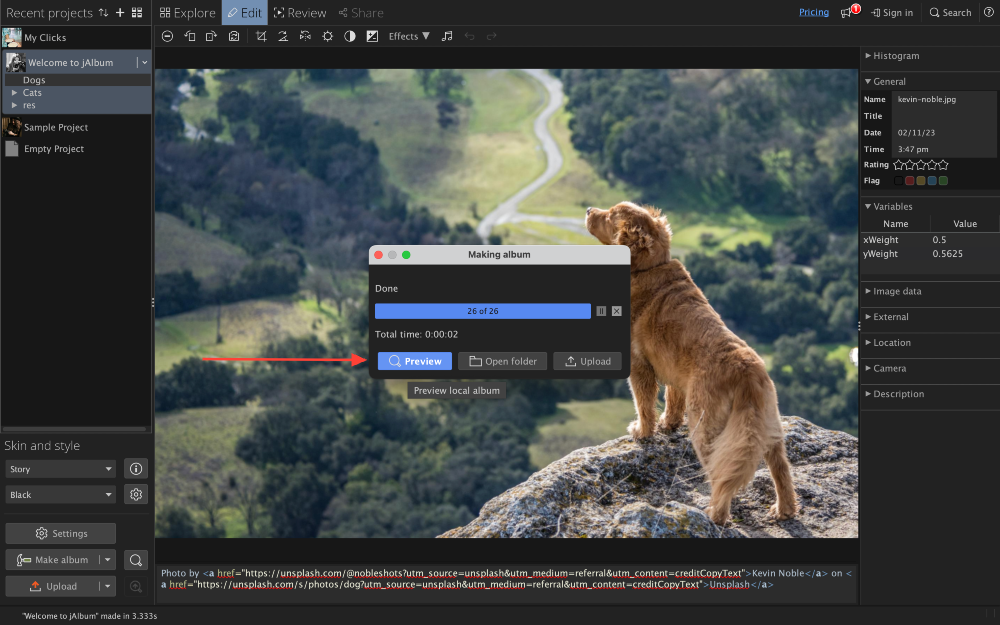 After ensuring that everything is functioning smoothly and you are satisfied with your album, you can proceed to publish it. You have choices: either upload and host it on the jAlbum website or directly share it on your own website.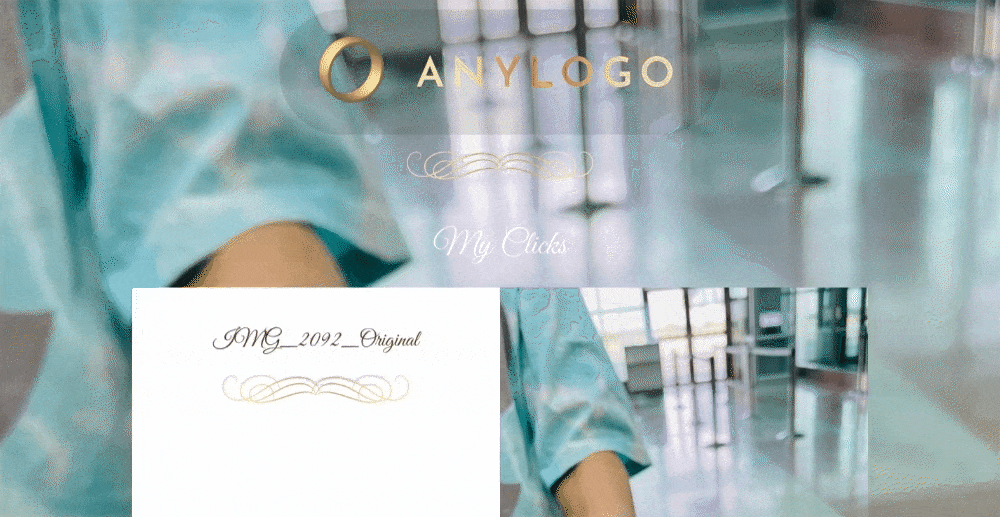 As evident, the process of installing and creating digital albums is straightforward and user-friendly. While there is a learning curve, some beginners may initially find starting with the tool overwhelming and time-consuming.
But here's the exciting part: it provides numerous benefits, as outlined below.
---
jAlbum Benefits
Using jAlbum offers several benefits for creating and managing your photo albums:
🕓 Time Efficiency
jAlbum's easy interface, drag-and-drop functionality, and built-in editing tools save you tons of time and enable you to create and publish albums quickly.
📱Responsive Design
The albums created with jAlbum will be optimized for various devices, ensuring they appear visually appealing on desktops, tablets, and smartphones. This optimization aims to provide a seamless user experience across different platforms.
📁 Online Storage Integration
You can integrate jAlbum with online storage services, ensuring your albums are securely stored in the cloud and freeing up space on your local devices.
🖼 Web Album Creation
If your primary goal is to create web-based photo albums for easy sharing with friends, family, or online communities, jAlbum can be a suitable choice.
💻 Community and Support
jAlbum has an active user community and provides support resources, including tutorials and forums, where you can seek assistance and connect with other users.
---
jAlbum Limitations
While jAlbum is a versatile tool for creating photo albums, it does have some drawbacks:
🛠 Advanced Editing Features
If you require advanced photo editing features, jAlbum might not be as robust as dedicated photo editing software. It's more focused on album creation and presentation.
🛜 Dependency on Internet Connection
Some features, like online storage integration and social media sharing, require an Internet connection. If you're in an area with limited connectivity, it can hinder your ability to use these features effectively.
💻 Dependency on Hosting Services
While jAlbum allows you to create albums, hosting them online might require additional services or subscriptions. Depending on your needs, this could result in additional costs.
🤖 Updates and Support
The effectiveness of jAlbum as a tool may depend on the frequency of updates and the quality of customer support. Checking for recent reviews and ensuring the tool aligns with your current requirements is essential.
---
jAlbum Pricing
Now, let's discuss the most crucial factor: Pricing. jAlbum operates on a freemium model, presenting users with both a free version and a paid version with additional features.
| | | |
| --- | --- | --- |
| Version | Features | Pricing |
| Free Version | It has basic features, allowing users to create and share web albums. However, it may have limitations compared to the paid version. | No cost required |
| Paid Version (jAlbum Pro) | Includes additional features such as more templates, advanced customization options, and other premium functionalities. Users interested in these advanced features may need to purchase a license. | Starts with $57.82/year |
| License + Storage | The premium version includes both a license and storage. This plan would be advantageous for individuals who do not have their website. | Starts at $38.09 /year |
---
Wrapping Up Album Review!
jAlbum is a nifty tool; with its user-friendly interface and robust features, it certainly packs a punch when it comes to creating stunning photo albums. Whether you're a photography enthusiast looking to showcase your work or someone just wanting to organize memories, jAlbum has your back.
From drag-and-drop simplicity to customizable themes that add flair, jAlbum proves you don't need a heavy coding knowledge to create impressive photo collections. The flexibility it offers, coupled with the ease of sharing across various platforms, makes it a standout choice in the ever-evolving world of digital content.
Certainly, jAlbum is a powerful tool, but it comes with a significant learning curve. Therefore, we suggest starting with the free version to familiarize yourself with it before considering investing your time and money in the premium packages jAlbum offers.