Are you looking for some real estate photography tips? You are in the right place!
If you're trying to sell a house or an apartment or any other kind of real estate, you know how important good quality photos are.
No matter how great a particular property is, if the photos are grainy or poorly lit, potential buyers are more likely to opt for another property that may not have all the amenities or as great features if the photos are more attractive.
Taking great real estate photos is not an easy task but it's not mission impossible either. That's why we've gathered the best real estate photography tips and recommendations.
---
In this post, we will share with you:
some basic real estate photography tips and tricks;
the ideal lighting for this genre of photography;
best lens that will make your pictures more visually-appealing;
more details that will make you become a professional.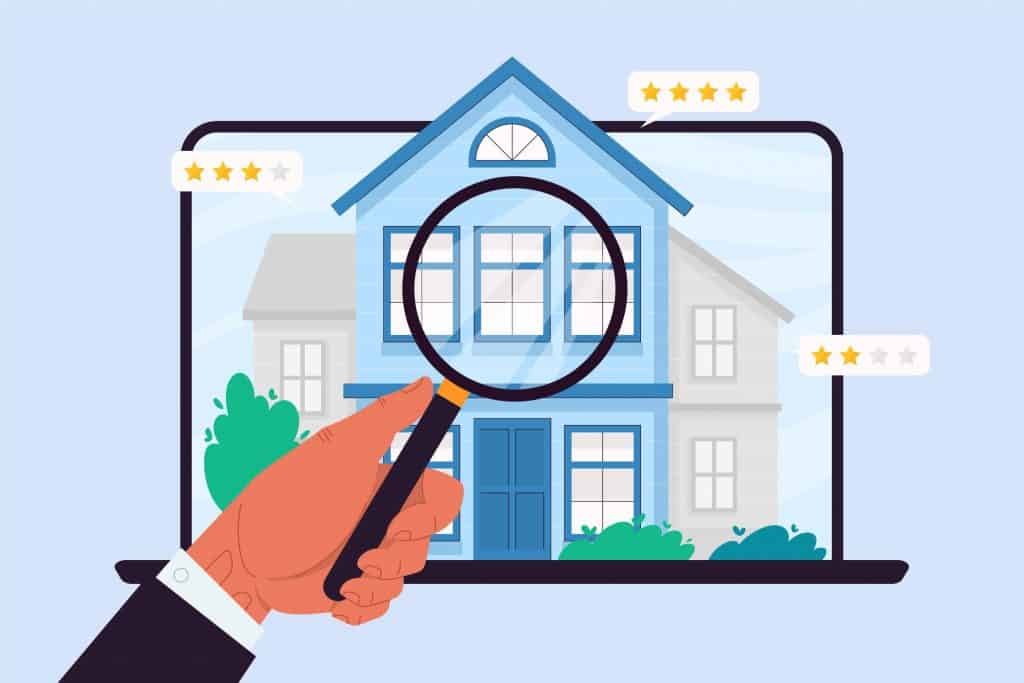 ---
Table of contents
---
What Is Real Estate Photography?
This genre of photography requires a lot of practice and skills. Many people are selling houses or renting buildings. So they need high-quality pictures of their services.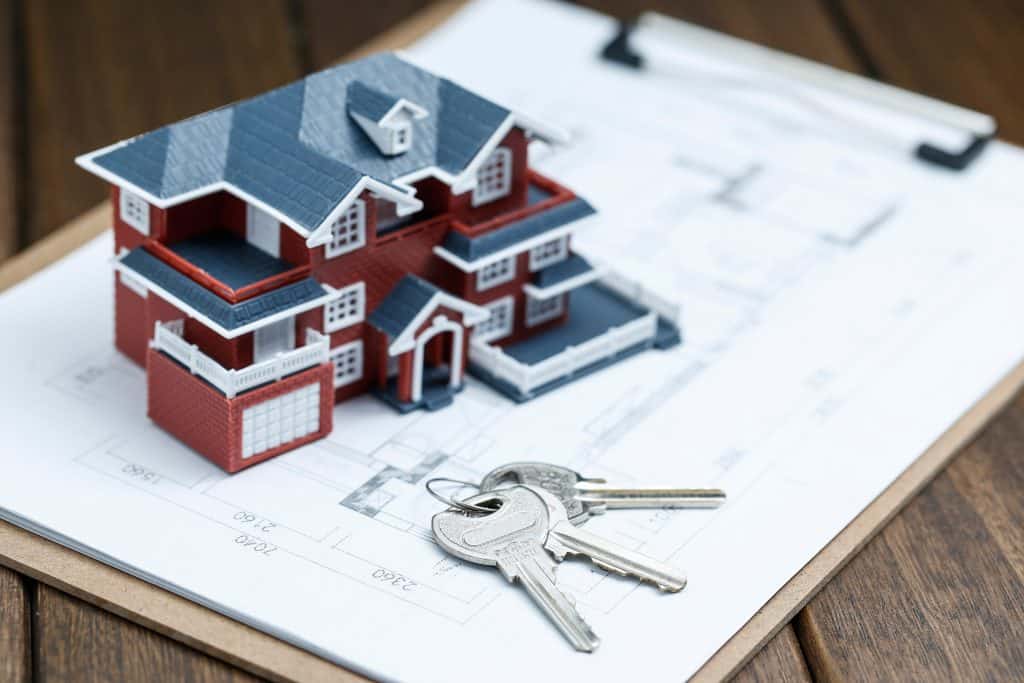 This genre is not as popular and well-known as portrait photography or street photography, but it is pretty demanding. You need to know how to use the right lenses, camera, settings, lighting, and so on.
---
Basic Real Estate Photography Tips and Tricks
Before diving into the technical tips and recommendations, let's go over some basic real estate photography tips first.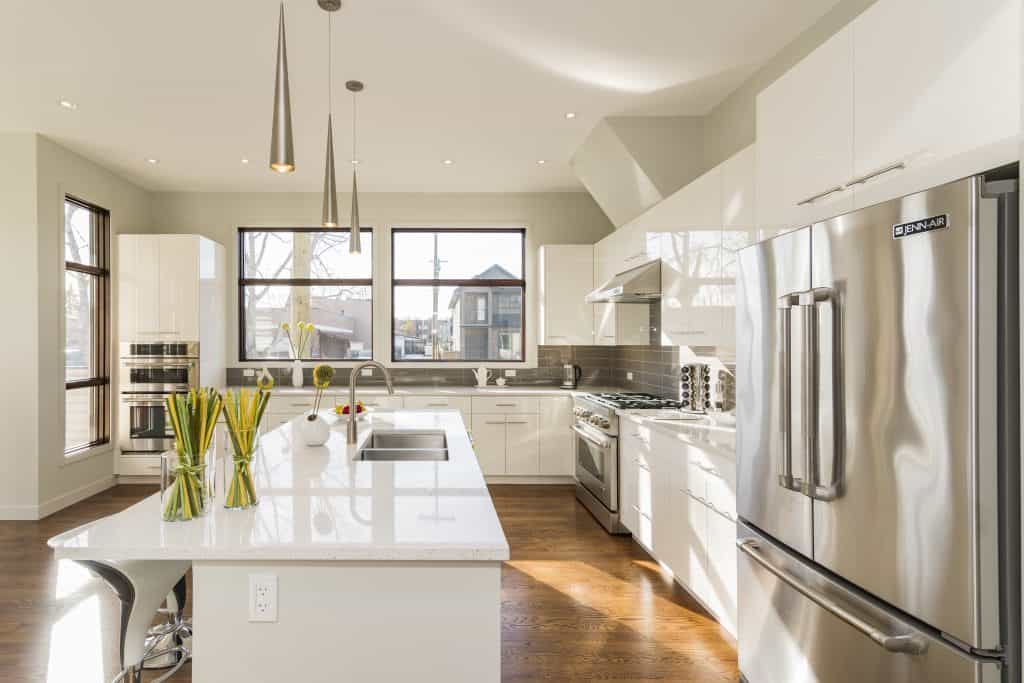 ---
Use A Tripod
The simplest and most important tip is to use a tripod whenever you're taking real estate photos. This applies to both interior and exterior photos and it will help you avoid the common problem of shaky images.
As a result, your photos will appear sharp instead of blurry.
On top of that, a tripod will help you shoot straight vertical lines and comfortably photograph at chest level, eye level, or knee level.
It also helps you adjust your shutter to a slower setting.
---
Shoot in RAW
Keep in mind that as you're preparing to take a photo, you only see the scene in the viewfinder. Your camera is gathering a lot more information about the photo you're about to take.
That information is crucial for improving brightness, shadows, and highlights during post-processing.
As such, shooting your photos in RAW format allows you to be more specific when editing those image settings later on.
---
Pay attention to the focal length
When shooting, go for a wide angle lens, with a focal length around 18-24mm. Although, be careful not to go too wide.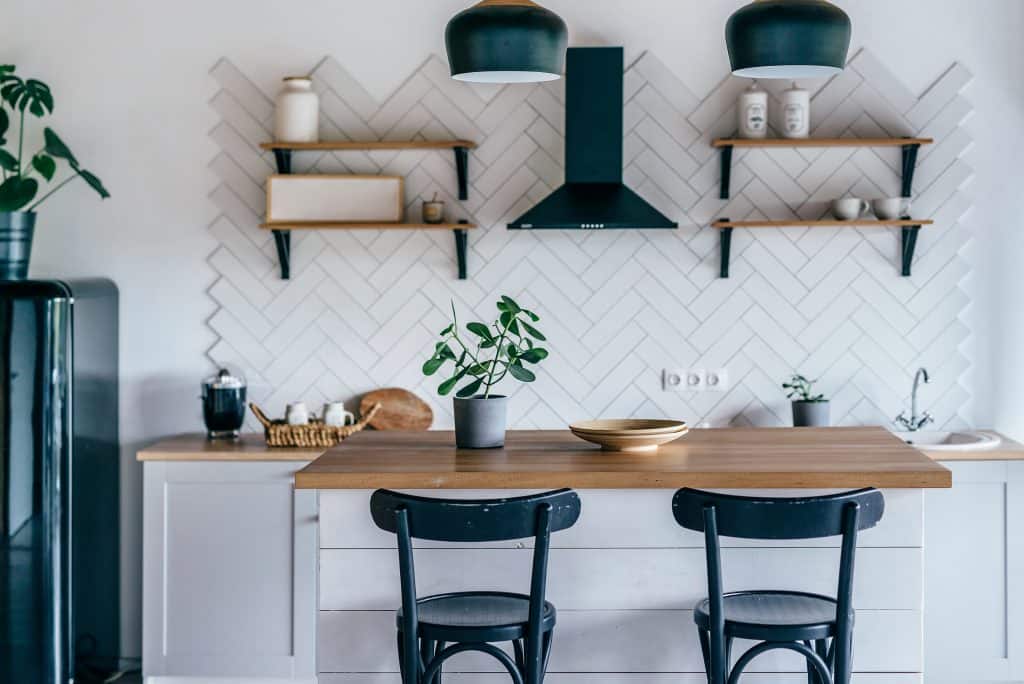 If you do, you may wind up with a photo that has weird distortions and perspective issues.
---
Open up the blinds and curtains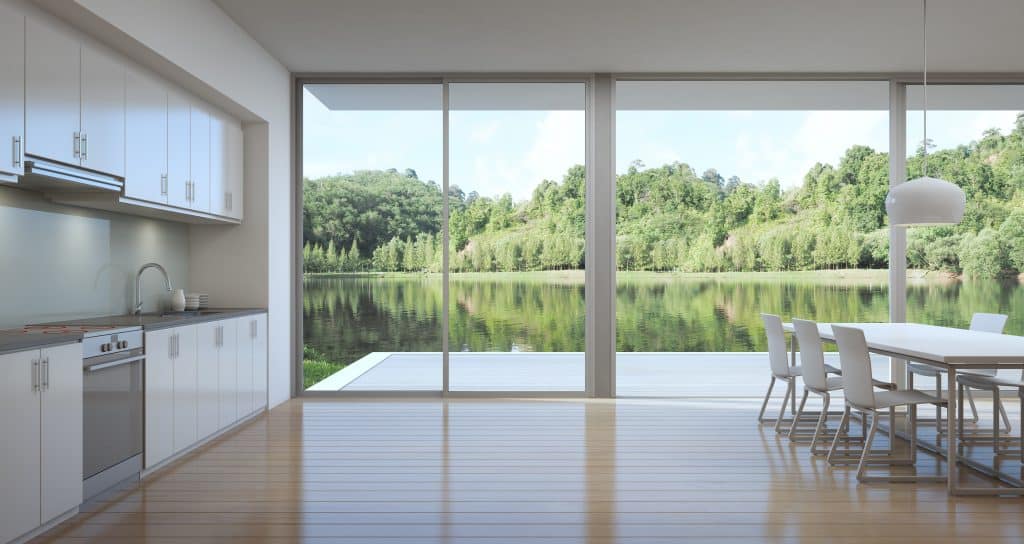 Whenever possible, allow for natural light to enter the interior of the property. Open up the blinds and curtains to let the light in.
This will help you avoid artificial blue or yellow hues that often come as a result of turning on all the lights on in a particular room.
---
Keep the property tidy
It goes without saying that the property you're photographing should be kept tidy. You might be thinking that it's not your job to clean up the place.
While this is true, a quick clean up of the place before you take photos can do wonders for the end result.
You might also talk to the real estate agent or the homeowners themselves and discuss the importance of cleaning up before the photo shoot takes place.
---
Choose interesting angles
When taking real estate photos avoid taking them from the corner of the room or from the center.
Instead, try finding interesting angles that accentuate the room you're photographing.
---
Use a drone for outside photos
Consider using a drone to take outside photos of a real estate property.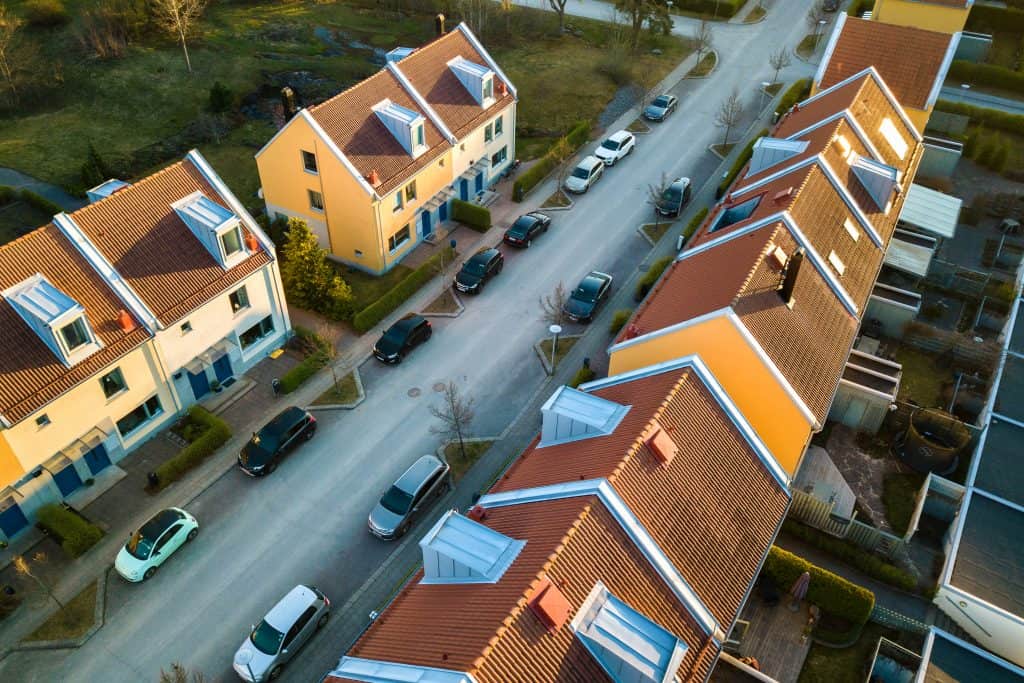 This will help you capture not only the property itself but also its surrounding areas or the neighborhood.
---
Real Estate Photography Tips – the Lighting
Now that we've covered the basic real estate photography tips, let's go over specific lighting tips that will help ensure your photos are well-lit and attractive.
Choose the right time
When planning a real estate photo shoot, it's important to choose the right time. Ideally, you want to pay attention to the weather and schedule your photo shoot for a day with sunny weather.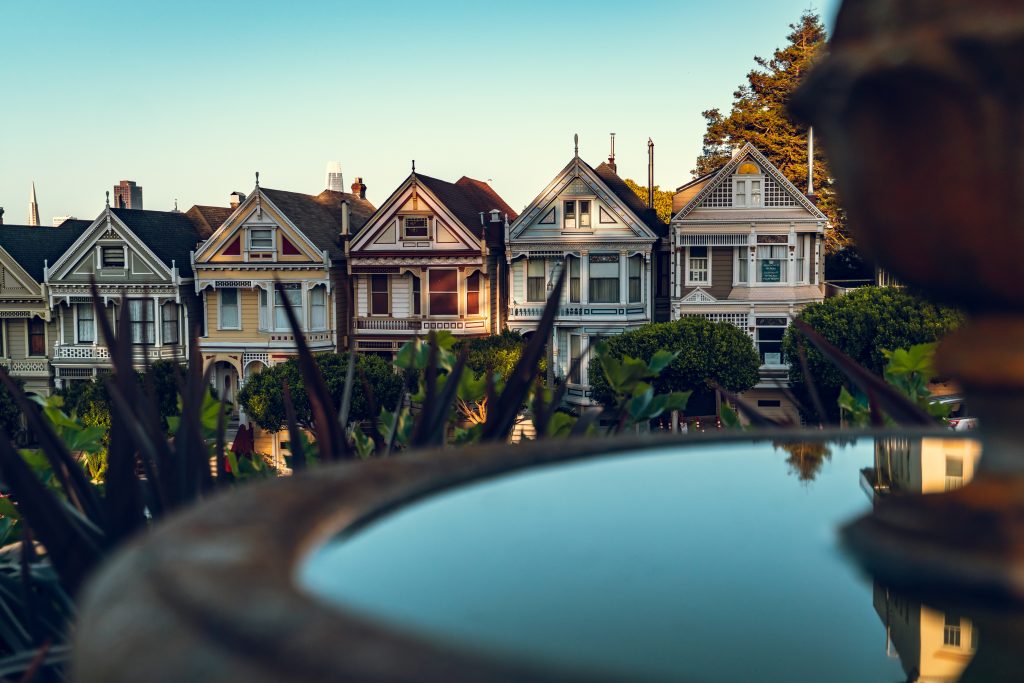 You can also schedule a few different shoots throughout the year to capture the property in various seasons if you're dealing with a particularly difficult property to sell.
---
Opt for natural light
As mentioned earlier, opt for natural light whenever possible as this will give you more natural light for your interiors.
---
Use artificial light to enhance natural light
While you should avoid using flash as it can make your photos look unnatural, there is nothing wrong with using artificial light to enhance natural light.
This can include using umbrellas and strobes and other photography lights.
---
Best Lens for Real Estate Photography
When it comes to finding a lens for real estate photography, there is no shortage of available options. A wide-angle lens helps you capture tight spaces. In general, there are a few things you need to keep in mind when it comes to choosing a lens:
The angle of the lense;
Prime vs zoom;
Interior vs exterior setup;
Focal length settings;
Focus settings.
Ideally, pick a lens that has angle settings between 10mm – 24mm. If you can splurge, pick a prime lens as it typically has a sharper focus.
You might also pick a different lens for interior photography and a second one for exterior photography.
Lastly, consider the focal length settings and whether you want to manually adjust the focus or if you prefer auto focus settings.
With that said, here are the top 3 lenses for real estate photography:
---
1. Nikon AF-S FX NIKKOR 16-35mm f/4G ED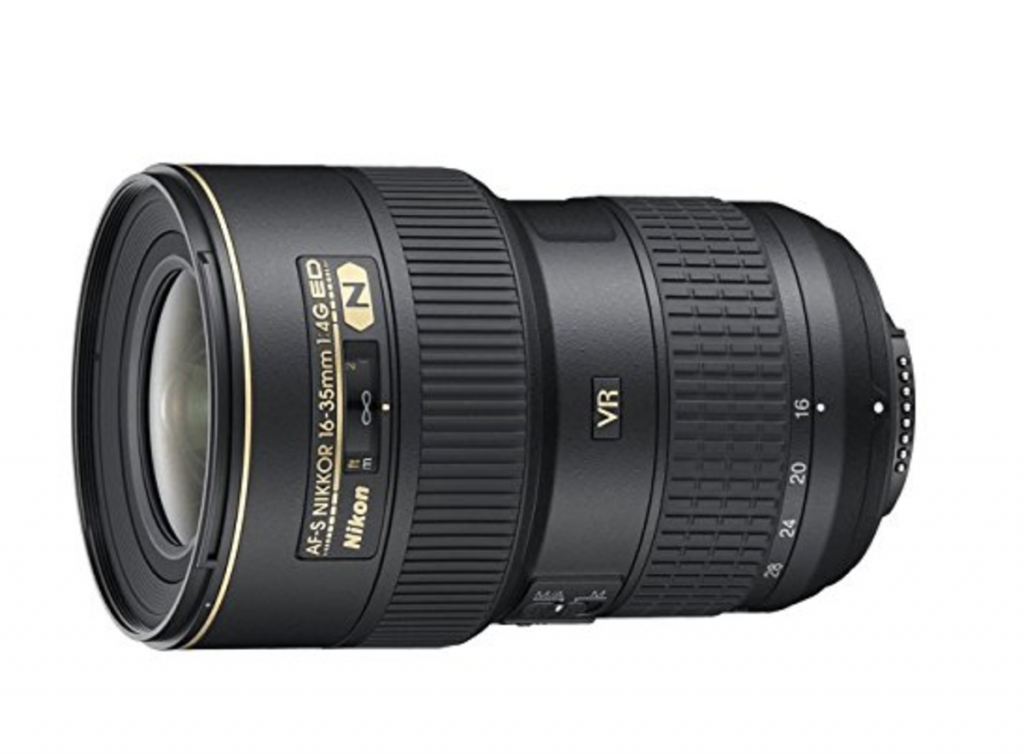 The first lens on the list is Nikon AF-S FX NIKKOR 16-35mm f/4G ED. It's ideal for wide angle and normal shots and offers both autofocus and manual focus mode.
It also comes with image stabilization and vibration reduction and allows you to take sharp interior and exterior shots.
---
2. Canon EF 17-40mm f/4L USM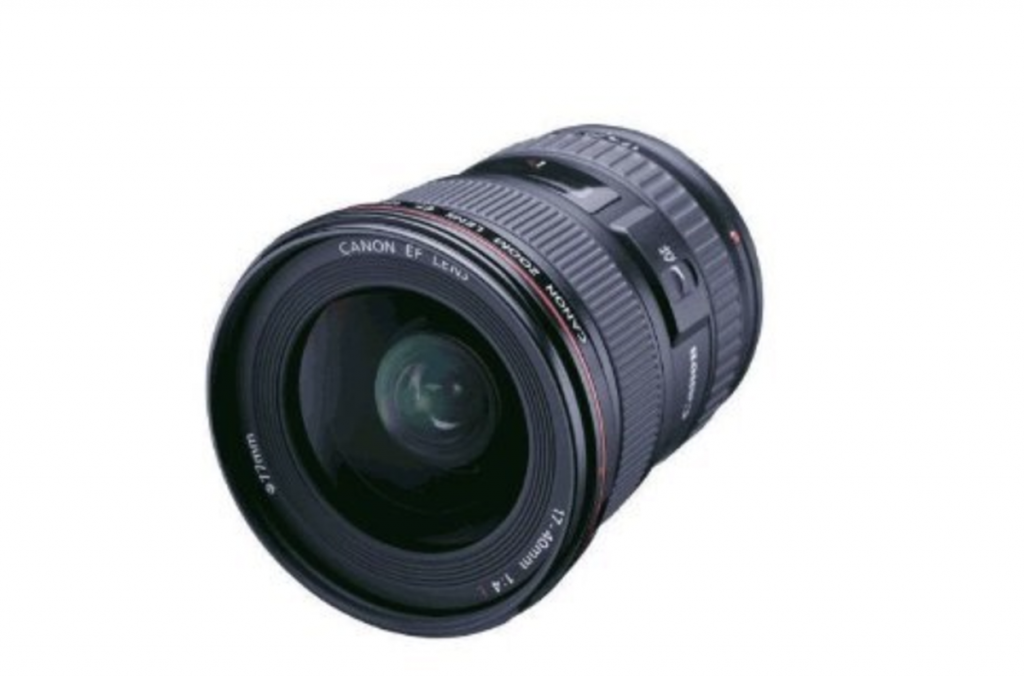 If you prefer Canon, this lens is a perfect choice. It's great for taking wide-angle photos and can focus in as close as 11 inches.
It's also dust resistant and features ultrasonic focus and three Aspherical lens elements.
---
3. Sigma 12-24mm f/4 DG HSM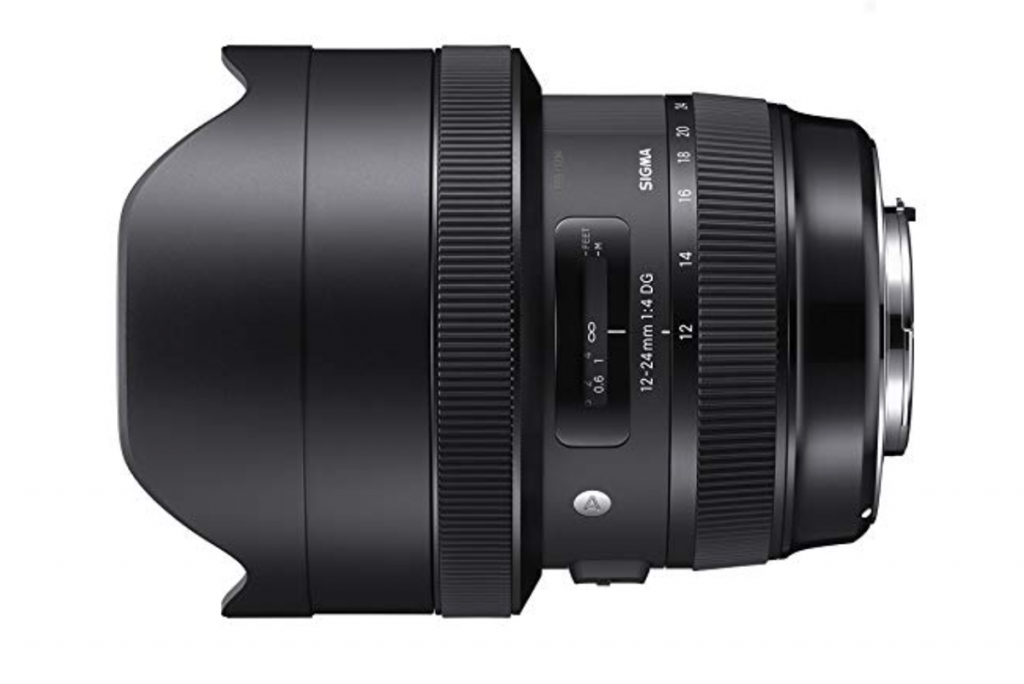 The Sigma 12-24mm f/4 DG HSM is a great choice for ultra wide angle photos. It gives you all the benefits of sharp and fast focusing and has a range of 12-24mm.
This particular model can also be bought for Nikon cameras.
---
Real Estate Photography Tips – Camera Settings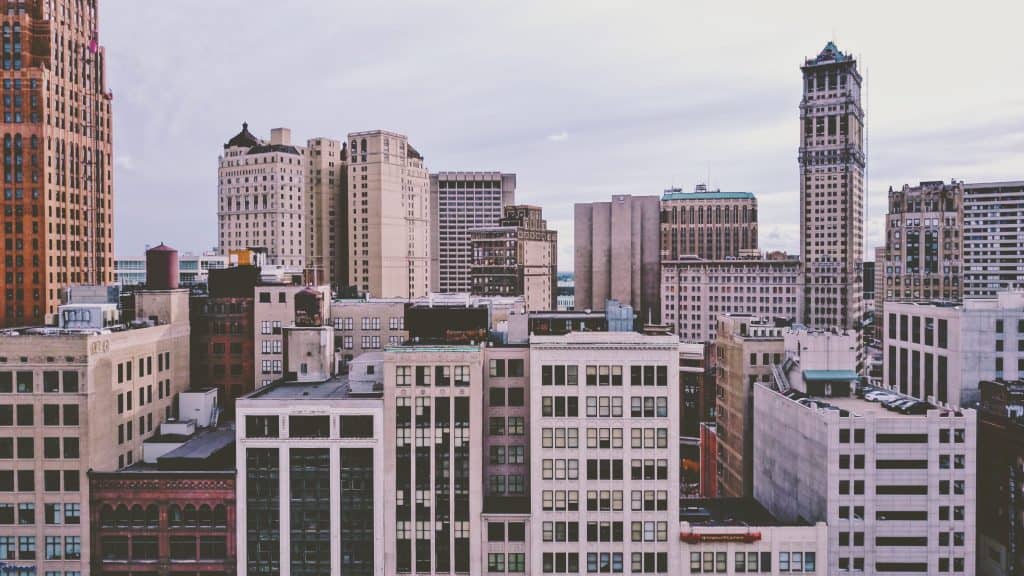 Lastly, let's go over the camera settings that will give you great results when taking real estate photos.
---
Shutter speed settings
If you're shooting with low shutter speed, then it would be best not to touch the camera at all. So use a remote trigger for touch-free operation.
However, it's recommended to keep your shutter speed between 1/60 and ½ a second.
The final setting will depend on the amount of natural light available so adjust accordingly.
---
Aperture settings
Your aperture should be set to f/7.1 to f/9. You can adjust this if you need to highlight a particular feature in a room or elsewhere inside the house.
For exterior photos, keep your aperture between f/8 and f/11. If you're shooting detail photos, adjust your aperture to f/2.
---
ISO settings
Your ISO settings should start at 100 and you can gradually increase this to 400 if a room is particularly dark or poorly lit.
If you go above 400, you might end up with too much digital noise in your photo which can seriously reduce the quality of your image.
For exterior photos, keep your ISO at 100; unless you're shooting at night in which case you should increase the ISO to 400.
---
Other Settings
The three setting above will help you get well-lit photos in any situation. For other settings consider these guidelines:
White balance — use the auto setting for both interior and exterior photos;
Camera mode — set your camera to AV mode for interior and exterior photos;
Metering — use spot metering for both interior and exterior photos;
Focus mode — use single shot or autofocus mode for both interior and exterior photos.
---
What can you do more?
Once you are sure you have all the settings set up, go, and practice more and more. Take breathtaking shots and start promoting your work.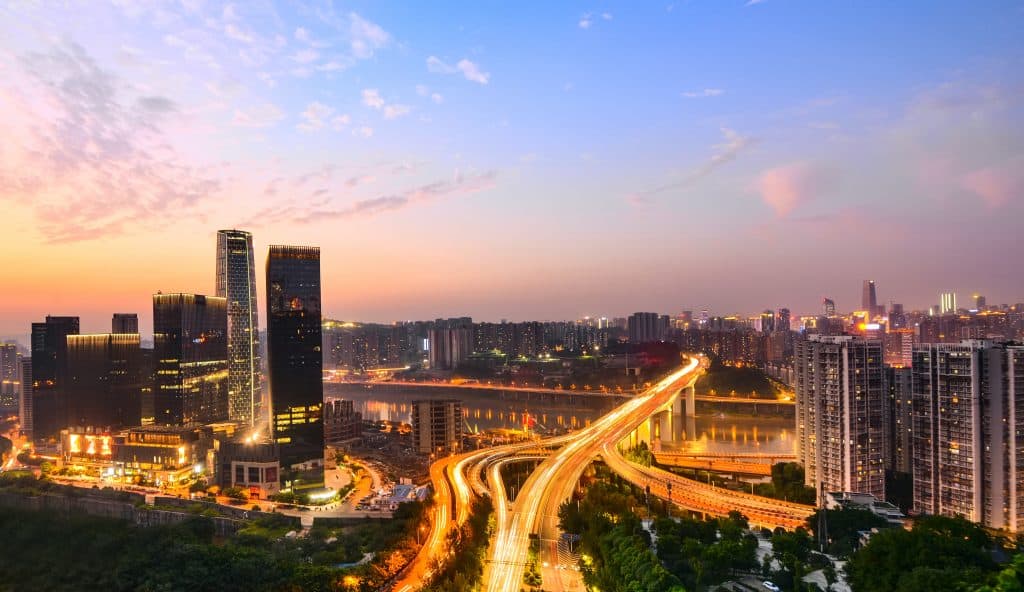 Also, create an online portfolio to show your people what your skills are.
WordPress is one of the best website builders, where you will find a lot of themes, layouts, and many features. It has many plugins with different functions.
It is also a great idea to take advantage of real estate photo editing services and devote more time to shooting, while experts improve your photos.
---
Summary
Now that you know all about real estate photography and how to become a professional photographer in this niche, take your camera and start shooting. But don't forget:
Maintain consistency in your process and look;
Take care of the camera settings;
Be prepared and bring equipment with you;
Pay attention to lighting and choose the right time;
Act like a professional photographer and create a portfolio with your masterpieces.
---
Real Estate Photography Tips – Closing Thoughts
Once you've got the basics of real estate photography down, you'll be able to take amazing photos of your real estate properties.
All in all, practice until you become confident in your work and improve your abilities.
The tips in this article will help you take your real estate photography to the next level, so start applying them today.