Photos That Sell: A Guide To Successful Stock Photography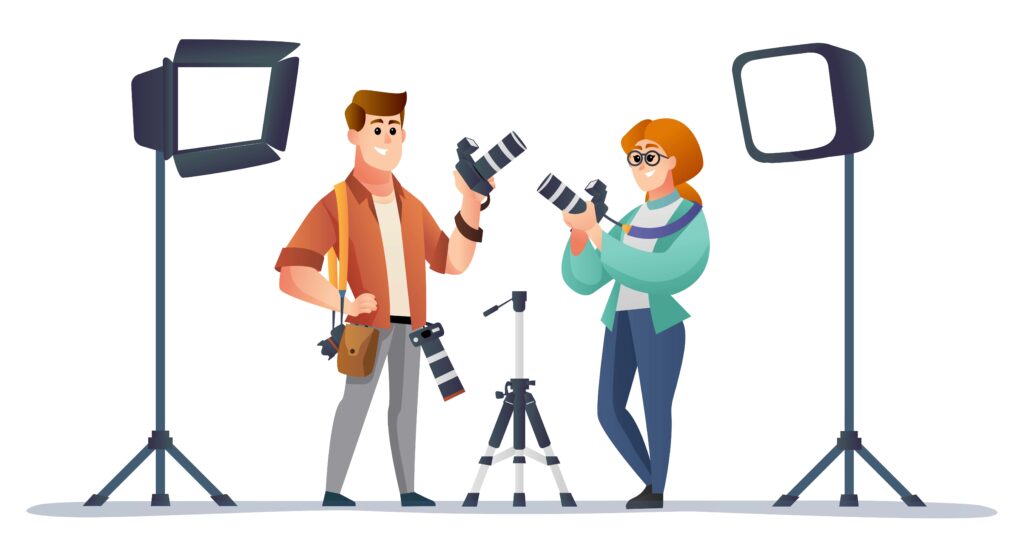 Whether you're a professional photographer, a hobbyist, or just beginning your career, when it comes to selling your images, an industry-changing option has leveled the playing field. Although the stock photography industry got its start in the 1920s, the 21st century ushered in an entirely new way for people and businesses to find the photos they needed — and for photographers to reach an enormous market of potential buyers.
In this guide, you'll learn all about stock photography; what it is, what are its potential benefits and challenges for stock photographers; and tips for taking photos that sell. But, don't think of selling stock photography as simply a way to off-load the hundreds of unused images on your hard drive. To be successful will require a bit of effort.
---
What is stock photography?
You can define stock photography as photographs that people created without a specific end-user or project in mind.
As a photographer, you (or, in certain cases, your employer) own the copyrights to every photo you take. From the moment you press the shutter, an image you capture cannot be printed, sold, altered, publicly displayed, or distributed without your permission. 
By its simplest definition, stock photography is an industry in which a photographer provides another person or business with permission to use a copyrighted image. Permission to use an image, including specifics of how, when, and where it can be used, is granted through various licensing models. The sale of stock photography licenses is managed by a third-party agency.
Stock photography is much faster and less expensive for a company to purchase than if they were to hire a photographer for a custom photoshoot and it's also a way for photographers to earn extra income by selling their work.
What are the different styles of stock photography?
Commercial: Used in advertising, marketing, promotional materials, product packaging, or to promote a business, you'll most often see stock photography in magazine or billboard ads.
Editorial: Not for commercial use. Journalists, newspapers, or other media outlets are using editorial stock photos for educational or editorial purposes. Examples include celebrity photos or images of current events.
This guide will focus on commercial stock photography because, as a photographer, you'll have a higher potential to make sales and this style of stock photography has certain requirements you'll need to know about, like model and property releases.
But to understand how stock photography became the massive industry it is today, take a look at where it all started.
---
History of stock photography
Newspapers and magazines first began using photographs in the 1880s with the invention of halftone printing. Over the next 40 years, publications hired staff photographers and freelancers to provide the images they'd need. Sometimes, the photos they needed were too difficult to come by, so reenactments were staged and photographed, often at great expense to the publication.
In 1920, H. Armstrong Roberts was photographing a group of people standing in front of a tri-motor airplane. Roberts pioneered the creation of stock photography when he asked all six people to sign model releases. With those releases, he was able to sell the rights-managed images to multiple publications, earning a profit for himself and saving publications the expense of hiring photographers or staging reenactments.
On the success of that first stock image, Roberts created one of the first stock photography libraries, filling it with generic images that could be broadly used by publishers and advertisers.
The launch of photo archiving
By the 1940s, hundreds of thousands of photographs were being licensed by several stock photo agencies. It became clear that a system was needed to organize all the images. British magazine publisher, Sir Edward Hulton, commissioned a historian to archive his magazine's vast photo library, organizing them using keywords and classifications so they could easily be found again when needed.
In the 1990s, stock photo agencies began digitally archiving their available images on servers, relying heavily on Hulton's earlier development of using keywords to efficiently organize images.
A stock photo agency called Photodisc began selling images as small, themed collections. The "image packs" were sold on CDs under a royalty-free license. Unlike the rights-managed license which only allows the licensee to use the image one time, the owner of the disk could use and reuse the images without paying additional fees. Eventually, Photodisc began selling images online and became known as Getty Images.
How stock photography became a multi-billion dollar industry
In 2001, iStock launched the first online, subscription-based stock photography agency. The company was later purchased by Getty Images, which today remains one of the largest, most successful stock photo agencies.
Alongside Getty, companies including Shutterstock, Adobe Stock, Alamy, and hundreds of others provide photographers with a way to expand their audience and sell their images. Today, there are more than 350 billion stock images available generating nearly $4 billion dollars in revenue each year.
---
Types of stock photography
Stock photography can be divided into three categories: macrostock, midstock, and microstock.
Macrostock photography, or traditional stock photography, is most often used by businesses that want exclusive licensing rights to an image. These images are usually provided by well-known photographers and the usage licenses sell for hundreds or thousands of dollars each.
Midstock photography is lower-priced than macrostock but still offers some exclusivity to the purchaser. These images are most commonly used online.
Microstock photographs are low-cost, usually ranging from a few cents to a few dollars to license. These licenses are sold online through single-purchase or subscription-based stock photography sites. Microstock photos make up, by far, the vast majority of all stock images licensed and used.
The nature of microstock photography makes it the ideal starting-off point for photographers hoping to sell their images.
---
Benefits of selling stock photos
Selling stock images can be an exciting venture for photographers looking to expand their audience and build a strong and vast portfolio. With focused effort, many stock photographers easily earn several hundred dollars each month in passive income. And, as the photographer and copyright holder, you have full and complete control over what, when, and where you shoot.
Despite the many benefits, there are a number of challenges stock photographers face when they first start selling their images.
---
Challenges of selling stock photos
Consider that there are more than 350 million stock photos available to license today, with about a million more added every year. For the photographer, this means the market is very saturated and highly competitive.
To be successful, your photographs will need to follow ever-changing trends and stand out against those that depict similar imagery.
You'll also need to play a bit of a numbers game. The more photos you make available for purchase, the more likely people will stumble upon your work faster.
To make a full-time career out of selling stock photography, you'll need to plan your photoshoots. Make use of models or props, or even travel to in-demand destinations.
In other words, don't expect to simply upload the hundreds of unused photos on your hard drive and expect to rake in the dough.
---
Tips for creating stock photos that sell
Stock images can technically be photographs of just about anything, in any style. Still, the most successful stock photographers follow a few guidelines both in terms of shooting their images and marketing them. The following tips will steer your stock photography career toward success.
1. Keep up with trends
Several photo subjects will always be top sellers. Landscape photography, lifestyle photography, food, business/industry, and holiday-themed photography are most commonly in demand.
We put together valuable tips for lifestyle photography to help you get started.
But your images should reflect changing trends, too. 
Consider current events when shooting stock photos. When the COVID-19 pandemic changed daily life around the globe, those stock photographers whose images conveyed the changing trends and human values earned much more than those that didn't. Stock photos of large crowds and busy restaurants were abandoned in favor of masked faces and home-cooked meals. Photos of crowded commutes and bustling offices were replaced with images of home offices and Zoom meetings.
As a stock photographer, you should also consider which social issues are trending. The last few years have seen a big push toward stock images that convey inclusion, sustainability, self-care, health, and nature. Reflecting on current events and trending social issues in your images will keep your images fresh and in high demand.
A trade show, a street parade, a food truck rally, or a craft fair. These are all great reasons to snap photos to sell for stock photography. Just avoid capturing specific brands or logos. This way, anyone shopping for an image can feel like it would work for them.
2. Know your rights and responsibilities
When photographing people or famous places, be aware of your rights as a photographer and your responsibilities as a seller. Legally, anyone can take photos of anything visible in or from a public space. But, the moment you choose to sell your images, the rules change.
If the subject of your photograph is recognizable (this could be a person, place, object, landmark, building, or pet on public or private property) you will need the appropriate photo release form. One exception to this rule is if the image was captured in public and is considered newsworthy. In that case, you can sell the photo for editorial use only.
What is a model release?
A model release (or property release) is a contract that protects the photographer, the buyer, and the stock photography agency.
By having anyone shown in your photographs sign a model release (or property release, if their personal property is shown) it gives their consent for their likeness to be used commercially.
Without a signed release, you will have a difficult time selling your images as stock photography. Make it a habit to always have a model release signed whenever you photograph people. If you do it from the start, you'll never have to worry about it later on.
Learn the copyright laws
It's also important to familiarize yourself with copyright laws in the area you're shooting. Avoid selling images that include logos, famous buildings, works of art, or other subjects that may be protected under copyright laws.
For example, in Paris, it's perfectly legal to create stock photographs of the Eiffel Tower during the day. But, the moment the lights are turned on, it becomes illegal. This is due to copyright laws in France that allow an architect, painter, photographer, or other artists to retain the copyright of their work for 70-years following their death.
Under this law, copyrights have expired for the Eiffel Tower which was built in 1887 but not for the lights which are considered a form of artistic expression, installed in 1985.
3. Consider how your stock images will be used
People usually purchase stock images for the background of an advertisement, to represent a consumer group, to illustrate an idea, or to add visual interest to a blog post. People don't usually purchase stock photos as art pieces or for photo albums. As such, your images should be simple and uncluttered. They shouldn't include easily identifiable products or brands. They should have space to add text if necessary.
And, because they may be purchased for billboards or large-scale advertising, they should be shot in the highest resolution possible, using the lowest ISO possible.
4. Continually build your collection
If your goal is to generate income, you'll need to continually add to your available collection of images. Stock photography websites will often show the newest images first to keep content fresh and on-trend for customers.
If you allow several months to pass by without adding new images to your stock photography portfolio, your images may not appear on the first several pages of search results. If licensees have to scroll past a thousand images before they get to yours, you're a lot less likely to make a sale.
As you're shooting images to build your collection, take multiple shots of the same scene, too. Change your vantage point, focus on different parts of the composition, and take photos in both landscape and portrait mode. Very often, a potential buyer will spot an image that's almost perfect and look through your collection for additional shots that might be just right.
5. Become an expert at keywords
The quality of your image is essential to ultimately make a sale. But, the most perfect photo ever taken won't attract a buyer if they can't find it. When you add your images to a stock photography site, include keywords to help the buyer find you. You'll want to use keywords that specifically describe what's in the image. And, use keywords that describe concepts or emotions that the image conveys.
Using the image below as an example, your listing should include keyword descriptions of the subject of the image: dog, Beagle, hound, dog park, young girl, teen, grass, dog training, happy dog, curly hair, countryside, etc. And, it should include conceptual keywords: friendship, best friends, cute, adorable, casual, loyalty, love, etc.
6. Use quality gear
Historically, you could only be a commercial photographer if you used an expensive DSLR and a wide range of lenses.
And while that's still mostly true that most photographers are using top-of-the-line gear, technology continues to improve. Many of the stock sites are now accepting photographs taken with mobile devices, too.
7. Think about the overall composition
Think about what kind of photographs companies might have a difficult time finding a stock image for and filling that need for them. Do your own searches to see if you can find an area that's lacking and try to fill the void.
The best stock photos don't look posed or staged, but rather they are candid shots that feel authentic. Remember, though, if you take photos of people always get them to sign a model release.
In terms of composition, always leave room for the buyer to add their logo or a line or two of text. Remember, companies use these photos for marketing or advertising. So they may choose another image over yours simply because it has room for their message.
Also, when a buyer is scrolling the stock photo sites looking for an image to purchase, they'll see your image thumbnail first. This is your first chance to get their attention so make sure it makes sense.
---
Where to sell stock photography
Some of the most widely known stock photography agencies are Getty Images, Shutterstock, iStock, and Adobe Stock. These sites sell your images for you and take a percentage of the sales.
Each site is different in how they accept images to sell and what percentage they give per sale. So make sure to do your research and determine what is your best option.
When you're just getting started, there are also free sites to gain exposure and feedback, like Unsplash and Pexels, just be aware that other companies might use your images off of these sites for advertising and make money from your free images.
So if you find that your photos are popular on the free sites, it's a good idea to move them to the sites that will pay you for their use!
---
Final thoughts
As you've now learned, becoming a successful stock photographer will require effort and planning in addition to excellent photography skills. For those willing to devote time and energy to providing potential buyers with the images they're searching for, selling stock photos can be lucrative and rewarding.
Best of all, building and selling a stock photo collection allows you, the artist, to photograph exactly what you want to; when you want to; and how you want to.