The Best Photo Editing Software for Professional Photographers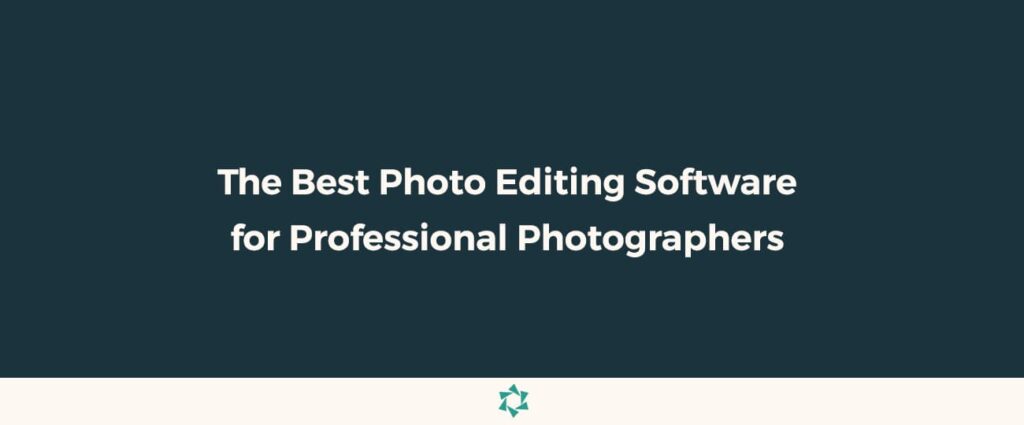 Photo editing has truly evolved in the last few years — and with it, a whole host of competitors vying to overtake the top spot for best photo editing software, a spot that has been held for decades by one brand. Are these companies finally giving Adobe a run for its money?
In this article, we'll show you our picks for the best photo editing software for professional photographers. You'll discover:
benefits of editing your photos;
things to consider when shopping for photo editing software;
an overview of the different photo editing software available;
and a few other things to take into consideration before you decide which software to buy.
---
---
Why should you edit your photos?
In this age of Snapchat filters and chronic smartphone overedited selfies, it's easy to understand why a lot of people confuse that sort of editing with the post-processing that professional photographers do.
Yes, nearly ALL pro photographers edit, or post-process, their images. The amount of editing they do will vary greatly from one person to the next, depending on their style, genre, preference, skill level, and client's needs. Editing could be as simple as correcting and enhancing color, cropping, and removing blemishes to completely replacing a sky or swapping someone's head in a group shot because they were the one person who didn't smile.
The amount of editing a photographer does to an image may vary, but the reason is always the same — to make the photo the best it can be.
Occasionally a photographer will say that editing is "cheating" and will refuse to do it. They will rely only on the image they get from their camera. But, that is simply not true. In fact, technically, they are letting their camera do the editing for them by accepting its default RAW to JPG conversion.
If you're serious about being a professional photographer, you need to edit your photos.
---
Things to consider when shopping for photo editing software
Most photographers have simply turned to Photoshop by default since it has been the industry standard program for editing photos for decades. But, with so many new photo editors on the market, we wondered if the old standard was still the best. It turns out there's some great competition out there.
We evaluated the software based on the following:
Key Features: What are the standout features of the software? Is there a feature you can't get anywhere else?
Functionality: Does this software do all the things I need it to do? What's missing and is it something I can live without?
Ease of use: Most of us are used to the Photoshop Interface. How difficult will it be to learn this new program?
Opportunities for expansion: Are there filters and plugins available? Is the company updating frequently?
Price: How much does it cost? Is it a one-time fee or a subscription model?
Additionally, since this guide is about professional photo editing software – we are only reviewing software that has the ability to open and process RAW files since a large number of pro photos are shot and edited from RAW. All of the programs below will also have versions for both macOS and Windows PC.
Without further ado, let's get to the reviews!
---
| Software | Price | Free Trial | Review |
| --- | --- | --- | --- |
| Adobe Photoshop CC | $9.99/mo Subscription only | 7-day | Read Review |
| Adobe Lightroom Classic | $9.99/mo Subscription only | 7-day | Read Review |
| Affinity Photo | $54.99 or $9.99 for iPad version | 30-day | Read Review |
| DxO PhotoLab 5 | $139 Essential or $219 Elite | 30-day | Read Review |
| Skylum Luminar AI | $47 | 7-day | Read Review |
| Capture One Pro | $299 one time or $24/mo | 30-day | Read Review |
| ON1 Photo Raw 2022 | $99.99 one time or $7.99/mo | 14-day | Read Review |
---
1. Adobe Photoshop CC
Photoshop has a mighty reputation. Not only has it been around for over 30 years, but it's so well known, that its name has become a word in pop culture that's used to describe a photo that's been heavily edited!
Photoshop is powerful, loaded with features, updated constantly, and has a clean and slick interface. And, since it's the industry standard there's a metric boatload of add-on filters and plugins. However, it's not without its faults.
Photoshop can't open a raw file without processing it through Adobe Camera Raw (Adobe's built-in raw processing plugin) first. And, there's no way to keep your images organized. That is problematic for those who shoot hundreds of images at a time, such as wedding and event photographers. This can easily be solved by combining Photoshop with Bridge or Lightroom, but it comes at a cost.
The biggest issue for many is the price. Photoshop's subscription-based pricing structure is often a deal-breaker, especially now that there are alternatives that can match (and sometimes exceed) many of the software's features at a much lower cost.
Key features:
Photoshop excels at masking, selections, and layers. If you're working with complex composite images, you'll be hard-pressed to find another software that will do it as well as this one. At least for now.
Most recently, the Sky Replacement filter is really impressive and accurate, making a once tedious job extremely quick and easy. That was a win. They also added 'neural filters', which are basically one-click adjustments to portraits that are supposed to make a person look happy, sadder, angry, surprised, or older, depending on the sliders you choose. The results can sometimes be downright terrifying. Maybe not as much of a win as the sky replacement.
Either way, these advanced features, and frequent updates show that Adobe is trying hard to justify that subscription model in the wake of extremely hot competition.
Cost:
Individual plans start at $9.99/mo, Try before you buy with a Free 7-day Trial
Photoshop CC Advantages
– Extremely powerful
– Frequent updates
– Intuitive interface
– Impressive sky replacement tool
– Thousands of available plugins and presets
Photoshop CC Disadvantages
– No file management
– Edits are not always non-destructive
– Must use ACR or Lightroom for raw processing
– No single payment option/subscription only
If you're a photographer who does a lot of complex editing that requires layers and masking, Photoshop is still the leader of the pack. It still has the best automatic and manual selection tools — the benefit of over three decades in the industry.
---
2. Adobe Lightroom Classic
Lightroom, while not nearly as powerful an editor as its older sibling, does a lot of the things that Photoshop can't do. It is an image catalog, raw processor, and photo editor all in one. If you're the type of photographer who simply uses an editor to enhance, color-correct, and crop, then a program like Lightroom is a better fit for you.
Adobe offers two versions of Lightroom, CC, and Classic. Both are included with the $9.99/month Photography Plan, but there are slight differences. Lightroom CC is a slimmed-down version of the software and it stores all of your photos on the cloud. It's geared more toward hobbyists and is missing some features.
The Classic version is more powerful and a better option for professional photographers.
If you're a photographer who shoots (and edits) a lot of images at once, you'll benefit from Lightroom Classic's file management system and its ability to apply presets with one click to multiple images.
New improvements included new masking and healing brush features to give it some of Photoshop's editing power, but it still isn't the program to use if you're doing much more than cleaning up some blemishes or getting rid of noise. Major image manipulation is not Lightroom's forte.
Key features:
Lightroom Classic excels when it comes to organizing, cataloging, processing, and then color correcting and editing multiple images at once. It has automatic chromatic aberration correction, offers lens and camera profile-based corrections, and does a great job of removing noise.
Recent updates included Enhance Details, a very subtle effect for clarifying details in an image, and Super Resolution, a tool that improves the look of low-resolution JPG images.
Cost:
Individual plans start at $9.99/mo, Try before you buy with a Free 7-day Trial
Lightroom Classic Advantages
– Excellent photo management and organizing
– Camera and lens profile-based corrections
– Catalog, raw processor, and editor all-in-one
– Thousands of available plugins and presets
– Non-destructive editing
Lightroom Classic Disadvantages
– Raw processing isn't as good as some of the competition
– No single payment option/subscription only
– Not good for complex photo editing
– No layers-based editing
Adobe Lightroom Classic is the industry gold standard for professional photographers who shoot and edit high-volume raw files. For more complex photo manipulation, look elsewhere.
---
3. Serif Affinity Photo
Affinity Photo is one part of a trilogy of apps by Serif (The other two are Designer and Publisher, Serif's answer to Illustrator and InDesign, respectively). At less than 5 years old, it's a relative newbie, created for professional photographers and designers, but it has all the features you'd expect in pro-level editing software — it can process raw files, it has layers, filters, and adjustment layers, masks, and much more.
At first glance, the interface is very similar to Photoshop, with the toolbar on the left and editing panels on the right. This will appeal to Adobe users who are looking for suitable alternatives. They'll also love the fact that it has a low, fixed price for a perpetual license, no pricey subscriptions here.
However, like Photoshop, this program also doesn't have any kind of photo management or cataloging tools. There also aren't any preset effects available for Affinity and very few plugins built specifically for it. That's simply because the software is so new. We're certainly more will be coming as it gains in users and popularity.
There is a handful of add-ons available in the Affinity Store that consists mainly of brushes and overlays. Additionally, some existing Photoshop plugins will work with Affinity.
Key features:
One great feature of Affinity is its compatibility with many different file types, including PSDs with Smart Objects and Layers. This gives users the ability to share files with others who are using Adobe products.
Other features include HDR merge, filter effects that can be applied live, panorama stitching, frequency separation, batch processing, and tons of built-in brushes. While it might take a different route to get there, Affinity can pretty much do anything Photoshop can do.
Cost:
$54.99 on Windows or Mac or $9.99 on iPad, Try before you buy with a Free 30-day trial
Affinity Photo Advantages
– Cost-effective, one-time purchase
– Non-destructive editing
– Nearly identical to Photoshop so transitioning should be easy
– Easy to use HDR merge feature
Affinity Photo Disadvantages
– No file management
– Not a large selection of plugins available
– No instant preset effects
– Some features are complicated
Affinity Photo is very similar to Photoshop, arguably better in some areas. It's a terrific option for photographers who do a lot of photo manipulation and want to get away from Photoshop's subscription model. However, if you like to use a lot of presets and plugins, you won't find them here, at least not for the time being.
---
4. DxO PhotoLab 5
PhotoLab is the evolution of the old Optics Pro, a program that looked at the EXIF data of an image and used the exact specifications of your camera and lens, combined with your exposure settings, to perfectly correct distortion, fringing, vignetting, and more. They acquired the Google Nik Collection of photo enhancement plugins and combined them with their Optics Pro software to create a more well-rounded editing solution — PhotoLab.
PhotoLab probably has some of the most impressive, innovative features out of all the software on our list. That said, layers are missing, and, depending on your editing style, that could be a deal-breaker.
Key features:
PhotoLab does include a file management tool called PhotoLibrary. It is not as functional as Lightroom Classic's system, but it does give you the ability to search for images by date, settings, and even what lens you shot with. You can add keywords and tags to your photos, but there's no geotagging or face recognition here.
As far as image editing goes, PhotoLab does it slightly differently than other programs. When you open your image, it gives you an auto-edit based on the lens, camera, and settings you used. And, it's often the only edit you need. Of course, you can adjust that edit to your liking. In addition to the auto-edit, there are options for black and white, landscape, portrait, and a few other presets.
There's an impressive Lens Sharpness tool that's worth noting. Again, it works so well because it's based on the particular lens you used to shoot your photo. Smart Lighting does a pretty good job of correcting light on people's faces and bringing them out of the darkness. Prime and DeepPrime are DxO's impressive (albeit very slow) noise reduction tools.
ClearView is PhotoLab's haze removal tool that outperforms Lightroom's dehaze by a mile. Repair is similar to Photoshop's content-aware fill and works just as well.
Cost:
Available at two price levels, Essential for $139 and Elite for $219. The Elite level is necessary if you want the premium features like Prime and ClearView. Try before you buy with a Free 30-day trial.
DxO PhotoLab 5 Advantages
– Fantastic raw processing
– Excellent lens and camera-based corrections
– Best in class noise reduction
– Non-destructive editing
DxO PhotoLab 5 Disadvantages
– PhotoLibrary isn't as good as Lightroom Classic for file management
– Noise reduction is slow
– Some of the tools cost extra
– No layers-based editing
DxO PhotoLab 5 has some innovative features that you won't get anywhere else, and its noise reduction is second to none. It rates near the top of our list. However, the lack of layers-based editing could be difficult for some users to get used to and they charge extra for some of their best features.
---
5. Skylum Luminar AI
Luminar AI might struggle to keep its place on a list for professional photographers because it seems so 'gimmicky,' but AI is the way of the future, evidenced by its increasing appearance in some of the other programs, including Photoshop and Lightroom. So, let's explore if it can be a serious contender.
Luminar AI is the first photo editor that is fully powered by artificial intelligence. It's really geared toward the photographer who wants to turn out amazing photographs but doesn't have the editing chops to bring their photos to the next level. Or, it's for the photographers who simply don't have the time or desire to spend at the computer editing photos. Luminar AI promises to speed up the process. And, they truly make good on that promise – most edits that are time-consuming with other software can be done with a click of the mouse and the swipe of a slider in Luminar AI.
Luminar AI is another all-in-one solution, meaning it has a file management tool, that can process raw files, and edit images.
Key features:
Templates are Luminar's AI-powered presets that analyze every photo and make suggestions for the best edits. In the Edits panel, you can adjust the effects to your taste. What's more, the Luminar Marketplace is full of additional templates, skies, objects, and textures you can purchase to further enhance your photos.
The most impressive parts of Luminar, however, are Luminar's innovative AI tools found in the Edit panel:
Sky is the sky replacement tool, Atmosphere adds fog and haze to landscape photos, Skin, Body, and Face are used to enhance and refine portraits, Iris enhances a subject's eyes with a single click, Bokeh adds depth of field blur to portraits, Composition automatically crops your photo for the best composition, Structure adds texture to objects but not people, Accent creates natural lighting and boosts colors, and the list goes on.
Cost:
Luminar AI is currently on sale for $47. Try before you buy with a Free 7-day trial.
Skylum Luminar AI Advantages
– Great for beginners
– Easy to use, clean interface
– Non-destructive editing
– Also works as a plugin with Lightroom and Photoshop
Skylum Luminar AI Disadvantages
– File management is not as good as Lightroom Classic
– No layers-based editing
– No way to edit metadata
– Few export options
– Previewing at 100% is slow and cumbersome
Skylum Luminar AI is great for photographers who can't edit or don't have a lot of time to edit. However, if you have major cleanup or photo manipulation that needs to be done, this isn't the program for you. If you love the AI tools but aren't ready to make the full switch, you can use Luminar as a plugin with Photoshop CC or Lightroom Classic.
---
6. Capture One Pro
This software is made by Phase One, manufacturers of high-end medium format cameras. The software offers almost exactly the same features as Lightroom Classic — image cataloging, raw processing, image adjustment tools, and presets. But, there are quite a few differences from Lightroom, too.
With its exceptional raw processing and unique tethering tools, Capture One Pro is one of the best editors on this list. It's also one of the most expensive.
Key features:
As we mentioned, Capture One has the best raw processor on this list. The only downside is that it doesn't support as many cameras or lens profiles as Lightroom.
Capture One also has pro-grade tethering tools so studio photographers can shoot directly from the app. It has better noise reduction than Lightroom, but is not as good as DxO PhotoLab.
Another thing Capture One has that Lightroom doesn't have is layers. Photographers who are used to editing with Photoshop will appreciate the addition of layers, but those who use Lightroom and aren't in the habit of editing with layers will find them cumbersome and unnecessary.
Cost:
Fuji, Sony, or Nikon users can get a discounted rate for a single-brand version at $19/month.
For a version that works with every camera, it's available on a subscription plan for $24/month or $179/year. Or you can purchase a one-time license for $299. Try before you buy with a Free 30-day trial.
Capture One Pro Advantages
– Best in class raw processing
– Layers-based, non-destructive editing
– Tethering tools
Capture One Pro Disadvantages
– Very busy interface
– Expensive
– File management not as good as Lightroom Classic
– No HDR or panorama stitching tools
Capture One Pro offers excellent raw processing with pro-level color correction and adjustment tools. Tethering is a feature that will appeal to studio photographers. However, the high price tag isn't justified when there are better options at a lower price.
---
7. ON1 Photo RAW 2022
What started out as a suite of plugins for Photoshop, has evolved into a complete photo editing solution that includes a file management system, raw processor, and photo editor all at a competitive price point.
ON1 has the most features out of all the apps on this list. It's the Swiss Army Knife of photo editing software – it pretty much does everything! But, does it do it well? Let's find out.
Improvements and new features were added with the latest release for 2022, making it a compelling alternative for pro photographers.
New users may find the interface to be a bit clunky and hard to navigate. All of these editing apps are familiar in layout, but this one just isn't as intuitive. That could be partly due to ON1 Photo RAW's massive selection of effects that are presented on different tabs but give you a ton of control over how your final image looks.
Raw processing isn't as good as you'd get from Capture One or DxO PhotoLab, but it's on par with the rest of the field and you'll get pro-level results with ON1's multiple built-in raw rendering profiles for Portrait, Standard, Landscape, Vivid, and more.
Like the competition, the latest upgrade added AI features and some of it is good and some of it is bad. Portrait AI is unimpressive, especially when compared to how perfectly it's done by Luminar AI.
ON1 made improvements to its file management and cataloging system for 2022 but some users will probably still not find it on par with Lightroom since there's no face recognition capability. You can, however, search by date, aperture, camera, lens, settings, and more. The new Smart Organize feature finds duplicate images to help you eliminate them.
Key features:
ON1 Photo Raw 2022 is loaded with tools for editing and retouching. Besides the standard exposure adjustments, they've added AI effects: AI Auto is an automatic tone adjustment; AI Match is used to make the photo look the way it did on the back of your camera; NoNoise AI is the new noise reduction that works exceptionally well; Sky Swap AI is the automatic sky replacement similar to the ones in Photoshop CC and Luminar AI; Portrait AI has some scary results, but also has some really useful tools like frequency separation.
If you're a studio photographer who shoots Canon or Nikon, you'll appreciate ON1's tethering ability. Photographers who make large prints will like the Genuine Fractals feature that helps with enlarging files without losing quality. They've also added a new, non-destructive Liquify tool for editing.
Cost:
ON1 Photo RAW 2022 is currently a $99.99 one-time fee or as a subscription with cloud storage starting at $7.99/month. Try before you buy with a Free 14-day trial.
ON1 Photo RAW Advantages
– The software does everything
– Non-destructive, layers-based editing
– Tons of effects
– Photoshop plugins work with ON1 Photo RAW
– Tethering support for Canon and Nikon users
ON1 Photo RAW Disadvantages
– Busy, unintuitive interface
– Portrait AI has bad results
– Steep learning curve
We love the idea of a single program that can do it all. ON1 feels a bit like it took the best of both Photoshop and Lightroom, their powerful editing and enhancement tools, and combined them with a file management system. But unfortunately, it falls short of them at almost every comparison.
---
🏆 Final Verdict: Best Photo Editing Software for Professional Photographers
Considering everything that's been said above, the best photo editing software for one photographer may not be the best one for another. It really depends on your needs, your level of experience, and your budget. While one option may be the most feature-packed, it might be packed full of features you don't need at a price you don't want to pay. So take all of those things into consideration when making your choice.
Here's our pick for the best photo editing software for professional photographers:
If you're a photographer who does technical, complex editing, the best overall editor is still Photoshop CC thanks to a decades-long headstart over the competition and constant updates that keep them relevant. The competition is nipping at their heels, though! This may not be our pick in a couple more years…
If you shoot high-volume photography like weddings and events and need to apply edits to multiple images at once, and file management is extremely important, Lightroom Classic remains your best option.
Photographers who do complex editing like what you can with Photoshop, that feel Adobe's subscription model is a deal-breaker, and need a more budget-friendly option should go for Affinity Photo.
If you're not interested in the technical aspect of editing and want an easy-to-use option that gives consistently good results, or if you don't have time to edit, your best option is Skylum Luminar AI.
---
What about free photo editing software?
If you're looking for a solution that has similar features to Adobe Photoshop but doesn't cost anything, take a look at the 10 best free Photoshop alternatives by clicking here.