You'll often hear about women who have dreamt about their wedding day since they were little girls. That's why having an arsenal of wedding photography tips you can rely on is so important.
As a wedding photographer, it's your job to capture the best moments at a wedding, create memories the happy couple will cherish forever, and of course, make everyone look good.
In this post, we're sharing some actionable tips for professional wedding photography, so you can grow your photography business and find success.
So, let's get started!
---
What Makes Professional Wedding Photography so Hard?
Many amateur photographers would love to learn how to photograph a wedding. And while it may seem as easy as snapping some fun shots throughout the ceremony and reception on the surface, beneath it all, shooting a wedding is a lot harder than it looks.
Here are some of the reasons why professional wedding photography is so difficult to master:
Getting Started

Getting started as a wedding photographer is a double-edged sword. You need experience if you want to get hired, but you can't get experience until you're hired. It takes a lot of hard work to get started in the saturated world of wedding photography.


You Have to Know the Business

It would be so great if all you had to do was take pictures of people on their wedding day, edit the photos, and get paid right? Unfortunately, there's a business side to being a wedding photographer too.


It takes a lot of hard work

People get married all the time. If you're a good wedding photographer, and in high demand, it can be tough to balance the workload and your personal life. Sure, money is great. But what does all the money in the world mean if you never get to enjoy it?



It isn't always easy to please people – especially your clients

There's no denying you'll come across many different personalities as you shoot a wedding. Some people you'll love…and some people, you won't. But as a photographer being paid to do a great job, it won't matter how difficult the people you work with are. You'll just have to figure it out, which can you leave you drained physically and emotionally at the end of the day.



Being Unique

One of the hardest things to do as a wedding photographer is to find your unique sense of style. Every year brides-to-be are bombarded with hot new trends they just have to have incorporated into their wedding day. As a photographer that's trying to stand out from the competition, make the client happy, and avoid becoming a one-trick photographer, you'll find adding your style hard to do.
Of course, any career path you choose will have its own set of advantages and disadvantages. On that front being a wedding photographer is no different. There are also a ton of great reasons why being a wedding photographer is a great thing.
So, if you're still with us, let's check out some ways to make the cons a little less stressful and difficult, so you can truly say you love your job.
---
Top Tips for Professional Wedding Photography
1. Assist a Pro First
One of the best things you can do before you jump into a full-time career as a wedding photographer is to learn from the pros first. After all, they've been where you're at and can help you avoid the mistakes they made and now possibly regret.
Assisting an already established wedding photographer helps in many ways:
Shows you whether being a wedding photographer is the niche for you
Gives you the chance to hone your skills and learn new ones
Opens up opportunities for networking with other professionals
Teaches you how to market your own brand once you break away
Learning from the best will also help you get there.
So, if you can, give working with well-known wedding photographers in your area a try. Although it's easy to look at them as your competition, this is still the best way to gain experience and learn what it takes to cover a wedding on your own. You can also learn what are the most important questions you should ask your clients in a context like this.
---
2. Always Double-Check Your Gear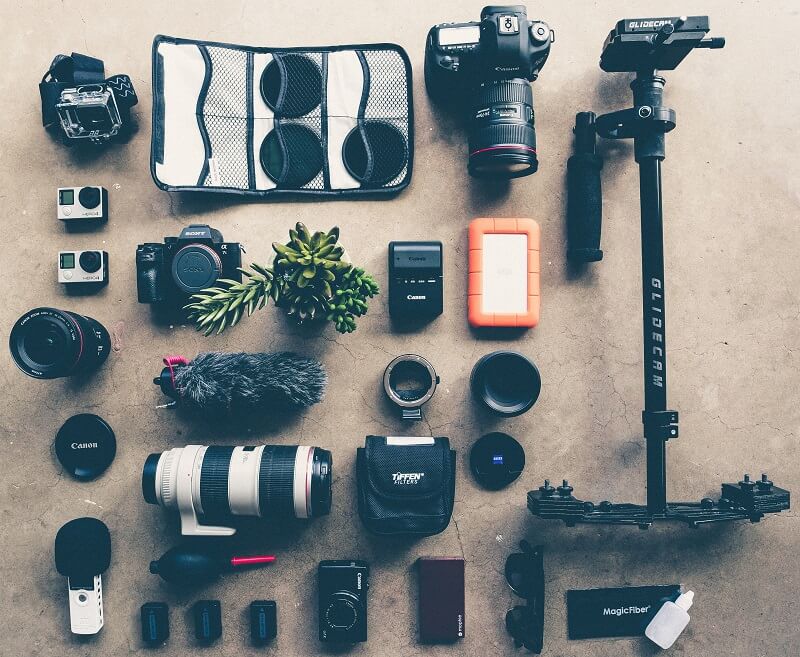 The last thing you want to do is show up to a wedding with broken camera gear. This is not only highly unprofessional, but it also threatens to ruin what is likely the most important day in the lives of the bride and groom.
Instead, check your equipment before you walk out the door and head to the venue, and bring along extra cameras, lenses, and lights…just in case something happens at the wedding. Also, double-check that you have the accessories you need to get the job done right. For example, memory cards, chargers, and batteries are all great things to have on hand.
Make sure you use only the best equipment you have when you shoot a wedding to ensure the highest quality shots. And whatever you do, do not use someone's wedding to experiment. This is not the time to test new equipment, try different camera settings you're unfamiliar with, or play around with flashes.
In the end, no camera or accessory is going to cover up a lack of experience and knowledge. You have to know what you're doing before you do it, so you don't ruin someone's special day.
---
3. Hire a Helping Hand
So you've worked as a professional photographer's assistant and have decided it's time to go solo – great work 👏 but what now?
Take a step back and evaluate just how much work is really involved in shooting a single wedding all by yourself.
Unless you have superpowers or are working a small wedding, chances are you could use some help. There's a lot that goes on while photographing a wedding and you don't want to miss a thing. That's why hiring a helping hand (or two) works.
If you're on a limited budget, try teaming up with a fellow wedding photographer. Have them assist you at your wedding shoot and then offer to assist them at their next wedding. Trade-offs are some of the best ways to get help without breaking the bank.
---
4. Plan Ahead
You must always have a plan in place before the big day. This means scoping out the venue and pre-planning for any unforeseen circumstances. After all, rain on a wedding day is considered good luck but has the potential to wreak havoc on wedding pictures if you don't have a plan B.
Let's take a look at some of the most important ways you can plan before your client's wedding day.
Get to Know the Couple
The best way to start is by asking your clients a few questions before getting into wedding day details and contracts.
If you're not sure what needs to be included in your wedding photography contract, take a look at this article we put together with some great wedding photography contract templates just for you! 😄
For example, find out how the bride and groom met, how long they've been together, whether they have kids and more. This not only shows you care (and are NOT just after their money), it also helps them become more comfortable with you.
Wedding couples are nervous enough on their wedding days. You don't want to add to their nerves by being a complete stranger that's taking intimate pictures of them.
If you can, take their engagement photos too. This will give and the couple bonus time to work together before the big day. During this photoshoot, you can discover their best angles while they become more comfortable in front of the camera.
---
Create a Posing List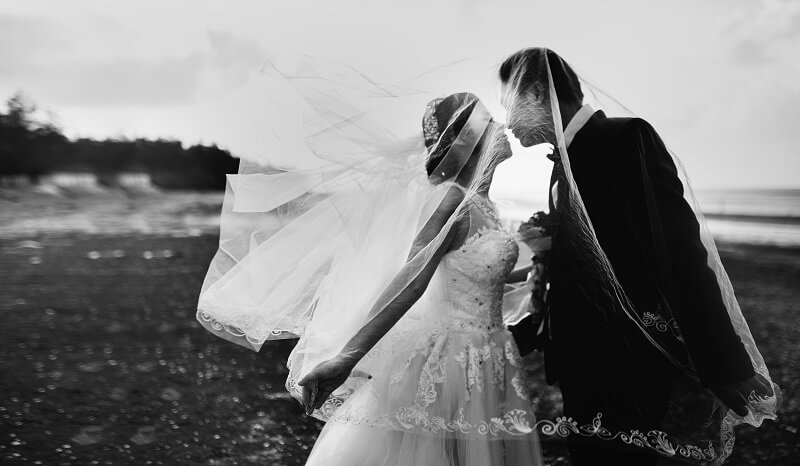 Of course, on the day of your couple's wedding, you'll have plenty of time to get creative and come up with spontaneous poses that are sure to turn out amazing.
That being said, it is a good idea to have a generic posing list that your couple can look at pre-wedding day. There may be specific poses that they want or they might have no idea what they're looking for and need some inspiration.
Either way, planning makes it easier for you to take better wedding photos.
Remember, there's no re-shooting after the wedding. And it's your job to make sure the wedding couple is not just happy, but elated with the photographs you take of their important day.
---
Scout the Location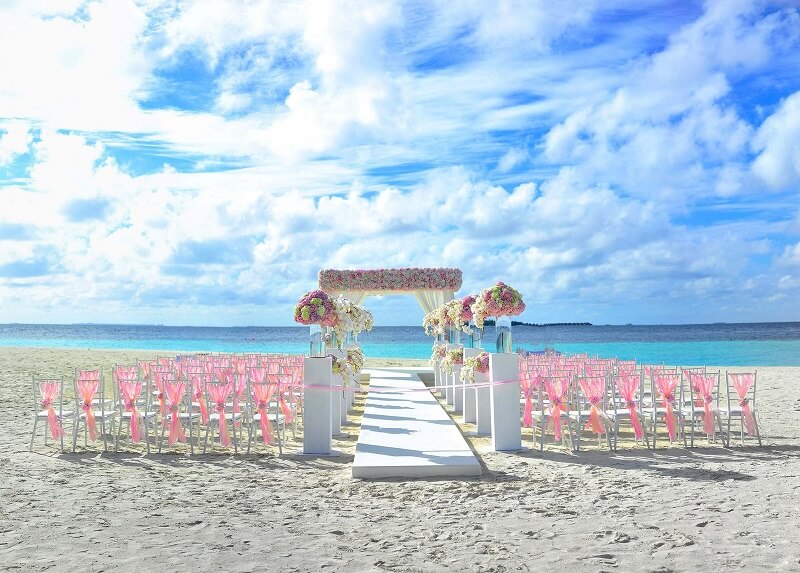 This cannot be said enough. You have to check out the venue long before the wedding happens, so you know exactly what you're working with. This is especially true if some of the pictures will be taken outside.
Get a lay of the land so you can find some hotspot locations to take beautiful photographs of the couple after they're married. Discover larger areas that will work great for a fun wedding party and more formal family pictures. And take note of the lighting everywhere you go, as well as the time of day, so you'll know which lighting accessories (if any) you'll need to bring. You can capture the golden hour and help the newlyweds to have some amazing memories.
Lastly, take some practice shots and even edit them a bit when you get home. You don't want to risk missing a great shot because you are unprepared.
---
Make a List of Special Moments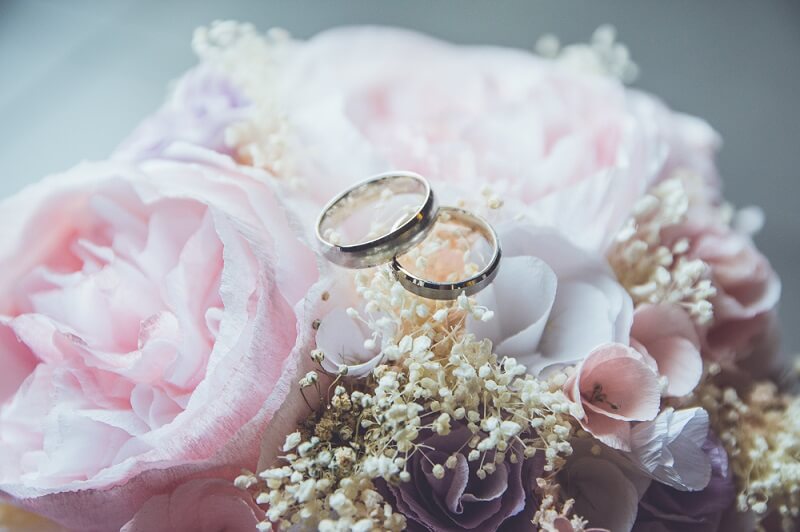 There will always be a number of things that the couple will know that they definitely want to be photographed during the wedding. So these are not included in the wedding photography tips that we're giving you, because they are rather spontaneous. But what you can do is come with a unique perspective on the bride and groom's proposals.
To ensure you don't miss a thing, work together with them to create a list of special moments and items that they want pictures of that you can bring with you.
Here's a quick list that will help you guys get started:
Bride and groom preparations
Key items (invitation, rings, bouquets, dress, wardrobe)
Family shots
Venue
Groom's reaction
Wedding ceremony
Decor and details (cake, centerpieces, place cards, table settings)
Reception (entrance, first dance, toasts, bouquet toss, garter throw, cake cutting)
Wedding party
---
5. Don't Forget to Capture Reactions
Don't get so wrapped up in the wedding couple that you forget about all the people that came to celebrate. This includes the wedding party, family, and friends. This is one of the most important wedding photography tips we could offer because these are the moments they are going to treasure most.
Sometimes the most precious moments are caught on the faces of the guests watching two people that love each other seal the deal. Or on those that are raising their glasses to toast the newlyweds. Or those that are dancing around and having fun.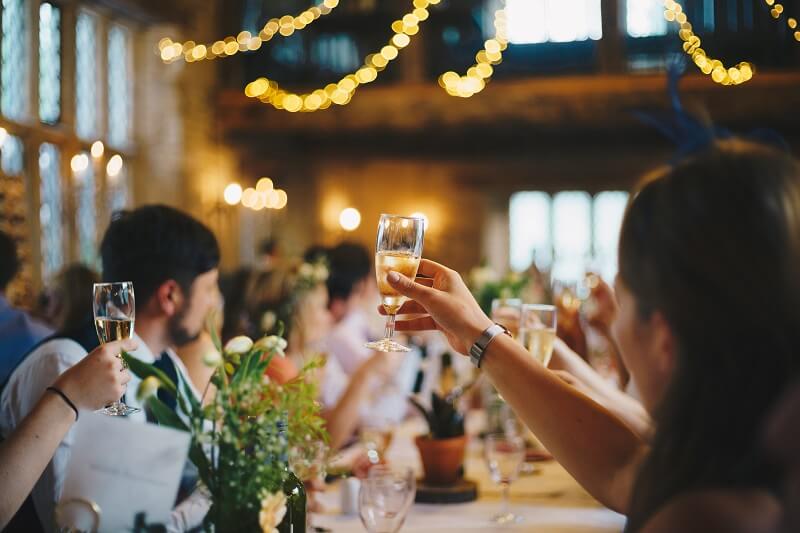 Think about it.
Smiles, laughter, and all-around excitement are great for filling the pages of a photo album and creating memories everyone can enjoy long after the wedding.
If you want to make things easier on yourself, have an assistant photographer snap pictures of the audience throughout the ceremony and guests during the reception. This way, you can put all your focus on the bride, groom, and wedding party.
---
6. Get to Know the Guests
It's a good idea to talk to the soon-to married couple about the guests they have invited to their wedding. After all, there are likely to be people that have to be included in the pictures. And you'll want to know about this beforehand. Keep this as one of the not-to-miss wedding photography tips.
You don't know the guests that are invited to the wedding you're going to photograph, and they don't know you. Shoot, you probably don't know the wedding party either, and they are an integral part of the wedding day and deserve lots of camera time.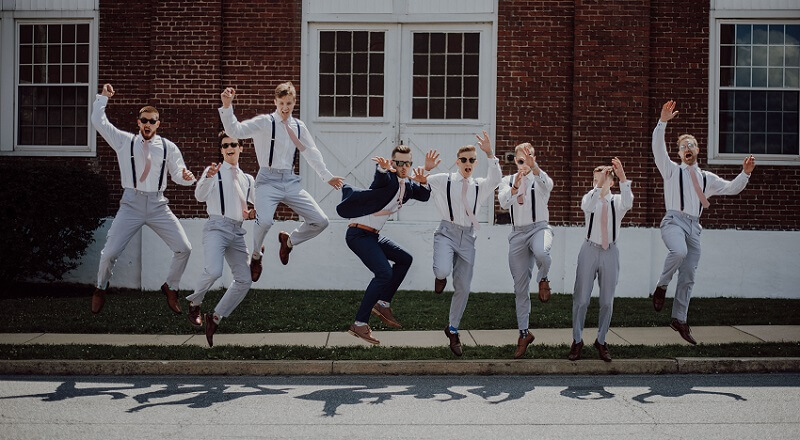 Getting to know the names of the most important guests and the roles they play in the couple's lives will help make your job a lot easier.
---
7. Be Organic
Knowing how to confidently (yet politely) direct the wedding couple, their family, and friends is a skill any professional wedding photographer needs to have.
Forced shots will appear fake, no matter how amazing they look. And the truth is, people want their photographer to capture real, organic, and naturally flowing images to remember their wedding day by.
Unless you're formally shooting the bride and groom, the wedding party, or family, try to take a step back and let things go. This will allow you to snap spontaneous pictures of people's true personalities, the fun they're having, and the beauty of the wedding, without interrupting anyone's good time.
Some photographers say that the best way to shoot a wedding is like a ninja. Let no one know you're there, yet capture everything.
But the truth is that there is no right and wrong in photography. Some couples may prefer candid photography while others prefer dozens of photos where people stand together for a group photo. Again, this is why it's important that you talk about this with the couple (your clients) beforehand.
---
8. Take File Backup Seriously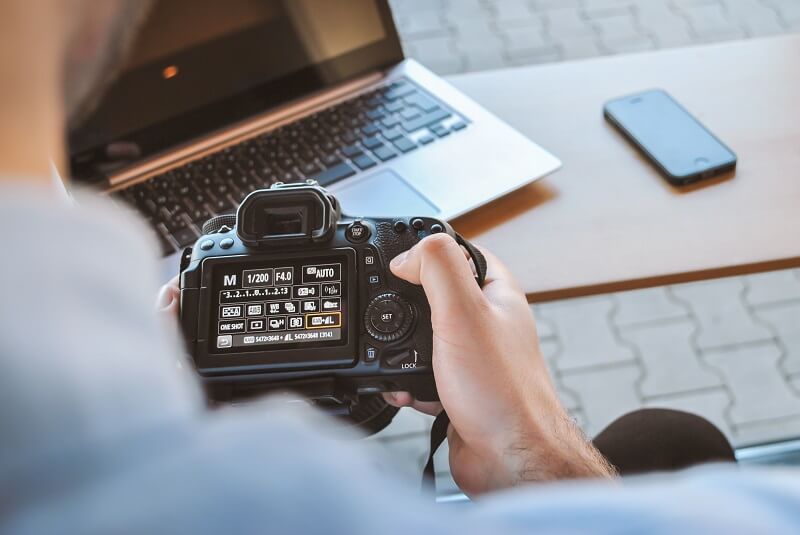 Lastly, and perhaps most importantly, we'll remind you to take file backup seriously. Can you imagine losing your camera's memory card with all of your client's photos on it?
Neither can we.
One good piece of advice is to use a memory card that's large enough to shoot the entire wedding, without having to take the card out. Sometimes opening the camera door too quickly causes memory card failure (gasp!). Not to mention, taking the card out of your camera opens up the possibility you'll lose it.
Next, when you get home right after the wedding, immediately transfer your camera's files to multiple backup solutions. And don't forget to do the same as you edit the photographs too. You want to be able to turn over an entire wedding album that has captured the day through the eyes of loved ones to the newly married couple; not have to explain to them all is lost.
---
Wrapping Up – Wedding Photography Tips
And there you have it – we hope you enjoyed our roundup of some of the best wedding photography tips that will help you capture special days for those that want to treasure them forever.
Over 60,000 photographers all over the world use Modula for their portfolio websites powered by WordPress. So after you've covered your first wedding as a photographer, make sure to check out Modula – the best WordPress gallery plugin to create stunning image galleries for your best work.
So, what do you think? Did we miss any important wedding photography tips?
Let us know in the comments below or Tweet @WPModula and tell us all about it! 💬