The image on your WordPress blog post list page and at the top of individual blog entries is your featured image.
We'll go through what featured photos are in more detail and show you some examples in this post. Then we'll show you how to make the WordPress featured image on your own website work better.
---
In this article, you will find out:
What is a featured image;
How to choose the best featured image for a blog post;
And much more.
---
---
What is a featured image?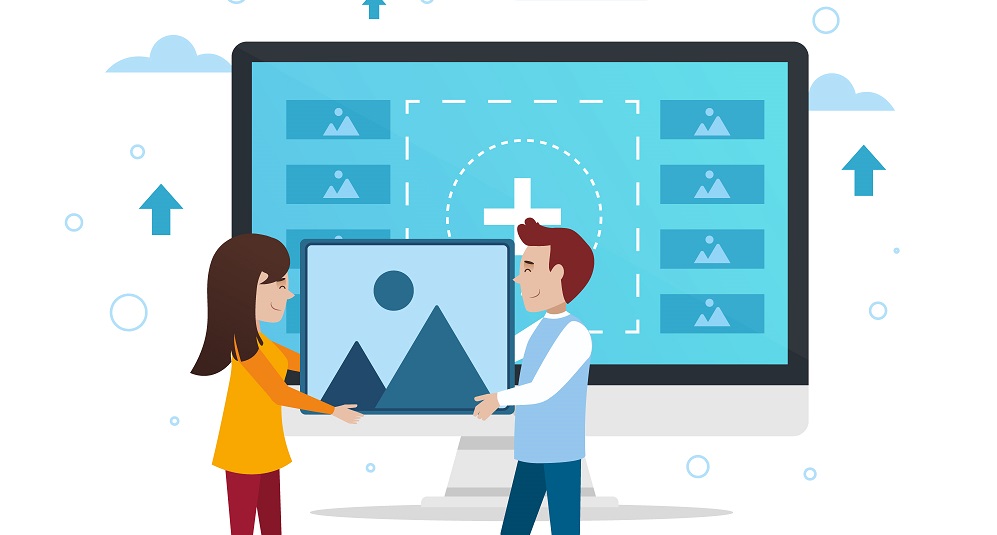 So in WordPress what is a featured image? Featured images, often known as post thumbnails, are a popular WordPress feature that almost all themes offer. They are the main image for your blog entries, and they frequently show on your home page and social media under the title. Featured images are supported by all major WordPress themes by default.
Along with the title, they are the first thing that many of your visitors will notice when visiting your site and pages. As a result, you must ensure that they catch the eye and convey a sense of what the content is about. This entails selecting the appropriate photos and optimizing them for WordPress to ensure they are as good as possible.
Visual components are more engaging to us as humans than simple text. Featured images can help you improve the appearance of your blog pages. They also aid in increasing user engagement and page visits. Search engines and social media websites may use these photos to appear in search results and social media news feeds.
Featured images are most commonly used for blog articles, but they can also be utilized for pages and custom post categories.
---
Why is using featured images in WordPress important?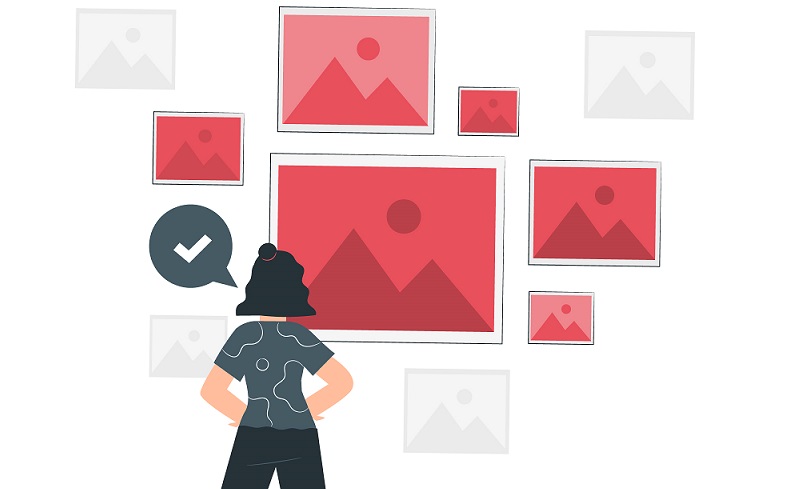 Unfortunately, a large number of WordPress users do not use featured images. This could be due to a variety of factors. Featured images, for example, are not supported by all themes. Also, some folks aren't sure how to include a featured image in their post. However, this is frequently due to a lack of understanding of the necessity of employing featured images in WordPress. Here are some of the most crucial advantages of featured images:
content graphic representation
bringing something creative to your website
becoming a part of an attractive website
improving search engine optimization (SEO)
Using featured images regularly can help you define your site's aesthetic style. Moreover, it will also increase traffic. According to research, articles with images receive 94 percent more views than those without.
---
Tips for using featured images effectively on your WordPress website
You can use anything you can think of for your WordPress posts' featured images. Given their significance, however, it's best to be strategic with how you use them. Let's take a look at some of the most effective methods for getting the most out of each WordPress featured image.
1. Use licensed images
You can produce original featured images for your blog if you have a good photographer or illustrator on your team. This is the ideal situation, yet it is frequently challenging to attain. You'll need someone with not only the necessary expertise and time, but you'll also need to develop a large number of unique photographs, especially if you update frequently.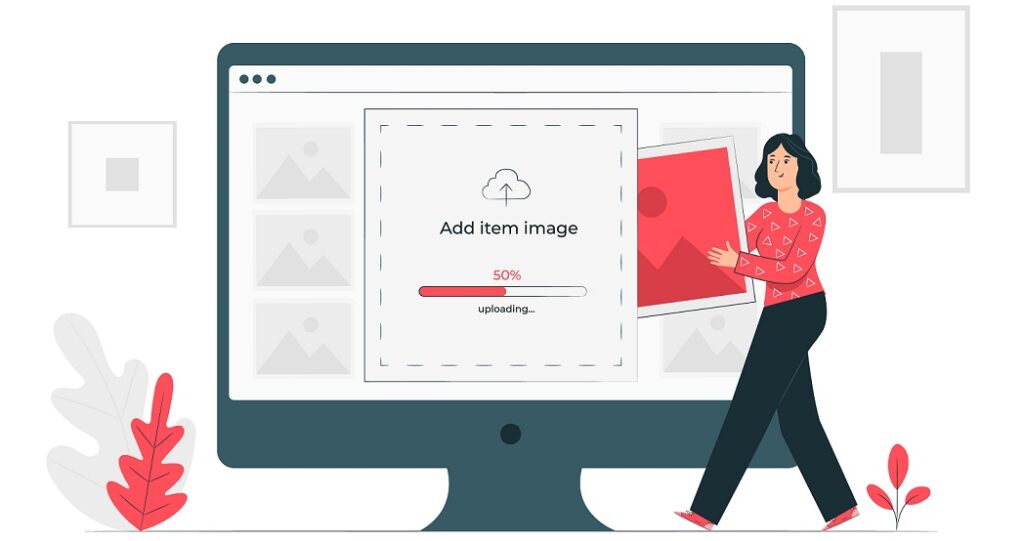 Using third-party photos is a better option for most blogs. You have a few options even here. You have the option of paying for photographs from a stock site or using Creative Commons-licensed content. While there's nothing wrong with the first strategy, the latter has several advantages:
Creative Commons photos are free and, depending on the licensing, you may be able to use them on a for-profit blog.
There are numerous possibilities available, and there are entire websites dedicated to collecting and sharing these photographs. Examples include Freepik, Unsplash, and Flickr, to name a few.
You should be able to change the images depending on the licensing. This means you may start with an existing photo and customize it with your own branding and modifications.
2. Keep the style consistent
These photos make up a significant percentage of your site's media because each article has its own WordPress featured image (which may appear in several locations across your site). As a result, think about how they can represent your specific content and your entire website.
While you could just pick whatever image looks most relevant for each article, it's a better idea to keep all of your featured images similar. You can, for example, use realistic photographs or go for a more abstract style.
In either case, the image you choose should reflect the branding and tone of your site – for example, polished and mature or entertaining and whimsical. You can also utilize specific colors or concentrate on a particular theme.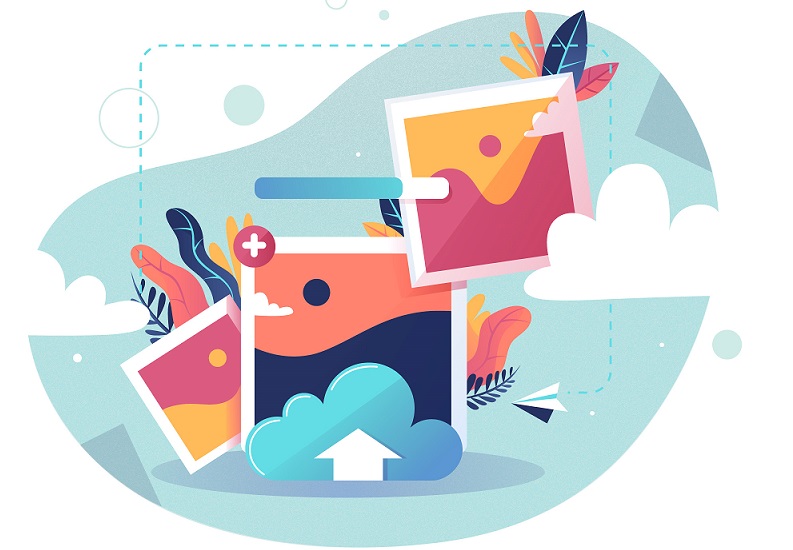 If you have numerous authors writing pieces, make sure that everyone understands the style for your featured photos. You may also assign one team member to find and modify a featured image for each new post. This makes it a lot easier to make sure they all match when they're arranged together. You can save time by creating a template in Canva and using it for each article.
Finally, you'll want to choose a consistent look for each WordPress featured image for efficiency's sake. It's totally up to you what this is, though we encourage determining proportions with a broader width than height (due to having a better look on mobile devices).
Furthermore, try to avoid having the featured images overly big, as this can hurt your site's performance. This takes us to our final piece of advice.
3. Optimize all featured images
Your pages must load quickly. Having a lot of huge, high-quality photographs on your site can cause it to load slowly.
The solution is to optimize every featured image in WordPress before submitting it to your site (or during the upload process). You do so by changing the featured image size in your WordPress post. It will be 'lightweight' as a result and less likely to slow down your page speeds. Furthermore, with the correct program, you can reduce photographs without sacrificing quality.
---
How to add, change or delete a featured image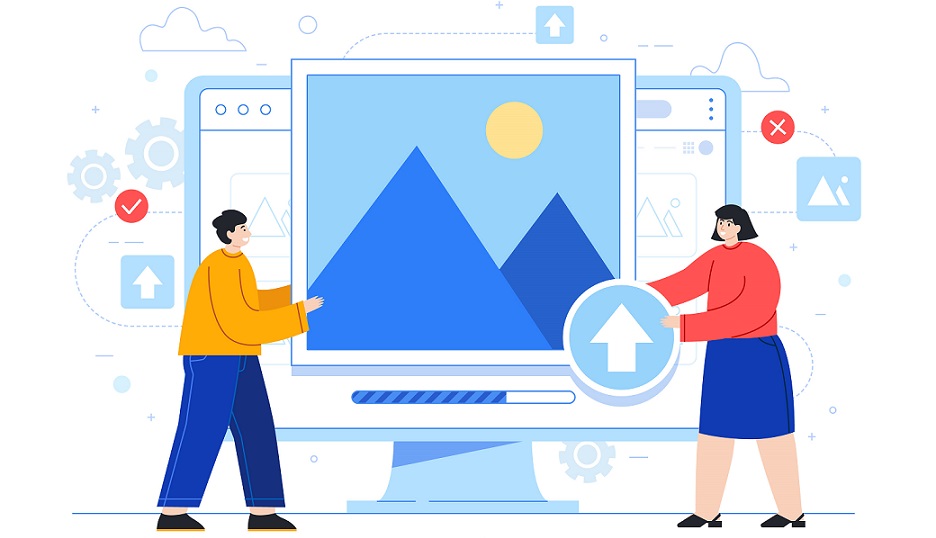 The whole process is not as complicated as you might think it is. Let's take it bit by bit to understand.
1. Adding a featured image
Here we will show you how to set a featured image in WordPress. To get started, just select edit on a previous post or create an entirely new one.
The featured image tab is located in the right column of the content editor.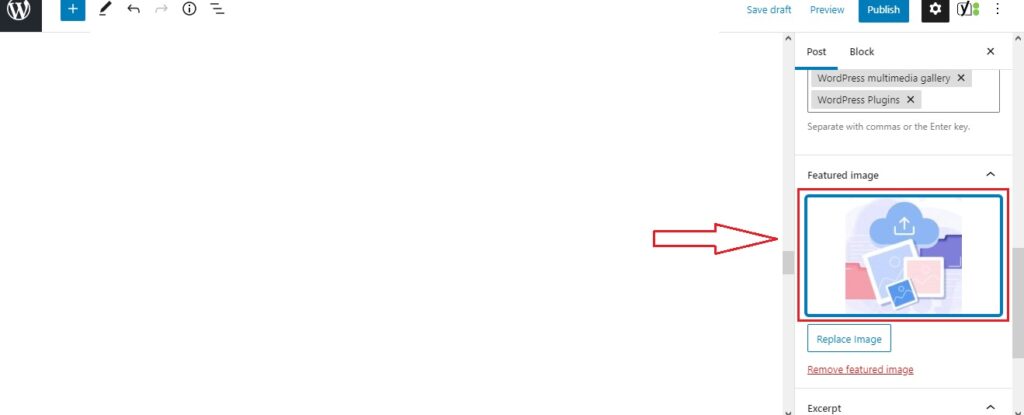 The WordPress media uploader window will appear when you click on the 'Set Featured Image' box.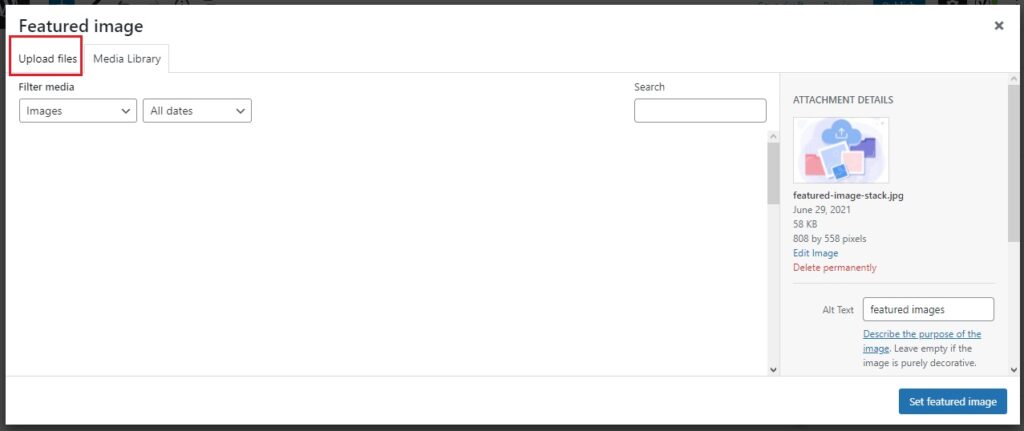 You can either upload an image from your computer or select an image from your media library to use. Simply click the Set Featured Image button after selecting the image.
In the right column, WordPress will now offer a preview of the featured image. However, depending on your WordPress theme, the featured image will appear differently.
You may now save or submit your article and preview it on your live website to see how the featured image will show.
Your featured picture will show automatically based on the settings given by your theme developer.
After adding the image, make sure to set a featured image description on the WordPress post. That way the readers and the search engines know what the image refers to. Don't forget the featured image alt text in WordPress post as well. You can find it on the image block on the right side if you scroll down a bit.
2. How to remove or replace a featured image
A featured image may need to be removed or replaced on occasion. It will just take a few clicks to make the change, whether you have located or generated a better photo or an issue with the initial one.
Head to the "Featured Image" box below the thumbnail and click the "Remove featured image" link.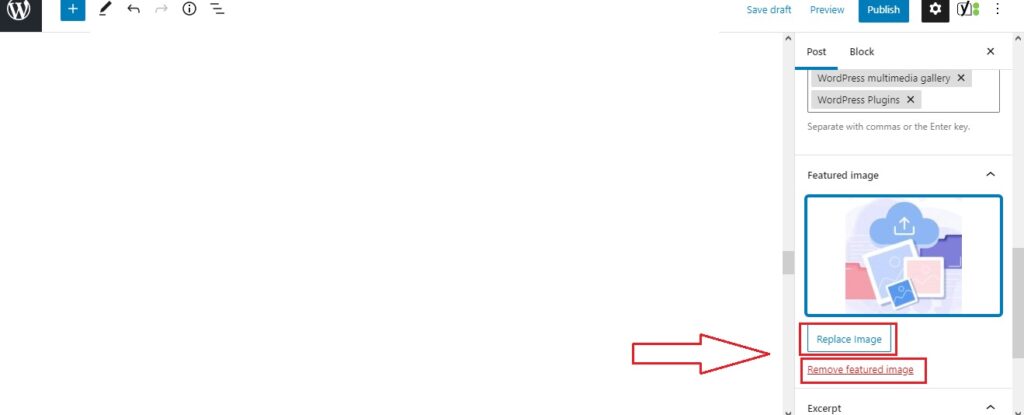 Repeat the instructions for adding a new featured image if you want to change it.
---
Best featured image size and how to change the size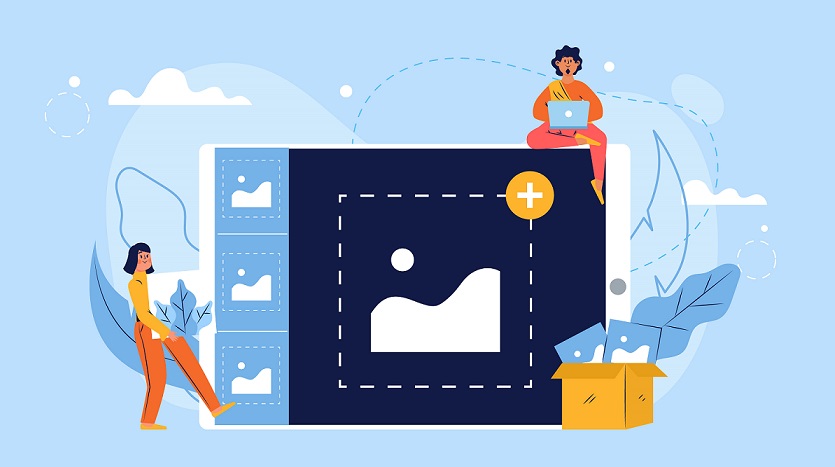 Changing the design of your featured photos is a significant adjustment to the look of your site, so let's do it step by step. We also recommend testing these changes on a WordPress intermediate site to keep any formatting mistakes hidden from the public until you go live with them.
1. Understanding WordPress image sizes
To adjust the wordpress featured image size on listings, you must first understand how WordPress handles default image sizes.
When the image is uploaded to the WordPress library, WordPress creates three versions of the original image in the three standard sizes:
Thumbnail (cropped to 150×150 pixels)
Medium (maximum width/height of 300 pixels)
Large (maximum width/height of 1024 pixels)
Such copies are made so that the image can be used in other parts of your website without having to resize the original image each time, which would slow down page speed and use more bandwidth.
Imagine using a featured image with a resolution of 2000 × 1200 pixels. When the image is placed full-width on the top of a post, the relatively high resolution makes sense. However, fitting this enormous image into a smaller space, such as an image gallery, would be impracticable. That's why WordPress compresses the same file into smaller copies.
2. Change the dimensions
The first place to check if you want to adjust the size of your featured image is your theme. Many themes add their own featured image dimensions to replace the defaults in WordPress. Examine the choices under the Appearance tab on the left side panel for opportunities to change the featured image size within your theme.
If your theme doesn't have a setting for it, you can adjust the default featured image size in WordPress.
Modify the image sizes in WordPress by going to Settings > Media in the WordPress dashboard.
Fill in the required dimensions for your featured image in the number sections next to Thumbnail size. (The phrases "thumbnail" and "featured image" are interchangeable in WordPress.)
---
Improve your SEO through featured images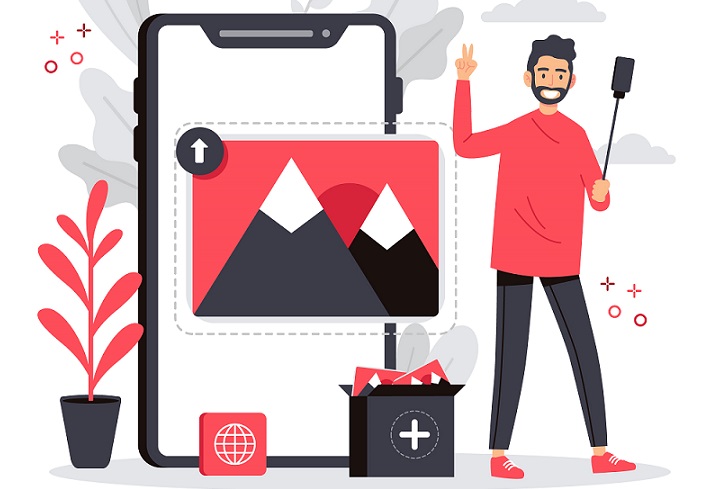 Finally, it's important to note that not all of the advantages of using featured photos in WordPress (or images in general) are related to what your users see. Images have an impact on SEO as well, especially when correctly optimized. Adding your keyword to the correct captions and alternative tags can actually help you rank higher on Google search.
Professional website maintenance is becoming more widespread as this becomes increasingly crucial for websites today. And, once again, you should use any advantage you can obtain. So why not include a beautiful image in your post?
Furthermore, if you are concerned about your media files (images or videos) you can check out our guide on how to use Modula to safeguard your media files.
---
Conclusion
Featured images are an essential WordPress feature that all bloggers should learn how to use. Including a featured image in each post or article in WordPress allows you to portray the material to your audience visually. It could even be a critical component of your overall branding plan.