Get a beautiful gallery on your WordPress site in less than 3 clicks!
The Gallery Plugin for Non-Technical People
Most gallery plugins slow down your site, and frustrate your web developer.
Modula is the only gallery plugin that developers love, trust & recommend.
14-day money-back guarantee, love it or get a full refund.
⭐⭐⭐⭐⭐
350+ 5-Star Reviews
14 Day, Risk Free
Money Back Guarantee
Trusted by 100,000+
Businesses, like yours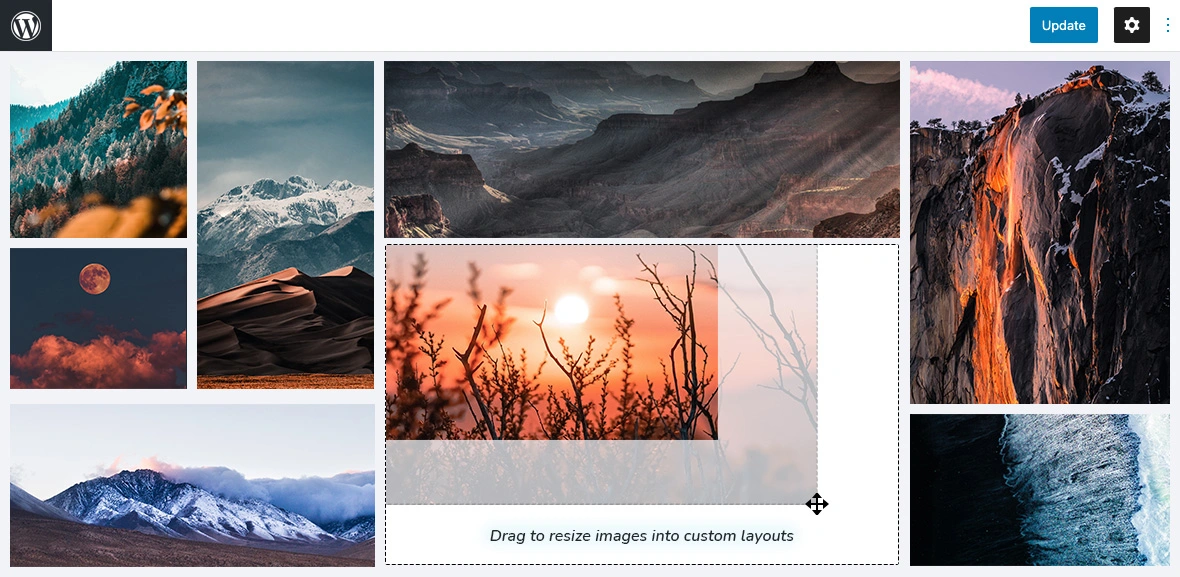 Over 100,000+ businesses just like yours love Modula
Here's just a few of the reasons why people choose Modula over the competition…
⭐⭐⭐⭐⭐
Modula is the best gallery plugin for WordPress I've ever used. It's fast, easy to get started, and has some killer features. It's also super customizable. As a developer I appreciate that for my clients. As a user, I appreciate that I don't need to add any code.

⭐⭐⭐⭐⭐
Finally a beautiful looking image gallery plugin with a development team that actually cares about web performance. If you're looking to showcase your images, without sacrificing quality and care about the speed of your website, this is the plugin for you.

⭐⭐⭐⭐⭐
Before using Modula, all gallery plugins I tested lacked something. Modula was the first to combine custom grid layouts with easy image sizing and stunning responsiveness with a gallery that doesn't impact the loading speed of my website.

Most gallery plugins slow down your site
We know that when people add galleries, they never intend to slow their sites down.
Everyone hates slow sites. But an all-text website looks horrible.

Modula makes slow sites a thing of the past. Here's how:
SpeedUP ™ – our proprietary solution that combines class-leading image optimisation algorithms with a blazing-fast CDN resulting in images without any loss to fidelity, that look great without slowing down your site.
Device aware gallery layouts – employing a combination of smart cropping algorithms and responsive web design, we make sure galleries render the perfect and lightest image size on a variety of devices or screen sizes.
2x
faster galleries w/ CDN
If you're tired of losing clients or not ranking high enough in Google's search results because you have a slow loading gallery – you need Modula.
14-day money-back guarantee, love it or get a full refund.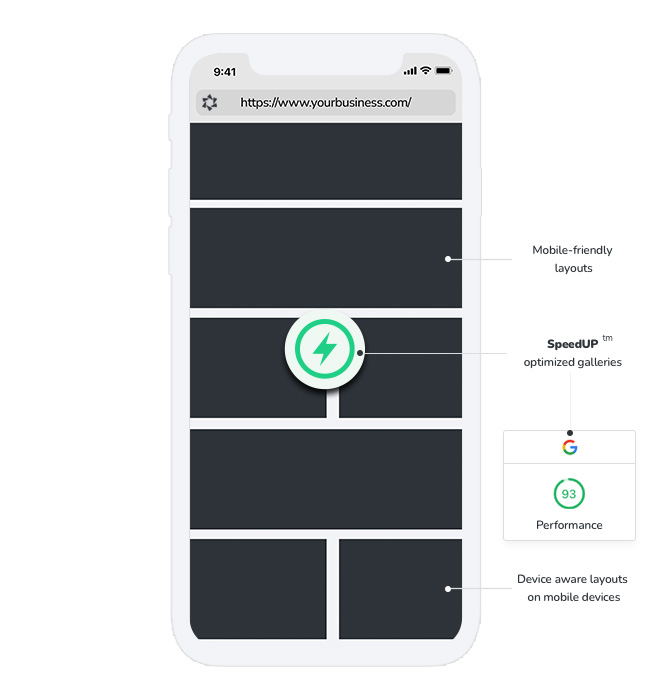 ⭐⭐⭐⭐⭐

This is the ONLY gallery plugin that supports WebP format correctly in the gallery and Lightbox views. Other plugins developers might not know what WebP image format is, but you guys did it well and did it perfectly. Thank you!

⭐⭐⭐⭐⭐

So far, it is the best gallery plugin I've ever tried. Works great and you can do a lot. Support is very very reactive, nice, helpful, and competent. Associated to a good lazy load your pictures will load fast and look amazing !

As seen on








Most Galleries All Look The Same
If you're like most of our customers, you never intended to bore your audience with look-alike galleries.
It's not your fault, gallery plugins often don't give us a choice.


Here's how Modula allows you to create almost infinite layouts through our multitude of frustration-free, smart layouts:
Masonry (columns)

For designers who just prefer a classic masonry gallery layout. It works by placing elements in optimal position based on available vertical space, sort of like a mason fitting stones in a wall.
Custom Grid

For photographers who like to have even more control each gallery layout. Freely drag images by their corners to resize them into any aspect ratio you want. Display portrait and landscape images, side by side, without compromising on the focus point
Automatic Layouts

For those of you who just want to create a good looking gallery without messing with too many settings. You only have to specify the gallery's height and our algorithm will intelligently arrange images inside the given space. Randomly arrange images on each page load? We have that as well.

& so much more …

If you're tired of look-alike galleries, not being able to stand out or never have your business be remembered – you need Modula.
14-day money-back guarantee, love it or get a full refund.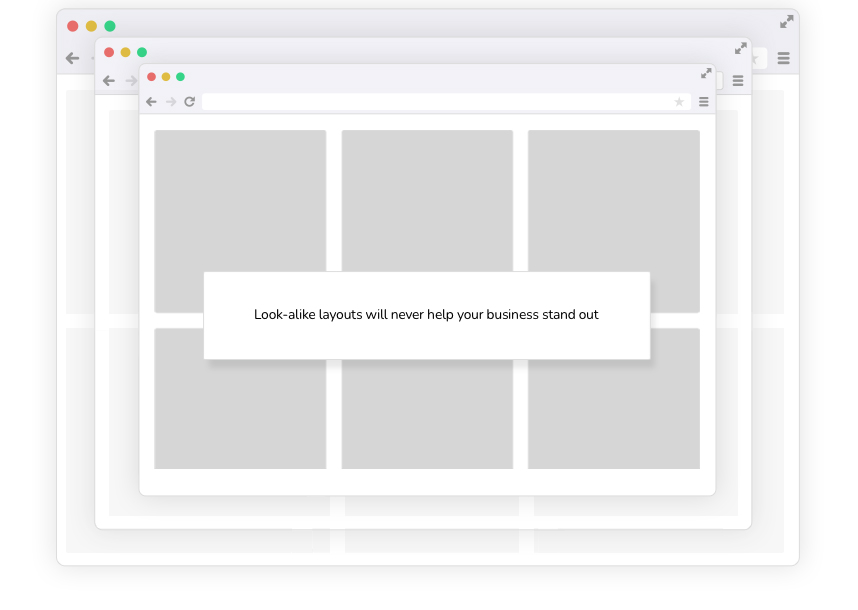 ⭐⭐⭐⭐⭐

I installed Modula yesterday and was quickly and easily able to set up my first image gallery using the "Creative Gallery" option. The frontend-output works without any problems and looks very professional and modern thanks to the many styling settings available. Thanks for a great plugin!

⭐⭐⭐⭐⭐

If I measure the success of a product by how much time it saves me to go and enjoy doing non-work-related stuff, then this plugin is right up there with the best. Except I find myself spending hours playing with it just to see what other magic it has up its sleeve.
It just gets the job done via an easy interface !

Most Gallery Plugins Require a Developer
It's a common story. You find a plugin that solves your problem. Then you can't get it to look (or work) exactly as you want it to.
That's when they tell you to hire a coder. Guess what we'll never do ….


Most other galleries advertise as being extensible but we know that's not true. What they usually mean by that, is that it's extensible if you're a skilled developer. Other gallery solutions aren't built for the user. Here's what usually happens:
You reach out for help, but they'll say they can't help you out with custom code …
You're left with looking for a developer to help you out …
You are bound to experience the entire software development lifecycle …
OR you have no other choice but to give up on your idea
We've been there – we've felt the frustration that stems from using such a product. All you wanted to do is get a great looking, mobile-friendly gallery that doesn't slow up your site.

If you're tired of being passed along from developer to developer – you're in luck. When you purchase Modula, you don't just get a product, you get a partner.
14-day money-back guarantee, love it or get a full refund.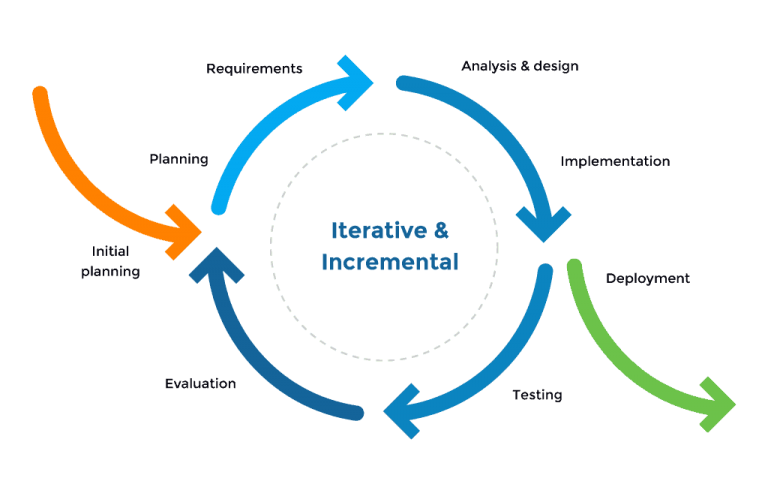 ⭐⭐⭐⭐⭐

I am not a coder – I am a WYSIWYG site builder. I have tried many themes, and a load of plugins, some have the worst tech support. One of the key elements for me is having help when things go wrong as I do not know enough to rewrite the code or troubleshoot code. With Modula, it was like having a design partner.

⭐⭐⭐⭐⭐

Just wanted to give a shout out for this great WordPress gallery plugin. Before this plugin, all my galleries took forever to make. I'm talking overly complicated plugins where I had to make individual portfolios for each image – hours of work – only to finish and realise it didn't even work. It was frustrating, to put it kindly.

Anyone on WordPress can use Modula to
Build Stunning Galleries in Minutes
You don't have to be a designer or developer to be able to roll out dashing galleries in minutes.
We built Modula specifically for you!
Photographers
Setup a great gallery that will help spotlight your imagery. Pick and choose from our grid types the one that best fits your needs.
Group multiple galleries into albums
Image watermarking and right-click protection
Display and edit EXIF metadata
Paginated galleries w/ AJAX load more on scroll
Designers
Showcase your art, cinematography or graphic design portfolio on your website in just a few easy clicks. Get started in 3 minutes or less.
Combine photos + videos in the same gallery
Assign categories to images and use them as filters
Customise the Lightbox with your own brand colours
Gallery sliders w/ thumbnail navigation
Business owners
Your business needs a gallery solution that gets out of the way, doesn't slow down your site and helps your products look amazing.
Use defaults to build galleries faster
Unique links for each image, great for SEO
White Label solution, just add your branding
Hobbyists
For the indie makers who just want to display their arts & crafts. Your hobby is worth sharing with the world. Get the perfect gallery companion, right here!
Turn Lightbox images into an auto-play slideshow.
Dynamically link to specific galleries
Zoom on images for up close viewing
SpeedUP – fast loading galleries with no fidelity loss
14-day money-back guarantee, love it or get a full refund.