9 Best WordPress Portfolio Plugins for Photographers and Creatives (2023)
If you're looking for some of the best WordPress portfolio plugins, you're in the right place.
If you're creative, you know that professionally showcasing your work is a must.
Photographer, graphic designer, copywriter – you must share your work to build brand awareness and book more clients.
And the best way to do that is by creating an online portfolio that people can access anytime and use as a reference.
---
In this article, you'll find:
A list of the best WordPress portfolio plugins
A pricing table of each portfolio plugin
Pros and cons of every plugin
Everything else you need to know about these tools.
---
Table of contents
---
🤑 Starting Pricing Plans at a Glance
For starters, let's see which are the best options to choose from. They all have most of the features a WordPress portfolio plugin should provide, so it's up to you to decide which is best for your needs.
---
🥁 Benefits of Using WordPress Portfolio Plugins
Here are some of the benefits of using a solid WordPress portfolio plugin:
They are easy to use, and you don't need coding skills.
You can create multiple albums and galleries to organize various photography styles.
You can add images, videos, and GIFs to your galleries.
All WordPress portfolio plugins come with amazing lightboxes.
Most of them allow you to add filters, and hover effects and make galleries more dynamic by adding image loading effects.
You can add social sharing icons and let your visitors share your masterpieces.
Keep your photographs secure from thieves with password protection and watermarks.
Rank higher in Google search results and make your name known.
---
🔎 Things to Consider When Choosing WordPress Portfolio Plugins
It's not enough to decide that you need a plugin for your portfolio. You should also know what features matter the most in making this choice.
Here are some of the features you should look for in your portfolio plugin:
🎯 Ease of use. First of all, your plugin should be user-friendly. This is very important because you don't want to waste much time learning how it works besides the money you'll invest in it if you choose the premium version.
💸 Free version. A free version allows you to risk-free test the plugin's features to decide if you want to invest in a premium version.
⭐ Pre-made styles. Ensure the plugin you choose has pre-made styles or layouts to save time or even get inspiration. For example, pre-designed templates to help you get started are always a plus.
🛠 Customization options. While it's very important to have some pre-made styles to choose from, being able to customize your portfolio allows you to style it up and give it a personal touch. This is what will set you apart from the competition.
🔥 Other options. We know that some people want to make a portfolio that consists only of pictures or don't think they need to share their work on social media. But having some extra features on hand – just in case – can be very helpful in the future. This way, you don't have to purchase another plugin. Comprehensive, all-in-one WordPress portfolio plugins are the best way to go.
---
⚔ WordPress Portfolio Plugins vs. WordPress Themes
Some of you may already have experience with WordPress themes and what they offer by way of a portfolio. In this section, we'll explain why relying on the default portfolio isn't always the best option.
First things first, it's true that some WordPress themes come with built-in options to create a portfolio. So, you may ask yourself, what's the purpose of using a portfolio plugin?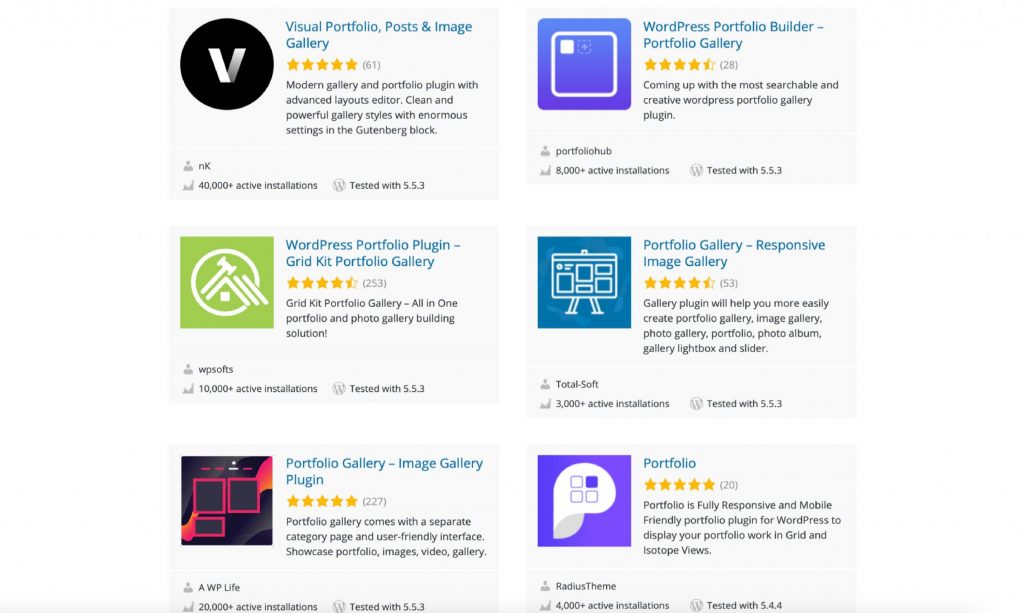 Well, having a built-in portfolio may seem like an advantage at first. After all, your theme's functionality will help you customize your portfolio to a certain extent. However, this is not enough if you're going pro.
Yes, design impresses people the first time they land on your site. But if you want to land new clients, your portfolio should go beyond the design. This is where extra functionality that only portfolio plugins can provide comes in handy.
And if you don't think a plugin is worth it, think of it this way – having a built-in portfolio that comes with your WordPress theme is restricting. You cannot change themes or web design without losing all of your work if you rely on the built-in portfolio.
With that said, keep reading this article to help you decide if making a small investment that will pay off a hundred times more is better than sticking to the limited portfolio option that comes with your WordPress theme.
---
♟️ Modula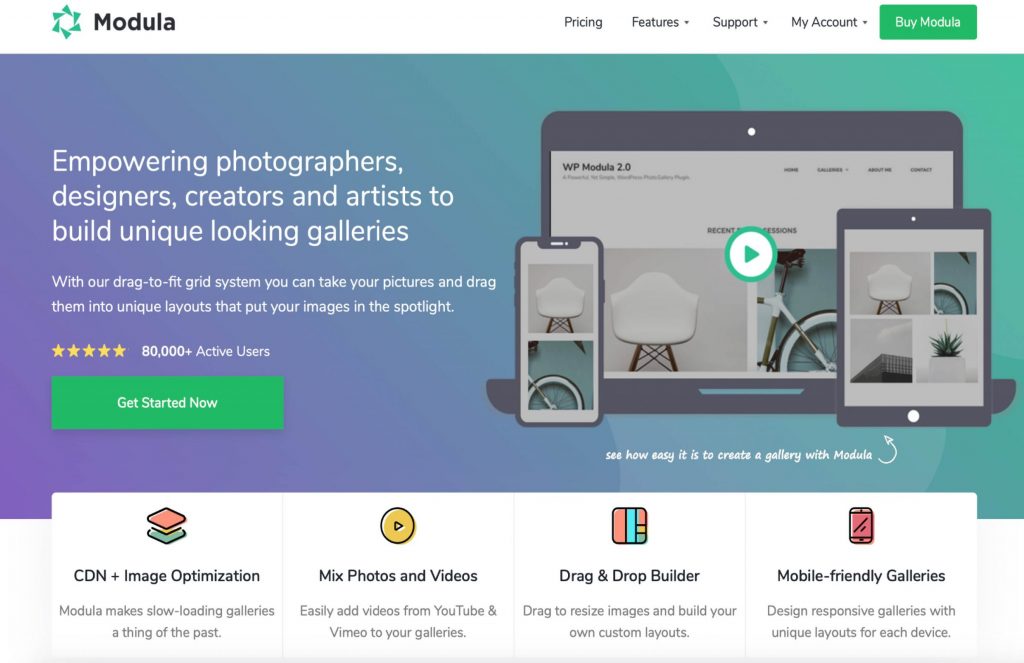 If you go with Modula, you'll get the most user-friendly portfolio plugin for WordPress. It stands out because of its wide range of customizable options, stunning lightbox galleries, and the possibility to sort them according to your preferences.
It's the easiest way to create and personalize your photography portfolio to reflect your style and brand. This portfolio solution is, first and foremost, a gallery plugin, making it the most suitable option for people who are into visual arts and want to display their work in the best and most visual way possible.
In addition, Modula is a great choice, no matter your level of experience with WordPress or plugins. It's very simple to use from the very beginning.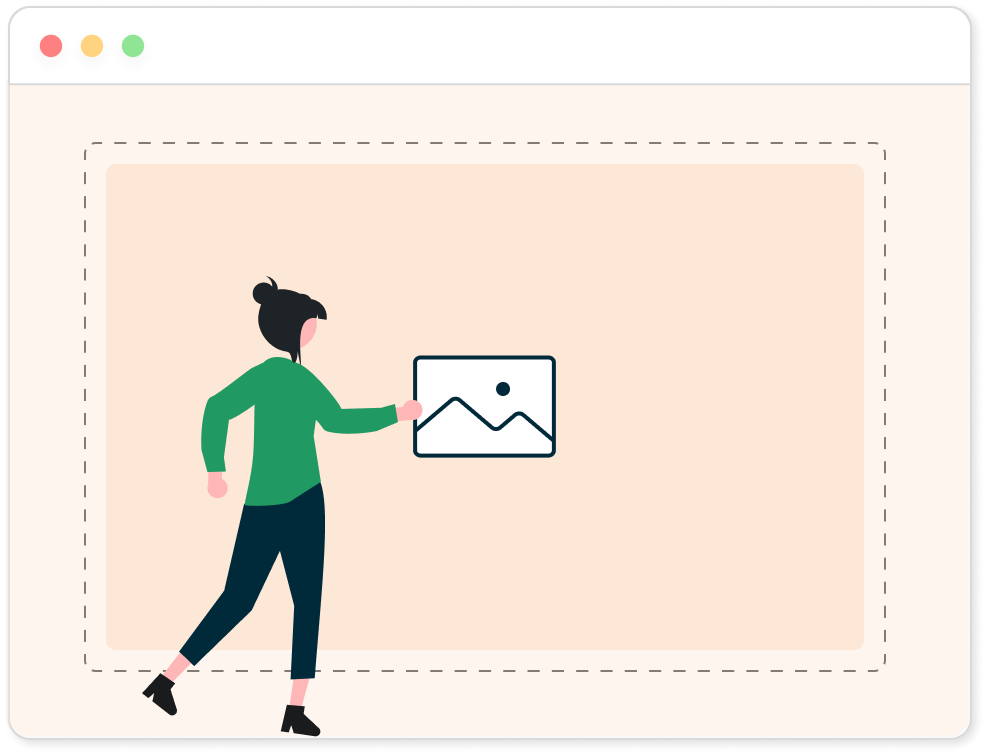 Modula Gallery Plugin
Create stunning, responsive photo galleries with ease. Showcase your work, captivate your audience, and boost engagement. You don't need to do any coding.
However, if you do encounter difficulties, this plugin's website is packed with how-tos of all kinds. For example, here is an article on creating an image gallery that guides you step-by-step to success. You can also create WordPress Vimeo galleries as well as Youtube galleries.
⭐ Modula Features
Here's a list of key features you'll find in Modula:
Built-in hover effects that can make your portfolio stand out.
Easily adjust your photos' size and aspect ratio with the custom grid functionality.
Create albums, add galleries, and manage cover photos with the amazing Album extension.
Make your visitors' life easier by applying filters to your images – this way, they can easily sort through your gallery.
Prevent people from stealing your pictures with right-click protection.
Sort images by multiple categories, such as alphabetically, date created, date modified, and more.
Enjoy amazing image-loaded effects.
Upload both pictures and videos in your portfolio.
Get e-mail support whenever you need it.
Zoom extension – allows your visitors to see your masterpieces in more detail.
EXIF extension – this way you can display data from your pictures directly into your portfolio and lightbox view.
Speed up extension – this one will help you load your images and videos as fast as possible.
Enable/disable downloading your portfolio items.
---
💰 Pricing
| | | |
| --- | --- | --- |
| Plan | What you pay/year | Supported sites |
| Starter | $39 | 1 site |
| Trio | $69 | 3 sites |
| Business | $99 | 5 sites |
Modula pricing plans
You can find two versions of Modula. First is Modula Lite, which is the free version you can try in order to see what this plugin can do. A nice thing to notice is that most of their features are available for this version, so it's a good starting point.
There's also a premium version of Modula, that gives you even more advanced options for creating amazing portfolios and image galleries.
💡Best WordPress Portfolio Plugin For…
This WordPress portfolio plugin is perfect for people or businesses looking for a tool that allows them to create stunning portfolios. The free plan provides many powerful features, and the monthly pricing is quite affordable.
👍 Advantages

– You can multipurpose it and create filterable galleries and use them to create a stunning portfolio.

– It is very intuitive and easy to use.
👎 Disadvantages

– It doesn't have eCommerce integration per se – you can integrate WooCommerce, but it's a more complicated process.
---
♟️ Portfolio Filter Gallery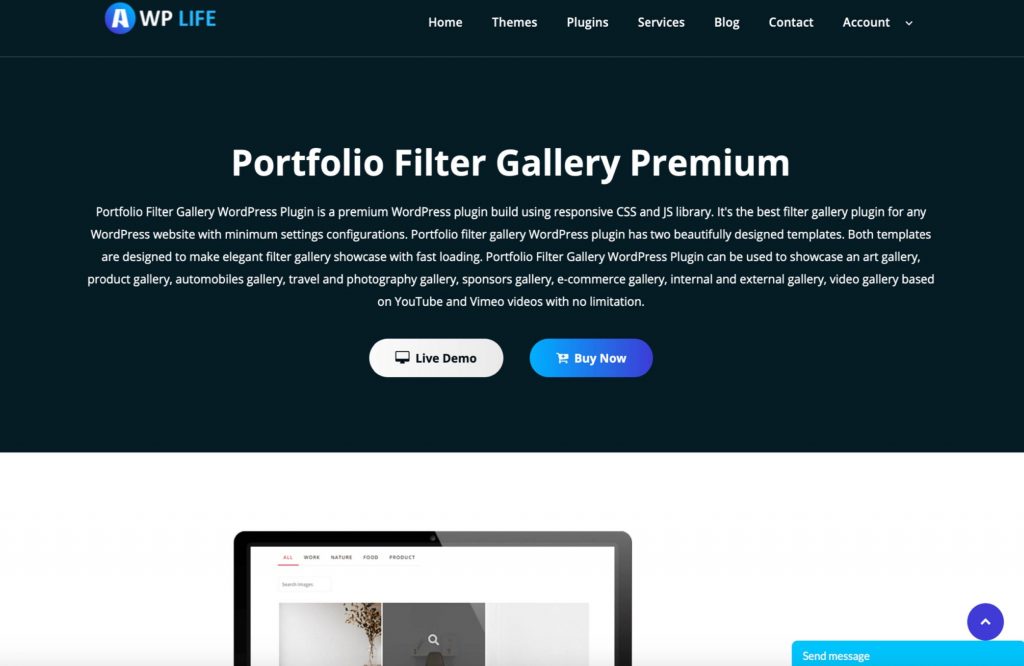 This plugin is here to help you build a beautiful portfolio on your website. It's a responsive gallery that works with all devices, including desktop computers and tablets. The default layout for this plugin is masonry, but you can customize it or change it to a grid at any time.
Portfolio Filter Gallery is easy to use, so you'll encounter no difficulties integrating it into your website. It's the best-rated free portfolio plugin in the WordPress library, so it's worth a try.
⭐ Portfolio Filter Gallery Features
We talked a bit about the variety of options it offers, so let's see what this plugin is about:
Multiple column layouts to showcase your work elegantly.
Hover effects so that you can play around with the style of your pictures.
Full control over thumbnail sizes and quality settings.
Give your photos a different vibe with the grayscale effect.
Make your portfolio even cooler with one of the five lightbox pop-ups.
It's an SEO-friendly gallery, so your galleries will be optimized for search engines and can show up in the top results on Google.
Unlimited filters and filter colors, so you can play around with your portfolio as much as you want.
You can apply multiple colors for filter buttons.
Masonry style for images and video galleries.
Set multiple custom layouts in various numbers of columns.
---
💰 Pricing
| | | |
| --- | --- | --- |
| Plan | What you pay/year | Supported sites |
| Personal | $29 | 1 site |
| Business | $99 | 5 sites |
| Developer | $149 | 10 sites |
Portfolio Filter Gallery pricing plans
Portfolio Filter Gallery is a WordPress plugin with a free version and three premium pricing plans. The plugin's premium version lets you access more features, such as unlimited colors for titles and borders, ascending, descending, and shuffle buttons, SEO integration, unlimited filter colors, and many portfolio features.
Those pricing plans are different depending on the number of supported sites. So, you will pay for more features that will make your portfolio look more visually appealing and the number of supported sites.
💡Best WordPress Portfolio Plugin For…
This can be a good starting point for photographers or designers who are at the beginning of their careers because of the range of free features it offers, as well as the very affordable price for the premium version.
👍 Advantages

– This plugin provides a wide range of pre-made features especially for portfolios.

👎 Disadvantages

– It didn't provide a watermark feature or password protection for your portfolio.
---
♟️ Final Tiles Grid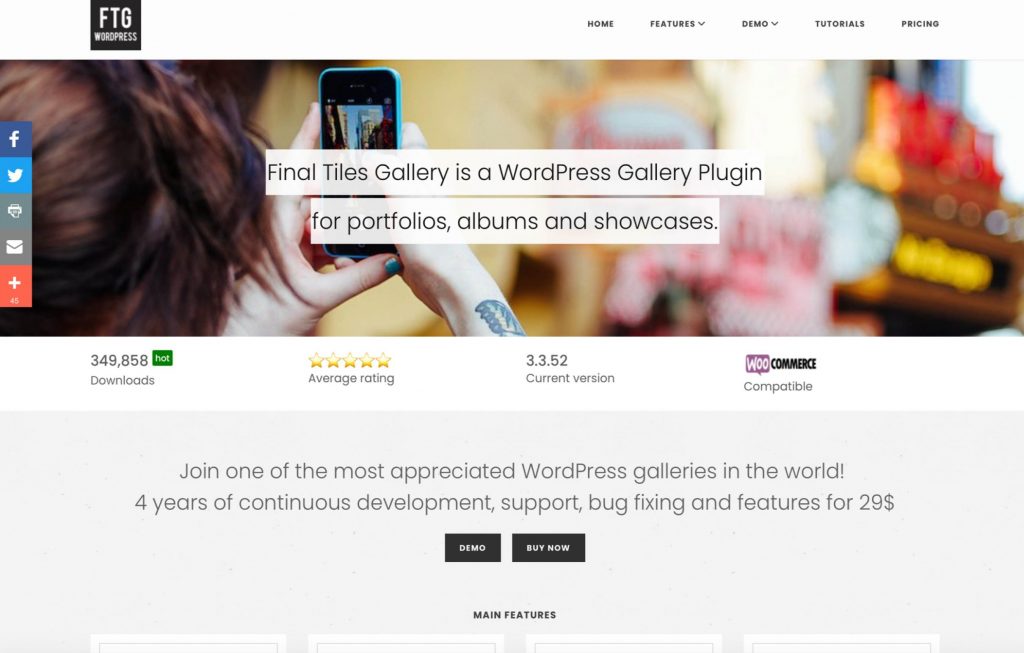 A close relative of Modula, Final Tiles Grid is definitely a plugin to consider when looking for a portfolio plugin. The main thing to mention is its brand-new algorithm that allows your pictures to keep their initial size, so no cropping happens.
This can take your portfolio to the next level. Think of it like a Tetris game. Arrange the different-sized pictures so that they complete each other so that you can capture their true essence and the attention of your site visitors.
This plugin creates fully responsive galleries that quickly adapt to your browser using a smooth and cool animation. This happens even for mobile devices, thanks to the hardware acceleration that takes full advantage of CSS3 properties.
⭐ Final Tiles Grid Features
Well, if we didn't convince you yet, here are some of Final Tiles Grid's features that will help you build the perfect portfolio:
You can use filters and categories to sort your photos according to your vision.
Upload and show as many images as you want, thanks to the infinite scroll feature.
Choose from 7 lightboxes and native support for EverlightBox.
Make your portfolio interactive using the video extension found in the premium version.
Get social sharing so that you can advertise yourself on social media platforms.
Customize your image hover effects by giving them a personal touch with zoom and rotation functionality.
Choose from 2 layouts, the unique Final Tiles, and masonry to give your portfolio the style you want.
Enjoy WooCommerce support.
---
💰 Pricing
It is a freemium plugin that offers basic features to users at no cost and then charges a premium for supplemental or advanced features. The lite version of Final Tiles Grid is comprehensive enough for any beginner to get the work done and start creating a professional-looking website.
However, for the ones who know exactly what they want, the premium version is what you need.
When it comes to powerful features, those pricing plans are different. The more you pay, the more you get.
💡Best WordPress Portfolio Plugin For…
Final Tiles Grid is open-source software that is perfect for businesses and developers. This plugin also comes with WooCommerce integration, allowing you to sell your products.
👍 Advantages

– You can choose between 7 lightboxes to showcase your masterpieces in a beautiful manner.
👎 Disadvantages

– This WordPress portfolio plugin doesn't offer SEO tools to optimize your portfolio and rank it on Google.
---
♟️ GridKit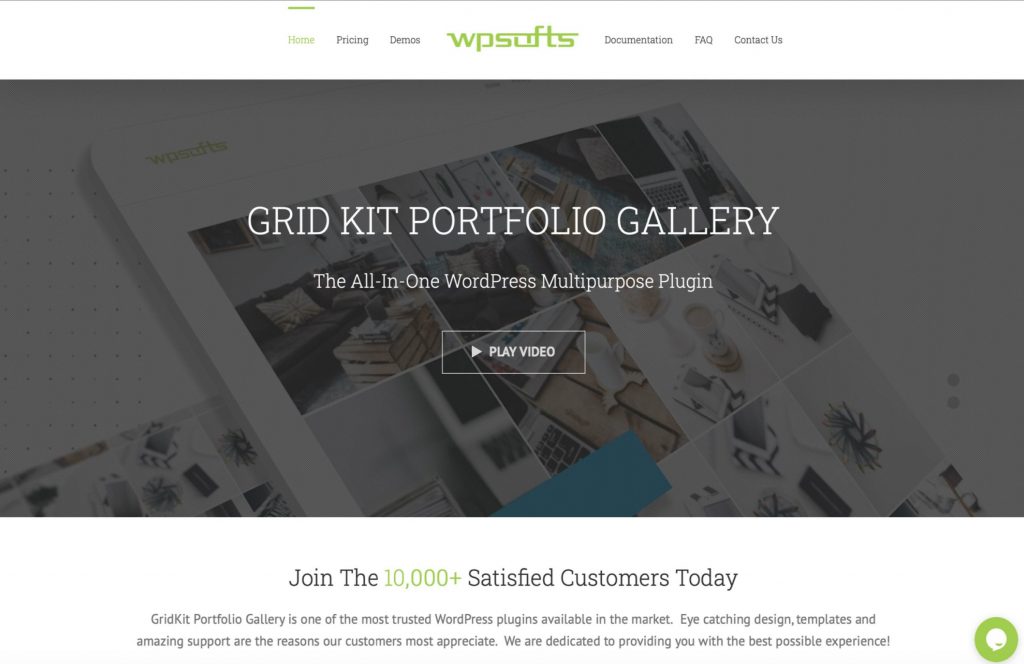 GridKit is a responsive and mobile-friendly plugin that can help you showcase your work professionally and with little effort. There are pre-defined layouts to choose from, carousel sliders, and some very cool embedded extensions.
What makes this plugin even better is that you can display client or sponsor logos, all without having to know a lick of code!
This plugin offers a great selection of features you can use immediately for your website. Demos are available for those curious enough to take a look.
⭐ GridKit Features
Let's see some of the best features GridKit offers:
Over 12 layout styles to choose from.
You can benefit from some cool add-ons like iFrames and Google Maps.
The Premium version also offers video extension, so you can engage your audience better.
Find the right fit for your portfolio with over 100 effects, including hover, overlay, caption, and animation.
Make your portfolio stand out with light or dark pop-up themes.
You have many design customization options, with many advanced options to customize your grids fully.
Paginate your portfolio gallery to make it load faster.
Enable social media sharing.
Make your portfolio SEO-friendly and improve your search rankings.
---
💰 Pricing
| | | |
| --- | --- | --- |
| Plan | What you pay | Supported sites |
| Standard | $29.99 (one-time payment) | 1 site |
| Extended | $49.99 (one-time payment) | 5 sites |
GridKit pricing plans
Their lite version includes everything you need to make a simple portfolio, plus pop-up and short-code add-ons, which, if you ask us, are pretty cool features for the free option.
However, their premium versions of GridKit are pretty appealing, as they are super affordable and consist of a one-time payment. Whichever you choose will definitely pay off.
💡Best WordPress Portfolio Plugin For…
GridKit Portfolio Gallery is designed to build simple portfolio galleries but powerful enough to be used by businesses, professionals, and beginners. You can create any layout using this tool and attract many visitors.
👍 Advantages

– GridKit allows you to showcase sponsors' or clients' logos.

– With this portfolio plugin you can build slider presentations.
👎 Disadvantages

– You can't protect your work because it doesn't have password protection.
---
♟️ Envira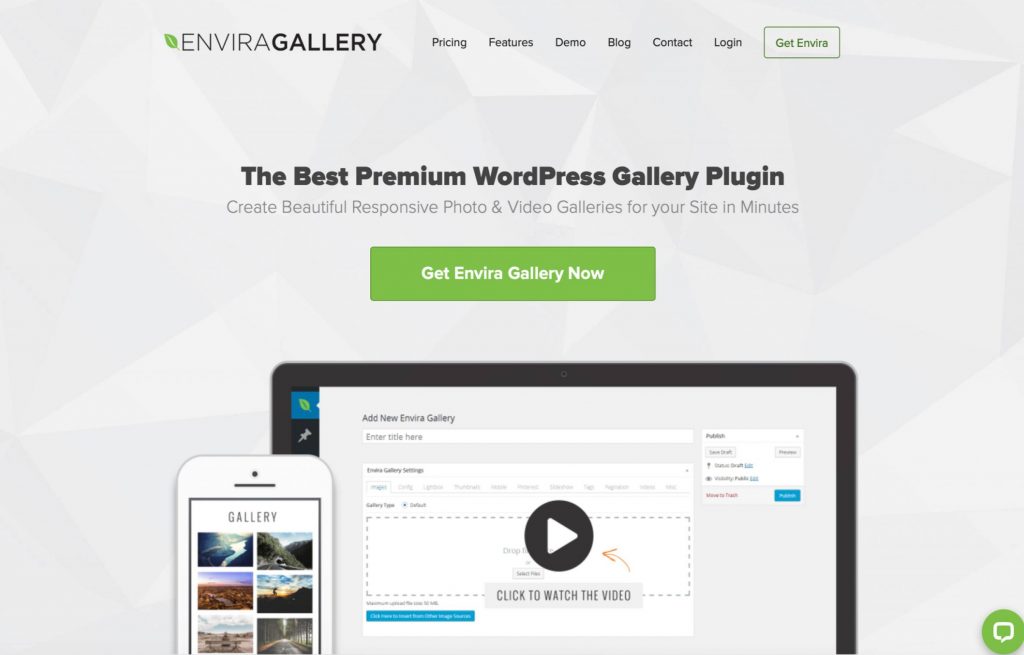 Envira Gallery's whole point is to be a coding-free plugin so that you can enjoy using it without worrying about code.
The only requirement is that you have to use a self-hosted WordPress site because it is, after all, a WordPress portfolio plugin. That said, it's a great way to showcase your best work, and results will appear in no time.
This one comes with a lot of functionality you can play around with to get the perfect look for your portfolio.
If you start using this one, you don't necessarily need a lot of experience with plugins. Instead, you'll get to try a lot of things out.
⭐ Envira Features
Let's see some of Envira Gallery's best features, so we can all agree that this is, indeed, a great plugin:
You can use the Watermarking add-on to improve your images' protection.
If you're using Adobe Lightroom, the Lightroom add-on will be useful.
Some other functionalities that come in handy are Pinterest and Instagram ones, so you can import pictures from your favorite social media platforms and integrate them into your website.
With the Zoom add-on, you can allow people to see your photos in detail.
You can also create galleries used on other types of content with the Featured Content extension.
You can include EXIF metadata.
Share your work on social media with the Social Sharing option.
WooCommerce integration so you can sell your photos with the most popular eCommerce software on the web.
Add a slideshow to your portfolio.
Add video galleries and embed YouTube, Vimeo, Wistia, and other video content in your portfolio.
Take advantage of the pre-designed WordPress templates for customization.
---
💰 Pricing
| | | |
| --- | --- | --- |
| Plan | What you pay per year | Supported sites |
| Basic | $26 | 1 site |
| Plus | $62 | 3 sites |
| Pro | $89 | 5 sites |
| Lifetime | $209 (one-time payment) | Unlimited sites |
Envira pricing plans
You can first try the lite version of Envira Gallery to see if it has features that meet your needs. After that, look at the premium offers and choose the one you find most appropriate for your portfolio needs.
If you choose one of the premium versions, you can benefit from more powerful features such as a slideshow, protection, custom CSS, watermarking, support, and much more to help you get your job done.
💡Best WordPress Portfolio Plugin For…
Envira Gallery is an easy, fast, and powerful plugin that can be used by beginners, professionals, and small businesses. You can take advantage of the built-in drag-and-drop builder and make your website look more visually appealing in no time.
👍 Advantages

– You can automatically create and sync photo galleries from Adobe Lightroom.

– You can create independent galleries that are not tied to your posts or pages.
👎 Disadvantages

– Most features come with the premium version, so you will have to pay if you want to make your portfolio to shine.
---
♟️ Visual Portfolio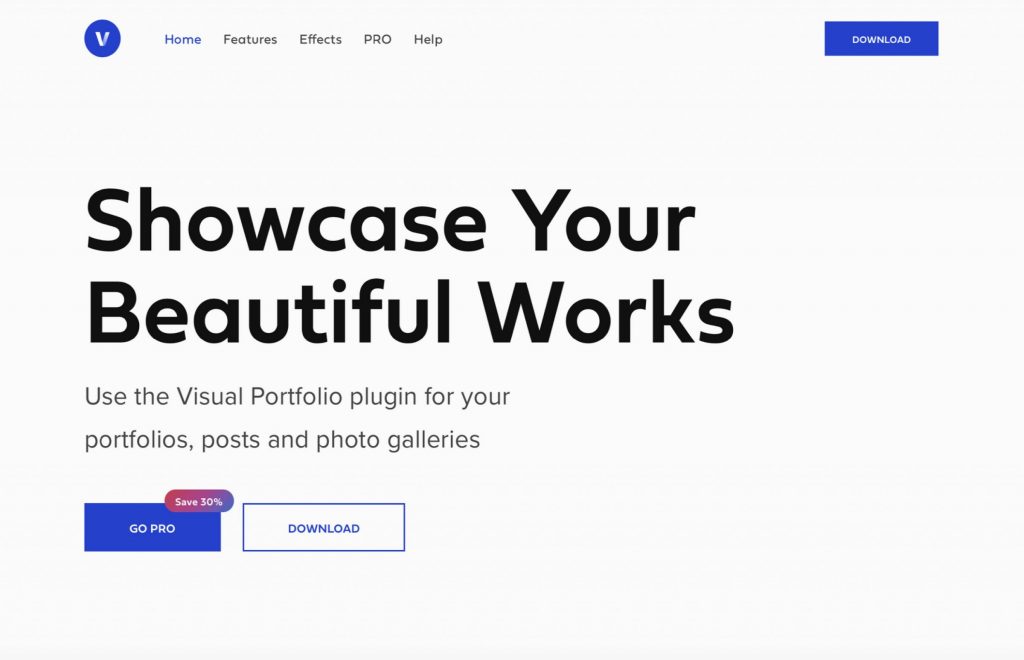 This WordPress plugin offers website owners a great way to create a stunning portfolio with minimal effort. Better yet, Visual Portfolio can be your go-to choice if you're working on a budget.
Indeed, it doesn't offer as many features as other portfolio plugins that are more expensive. But if you're not looking for anything fancy, you can definitely showcase your work in a simpler but still professional manner with Visual Portfolio.
⭐Visual Portfolio Features
Let's outline some of the key features that this portfolio plugin offers:
You can choose between 4 predefined layouts (Masonry, Grid, Justified, Slider).
Upload as many pictures as you want with the Infinite scroll option.
Use the social integration feature to expand your audience reach.
Enable a Pop-up gallery that's Youtube and Vimeo supported.
Filter your photos so people can find them easily.
Place unlimited portfolio layouts on the page with a generated shortcode.
Enjoy GIFs support.
Enable image lazy loading for faster site speed.
Engage your site visitors with stylish interaction effects such as hover tilt.
Boost search rankings that to its SEO-friendliness.
---
💰 Pricing
| | | |
| --- | --- | --- |
| Plan | What you pay per year | Supported sites |
| Personal | $39 | 1 site |
| Freelancer | $139 | 5 sites |
| Agency | $239 | Unlimited sites |
Visual Portfolio pricing plans
Like any other WordPress portfolio plugin from this list, Visual Portfolio has a lite version and a premium one. And if you want to test out the pro version before giving it a spin, there's a 14-day money-back guarantee with a full refund if you change your mind.
There are three premium pricing plans – Personal, Freelancer, and Agency. Each of these options differs depending on the provided features and supported sites. So, what are your needs?
💡Best WordPress Portfolio Plugin For…
Visual Portfolio is made to help every creative, agency, or photographer get access to the powerful tools they need to showcase their beautiful work into a stunning portfolio.
👍 Advantages

– This portfolio plugin comes with beautiful visual effects that will help you showcase your portfolio in a stunning way.
👎 Disadvantages

– It is pretty simple and doesn't offer so many features as other WordPress portfolio plugins.
---
♟️ FooGallery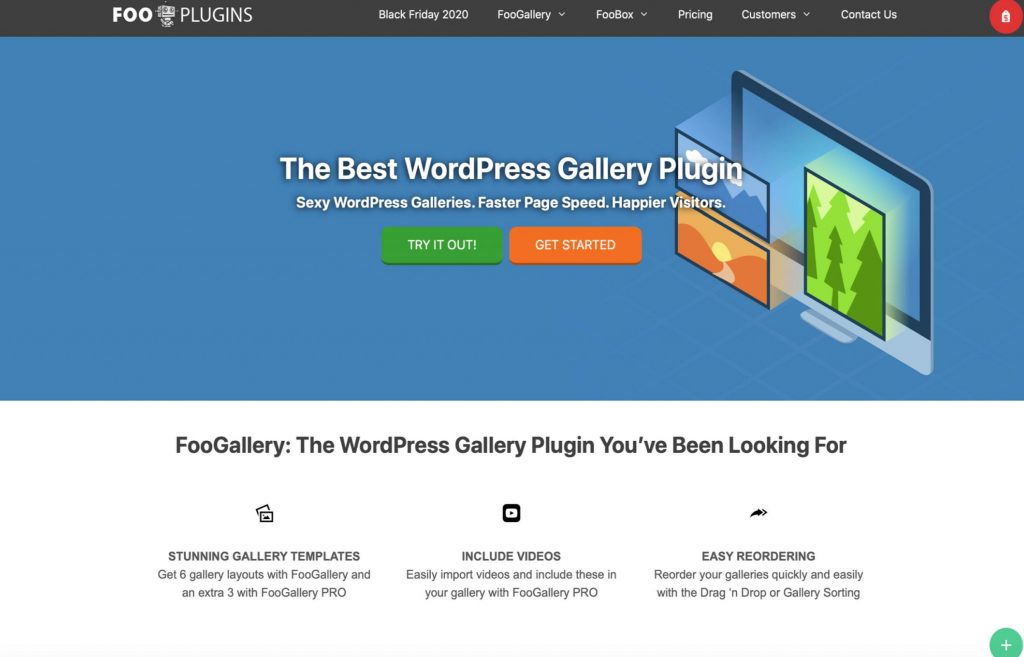 FooGallery is a very well-rated gallery plugin. It has beautiful gallery templates, and it's retina-ready and responsive for all device types, so you can get things done easier than you think.
We know that all plugins offer great features, but choosing the one that speaks to you the most is important. Before convincing yourself you found the right fit, you should look at their demos.
This portfolio plugin functions very well if your website is image-heavy. It comes with clear settings that you don't have to put much effort into understanding and will surely wow your site visitors the minute they arrive on your site.
⭐ FooGallery Features
Let's see some of the features that FooGallery has:
You can customize your portfolio according to your preferences.
Choose from 6 different gallery templates (lite version) plus 3 more for the premium version.
There's a built-in media library.
Load galleries from other sources that you already use with the Dynamic Galleries option.
Choose from 11 stunning hover effect presets.
Include videos in your galleries with the Video extension.
Use deeplinking support for pages and filters.
Organize your portfolio into albums.
Lazy load your images for faster site speeds.
---
💰 Pricing
| | | |
| --- | --- | --- |
| Plan | What you pay/year | Supported sites |
| Pro Starter | $29.99 | 1 site |
| Pro Expert | $59.99 | 1 site |
| Pro Commerce | $99.99 | 1 site |
FooGallery pricing plans
Their lite version of FooGallery is very comprehensive and has plenty of features to play around with for your site's portfolio. That said, the premium features are the missing ingredient your website needs to really push ahead of the competition.
Payment plans for the premium version of FooGallery are either monthly or yearly, and the price range depends on the number of websites you want to use the plugin on. Lastly, though it's not super impressive, there is a 7-day free trial to test FooGallery before investing cash into a premium plugin.
💡Best WordPress Portfolio Plugin For…
For a photographer or graphic designer who's busy doing their job, choosing this plugin will save you a lot of time. Whether you are a freelancer or running a business, this WordPress portfolio plugin will be your best match.
👍 Advantages

– FooGallery offers a bunch of gallery templates to help you beautify your portfolio and attract many visitors.
👎 Disadvantages

– This portfolio plugin doesn't have a social sharing option.
---
♟️ WP Portfolio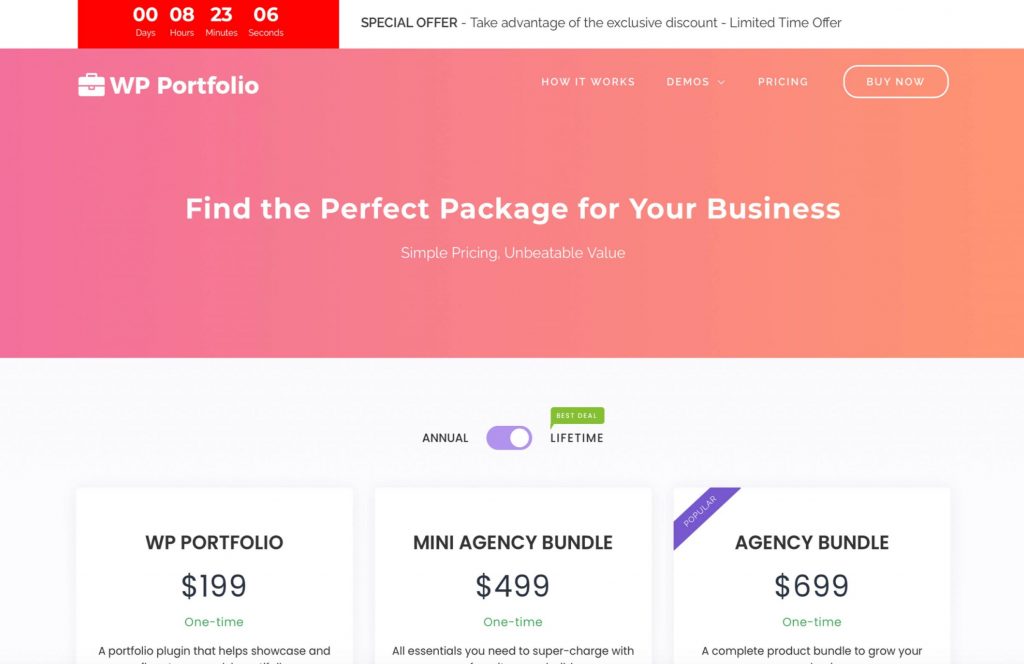 WP Portfolio is the most advanced portfolio plugin in the market. It comes in three versions: website, image, and video portfolio, so you can opt for whichever is better for you.
Another cool thing about this plugin is that you can see demos for all three types of portfolios, so you might get inspired to try more things than just photography or video editing.
They also have a couple more products that can help to boost your website's growth. Depending on your budget, you can buy in bundles or choose a simple plugin version.
⭐ WP Portfolio Features
As we said, you might find features that no other plugin can offer here. Let's see what this is about:
More than 48 inbuild dummy portfolio sites for people without design experience.
Customize almost anything with your portfolio because all payment plans offer access to REST API.
Sort all categories included in your portfolio with the filter option.
For the agency bundle, you get access to SkillJet Academy, complete with training courses directly from experts.
Editable and customizable shortcodes are available to fit your needs perfectly.
---
💰 Pricing
| | | |
| --- | --- | --- |
| Plan | What you pay per year | Lifetime |
| WP Portfolio | $39 | $199 |
| Essential bundle | $169 | $499 |
| Growth bundle | $249 | $699 |
WP Portfolio pricing plans
Price-wise, this portfolio plugin is pretty expensive. They offer monthly and lifetime subscriptions, but we advise you to go for a lifetime. This time, the pricing plans differ only by their provided features.
You can check out the available payment plans and see if you can fit one into your budget. Their features are amazing, but you might want to think this through a little.
WP portfolio has no free version to try out. It offers different packages, but they are all rather pricy, so if your budget is tight, you might have to choose another option. All that said, there is a 14-day money-back guarantee if you want to give it a shot.
💡Best WordPress Portfolio Plugin For…
This WordPress portfolio plugin is the best option for bigger businesses. You can choose one of the pricing plans and take advantage of the most powerful features that are sure to enhance your website.
👍 Advantages

– It comes with amazing features made for portfolios – images, videos, and websites.
👎 Disadvantages

– You won't get a free version. You will have to pay for this plugin if you want to create your portfolio with its features.
---
♟️ NextGEN Gallery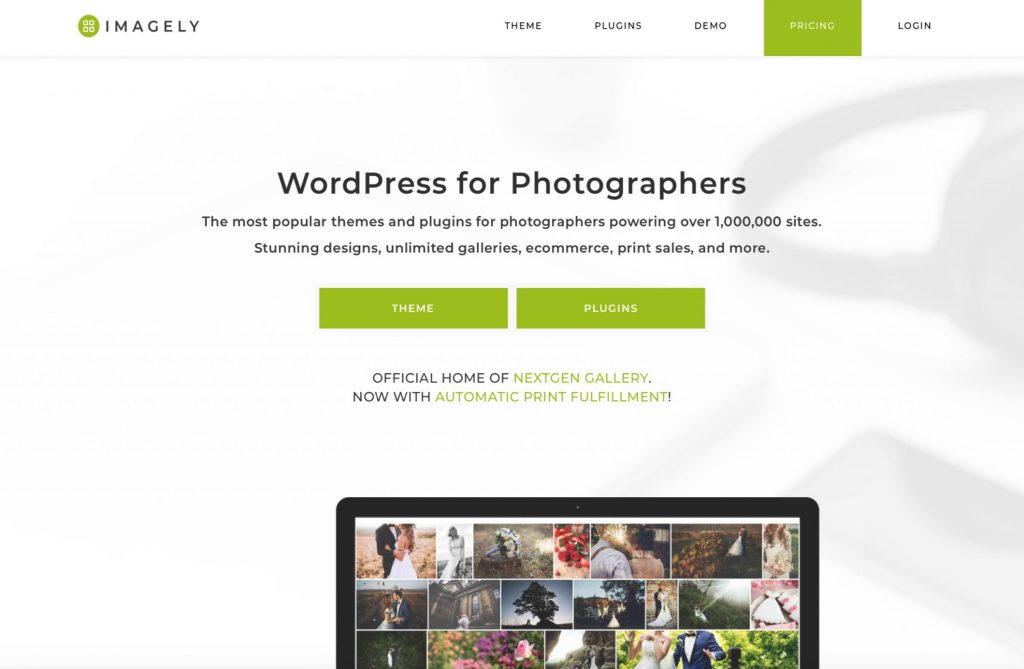 This one is rather old in the plugins industry, being active since 2007. It's simple yet versatile enough to satisfy even the most demanding creatives out there.
NextGEN Gallery ensures your website looks stunning by offering many cool features.
⭐ NextGEN Features
Take a look at some of NextGEN's best features:
Full-screen lightbox, so your work really stands out.
Two types of albums so that you can choose your preferred style.
Multiple upload options.
If you're not decided on the layout of your gallery, you have seven different options to select from.
SEO-friendly for higher search rankings.
People can leave their impressions about your pictures with the image commenting option.
You can protect your content with the image protection feature.
There is an eCommerce integration for those with online stores.
Digital downloads are possible, so you can let your visitors download your images for free or with payment.
---
💰 Pricing
| | | |
| --- | --- | --- |
| Plan | What you pay per year | Supported sites |
| Starter | $49 | 1 site |
| Plus | $79 | 3 sites |
| Pro | $109 | 5 sites |
| Lifetime | $209 (one-time payment) | Unlimited sites |
NextGEN pricing plans
There are three premium versions of this plugin, along with the lite one, that you can try out for free.
NextGEN Plus and Pro are definitely great assets for professionally displaying your best pieces, but they support only three or five websites, making it hard for those with many websites to take advantage of the plugin.
You can opt for the Lifetime plan, though, and you'll get unlimited access to everything.
💡Best WordPress Portfolio Plugin For…
NextGEN is easy to use if you want to create simple photo galleries but is also powerful enough for the most demanding photographers, visual artists, and imaging professionals.
👍 Advantages

– You can let your visitors download your images for free, or with payment.

– Visitors can comment on individual images, share them on social platforms, and deeplink to images.
👎 Disadvantages

– It's pretty difficult to understand how to use it.
---
🏆 Best WordPress Portfolio Plugins: The Verdict
When choosing from the best WordPress portfolio plugins, ensure you know what you're looking for. If you don't have any experience whatsoever with such things, research your options very well. And now for our verdict:
🥇 If you want your portfolio to look very visually appealing, Modula offers the most powerful features.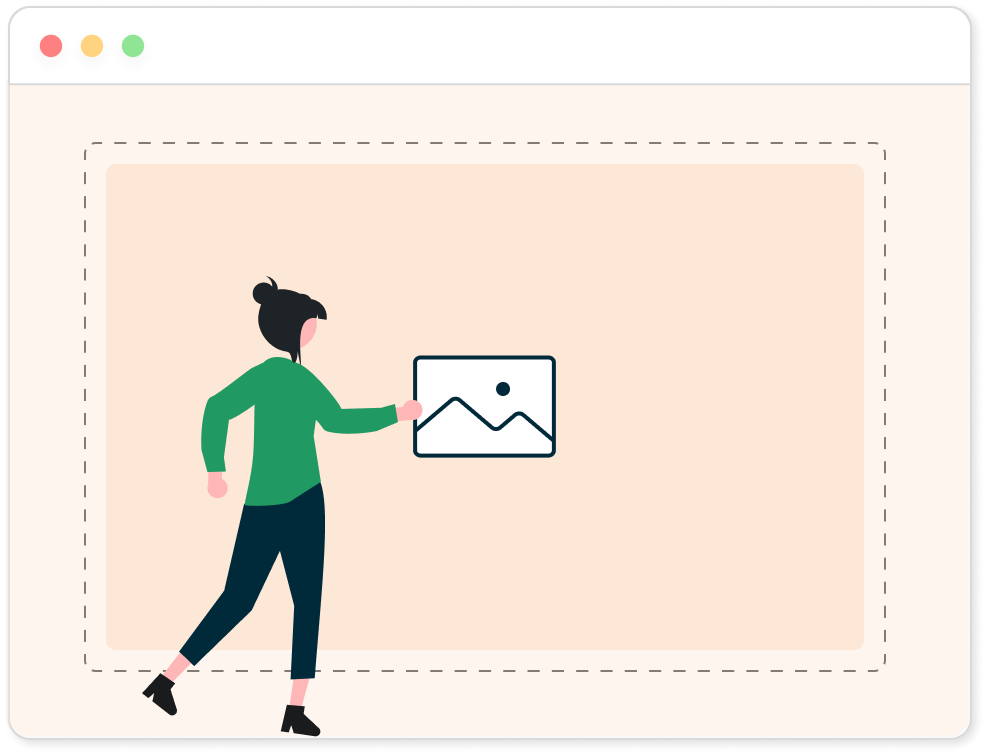 Modula Gallery Plugin
Create stunning, responsive photo galleries with ease. Showcase your work, captivate your audience, and boost engagement. You don't need to do any coding.
🥈 If you need a plugin to help you get the job done quickly and effortlessly, look at Portfolio Filter Gallery.
🥉 If you are looking for a WordPress portfolio plugin that won't crop a pixel from your pictures, choose Final Tiles Grid.
Get Modula PRO
Get the #1 gallery plugin for your WordPress site today!
100,000+ happy users
Hello Cristian, Thank you for compiling the list.

Some of these plugins I personally used. I have also used Portfolio Designer WordPress Plugin.
A portfolio Designer will help you put together some beautiful galleries and impress more visitors.