Do you want to protect your WordPress media files? You've come to the right place!
Sharing your media files with other people on the Internet is one of the best parts, but sometimes you will want to share them with certain people. Moreover, some people will use your photos without permission, so you'd better protect images on your website from theft. But how can you password protect media files in WordPress?
---
In this article, you will find out:
Why use Modula to safeguard your media files;
How to protect WordPress media files using this plugin;
And much more.
---
---
🥁 Why use Modula to protect WordPress media files?
Modula is the most user-friendly WordPress gallery plugin built to make your work easier and increase your workflow. Wondering how a gallery plugin can help you protect your media files on WordPress? Well, you can use three ways:
enable right-click protection,
create password-protected galleries,
and if you are a photographer, designer, or creative, you can watermark your images.
Let's see how it works!
---
🔒 How to protect media files on WordPress using Modula
Before I show you how to protect your media files using Modula, you will need to install and activate the plugin. Let's see how it's done.
🛠 Install and activate Modula
First of all, you need to install and activate this plugin. Go to your WordPress dashboard > Plugins > Add New.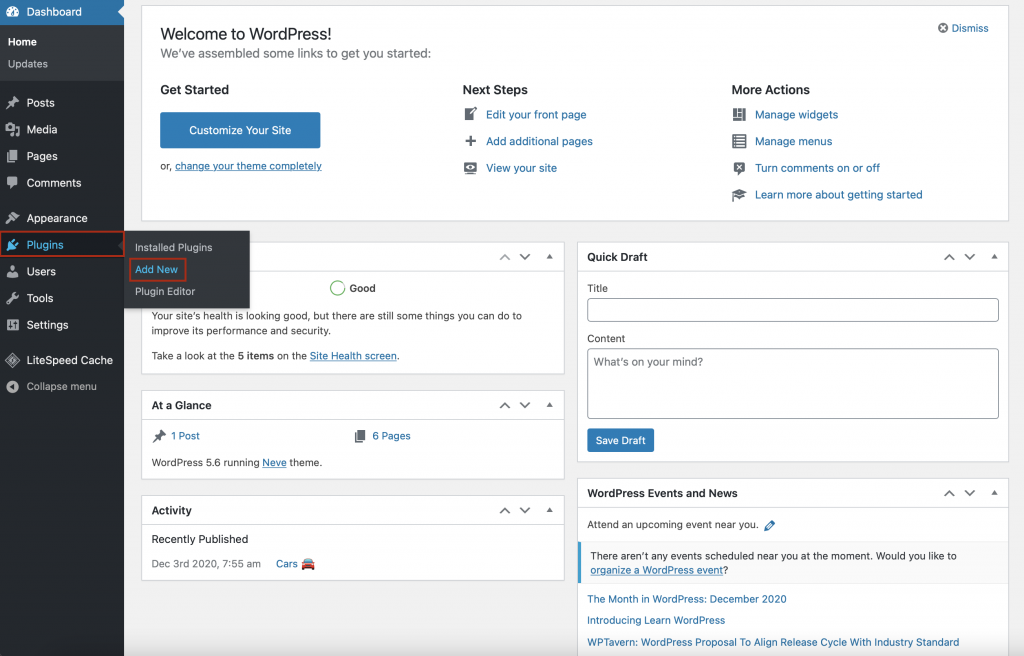 You'll be redirected to a page with all WordPress freemium plugins. In the search bar on the upper right corner, type Modula. When you see it, click Install Now.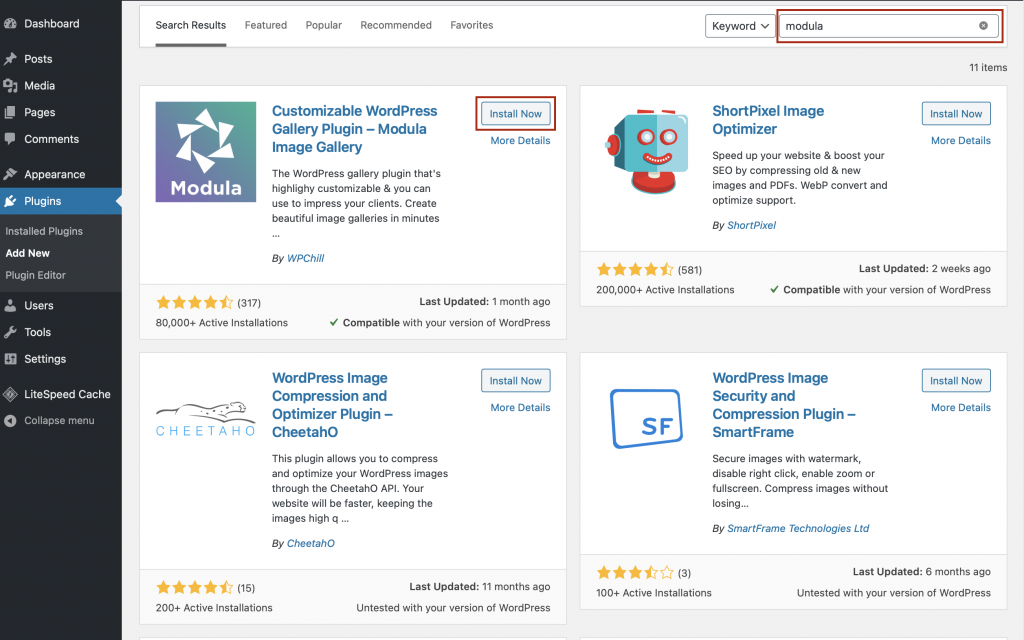 Wait a couple of seconds, and then click on Activate. From now on, you will find Modula in your WordPress menu.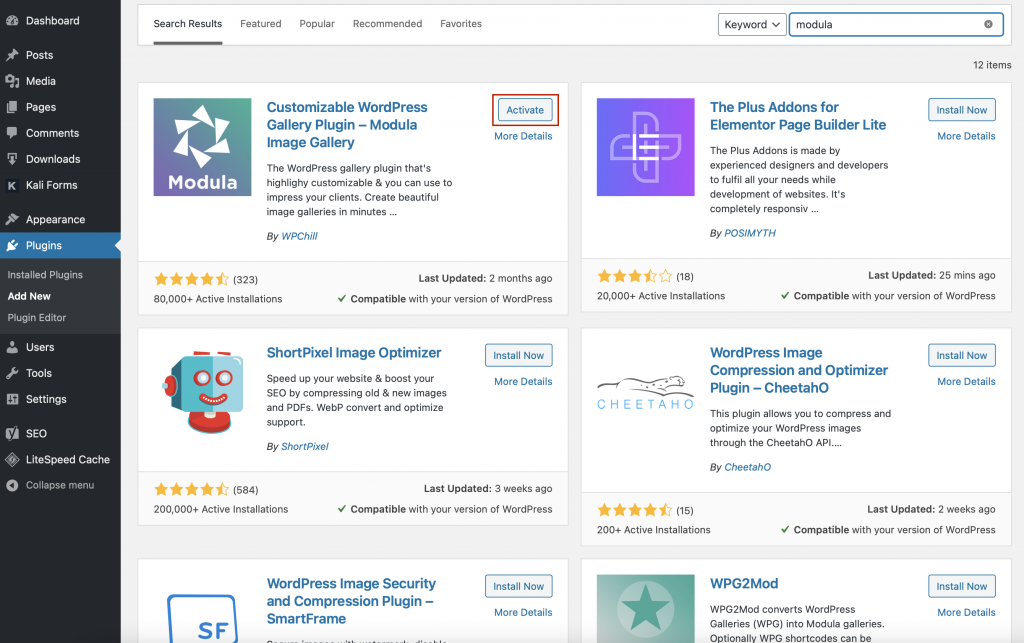 ---
🏞 Create a new gallery
Every time you want to add media files in WordPress using this plugin, go to your WordPress menu > Modula > Add New.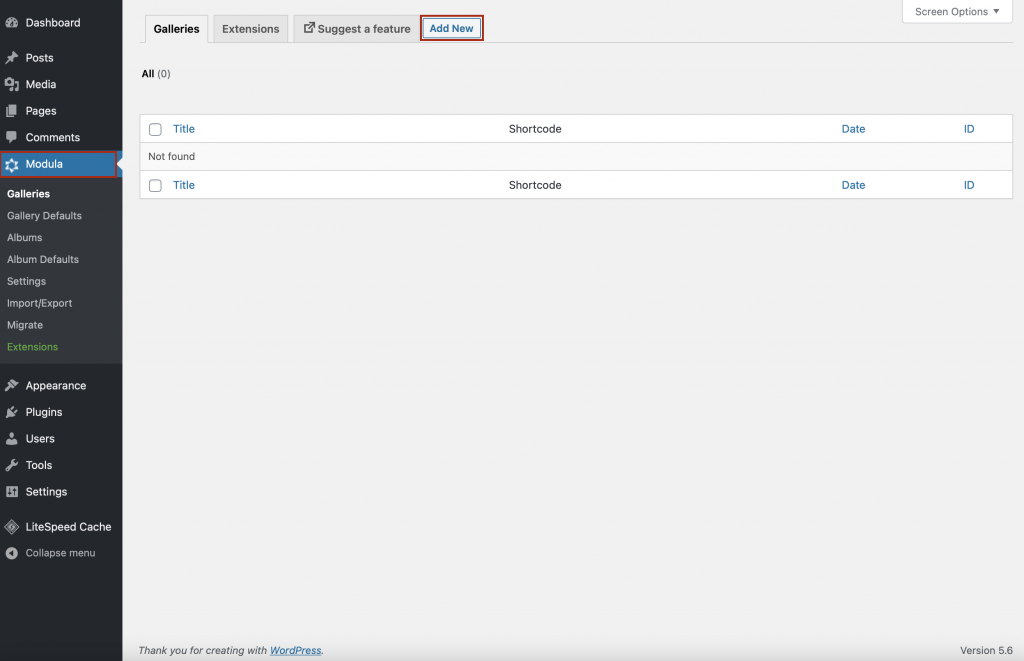 All you have to do now is to name your gallery and start uploading your images, or select them from your WordPress Library.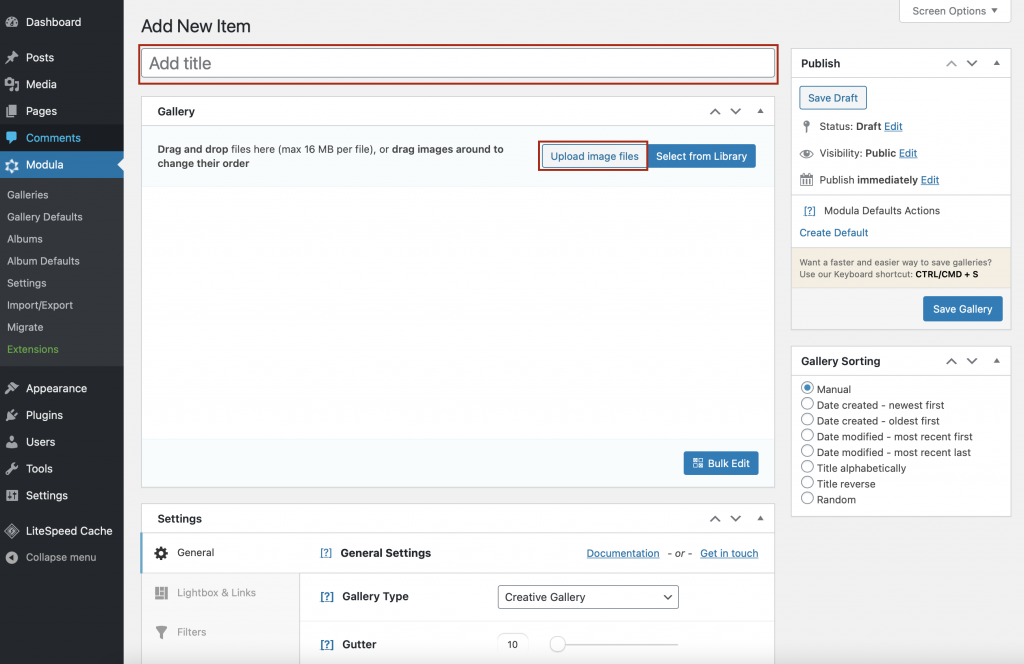 If you want to add videos to WordPress, here you can find out how you can create WordPress Youtube galleries and WordPress Vimeo galleries.
---
🛡 Enable right-click protection
Modula comes with a right-click protection extension that protects your images or videos on your website. Make sure that the Protection extension is enabled and active on your website.
Once you've added your images, scroll down and in the Settings section, look for Misc. Next, tick the Enable protection box to disable right-click and Alt/Option+Click functionality for downloading images.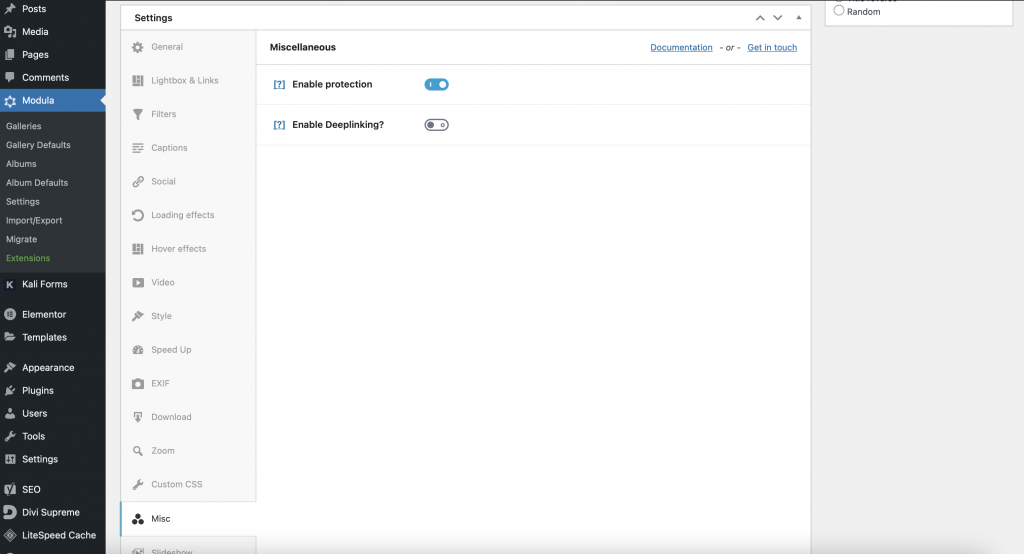 ---
🔏 Create password-protected galleries
Another way to protect your media files is to create a password for your galleries so that only those who have the password can see your pictures/video.
How can you do that? In the Settings section, go to Pass Protect, tick Enable Password Protect, add a password, the username or email address of people that are allowed to view your media files, and a message informing your website's visitors that a password is required.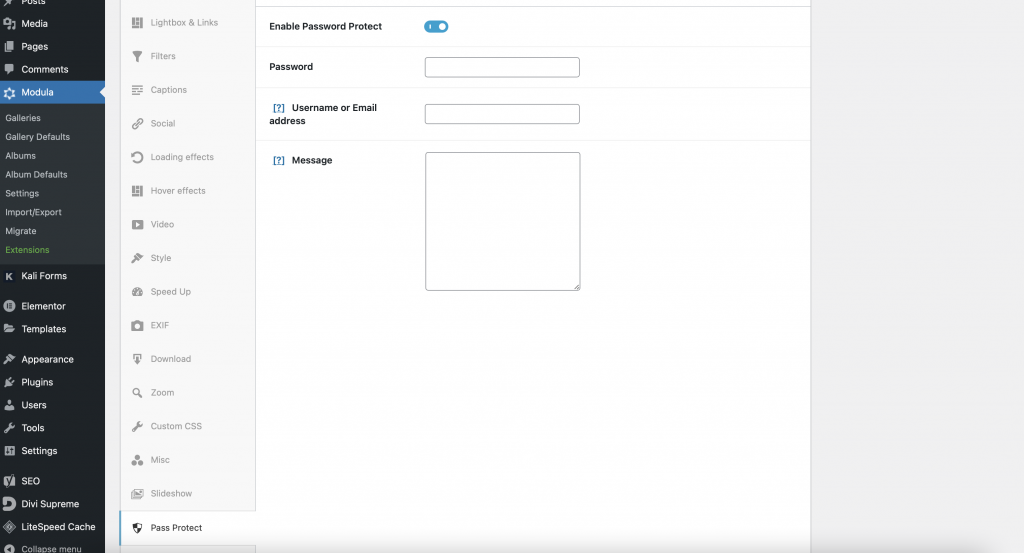 ---
🎯 Watermark your media files
With Modula, you can easily add a watermark to your media files. In the Settings menu, look for Watermark, and you can start adding your watermark image as well as customizing it.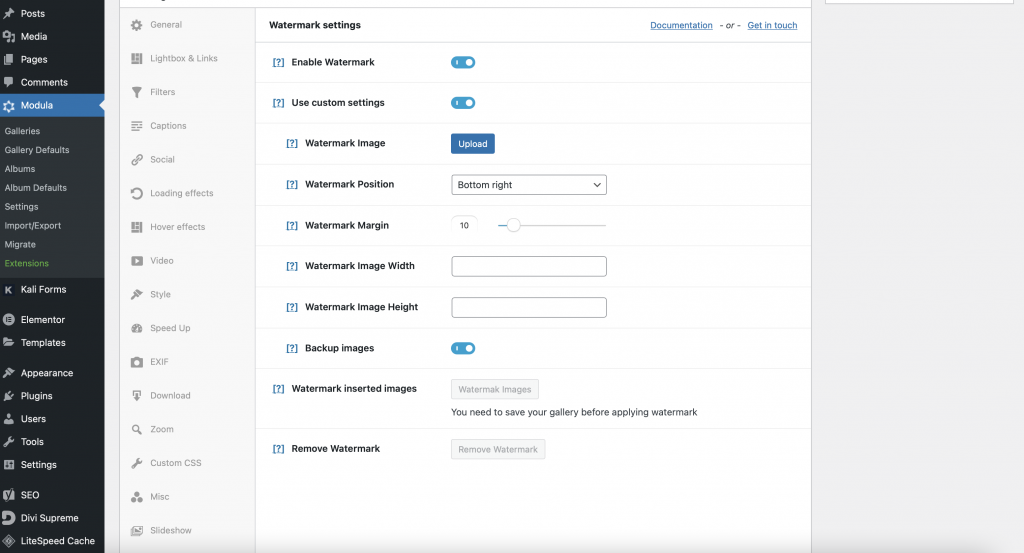 ---
➕ Add more customization
If you want to make the most of Modula, try every feature provided by this plugin and enhance the look of your website.
With this plugin activated on your WordPress website, you can benefit more from:
Gallery features: 42 image hover effects, lightbox gallery, filterable galleries, and 4 image loading effects;
Albums creation – to organize your galleries according to your style;
Social sharing buttons;
Migration tool – to move your galleries to another plugin;
Video extension – to include videos in your galleries or create video galleries;
Speed up extension – to load your images as fast as possible;
Zoom extension – so that your website visitors can see your masterpieces in detail;
EXIF extension – to display data from your image directly into your gallery and lightbox view;
Modula Whitelabel – to replace any occurrence of Modula with your brand name and logo;
Modula Defaults – to create multiple gallery defaults, each with its unique name and values;
User Roles – allow admins to decide which user roles can create, edit, and remove galleries and albums, as well as defaults/presets.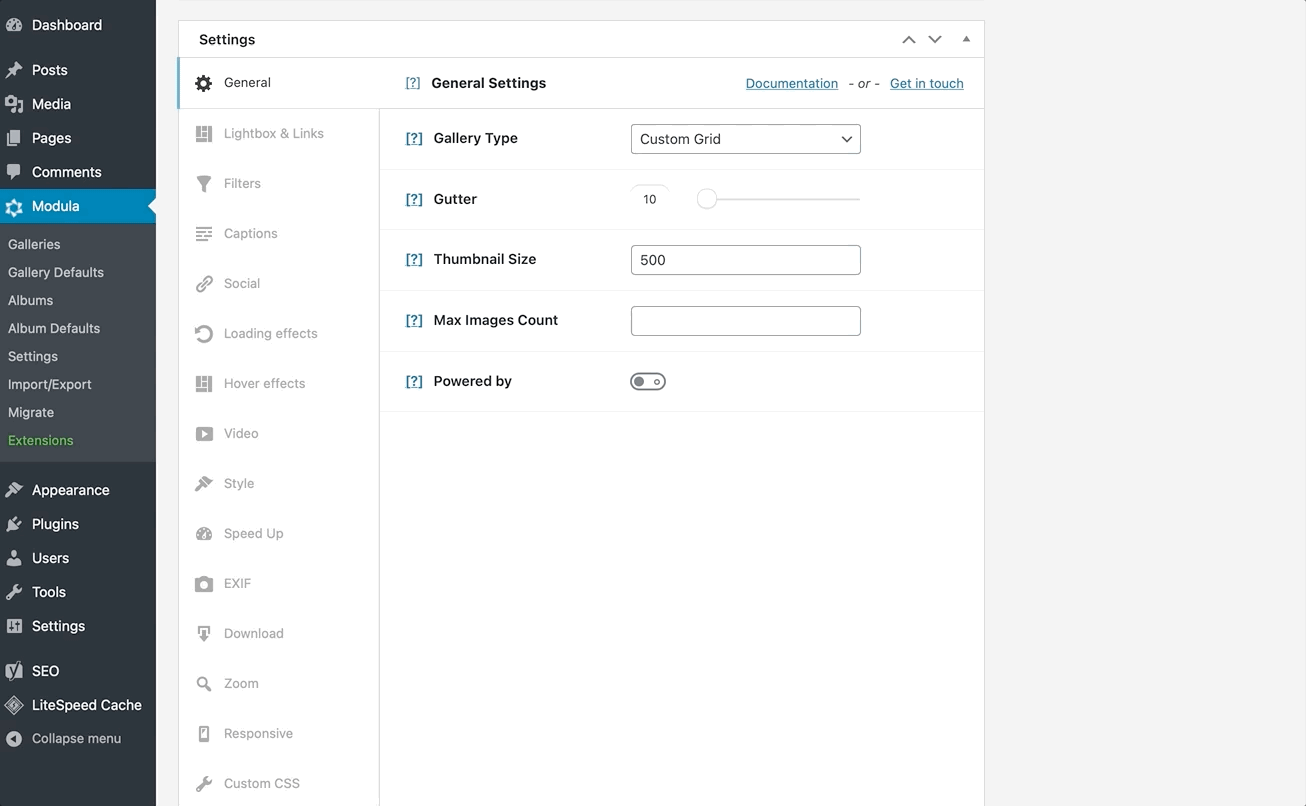 ---
✅ Add gallery to your website
After you tried all Modula's features and your gallery looks as you want, click Save. If you want to add a Modula gallery to your WordPress page, look for a shortcode.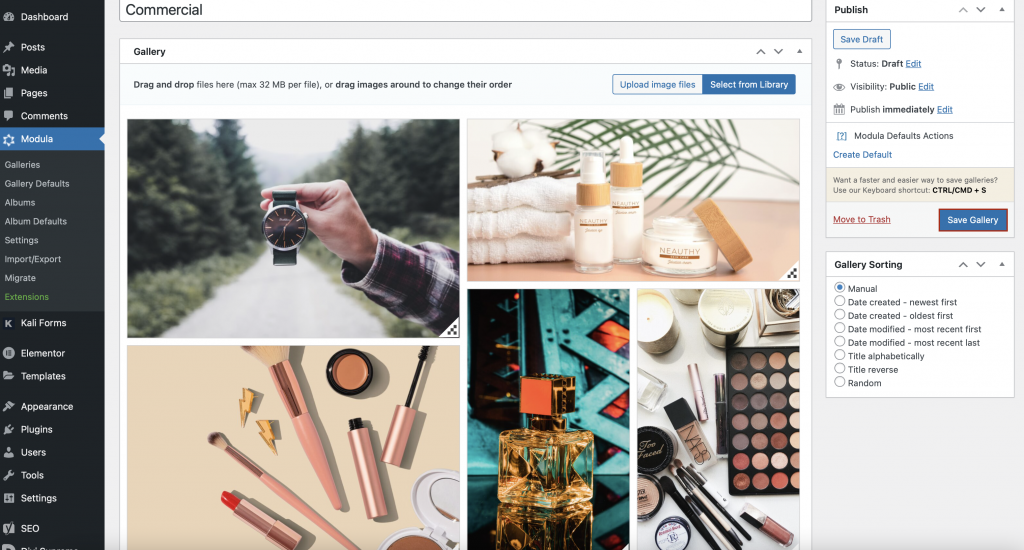 You will see a shortcode with your Modula gallery link, so copy and paste it into a page or post.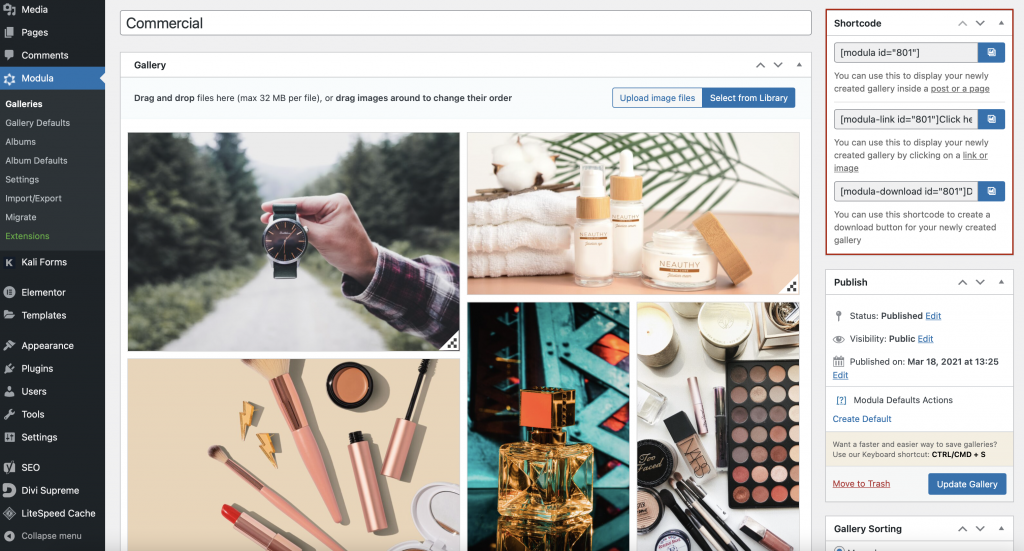 ---
⭐ Final thoughts
Protecting your WordPress media files with Modula is not so difficult. You just have to enable some options, and your files will be safe.
But don't forget that you have to install some of the Modula's extensions if you want to safeguard your images/video.