Over the past few weeks, we have started rolling out a new Modula version with a new image grid type and a single, fully customizable, lightbox script among a range of other amazing features and quality of live improvements.
🚀 Keep reading to find out what's new in Modula!
---
We hope you are all staying healthy and safe during these crazy times we're living.
We've got a pretty big Modula product announcement today. As you might have heard, our development team is very busy with the new version of Modula, dubbed the game changer.
TL;DR: Here are all the new features we've introduced:
The all-new Modula Fancybox integration
Modula's Fancybox advanced options are only available to Modula Pro users! Upgrade today. 🔒
Previously, Modula users could have chosen from 6 different lightbox scripts, without any customization possibility. We have now replaced them with a single lightbox that features advanced customization.

We've defaulted to Fancybox out of the 6 previously supported lightbox scripts because it's the most feature-rich, and has the best support and updates going for it.
This has helped us considerably cut down on our development time as we now only have to support 1 single lightbox library instead of 6. Each lightbox script had its own set of limitations and it was always a pain point for users to figure out which lightbox script would work in their ideal scenario (most use cases – video galleries).
To put things in perspective, here's an excerpt is taken straight from our docs:
For your reference, here's a list of the lightbox styles that the Modula Video extension is compatible with:

Magnific Popup/Swipebox only works with a YouTube link, not with a YouTube embedded link

Fancybox/LightGallery/PrettyPhoto only work with both a YouTube link & a YouTube embedded link

Lightbox: Not compatible with the Modula video extension.

The following lightbox styles are also compatible with a Vimeo link: – Magnific Popup
– Swipebox
– Fancybox
– LightGallery
🤦‍♂️ That was not pretty nor easy for users. On top of the limitations explained above, we also had to implement a lot of workarounds to add feature parity to each lightbox.

One of these scenarios was our filtering functionality. We had to write out a custom filter functionality so it would work properly across the board of those 6 different lightboxes. Albeit, it wasn't perfect, it worked in 99% of cases – with the odd bug here and there.
❤️ Good news – that should now be a thing of the past as we've managed to rewrite the whole thing. It should now be glitch-free.
To summarise this, we've also managed to cut down on page weight and the number of loaded assets per gallery. So, your loading speeds should now be a tad faster with the move to a single lightbox script.
✋ Going forward, we will be officially only supporting Fancybox, starting with Modula 2.3.0. However, for those of you who still wish to use one of those old 6 lightboxes, you will be able to install the Lightbox Addon from the following link: https://github.com/MachoThemes/modula-lightboxes.
🛑 In order for Modula 2.3.0 to work correctly, the following add-ons will also have to be updated: Slideshow, Deeplink, Advanced Shortcodes & Right-click Protection. Please make sure to check the Updates section of your WordPress backend.
Introducing the new, columns grid
With Modula 2.3.0, and forward, we've introduced a new grid type, called columns, in which you are able to choose between 1 / 2 / 3 / 4 / 5 / 6 columns or even an Automatic layout option, that will arrange your pictures in the optimal grid, with just the right number of columns per row, depending on the number of images in your gallery.
This is one of those features the other gallery plugins have been offering as their only gallery solution. Adding this to Modula, it makes it obvious we're now the most feature-rich gallery plugin on the market, offering a total of 4 grid types for the price of 1.
Automated layout structuring for grids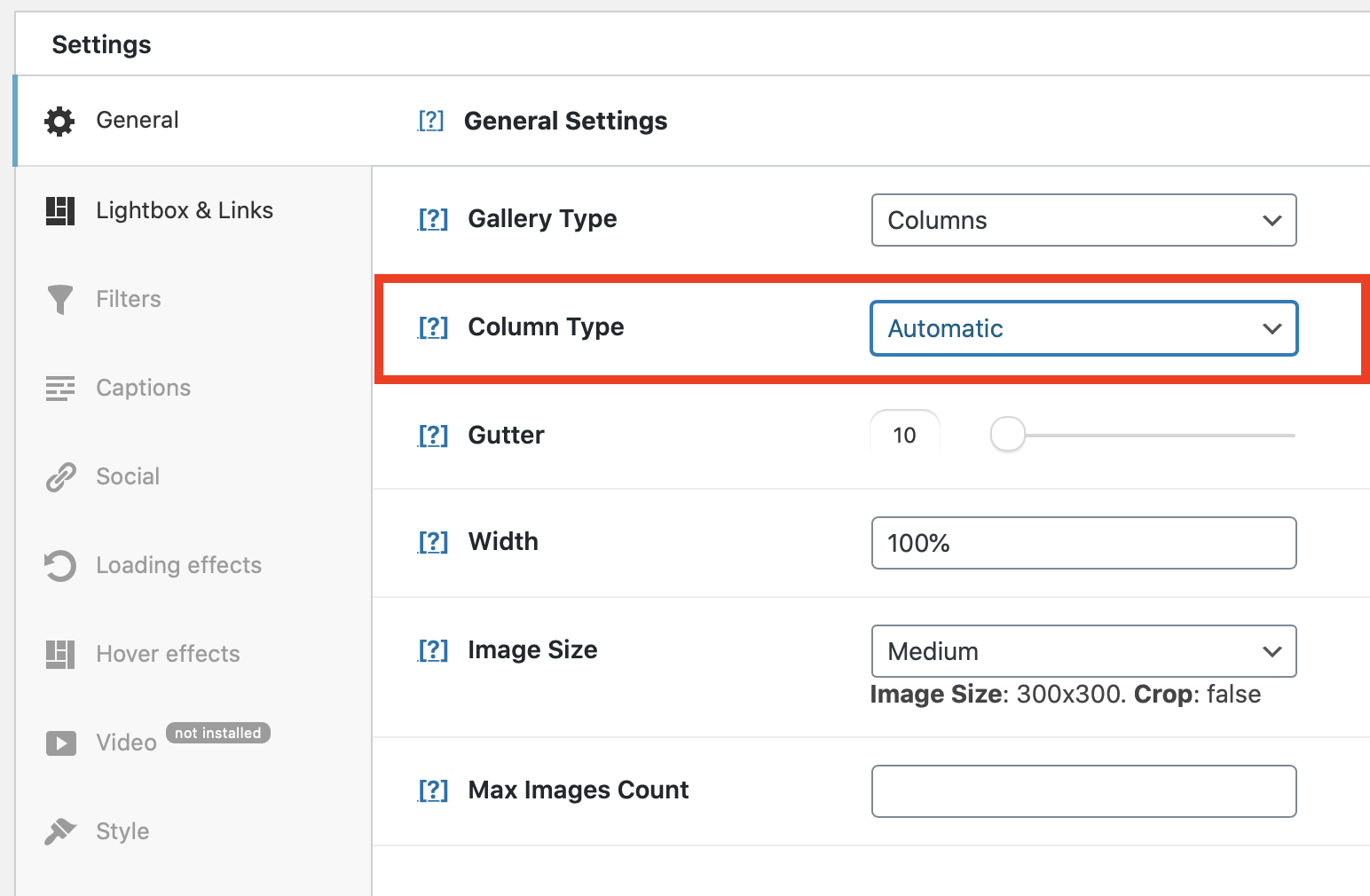 💥 The layout will be fully-responsive across all devices, platforms, and screen sizes (mobiles, tablets, laptops as well as wide screens) and will adjust automatically in line with the number of pictures in your gallery!
Social icons in Lightbox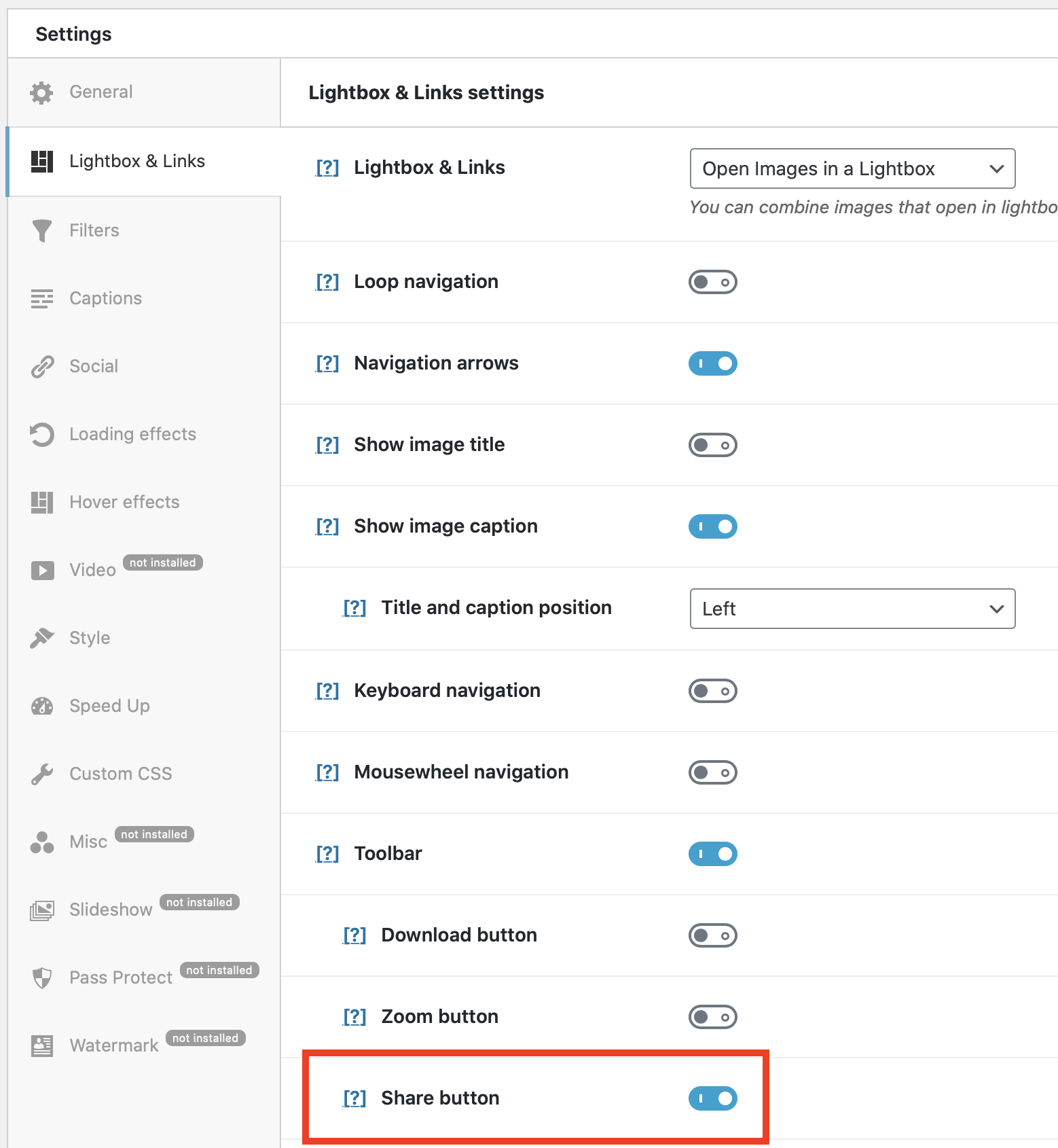 Encourage the visitors of your website to share your amazing artwork with the help of the social icons displayed right in your Lightbox! You worked hard to take amazing shots and work on fine-tuning your angles. You now deserve some moments of glory. Let your audience put you in the spotlight!
Background and opacity settings to Lightbox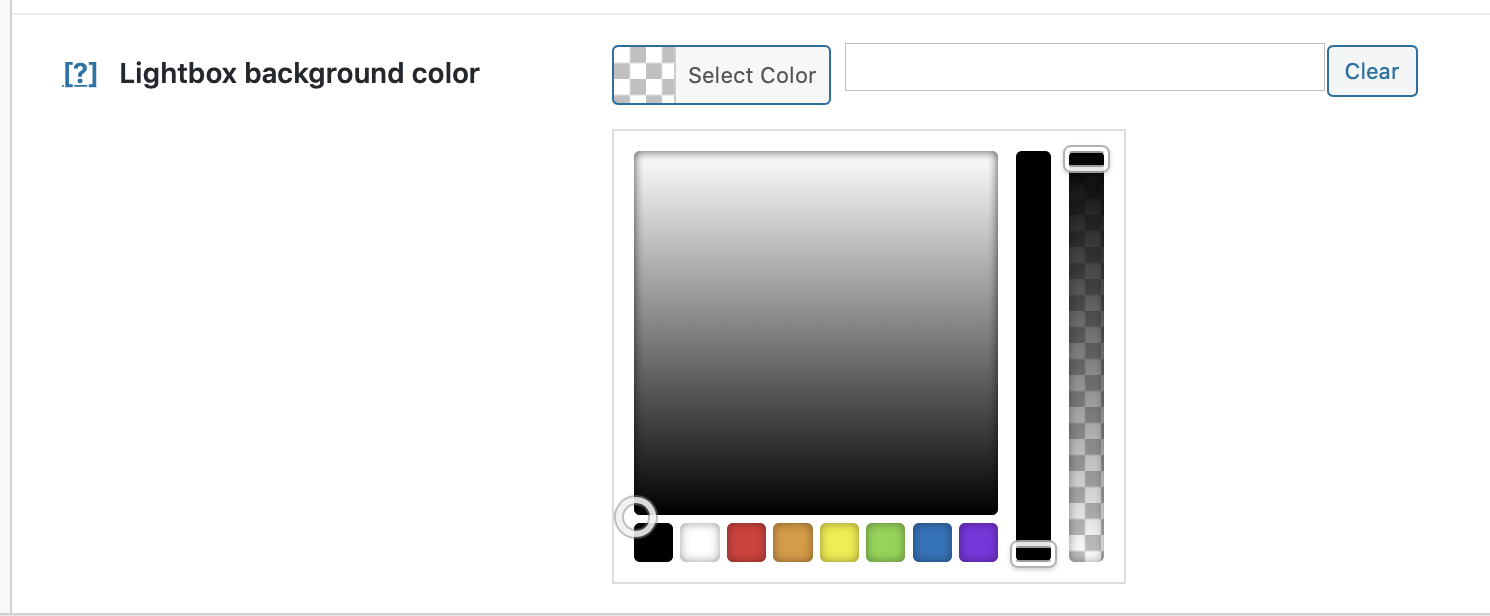 Setting the background and opacity of your pictures is now easier than ever. You can now set this in just a few clicks and instantly preview the changes to your photos when you open the Lightbox!
In-view load functionality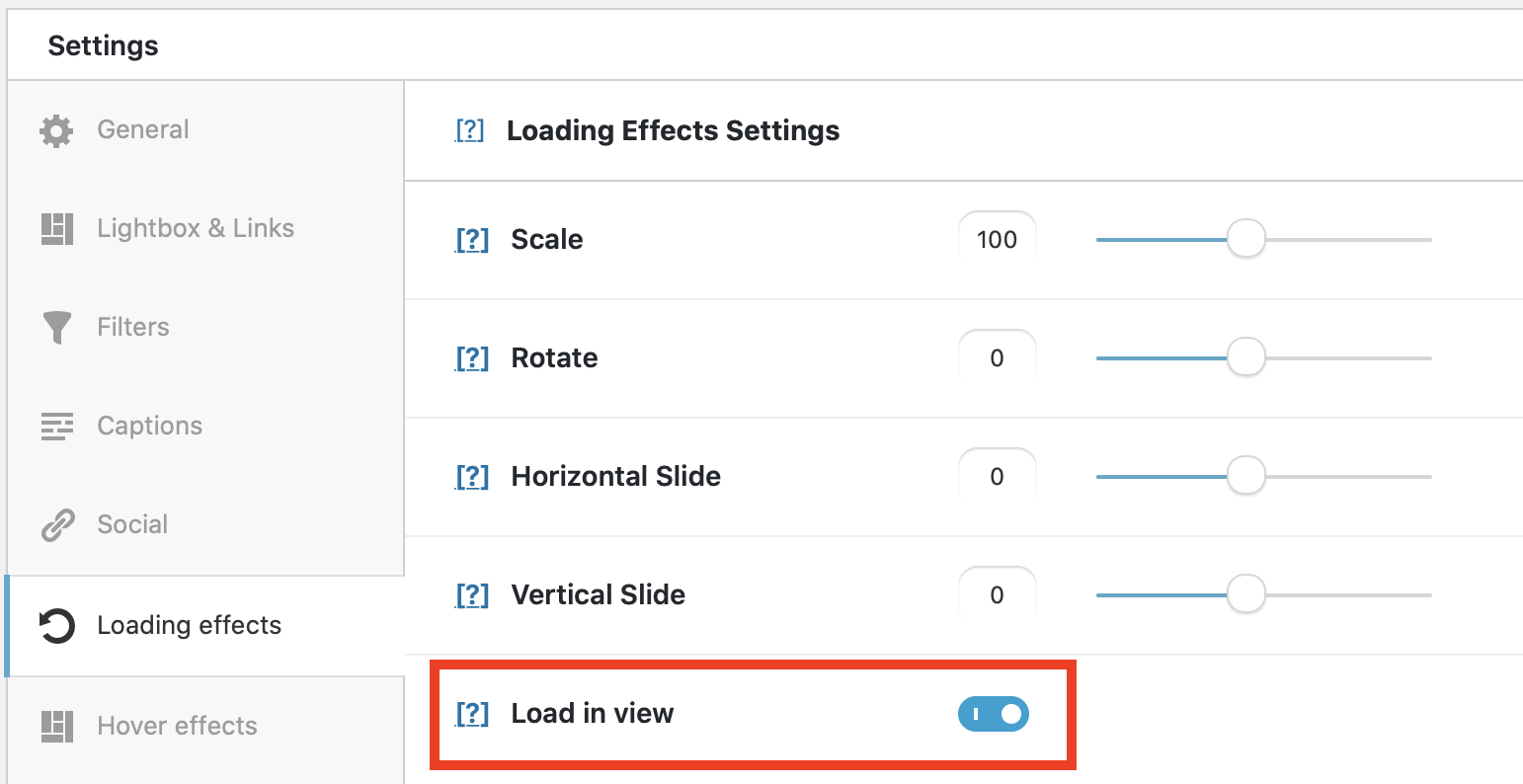 The User Experience of the visitors of your website is now significantly enhanced with this new in-view loading functionality of the Modula Fancybox! In the previous versions, the animations of your galleries were loading regardless of the scrolling position of your visitors in the pages with Modula blocks.
This is no longer the case! The shiny animations that you set on your galleries now load only when the user reaches the section of your page where your Modula block (or shortcode) lives, triggering an eye-candy, visually appealing, instantly-gratifying effect!
Show image title in Lightbox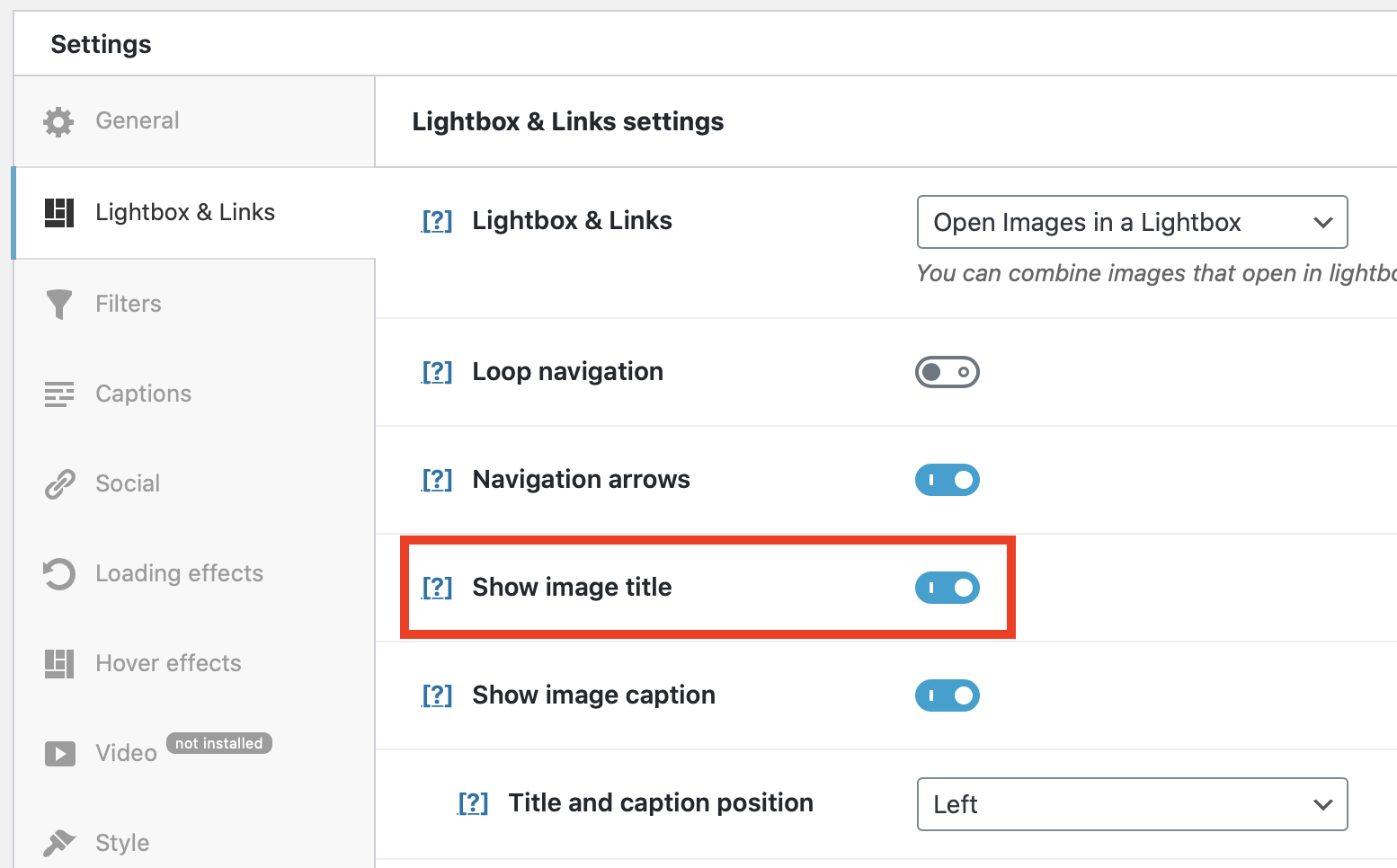 This has probably been a long-awaited feature for you and the visitors of your photography website with Modula! Maybe a picture speaks 1000 words, but nothing broadcasts a more genuine, heart-touching message well enough than an image title. Give your image a title at your fingertips, right from the Lightbox settings!
Modula Lite 2.3.0
Bug fixes and enhancements in Modula free include:
🚀 Modula image files upload / select improvement;
🚀 General improvements over the UI admin interface;
🚀 Faster gallery load times
🔧 Fixed hover effects for images in Modula galleries;
🔧 Fixed an issue that was causing Elementor to open another lightbox
🔧 Fixed overflowing admin bar;
🔧 Fixed Classic Editor popup for in a view without galleries;
🔧 Fixed an issue occurring when selecting a gallery in the Elementor widget;
Modula 2.3.0 Pro
The features listed below are only available to Modula Pro users! Upgrade today.
🚀 Loop navigation option inside Lightbox
🚀 Toggle ON to show the image title in the lightbox above the caption
🚀 Toggle ON to show the image caption in the lightbox
🚀 Ability to position image captions or titles inside the lightbox
🚀 Enabling or disabling Keyboard / Mouse wheel navigation inside Lightbox
🚀 Customizing the toolbar which contains the action buttons on the top-right corner
🚀 Making a slide close if the user clicks / double clicks on the slide (not image)
🚀 Displaying the counter at the top left corner
🚀 Opening the lightbox automatically in Full-Screen mode
🚀 Placing the thumbnails at the bottom of the lightbox. This will automatically deploy the Y-axis for thumbnails
🚀 Ability to select vertical or horizontal scrolling for thumbnails;
🚀 Ability to display thumbnails on lightbox opening
🚀 Ability to choose the lightbox transition effect between slides
🚀 Allowing panning / swiping
🚀 Toggle ON to show all image
🚀 Choose the Open / Close animation effect of the lightbox
🚀 Set the lightbox background color
---
Modula Slider 1.0.2
🚀 Added caption/title under the image
🔧 Admin conditions update
🔧 Slider arrows position fixes
🚀 Added video in slider by using the Modula Video add-on
🚀 Added functionality to make the clickable slider
🚀 Added thumbnail navigator
🚀 Added thumbnail navigator options
🚀 Added support for elementor
🔧 Update to single lightbox Fancybox use
Modula Video 1.0.2
🚀 Added size controls for Video Icon
🚀 Added RGBA color for Video Icon
🔧 Galleries in the backend with video URL will now display the play icon
🔧 Added options conditions
🔧 Check for License and PRO version
🔧 Removed Pro Badge
🔧 Fix play icon color
🚀 Added video in slider functionality
🚀 Added support for Modula Albums
🚀 Added autoplay for videos
🚀 Added support for Modula link shortcode
Modula Deeplink 1.0.2
🔧 Removed Pro Badge
🔧 Update license checking
🚀 Added possibility to put custom URL to deeplink link
Modula Protection 1.0.4
🔧 Prevent opening page source with Ctrl+U/Cmd+U
🚀 Added protection for self-hosted videos
🚀 Added protection for Modula link shortcode
Modula Slideshow 1.0.2
🔧 Removed Pro Badge
🔧 Fix Pause on hover when Modula Protection is activated
🔧 Fixed slideshow in Modula link shortcode
🔧 Update slideshow conditions and child settings
Modula Albums 1.0.3
🔧 Fix albums and galleries conflict – galleries and albums can now reside co-exist on the same page
🔧 Admin UI update and improvements
🔧 Fix video in album – videos from galleries are now displayed correctly in the album
🚀 Added Lightbox icons controls
🚀 Added hover cursor – both predefined and custom cursor
🔧 WordPress Admin bar Modula Albums naming fix
🚀 Added hover padding setting
🚀 Added display alt text in lightbox
🚀 Added possibility to display image caption/title in the lightbox
🚀 Replaced packary JS with isotope JS
🔧 Fixed hover effects
🔧 Fix double lightbox opening when on standalone of the page that has 'modula-album' in article class
🔧 Fix standalone settings toggle checks
🔧 Fix standalone settings albums slug changing
🔧 Updated file structure
Modula Advanced Shortcodes 1.0.2
🔧 Removed the "show all galleries when loaded" setting.
🔧 Texts update
🔧 Gallery link attributes first-time use fix
As you can see, this is a MASSIVE update that we've been working on for the past few months and a lot of great (new) things are coming. If you'd like to stay up-to-date with our updates, make sure you're signed up
If you have questions about Modula, and how we get the all-new features and add-ons running – feel free to get in touch with us.
---
Which feature are you most excited to use?
Contact us and let us know because we're always looking for more ways to make Modula even better if you haven't heard it! 🚀
Get Modula PRO
Get the #1 gallery plugin for your WordPress site today!
100,000+ happy users
So if I update to Modula Pro 2.3.0 on an existing site that uses one of the old-style lightboxes, I will also have to install the Lightboxes Add-on so that the existing pages continue to work correctly until I eventually convert them to FancyBox? Are there any other backward-compatibility issues to know about so that updating Modula Pro does not break the existing pages?

Doug – there's no need to install the Modula Lightboxes for this. Everything will be working fine, automatically moving to FancyBox. However, if you want to continue using one of the old lightbox scripts, then you have to install the Modula Lightboxes plugin 🙂 No backward-compatibility issues that we're aware of. We've done extensive testing for this.

please help my images are going crazy after the update. can go back to the previous version ! please help

Hi,
I ve updated and cannot see my images in front anymore. Backend is fine. What`s wrong?

Any updates or additions regarding pagination yet? Though this is a great product, I have been unable to fully adopt this due to the lack of pagination.

Tech Nicely – not yet. We're laying the groundwork for it though and it'll be here sooner than you'd expect it 😉

So, where is pagination then? lol I just bought the agency license and the first thing I JUST looked for was pagination, but I cannot find it. I am setting max images to 4, and would expect some sort of pagination feature without having to open an image and scroll through the lightbox.

@Simona & @Thomas – please check your email, someone on our support team has already reached out.

/Cristian.

Since the update, the colour does not work on my hover over. So now it is all white instead of pink and since my text is white it just looks blank.

The new lightbox looks good, but since the update I'm not able to navigate through the photos by swiping (on mobile) or using the keyboard arrows (on desktop). At the moment I can't find a solution. Easy navigation is a must-have for all my galleries.

Hi since upgrading the gallery link to Attachment page is not working?

Hi All.
I have the same problem
Simple fix.
Go to your gallery.
In general options reselect the gallery type.
Mine was set to 'Custom Grid'
Click on it again to make that the selected gallery type, even though it's already selected.
Hey presto, back to normal.

Dan, (above)
Go to the Lightbox & Links Settings and turn on keyboard and mousewheel navigation
🙂

@Dan and @Danielle – please check your email inboxes, someone from our support team has already reached out with instructions.

Help – the update has completely messed up all my existing galleries. None display correctly now and all look a mess. Is there a roll back option?

@Simon Allen – please check your email inbox 🙂 Someone has reached out to you!

/Cristian.

Complete disaster after upgrade gallery disappear

You have NO IDEA of the absolute complete mess this upgrade has just made of my client's new website!!!

I used the CREATIVE grid for the 8 galleries – Now All the images are on top of one another and it involves HUNDREDS OF THEM!~ 55 hours worth of work – captions, metadata, etc. Not to mention that when you click on the top image of the stack, the lightbox feature is gone too.

When I try one of the other grids – Custom or Columns, I get this!:

Notice: Array to string conversion in /home/z9biwa3xxs3f/public_html/wp-includes/formatting.php on line 1117

How can I get rid of this awful upgrade and go back without losing all the hours of work I did?

I PAID FOR THE PRO VERSION – this is unacceptable! Please FIX THIS!

@Nas & @Sabine – really sorry for the issues caused. Someone from our support team has already reached out with a fix.

/Cristian.

Good day, please help. After update i have big problem on the site, the images cant load at all! Also i payed for some pictures 20+ and similar and now i cant use it..

This has stopped all my galleries from working and made a complete mess of the site – can you fix this please – Emma

Complete disaster please get back to me asap

Hello! The new update seems to have unlinked my 'attachment link' pages and I get a 'The requested content cannot be loaded. Please try again later.' message, the same as Danielle above I think.

I have the same problem as Nicole. Who can help? It's really urgent.

My client's website lost all galleries, we pretty much relied on your plugin for all galleries.

Please reach me ASAP as this is very urgent.

I've had issues on a large test site after upgrading Modula. I haven't had time to test this thoroughly, but I de-activated the 'Modula Advanced Shortcodes' plugin and the image 'stacking' that @Sabine mentioned and a couple of other issues seem to be fixed. As soon as I re-activate that plugin the issues re-appear.

@luiz @Emma @Nicole @Miri @João @Ida – please check your inboxes, everyone's gotten a reply from us 🙂

We've released another patch so make sure you check for updates and update to the latest version.

For Modula LITE/PRO that should be 2.3.1.

/Cristian.

Hi.

My Modula Pro has been updated to the latest but the Fancybox doesn't give a functional lightbox. No nav arrows, no close mark, etc, with just the clicked image placed in the center of the screen. To go back to the gallery, I have to click the 'back' button. The old 'lightbox' and 'prettyphoto' at least gives a functional one although with no adjustment settings. What should be the fix?

Also, with the 'lightbox' chosen, on the mobile screen, I have to double click the images to open up the lightbox. Is this expected for the 'lightbox' lightbox? If the Fancybox works, will it be a single click?

// Yungjoo

Your update doesn't work with jquery-3.4.1. On jquery-3.3.1 doesn't work either. An error occurs:

" jquery-3.4.1.min.js Uncaught TypeError: e.indexOf is not a function
at k.fn.init.k.fn.load (jquery-3.4.1.min.js)
at modula-wl.js?ver=2.3.1:4″

Modula works on a very old version of jquery-1.12.4 only. Chrome does not recommend using older versions of jQuery. Old jQuery versions are vulnerable!! Before the update, Modula worked fine on jquery-3.4.1. Now it doesn't. What should I do now? Do I need to change jquery-3.4.1 to the old jquery-1.12.4 for all my 150 clients now? Your new version made people angry. Do you see?

@Pavel V – that's so far off what's actually going on. We're using WordPress Core jQuery v1.12.4. You can see that, here: https://github.com/WordPress/WordPress/blob/11fb46d4c6c1ed1348ddc18b5939edeb7b32cde8/wp-includes/js/jquery/jquery.js

All plugin coding standards recommend using the WordPress core jQuery version so you don't end up breaking other things.

More likely, you're using a plugin/theme that's loading (globally, I might add) a jQuery version that's higher than core. That's a big NO NO for anyone else building plugins on top of that themes or having plugins that rely on jQuery co-exist with that plugin.

TL;DR version – you've got a plugin/theme that's just doing it wrong.

Modula works just fine as long as no other plugin/theme you're using is loading a different jQuery version. Mind you, this is a limitation imposed by the plugin development guidelines.

Thanks,
/Cristian.

Hi,
after update ModuloPro to version 2.3.0/2.3.1 I can't edit the gallery – add/delete images to/from the gallery.
In the browser console, error : "TypeError: wp.codeEditor is undefined"

Where did I make the mistake?
Pls help,
Oskar

Our client's galleries are messed up too. We have giant gaps in the creative gallery and it looks like a hot mess. What is the fix?

@oskar & @shannon – someone has reached out to you!

/Cristian.

I am using the Creative Gallery option but all images does not fill up the whole space after the update.

Kindly help.
Elson

Hei,
i dont like new update and want to use old fancybox, thats the way i like modula and payd for it!! Please fix it back!!

OMG! All of my client's galleries have completely disappeared! I assume it's an incompatibility with my theme, Avada! HELP!

The update is a disaster! Where are my filters? I use them to let people navigate through the portfolio. And where is the manual sorting?
I spent hours to make this portfolio look perfect! Please contact asap!

Hi,
I am not sure to understand what happens with my modula account (ID #MOD-3851-2018):
License Modula AppSumo Agency – Activation 1 unlimited Expiration LT
Could you explain ?
Thanks in advance

Also having a nightmare – all galleries messed up and no-one is getting back to me via the contact page.

Everyone should have received an email from Mihaela about this. Sorry for the headaches, most of issues are caused by very persistent caching systems.

Hi Modula,
unfortunately my galleries are messed up, too. Do you have any step by step guide what to test/ do? That would be very helpful. Thanks so much already!

I upgraded to the new version but now the video extension for Pro is marked uninstalled. When I go to upgrade it takes me to the upgrade pricing page on Modula. I'm an active user of Pro currently. Please LMK.

Modula,
I upgraded and now my custom grid galleries don't show up at all. Can I reverse this?

Hello, I upgraded to Modula 2.3.2 but now our galleries don't work.

On our website it says:

Notice: Undefined index: custom-video-icon in /home4/chembe/public_html/wp-content/plugins/modula-video/includes/class-modula-video.php on line 309

On a PHP compatibility checker it says:

FILE: /home4/chembe/public_html/wp-content/plugins/modula-best-grid-gallery/includes/class-modula.php
—————————————————————————————————–
FOUND 1 ERROR AFFECTING 1 LINE
—————————————————————————————————–
321 | ERROR | The constant "IMAGETYPE_WEBP" is not present in PHP version 7.0 or earlier

Could you please assist, I don't know how to fix this?

All my galleries have vanished. This update has created a mess.

Hi, all my galleries are gone, please I need help to fix my website

Hi there, the transitions don't seem to work in the lightbox regardless of the settings. The images just pop up instantly. Cab you please help? Thanks

Hello,
I updated my version to 2.3.6 (previously they were on version 1 ..). Now all my galleries have new [modula id] and not displayed at the website. How can I find out which new IDs correspond to the old ones?

Same here, all my galleries are broken. I've blown out the site cache, and even tried republishing the galleries but nothing seems to work. I put an email into support but still this was rolled out poorly.