10 Best Photo Editing Software for Beginners in 2023
If you've just started your photography business or are looking to set one up, you already know that you need to do some touch-ups to make your photos look professional. It's essential to be all in regarding the looks of your snapshots because this is what recommends you as a good photographer. And because we know how hard it is to find the right tools if you're at the beginning, we'll provide you with a list of 10 best photo editing software for beginners. 
You should be prepared to invest some time in exploring these options because this is the only way to find which one suits you. We'll present you with a number of options to choose from, as well as the benefits of using each one. Let's hop on this journey and find the best pick so that you can get started on your work!
---
What is there to know for a novice?
Well, if you're just at the beginning of this long photography career road, you should be prepared for all sorts of surprises along the way. It's important to know that mastering the skill of editing photos is more important than the software you're going for. This is because there is a significant number of such tools out there, so you're going to find the right one for you – or even the right ones. No one's saying that you should settle for something and never research other options. It's well-known that the ability to use multiple things to your advantage can only bring benefits. 
You can learn and improve your photo editing skills in various ways – you're either in a school program with this profile or taking an online course. You can even learn everything there is to know from Youtube. The possibilities are endless, especially since we live in a period that serves us all the things we need on a tray – you have to make the effort to type it on Google. 
Take online classes
The internet is filled with online courses that wait for you. Just research a bit and find the ones that you think are worth it. It's a great thing that you're just a few clicks away from mastering a skill that you can later turn into a career. And trust us when we're saying that photography is a business that's worth going into if you're also passionate about it. You don't have to work for a studio or a magazine, or anything like that. If you're interested in starting on your own, here is a guide on how to become a successful freelancer in the field. However, if you're not sure what freelance photography is about, read a bit more about it. 
Now, if you're ready to invest a little something in your skills and you're also prepared to cover as much ground as possible, Udemy is a great platform where you have access to tons of courses. They are super affordable and worth it, and they also offer s number of free tutorials so you can expand your knowledge as far as you can.
Watch Youtube tutorials
Some of us have a passion for this domain, but it is rather costly from the very beginning. Photography is not only about having a camera and the skills to edit the pictures. You have to be prepared to invest in buying equipment, which is not always the cheapest. Depending on your niche, you'll need different tools to get the job done.
Many people need a studio, which can be expensive to rent or build from scratch. This being said we all understand the costs of starting your own business in this industry. So, you might not want to invest in photo editing classes from the beginning, even if there are a few dollars involved. This is why Youtube is a great solution. 
The only downside of this might be the fact that not everyone who posts is a professional you can learn from. Or some people are inconsistent in posting tutorials, so you'll only get half of the work done. That's why you should find the proper channels to subscribe to. A. J. Wood is one of the people who offer quality tutorials on different topics, so you can have him as a starting point.
Practice
This is something that sounds rather obvious, but a reminder is always good. Practice is the only way to really enhance your skills and become better and better. Be eager to learn anything that's new and be up to date with the trends. Paying for classes or watching tutorials won't do the trick. Be determined to step up your game and be the best in the business.
📋 Whether you are looking for free learning resources or paid courses, we got your back with this round-up article about the best places on the internet to learn photography.
---
Types of editing software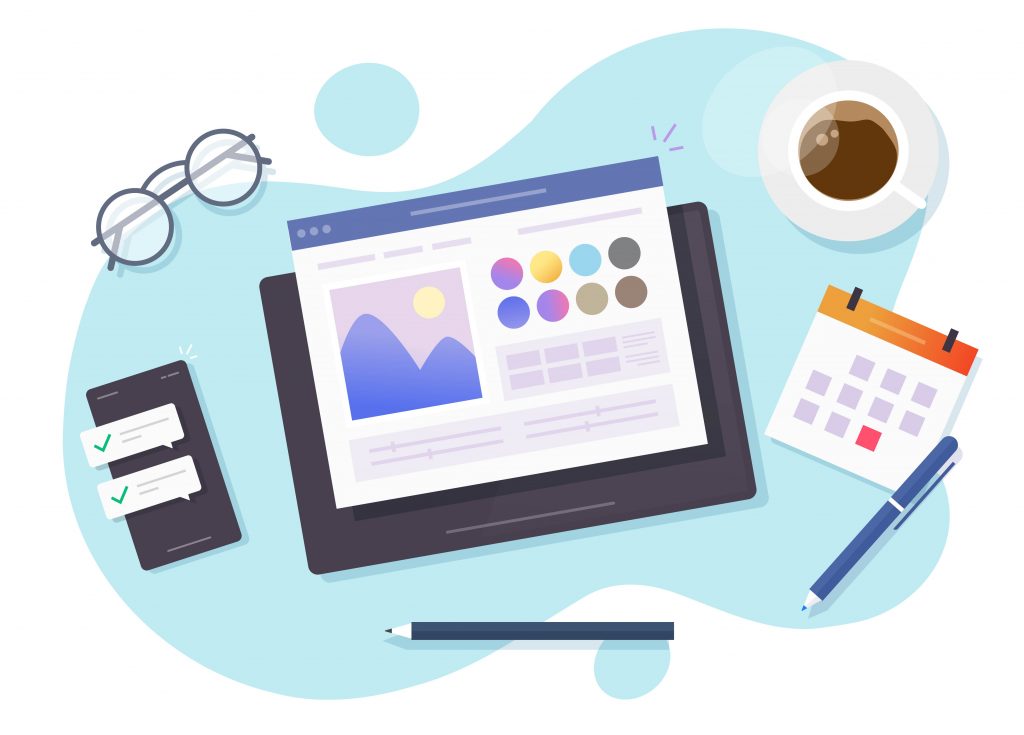 Destructive editing
Even if the name sounds a little scary, fear not like this type of editing helps to improve your photographs, rather than actually destroying them. It is referring to the way the pixels are manipulated. This means that once you edit your photo a certain way after you save it, you won't have the option to return to its initial state – for example, if you want to make a particular area of your picture darker, your action will be permanently written into the image. So, destructive editing changes the original state of the pixels and doesn't allow you to go back. 
Non-destructive editing
As you might have figured out already, this type of editing is the opposite of what I just presented before. Your software will basically create a new file that is linked to the original one, allowing you to preview what the changes you want to make will look like. At this point, you are able to still on your photo so you can improve anything that you feel it's missing. Once you are happy with your work, you will not save the picture, but actually export it, so you can have the original piece and go back to it as many times as you want.
Things to consider
There are certain aspects you need to consider when choosing the right software, even if you're not experienced. It's true that you're not going to master everything from the beginning, but some features are essential so you can give your photographs the professional touch that's going to bring you more clients. Or at least make happy the ones you already have, so they can recommend you in the future.
---
---
Skylum Luminar 4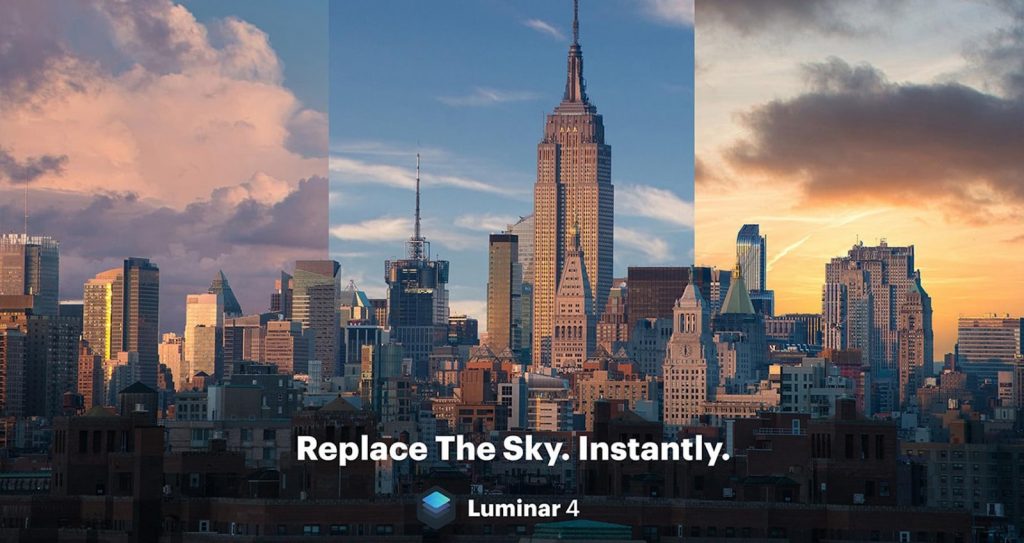 This is Skylum's Luminar latest edition, with a bunch of new features and a freshly redesigned interface to make your life easier than ever. It's perfect for amateurs, beginners, and professionals because you can use any of the tools they offer – in their user guide, they have different categories for each set of features, ranging from essential to professional. Just scrolling through this practical manual gives you a sense of how to work with Luminar 4. 
For beginners, the main attraction might be the fact that its interface is very intuitive, so you won't have a hard time once you start using it. You'll enjoy features such as batch processing – if you have photographs from the same shoot that require the same adjustments, exclusive filters, and full raw support. Besides the fact that it is a standalone photo editor and browser, it's also a plugin for Adobe and Apple products.
However, the main attraction of this software, which came with the release of Luminar 4, is the sky replacement function. It has excellent reviews from the users who purchased and say that this feature only is enough to convince you to use it. 
Some of the most impressive features Luminar 4 offers:
AI Sky replacement tool, so you can adjust the mood of your pictures as you want;
Details enhancer tool, for the photos you want to look perfect to the last technicality;
Sunrays tool, if you're looking for that one-of-a-kind shine;
Dramatic tool, so you can give that specific feeling to your pictures;
Dodge & burn tool to let your creative side roam freely. 
These are just some of the massive deal of tools you're going to get, but they are impressive enough to make this software stand out. 
Things to consider before choosing this software
Although it has great reviews in departments that other software misses, some people that tested it say that it can be relatively slow on large files and the time it takes to save your work might be a little longer. They don't offer repair and geometric adjustment tools besides basic cropping, but this is something you can do in another program. Don't worry, as these things are not major drawbacks,  and you can get used to them in time. No professional use only one software to get the job done, so you'll find yourself adapting to these things in no time once you grasp the knowledge you need. 
---
Adobe Photoshop CC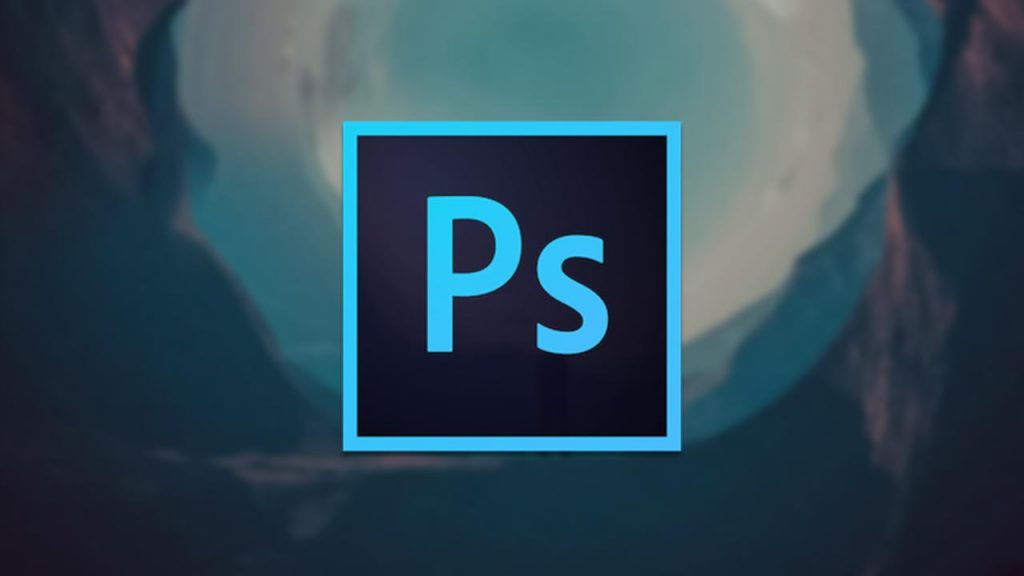 Every single person who is into photography or design has heard of Adobe Photoshop. It's a very popular software, and although it can be intimidating in the beginning, once you get the hang of everything, your editing flow will blow up the roof. They also introduced a "Learn Photoshop" panel a while ago so you can get the proper support and start working. 
It is the industry's standard, so most of the pros out there are using it. This doesn't mean you have to like working with it just because others do. You can give it a try and see if it fits with your style. A thing some might consider is the fact that they also released an iPad version, so you can start your work on your PC and continue on the other device and vice versa, as it stores your progress in the cloud.
With their last updates, you'll be able to work with multiple panels at the same time, use the new Hue slider, which allows you to change color in specific areas of the picture without altering the whole image, and the capability to rotate patterns at any desired angle. These are just some of the improvements they've made in order to make your job easier. 
Some of the most impressive features Adobe Photoshop offers:
Smart Sharpen, to quickly reduce noise and halo effects;
Generator technology, so you can create image assets in real-time, as it immediately updates with any changes that you make;
Intelligent upsampling, for the times you have to work with low-resolution pictures and want to make your client happy;
Color import from web files if you ever need the inspiration to improve your work;
Camera shake reduction for those amazing shots you want to use, but something didn't go exactly as planned. 
Things to consider before choosing this software
Before you choose this software, you need a powerful computer to support it because it will take up a lot of space. Even though Photoshop is one of the most excellent tools you'll find, it also has its downsides. Besides the space problem, it can be rather pricey for a beginner, so consider the investment or start with another software before actually going for this one. 
---
Adobe Lightroom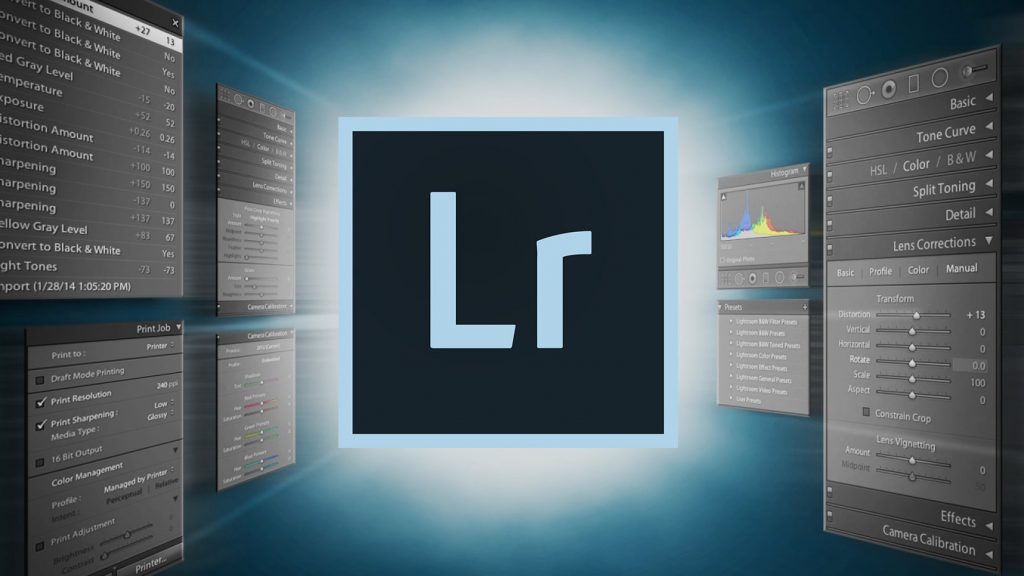 This software comes in handy for those of you who don't want to start with Photoshop directly. Adobe Lightroom is an excellent choice if you're trying our things, such as finding an appropriate style for your pictures or doing the required touch-up with less effort in learning a complicated tool. 
You can import entire folders of photos and start working on them, as this software allows you to edit them in any way you could think of. A great thing about Lightroom is the fact that it supports nearly all formats of RAW files, no matter the camera you're using, so this can be a factor to consider when choosing one of these tools.
Another great thing about Adobe Lightroom, which many people praise it for, is the organizing capability it offers – you can add tags and sort your photos in your own style. It also comes with a lot of storage space, depending on the payment plan of your choice, as well as built-in tutorials so you can start working without the worry that things might get out of control.
Some of the most impressive features Adobe Lightroom offers:
Transfer image settings from one image to another to make your work easier and save some time; 
RAW file editor so that you can correct exposure and white balance in your shots;
Post-crop vignette to produce natural-looking vignettes or remove the ones created by the lens;
Graduated filter so that you can bring back to life overexposed or darkened pictures;
Local hue adjustment for the times you want to give a twist to certain objects.
Things to consider before choosing this software
Even if this sounds like a dream for beginners, it has its downsides as well. It's not a surprise, as all tools do, but make sure these are not holding you back from doing a great job. Like Photoshop, it can be a little too expensive for the taste of a beginner, primarily if you've never worked with editing software before. This and the fact that you get a limited number of portrait editing features can be enough for some to look for something else. The choice is yours, but make sure you at least try their free version. 
---
Photopea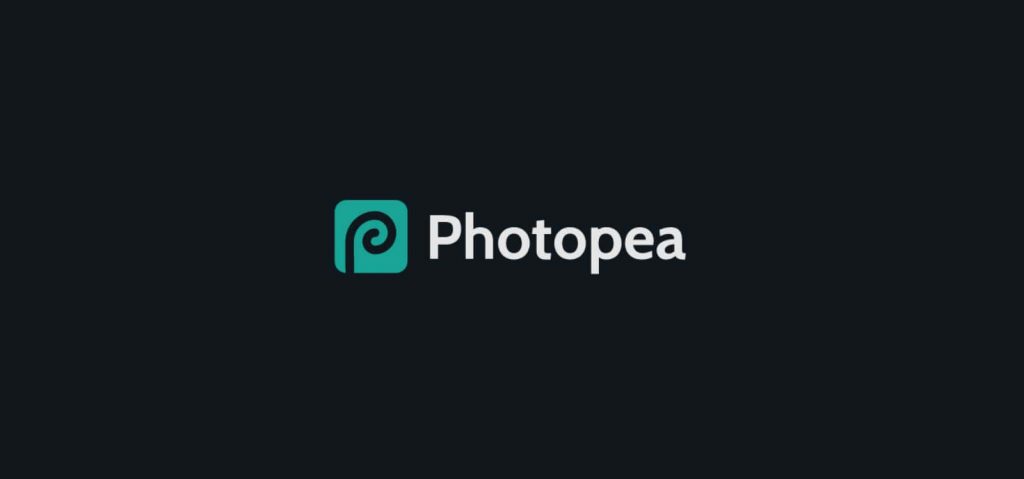 This one could win the hearts of many, as it is internet-based and completely free. If you give Photopea a try, you'll see that it is super similar to Photoshop in many ways. Their drop-down menus are indeed organized differently, but the similarities we're talking about are in the features the software offers. 
If you want to discover more tools that are similar to Photoshop, just like this one, check out our article dedicated to this.
They offer a lot of tutorials, so you can benefit from a lot of things while using this tool. It's a great option when you don't have access to a computer with another program installed but need to get the job done – you only need an internet connection. 
If you're not planning to use it forever, consider it a temporary option. You will get the job done, work with photo editing software for beginners, and as a bonus point, if you transition to Photoshop, it will make everything easier. That is because of those similarities we told you about that will help you better handle Photoshop once you decide to use it. 
Some of the most impressive features Photopea offers:
Refine edge tool for the times you have to work with complex shapes;
Vector graphics option that offers a great range of tools so you can experiment as much as you want;
Smart tools, such as spot healing brush and patch;
Color spaces so that you can work with the original coloring of your photo;
Automation, for recording your previous work and applying it to other documents later.
Things to consider before choosing this software
This one is great to start off with, but not to use forever. Even if it sounds fantastic – online and completely free, with remarkable similarities to Photoshop, it is not as comprehensive as other photo editing software. It has all the basics, which means that your work will look stunning, but if you want to grow and learn new things, you might consider switching to another tool after a while. 
---
Corel PaintShop Pro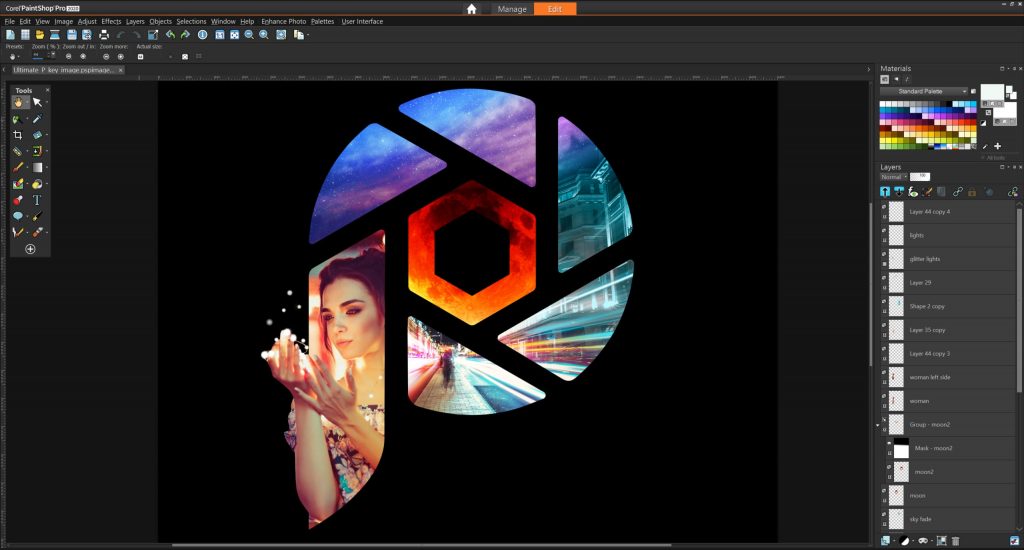 If you're really ambitious from the beginning, you can take Corel PaintShop Pro into account. It's great software with many functionalities to help you become the pro you aspire to be. Yes, it's true that it's not the most straightforward program to master from the beginning, but if you're the type that practices until there's nothing left to learn, you'll definitely find your way with this tool. 
Their support section is filled with helpful information and tutorials on various themes, so you don't have to worry about these things. Besides this, as we recommended, you can opt for courses or Youtube tutorials that will be your little helpers along the way. 
Some of the irresistible features that this software offers are suitable for both photographers and graphic designers. It's true that if you're here just for the photo editing part, you won't need the digital painting tools – but who knows when you'll decide to switch sides? This can come in handy for anyone at any time. 
Some of the most impressive features Corel PaintShop Pro offers:
Art media, if you're looking to turn your photos into paintings;
Flaw removal effects, so your portraits look stunning; 
SmartClone, to combine elements from different pictures into one amazing piece of art;
Refine brush for the smallest details that make the difference;
Creative design power to get inspiration from the built-in templates they offer.
Things to consider before choosing this software
This software is comprehensive and powerful enough to help you with any tasks, but remember the fact that you'll have to pay for most of the features offered. They have multiple payment plans, and with those come more and more options you can use – so this can be a little tricky. Other than that, only one more thing that can be a significant drawback for some: it is only Windows supported. Think it through before making a choice. 
---
Corel AfterShot Pro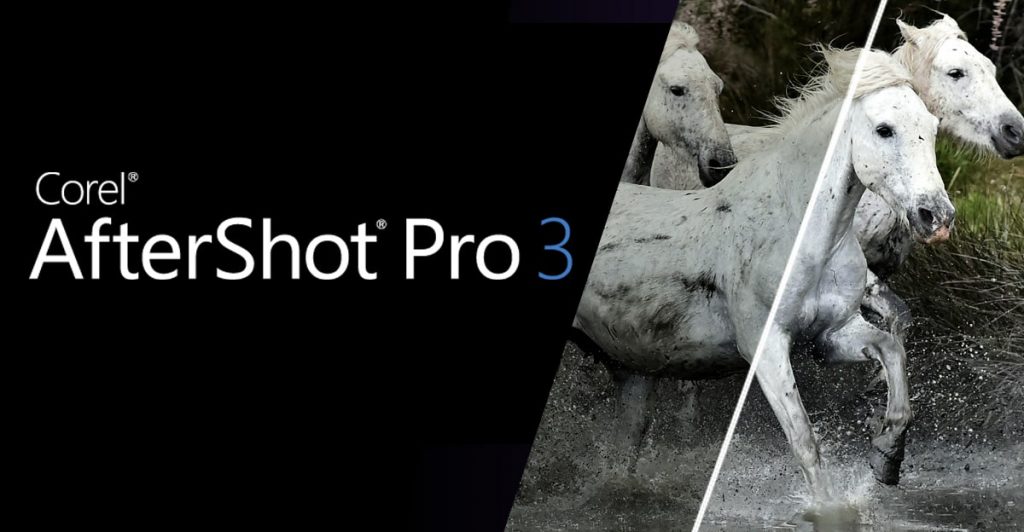 This is a software that's perfect for beginners because of its ability to do multi-version editing. A feature like this allows you to experiment with different effects and edit settings without damaging your original photo. 
Corel AfterShot Pro has a friendly interface that is great for newbies and offers a great range of functionalities that you'll need to learn as your start on this path. You can also watermark your pictures so your work doesn't get misplaced and used by someone else in the wrong way.
A great thing that received many positive reviews is that this program uses tabs instead of modules, making the process easier. It is a tool that goes for speed rather than super-advanced settings. It is a great thing for those who know exactly what they want and don't have much time for it. 
Some of the most impressive features Corel AfterShot Pro offers:
Lens correction development kit to make your own lens corrections;
Highlight recovery so your overexposed photos regain their beauty;
Blemish remover for those important touch-ups; 
Image preset library, to save time from doing that repetitive job for pictures that need the same edit;
Comprehensive watermarking, so your photos are safe from theft.
Things to consider before choosing this software
People who used and reviewed it have some complaints about how this software looks and behaves. To be more precise, it is very fast, as we said, but offers pretty basic features. And in terms of looks, they didn't bother too much to embellish it, but rather make it user-friendly – which is a great thing until you get used to it. Or until you try other programs that look more professional. But if these things don't bother you at all, this might be the one for you.  
---
GIMP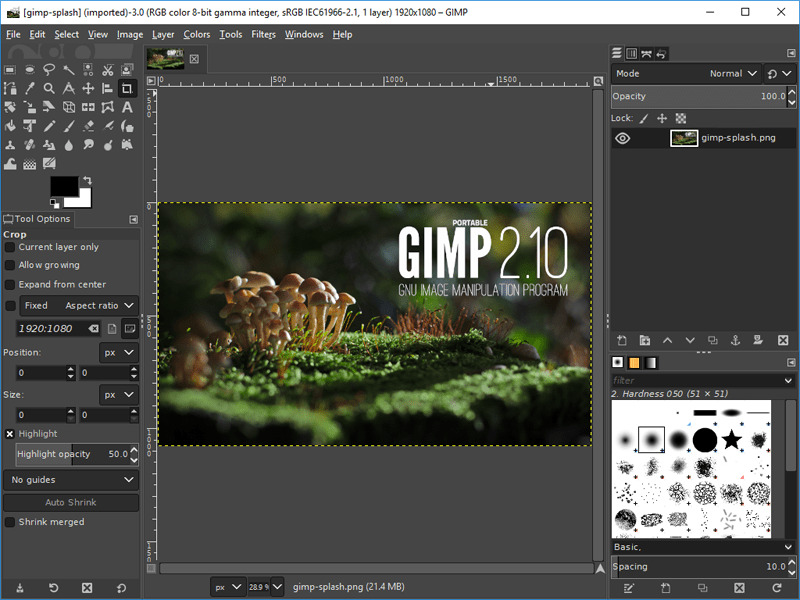 As a software, GIMP is completely free, has been around for a while, and has gained much popularity. It is constantly updated, so you will not have trouble finding the needed features. This program runs smoothly, and you won't encounter annoying ads and poorly done menus only because it's free. It is considered the best free alternative to Photoshop for a reason, right?
🔍 If you want to discover more free alternatives to Photoshop like this one, check out our dedicated article.
Indeed, making this comparison is not exactly legit. Photoshop is cooler for a lot of reasons. And yes, people put more effort into something that pays off – literally. But this is a fantastic start for someone who doesn't have much to invest right now but still values quality. 
One cool thing that makes a difference is their tutorials section, which has them categorized so you can easily find what you're looking for. However, you can guess that the internet is filled with such tutorials, but having them come directly from the source and handed with such attention might make you choose it, at least for a while. 
Some of the most impressive features GIMP offers:
A customizable interface so that you can work in a ''friendly environment'' created by yourself;
Custom brushes and patterns for that one-of-a-kind touch;
An unlimited number of images open at once, so going back and forth to work on what you like without getting bored will not be a problem;
Digital retouching, to create the perfect picture for your clients;
Corrective mode, to eliminate the perspective distortion caused by lens tilt.
Things to consider before choosing this software
People are pretty amazed by this one, especially those who are at the beginning. But the most experienced ones find it a bit slower than it should be. Some of the features can be improved, in order to work smoother and make them a bit more intuitive. Other than that, it is a great software to start with.
---
Aurora HDR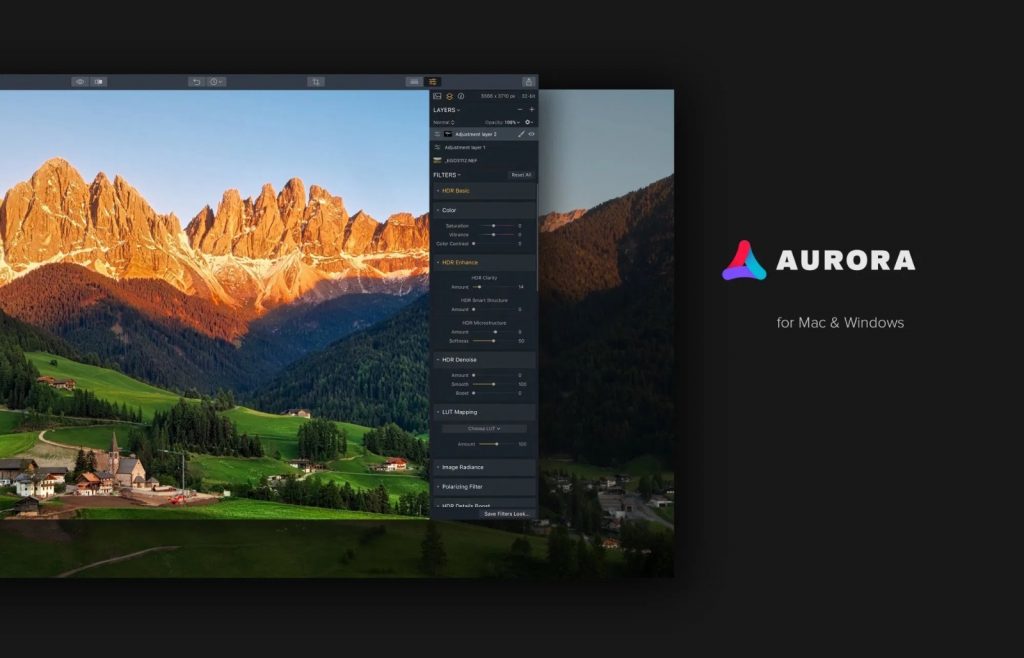 Powered by Skylum, Aurora HDR sets the standards pretty high when it comes to the best HDR images you can obtain. It runs as an app or Photoshop plugin, depending on your preferences. Your pictures will look stunning, with details you weren't even aware you can share with others.
It has pretty sophisticated features that professional photographers use in order to deliver their best pieces, so you might consider putting a little bit of effort into learning something that's more difficult but pays off.
You get to choose from 80 unique looks so you can present your work as a piece of art and get the recognition it deserves. And be aware of the fact that your photos will still have that natural look, rather than the over-edited pieces some show off. Their user guide is pretty comprehensive. So you don't have to be scared about giving it a try if you have no prior experience.
Some of the most impressive features Aurora HDR offers:
Tone-mapping technology, so your picture is on the right way;
Luminosity masking to blend layers;
Batch processing that auto-detects brackets;
HDR smart structure, to give your photos a realistic and artifact-free structure;
Adjustable gradient filter, for the photos that need more control over shadows and highlights.
Things to consider before choosing this software
Maybe the biggest ''issue'' with Aurora HDR is the fact that it is not a fully-featured software, but it never claimed to be. This is why it goes very well in combination with full photo editing tools and allows plugins for Photoshop and Photolemur. So, all in all, if you're looking for a have-it-all software, this might not be it, but it could definitely improve the one you're going to use.
---
Capture One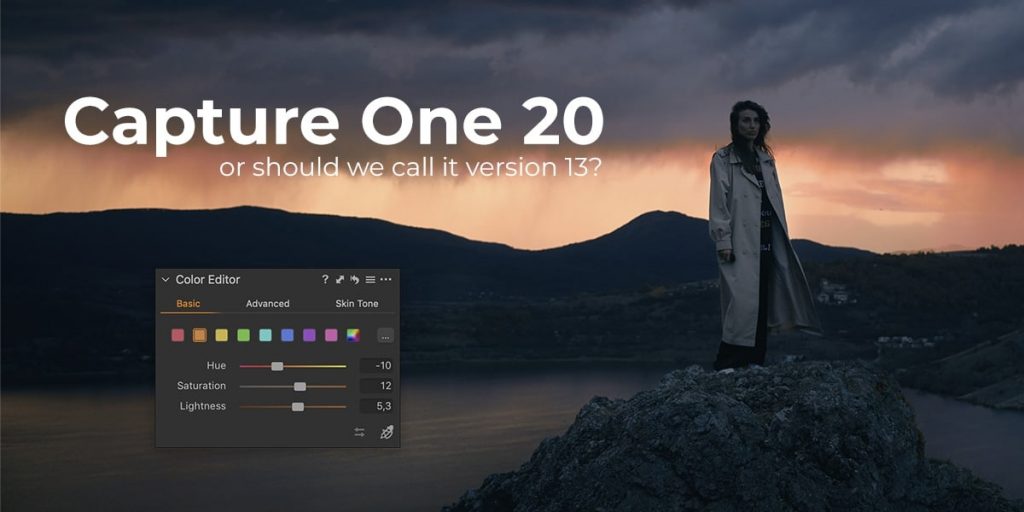 A quick look over Capture One will make you understand why this software is high-rated and among the list of great choices. It is created in such a manner that allows photographers to work on their photos in a highly professional manner. With a great range of features that will mesmerize you from the beginning, you'll get complete control over the editing process from the beginning.
Being such a high-end product, you might guess that the price is high as well. Despite this, they offer quite a nice discount for people who are just kick-starting their careers and need a product that will help them do a great job from day one.
You can also try it for free for a whole month, thanks to their free-trial version that allows you to test things out before diving into purchasing them. It has a smooth workflow and a rich selection of styles, so explore them and see if this is the right fit for you.
Some of the most impressive features Capture One Pro offers:
Heal brush, for those small imperfections that can ruin the perfect photo;
Before / After tool, so you can watch your progress as you advance in this area;
Styles and presets, that allow you to apply pre-made styles to your photographs or even create your own unique one;
Refine mask, to soften the edges of masks and give your pics that smooth look;
Filters and smart albums, so you can organize your work in the way you want.
Things to consider before choosing this software
As amazing as this tool is, if you're not prepared to invest some serious money into it, you'll not be able to fully enjoy the wide range of features it gives you. It is a top-notch app. But if you're not feeling prepared to start with this one, you can just polish your skills on something more affordable, and come back to Capture One Pro once you're ready.
---
RawTherapee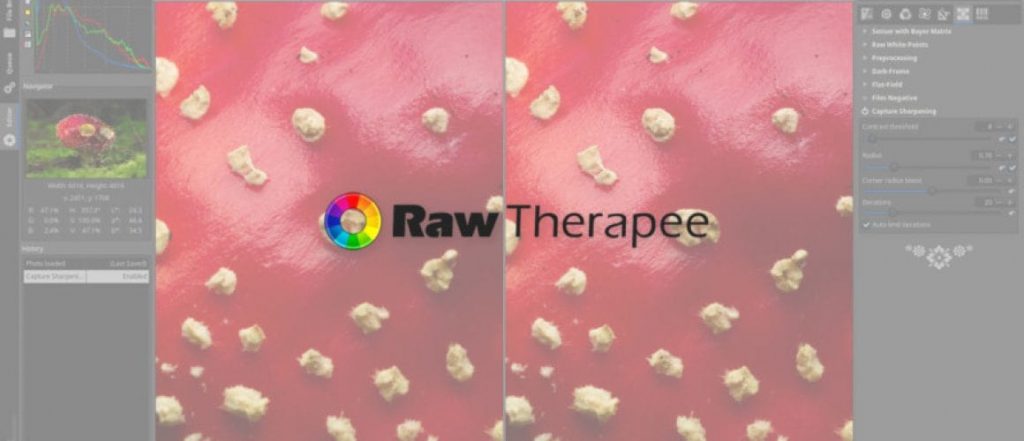 As software designed for beginners, RawTherapee allows you to edit pictures from any type of device you're using, including your smartphone. From basic adjustments to complex edits, this tool is pretty great to use. Just like Lightroom, it displays your editing history in the sidebar menu, so you can watch and follow your progress.
It is free of charge and open-source, so you can enjoy everything it has to offer without any costs. All versions are listed on their website, so you can check them out anytime you want. They also have a news section, so you can stay updated on any improvements they're making.
A huge benefit for a beginner is their built-in community. That allows you to ask newbies and pros anything that crosses your mind. The fact that this software has its own forum is a big plus for those who like to exchange opinions and practices with others in the field.
Some of the most impressive features RawTherapee offers:
Lossless editing, because all of your adjustments will be stored in PP3 sidecar files;
Dark frame subtraction, to correct vignetting and lens color casts;
Support for film negatives and monochrome cameras;
Color management, so you can have your own coloring style;
Multiple denoising methods, to make sure your work is close to perfection.
Things to consider before choosing this software
A great tool to start your career path with. It is user-friendly and has a great selection of features. However, a little something that might bother some people is the fact that it sometimes lags. Besides this, there's a lack of professional tutorials for this one. They don't have a user guide of their own either, so you might have to figure things out on your own.
---
What's next?
Well, of course learning the skill is the first step, but it's not enough. After all, if you're in for the business, you have to find some clients that will want to benefit from your services. And there's a simple way in which you can attract such people. Build a beautiful portfolio to showcase your best work.
We're here to help you with the whole process of becoming a successful photographer. So we want to introduce you to the Modula WordPress plugin. It is an amazing tool that will help you display your best pieces in a professional manner directly on your website.
Summary
After this long talk about the best photo editing software for beginners, you either made your mind up or you're even more confused. However, it's not necessary to make a choice right now. Reflect on the options you have and understand how each of them can help you.
Consider all options as suitable in the beginning. If possible, try them and see what works best with your style. It's not mandatory to make up your mind right now. Take the journey and see where it leads you. 
You're not going to master any of the editing software from the beginning, and that's perfectly normal. It's a process where you learn how to make things work, not a contest in which you hurry to be the best. Take your time and be patient.
Don't go halfway through; consider what's next after you master one of these tools. This is why we recommend Modula. Because, from our experience, people feel lost and overwhelmed if they don't plan ahead. 
---
Final thoughts
We presented you with a number of great options to choose from – free, paid, internet-based or downloadable. It's up to you to make the choice and see for yourself how this business goes. We're not saying it's an easy process, but if you're motivated enough, you'll see results in no time. And that's what should keep you going – the ambition to overcome yourself.
The one thing you should always remember is the fact that you should be fully involved and up-to-date with every improvement that can be made. From your style to the way you want to make your work well-known. As we said before, you put a lot of effort into capturing and editing the perfect photo. Displaying it with Modula is just the next step.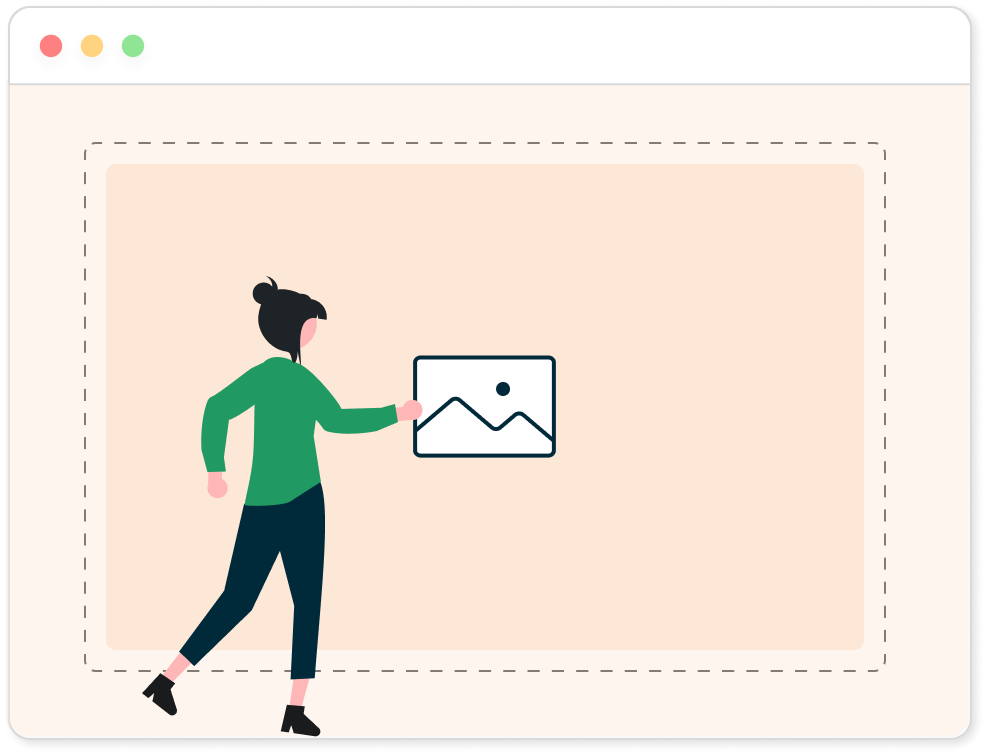 Modula Gallery Plugin
Create stunning, responsive photo galleries with ease. Showcase your work, captivate your audience, and boost engagement. You don't need to do any coding.
So make sure you're staying informed, give everything a try, and overcome any obstacles, as well as yourself. Hard work pays off and results will come in no time!
Get Modula PRO
Get the #1 gallery plugin for your WordPress site today!
100,000+ happy users
Good list but Photowork is definitely missing from it and so does Affinity Photo. In my opinion, if you are a novice, a simple but user-friendly interface is what is necessary and these two programs definitely do have it while obtaining the basic features of a powerful photo editing software.

Thank you for alerting us to these options.