Who wouldn't want to earn money by selling their photos online? Let's take a look at how and where you can start to sell stock photos.
Over 48% of the world's population owns a smartphone, which means that essentially the same number of people now have access to the Internet.
The Internet has made communication easier than ever before, united the whole world, and created the archetype of the information exchange.
The Internet has also made it easier than ever for photographers all over the world to not only share but also make money from selling photos online. Thanks to tools like WordPress, which now powers 42.5% of all websites, you can easily create your own photography website and start selling your photos online.
In the table below you can find a summary of the places that allow you to sell your photos online, alongside their respective commission payouts!
---
Best Places to Sell Your Photos Online
Without further ado, let's jump straight to it!
---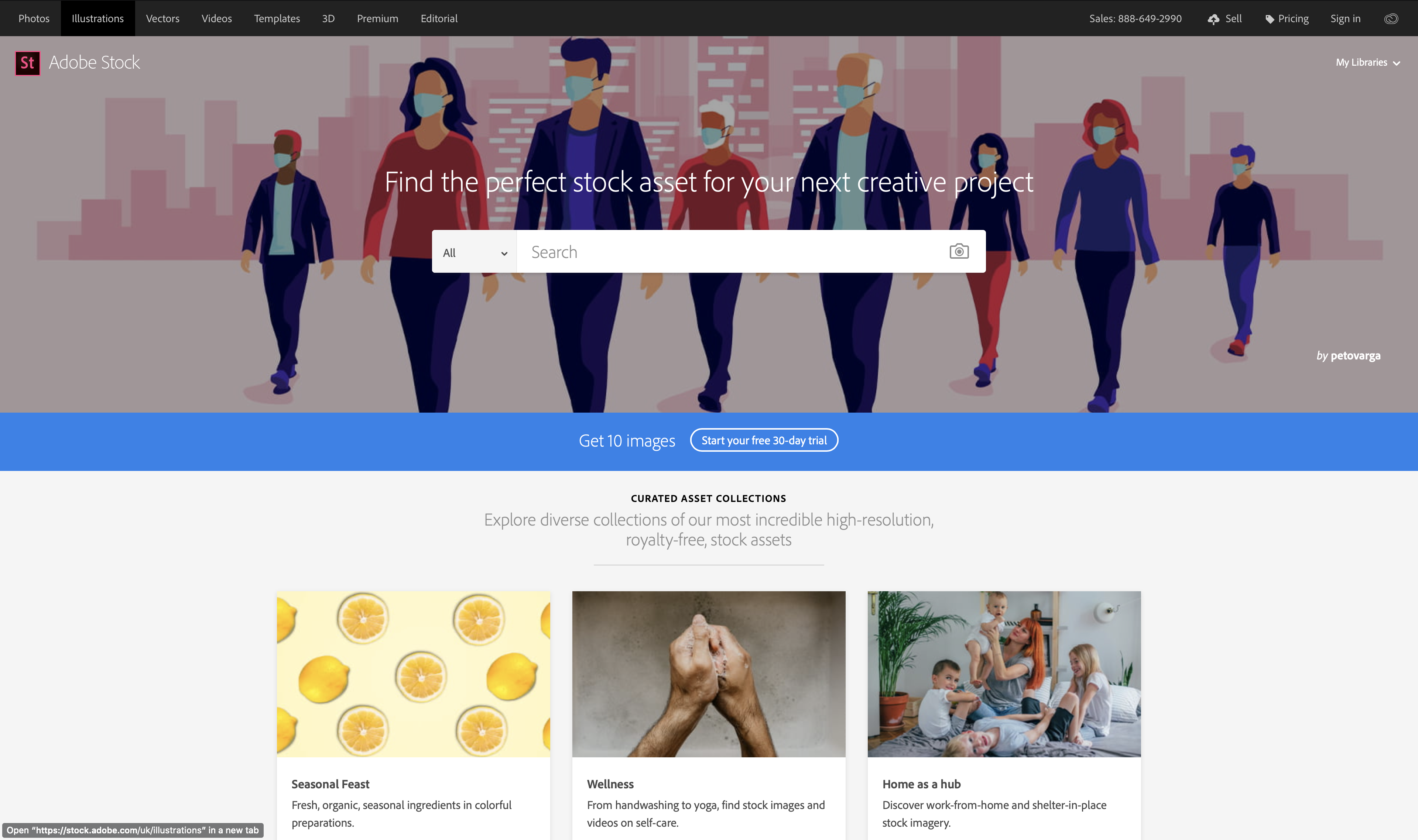 Adobe Stock has the credibility of being the makers of the most popular photo editing software on the market. Plus, any photos you upload to the marketplace are easily accessible in other Adobe products.
This increases the visibility of your work. After all, it is instantly accessible from within their Adobe Lightroom, Photoshop, or Illustrator software.
The freedom you are given when you start selling stock photos on Adobe Stock is incredible.
You can even sell your photos elsewhere since Adobe Stock does not require that you give them exclusive selling rights. And above all, profits are usually 33%.
If you think what you have as it takes as a photographer, don't hold back. It's time to turn your passion into profit.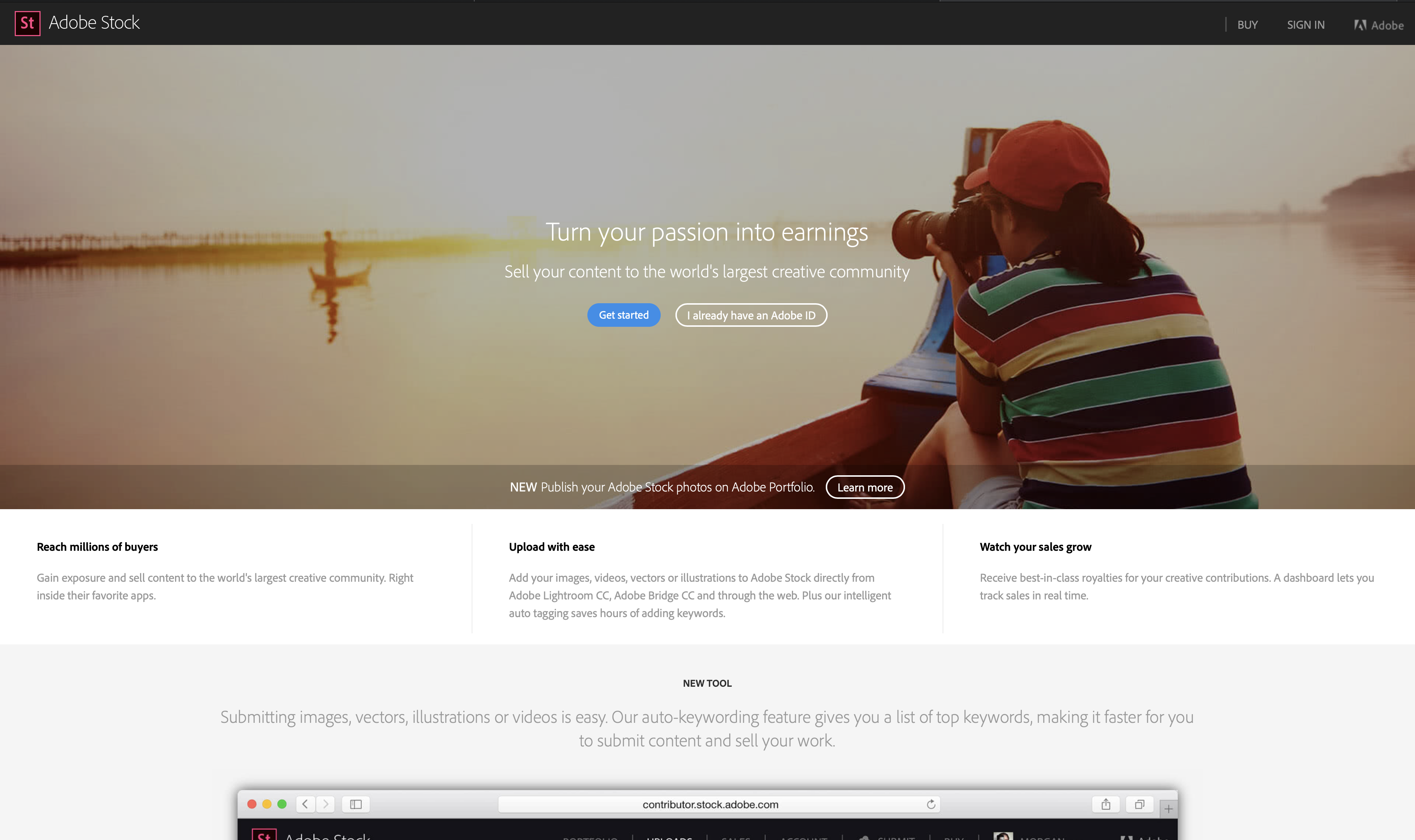 Just as you'd hope, setting up an account as an Adobe Stock contributor is just as easy as logging in with your existing Adobe ID or creating a new one.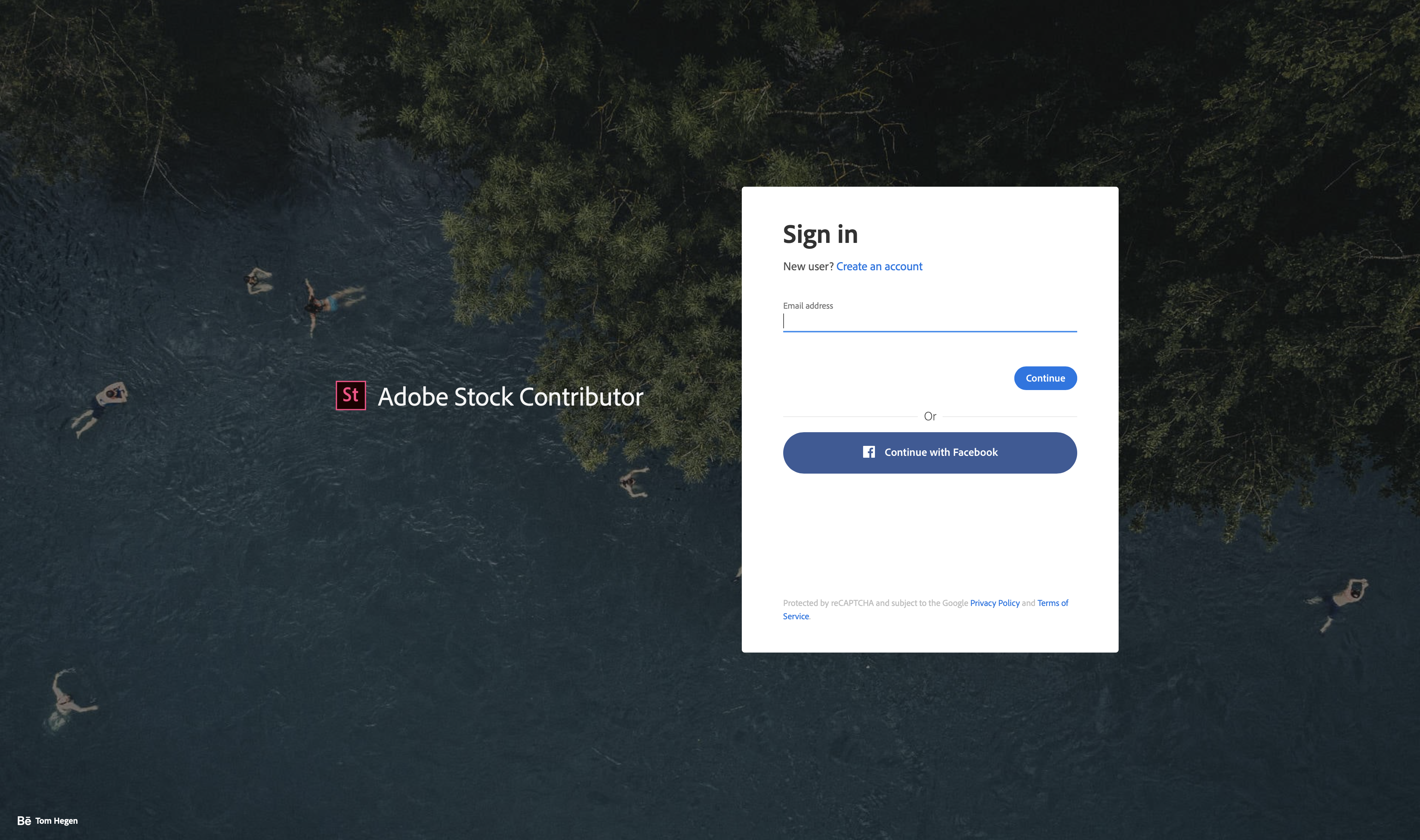 The only disadvantage of joining the Adobe Stock network as a contributor is that you will be competing with some of the world's most talented photographers. This means it's going to require a lot of hard work to get people to pay attention to your creative work.
Adobe Stock Advantages

– Adobe has a great reputation in the media industry so you know you're in good hands.
– There is great support from their team when you need it.
– The plugin is trusted & used by professionals.
Adobe Stock Disadvantages

– Lots of competition makes it hard to get attention.
– There can be no audio-only submissions.
---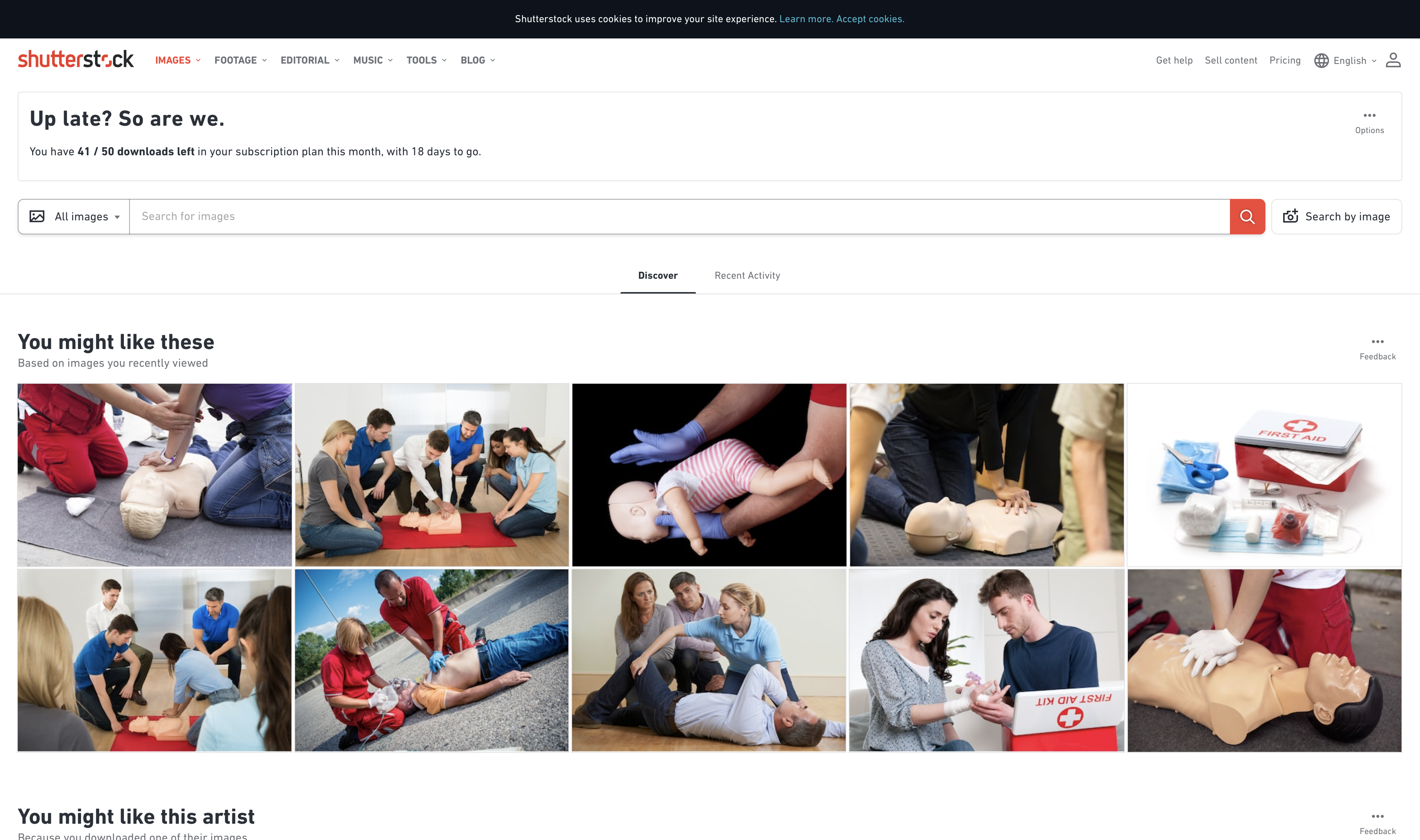 Shutterstock is the most popular stock photography website and has been for over 15 years. They not only have millions of images but also have videos, music tracks, and most importantly, millions of purchasing customers.
According to their website, over $500 million in payouts to their contributors have been fulfilled. This means, as a creator, you can earn a significant amount of money by selling your images on the Shutterstock marketplace in the long run.
On top of that, Shutterstock allows you to retain the copyright of your images which means you do still get some control. Furthermore, they also provide credit to the image's owners, which is a huge benefit if you're trying to build a brand around your creative work.
Contributors can earn anywhere between 15-40% based on how many times your content is downloaded by their customers at the end of each month.
The fact that Shutterstock is quite well known in the industry might not necessarily be a good thing. Stock photography sites that are quite popular are notorious for making it more difficult for new, aspiring photographers to actually make some money.
Publishing and selling your work on the Shutterstock marketplace does not limit you to exclusively selling through their network – so it's definitely still worth giving it a try.
Shutterstock Advantages

– It is by far the most popular paid stock photography site so if your work is good, chances are people will find it and buy from you.
– It's super easy to get your photos up for sale.
– It's trusted & used by professionals.
Shutterstock Disadvantages

– You don't own your brand and the way your photos are distributed, so nobody will "discover" you as a photographer.
---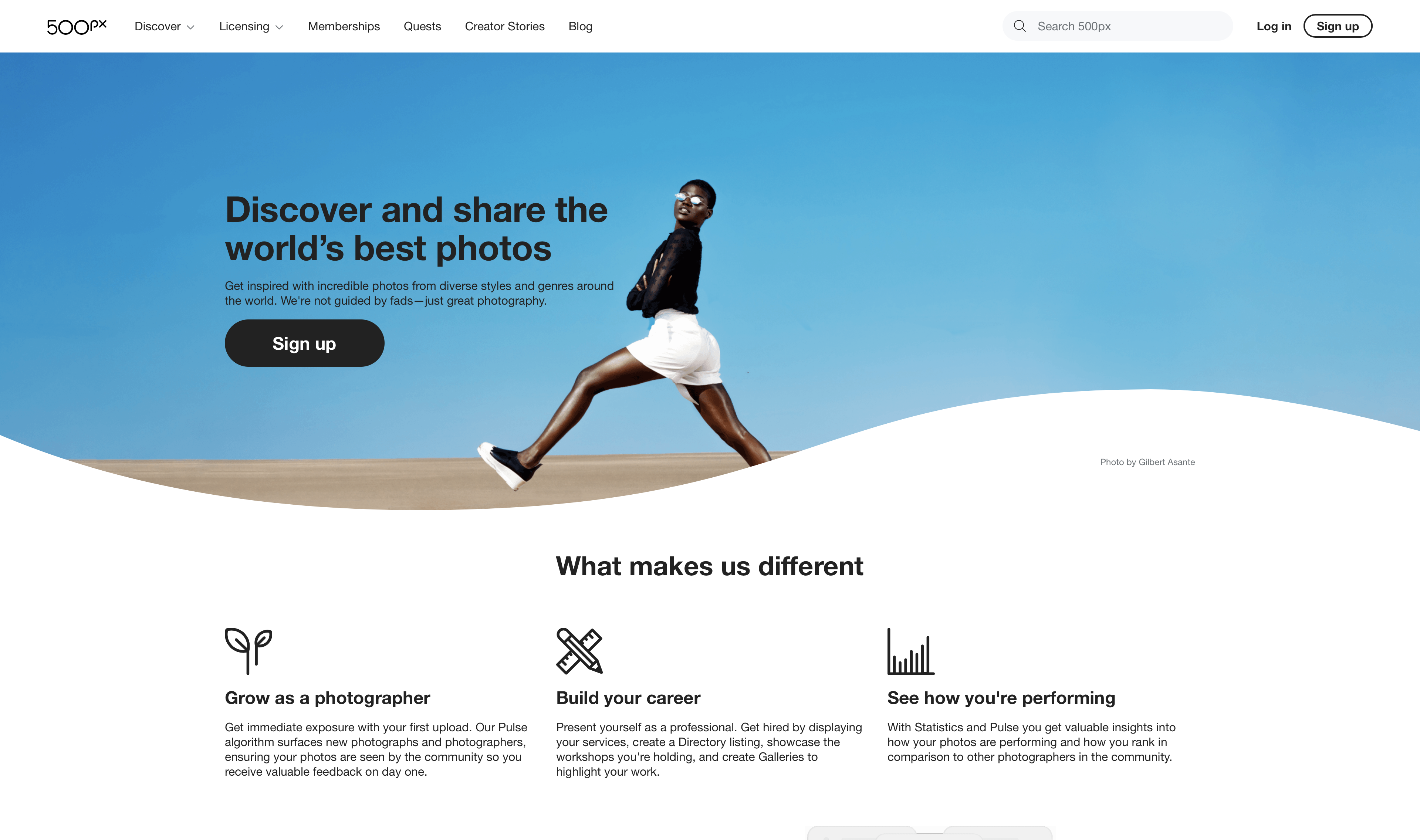 Whether your equipment consists of a top of the line DSLR camera or the latest smartphone, 500px is worth checking out.
Even if you only sign up for the free subscription, you will be able to license and monetize your photos in their community with over 13 million members and growing.
The paid membership plans include such perks as advertising your services so you can find more opportunities to make money and an Adobe CC plan.
For smartphone users, 500px has an Android and iPhone app so you can snap pictures and upload them on the go.
Using 500px is as easy as logging into Gmail. Once you've created an account with them you'll immediately be able to start uploading and sharing your work to make some money!

500px Advantages

– 500px is also very popular & has a great reputation in the media industry.
– You can build up a profile with your work.
– It's very easy to start selling your photos online.
– It's trusted & used by professionals.
500px Disadvantages

– The free account is limited to 20 photos per week which might not be sufficient for some heavy users of the platform.
---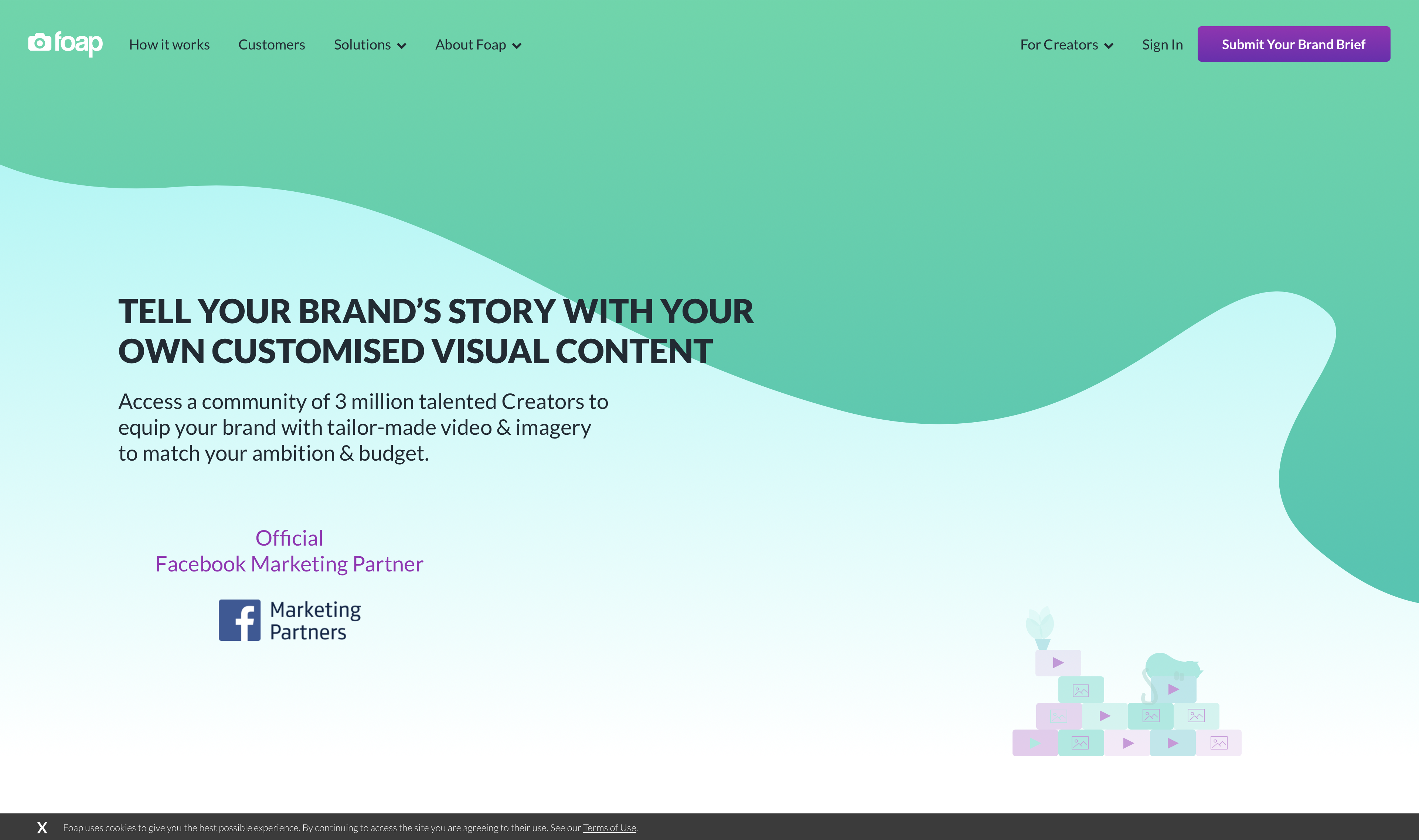 Foap has been featured in ABC News as being a profitable app for photo selling. Users make 50% of the profits from it even when big brands, such as Sony and MasterCard buy their photos.
The way that it works is particularly interesting when compared to the other regular stock photography websites in the rest of this post. This website defines itself as a customized visual-content platform powered by creatives for creative professionals. But what does that actually mean?
As mentioned above, it really isn't a regular stock photography website. The process looks like outlined below:

A brand looking for the perfect photo would turn to Foap and send them their brief which details the tone, aesthetics, and target audience.
Photographers can then compete in what Foap interestingly calls Missions.
Submitting a photo or video to one of Foap's missions is the easiest way to make the most money out of selling your creative work. All you need to do is produce a photo that matches that of the described Mission brief to satisfy the requirements and the kind of imagery that the brand is looking for. With Missions, just one photo has the potential to make hundreds of dollars.
Whether you're a photographer or a company looking for photo or video content, Foap customer service representatives are available 24 hours a day, all year round.
Advantages

– The way the platform works is unique and tends to give photographers more opportunities to participate than other platforms.
– Allegedly used and trusted by some major brands such as Nivea, Volvo, and Heineken just to name a few.
Disadvantages

– The Foap platform isn't as popular or as well-known as other stock photography websites which can make it more difficult to succeed.
---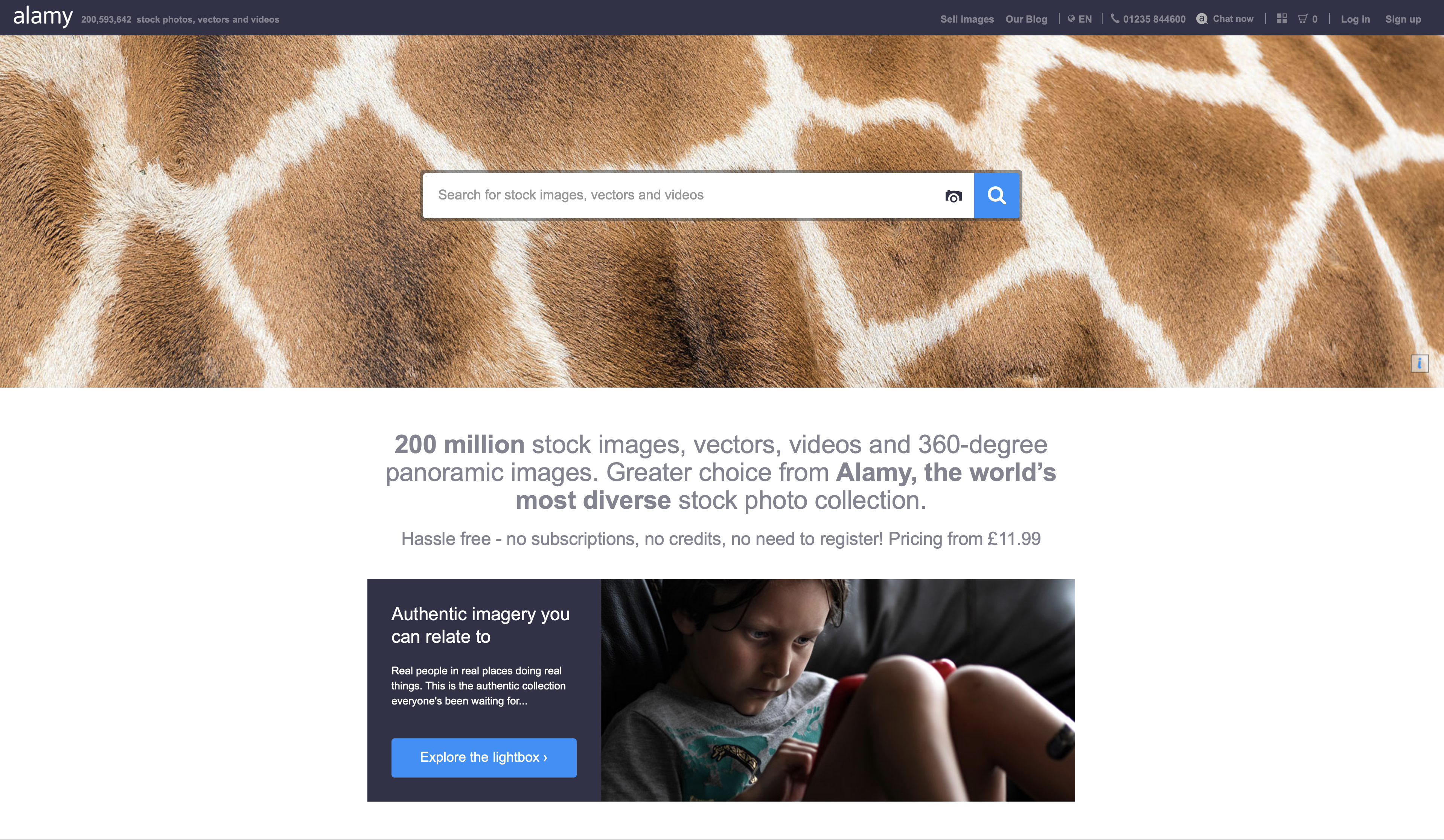 Alamy is another great place to start selling your stock photos online right away without subjecting yourself to any complicated rules. Although the Alamy network may not be as popular as Shutterstock and Adobe Stock which means it won't have as many customers – it is certainly still worth considering.
At the time of writing, Alamy has made up to $180 million in payouts to their contributing photographers. One of the most well-known places for selling images because you make a surprising 40% on each sale…
Alamy provides a direct purchase option without using credits or subscriptions. They think users can buy Alamy stock images, not credits, so any photo purchases is done in US dollars, Euros, and British pounds. With this direct purchasing rates are straightforward, licensing costs are easy to comprehend and consumers can buy whenever they need them.
Alamy Advantages

– Takes a lower cut so photographers can actually earn up to a suprising 50% on every sale.
– It is not as popular as some other stock photography sites, However, it has paid out over $100 million to their contributing photographers.
Alamy Disadvantages

– There isn't much of a community aspect to the Alamy platform.
– Building up a profile that you can share isn't really something that can be done.
– Photographers on Alamy don't get much exposure.
---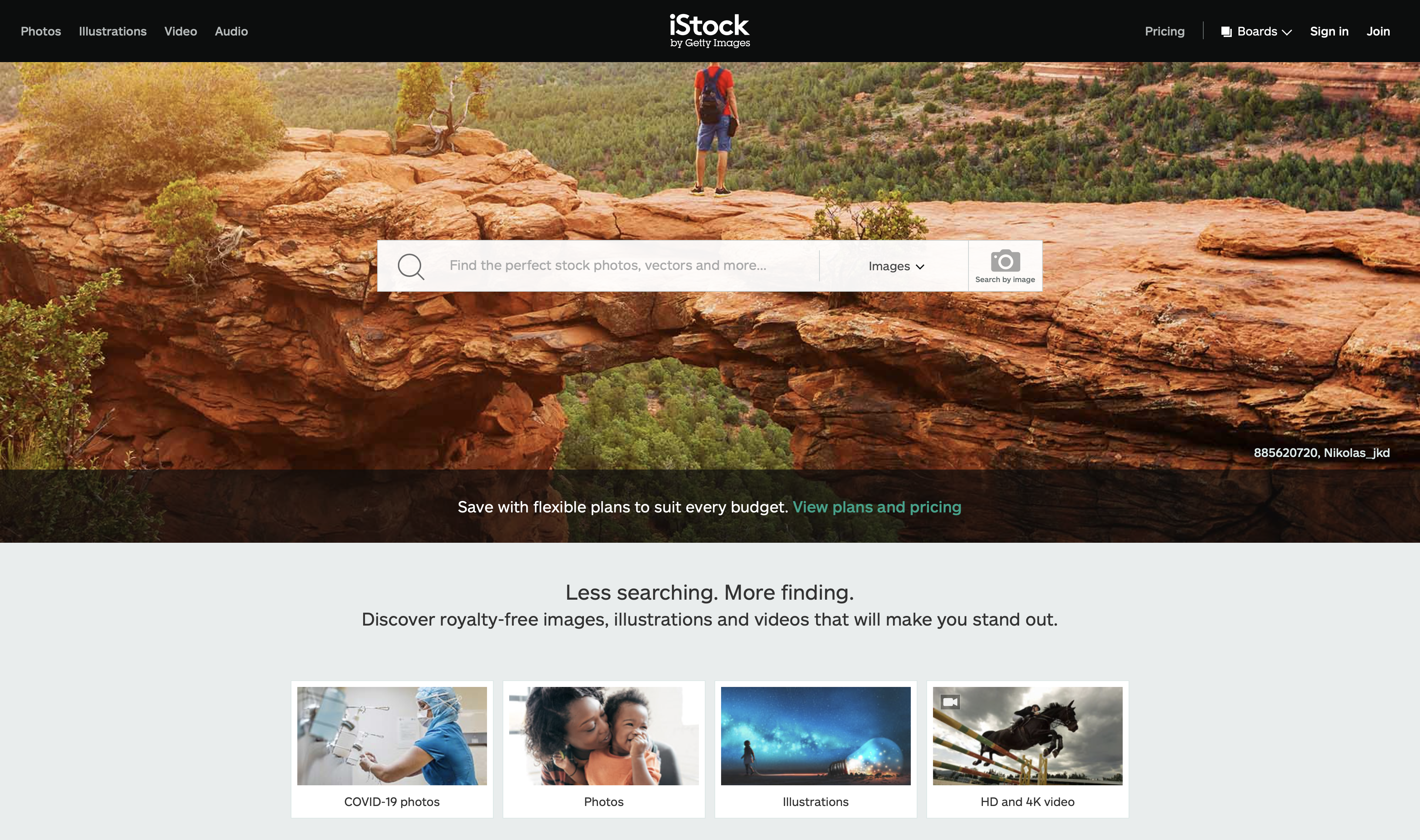 iStock Photo is another great place to sell photos online. Plus, they have resources that help photographers get started selling.
The service is owned and operated by Getty Images.
The commission you receive when someone downloads your photo starts at a mere 15% but can actually increase all the way to 45%.
This is, however, entirely dependent on the popularity of your profile and work on the website, and if a customer purchases one of your images as a part of their monthly (or yearly) subscription you can only receive 15% of the sale.
iStock Photo Advantages

– iStock Photo also has a great reputation and is a popular destination used by businesses and inndividuals looking for profesisional stock photography.
– Owned by Getty Images, you know that you're in good hands and will get the support that you need as a photographer if your work stands out on their platform.
iStock Photo Disadvantages

– The process of joininng isn't as easy as it is for some of the other stock photography websites that are listed in this post because the service is owned and controlled by Getty Images.
– iStock Photo's regulations surrounding model releases, capturing photographs in certain places without permission are strict – and rightly so.
---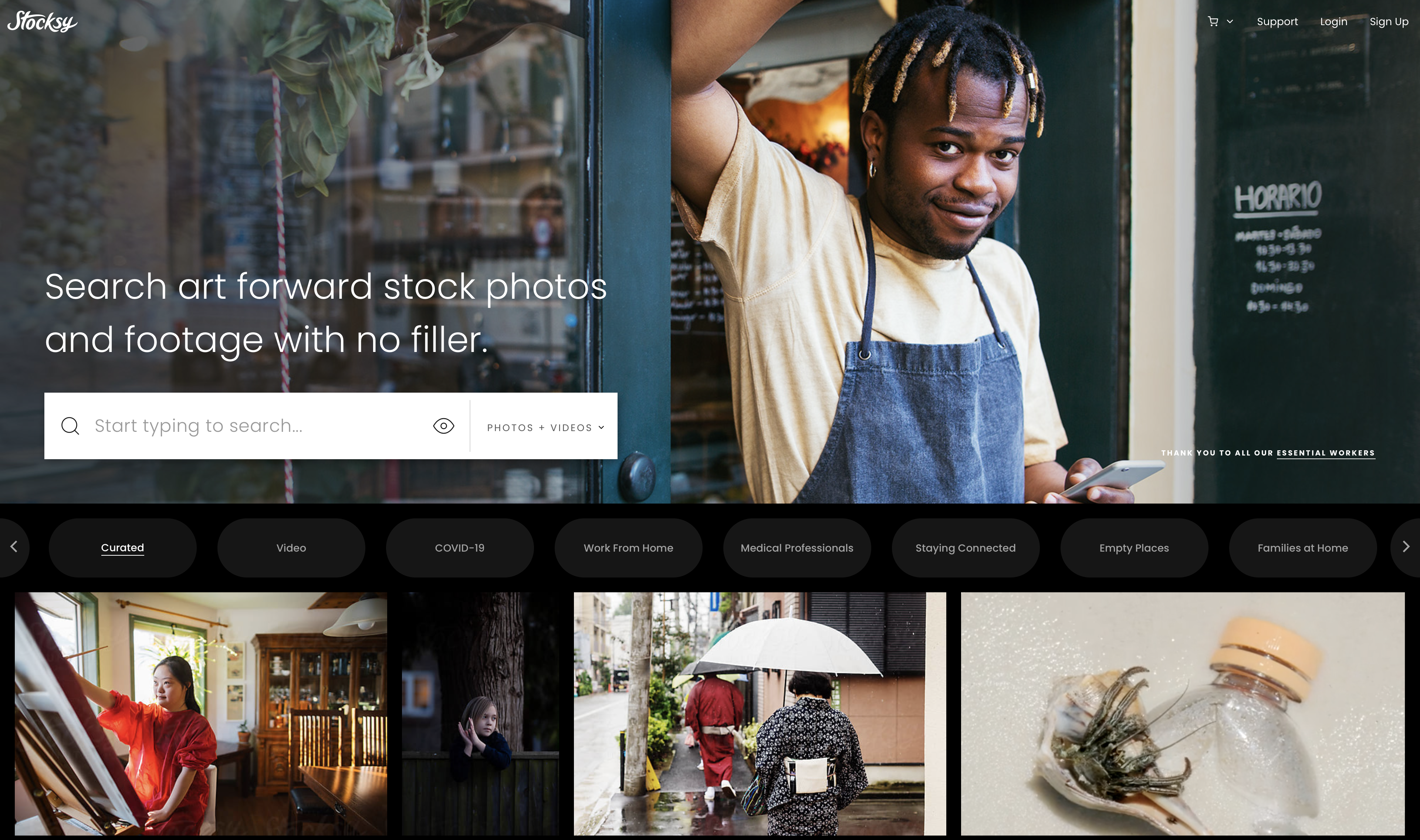 Although Stocksy was founded back in 2013, they aren't that well-known when compared to popular alternatives such as Shutterstock and 500px – but we think you should consider them.
In my opinion, yes – you definitely should. They have a serious vetting process in place for their photographers which means that your chances of being accepted aren't that high, but if you do this puts you at an advantage.
Wouldn't you rather be a part of a stock photography network that prides itself on quality rather than just accepting every application they get?
Stocksy is thrilled to announce the reopening of Call to Artists for the first time in 2 years. At Stocksy, we are renowned for our co-op model, making artists co-owners in a business that pays the highest royalties in the industry (50-75%) and is dedicated to creative integrity.

Applications are open to anyone. We commonly look for artists with an eye for storytelling or who have complete bodies of work.

We're currently seeking new international talent, with a focus on Southeast and East Asia, the Middle East, Australasia and Western Europe; as we look to represent and challenge traditional beauty ideals and stereotypes for a more inclusive world.
Here's a snippet from their page for applications. In short, at the moment they're looking for new international talent, and they've reopened the application process which they refer to as a "Call to Artists" for the first time in 2 years. Now's the time to join!
Stocksy Advantages

– Premium network of photographers that they truly partner with to ensure quality.
– Pays the highest royalties in the entire industry by far (50-75%) so they're not taking a huge cut of your profits.
– Creative integrity is a priority.
– It is easy to sell pictures online with them.
Stocksy Disadvantages

– Joining isn't easy especially if you miss the period where the "Call to Artists" is open.
---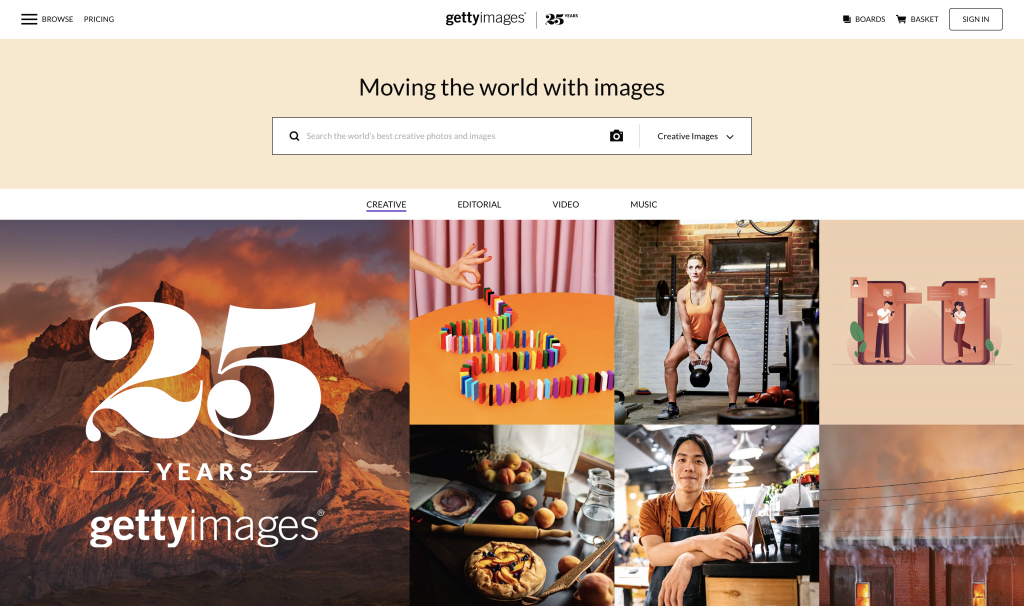 Getty Images is one of the most popular names in the stock photo industry. With over 1.5 million customers in over 200 countries, large audiences around the world will see your photos.
To join Getty Images, you'll first need to download their mobile app and fill out the application. You'll also need to submit 3-6 samples of your photos. Your application will then be reviewed and you'll be notified if it's been accepted. Getty Images offers between 15% and 20% commission for royalty-free photos.
You must be over 18 and can only submit original images, videos, diagrams, or vectors to be a contributor. When your content has been accepted, you can opt to donate or license out your content. Exclusive images earn you money. Plus, you can track your earnings when a customer buys the rights to use your content. Getty images release a payout on every occasion when customers pick your content.
On average, your content is worth between $300 and $500 when Getty approves your submission. Getty charges you $20-30 per month of the real value of the sales. There is no indication of how often photographs are sold. The prices adjust depending on how much consumers use their content and the type of license for which they apply.
Getty Images Advantages

– Is a very popular and known name in the industry.
– There is a very large audience, meaning you'll get lots of exposure.
Getty Images Disadvantages

– You can expect lower payout rates than some other sites on this list.
---
How to sell photos online – w/ WordPress & self-hosting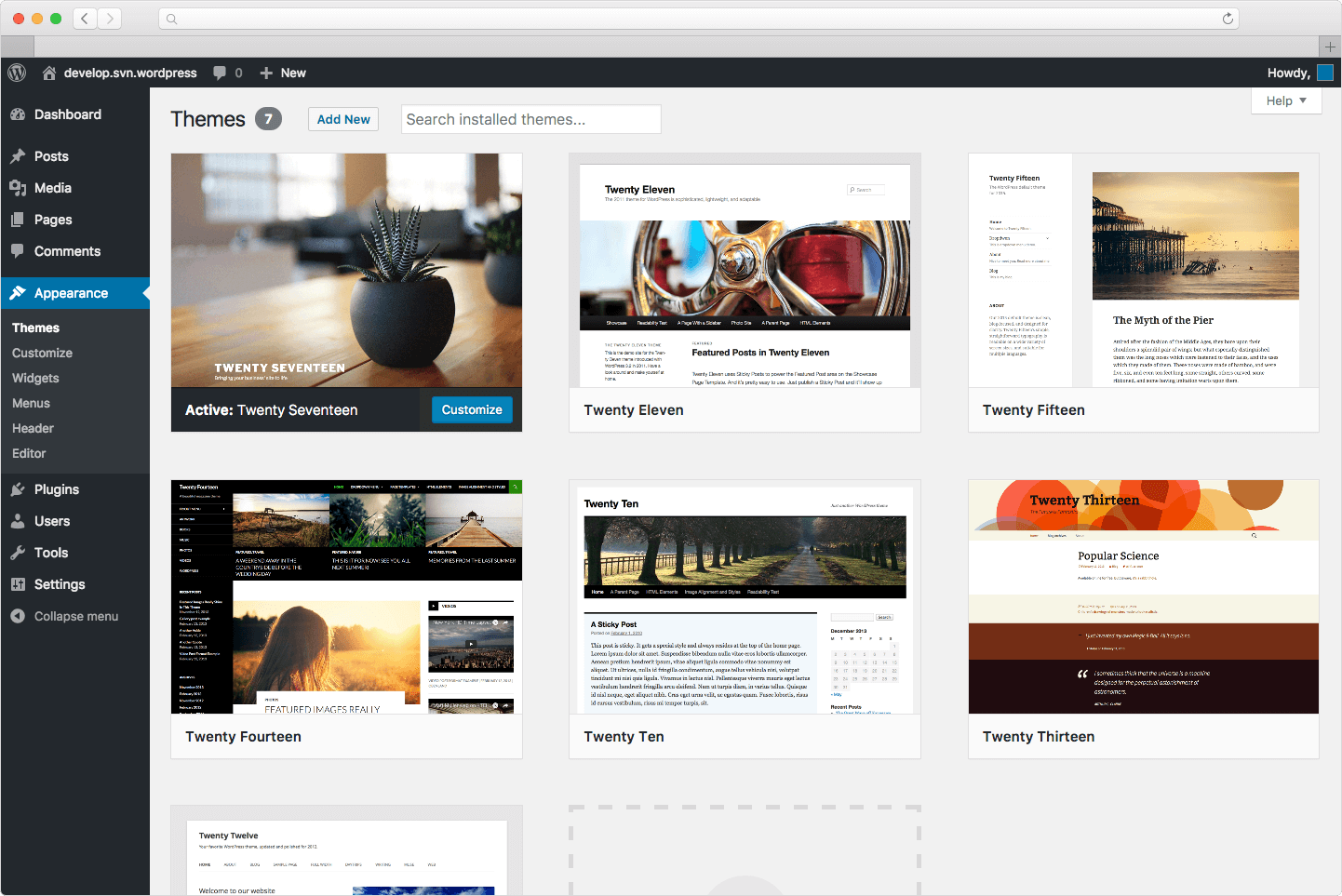 I think it's best to start with our personal favorite – WordPress (the self-hosted version). WordPress is a great option for photographers that are confident that they want to retain control over their own images and brand.
With the official WordPress repository housing around 55,500 plugins, it's easier than ever to set up a store to sell stock photos without sacrificing the prestige of your brand by selling on other websites.
Although some might argue that it takes far too long to set a website up with WordPress, most will find that it is really easy and quick to get started, and even for those who do find it difficult, it's definitely worth it in the end.
Selling photos online, on your own website, might be more difficult unless you are already fairly well-known and have built up a community around your work.
Most big businesses and individuals will prefer to purchase images on stock photography websites that they know are 100% reliable and secure.
But the advantages of selling your work on your own website are:
You can set your own competitive prices.
Nobody else takes a cut from the sale of your work.
You have full control over how your work displays on your website.
You can define your own terms and conditions.
And, once again – you're in full, total control.
The great news is that this can be easily done in WordPress with Modula Gallery plugin.
If you crave even more functionality juice out of Modula for your WordPress.org website builder, can find more about the Elementor Widget in our dedicated article.
We did our best to make Modula the most user-friendly gallery plugin available. It is extremely easy for both beginners and intermediate users to take advantage of advanced functionality which was previously unthinkable.
---
Create your photography portfolio with Modula
Modula Gallery is a WordPress plugin that gives you full control of how your images and videos are displayed on your website. The plugin allows you to create a unique gallery with zero coding experience. And all it takes is just a few clicks. You can choose between several different grid types, image hover effects, image loaded effects, watermark and password protection for your galleries, video integration, and much more to customize your photography website.
A portfolio is essential for your business to grow. It acts just like your online business card. Plus, by creating galleries for different projects that you've worked on, you can easily display photographs from different niches you're interested and sell to a broad audience.
Sounds great right? So, let's get started!
---
Step 1: Install and activate Modula
The first thing you'll need to do is navigate to Plugins > Add New in your WordPress dashboard and search for Modula.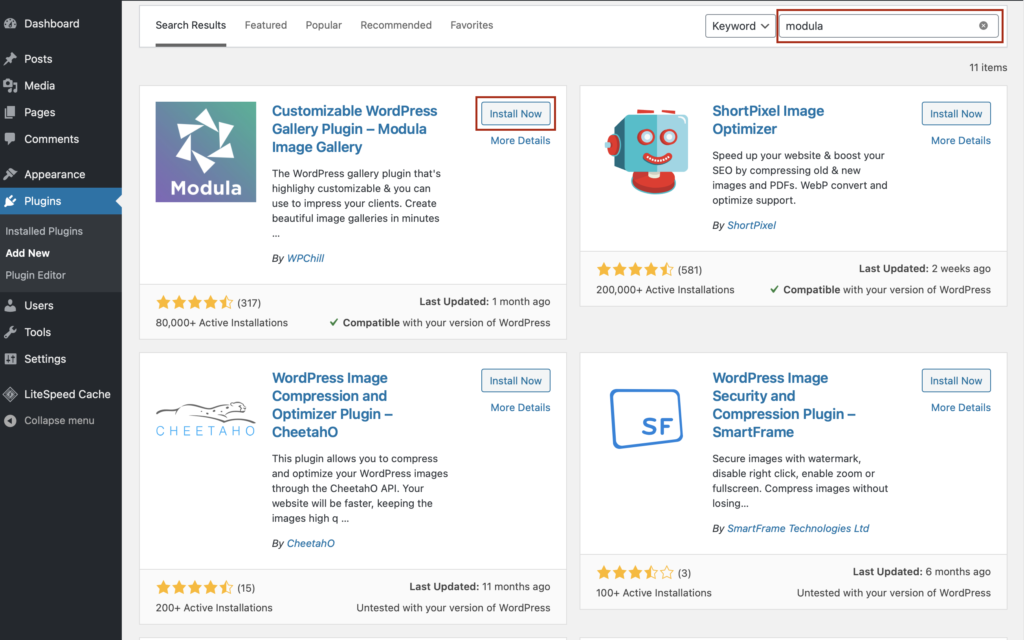 Next, click Install Now and then Activate so Modula is ready to go on your website.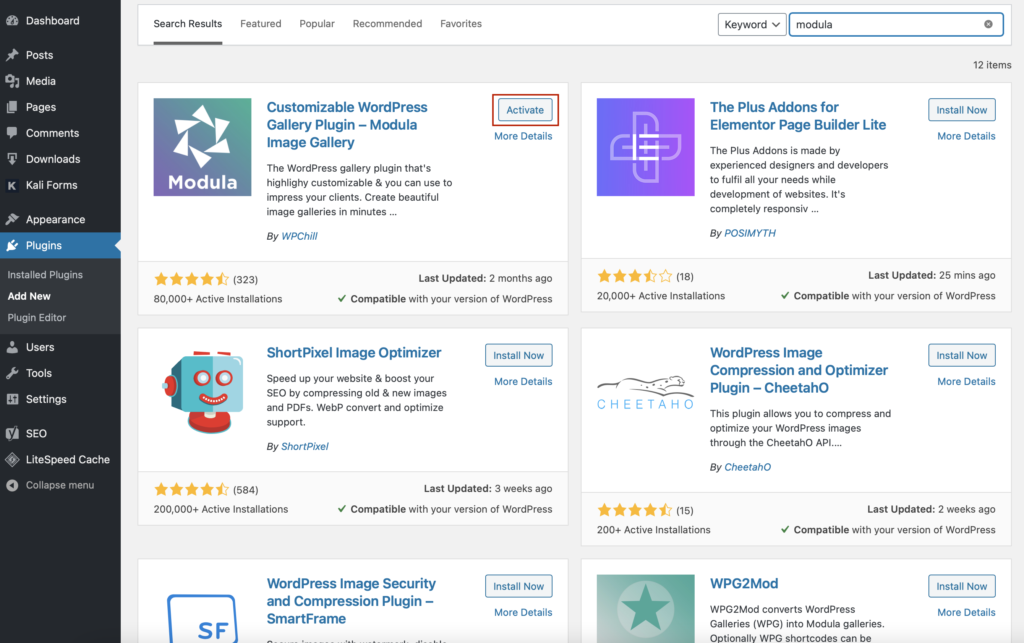 ---
Step 2: Create your photo gallery
Once installed and activated, you'll find the Modula plugin in the WordPress Admin menu. To create your first gallery, simply click on Modula > Add New.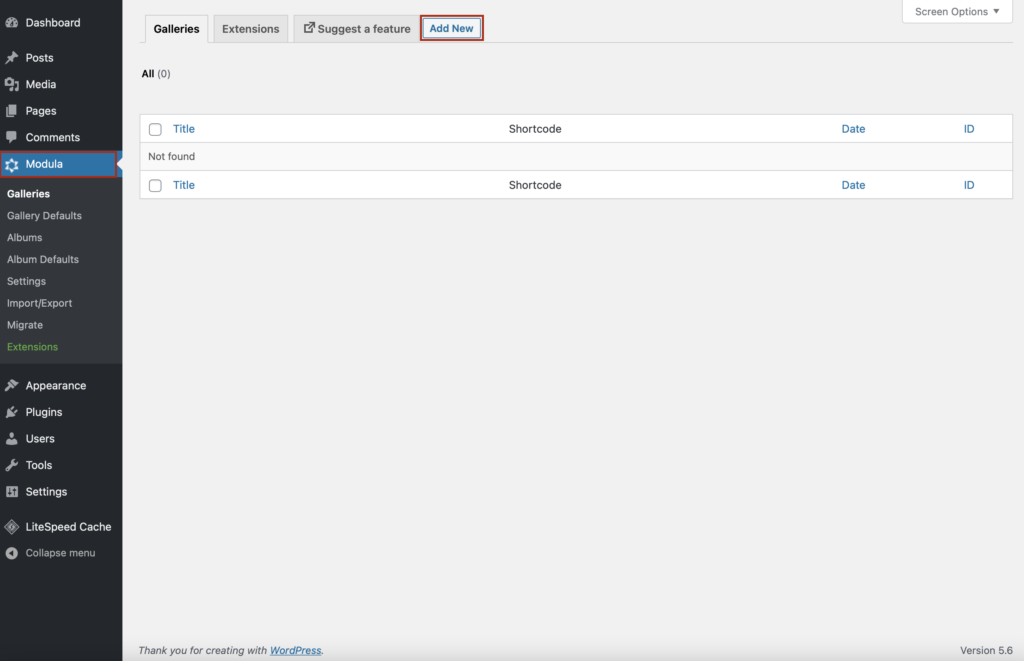 Next, add a descriptive title and start uploading your photographs to your WordPress gallery.
Using descriptive names will help you modify this gallery even when you have multiple galleries in your photography portfolio.
After choosing the images that you want to add to your Modula WordPress gallery, you'll notice them in the gallery editor, as shown below: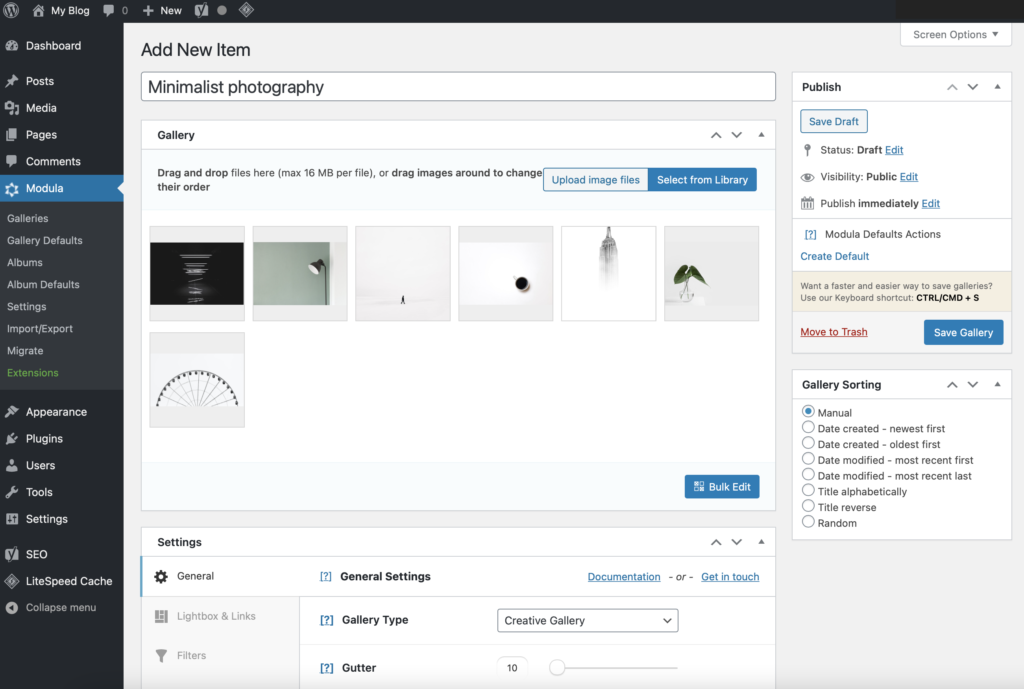 This area has been designed to be extremely user-friendly and easy-to-use regardless of your experience with WordPress or portfolio plugins. Particularly, thanks to our drag-and-drop interface, rearranging images is as easy as clicking and dragging them around!
In addition, you can choose between 4 gallery types (creative, custom, slider, and masonry) and arrange your pictures according to your preferences. These features help you create a truly unique portfolio that your customers will come to know and love.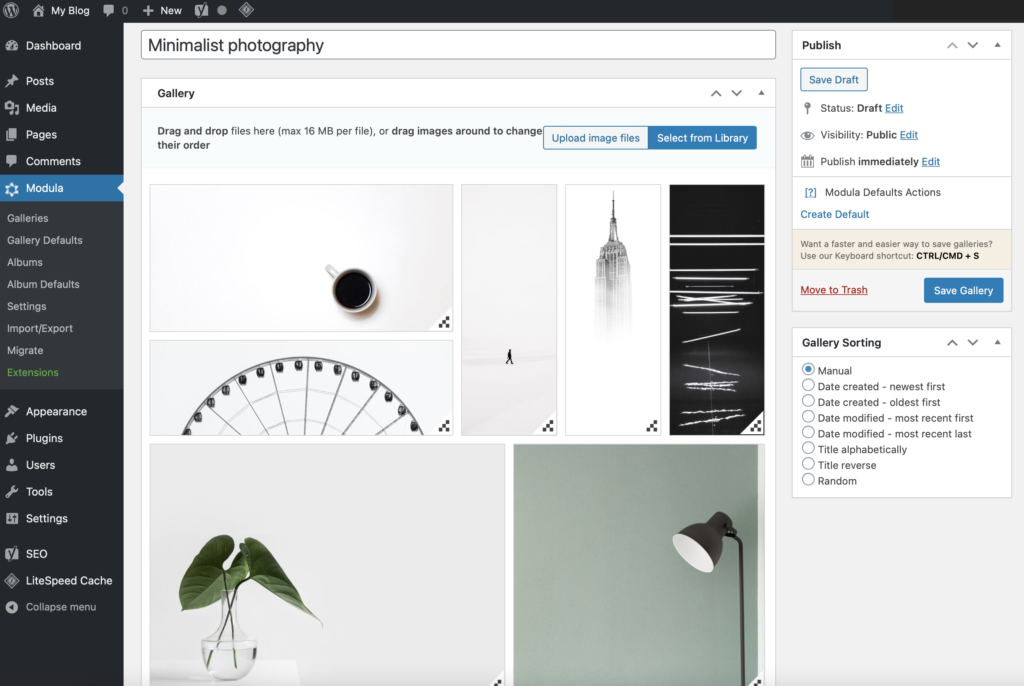 ---
Step 3: Customize your gallery
Modula allows you to take full control over your galleries when it comes to design and functionality. In fact, it comes with a ton of customization options to enhance your website's look and feel.
For example, you can do the following:
Optimize your images for faster loading times
Include video content from YouTube, Vimeo, or self-hosted galleries
Add watermarks and passwords to your work to prevent image theft
Organize your images into albums
Create automated sliders and slideshows
Add social sharing options
Enable hover effects and animation
And much more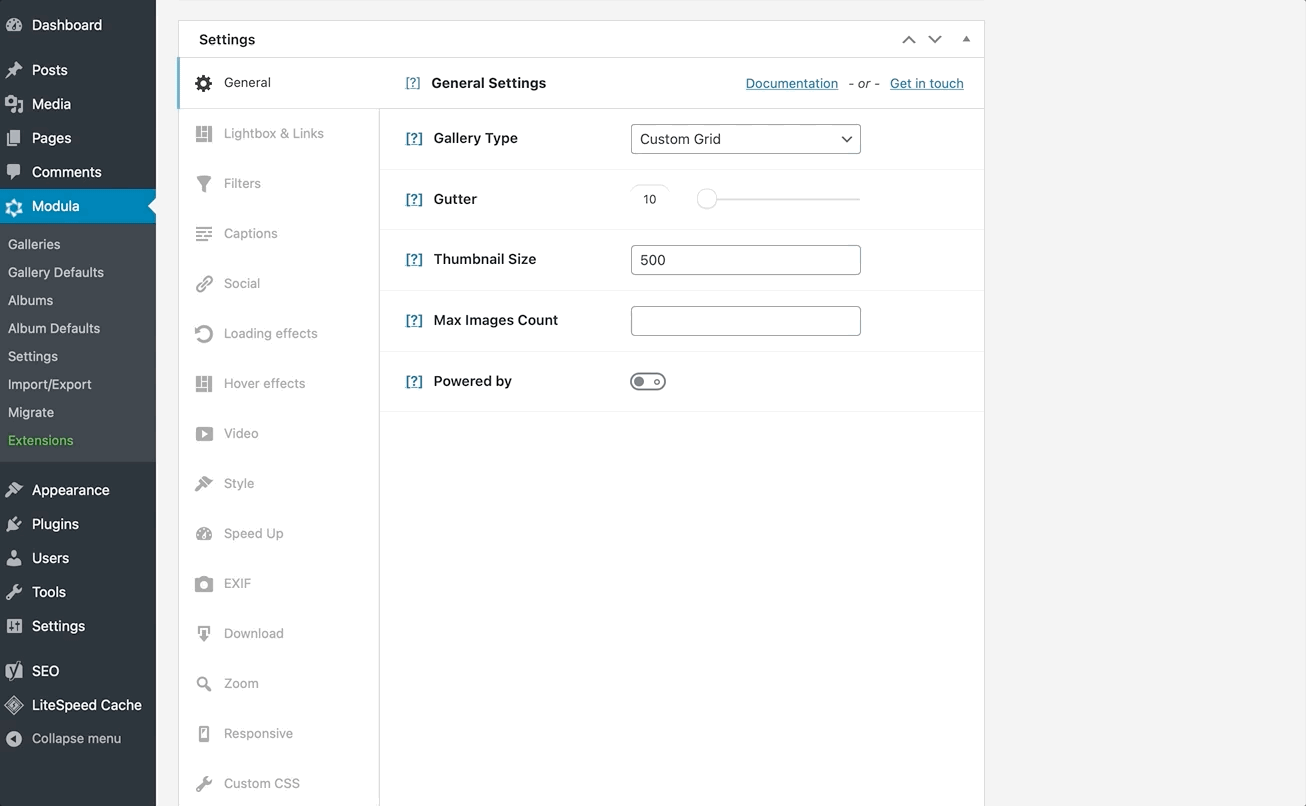 ---
Step 4: Publish and insert your gallery
Now that you have some eye-catching images in your galleries it's time to save your work by clicking Save Gallery.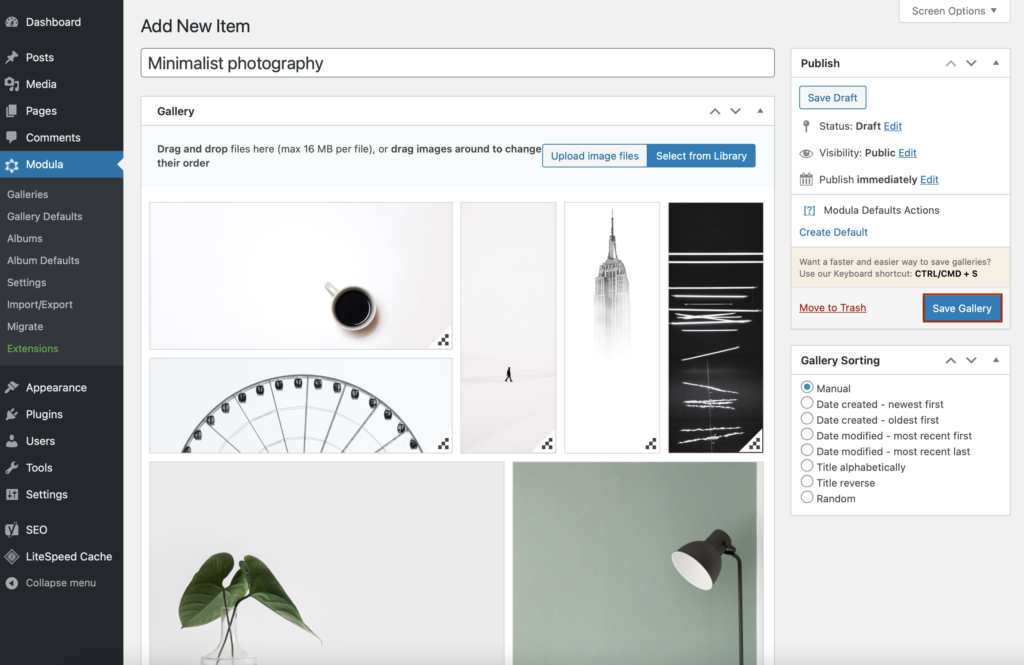 Once you do this, a gallery shortcode will be placed in the gallery editor as shown below: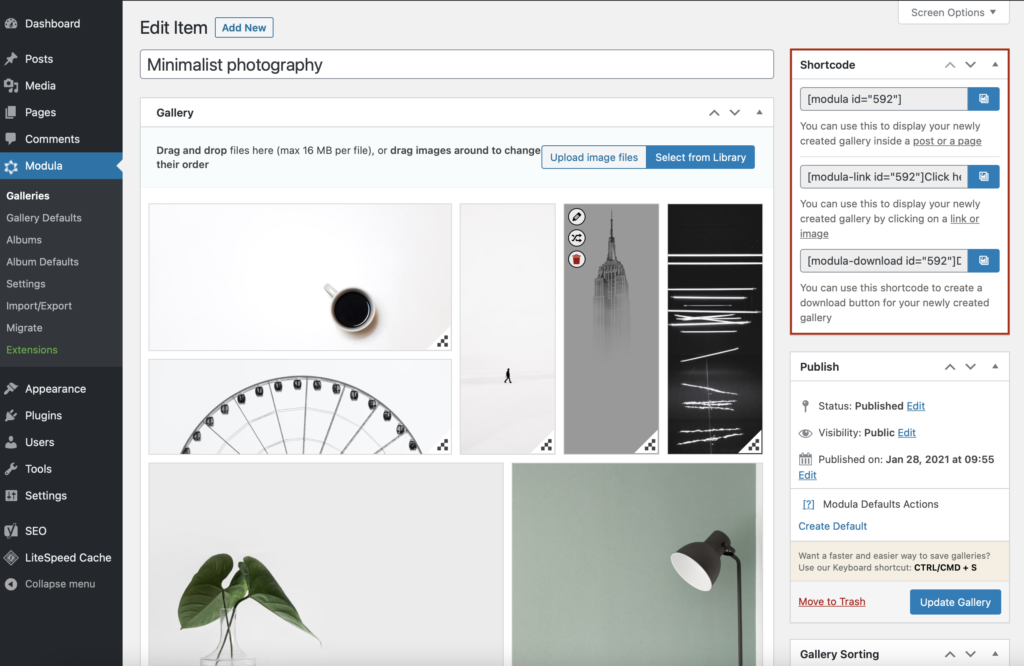 Now all that's left to do is cut and paste the gallery shortcode any place on your website you want your images to appear.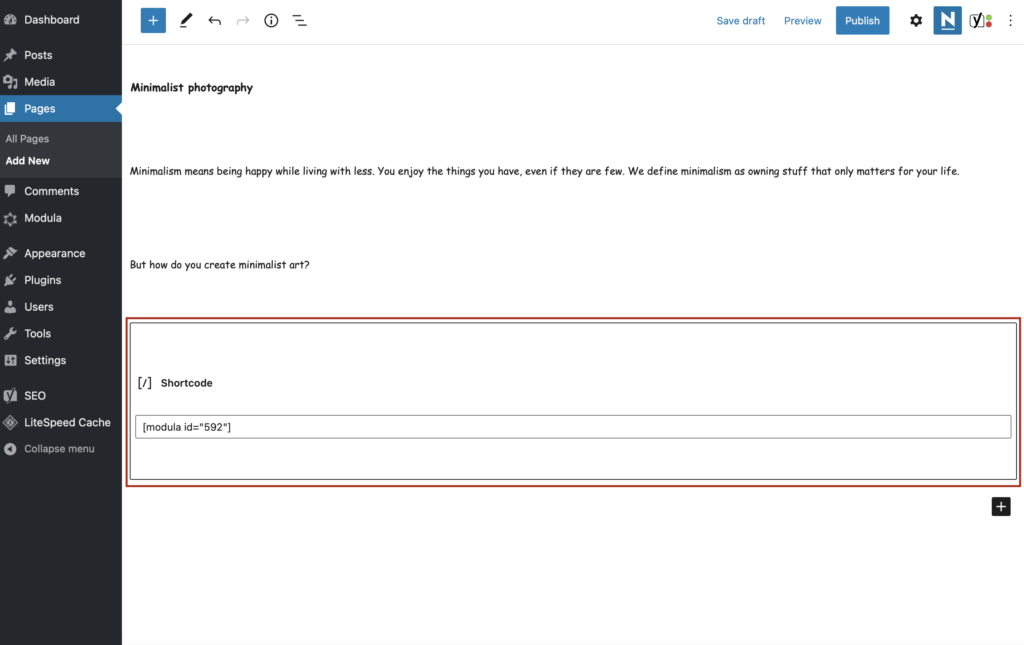 When it comes to user interaction, Modula is by far the most user-friendly plugin. It's being actively used by more than 80,000 users and provides all the bells and whistles you'd expect from a gallery plugin.
---
Selling your photos online with Easy Digital Downloads
Easy Digital Downloads (EDD) was specifically designed to sell digital files straight from your WordPress website. This plugin is one of the most popular eCommerce tools around for those that want to sell their products online – photographers, designers, web developers, and more.
As a photographer, selling your photos online with EDD will simplify the sales process. Better yet, you'll get all the money you earn. The core plugin is free and comes with plenty of features to help you to sell your photos online.
Once you've created your portfolio using Modula, it's time to sell photos online by creating your marketplace with Easy Digital Downloads.
To get started, all you need to install and activate the EDD plugin on your website by navigating to Plugins > Add New, searching for Easy Digital Downloads, and installing and activating the plugin on your website.
---
Step 1: Create your product
After you install and activate the EDD plugin, it will appear in your WordPress dashboard. Click Downloads > Add New to create your first product.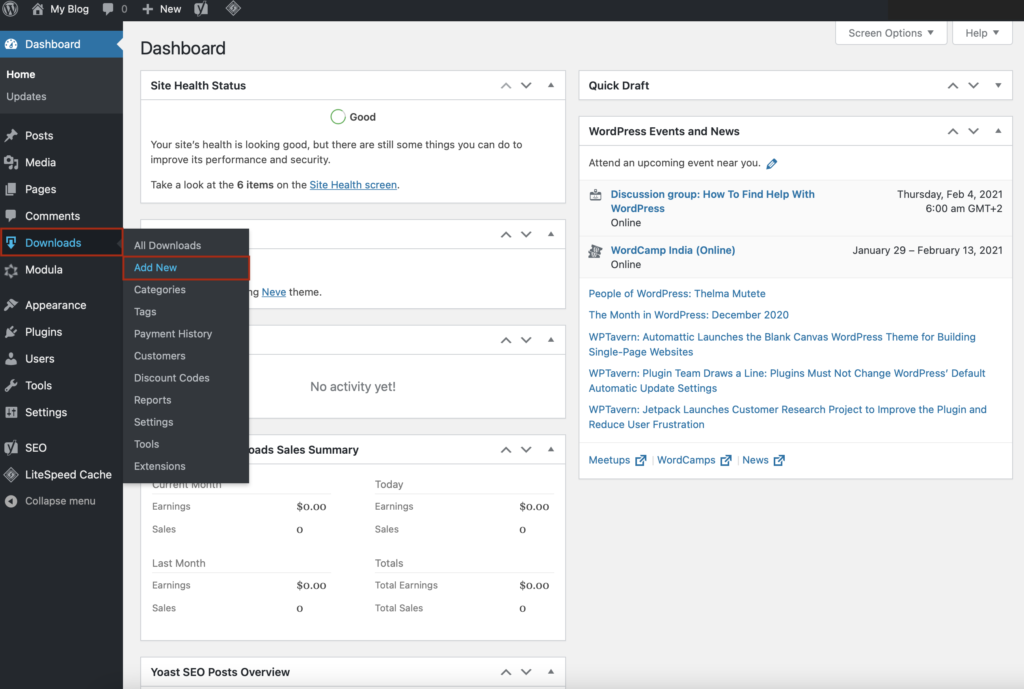 Next, add a descriptive name for your product, as well as a description for customers to see. Your customers will be attracted to the descriptions you write, so make sure they're engaging and detailed.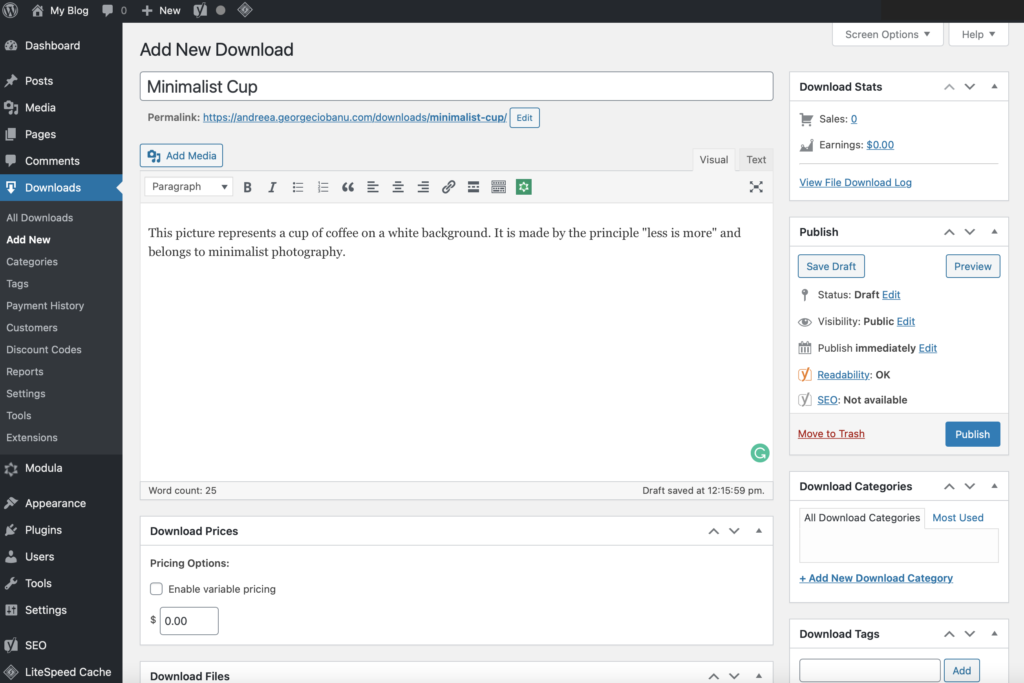 Next, add a price to your product. If you want, you can also set a file download limit. Otherwise, leave this setting at 0 so customers can download your image an unlimited number of times.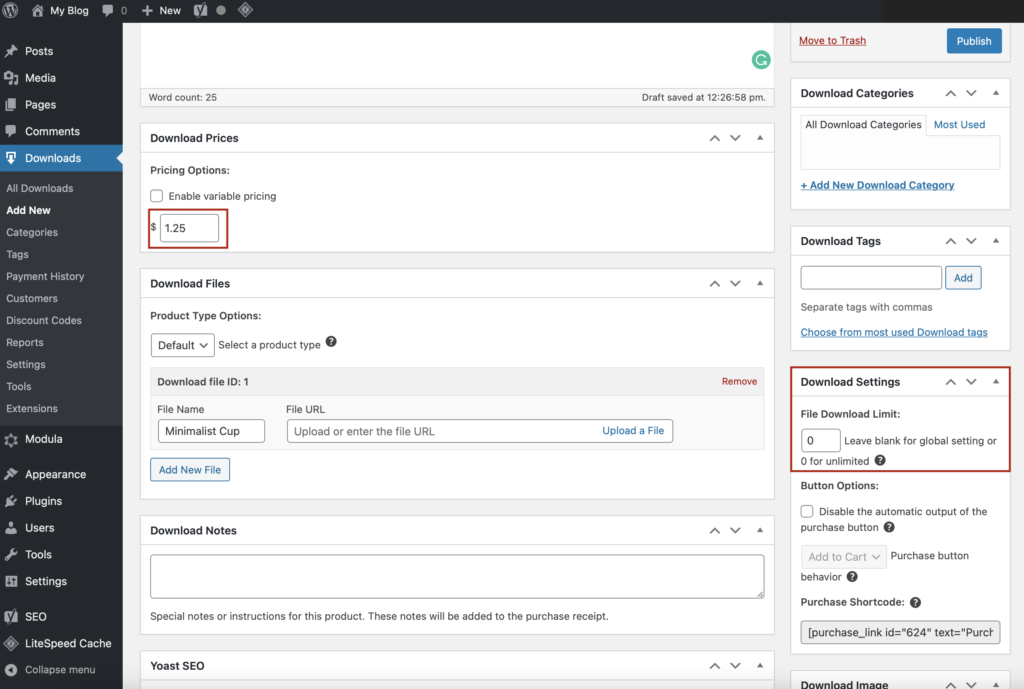 The next step is creating the product URL. For this example, we'll add the minimalist cup URL from the image gallery we created with Modula.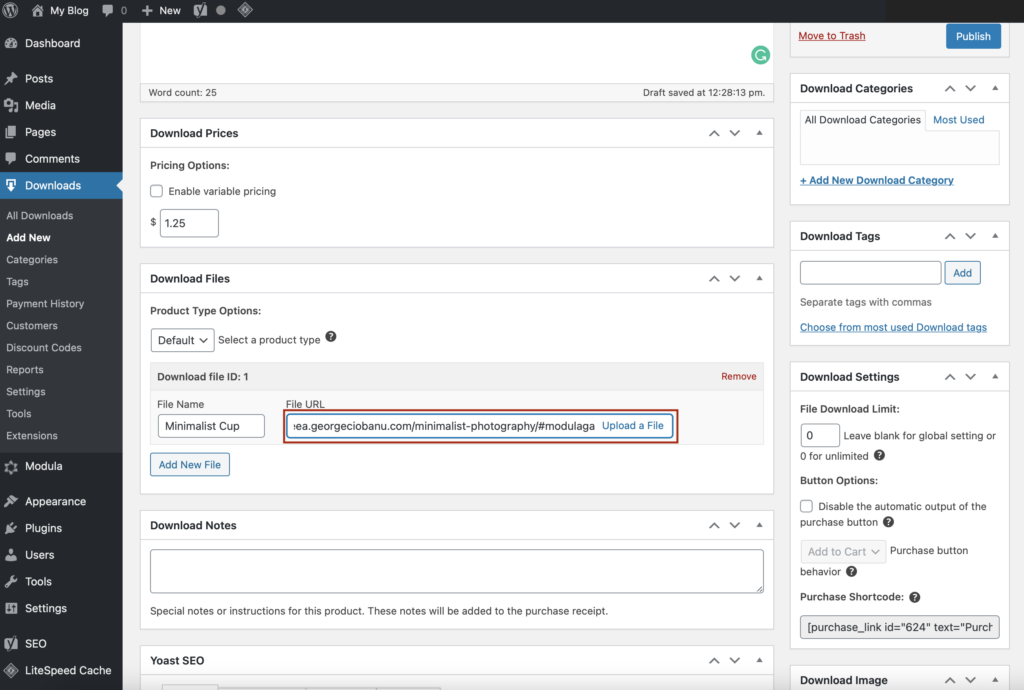 From there, add the image you're selling to the Download Image section. When you do, you'll be ready to publish and start selling photos online.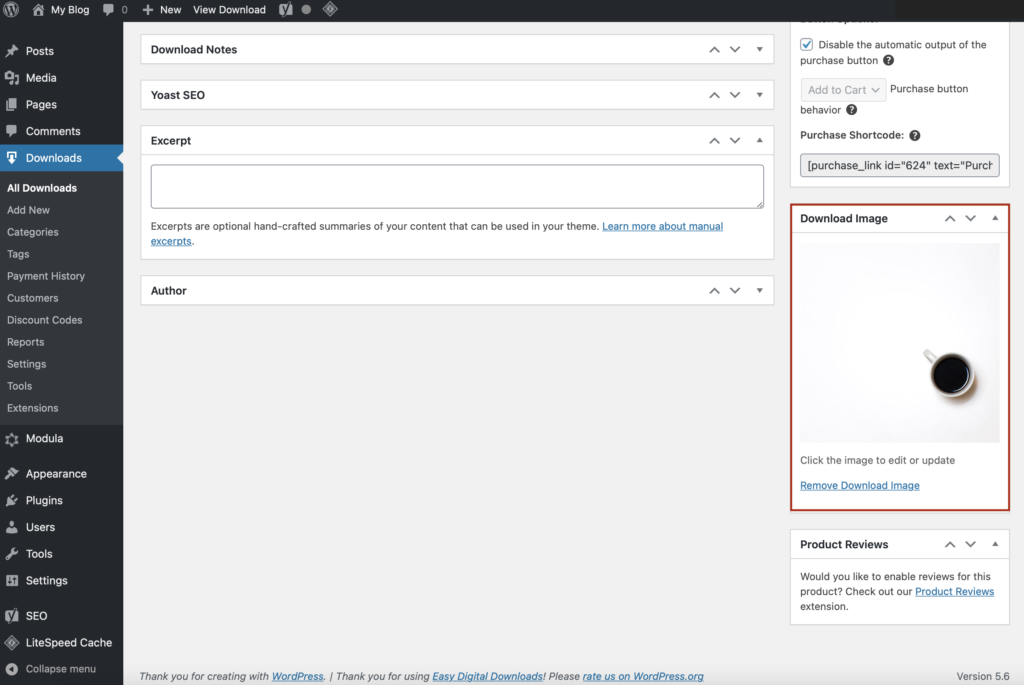 ---
Step 2: Publish your product
Now that everything is set up, all you need to do is click Publish. The image is now available on your website to be sold.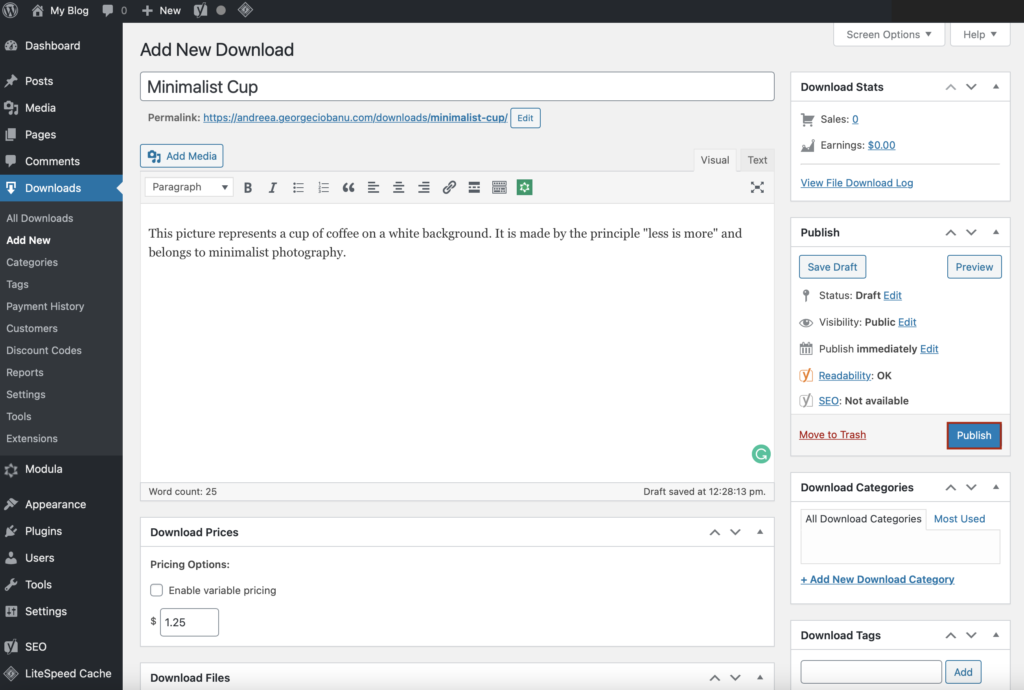 If you have more than one image to sell (which is highly likely!) you can repeat the same process with all your products. When you do, they'll appear in the frontend of your website and look something like this to site visitors that arrive on your website: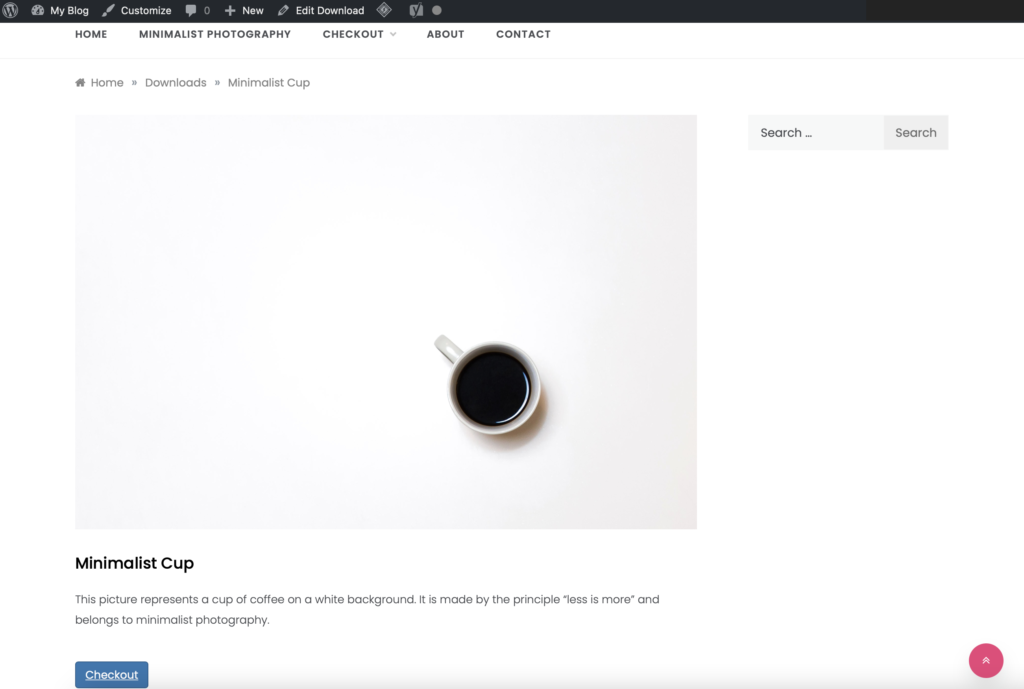 ---
Step 3: Link EDD to your photo portfolio
Using Modula and Easy Digital Downloads together to sell photos online is a cinch once everything is set up.
When you have your gallery of images and products created, go to Downloads, hover your cursor over the one you want, and click View.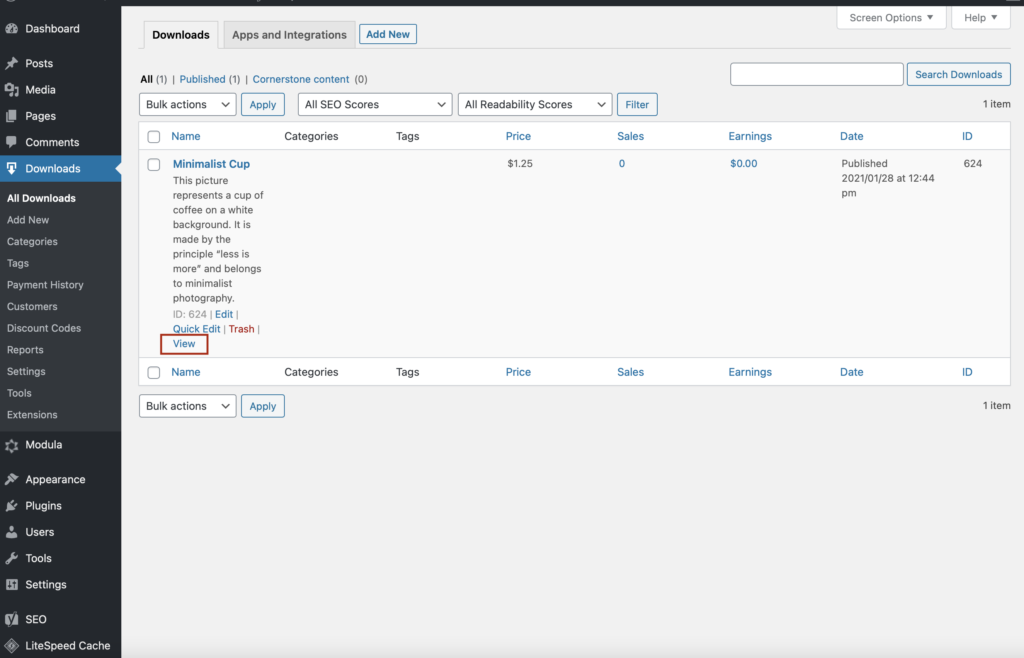 From there, you'll be redirected to your specific product's page, where you will see all its information. Next, copy the URL from the browser's address bar.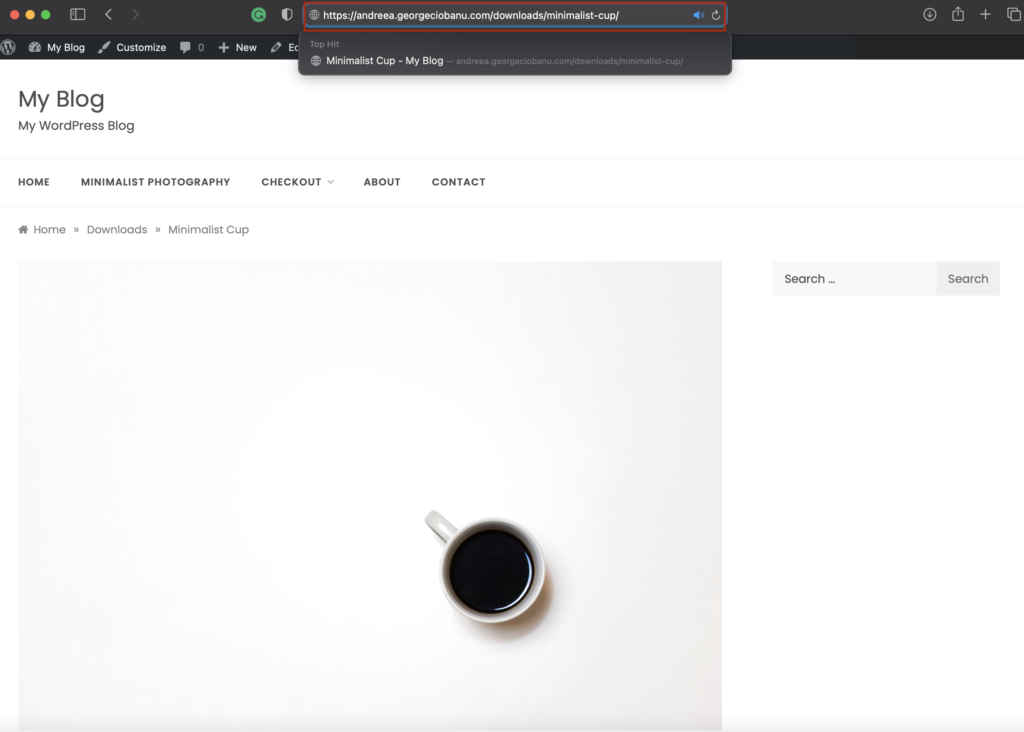 Once you copy the URL, go to your image gallery, hover over the image you want to assign the product, and click on the pencil icon to edit the image.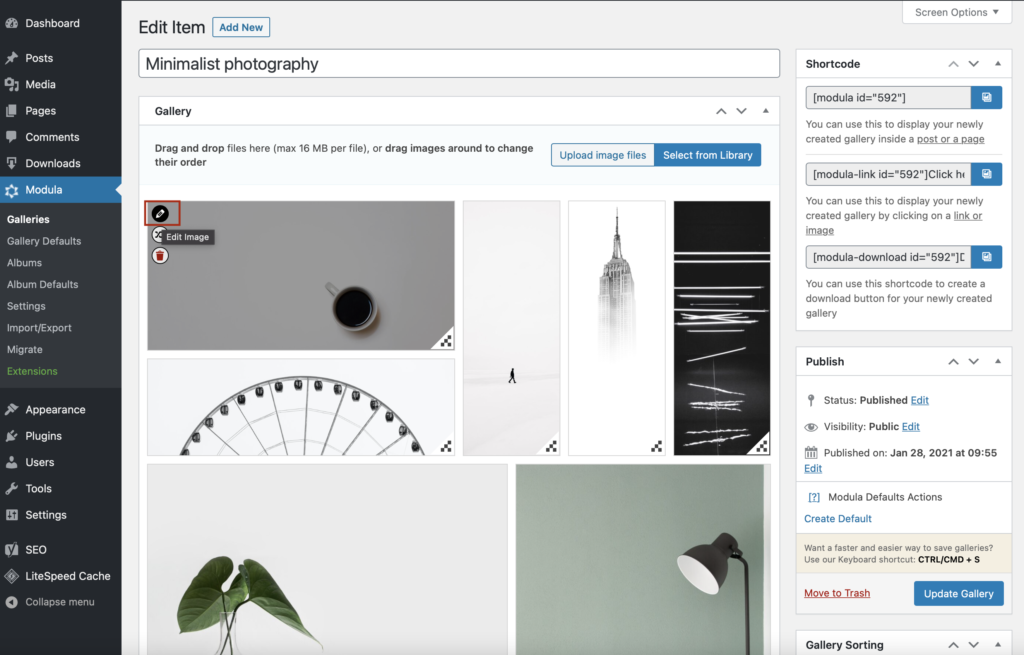 Lastly, all you have to do is to insert the product link you copied into the URL field to connect the image to the product (and all the information you filled out for it).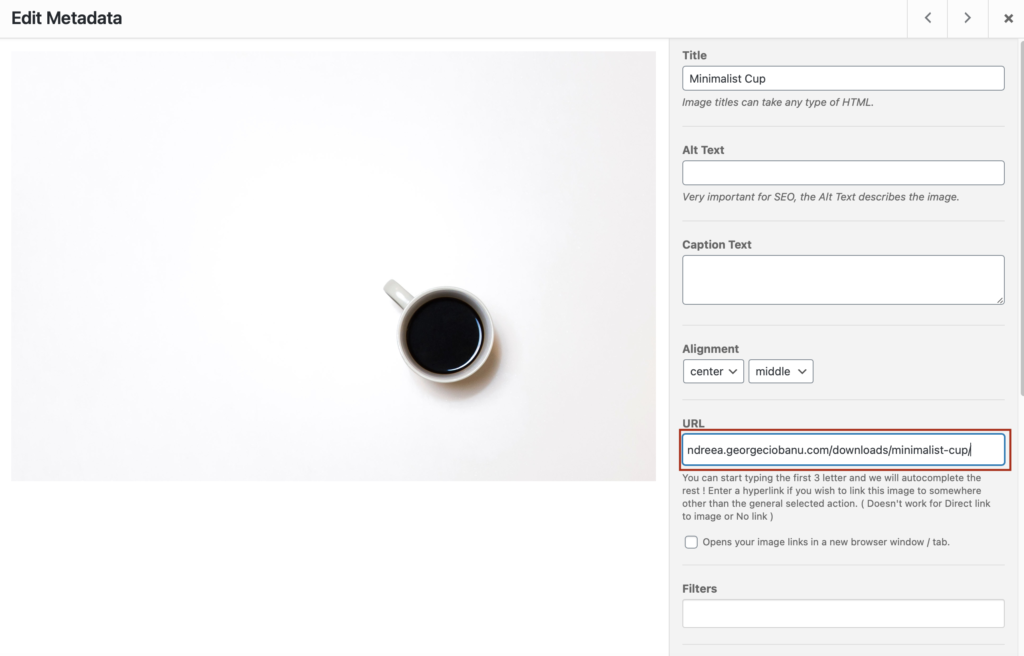 Click Save. Now your customers will be able to buy your photos straight from your WordPress photography website.
And there you have it! You now know how to sell photos online using Modula Gallery and Easy Digital Downloads. Although you have the option to contribute your photographs to a stock photo website and sell your photos online and earn a commission for every image you sell, it's not always the most lucrative choice.
If you want full control over your photos and want to earn a whole lot more than a small commission, you just need a gallery plugin like Modula and an eCommerce solution like Easy Digital Downloads. From there, you're free to earn 100% of the money you generate and maintain a truly unique look and feel to your photography website.
---
🏆 Our winner in a nutshell: How to sell photos online and make money
If you want to start a small business and sell photos online to make money, you have two options.
1. The winner solution: use a combination of Modula and Easy Digital Downloads 
In our opinion, Modula paired with Easy Digital Downloads is the best option for selling photos online and making money. For starters, you don't have to wait for the approval process. Secondly, you get 100% of the earnings which means you are in complete control over how much money you can make. 
Getting started with selling your photos on your website is not difficult. All you have to do is follow the steps we've shared in the last section of this article.
2. Sell your photos on the stock photography site of choice
Choose a stock photo site from our list and start selling your photos there. Hopefully, the first part of this post has made easier for you to decide which stock photo website to go with but in case you're still struggling to make your choice, here's my recommendation:
Just start with the one that sounds most suitable.
If you start with Adobe Stock or Shutterstock, that doesn't mean that you're going to be bound to using them to sell your photos for life. You'll always be able to transition to another platform or even transition to selling your photos on your own website.
The key to successfully start selling your photos online is not to overcomplicate the process.
If you've decided to go this route, there are a few steps to follow:
1. Create an account
This step is very straightforward. Just create your account and fill out your profile with all of the necessary (and accurate) information. To complete your profile and, in some cases, also the application, you need to submit to join the stock photography network.
If the site that you've decided to join has a review system in place, this can take a while so you may need to take a break between steps 2 and 3.
2. Start producing and sharing work that has the potential to be used by people
This might be obvious but often comes up when people say that they are struggling to sell their photos. Not every photo will sell equally well.
Obviously, it's important to keep an eye out on stock photography websites to see what it is that is more popular. One such example could be city photography, and this is something that shouldn't be particularly difficult for you to capture if you already live in a city and are able to take unique photos of buildings.
---
Summary: best places to sell your photos online
Selling photos online and making money from it is not that difficult. The easiest and most cost-effective option is to sell photos from your website as it allows you to be in full control over your profits.
But if you're looking for more exposure, you can start selling your photos on places like Adobe Stock, Alamy, ShutterStock, and other websites listed in this article.
If you're just getting started with your photography business, the articles below will help you launch your website and more:
We hope that this guide has made it easier for you to decide how to sell your photos and make money out of it.
---
Frequently asked questions
🤑 Which is the best site to sell photos?
Depending on what you're looking for, whether a well-known website that you trust or one that pays the biggest commission, there are a few options you can choose from. If you're interested in their prestige, Adobe Stock or Shutterstock are great options. If your goal is to get as much commission as possible, Stocksy offers a great deal.
💵 Where can I sell my photos online?
You can either build your own website and integrate an eCommerce solution into it or look up stock photo websites and become a contributor.
💻 Does selling photos online work?
Yes, it works. For example, if you sell them on stock photo websites, you earn a commission for each picture sold (each website has its own policy regarding the commission).
💸 Where can I sell my photographs for money?
If you want 100% of the commission, you should set up your own website and sell your photographs there. However, if you're looking for a safer solution, you can become a contributor to a stock photography website – each website has its own payout policy.
📷 What type of photos sells best?
The bestselling stock photos include people in authentic settings, trends, real events, and niches.
📱 Where can I sell my mobile photos?
Foap is a stock photo website that allows you to upload pictures taken with your mobile phone.