If you've been asking yourself: "How can I make money by selling photos online?" you've come to the right place. Let's take a look at how and where you can start selling your photos.
What you'll find in this article:
a list of places where you can sell your photos;
a self-hosted alternative solution that will teach you how to keep all of your sales commissions;
a short review of each platform presented;
and so much more.
Without further ado, let's get started with the top 19 sites where you can sell your photos online:
---
---
Today, over 48% of the world's population owns a smartphone, and that number's increasing exponentially. It means that, essentially, the same number of people now have access to the Internet.
The Internet has made it easier than ever for photographers, all over the world, to share or make money from selling their high-quality photos online. And you could be one of them.
---
Which Stock Photo Site Is Best For Me?
Top Sites for High Commissions
Self-Hosted pays 100% commissions;
Stocksy pays 50-75%, but requires exclusivity;
Freedigitalphotos.net pays 70% but has low exposure;
ImageVortex also has 70% commissions, but low exposure.
Top Sites for Smartphone Photographers
Both of these sites have apps that encourage smartphone photo uploads. In fact, most stock photo businesses allow smartphone photos. However, many have high quality standards and will reject plenty of non-DSLR or lens photography.
Best Site for International Photographers
Stocksy actively seeks talented photographers from Southeast and East Asia, the Middle East, Australasia and Western Europe. If you're from one of these areas, you'll have an immediate over the competition.
Best Site for Highly-Proactive Photographers
Foap is an excellent site for someone who wants to leverage their proactive nature for higher earnings. For most stock photo sites, the only way you can be proactive is to regularly add to your portfolio.
On the other hand, Foap allows its contributors to enter Missions. In other words, these are commercial photo contests. If the client chooses your work, the payout can be hundreds of dollars.
Top Sites for Beginner Photographers
All of these sites feature decent commissions and an easy sign-up process. You should be talented, but you don't need to be professional to join these programs.
Best Site for Students
Alamy offers 100% commissions for students for their first two years as contributors. It's an extremely generous program that student photographers should use to their advantage.
Top Sites for Exclusive Contributors
If you'd like to limit selling photos online to one stock photo website, it's best to take advantage of an exclusivity program.
In that case, we recommend choosing between Stocksy and Shutterstock. Both have advantages and disadvantages.
Stocksy offers high commissions (50-70%), but lower exposure. On the other hand, Shutterstock has lower commissions (33%), but very high exposure.
It's also true that Stocksy is not always accepting new contributors. In any case, it may be best to check out the photos available on both sites and see where you fit in best.
---
Stock Photos Sites Compared (Commissions)
---
Ultimate Strategy for Selling Photos Online
This approach to selling photos online is for photographers who want to make the most money possible. They are willing to put in some extra effort, and they won't be in a huge rush.
If you're a talented photographer that wants to contribute to several well-reviewed stock photo businesses, keep one thing in mind.
Successful stock photographers continually upload images to their portfolios. Remaining active on the stock photo site is essential to high earnings.
For that reason, it's key to avoid stretching yourself too thin over a dozen platforms. We recommend applying to at least 3 of these stock photo sites first:
Alamy;
500px;
Foap;
Can Stock Photo.
Of course, none of these sites require exclusive selling rights. Individually, they give photographers low to medium exposure. However, you can reach a fairly wide market by joining multiple programs while retaining high commissions.
---
What If That Doesn't Work?
Maybe after a few months the ball still isn't rolling. Your images just aren't selling like you want. At that point, it would be smart to join these programs:
These sites are high-exposure with low to medium commissions. Continue uploading photos to every program for a few months. Then track your earnings and decide where to focus your energy. Choose 3-5 of the best-earning sites among the 8 listed.
If your photos are selling mostly on Getty Images and iStock, which are twin programs owned by the same company, then consider switching to their joint exclusive program.
You will reach the 30% commission after 800 downloads of your photos. However, the commission rate tops out at 35%.
It's important to note that Shutterstock offers a flat 33% commission without requiring exclusivity, so it's more likely that you should just keep contributing to multiple non-exclusive programs.
---
Stock Photos Sites Compared (Features)
---
Stock Photo Site Reviews
The hard truth is that stock photo sites are saturated with professional photographers. Websites with the best exposure have dropped their commissions, and many of the options with good commissions have low exposure. To top it off, most websites won't release payment until you've earned $50 or even $100.
For these reasons, we highly recommend self-hosting your own site. Keep all the profits and control. Build and market your site now, and it will pay off in the future.
Read on to find in-depth reviews of the best stock photo sites for selling photos online. Each review includes an overview of the commissions, sign-up process, and important considerations. Then we discuss the pros and cons of each website…
However, for those of you who want to know more about self-hosting, let's dive in:
---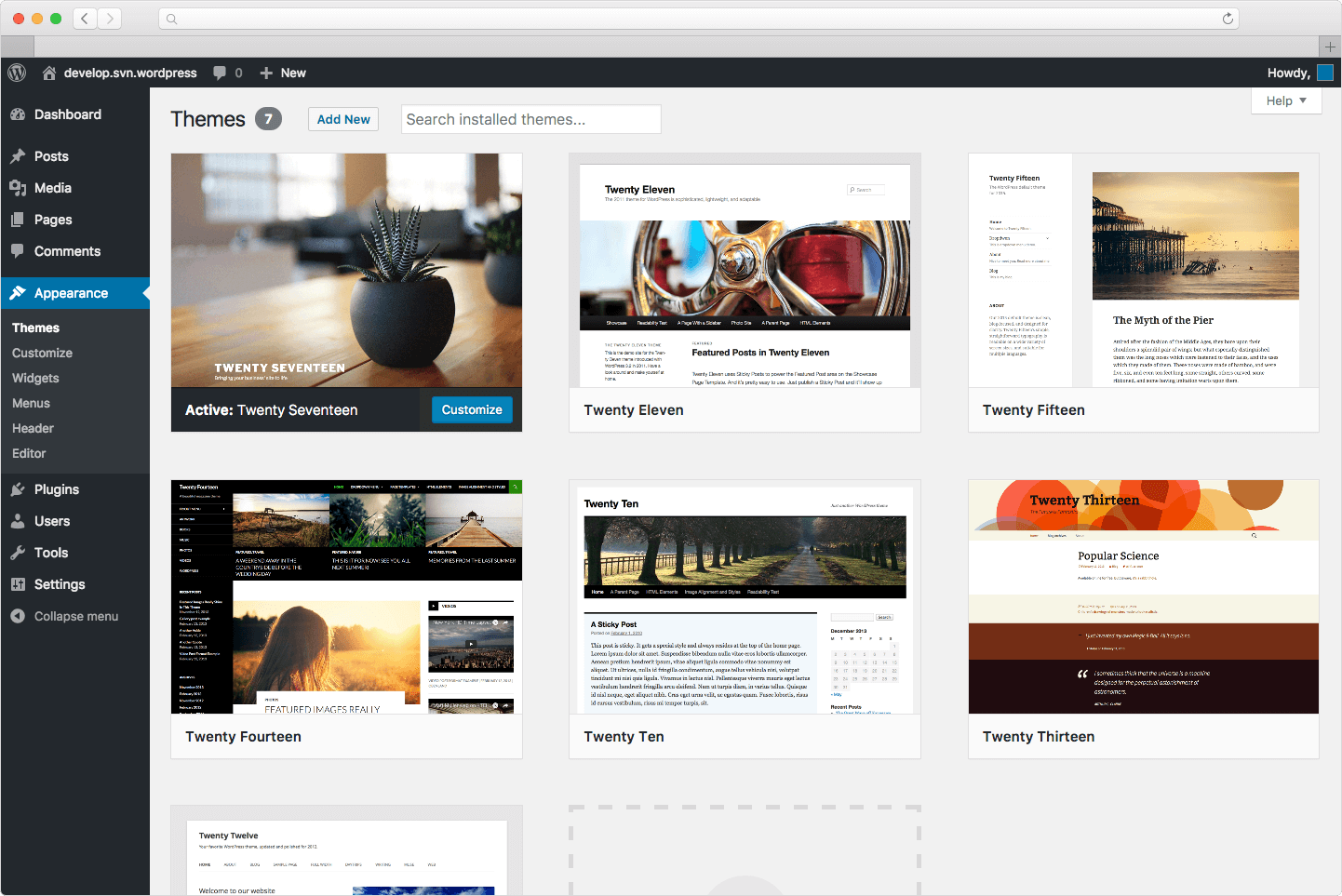 I think it's best to start with our personal favorite – WordPress. WordPress has a repository housing around 57,670 plugins – and a lot of these plugins can make your life easier.
Thanks to free tools such as WordPress, which now powers 38.5% of all online websites, you can easily create your own photography portfolio and start selling your photos online.
Setting up a store is painless and easy. You can start selling your stock photos, without having to give up any of your sales commissions to a 3rd party, in a couple of hours.
Most will find that it is really easy and quick to get started, and even for those who do find it difficult, it's definitely worth it in the end. It's a fantastic option for both freelance photographers and new stock photo businesses.
Where 3rd party solutions have a tiered pricing approach, with more features being available on their most expensive plans, you can get almost everything for free with WordPress.
---
If this sounds like a lot to take in right now, don't worry and just read on. We'll be explaining everything in detail.
---
What I'm going to explain further doesn't require previous experience working with websites. I'll provide links to tutorials that explain every step of the process, from finding the perfect hosting to creating a photography website.
Let's start with step 1, which is finding the host that can put up with your needs.
---
What is hosting and what are my choices?
Web hosting is a service that allows people to post their websites on the Internet. A provider for such a service facilitates the technologies and other processes needed for the website to be published and viewed by others. You can read more about this, here.
To find the best type of web hosting for your needs, you'll first need to learn that there are multiple types of hosting options to choose from. These types of hosting services can be broken down even further into categories by technical specifications or by the individuals they're targeting, but we're getting way ahead of ourselves.
To make things simpler, we've only listed the 2 most common types of hosting packages. Each comes with a recommended trusted provider that you can check out.
---
Shared hosting
This type of hosting refers to the custom of using one server to host multiple websites, with different domains. An easy to grasp analogy for this would be to imagine that shared hosting is pretty much like an apartment building, where, the building would be the server.
While we can't wholeheartedly recommend this type of option, due to it being limited in what it has to offer, it's a great starting point.
Our recommendation in terms of providers for this type of hosting is Bluehost. It's also listed as one of the companies that WordPress trusts for this service, so you might be interested in giving it a try. However, if you're looking to dig deeper and do your own research, it's true that there are even cheaper WordPress hosting alternatives that you might be interested in.
---
Managed hosting
This one is more expensive, but you'll quickly see why. If you're only looking to manage the content of your website, without having to worry about speed, updates, security, and everything that's out of your expertise, you should choose this one. It's pricier, but you'll have someone else handling these things for you.
Our recommendation, and actually the one hosting this website, is Kinsta. They have a great infrastructure, powered by Google Cloud, and offer amazing support, so you basically get everything you need without the hassle.
---
Install WordPress
The hosting providers we've recommended previously offer a 1-click install process for WordPress. But if you might want to go the old-fashioned way, it's ok because this is a very simple, 4-step, process.
You just have to download a ZIP, create a database for it, and run the installation script. It takes 4 simple steps to create your website with WordPress. However, if you feel stuck, you can go through their installation guide.
If you're curious about finding out more about why WordPress is the best choice for starting out your photography business, read this article that explains everything in a comprehensive manner.
Most big businesses and individuals will prefer to purchase images on stock sites that they've known to be 100% reliable and secure. However, that doesn't mean you can't build a well known and reputable source of stock images.
---
The advantages of selling your work on your own website are:
You can set your own prices.
Nobody else takes a cut from your sales.
You have full control over how your work is displayed.
You can define your own terms and conditions.
And, once again – you're in full, total control.
With the WordPress installation process out of the way, the only thing left to do is to find a good photo gallery plugin that can meet your needs. The great news is, that we've built one of the most popular ones – namely, Modula.
Here's how to get started with it:
---
Step 1: Install Modula and create a gallery
First, you need to navigate to Plugins > Add New and search for WP Modula Gallery in the WordPress repository.

Once you install the Modula gallery plugin, make sure that you also activat it by clicking on the blue button highlighted below!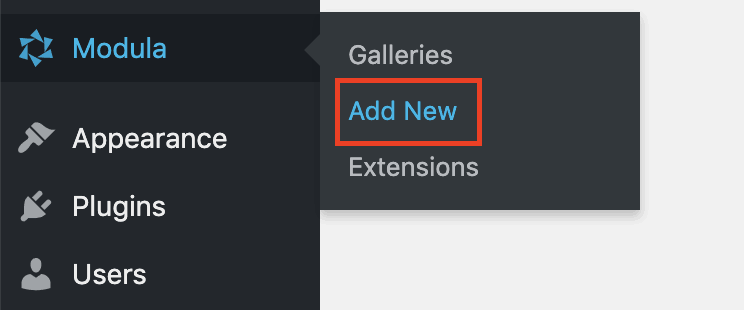 Once Modula is both installed and activated, you can hover over the Modula WordPress Admin menu item and click Add New to create your first gallery in WordPress!
And you can follow our tutorial on how to create an image gallery in WordPress with Modula.
We've designed Modula's backend area to be extremely user-friendly and easy-to-use regardless of your experience with WordPress.
For example, thanks to our drag-and-drop interface, rearranging images is as easy as clicking and dragging them around!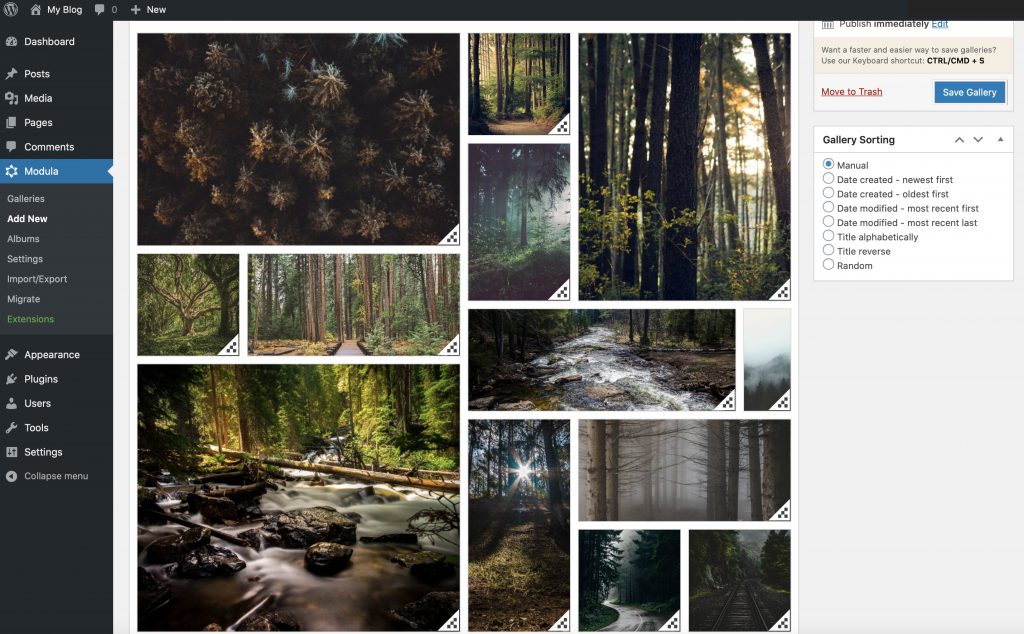 Publishing and inserting your gallery into a post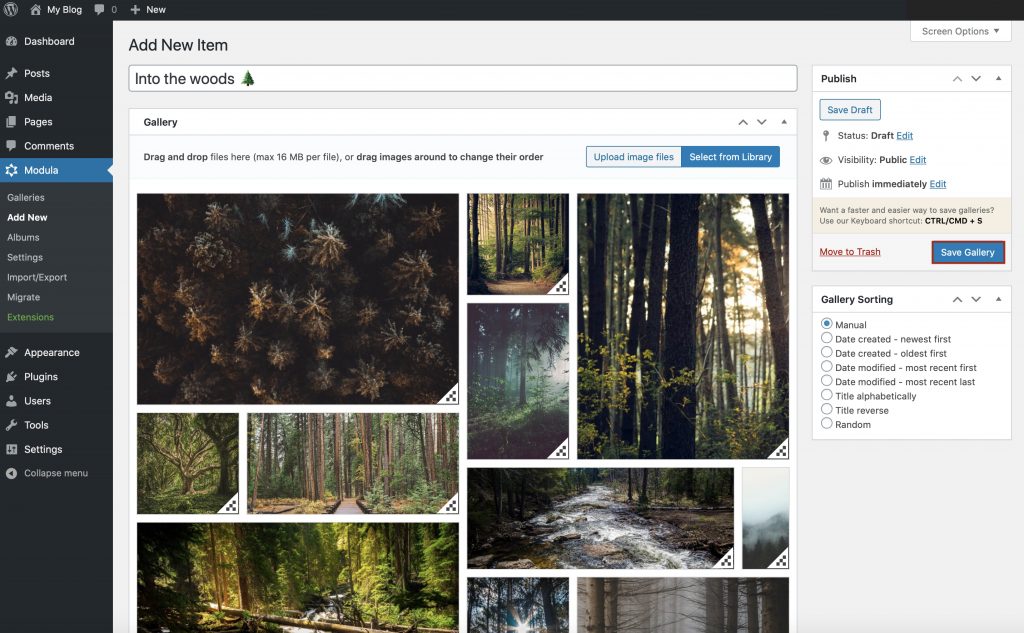 Now that you have some eye-catching images in your galleries (and we do too!) – go ahead and click Save gallery.
The next step is to actually insert your gallery into the WordPress posts and pages where you want them to appear. This is really as easy as copying and pasting the shortcode wherever you'd like it to appear.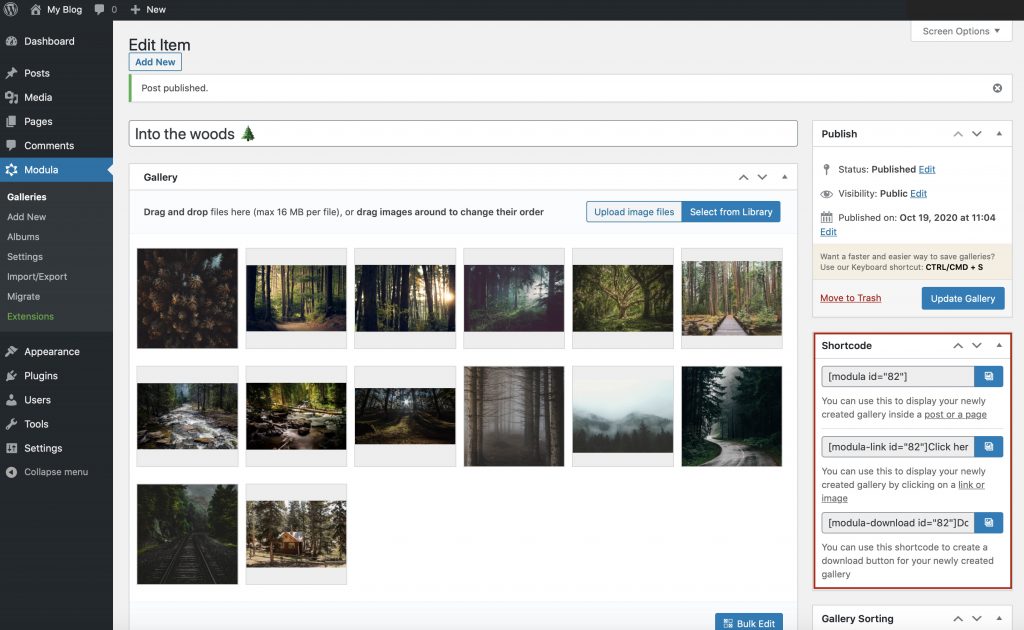 However, you can alternatively also use Modula's Gutenberg block to insert galleries – which is also very easy to do.
---
Inserting Modula Galleries into Posts using the Gutenberg Block

Simply type /modula to insert the Gutenberg block and then select your gallery from the dropdown.
Or, alternatively, click the Modula icon (shown below) and then also proceed to select the gallery you wish to insert using the dropdown shown above.

We did our best to make Modula the most user-friendly gallery plugin available.
If all this sounds daunting to you, you might find a better fit with any of our recommended website builder for photographers. Keep in mind though that you'll end up paying more per month for the same features.
Step 2: Install WooCommerce and Create a Product
Once you've created your gallery with Modula, install the WooCommerce plugin and activate it.
You'll need to go through the setup process and configure your store's address, currency, payment gateway, and allow the plugin to create the necessary pages.
After WooCommerce has been configured, click on Products > Add New. Enter the name for your product and then tick the boxes next to Virtual and Downloadable.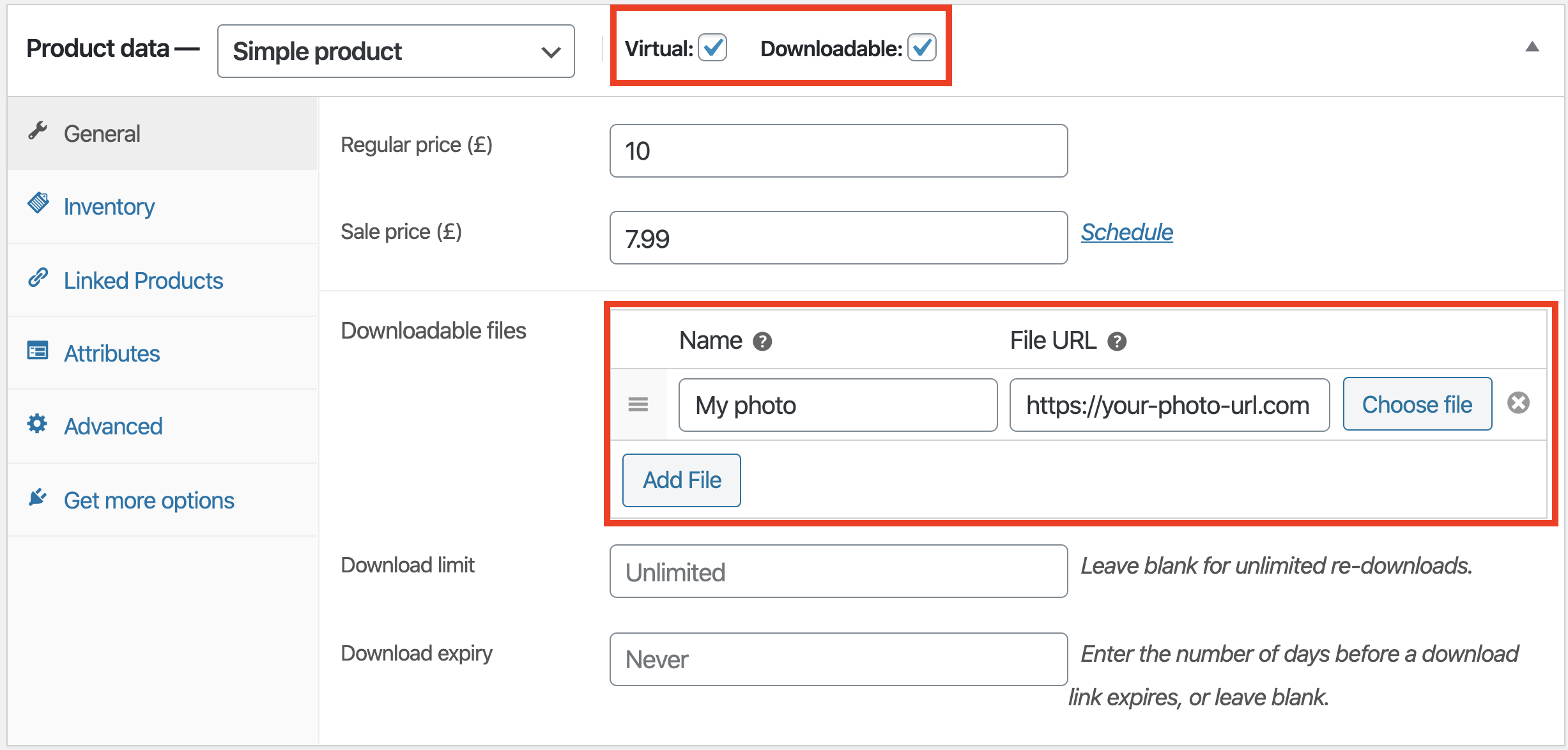 The next step is to click on Add File. You'll then be able to enter the name and the URL for your image, that exists in a Modula gallery, which you've also created earlier.
Be sure to fill out the product description, and make it as descriptive as possible.
What's next?
Then, when editing your Modula gallery in WordPress, you can click the edit button on any of the images, scroll down to the description section and paste in the URL to the specific product that you've just created with WooCommerce.
Here's a more detailed guide on how you can create custom add-to-cart URLs with WooCommerce.
Your visitors will now be able to buy your photos from your website.
---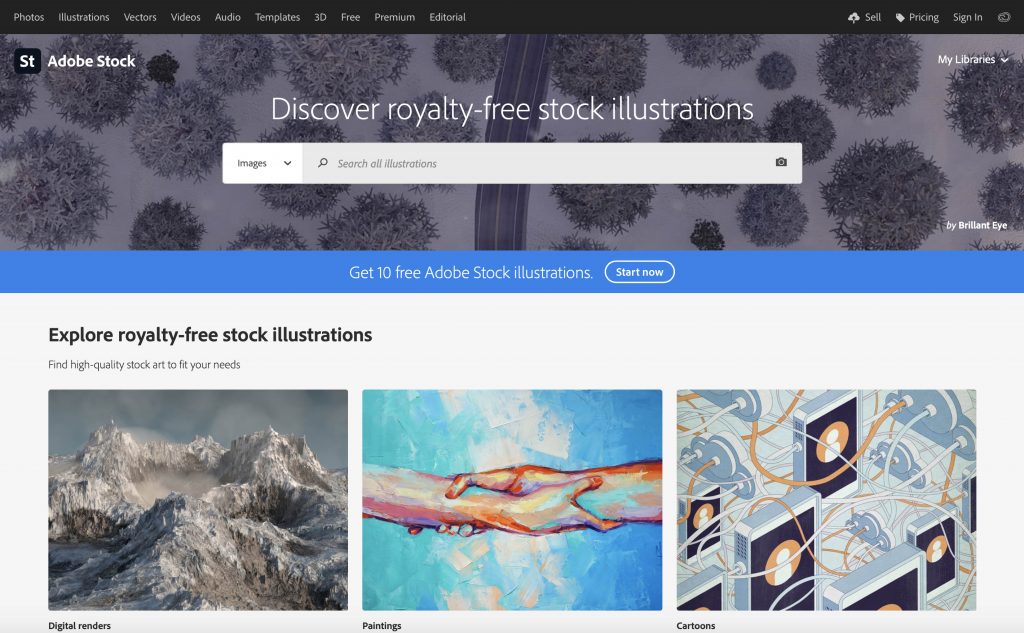 Adobe Stock has the credibility of being the makers of the most popular photo editing software for photographers on the market, and also any photos that are uploaded to the marketplace are easily accessible in other Adobe products. If you want to sell your photos online, earn money, and also edit your pictures, you are in the right place.
This increases the visibility of your work as it can become easily accessible from within their Adobe Lightroom, Photoshop or Illustrator software.
The freedom you are given when you start selling stock photos on Adobe Stock is incredible.
You can even sell your photos elsewhere since Adobe Stock does not require that you give them exclusive selling rights. And above all, profits are usually 33%.
If you think what you have as it takes as a photographer, don't hold back. Make sure you turn your passion into profit and earn money by selling stock photographs.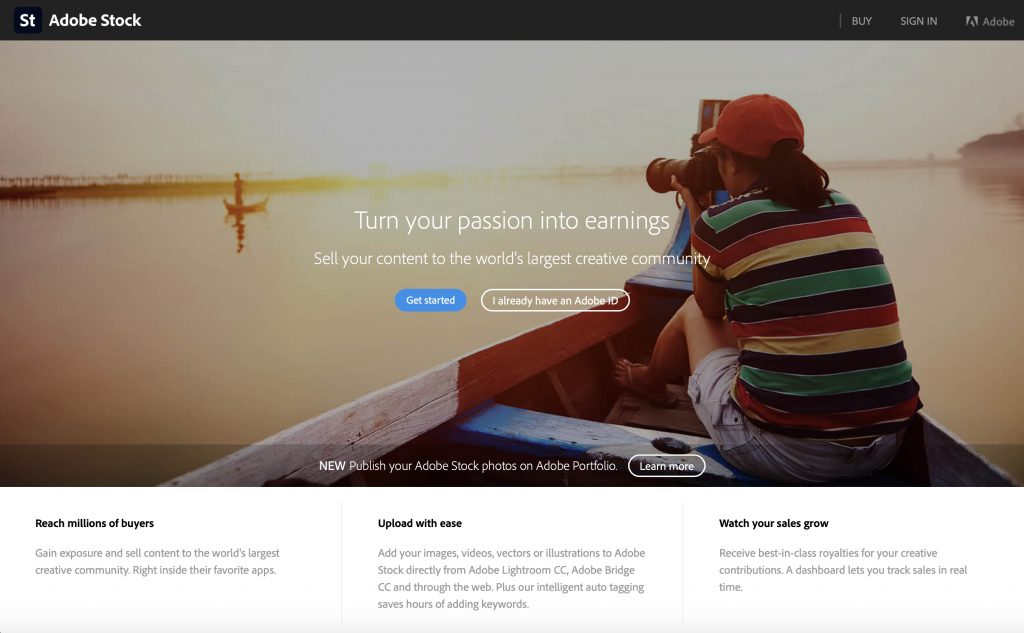 Adobe Stock Review
Just as you'd hope, setting up an account as an Adobe Stock contributor is just as easy as logging in with your existing Adobe ID or creating a new one. You'll need to add your email address and some personal data.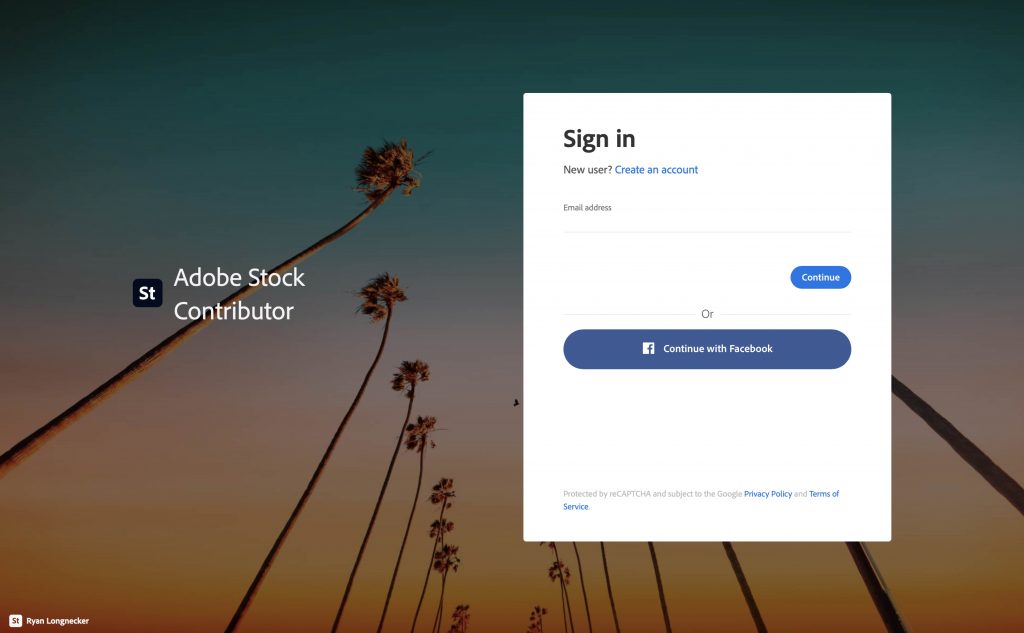 The only disadvantage of joining the Adobe Stock network as a contributor is that you will be competing with some of the world's most talented photographers. This means it's going to require a lot of hard work to get people to pay attention to your creative work and earn money as quickly as possible.
For more information, check out our full review on becoming an Adobe Stock contributor.
👍 Advantages

– Included end technology like machine learning and image recognition.

– Discounted subscription for existing Creative Cloud users.

– You can edit watermarked images for free; then you can license the desired photos with all the applied edits to a high resolution.

👎 Disadvantages

– They don't provide a mobile app for contributors.

– No audio-only submissions allowed.
---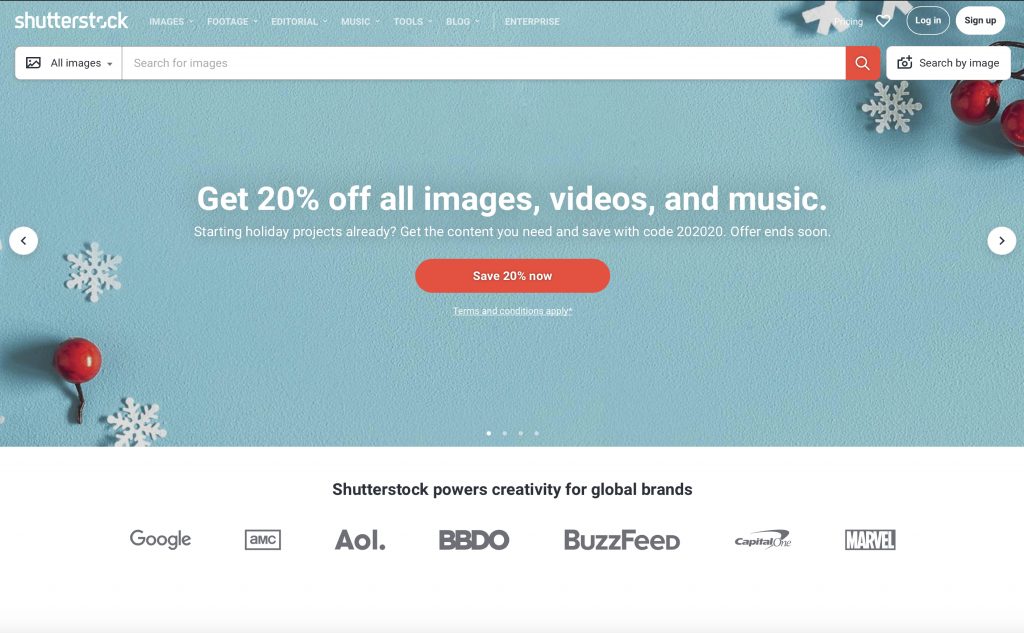 Shutterstock is the most popular stock agency that provides stock pictures and has been for over 15 years. They not only have millions of images but also have videos, music tracks that, and most importantly millions of purchasing customers.
Do you want to sell pictures as quickly as possible and make money? Shutterstock has you covered!
According to their website over $500 million in payouts to their contributors have been fulfilled. This means, as a creator, you can earn a significant amount of money by selling your high-quality images on the Shutterstock marketplace in the long run.
On top of that, Shutterstock allows you to retain the copyright of your images which means you do still get some control. Furthermore, they also provide credit to the image's owners. This is a huge benefit if you're trying to build a brand around your creative work.
Contributors can earn money anywhere between 15-40% based on how many times their customers have downloaded your content at the end of each month.
Shutterstock Review
The fact that Shutterstock is quite well known in the industry might not necessarily be a good thing. Stock photo sites that are quite popular are notorious for making it more difficult for new, aspiring photographers to actually make money.
Publishing and selling your photos online on the Shutterstock marketplace does not limit you to exclusively selling through their network – so it's definitely still worth giving it a try… Make sure you take a look at the advantages and disadvantages shown below.
👍 Advantages

– Shutterstock Showcase – an innovative search tool that will help you find what you need fast.

– Every time someone uses an image that Facebook makes available in its advertising system from Shutterstock, the contributor gets paid a subscription-rate download royalty.

– Blog integration – useful information, designer tips, software tutorials, new image additions, graphic design tips and tricks.

👎 Disadvantages

– You have to pay for more detailed categories for searching pictures.
---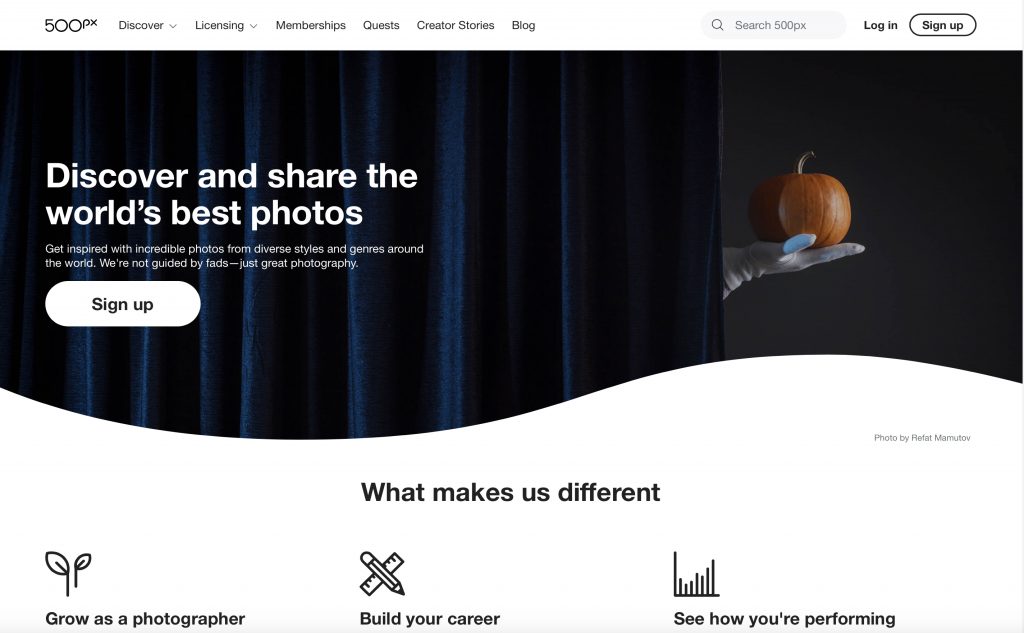 Whether your equipment consists of a top of the line DSLR camera or the latest smartphone, 500px is worth checking out.
Even if you only sign up for the free subscription fee, you will be able to license and make money with your photos in their community with over 13 million members and growing.
The paid membership plans include such perks as advertising your services so you can find more opportunities to make money and an Adobe CC plan.
However, it's important to note that in the last years, many 500px reviews from both contributors and customers have been highly negative. People complain of very low commissions and unethical treatment of contributors.
500px Review
For smartphone users, 500px has an Android and iPhone app so you can snap pictures and upload them on the go.
You'll be pleased to hear that getting started with 500px is as easy as logging into Gmail. Once you've created an account with them, you'll immediately be able to start uploading and sharing your high-quality pictures to earn money! So, add your personal information, email address, and find out if it is one of the best places to sell photos.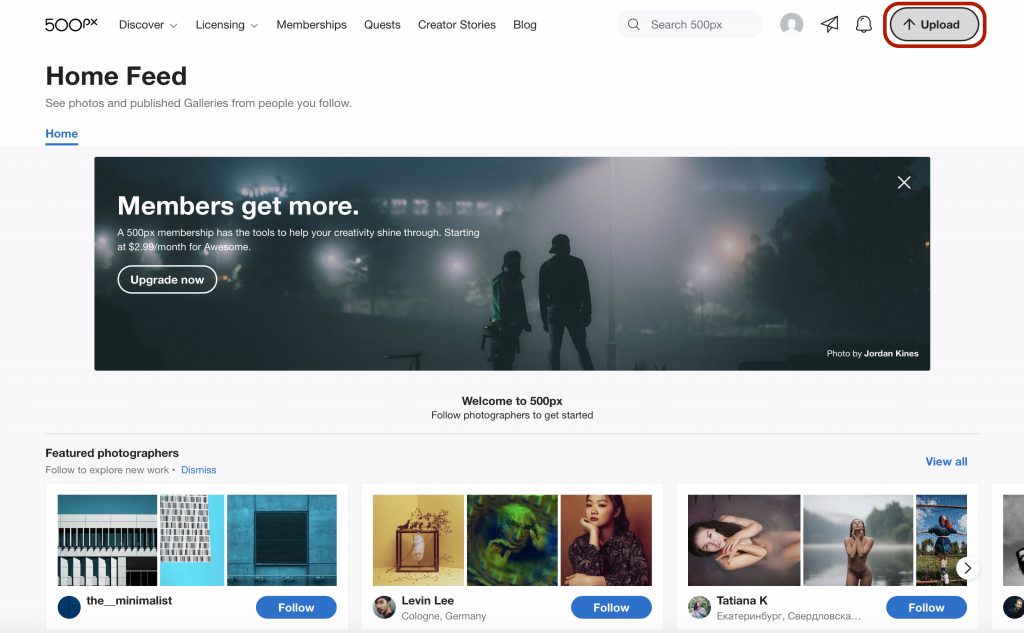 Now let's see what are some of the advantages and disadvantages of this platform:
👍 Advantages

– They organize creative photo challenges – test your skills and submit your best work for a chance to win exciting prizes.

– You can run photography workshops through 500px.

– The default profile page is professionally designed so you don't need to create a portfolio page.

👎 Disadvantages

– The sales options are limited – the user can download a desktop version or buy a canvas print.
---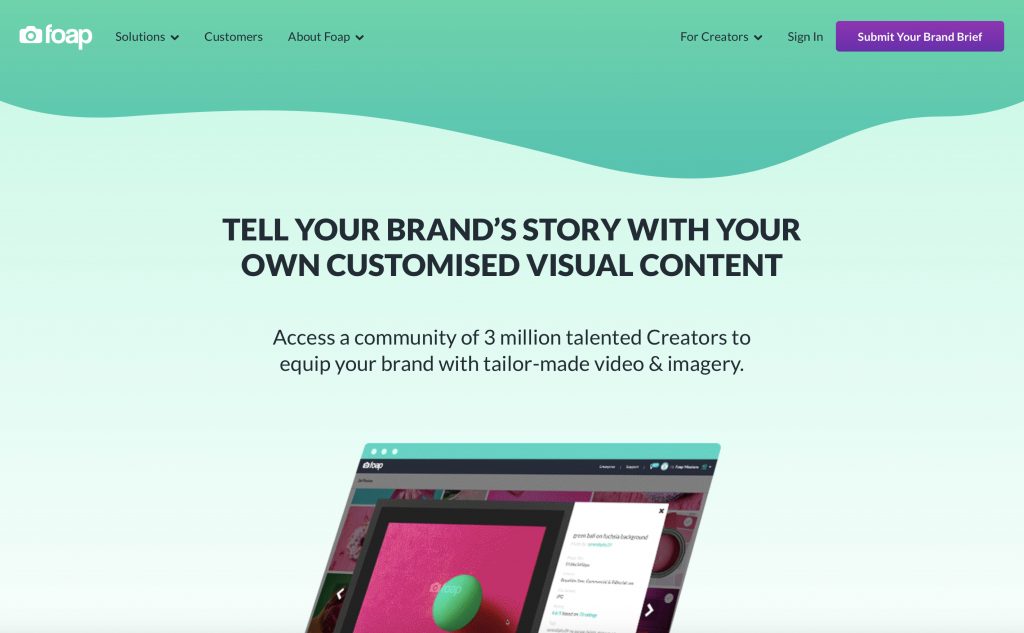 ABC News featured Foap as a profitable app for photo selling. Users make 50% of the profits from it even when big brands, such as Sony and MasterCard buy their photos.
The way that it works is particularly interesting when compared to the other regular photo selling websites in the rest of this post. This website defines itself as a customized visual-content platform powered by creatives for creative professionals. But what does that actually mean?
As mentioned above, it really isn't a regular stock site. The process looks like outlined below: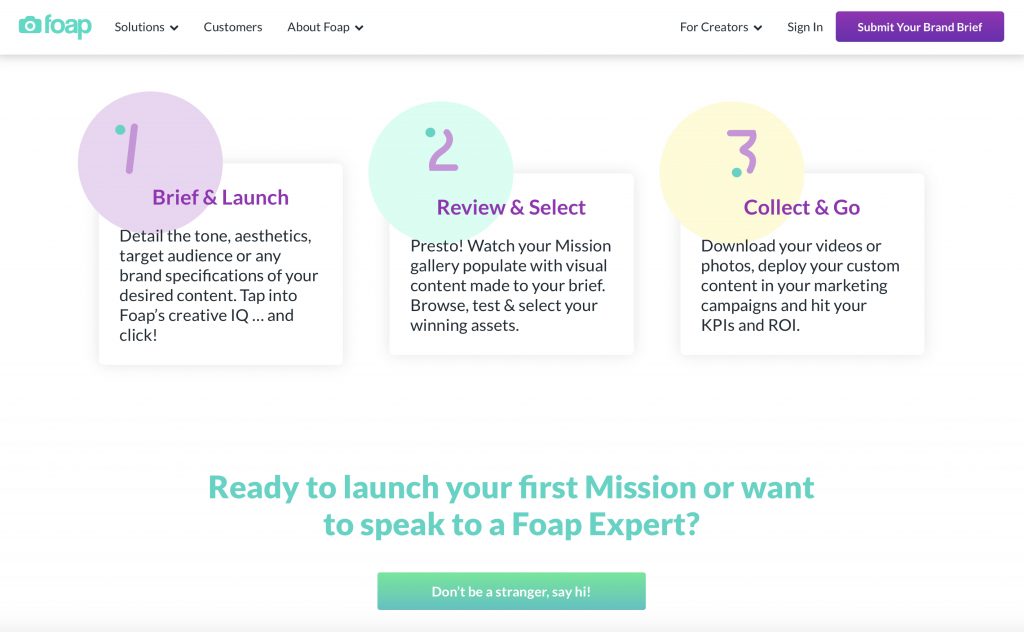 A brand looking for the perfect photo would turn to Foap and send them their brief which details the tone, aesthetics and target audience.
Photographers can then compete in what Foap interestingly calls Missions.
Foap Review
Submitting a photo or video to one of Foap's missions is the easiest way to make money out of selling your creative work.
All you need to do is produce a high-quality photo that matches that of the described Mission brief to satisfy the requirements and the kind of imagery that the brand is looking for. With Missions, just one photo has the potential to make hundreds of dollars and help you earn money.
Whether you're a photographer or a company looking for photo or video content, Foap customer service representatives are available 24 hours a day, all year round. That's a huge benefit. Make sure you choose the best option.
👍 Advantages

– No need to provide DSLR images – you can upload images taken with your phone ( the minimum required is 1280×960 px).

– You don't have to pay to register.
👎 Disadvantages

– You can't upload more photos at a time.

– You can upload pictures only through your smartphone.
---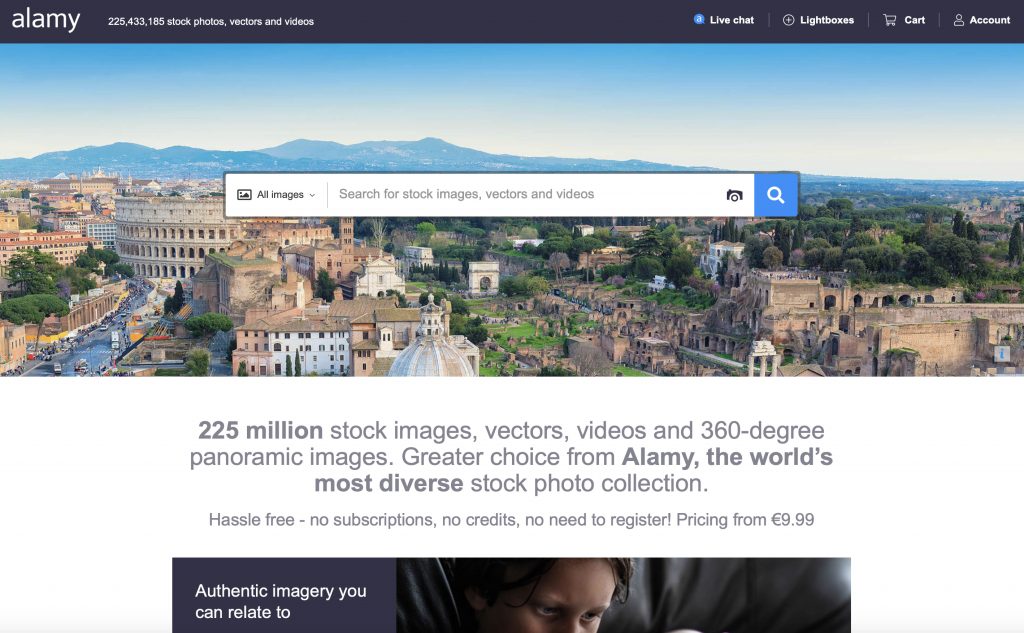 Alamy is another great place to start selling your stock photos online right away without subjecting yourself to any complicated rules. Although its network may not be as popular as Shutterstock and Adobe Stock which means it won't have as many customers – it is certainly still worth considering.
At the time of writing, this platform has made up to $180 million in payouts to their contributing photographers. One of the most well-known places for selling images because you make a surprising 40% on each sale… Well, it looks like you are going to earn money by selling your pictures with the help of this stock photography site.
Alamy Review
Alamy provides a direct purchase option without using credits or subscriptions. They think users can buy stock images from it, not credits.
So, any photo purchases are done in US dollars, Euros, and British pounds. These direct purchasing rates are straightforward, licensing costs are easy to comprehend and consumers can buy whenever they need them.
For more information, check out our full review of selling photos online with Alamy.
👍 Advantages

– No registration needed.

– It provides an app – Stockimo – to sell photos on your iPhone.
👎 Disadvantages

– There are no subscription-based models, which are often more affordable.
---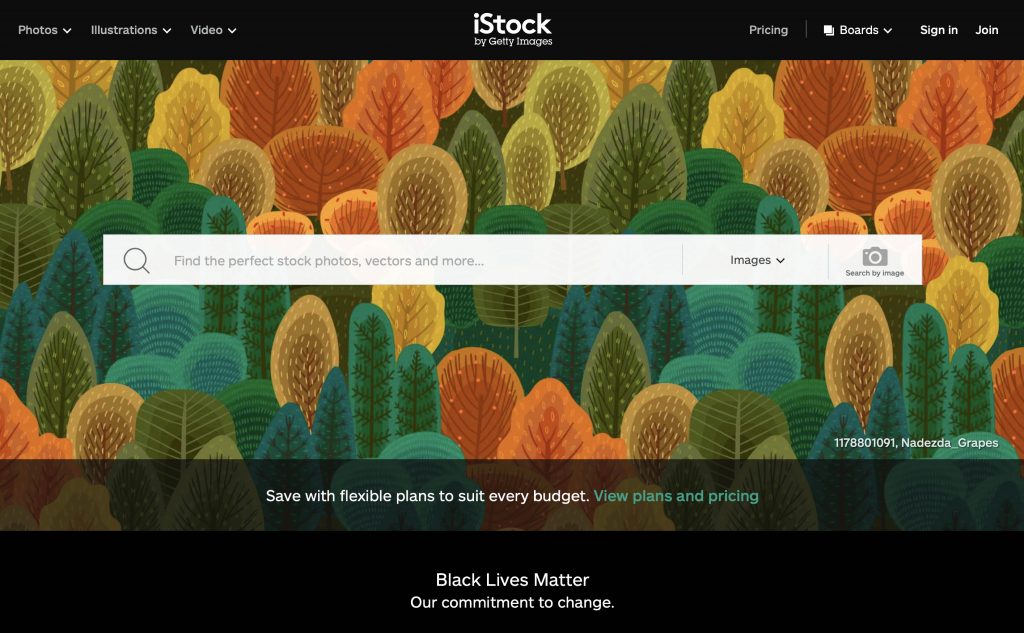 iStock Photo is another great stock photo business to make money. They have resources that are geared towards helping photographers understand how to get started selling photos online.
The service is owned and operated by Getty Images.
The commission rates you receive when someone downloads your high-quality photo starts at a mere 15% but can actually increase all the way to 45%.
iStock Review
This is, however, entirely dependent on the popularity of your profile and work on the website. If a customer purchases one of your images as a part of their monthly (or yearly) subscription you can only receive 15% of the sale.
👍 Advantages

– DeepMeta for contributors – software to organize your portfolio.

– It provides powerful forums and resources that teach you how to sell photos online and earn more money.

– You can choose from a pay-as-you-go option and a credit commitment.
👎 Disadvantages

– Getty Images bought it – contributor actions are done through the same portal used by Getty Images.

– You get just 15% royalty for photos and 20% for vectors and video.
---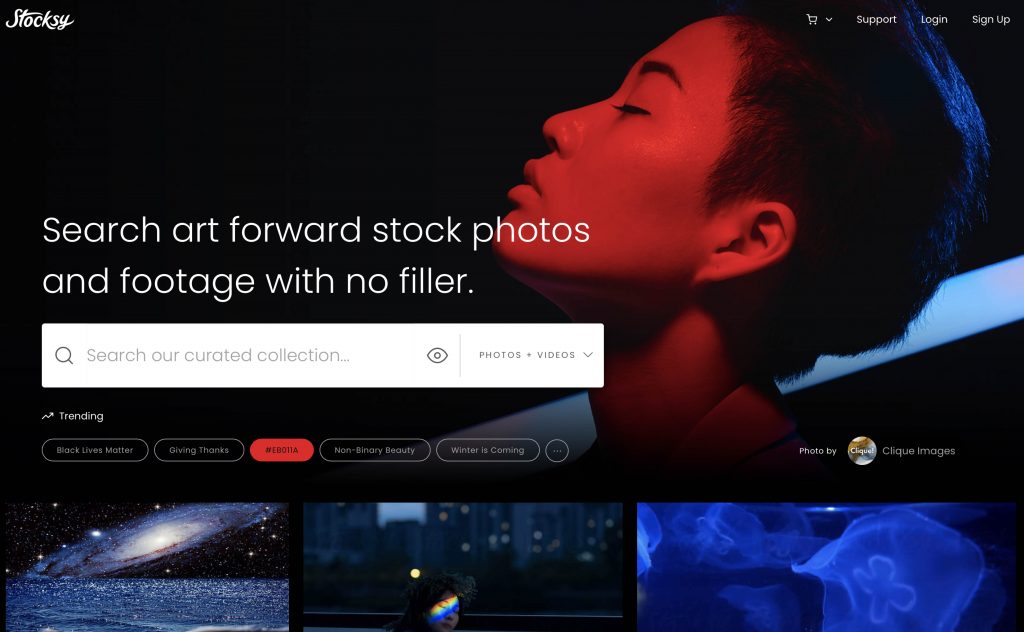 Although Stocksy was founded back in 2013, they aren't that well-known when compared to popular alternatives such as Shutterstock and 500px – but we think you should consider them.
In my opinion, yes – you definitely should. They have a serious vetting process in place for their photographers which means that your chances of acceptance aren't that high, but if you do this puts you at an advantage.
Wouldn't you rather be a part of a stock photography network that prides itself on quality rather than just accepting every application they get?
Stocksy is thrilled to announce the reopening of Call to Artists for the first time in 2 years. At Stocksy, we are renowned for our co-op model, making artists co-owners in a business that pays the highest royalties in the industry (50-75%) and is dedicated to creative integrity.

Applications are open to anyone. We commonly look for artists with an eye for storytelling or who have complete bodies of work.

We're currently seeking new international talent, with a focus on Southeast and East Asia, the Middle East, Australasia and Western Europe; as we look to represent and challenge traditional beauty ideals and stereotypes for a more inclusive world.
Stocksy Review
Here's a snippet from their page for applications. In short, at the moment they're looking for new international talent. And they've reopened the application process which they refer to as a "Call to Artists" for the first time in 2 years. Now's the time to join!
👍 Advantages

– If you are accepted, you will get part ownership of the business – you can offer help for its direction.

– If Stocksy has a surplus, its contributors can receive profit in the form of patronage returns.

👎 Disadvantages

– Joining isn't easy especially if you miss the period where the "Call to Artists" is open.
---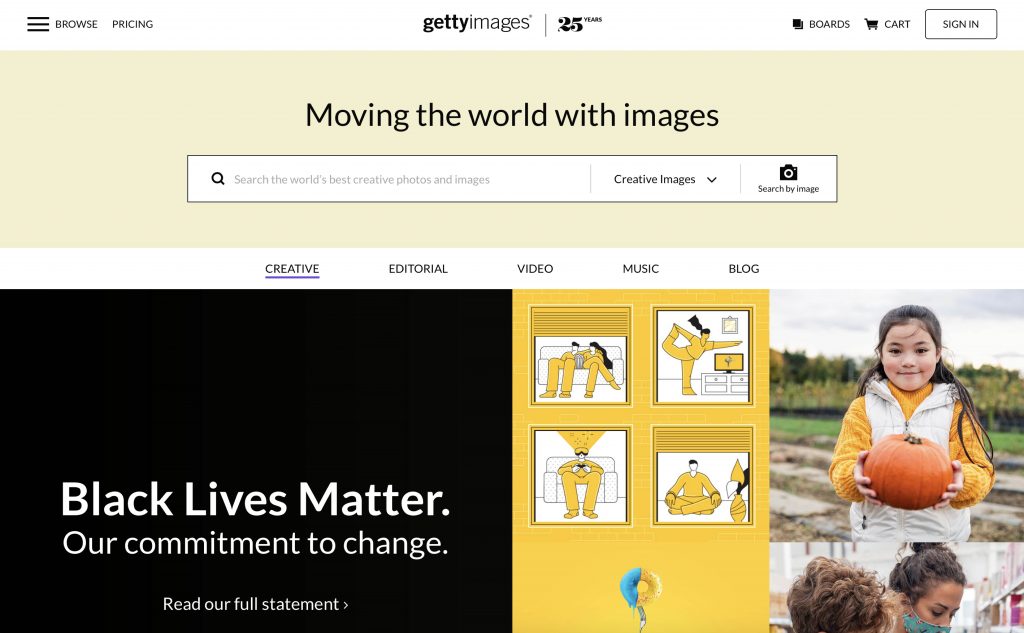 Getty Images is one of the most popular names in the stock photo industry. With over 1.5 million customers in over 200 countries, your high-quality photos will be seen and used by a large audience around the world.
To join this stock photography industry you'll first need to download their mobile app and fill out the application. You'll also need to submit 3-6 samples of your photos. Then they review your application and notify you if it's been accepted. Getty Images offers between 15% and 20% commission for royalty-free photos.
You must be over 18 and can only submit original images, videos, diagrams or vectors to be a contributor. When your content has been accepted, you can opt to donate or license out your content. Exclusive images help you make money and you can track your earnings when a customer buys the rights to use your content. Getty images release a payout on every occasion when customers pick your content.
Getty Review
On average, your content is worth between $300 and $500 when the approval process is complete. Getty charges you 20-30$ per month of the real value of the sales. There is no indication of how often photographs are sold. The prices adjust depending on how much consumers use their content and the type of license for which they apply.
👍 Advantages

– Once you upload images, your name will appear right beneath your work.

– Easy to use, offers great search tools.

👎 Disadvantages

– Each image goes through an approval process.
---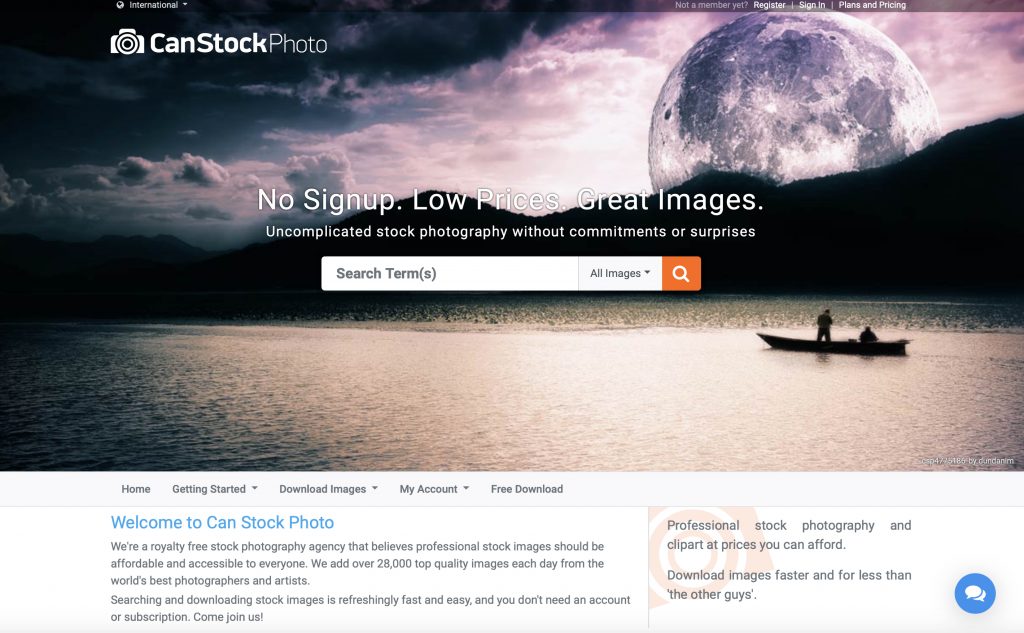 Can Stock Photo has a simple and straightforward process for selling your high-quality photos. You'll have to create an account, submit 3 photos and your application, and wait for their team to get back to you.
Once approved, you can start uploading million images using their SpeedSubmit™ system. They offer a generous commission payout for single image purchases — you can get 50% commission for each image.
After some improvements to the submission process, it became easier, as you can now upload images via FTP. Approval waiting times are very fast. If you are lucky, you could get your content live within only a few hours.
Can Stock Photo Review
The current contributor rates are 20% to 50% for Custom or Print Licenses, starting at $0.50 for credit download and starting at $0.25 per subscription download.
The current contributor rates are 20% to 50% for Custom or Print Licenses, starting at $0.50 for credit download and starting at $0.25 per subscription download.
👍 Advantages

– If you sell your photos on Can Stock Photo, it will also list them on Fotosearch.

– It gives you $5 for every photographer you refer to sell.

– There aren't submission fees or monthly costs.

👎 Disadvantages

– You can withdraw your money only when you earn $50 or more.
---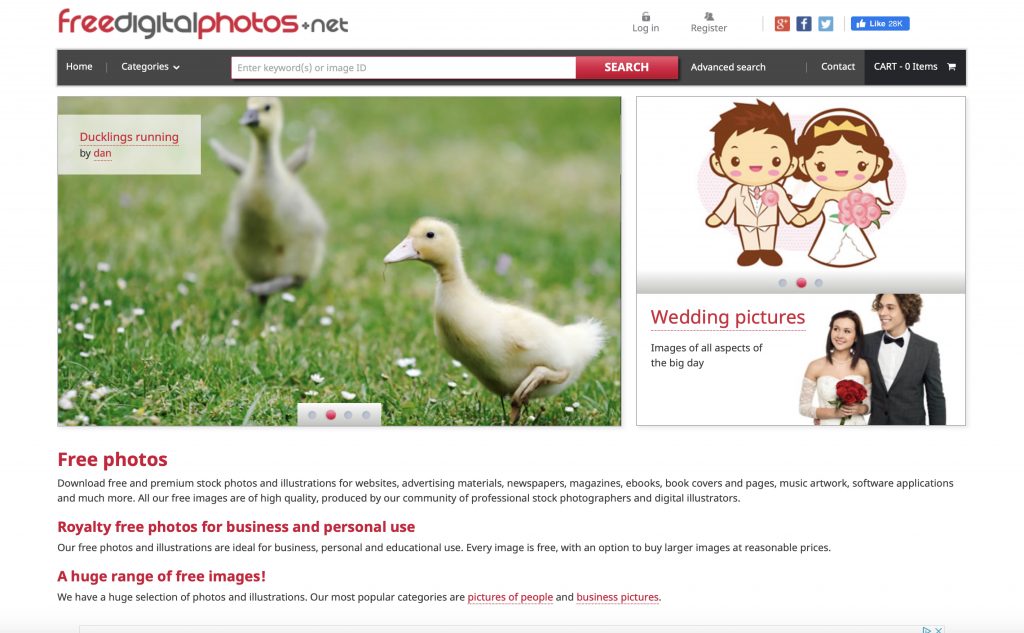 FreeDigitalPhotos.net offers a range of free and premium stock photos. Users on this platform can download a smaller version of your photo for free. However, they will need to provide attribution which does bring you credit and exposure.
If they choose to download a large version of the photo, you can earn a 70% commission. You'll definitely earn money if you sell pictures through one of the best-paid stock photo websites.
Free Digital Photos Review
You are free to enter this photography industry, and you earn 70 percent of every transaction as a contributor. One of the best things is that you will have a portfolio page of your own and the ability to monitor pricing at which your pictures are displayed in high-quality resolution.
Visit your FDP Registration page and follow your Free Account on the computer. Simply log in with your email address, and password then send 3 sample photos for analysis. If you have more than 500 photos ready to upload, you can request FTP access once you have accepted.
👍 Advantages

– Allows you to sell small, medium, large and high resolution versions of your pictures.

– You can choose the selling price for your high resolution images (though, it must be between $10 – $50).

👎 Disadvantages

– After 3 months, the maximum price you can charge will be reviewed depending on the overall quality of your portfolio.
---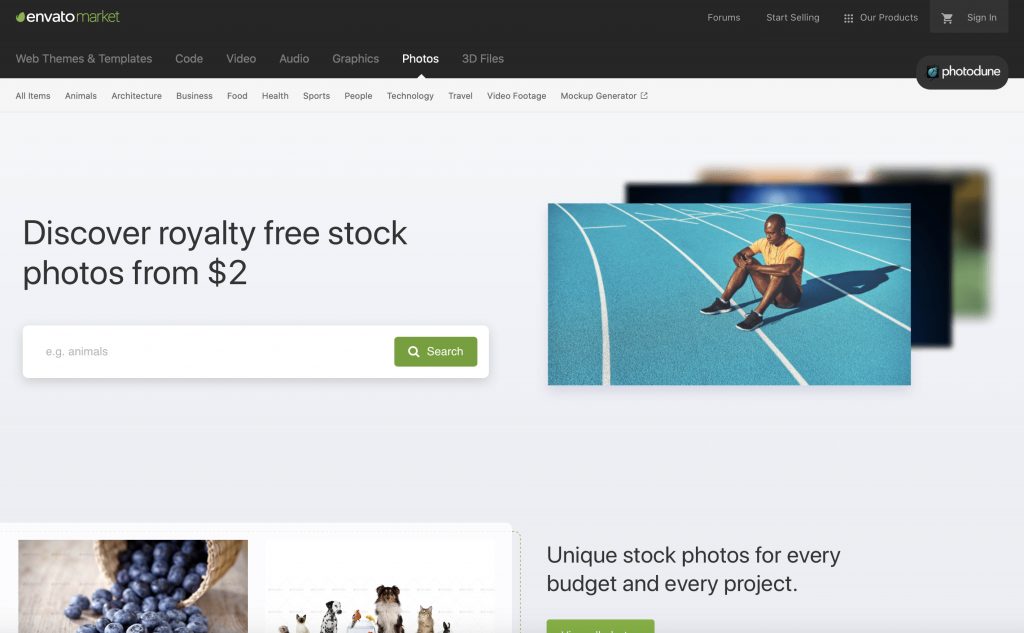 This stock photography industry is a fantastic website with many apps that will help you make money. The most important part is their ability to offer stock photographers a great financial incentive. Do you want to sell your photos and gather as many buyers as possible? Well, this platform is your solution.
PhotoDune is a part of Envato Market. Once you join this marketplace, you'll get in front of a large audience and be able to set your own prices for your high-quality photos. The commissions vary depending on whether you've decided to sell photos exclusively through PhotoDune or not.
PhotoDune Review
Once you get your content approved and sold to potential customers, the minimum payout is $50 (or $500 for SWIFT Transfer). PhotoDune also offers a generous variety of options for releasing payouts, such as PayPal, Skrill, SWIFT and Payoneer.
In order to have your portfolio of images approved for a review, you need to upload at least 5 photographs either via the web interface or FTP.
👍 Advantages

– When you become an author, you can choose to make your photos available exclusively on PhotoDune or to retain the ability to sell them elsewhere.

– They provide constructive feedback when it comes to the approval process.

👎 Disadvantages

– You have to make a request for the payment.

– The payouts are processed on the 15th of each month and the request must be done on the last day of the previous month.
---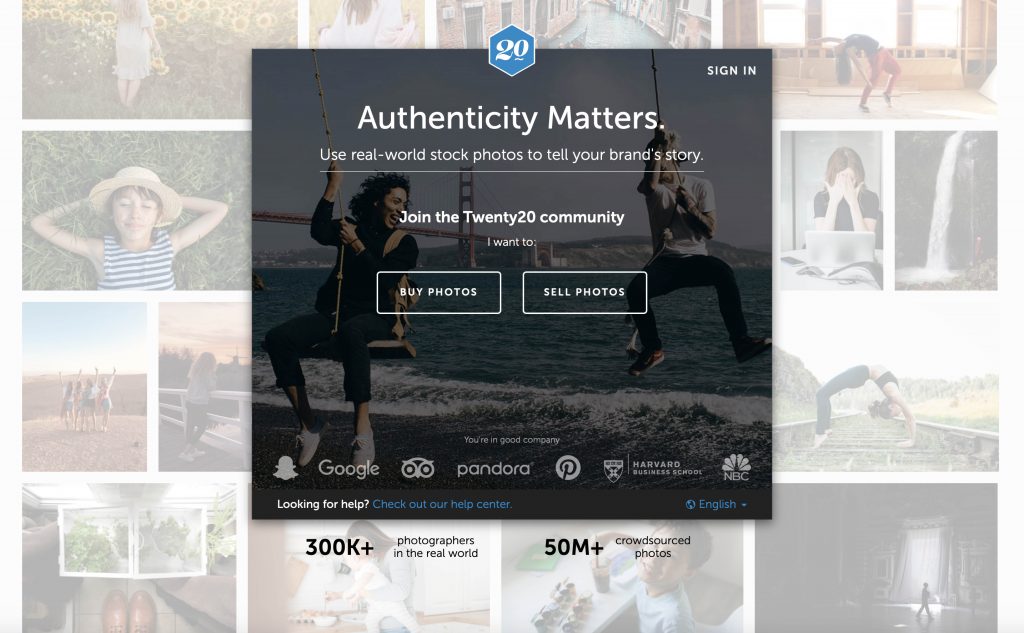 Twenty20 started out as a website for Instagram photographers to sell their photos to brands and influencers. Since then, it has morphed into a stock photo site with more than 50 million crowd-sourced photos and 300,000 photographers all over the world.
Twenty20 Review
This platform uses a SubscriberShare commission model where you earn a share of the net revenue of each subscriber that buys your photo. In terms of payout, Twenty20 has one of the simplest models and pay off immediately instead of reaching a threshold. They also perform regular and free tasks to encourage you to upload your best images on topics. More sites should do that.
👍 Advantages

– Three methods of earning money – $2/photo licensed, cash prized from photo challenges, and receive 100% commission if a brand hires you for a shooting.

– No minimum payout.

👎 Disadvantages

– The app is only available for IOS.
---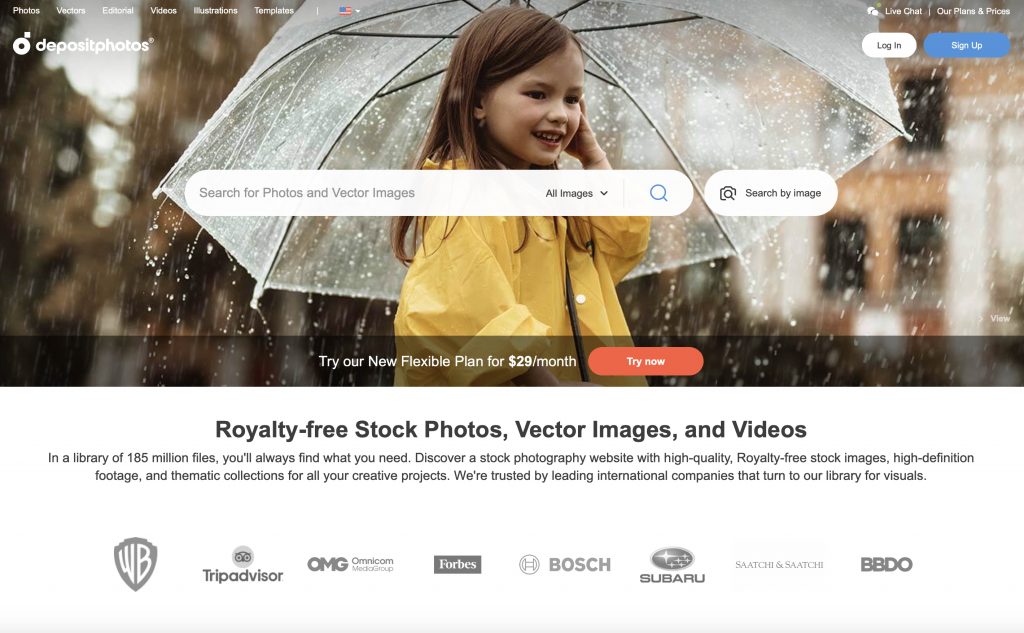 Depositphotos is a well-known stock photographer and one of the market's leading companies. With over a decade of excellent customer service, they offer a wide library of free photos from royalty and a wide range of prices for all budgets.
This stock photo business boasts over 149 million photos in their library and they pay based on user experience and status on the platform. Generally speaking, commissions range between 34–42%.
Depositphotos Review
You'll have to go through the application process and upload your b for examination. Reviews take 7-10 business days and once approved, you'll be able to start selling photo prints on the platform.
👍 Advantages

– They advertise their business constantly and offer special deals, so the number of downloads can increase significantly.

👎 Disadvantages

– It takes a long time to grow through their royalty tiers.

– Each subscription download only counts as a ⅓ of an actual download.
---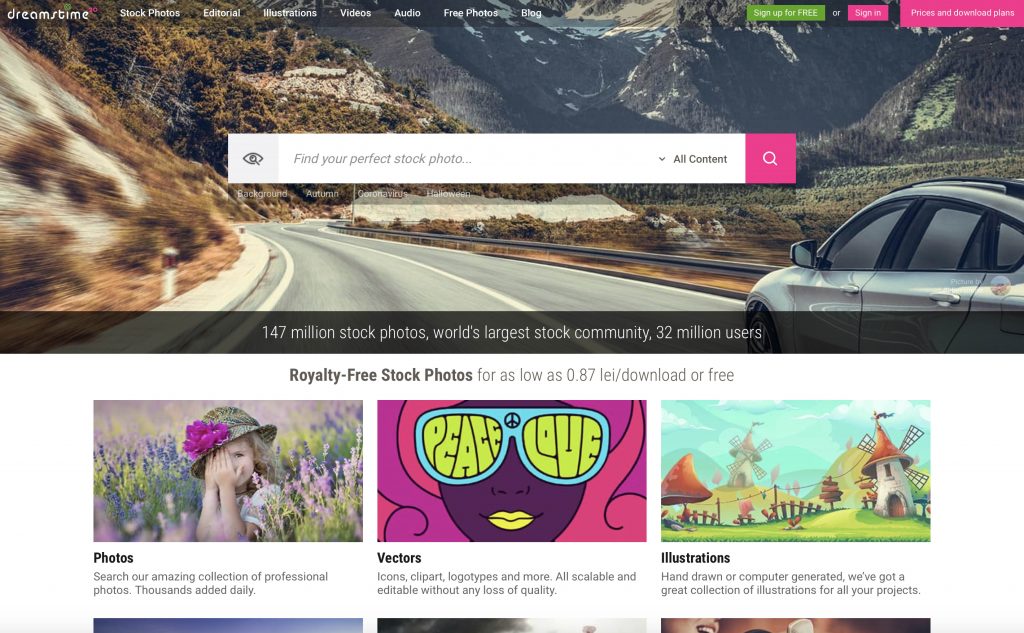 The stock photo agency Dreamstime has been active in the industry for almost 15 years. They have built a big reputation and are among the top companies in the space as one of the early players in the microstock business. They have an affordable price and quality of service and have a library of over 85 million free royalty pictures.
Dreamstime has a large audience of 29 million users worldwide. You can get your photos into the hands of an international audience. They offer a 60% commission for exclusive photos and between 25% and 60% for non-exclusive photos.
Dreamstime Review
Dreamstime has some of the largest licensing options from any stock photo agency. This includes buying copyright for an image. The options of licensing include free, extended, published, and complete copyright.
What they did is divide the extended license into classes, unlimited seats, unlimited copies, print usage and web use and develop own code for each of the extended licenses. It is confusing but it clarifies exactly how they can use the images for the buyer (after their segments are studied).
👍 Advantages

– Once a photograph hits the higher ranks, you get more money.

– It has a partnership with Google which leads to bulk sales.

– You can choose to upload your camera's RAW image which sells for more than a JPG.

– It provides a "Key Masters" programs that help you key-word your images professionally for a small fee.

👎 Disadvantages

– There is a problem with vectors format – you have to upload a jpg first, then when you go to submit it, you have to add the EPS as an additional format.

– It requires more commitment: you must create at least 70% of your portfolio on their site for at least 6 months.
---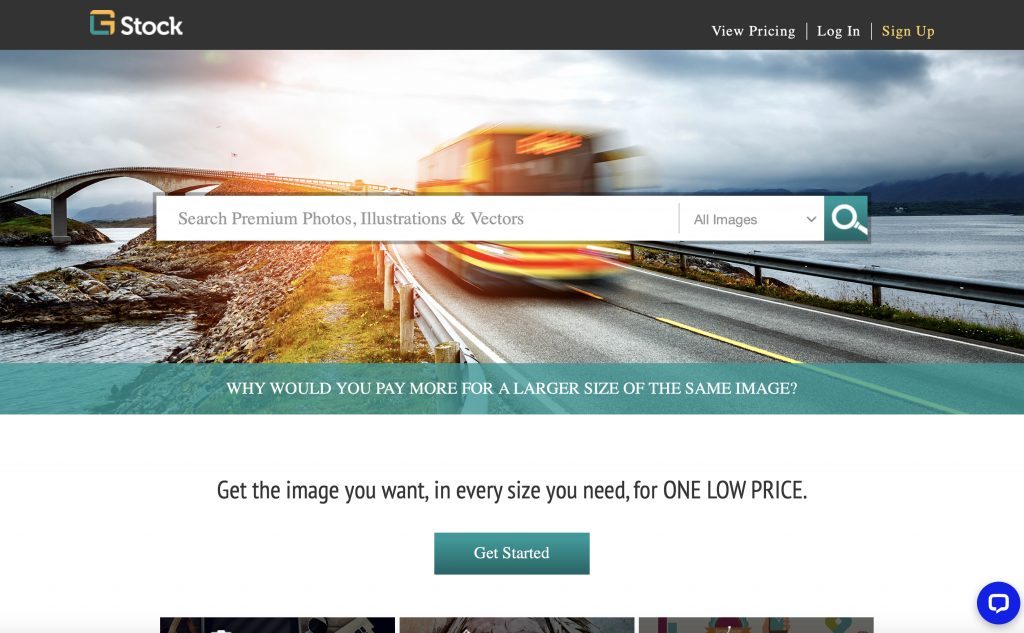 GL Stock Images is a small library that includes photos and vectors only. It was launched in 2008 under the name Graphic Leftovers. The brand and website was upgraded in 2012 to GL Stock Images.
GL Stock Images Review
This photography industry allows you to choose your own license as well as set your own price. This agency operates on a "fair trade" policy. GL Stock Images platform has been developed by design experts who contribute credit to their success. This is reflected in their payments to donors.
The team wants to share the success of companies and to ensure fair payment for contributors that no one else does. All GL contributors receive 40%, including extended permits, of photo sales.
👍 Advantages

– If you refer a new seller to the site, you receive a 5% commission of his standard license commission sales for six months.

– Payments are processed every Monday, so you get paid faster.

👎 Disadvantages

– Photo upload limits are determined by your approval rating.

– You can request a payment only when you have earned $50 or more.
---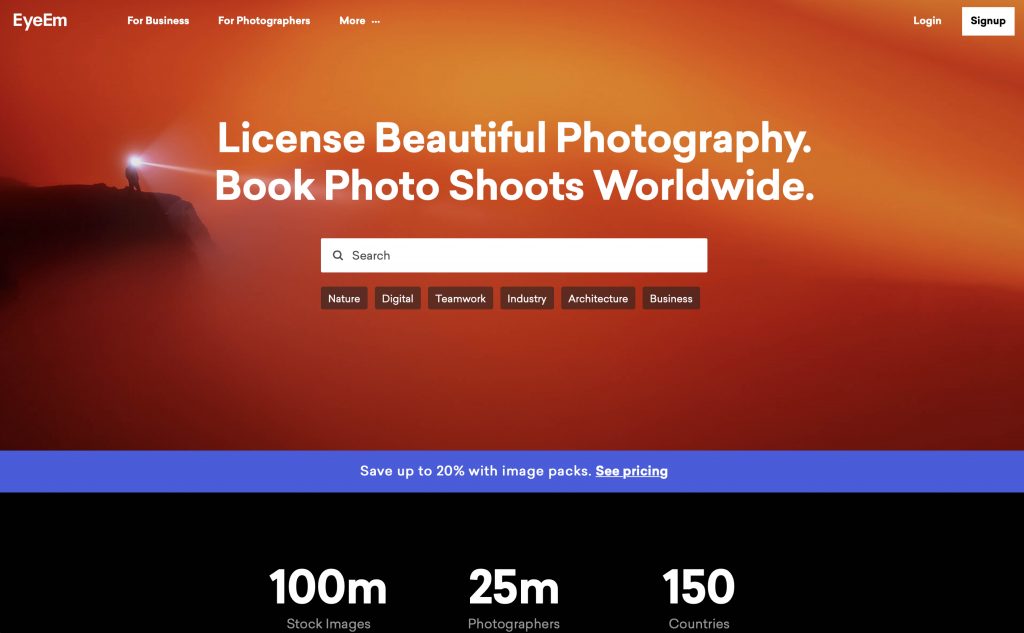 EyeEm stands out among other stock photo websites on this list because they seem to be more focused on advertising and promoting stock photos. They boast 50% commission and the signup process is easy and straightforward.
In order to get started with this platform, you only need to upload images, send/add templates, or property releases to the marketplace from the dashboard if appropriate, and your pictures will be available on this stock photography platform after a short review period.
EyeEm Review
Their premium pages, which are much higher volumes and more attractive prices, can be used for showcasing your work, depending on the style of the picture.
You will be informed every month once your images sell, and will be able to cash out your earnings via PayPal.
👍 Advantages

– You can get hired by brands through them – you can get booked by big brands like Airbnb and Spotify.

– You can sign up for missions and win prizes.

– Once you have uploaded a picture, one of EyeEm's reviewers will check if it needs any releases.
👎 Disadvantages

– The reviews can vary from a few days to a couple of weeks.
---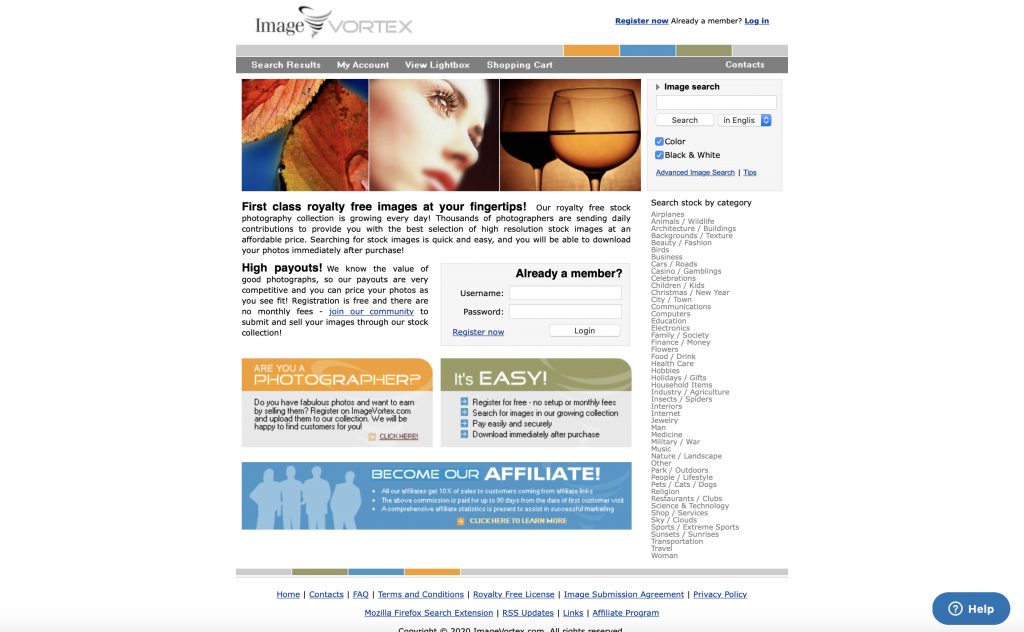 Image Vortex is not as popular as other sites on this list, but they do allow you to set your own prices and offer 70% commissions. You can easily make money and sell your photos online.
👍 Advantages

– You keep the full rights to your photos.

👎 Disadvantages

– Their interface is a bit outdated.

– You can request a payment only when you earned $100 or more.
---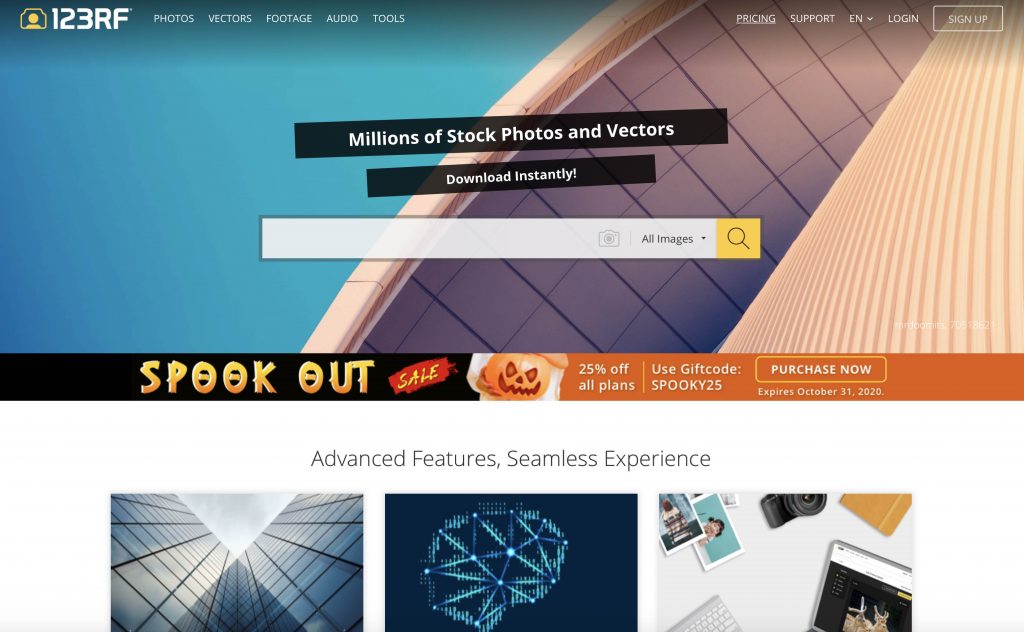 123RF is another popular stock photo platform where you can make money. You'll have to create an account and submit your photos for review. Once accepted, you can earn between 30-60% commissions and you don't have to sign an exclusive agreement.
It has expanded its offer since its launch to include stock footage and inventory audio, adding more than 65 million photos and vectors to its collection. They also have a mobile application that allows you to search and create lightboxes.
Moreover, their website contains many advanced technological tools such as reverse image search and a free online photo editor.
With regard to this provider, we were pleased with an excellent FTP upload program, relatively short review hours, acceptable approval rates and the simplicity of the upload process that does not require picking image categories.
For any sale and about $0.25 per subscription download, you get 30 percent royalty.
123RF Review
It provides not only stock photographers but also vector makers and video and audio developers a great opportunity. Great features include photo interviews, forums, and helpful tutorials for stock contributors. Their On-The-Go Mobile App was also released to allow you to upload and take your images straight from your smartphone.
👍 Advantages

– It provides a powerful photo editing tool.

– The payment will be automatically made between the 13th and 15th of the month after you ask for it.

👎 Disadvantages

– You will go through an approval process.
---
Which is the best website to sell photos online that suits your needs?
Most of the places to sell photos mentioned in this article are non-exclusive, and you can add your images to different platforms. However, selling pictures on so many platforms can be a waste of time and fees.
I'll present three possible scenarios to help choose the best option for selling photos online:
🥇 If you want to be in complete control and get 100% of the earnings, you should choose the combination of Modula and WooCommerce. Building up your site as a reputable source might take a while, but it's totally worth it in the long run.
🥈 If you want to sell your photos on a well-known stock photo site, you should choose Adobe Stock. Still, it pays only a 33% commission.
🥉 If you want a stock photo site that offers the biggest commission, you should choose Stocksy. It pays between 50-75% commission, but still lower than our self-hosted option.
Related Articles