Gutenberg: The Future of WordPress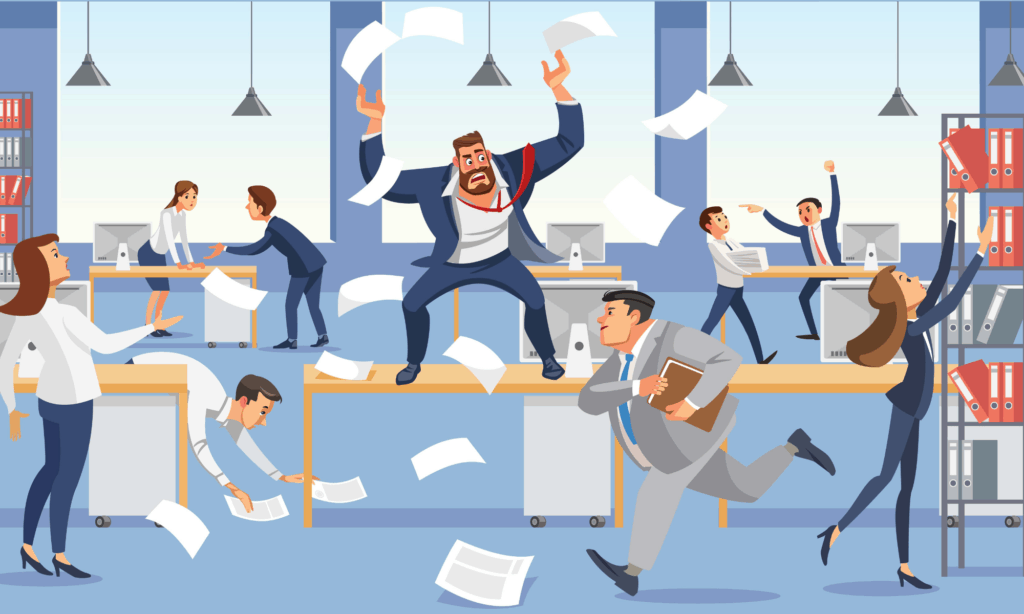 Now that some time passed since the global rollout of the new Gutenberg block editor, which met with some controversy, it's a great time to reflect on 2018 and see what's in store for the future of WordPress.
In this post, you'll find our evaluation of the recent changes that came to the WordPress ecosystem and will also see some expert opinions, predictions, and comments that are exclusive to this article – so stay tuned!
In case you missed it, WordPress underwent some incredible, monumental changes – mainly the global rollout of WordPress 5.0 Gutenberg, codenamed "Bebo." The update was surrounded by so much contention that it even made some question whether Gutenberg would mark the end of the era in which WordPress was considered the world's best content management system.
---
Fortunately, it wasn't that tragic.
Iain from Delicious Brains even concluded that although it is a lovely piece of software, it really doesn't belong in WordPress (or WordPress as we know it today). On the other hand, I approached the Gutenberg editor with a completely open mind and, as a result, was met with mixed emotions.
Here were my first thoughts
The very first impression I had of the new editor was, "Wow, ok, they're trying to be more like http://ghost.org," but overall:

The editing experience can be intuitive.
I love the ability to copy & paste content from anywhere without spending ages reformatting it (most of the time).
It is a lot easier for people new to web design to use.
There's no doubt that the WordPress team worked extremely hard to make Gutenberg what it is today, and given the limited amount of development time they had to work with – they all did a fantastic job.
That being said, for a content management system that powers about 33% of all websites on the internet, maybe rushing the development wasn't a great idea. I have been loving the new editor experience, but the fact that the Gutenberg YouTube embed block still doesn't work to this day (on some sites) is just unacceptable.
Many people in the WordPress community weren't as open to change, and I hate to see the amazing community divided to the point where there is even a fork of WordPress for the people who hate Gutenberg.

Funnily enough, the framework of choice for the folks over at ClassicPress is the Elementor page builder, which means they aren't even using the classic WYSIWYG editor anyway.
The Elementor page builder (which I have nothing against) can still be used on websites that run WordPress 5.0, so they didn't even build the fork for themselves 😂…
I wasn't going to include this in the article because I felt it wasn't worth bringing more attention to, but it's pretty funny, and I thought you might also find it as entertaining as I did.

---
And then Gutenberg divided the entire WordPress user base into three categories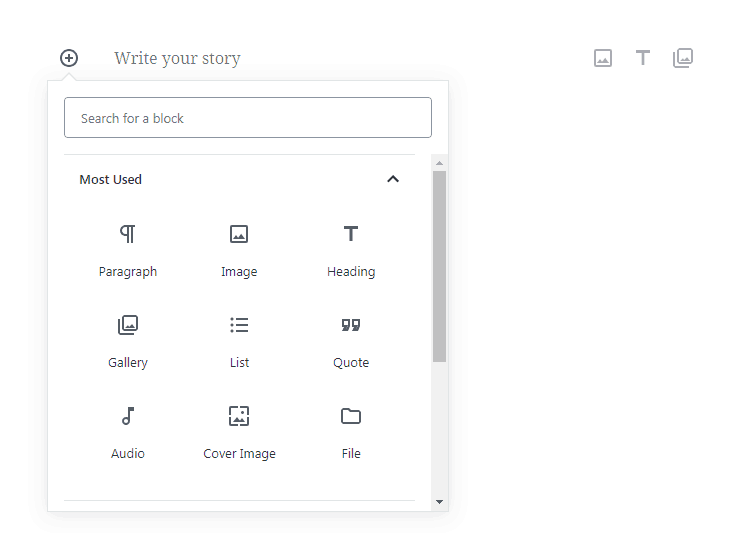 At the time of writing this article, there are three types of WordPress users:
People who love Gutenberg.
People who think Gutenberg is great and works fairly well, but it has some issues.
People who hate Gutenberg (i.e., the folks behind ClassicPress)
I fall somewhere between 1 and 2 – I love Gutenberg, and the new editing experience is a step forward. However, I'm occasionally bothered by how the editor behaves and that (in rare cases) some things still don't function as expected.
It will take some time for the new editor to mature, so this is understandable. I see how Gutenberg is an important step forward for publishers and web designers, with its goal being to bridge the visual gap between what content looks like when crafted in the admin area and how it is rendered on the front-end, which is why I choose to embrace the change, not to fight it.
On top of what I would call the wrongly overshadowed launch of Gutenberg (because I think it was met with unfair negativity/resistance), WordPress has expanded its leadership to include now the founder of Yoast, Joost, which is to lead marketing and communications and Josepha Haden which is taking on the role of executive director.
As you can tell, I can't wait to see what the future of WordPress in 2019 will look like 🤓but without further ado, let me handoff to the WordPress community.
Here's what they had to say about what they expect, want, and predict for WordPress in 2019.
The future is awesome 🙂


I'm really looking forward to phase 2 of Gutenberg rolling out this year, which should basically replace widgets and menus with blocks. Also, WordPress updating its minimum PHP requirements and what that will allow developers to do is very exciting.

Joost de Valk | Founder @ Yoast
First, thanks again for taking the time to contribute to this article! 🙌🏼
Secondly, I couldn't agree more with Joost. For years WordPress has worked hard to ensure that the CMS was backward compatible with all versions of PHP, which discouraged a lot of web hosts from even updating.
This was done for obvious reasons, mainly to attract a larger share of the target audience, but I'm also looking forward to them enforcing a new standard/minimum (even if it's a little late).
---
I think the future of WordPress is very bright! There's so much change happening right now like Gutenberg, the new leadership roles for Joost De Valk and Josepha Haden, and even the WordPress Governance project picking up steam. At Beaver Builder, we're excited about Gutenberg phase two and the idea that blocks might be able to exist outside of the scope of the editor.

Our lead designer, Brent Jett, has been contributing a lot of ideas to the discussion of what the future of theming might look like. We're also excited about WordPress core focusing on collaboration. This could open up a lot of opportunities for new business ideas and also will make WordPress a much more powerful tool for publishing.

Robby | Co-Founder of Beaver Builder
Again, thanks for taking the time to share your opinion with us! 🙌🏼
And Brent's post about the future of theming is worth a read. The prospect of a new customizer will surely make some of you look forward to the future of WordPress (even more than you already are). I don't know about the rest of you, but in my opinion, a new customizer that looks like the one detailed in Brent's post (also shown below) is undoubtedly an exciting idea: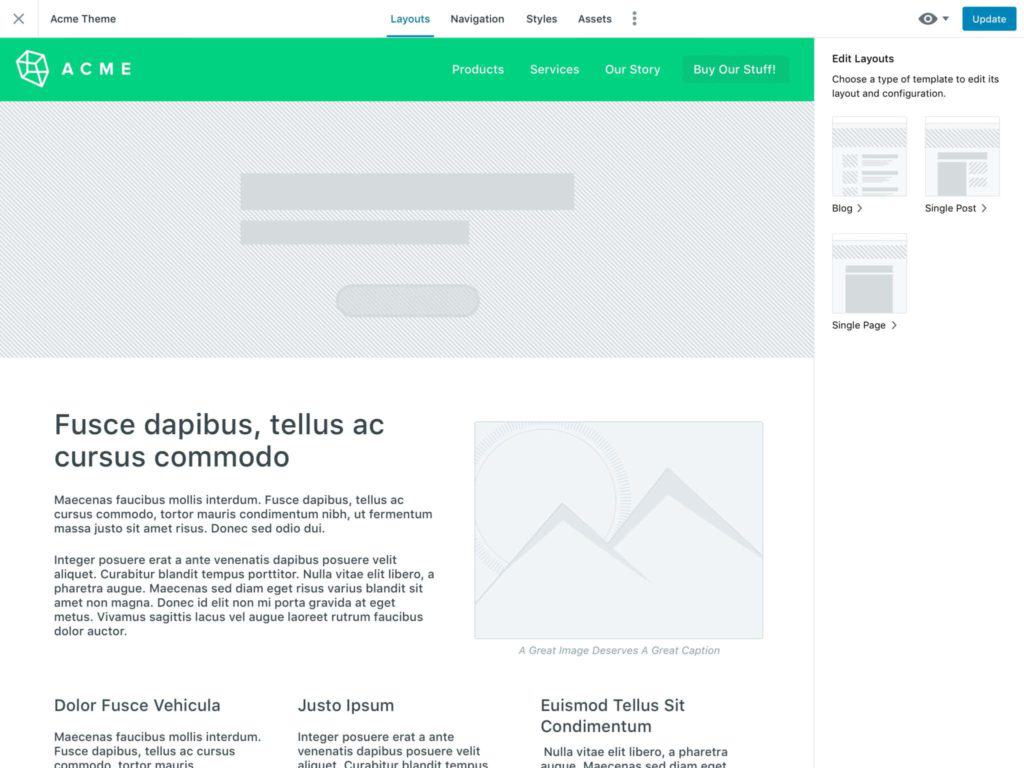 ---
I think, for one, we'll see wider adoption from beginners. The whole playbook for 5.0 revolves specifically around new installs and bringing on people who used to think the Classic Editor was too hard.

As that happens, and sort of as Matt laid out in the State of the Word, we'll see Gutenberg creep into more areas of WordPress and the front end. The tricky part for the Core team will be to integrate what's sure to be a front-end editor with the easy long-form writing experience WordPress is known for.

Finally, I think we'll see this mostly affect themes. Unlike some opinions I've heard, I feel Gutenberg will mean a renaissance of sorts for themes and theme developers. We'll finally see true decoupling of themes from plugins and content, thanks to more of the theme's features living in the database through blocks. The themes that do this the best are the ones that will survive. On an unrelated (to Gutenberg) note, I think we'll see a greater focus on front-end performance in 2019, so it will be crucial for WordPress developers to keep that in mind. This goes for theme developers, plugin developers, and site builders.


Joe Casabona | Casabona.org
Thank you, Joe! 😎
As suggested by your note at the end about a stronger focus on frontend performance, I also think that WordPress is finally enforcing a minimum PHP version will set a new precedent for the entire web seeing as WordPress powers almost 1/3rd of it 🤯.
Remember that while they are increasing the minimum required PHP version to 5.6, the latest version (at the time of writing) is currently PHP 7.3.1, so there's still a long way to go.
---
At risk of sounding boring, I don't think too much is going to change. We already have Gutenberg, and I actually like it. Being able to cleanly copy and paste from Google Docs is already saving us loads of time. I only expect the experience to get better. The controversy surrounding might make a few of the most passionate people look for alternatives, but for the most part, I think it's business as usual.

James Rose | Agency Highway & Content Snare
First, a huge thank you to James Rose for hosting one of the best podcasts in the WordPress industry 🚀and launching what has now become a brilliant Facebook group for WordPress web designers and agencies.
One of the main reasons I love Gutenberg is that it makes it so easy to bring content into the editor from anywhere. You can copy stuff from a Google doc (as mentioned above) without having to spend ages reformatting it, saving so much time! ⏳
---
This question is largely subjective based on what each of us does with WordPress so hopefully, my perspective will be something different than what someone else may suggest.

After all, WordPress is made up of bloggers, content managers, designers, and developers of all sorts.

That said, one hope that I have for WordPress in 2019 is that other developers will begin to see it as a foundation or a platform for web application development.

Whether or not this is using various APIs that are available (such as the REST API) or simply some of the APIs that come out of the box along with a theme that plays nicely across desktop and mobile devices, I hope to see more done with that.

And I know that there's demand for it.

I think it would be nice to see the rise of niché theme shops, as well. With many of the major hosting companies making acquisitions, the number of theme shops that are available now has gotten relatively small.

No, the lucrative landscape that themes used to provide isn't the same but that doesn't mean there isn't a reason why shops dedicated towards certain nichés can't grow. These include specialized markets in things like music, podcasting, writing, vlogging, and so on.

Next, it's without hesitation or lack of expectation, really, that Gutenberg will continue to mature. This may breathe more life into WordPress, it may welcome an entirely new group of people, a new set of developers, or new a new set of bloggers. Or it may not. But that software itself will continue to get better.


Finally, I think that WordPress as both an economy and a community is going to face an interesting set of challenges that we may not be able to even forecast just yet.

The introduction of some of the latest changes showed how opinionated and fractured a community can become. I believe this is the nature of a community especially the larger it gets – it begins to fragment a little bit – but that doesn't mean that the fragmentation has to be all bad.

Everything is going to reside under the WordPress umbrella, sure, but where you belong can very much depend on what type of work you're doing in the economy.

So rather than thinking of it as WordPress-as-a-whole (which is not to say that this shouldn't be done sometimes), it's important to focus on where and what you're working in within the WordPress economy.

There's a lot to look forward to in 2019, but I believe that we're going to need to shift our thinking from how WordPress was, say, five years ago to how it now stands today.

Tom McFarlin | Pressware
Another huge thank you to Tom for taking the time to send your opinion over! 🤓
And to add to what you've said here, I honestly believe that Gutenberg was met with so much backlash shows how resistant people are to change, which is a very dangerous attitude.
Even if Gutenberg caused you a lot of hassle in the short-term because you had to upgrade 100s of WordPress websites that are on a maintenance plan for your agency, there is no doubt that it is and will continue to make the post/page editor a lot easier to use for clients in the years to come.
---
I believe WordPress will grow in strength as developers discover new ways to utilize Gutenberg and the other exciting changes coming in WordPress over 2019. Matt shared many years ago that there was a focus on WordPress as a framework. The Gutenberg interface is a game changer.


Lee Jackson | Agency Trailblazer
As for James Rose, we must thank Lee Jackson for hosting another all-time favorite WordPress podcast of ours (The Agency Trailblazer Podcast) and a brilliant Facebook group that connects people in the WordPress industry…
We're also super excited about Gutenberg's future, which has (mostly) been an absolute pleasure to work with. Gutenberg is going to take WordPress in a whole new direction.
---
I think WordPress is about to make a huge leap forward once Gutenberg evolves and becomes more widely spread. Bringing a visual builder into the core of WP has been a smart move, as well as moving the coding focus more towards JavaScript libraries. While the management of the development process has been less than ideal, I think Gutenberg overall is a step in the right direction.

In the future, I hope to see less bloated themes. As Gutenberg will include blocks for most types of content and we already have some solid plugins to extend Gutenberg with blocks for content like gifs, embeds or call-to-actions, themes can focus more on stability, loading speed and security.

With frameworks like create-guten-block, development for Gutenberg is extremely accessible to all developers, even more so than starting a plugin or theme from scratch with no proven framework.

In terms of maintenance, I'm confident that WordPress sites will become easier to maintain, due to less complexity in themes and plugins. Once Gutenberg is adopted by the majority, we'll see fewer plugins on sites and more of the same plugins extending Gutenberg. Page builders are getting out of adolescence too and become more streamlined to use, which will make creating beautiful WordPress websites easier than ever. It'll take a while until Gutenberg becomes equally powerful to those well-established page builders – if we'll ever get there.


Jan Koch | WPMastery
Thanks, Jan, for contributing to this post ❤️
Gutenberg is definitely in the spotlight at the moment, and I also can't wait to see what amazing things people all over the industry manage to do with it.
---
The Future of WordPress in 2019 will be bright with blocks getting better and WordPress as a platform attempt to find more enterprise space.

New users will find WordPress more easy with blocks editor (Gutenberg). Existing users will also embrace blocks editor at a faster pace once the final phase of Gutenberg is implemented. Bottom line, the influx of users into the WordPress ecosystem would stay strong.

WordPress will become all about blocks for the majority of websites. Even complex implementation may leverage the blocks foundation for easy user interaction and content publishing.

The other aspect which is generally aloof from an average WordPress user is the enterprise space. WordPress is already showing signs of providing more custom offering for enterprise clients with an aim to expand its footprint.

WordPress in 2019 is a win for every user from small to scale.

Davinder Singh | Smart Web Creators
Thanks for sharing your thoughts with us, too, Davinder! 🚀
And, yes, another reason I think Gutenberg was a move in the right direction is that it's not as steep of a learning curve for new users exploring WordPress.
This should remove the barriers to adoption for many beginners and small to medium-sized businesses that previously struggled with the Classic WordPress editor.
---
You can't talk about the future of WordPress without talking about Gutenberg. The shift to a modular, React-driven WordPress is huge. Once Gutenberg matures and is more widely adopted, which I think it will (it's just a matter of time), there are a lot of possibilities that will open up for end-users, developers, and web design agencies.

Marketplace
I think the marketplace for Gutenberg blocks will be strong – with developers being able to create, package, and distribute single block "add-ons" that extend WordPress in terms of functionality or aesthetics.

Themes
I also think that "Gutenberg-powered" WordPress Themes will be a lot more user-friendly than the themes that people could buy in the past. Theme developers will be able to give a lot more control over to the end-user while also providing a far easier customization experience.

Developers
Agencies and freelancers alike will need to crack out a JavaScript book or start looking around sites like Udemy to get their JavaScript and React skills up to snuff. I think that agencies that adopt Gutenberg and harness the React framework will stand out and be able to deliver unique websites, custom functionality, and an improved user experience.


Chris Castillo |
Propel Digital Media Solutions
---
I see the future of WordPress not so much as being about the specific features that will continue to roll out with each new version release but about the things they will empower people to do. I truly believe that the invention (and continued support/growth) of WordPress has helped to democratize the internet for people looking for new ways to make a living. I'm one of the people who benefits from all the amazing things WordPress can do and I'm excited to see what 2019 and beyond will bring for the platform — and more important, the people who use it.

Maddy Osman | The Blog Smith
Thank you for sharing your thoughts with the community as well, Maddy!😁
And your perspective is certainly interesting for me to hear, especially given that I'm in a very similar (if not the same) position. I'm confident that everyone who contributed to this post (myself included) would agree that WordPress did change their life and will continue to do so.
---
WordPress 2019 – Conclusion

The WordPress philosophy has always been to provide features that 80% of users welcome. This is why we might never see localization in the WordPress core – while some users would appreciate the functionality, not 80% would think it's a good use of development time and resources. The number of WordPress users who want to build multilingual sites is comparatively meager compared to those that do not.
Functionality which caters to a smaller percentage of WordPress users is what plugins 🔌 are intended for.
In case you'd still like to learn even more, we think you'll surely enjoy listening to Matt Mullenweg's State of the Word 2018:
---
Here's to another great year of WordPress ahead! 🙌🏼
What are your thoughts? Share them on Twitter and tag @WPModula so we can join the conversation!