Is Wix or WordPress Better for Building a Portfolio Website?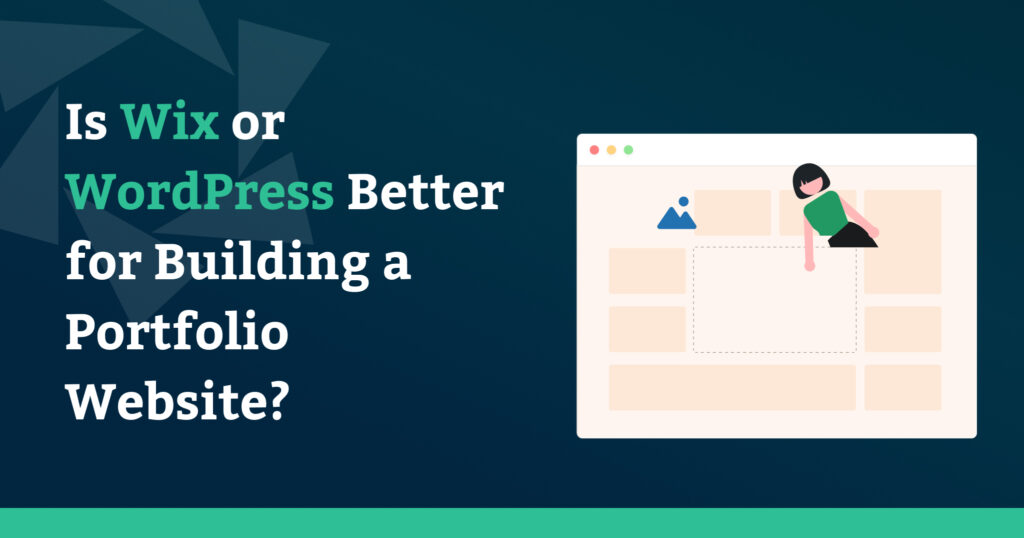 Struggling to decide between Wix or WordPress for a portfolio website? No wucking furries because we've got your back!
In one corner, we have Wix – the super easy, drag-and-drop website builder. And in the other corner, WordPress – the ultimate popular and user-friendly CMS. Which one will win your heart?
Join us on this comparison journey! By the end, you'll know which platform is your perfect match for creating an impressive online portfolio.
Let's dive in and simplify your decision-making process!
---
---
Wix or WordPress: Pros and Cons at a Glance
In the below sections, you'll find the detailed factors that can help you choose which platform, Wix or WordPress, is better for building a portfolio website.
But for a quick summary, if you're short on time, here's an overview of the pros and cons that can help you understand why WordPress is better than Wix and vice versa:
Wix: Pros and Cons
| | |
| --- | --- |
| Pros ✅ | Cons ❌ |
| Wix offers a drag-and-drop interface, making it easy for any user to create websites without coding skills. | If you're using Wix's free plan, its ads will be displayed on your website, which can be removed only by upgrading to a paid plan. |
| Wix offers a vast collection of professionally designed templates. These templates are a great starting point, saving you time and effort in the design process. | Wix offers a lot of customization, however there might be limitations if you have particular design requirements. |
| All Wix templates are customizable, so you can alter any template design and create unique websites according to your preferences. | Wix may not be the best option for extremely large or complex websites with high traffic, as it might face limitations in scalability. |
| Wix offers an extensive app market, providing you with the ability to add advanced functionality to your site. | While the initial plans seem affordable, costs can add up, especially if you need extra features or apps, making it relatively expensive in the long run. |
| Wix websites are automatically optimized for mobiles; you don't need to add code to make your website responsive across different devices. | If you decide to move your website away from Wix, it might be challenging to export all your content and design elements seamlessly. |
| Wix comes with in-built hosting services, eliminating the need to find an external. hosting provider. | While Wix has improved its SEO capabilities, it might not be as advanced as other website builders or content management systems are, potentially impacting search engine rankings. |
| Wix offers customer support through various channels, including emails, phone support, forums, and tutorials. | For users who want complete control over the website code, the Wix platform's limitations might be a drawback. |
| Wix lets you easily integrate multimedia elements such as images, videos, and animations into your portfolio, helping you create more impressive website layouts. | |
WordPress: Pros and Cons
| | |
| --- | --- |
| Pros ✅ | Cons ❌ |
| WordPress is known for its user-friendly features. Even if you're just starting, you don't need to be a tech genius to create and manage your website. It's accessible for everyone! | Being open-source, WordPress is vulnerable to security threats. However, with the right security measures and timely updates, these risks can be minimized. |
| There are thousands of themes and plugins available, allowing you to customize the look and functionality of your portfolio website according to your needs. | While basic usage is easy, advanced customization (e.g., modifying themes or creating custom plugins) requires knowledge of PHP, CSS, and JavaScript. |
| There is a vast community of developers, designers, and users who contribute to WordPress. You can find tutorials, forums, and resources online to help you with your website. | The WordPress ecosystem offers a plethora of plugins. However, at times, these plugins can conflict with each other or the WordPress core, leading to functionality issues. |
| WordPress websites are search engine friendly. Plugins like Yoast SEO help users optimize their content for search engines. | If you install too many plugins or use a heavy theme, it can slow down your website's performance. Optimizing your site for speed is essential for a good user experience. |
| WordPress frequently releases updates, enhancing security features and improving overall performance. | While you can customize WordPress extensively, there might be limitations in achieving highly unique designs without a good understanding of coding or hiring a developer. |
| WordPress provides efficient media management, making it easy to upload, edit, and organize images, videos, and other media files. | Over-reliance on plugins can lead to compatibility issues and make the website vulnerable if not regularly updated. |
| Most WordPress themes are responsive, ensuring that websites are optimized for various devices, including smartphones and tablets. | While WordPress is free, owning and maintaining a website involves hosting costs, and you need to be cautious about data ownership and control, especially on third-party hosting platforms. |
Is Wix or WordPress Better for Building a Portfolio Website?
When creating an online presence, especially for artists, photographers, or creative professionals, the choice of platform is crucial. Wix and WordPress are both popular options, each offering unique features and benefits.
Let's delve into a detailed comparison of these platforms to determine the best choice for your portfolio website. We'll explore factors such as ease of use, functionality, and features, weighing the advantages and drawbacks of Wix and WordPress to help you make an informed decision.
Wix or WordPress: Quick Overview
Let's start with a brief overview of Wix and WordPress.
What Is Wix?
Wix is a user-friendly, cloud-based website builder that simplifies creating stunning websites without coding skills.
Wix provides a drag-and-drop website builder, a WYSIWYG (What You See Is What You Get) editor, mobile optimization, and the ability to add various functionalities through apps and plugins.
Wix offers a range of built-in features and tools for e-commerce, blogging, and more.
It also offers hosting services, domain registration, and SEO tools to help you optimize your websites for search engines.
Wix provides a range of pre-built customizable templates, allowing you to easily create visually appealing websites for various purposes, including portfolios.
What Is WordPress?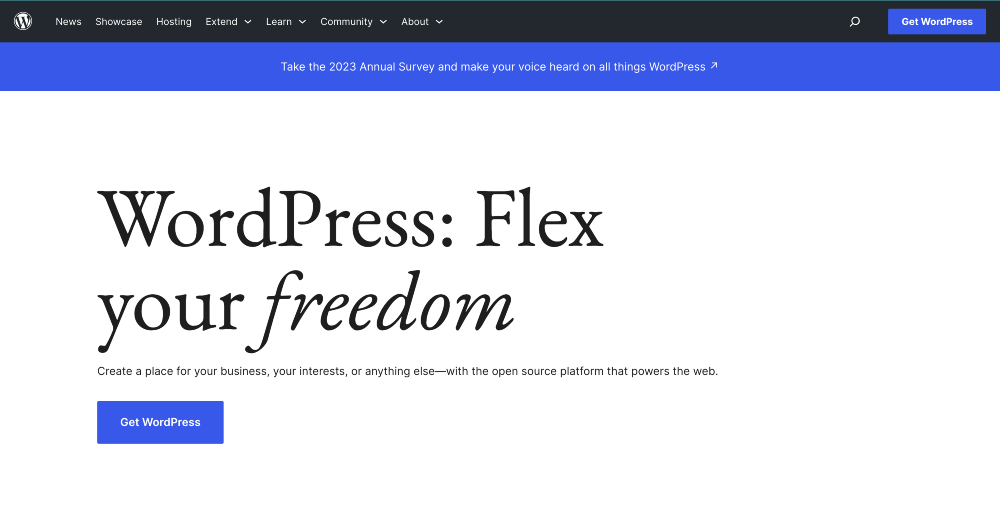 WordPress is the most powerful and popular open-source content management system (CMS), currently powering 43.3% of all websites on the Internet.
It provides plenty of themes and plugins, enabling you to create unique and tailored websites for various purposes.
WordPress offers two versions: WordPress.com and WordPress.org. WordPress.org allows for more customization and control.
While WordPress offers more creative freedom, it also requires a learning curve, especially for users unfamiliar with website development.
Note: In this post, we are addressing WordPress.org, a self-hosted platform that provides extensive flexibility in design and customization. If you wish to learn more about platform distinctions, kindly refer to this link.
---
Wix vs WordPress: Setup Process
It doesn't matter whether you choose WordPress or Wix; what really counts is how easy it is to set up your website. After the initial setup, the next crucial aspect is the platform's interface. This is where the magic happens, significantly affecting your experience in building your website.
Let's start by understanding the setup process, and then we'll explore the interfaces of both WordPress and Wix.
Getting Started With Wix
Go to the Wix website and create a free account using your email or social media accounts.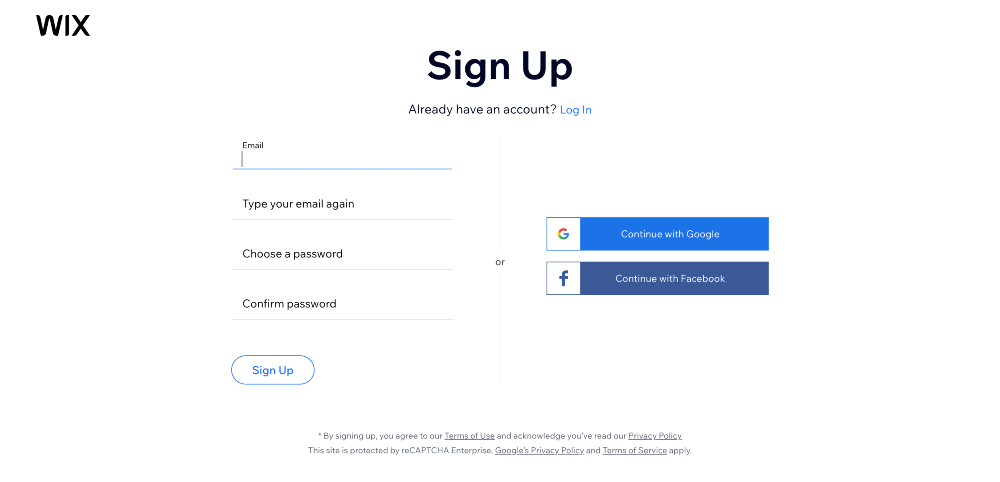 Next, choose the option for "Who are you creating a website for?"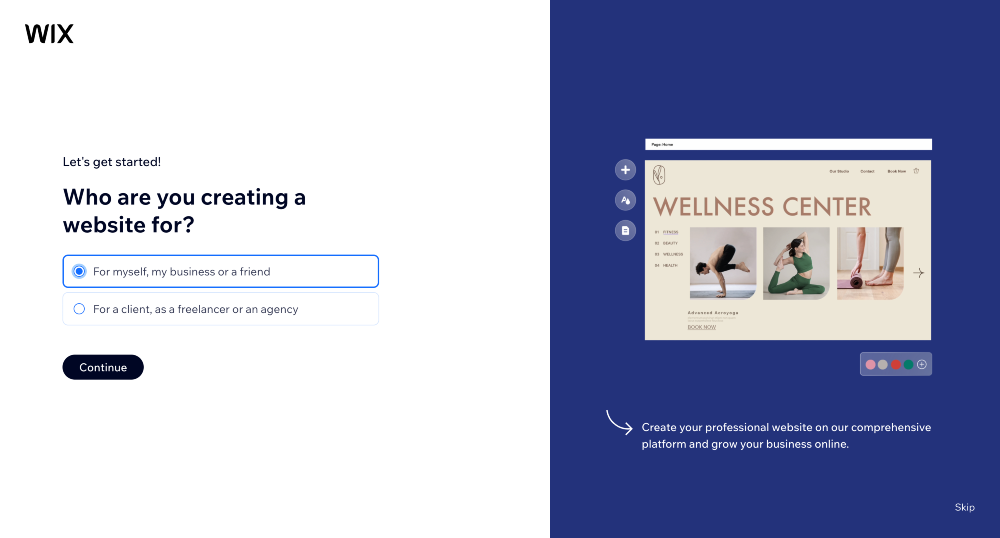 This link will take you to the Wix AI Tool, where you can interact with artificial intelligence and provide information about your website needs. Alternatively, if you prefer to set up your website without AI assistance, you have that option as well.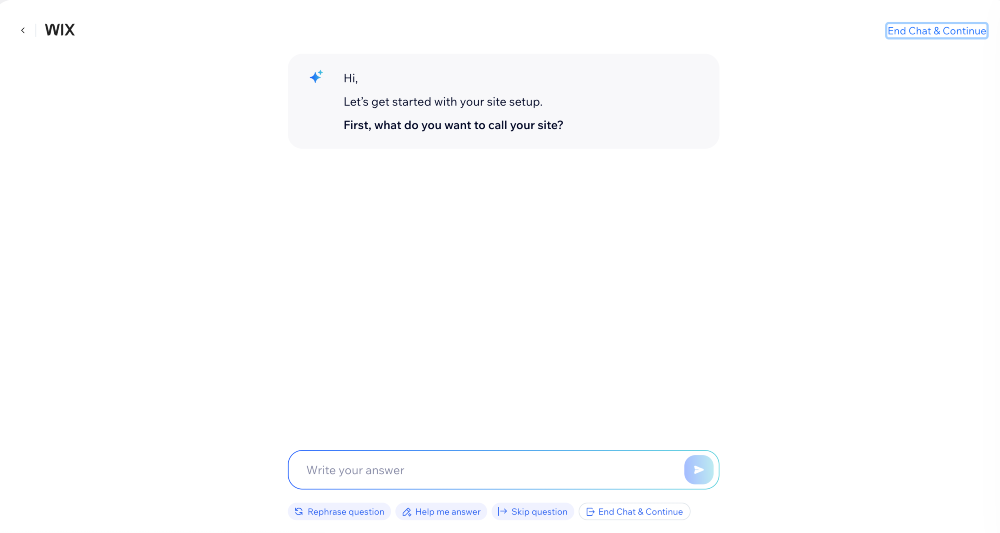 After accessing the Wix AI Tool, you'll be presented with various website types to choose from. For a Portfolio website, Wix offers a range of options such as PR Portfolios, Film Studio Portfolios, Writing Portfolios, Photography Portfolios, and more. You can select the one that aligns with your style and passion!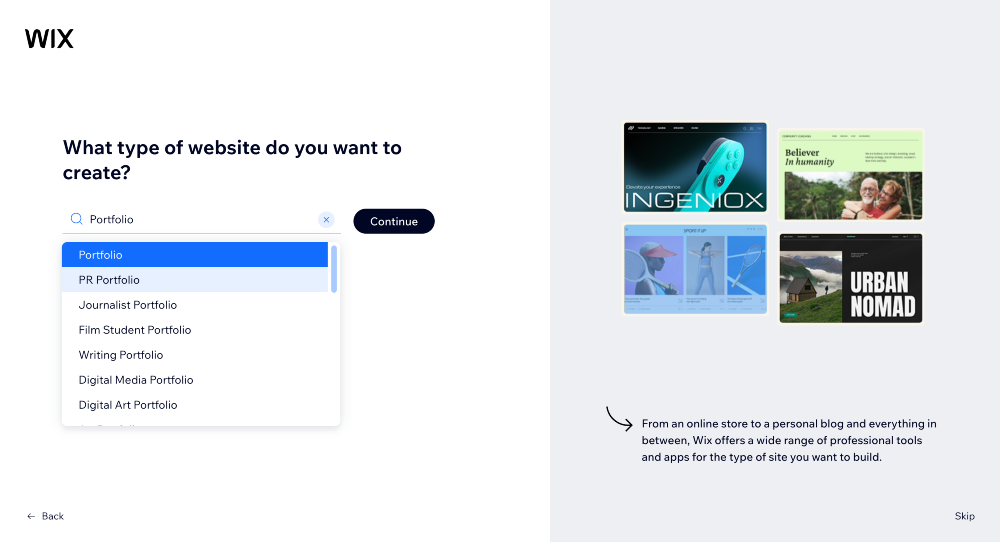 Once you've completed the initial setup, you'll be directed to the main dashboard of your Wix website.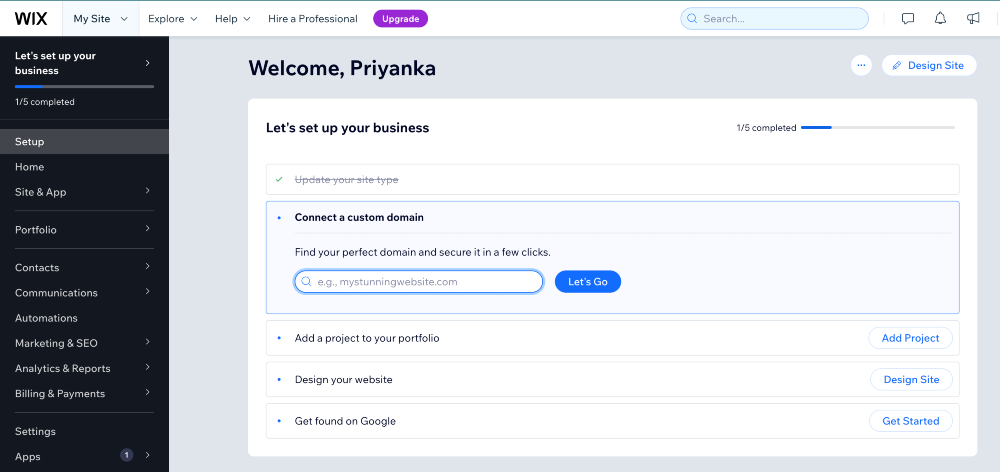 And that's all it takes! Getting started with Wix is incredibly straightforward. With just two simple steps, you're ready to go and create your website
Getting Started With WordPress
To start with WordPress, you'll need a domain name (like www.yourname.com) and a hosting provider. You can consider popular options like Bluehost, SiteGround, or Kinsta.
After selecting a hosting provider, you can install WordPress on your domain. Most hosting services offer straightforward installation options, making the process hassle-free.
Once the installation process is complete, you can easily access your WordPress site. You have two convenient options:
Log in from Hosting Dashboard: Many hosting providers allow you to log in directly from their dashboard. This simplifies the process, letting you access your WordPress site without additional steps.
Use yourdomain.com/wp-admin: Alternatively, you can log in by typing your website URL followed by "/wp-admin" in your browser's address bar (for example, yourdomain.com/wp-admin). This will redirect you to the WordPress login page, where you can add your credentials to access your site's admin area.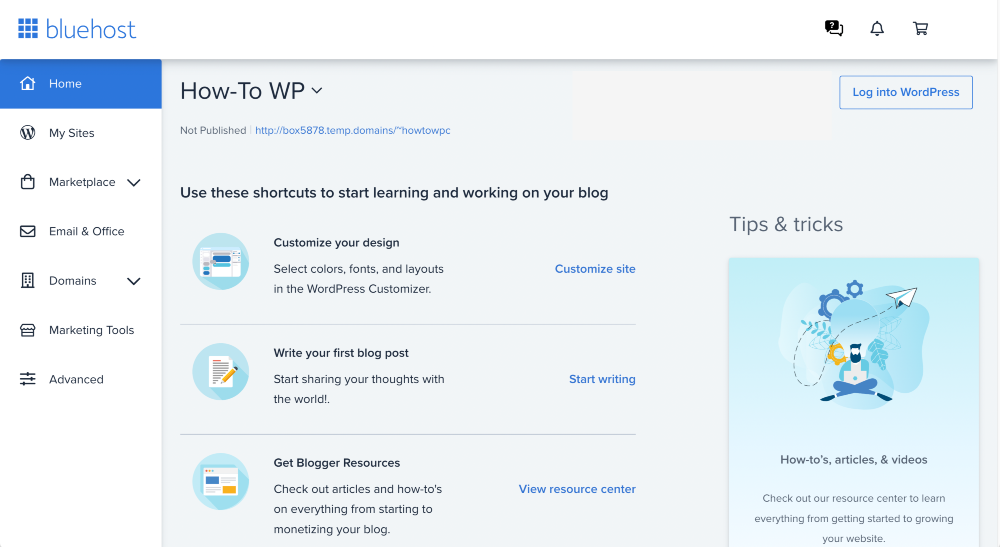 ---
Wix vs WordPress: Design Flexibility and Customization
Now that Wix and WordPress platforms are set up, let's compare their interfaces, design capabilities, and customization options.
Wix: Intuitive Drag-and-Drop Interface and Customizable Templates
Interface
Wix offers an intuitive and user-friendly interface. It employs a drag-and-drop editor, allowing you to design your website without coding. The user-friendly interface allows you to navigate smoothly and customize your site elements effortlessly. Whether you're starting a blog, portfolio, or online store, Wix simplifies the website-building process, making it handy for users of all levels of expertise.
Another essential feature of Wix is its ADI (Artificial Design Intelligence). It is a fantastic tool for users who want to build a creative & professional-looking website with minimal effort. Wix ADI guides you through the website creation by asking questions about your preferences, style, and goals. Based on your answers, it automatically generates a website layout and design that suits your needs.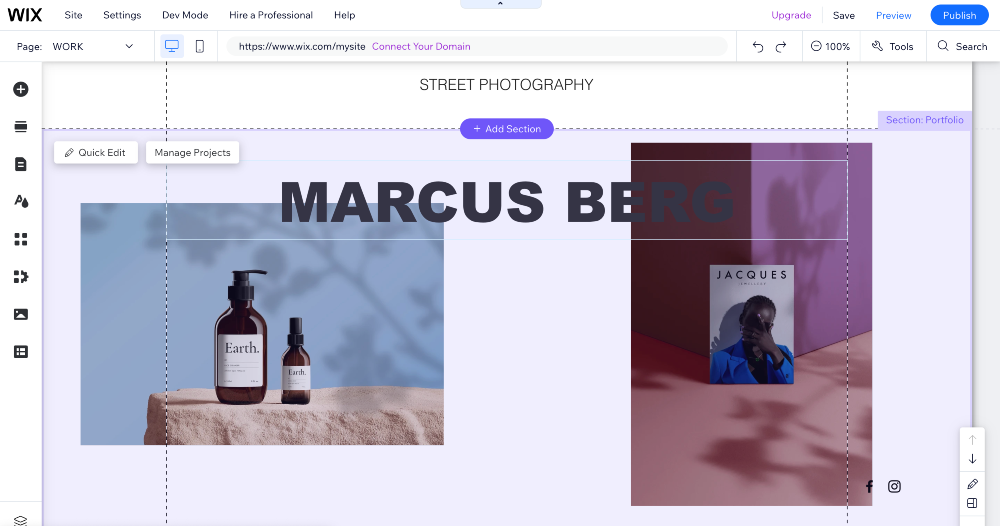 Customizable Templates
Regarding design capabilities, Wix provides 500+ professionally designed templates catering to various industries and styles. These templates are customizable, allowing you to modify layouts, colors, fonts, and more.
Designing Options
Wix offers extensive customization options. You can modify almost every aspect of your portfolio website. Elements can be easily resized, repositioned, and styled. Wix also allows you to add animations and interactive features to enhance user engagement.
WordPress: Learning Curve With Unlimited Customization and Beautiful Themes
Interface
WordPress offers a user-friendly interface with a clean design. Its interactive dashboard allows you to efficiently manage your website, create content, and customize the overall appearance of your site.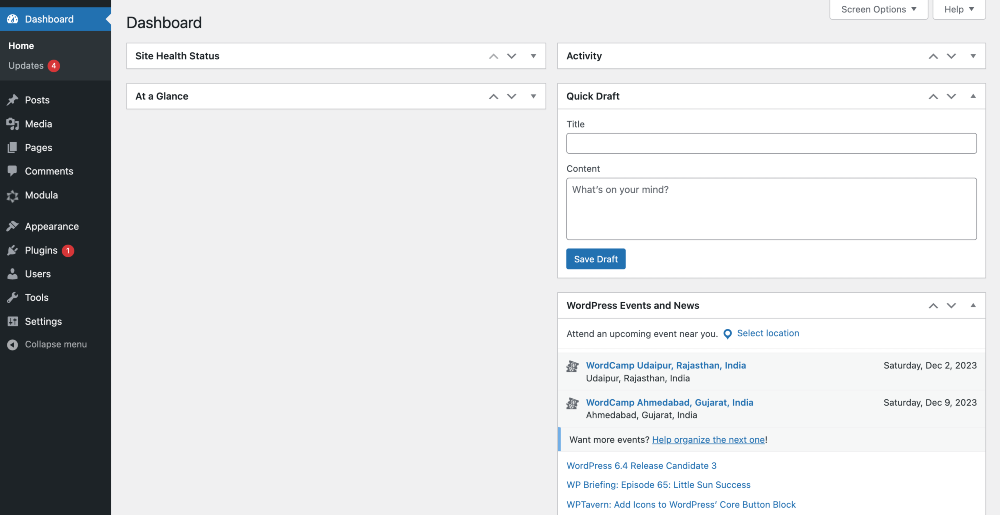 Beautiful Themes
The beauty of WordPress is its thousands of free and premium themes, catering to various niches and design preferences. Ask the type, and you'll find plenty of beautiful theme options for your work.
For creating your portfolio website, there are loads of options designed just for that. And guess what? You can personalize them however you like. You can change colors, pick different fonts, and arrange things. It's super flexible and fun!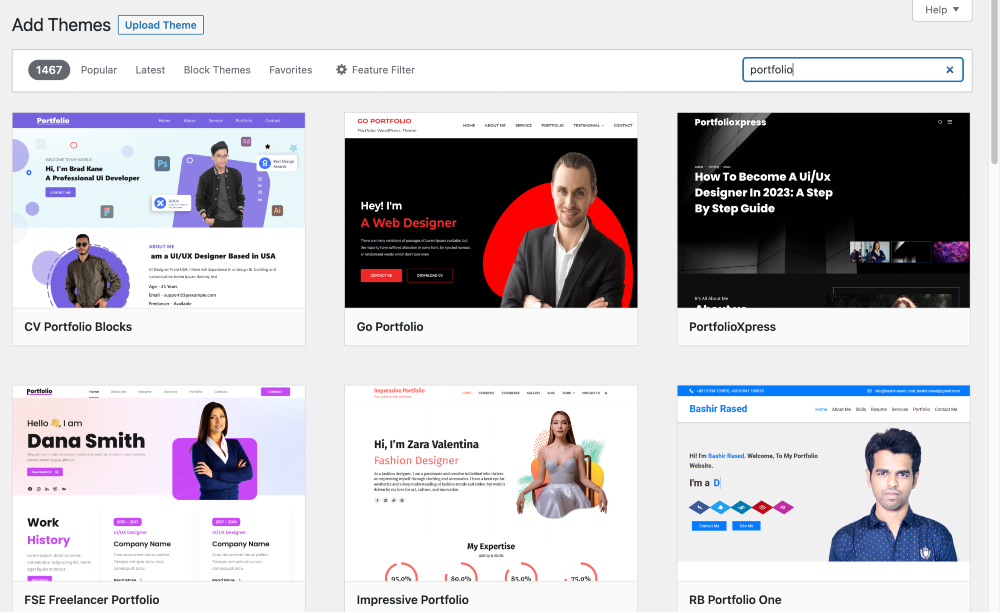 Customization Options
WordPress gives you the freedom to make your site truly yours. If you know how to code, you can dive into the theme files and customize every detail to match your vision.
But here's the cool part: even if coding isn't your thing, WordPress has got you covered! They introduced this handy block editor that makes customizing your content effortless and flexible.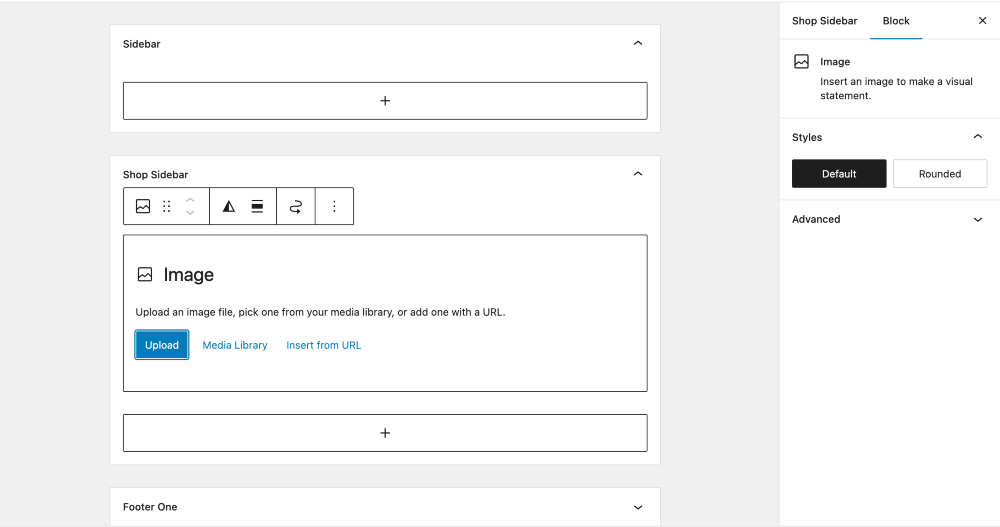 Wix or WordPress: Which Platform Offers a Seamless Experience?
I've got the lowdown on setting up and designing customization features for both Wix and WordPress and let me tell you, they each have their perks!
If you're totally new to the web world and it's your first time crafting your portfolio site, Wix is a fantastic choice. It's super user-friendly and straightforward, making the whole process super smooth.
Now, if you've dabbled in website building before, or you're keen on learning new skills, maybe even a bit of coding, then WordPress is the way to go. It offers more complexity, but it's perfect if you want to dive deeper and get creative with your portfolio website.
---
Wix vs WordPress: Apps and Plugins
Wix apps and WordPress plugins are super cool add-ons for your portfolio website. They're like those fancy gadgets that make everything more fantastic!
Now, you might be questioning, "Can I skip these apps and plugins?" Well, technically, you can, but your website might end up looking really plain and basic. Who wants that, right?
These apps and plugins are here to make your life easier. They add all sorts of fancy features and functions, turning your website dreams into reality without any hassle!
The best part? Both Wix and WordPress offer a bunch of these apps and plugins. They help you make your portfolio website stand out and look stunning. Let's break down some options for you so you can pick the ones that work best for your work.
Wix: App Market for Extending Features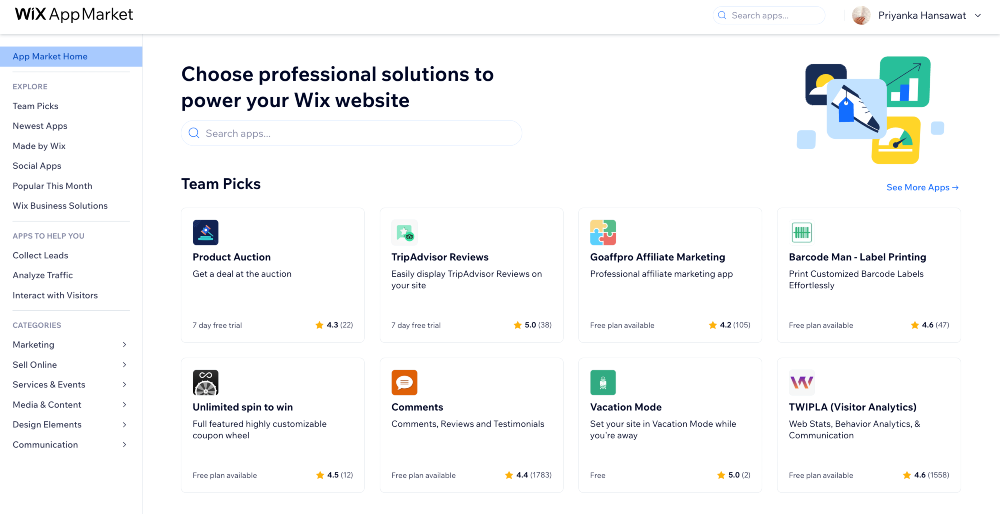 Wix offers a variety of apps that can enhance your portfolio website and provide additional functionality. Here are some popular Wix apps that can help you build a professional-looking and visually appealing portfolio website:
WordPress: Extensive Plugin Repository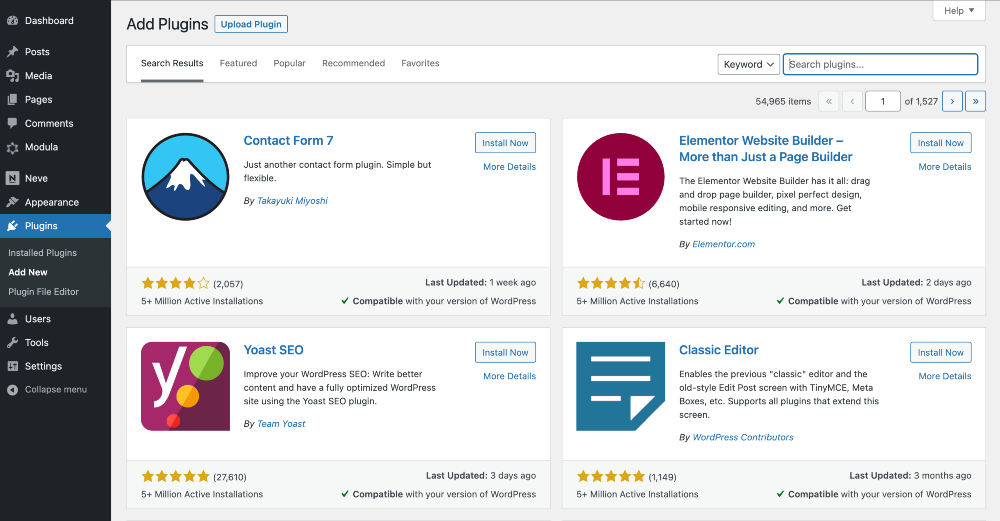 WordPress plugins are extensions that add specific features and functionality to a website. There are thousands of plugins available, covering tasks such as SEO optimization, e-commerce, social media integration, contact forms, and more.
Here are some of the popular WordPress plugin options that help you enhance your portfolio website' functionality and looks:
WordPress Page Builders: Page builders allow you to create custom layouts using a drag-and-drop interface in WordPress. They are beginner-friendly and offer various design elements and templates to help you build a visually appealing portfolio. Some popular options are Elementor, Beaver Builder, Bricks Builder, and Oxygen Builder.
Using a page builder is totally up to you! If you're working with a budget and want an easy way out, investing in page builders is a great idea to craft your portfolio website effortlessly.
But here's the thing: even if you don't want to use page builders, you're not left in the dark. WordPress comes with this nifty built-in tool called the Block Editor. You get access to ready-made blocks (and you can even create your own), drag-and-drop features, and elements you can customize. So, whether you're going for a page builder or the Block Editor, you've got options to make your website exactly how you want it.
---
Wix vs WordPress: SEO (Search Engine Optimization)
SEO is a big deal for your portfolio website. What is the point of having a website if it doesn't appear in search engine results?
Luckily, both Wix and WordPress come loaded with tools and features designed to boost your website's visibility and help it climb the ranks on search engines. Let's check out what they've got!
Wix: SEO Features and Optimization Tools
Wix has this amazing tool called Wix SEO Wiz. It gives you customized SEO plans, guides, and analytics, making it super easy to optimize your website step by step. And the best part? You don't need to be an SEO expert to use it. It's designed to help you, even if you're not a pro.
Wix allows you to add structured data to your website. This lets search engines understand what your site content is all about. And the more search engines understand, the better!
Plus, Wix lets you create URLs that are not just SEO-friendly but also user-friendly. They're short, clear, and packed with the right keywords. That means people can easily read them and understand what your page is about.
WordPress: Plugins and SEO Capabilities
WordPress offers a vast library of plugins, including popular ones like Yoast SEO and Rank Math, which allow you to optimize your site for search engines effectively. With these plugins, you can customize important things like meta titles and descriptions, create XML sitemaps, add breadcrumbs, and even integrate social media – all of which work wonders for your SEO efforts.
And if your website is all about photography, WordPress has a special treat for you. There are plugins such as Image SEO explicitly designed to make your images more search engine friendly. They automatically optimize your image ALT texts and names, giving your organic traffic a boost.
---
Wix vs WordPress: Website Loading Speed
When building any online website, the loading speed is crucial because nobody likes to wait around for a slow website to load.
Let me break down the loading speed features of both Wix and WordPress:
Wix: Optimized for Speed and Performance
Wix offers a range of templates, and the best part is that many of these templates are designed with speed optimization in mind.
One of the reasons for Wix's decent loading speed is that they host all their websites on their own servers. This means they control the server environment, allowing them to optimize it for speed. Wix also handles technical stuff like hosting, which can influence how fast your site loads.
WordPress: Speed Optimization Techniques and Plugins
WordPress, on the other hand, offers a bit more flexibility but requires a bit more technical know-how. The WordPress site loading speed can vary based on several factors.
WordPress itself is optimized for speed, but the loading speed heavily depends on the hosting provider and the theme you choose. Some hosting providers offer specialized WordPress hosting with optimized servers, ensuring faster loading times.
Also, there are numerous plugins available for WordPress that can help optimize your site's performance, such as caching plugins and image optimization tools.
Some of the best caching and image optimization WordPress plugins are W3 Total Cache, Smush, WP Super Cache, and WP Rocket.
---
Wix vs WordPress: Security and Maintenance
The two most important features that you can't afford to overlook are Security and Maintenance.
Wix and WordPress have different approaches to protecting your site from bugs and vulnerabilities. Here's a comparison chart of their security and maintenance features:
| | |
| --- | --- |
| Wix: Security and Maintenance Features | WordPress: Security and Maintenance |
| Wix handles hosting and security for you, so, you don't have to worry about managing server security. | WordPress is more user-centric and gives more control to its users. So ​​, WordPress core, themes, and plugins must be updated manually. While WordPress has significantly improved automatic updates, users still need to be vigilant about keeping their website components up-to-date. |
| Wix offers built-in security features, including SSL certification, which encrypts data transmitted between the user and the website. | WordPress offers numerous plugins that enhance your website's security by adding firewall protection, malware scanning, and monitoring login attempts. |
| Wix has a built-in security monitoring system that continuously checks for suspicious activities and potential security threats. | WordPress supports 2FA, which adds a layer of security and requires users to enter a one-time passcode sent to their mobile phones or email. |
| Wix has Anti-DDoS Protection that quickly detects and tackles attacks, ensuring your site stays robust and accessible at all times. | WordPress enables you to assign different roles and permissions to users, restricting the actions they can perform on the website. |
| Wix is a fully managed platform, meaning it handles hosting, backups, and server maintenance. You don't need to worry about technical maintenance tasks. | WordPress.org is a self-hosted platform, which means users are responsible for managing their own updates. This includes updating the WordPress core, themes, and plugins. While this setup provides users with control, it also requires regular attention and updates to ensure the security of their websites. |
If you prefer a hassle-free experience with built-in security features and managed hosting. Wix is an excellent choice.
If you value flexibility and customization options and you are willing to invest time in learning the platform. WordPress provides a wide array of plugins and themes, enabling extensive customization. However, it demands more active management and responsibility for implementing security measures.
---
Wix vs WordPress: Help and Support
Help and support management features are crucial when choosing a platform for building your portfolio website. Let's explore the help and support management features of Wix and WordPress:
Wix: Dedicated Support and Knowledge Base
Customer Support: Wix offers customer support through email and a ticketing system. Premium plan users can access phone support, allowing direct communication with support agents for immediate assistance.
Knowledge Base and Tutorials: Wix provides a comprehensive knowledge base and tutorials. These resources cover various topics, enabling users to find answers to common queries and learn how to use different features effectively.
Community Forum: Wix maintains an active community forum where users can interact, share experiences, and seek advice. The forum is a platform for users to connect and help each other.
WordPress: Community Forums and Third-Party Support
Community Support: WordPress has an active community of experienced developers, designers, and users. This community contributes to the development of the software, creates themes and plugins, and provides support and documentation. There are also numerous online forums and resources where users can find help and share knowledge.
Extensive Documentation: WordPress offers extensive documentation, including guides, tutorials, and FAQs. These resources cover many topics, from basic setup to advanced customization, addressing users with varying levels of expertise.
Third-Party Support: Due to its popularity, WordPress benefits from a vast ecosystem of developers and agencies offering professional support services. Users can hire experienced professionals for customizations, troubleshooting, and advanced website development.
Plugin Support: WordPress has a vast library of plugins developed by the community. These plugins add functionality to websites and often come with dedicated support channels. Users can rely on plugin developers' support for specific features and enhancements.
---
Wix or WordPress: Pricing
Now let's discuss the most crucial factor that plays a significant role in choosing any tool for your work, i.e., cost. The good thing is that both Wix and WordPress, the core platform, are Free, yet the catch is here that if you need advanced features, you need to consider investing in some paid plans.
How Much Does Wix Cost?
Wix offers both free and premium plans. The free plan includes Wix branding and is limited in features, while premium plans provide more advanced features, custom domain names, and the ability to remove Wix ads from the website.
Look at these premium packages to see what Wix will cost you…
Free plan: – $0
Light plan: – $16/month
Core plan: – $27/month
Business: – $32/month
Business Elite: – $159/month
Enterprise: – Custom pricing
Cost of Building a Portfolio Website Using WordPress
WordPress is FREE, and it always will be. However, there are some additional costs that you need to pay to have a fully-fledged and functional WordPress website.
| | |
| --- | --- |
| Expense | Cost |
| Domain | $10 to $30 per year |
| Hosting | $25 – $500 per month |
| Website Theme | $0 – $200 [optional] |
| Website Plugins | $0 – $1000 [optional] |
When creating a WordPress website, you've got to consider a few expenses:
Domain and Hosting: You can't avoid these costs. Domain names and hosting aren't free, but they're essential for your website to exist online.
Plugins: A WordPress website usually needs plugins for SEO, security, backups, and more. Some popular ones include:
Contact Form 7: Free contact form plugin.
UpdraftPlus ($0 to $70 per year): Backup, restore, and clone plugin.
Yoast SEO ($0 to $99): SEO plugin to optimize your content.
Sucuri Security: Free security plugin to protect your site.
WP Rocket ($49): Caching plugin to speed up your website.
3. Theme: For a simple portfolio website, free themes work well. You can opt for premium themes if you want more features, but they are optional.
Keep in mind that although WordPress itself is free, these additional costs are necessary to ensure you have a fully functional and secure website. Make your choice wisely, considering your specific needs and budget!
---
Final Verdict: Wix or WordPress Which One Is Better for Building Portfolio Websites?
And there you go! The factors we talked about in our post can help you decide between Wix and WordPress for your portfolio website.
Still, feeling unsure? Don't worry, I've got your back!
On any given day, if you inquire about the ideal platform for creating a massive enterprise, e-commerce, or business website, our recommendation would unquestionably be WordPress. It's the obvious choice for such grand projects.
But for portfolio websites, the choice is crystal clear – Wix all the way! Why? It's super user-friendly and packed with customization options and top-notch security features. However, if you want more control over your portfolio site, a splash of creativity, and access to advanced features, WordPress is your ultimate pick.
This blog post has been our deep dive into the Wix vs. WordPress debate for portfolio websites. I'm confident it has given you the clarity you need to make an informed decision.
Please share this post with others who might find it helpful! ❤️ And if you've got any thoughts or questions, drop them in the comments below.