Building Engaging Image Galleries with Social Sharing in WordPress
Social media is essential to any digital marketing strategy. It's a quick, cost-effective way to reach a large portion of the world's population and showcase your image galleries.
⚡Did you know?: A report by Statista in 2021 indicated that, in the US alone, about 93% of businesses have a presence on at least one social media platform, with Facebook being the most popular platform companies use.
With statistics like that, it's hard to ignore. Here's what you could be missing out on by not using social media:
👀 Increased visibility: Social media platforms provide a vast audience to reach, which can significantly increase brand awareness and visibility.
🤝 Customer engagement: Social media provides an opportunity to interact with customers and build relationships. It helps businesses to understand customer needs and preferences and respond to real-time feedback.
💸 Cost-effective marketing: Social media advertising is a cost-effective way to reach many people. It's a more affordable option than traditional marketing methods.
🎯 Targeted advertising: Social media platforms offer various targeting options, such as demographics, interests, and behaviors, which allow businesses to reach specific niche audiences.
📈 Increased website traffic: It can drive traffic to a business's website, which can help increase sales and revenue.
💪 Competitive advantage: Many businesses use social media, so not being on it can put you at a disadvantage compared to active competitors on these platforms.
👷‍♀️ Community building: Businesses use social media worldwide to build a community around them, which can help increase customer loyalty and retention.
📊 Analytical data: Social media platforms provide a wealth of data on customer behavior, preferences, and engagement. Businesses use this data to improve marketing strategies and strategic decisions.
Considering the above, if social media isn't part of your digital marketing strategy, you'll need to make it one.
---
Social media – the key to unlocking engagement
Social media will help your images reach a whole new audience. People who share your pictures on social media platforms will be marketing for you. That's a win for you and your business.
By now, you're probably thinking, how do I throw social media into my digital marketing mix? How can I create more exposure for my images on these channels?
Read on to find out more and the benefits of doing so!
---
Using Modula to create engaging image galleries with social sharing options
So how much will this cost you? Nothing; in this guide, we'll use the free version of Modula to add social sharing buttons to your image galleries.
Before we show you how to do that, here are some benefits of adding social sharing to an image gallery created with Modula.
❤️ Increased engagement: Visitors can share images they like on social media platforms, which can help increase traffic to your website.
👥 Better user experience: Social sharing functions can make it easy for users to share their favorite images on their social media platform of choice.
💪 Increased conversions: A gallery with social sharing functions can help increase conversions by making it easy for visitors to share images they like with friends, family, and followers.
📈 Improved brand visibility: When images are shared on social media, they can be seen by a wider audience, increasing brand visibility and exposure.
🔍 Better SEO: Social sharing can help increase the number of inbound links to a website, improving search engine rankings.
That's five benefits you could be reaping the rewards from and the best part of all? It's effortless to do, oh? Did we mention that it's free?
Ready to dive in? Here's a quick guide on installing/activating the plugin for those new to Modula.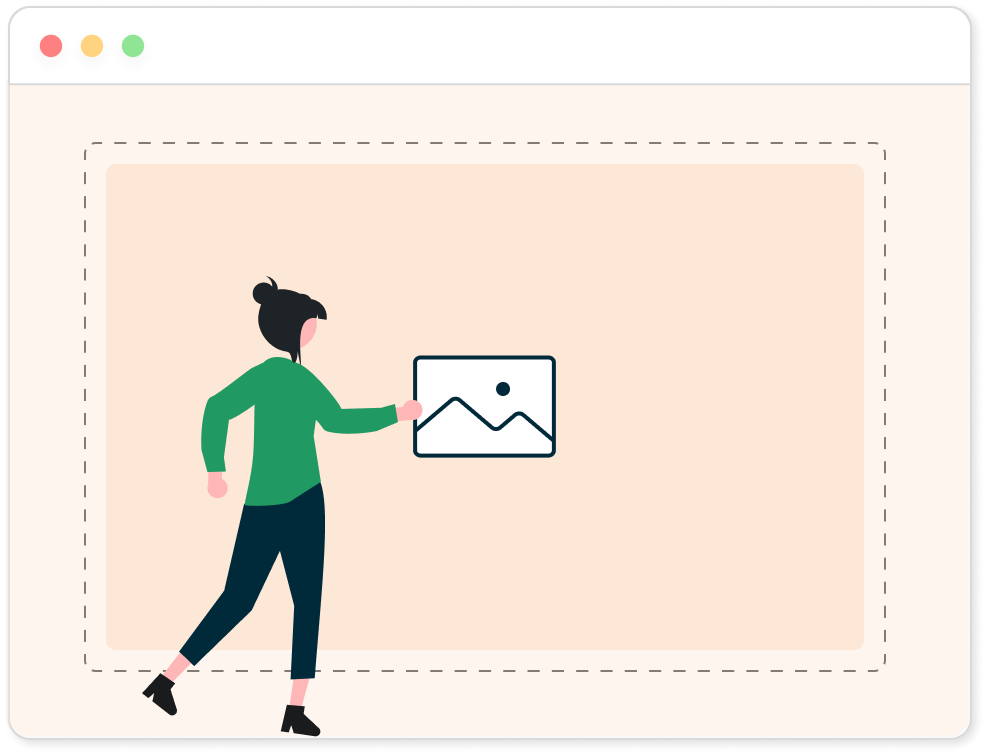 Modula Gallery Plugin
Create stunning, responsive photo galleries with ease. Showcase your work, captivate your audience, and boost engagement. You don't need to do any coding.
Installing and activating Modula
The first step is to install and activate Modula. To do so, go to WordPress Dashboard > Plugins > Add New.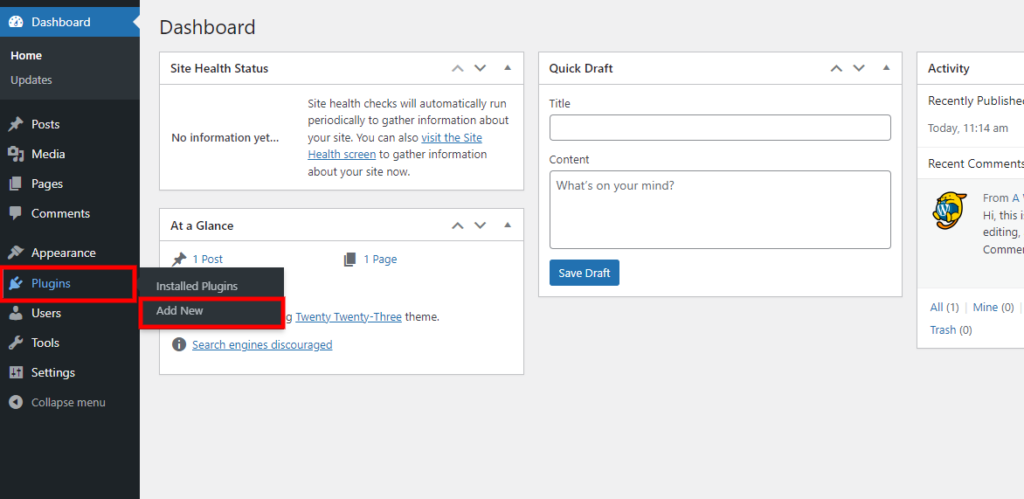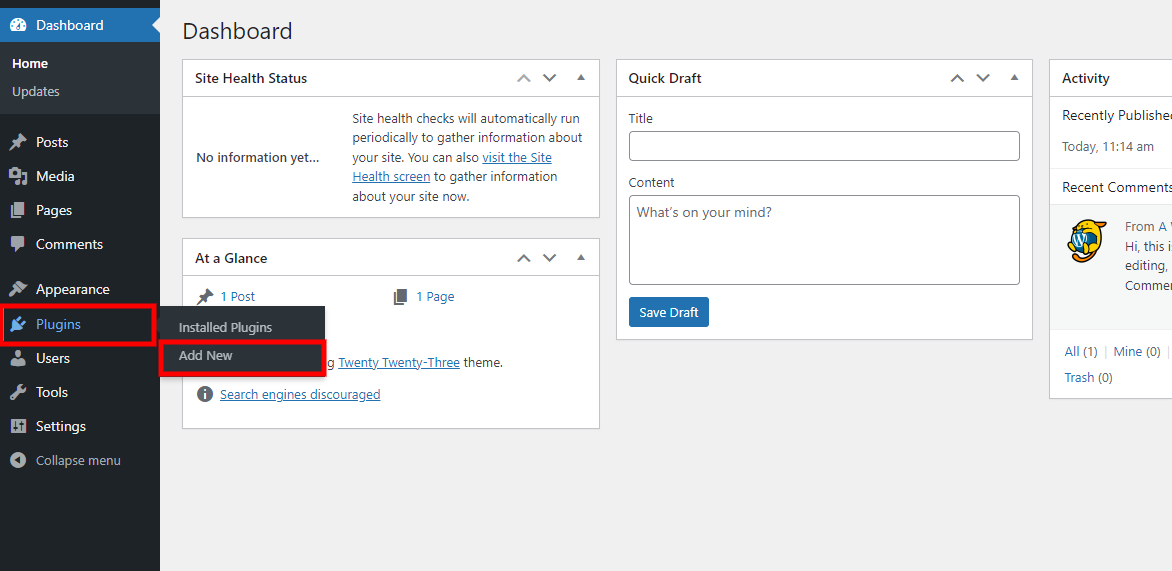 You will notice a search bar in the upper right corner of the newly opened page. Once you type 'Modula,' it will quickly appear in the first search result.
Click on the Install Now button to begin the installation.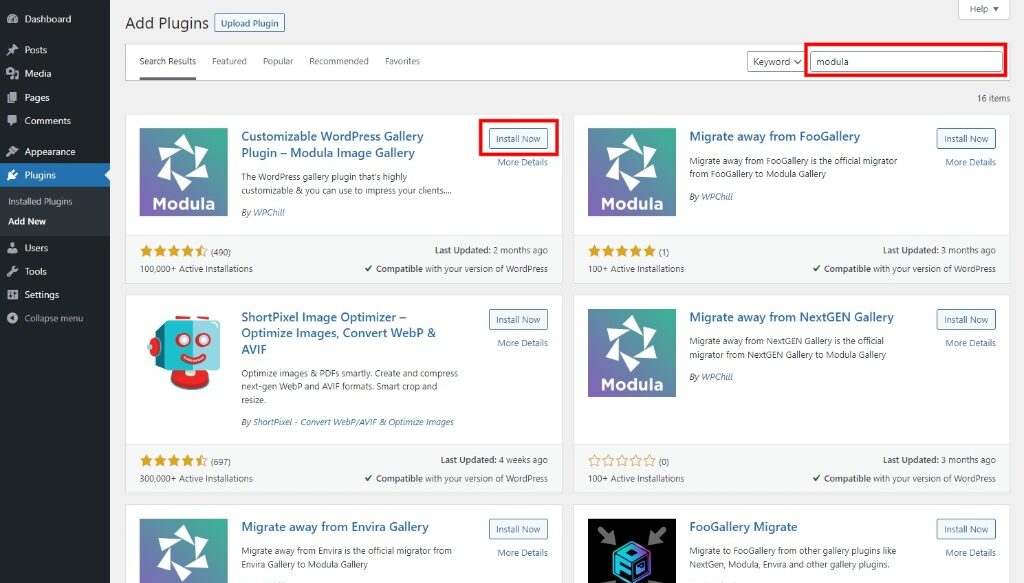 Once the plugin has finished installing, click on the Activate button.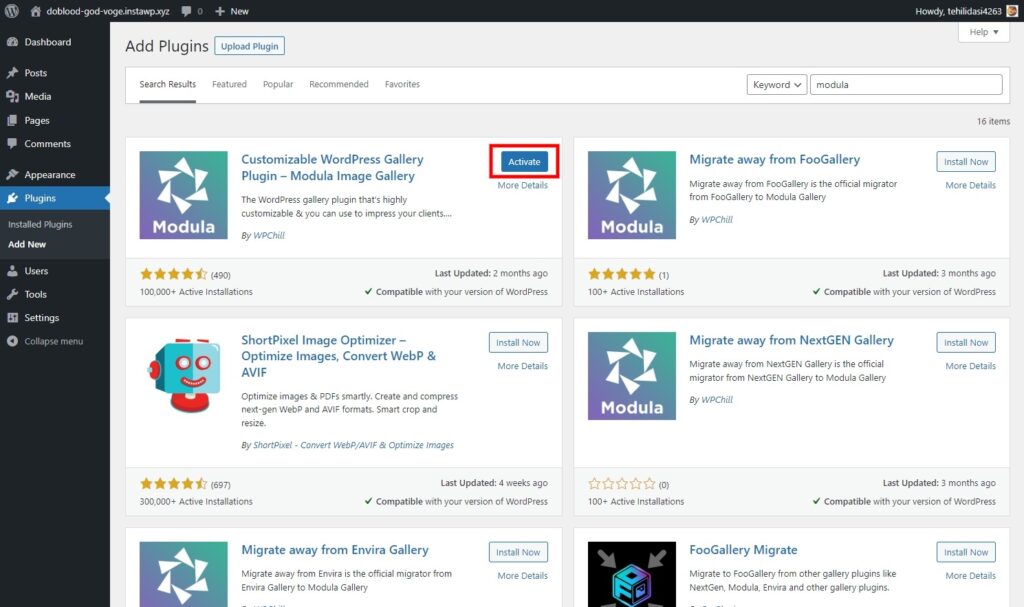 Create an image gallery with Modula
Once you have installed and activated Modula, it's time to create your image gallery. Head over to your WordPress Dashboard, then select Modula > Galleries.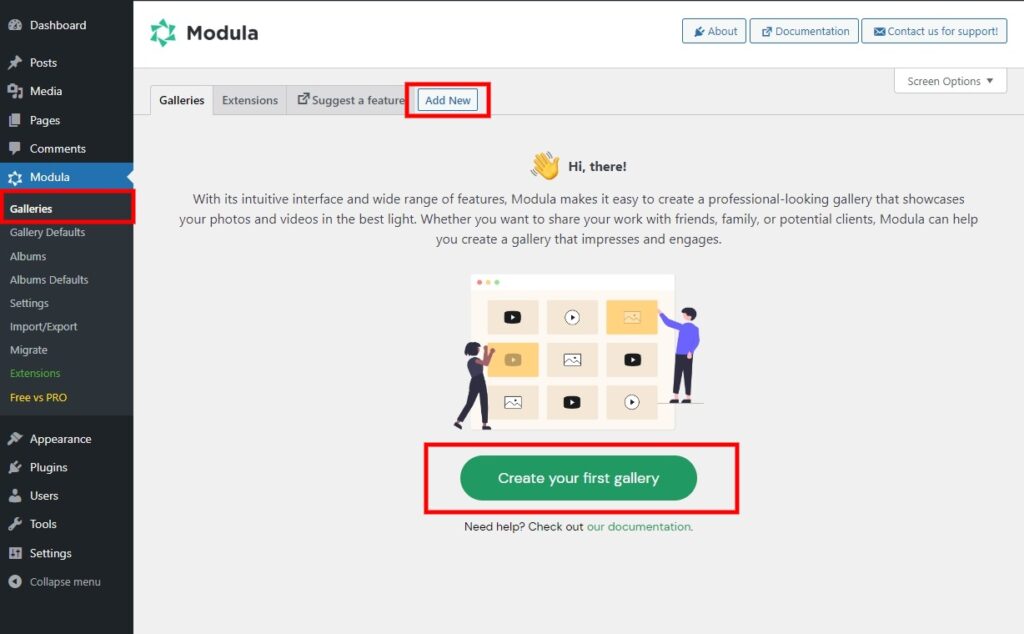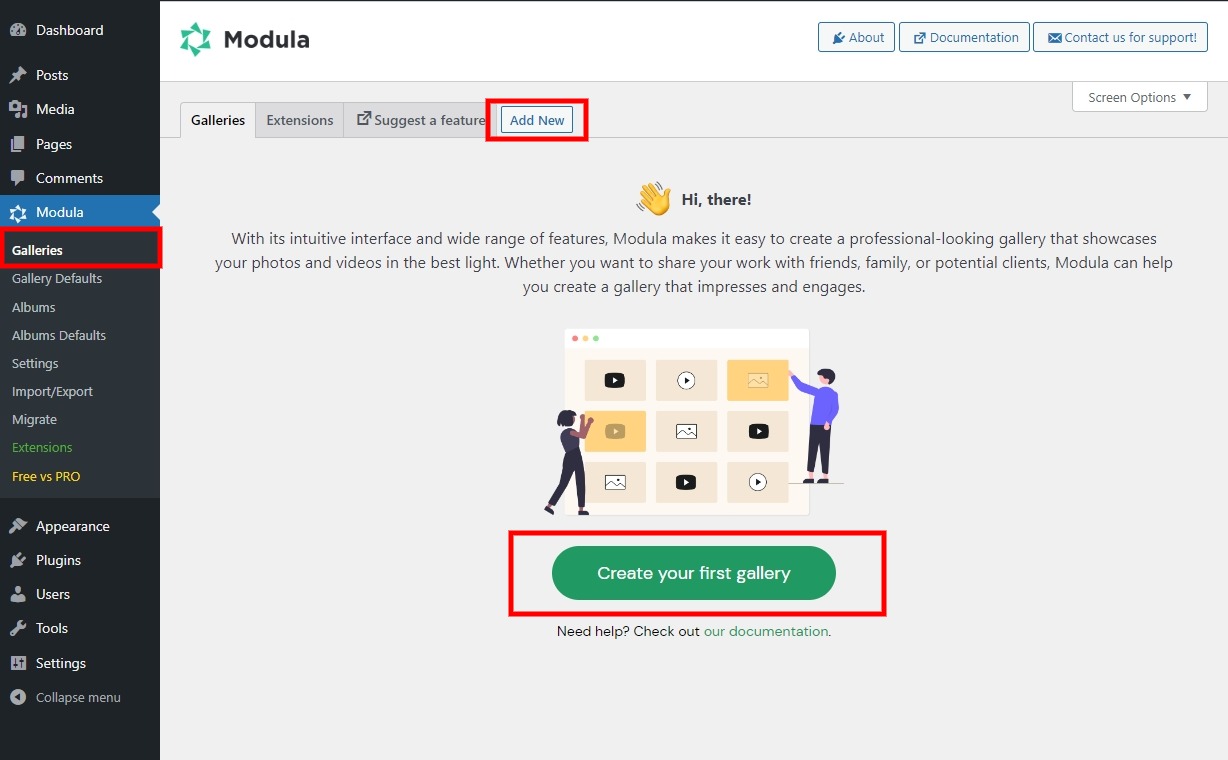 Once there, select Add New to start creating your gallery.
A new window will open where you can add a title to your gallery and choose Upload image files if you want to upload new images.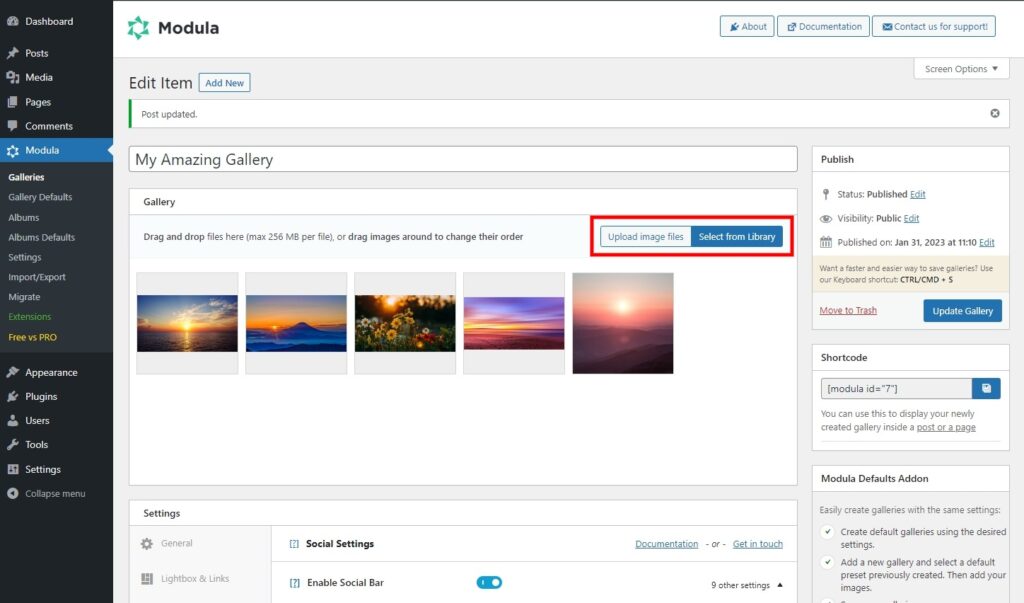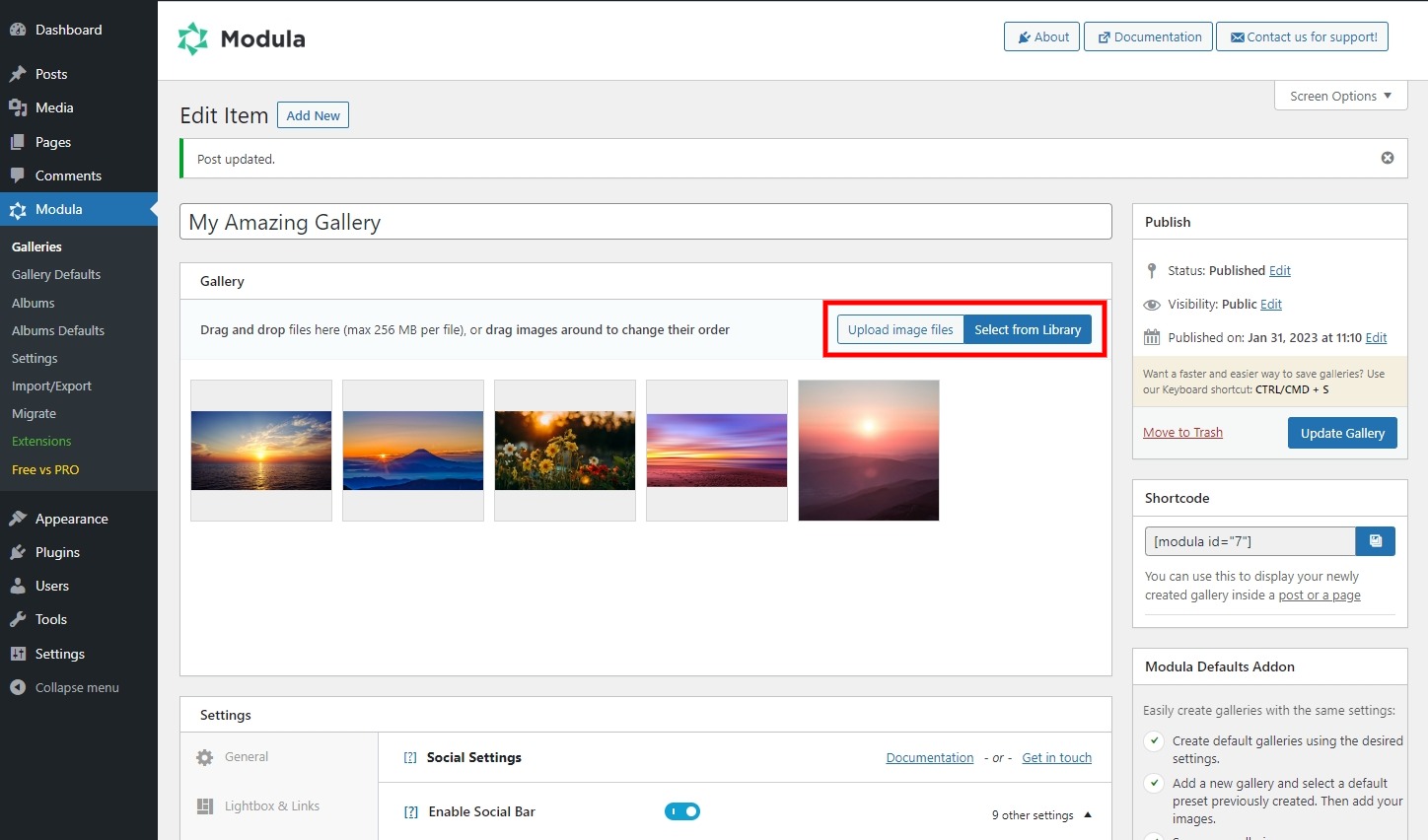 Select from Library if you have already populated your Media Library with your pictures of choice.
⚠️ Important tip!: Remember to add a title to your image; the title will be the text shown when sharing on social media! It's super easy to do so, click on the pencil icon of the image: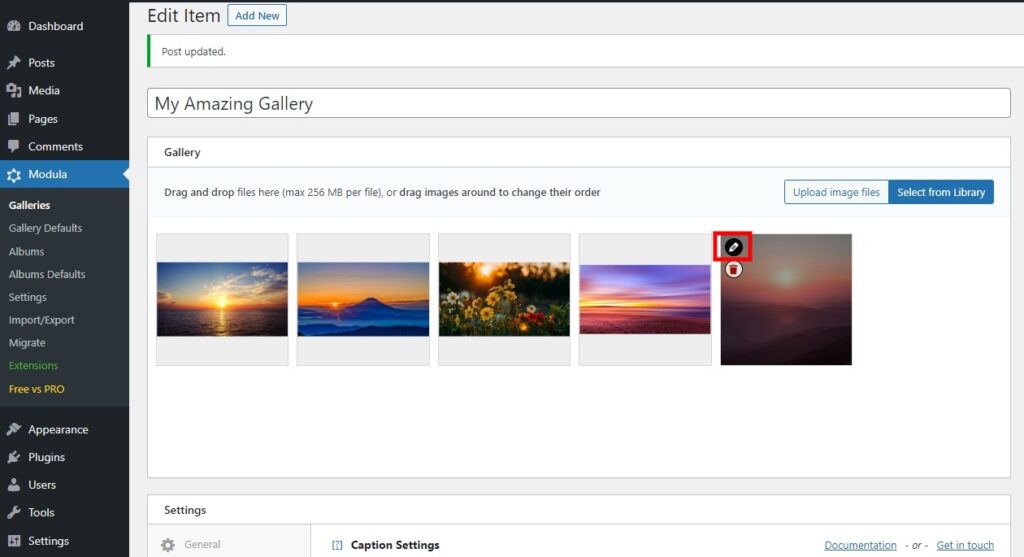 Then add a descriptive title for your image, bearing in mind this is the text that will appear on social media: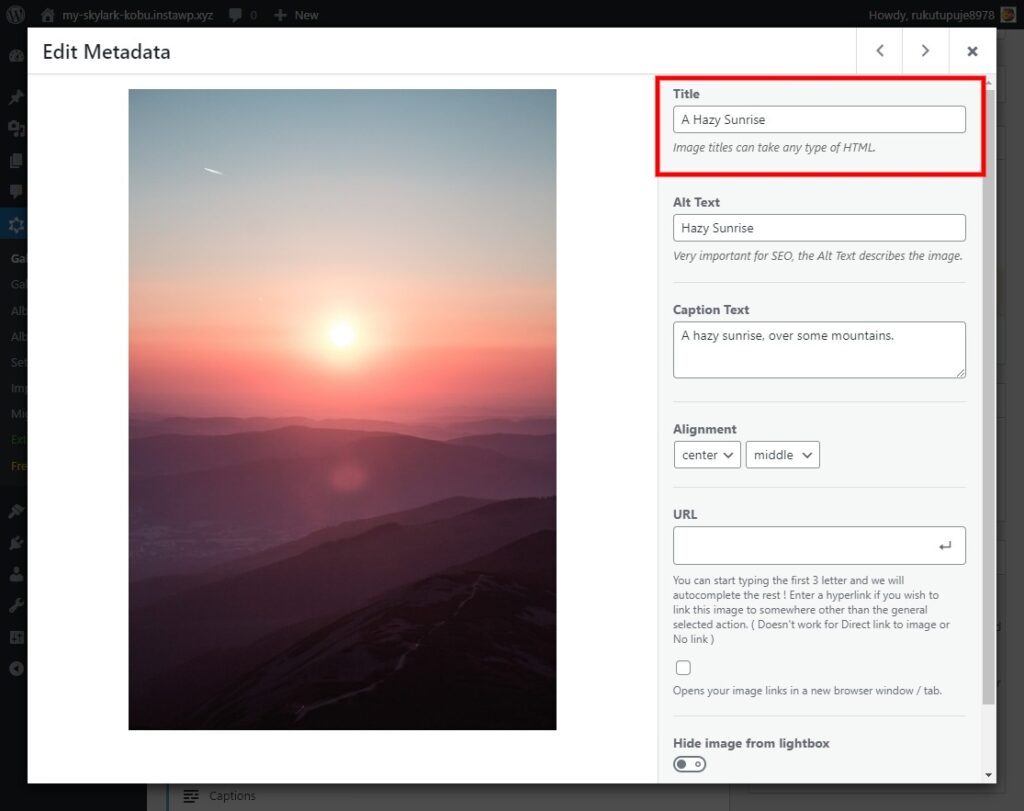 Next, make sure to select your Gallery Type. Modula allows you to pick four options: Creative Gallery, Custom Grid, Masonry, or Slider.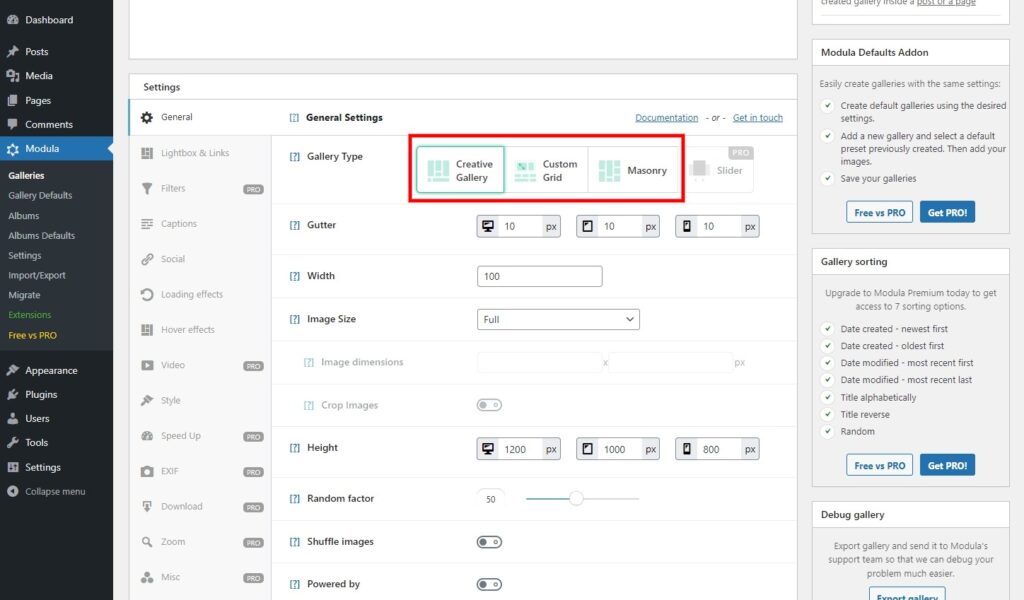 The Slider is only available in the pro version of Modula. It does not have social sharing options, so choose an option from the previous three.
Adding social sharing with Modula
Once you've finished building your gallery, there's only one small step left to enable social sharing options.
Scroll down to the Settings section, where you will find the Social tab. Under the Social tab, you will see an Enable Social Bar button. Once you click on it, more options will appear.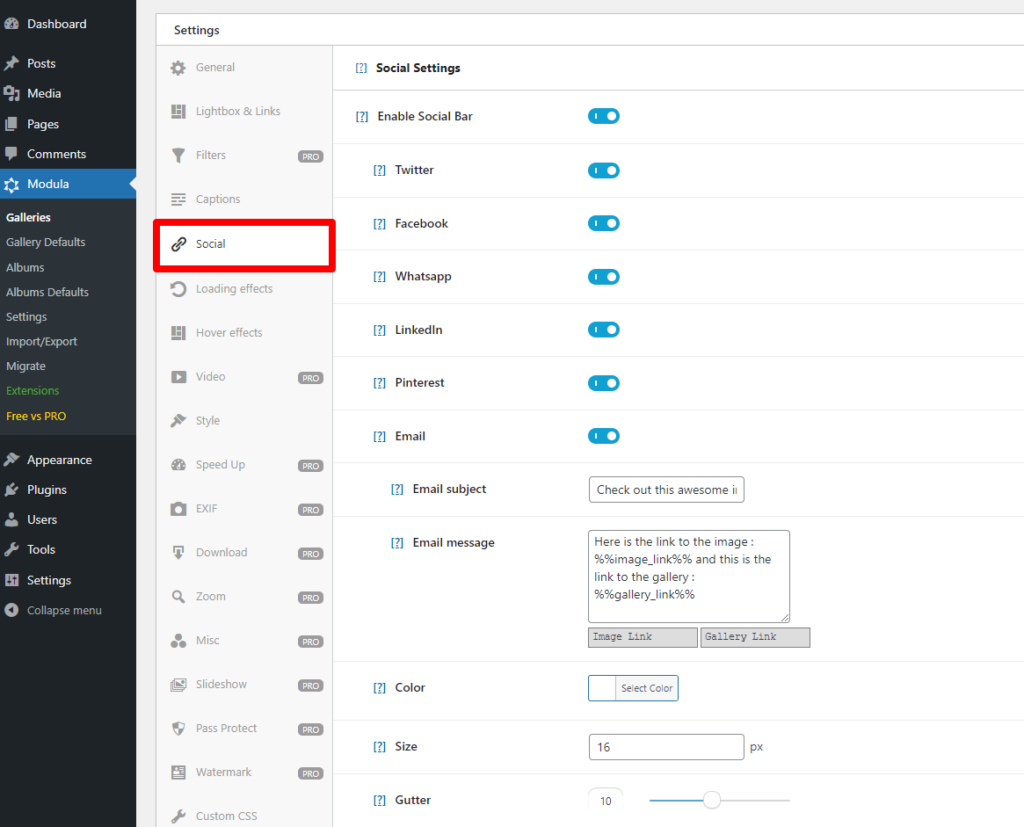 Modula allows you to add sharing buttons to leading social media platforms such as:
Twitter
Facebook
LinkedIn
Pinterest
On top of that, you can also share images through WhatsApp or Email. Each of these options can be enabled/disabled via a toggle. So choose the channels you'd like to add, and Modula will do the rest.
If you choose the Email option, more settings will appear, such as text boxes where you can set the Email subject and message you'd like to accompany your users will share.

You can easily insert the image or gallery link by clicking the two buttons under the email message text box.
It will automatically insert the %%image_link%% and %%gallery_link%% within the email message.
You could say that sharing via email doesn't qualify as social media sharing. Nonetheless, it's better to have the option to do so than not have it!
Apart from the social sharing options, you can customize the icon color, size, and gutter:

Once you are happy with your changes, hit Publish or Update gallery. After that, it's time to display your gallery.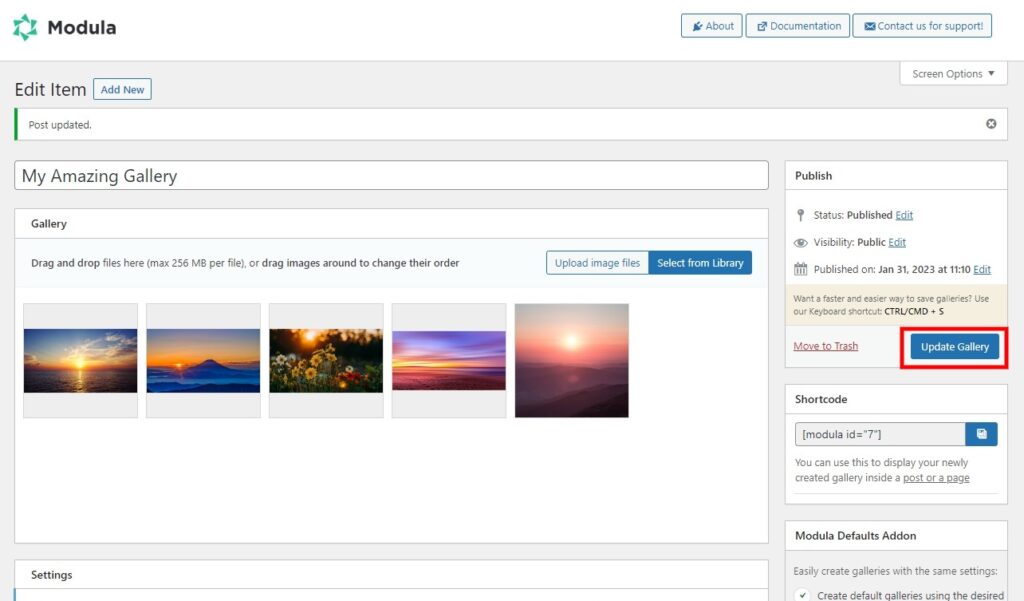 Remember to copy the Shortcode generated by Modula; we need it to display our gallery!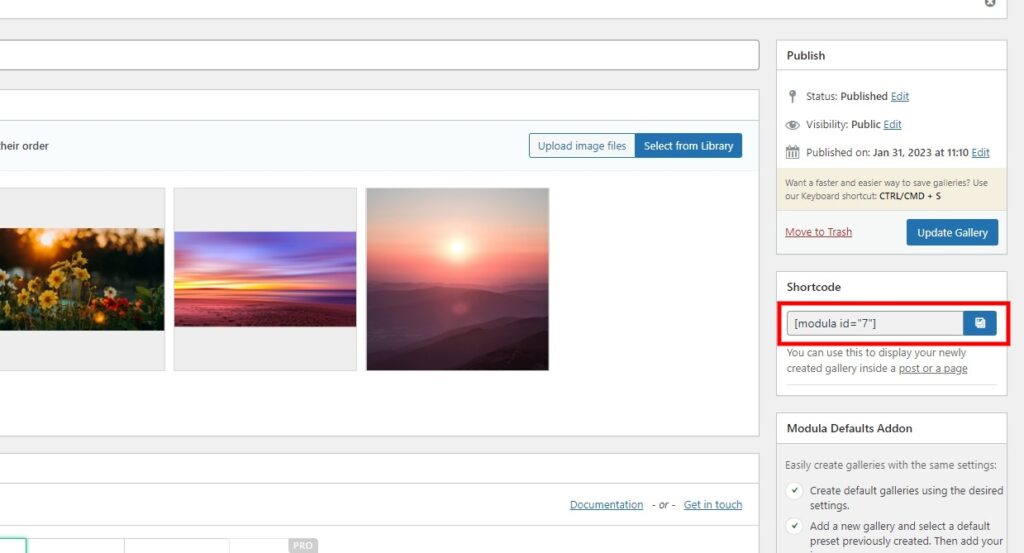 Head to the page where your gallery will be displayed, then paste the shortcode in the block.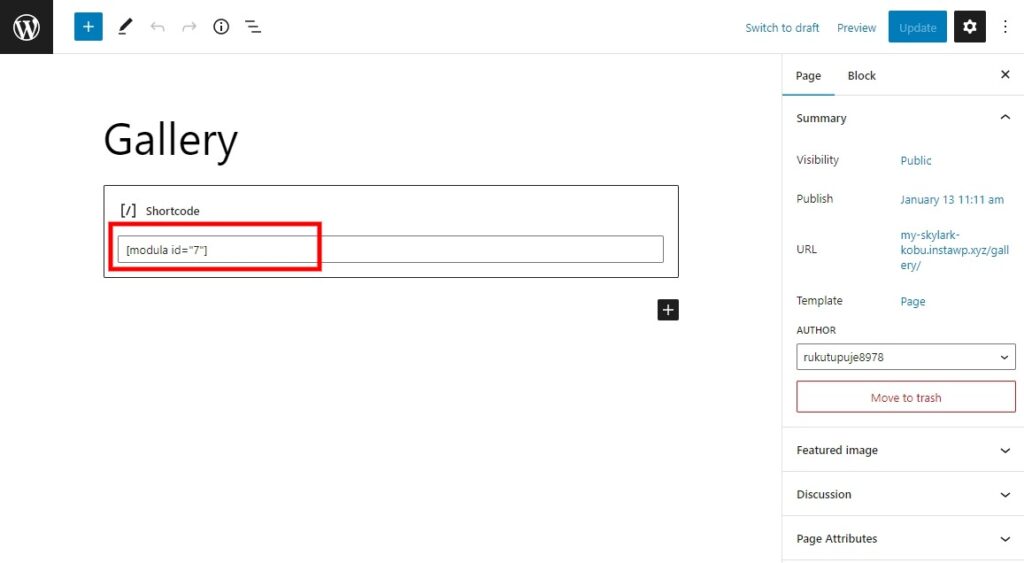 Remember to hit the Update or Publish buttons, and your WordPress image gallery with social sharing options will be live on your page!
The end result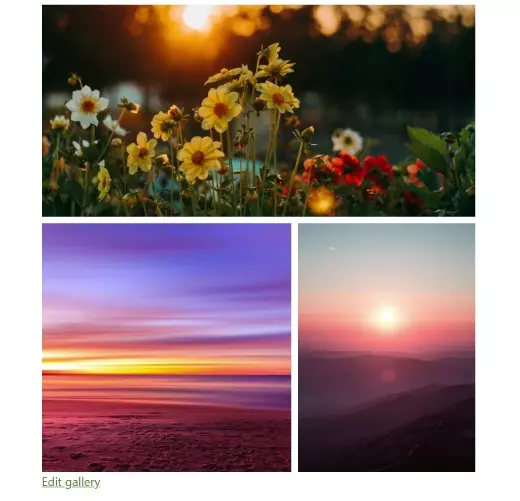 Key things to remember:
Your selection of social channels will display on each image within your gallery. The social icons will appear when visitors hover over their image of choice.
The text displayed on social media will be that of the image's title. So, remember to add one!
When they share it on social media, the link shared will be the URL to the image itself, not the whole gallery.
How to improve your chances of your images being shared on social media
We've shown you one example of a gallery with social sharing enabled. Now let's look at how to make your gallery even more shareable!
Let's head back into the settings for the gallery. Navigate to Captions: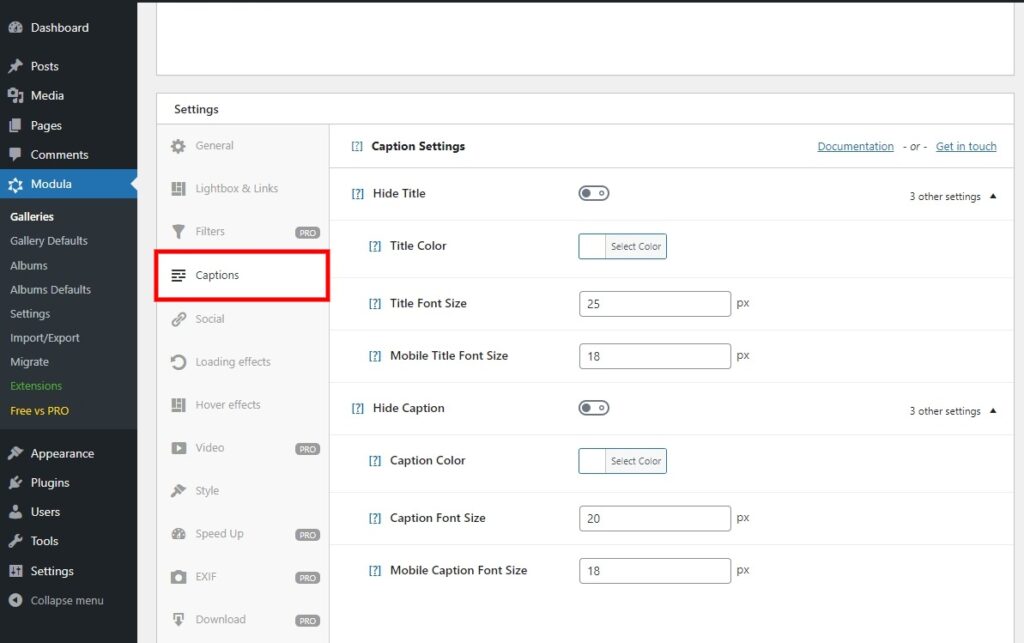 In our previous example, we had the title and captions set not to display, so let's change that.
Here we've changed the size of the title and the captions for desktop and mobile devices. Next, let's head back into the social section and change the icon size; we want it to stand out even more so: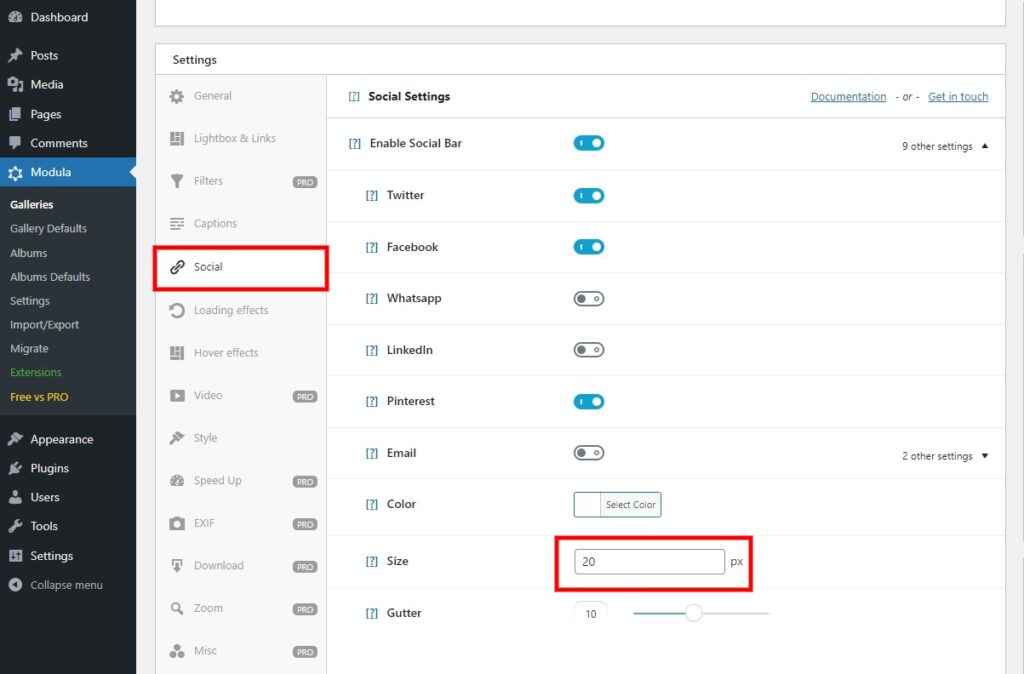 Here we've increased the size of the icon to be more prominent. Let's see how this looks on the front end: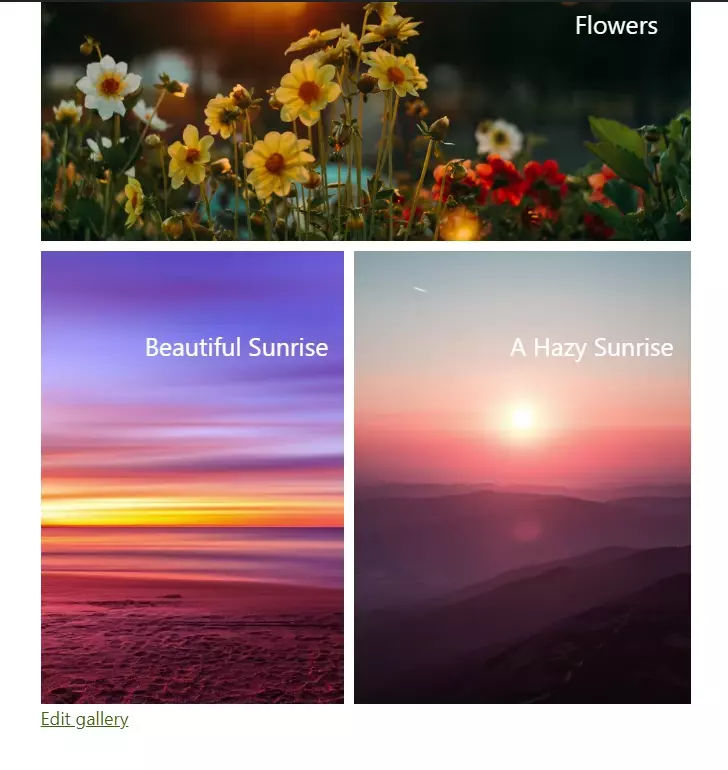 I'm sure you can agree this example stands out even more! You can add some extra zest to your image galleries with a few quick changes!
The above example is what we call a hover effect. The free version of Modula comes with one effect for you to use.
If you'd like more options regarding hover effects, Modula Pro has 41 different ones to choose from!
---
The risks of sharing images on social sites
We've covered the benefits, increased exposure, brand awareness, website traffic, etc. But we'd be remiss if we didn't mention one of the associated risks.
Sharing images from your gallery on social media can lead to them being used in other works. For example, someone could see it on a social media platform, save the image, and use it for their needs.
Worse still, they could pass your work off as their own or even distribute it. Sadly this happens more often than not.
How can you stop this from happening?
A way to solve this problem would be with the Watermark extension available in the Business package.
See below for an example of a watermarked image: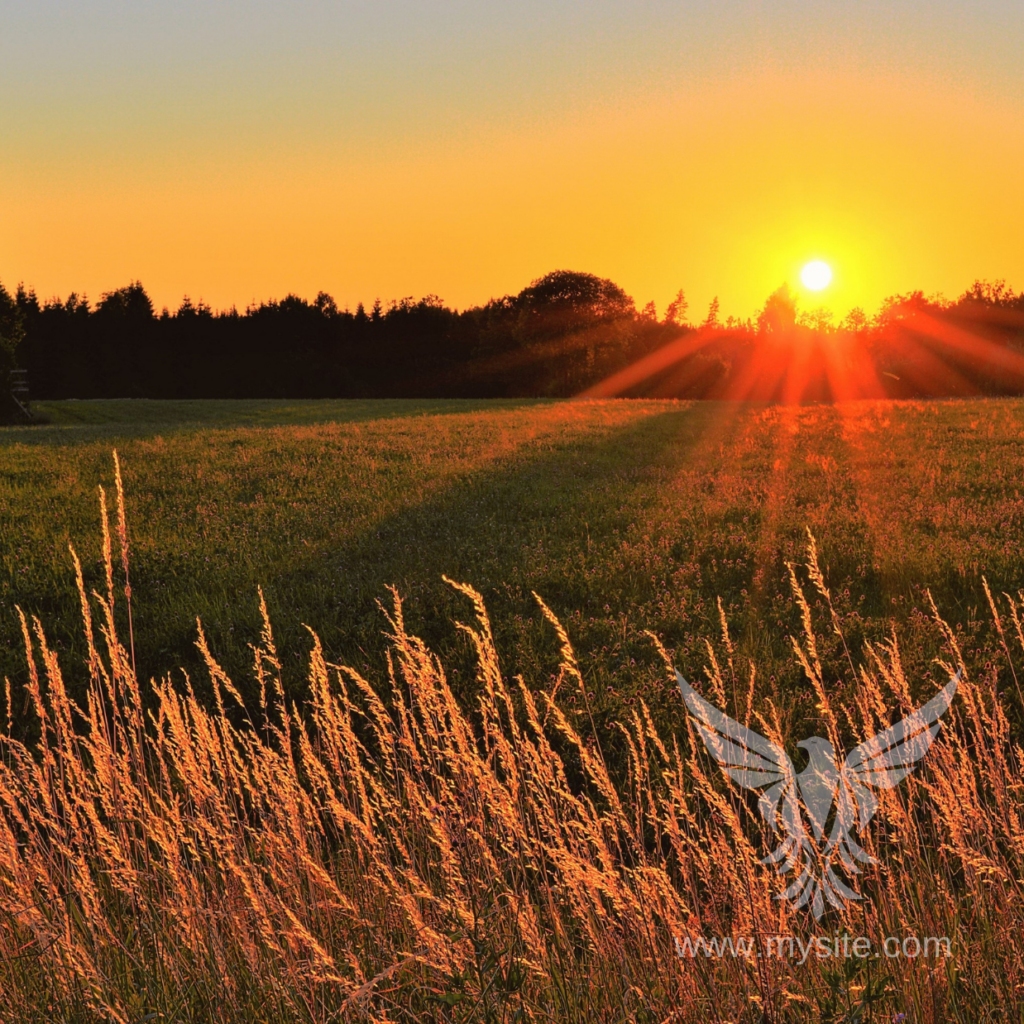 Watermarking your images deter those seeking to use your images without your consent. Adding your website address to a picture could drive more traffic to your website.
Users will see the watermark and could end up seeking out your website for more images.
Try not to think of watermarks as just a preventative measure; think of them as a chance to raise your brand/profile.
---
Conclusion
Modula has all the tools necessary to create visually stunning image galleries with social sharing buttons in WordPress. It's mobile-friendly and easy to use, making it accessible even for those without professional experience.
Experiment with the various settings and customization options to create an eye-catching share-worthy image gallery.
If you'd like to learn more about Modula Pro and its vast number of features, feel free to find out more.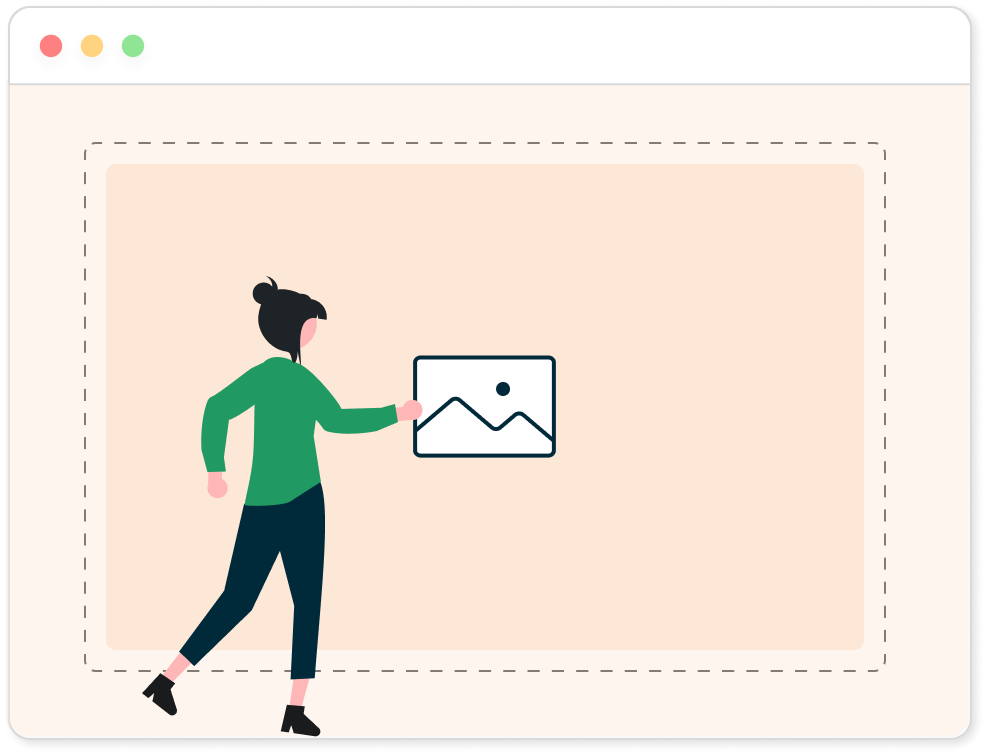 Modula Gallery Plugin
Create stunning, responsive photo galleries with ease. Showcase your work, captivate your audience, and boost engagement. You don't need to do any coding.
Get Modula PRO
Get the #1 gallery plugin for your WordPress site today!
100,000+ happy users