How To Move your Photography Portfolio from Flickr to WordPress
Have you grown out of Flickr's free plan, or are you looking to take your portfolio to the next level? Don't know how to move your Photography Portfolio from Flickr to WordPress?
Either way, you've come to the right place – in this post, we'll look at how you can move your entire photography portfolio from Flickr to WordPress in no time!
---
Why should your portfolio not live on Flickr?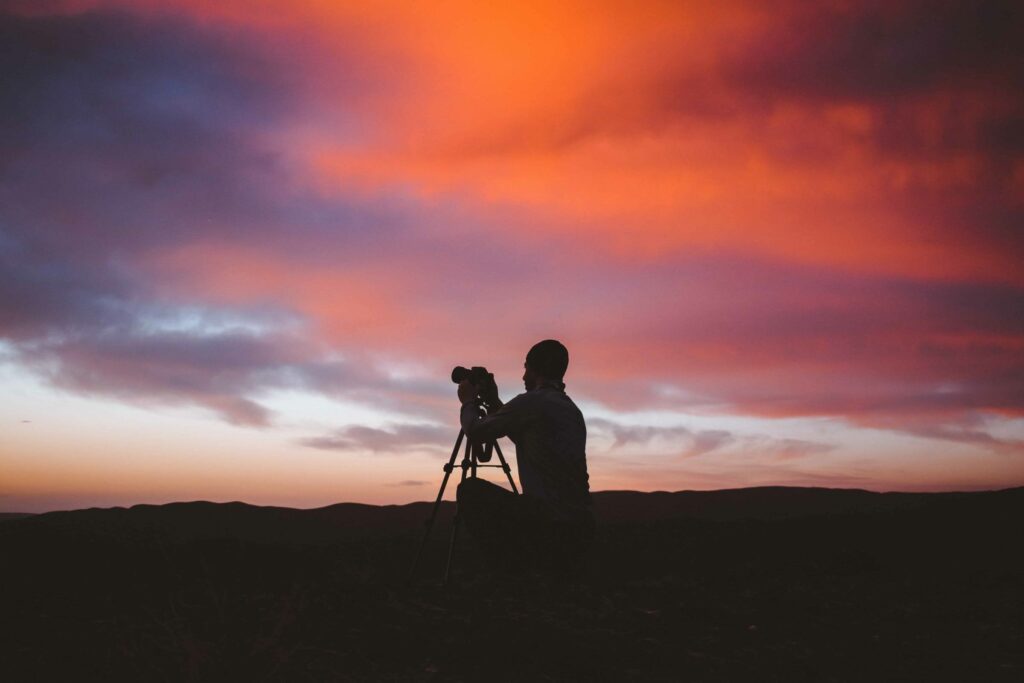 This is a great question that surprisingly also has a simple answer.
Flickr is an independently hosted website that you do not own. While it has a good reputation in the photography community as a place to share your photographic work, other places besides professional photographers host their portfolio.
And, considering that they have total control over all of the images you store with them, it might be time to take your portfolio to the next level by migrating to WordPress.
💻 In addition, we have a very comprehensive guide on how to create an online portfolio, with a lot of tips and creative solutions.
As you become a better photographer, you realize that photos you once thought were great are actually not that good at all. Even photographers who have been professionally shooting for over ten years are progressing and growing their eye every day, and finding out some (or much) of their old work is just not up to par. It's all part of refining your vision as a photographer.

Unfortunately, with Flickr, many of those types of photos remain on your page far past when they should, bringing down the overall impact of your imagery. It's easy to post everything, because it doesn't require you to think about why you like a particular image. Trimming down what you show people is an exercise in learning what you want to shoot and why certain photos appeal to you. You're only as good as your worst image. Eventually you may realize that while you've got some good ones, others are pretty bad. You don't want a potential client to have to wade through the bad ones. All they should see is your best.

Matt Dutile
Flickr lacks presentation and branding features
As Matt continues to describe – as you grow as a photographer, you'll eventually want to package your work on a website and brand yourself as a photographer.
While Flickr makes it easy to upload and categorize images in a user-friendly way, every photographer's portfolio looks the same.
There is nothing stylistic that you can do to stand out, which isn't something that will help you as a photographer – especially not in a global market that demands an individualized style.
It would be best if you made an effort to stand out from the crowd, and one of the ways to do that is to build your portfolio on a platform that you truly own and can control, like WordPress.
So, without further ado – let's jump right in and look at how you can migrate from Flickr to WordPress…
Move your Photography Portfolio from Flickr to WordPress
1. Login to Flickr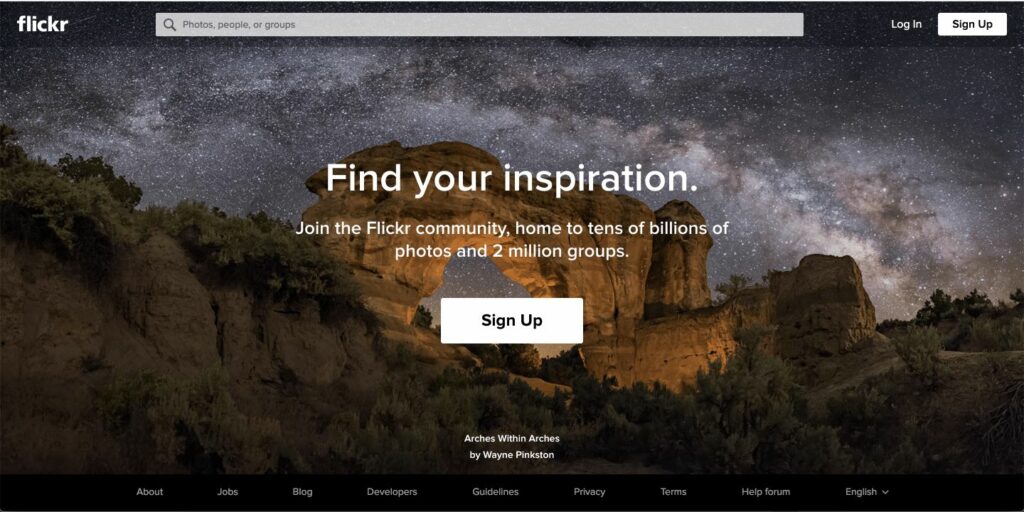 The very first thing you need to do is head to Flickr.com and navigate to your camera roll from the top navigation, as shown below: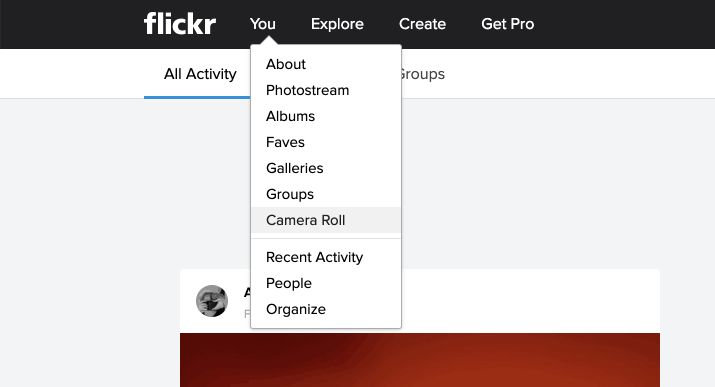 Now that you're looking at all of the photos you've uploaded to Flickr select those you wish to keep in your portfolio and click download…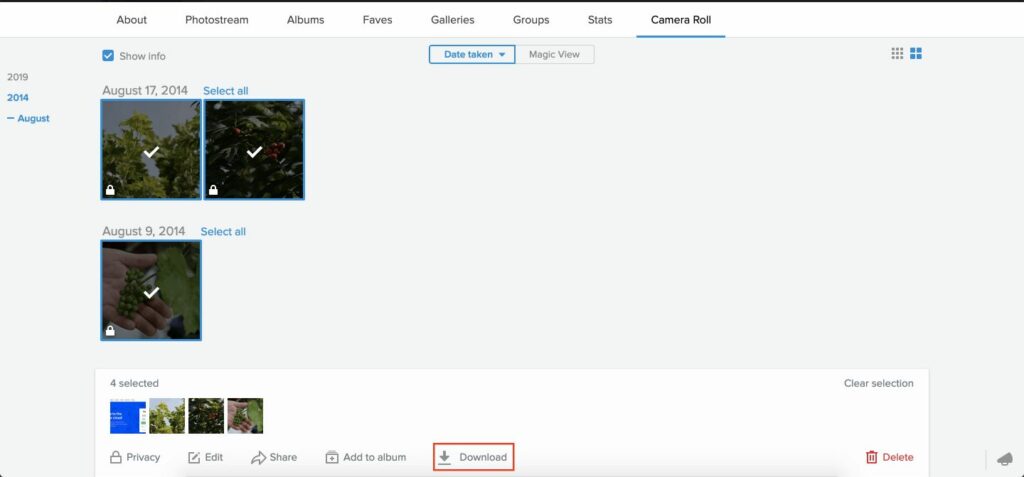 Once the popup confirmation shows up, click Create ZIP file, wait for a brief moment. and then click the link in the email they will have sent you to download all of your images as a zip file.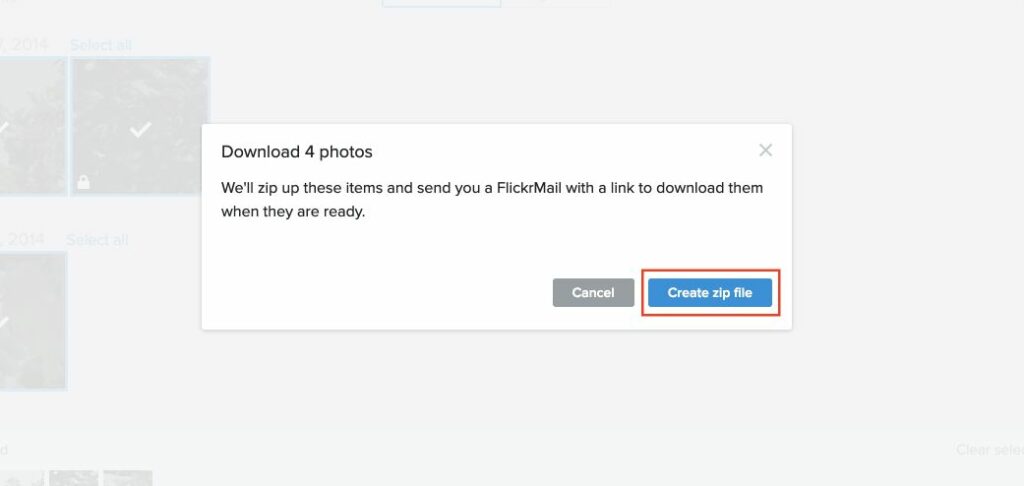 2. Create Your WordPress Photography Website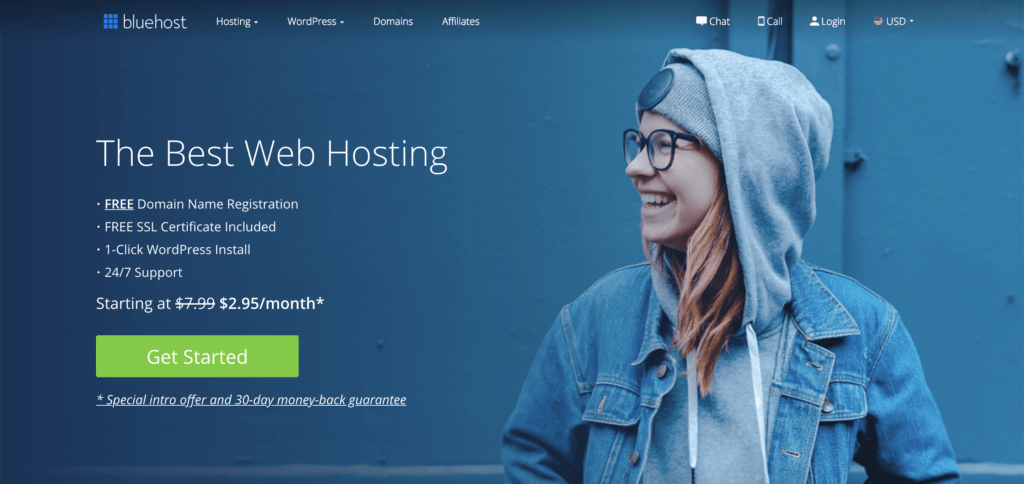 Once you have all of your photos from Flickr saved on your computer locally, it's time to set up your WordPress website.
Before starting to build your WordPress photography website, check out our article that contains everything a photographer should know for a good head start.
One of the prerequisites of hosting your photography portfolio with WordPress is choosing a hosting provider – click here to read our full post about the best hosting for photographers. But, in case you don't have time to stick around for another post, here's the rundown:
Bluehost is perfect if you're just getting into the WordPress industry 🏆
And Kinsta is hands-down the best-managed WordPress hosting money can buy. If reliability & speed matter to you, Kinsta is a no-brainer. 🏆

Bluehost and Kinsta make setting up your first installation of WordPress extremely easy. With their one-click installer and Kinsta's support that never sleeps, you'll manage to get everything up and running in no time.
If you want to see what your photography portfolio could look like, check out some real-life examples that will spark your inspiration and creativity.
---
3. Install the Modula Gallery Plugin

Once your WordPress website is ready, it's time to install and activate the Modula WordPress Gallery plugin because it has everything you need to design a jaw-dropping portfolio that sells.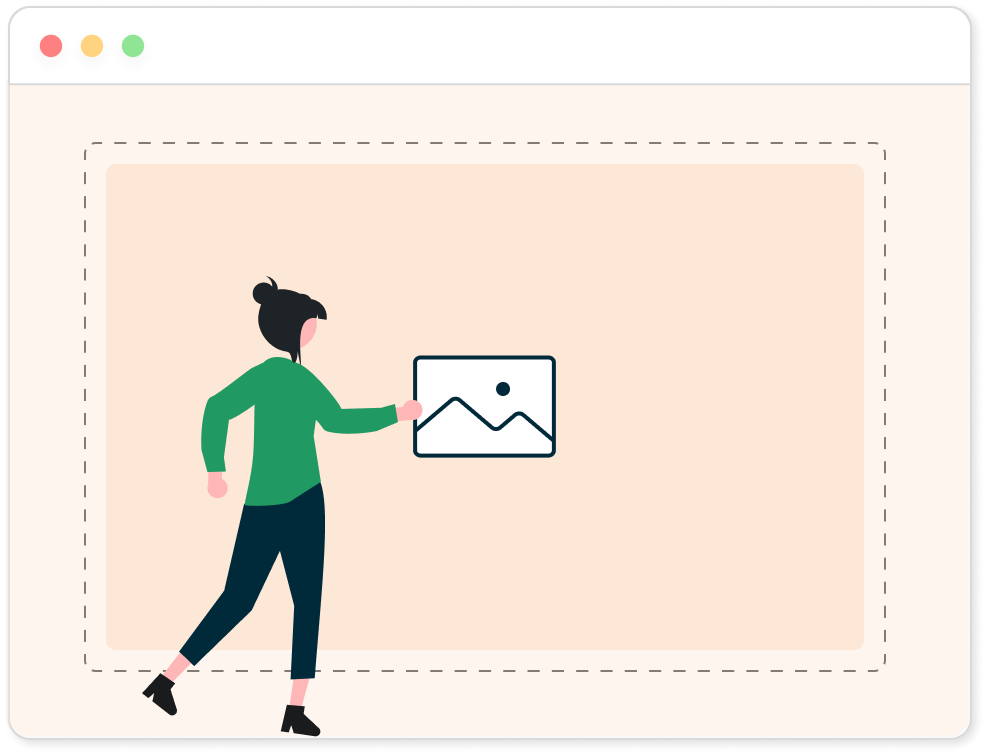 Modula Gallery Plugin
Create stunning, responsive photo galleries with ease. Showcase your work, captivate your audience, and boost engagement. You don't need to do any coding.
Although we might be biased, with over 80,000 installations and a tons of 5-star reviews – it's clear why installing Modula is an easy choice. (Bias aside!)
---
4. Create your first gallery
You should find creating your first gallery in WordPress using Modula easy, but if you run into some issues, here's a brief explanation that should clear things up for you.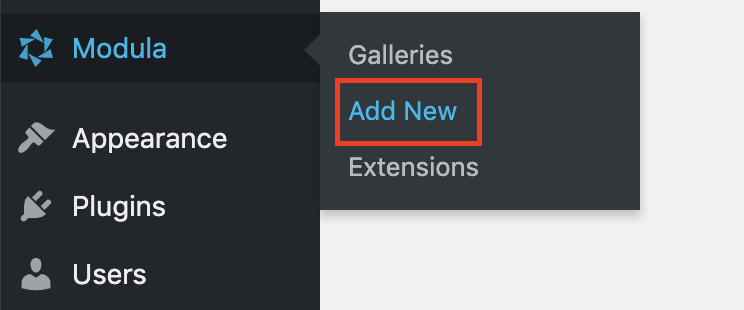 Head to Modula > and click Add New to create a new gallery. After just a few seconds, you'll be automatically taken to the gallery edit screen to start working on your gallery immediately.
Find the complete step-by-step process of adding a new gallery in WordPress with Modula by reading our dedicated article.
Requirements
Modula Lite (or Pro) installed and activated
WordPress.org 4.4+ or WordPress.com Business (we'd always recommend that you keep your WordPress installations up to date)
PHP Version > 5.6 (preferably the latest as older ones are known to have some serious security vulnerabilities, but if you choose a host like Kinsta, this isn't even something you need to worry about)
---
5. Upload your photos from Flickr to WordPress
Now that you have the Modula WordPress gallery plugin installed and have created your very first gallery, it's time to start adding your images to it.
Thanks to the easy-to-use drag and drop interface, adding images is really as easy as opening your folder and simply selecting the images you want to add so that you can drag them into the gallery edit area shown below: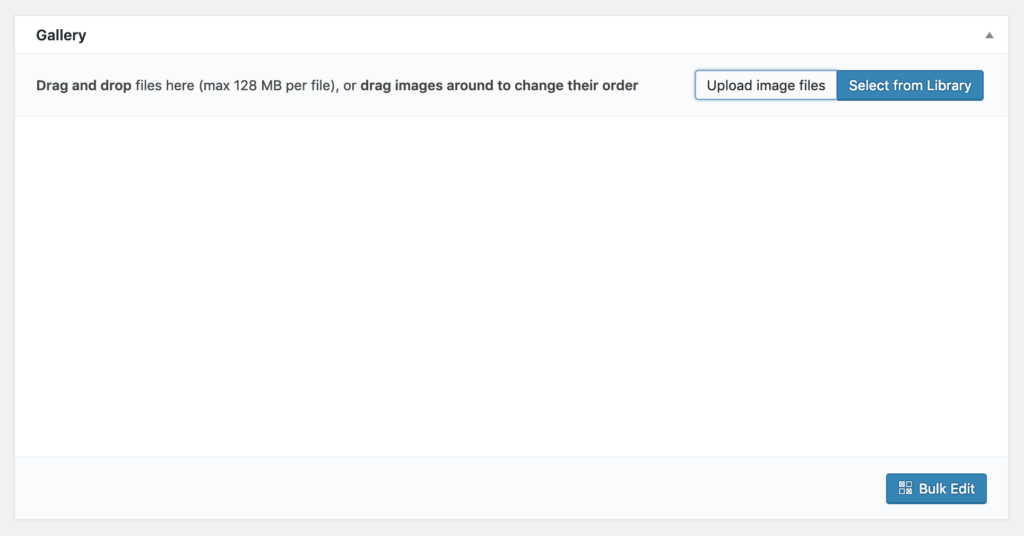 However, you can also choose to use the Upload image files button, allowing you to select as many images as you would like from your computer's local folder structure.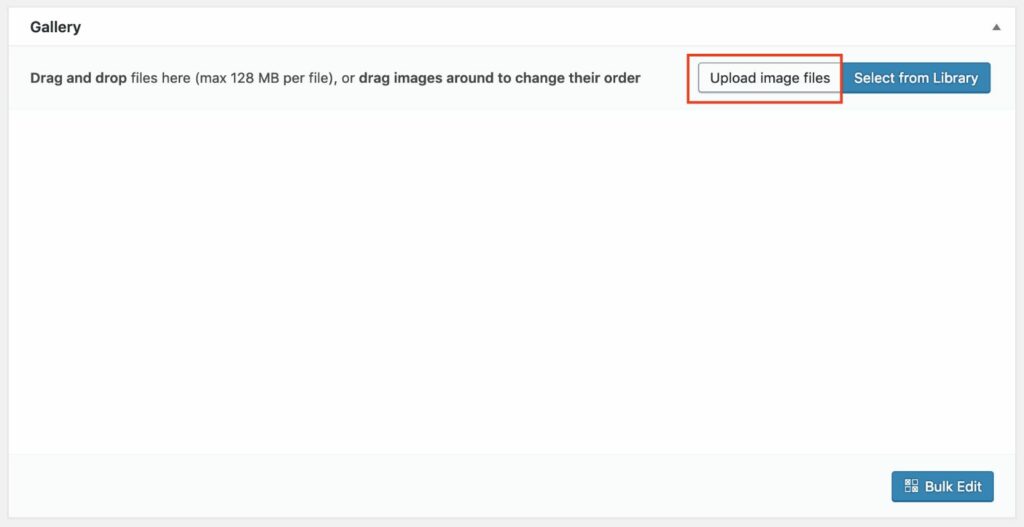 Once selected, the images will automatically start uploading to the WordPress Media Library and your brand-new Modula gallery.
---
6. Publish your photography website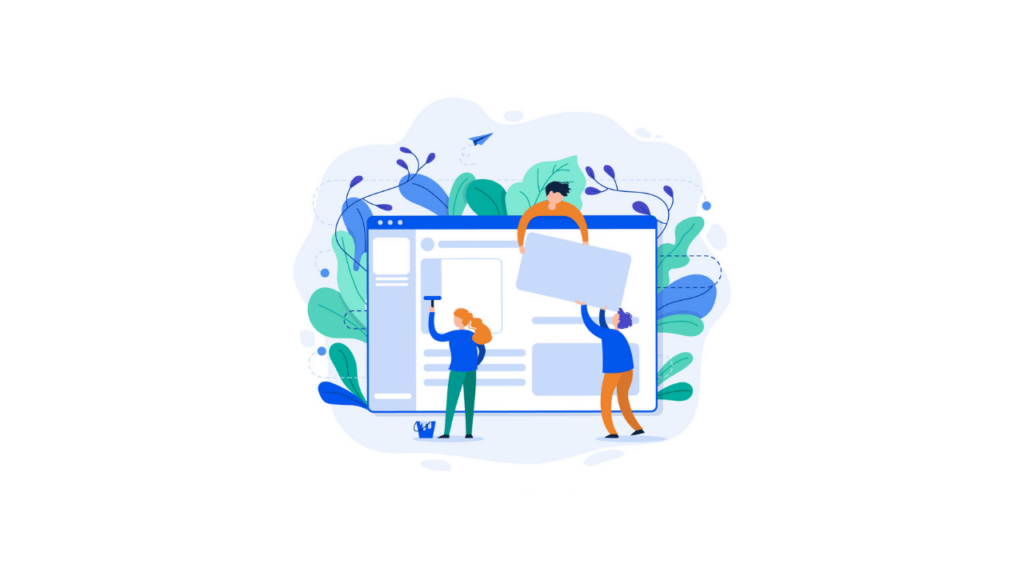 Now it's time to share your beautiful and fantastic work with the rest of the world. Modula offers two effortless ways to insert galleries into WordPress posts or pages as often as you'd like.
First, we'll look at adding your gallery to your posts and pages using the shortcode.
Inserting Modula galleries into WordPress posts and pages
Modula currently uses shortcodes to easily insert galleries into your posts/pages regardless of the theme, custom styling, and page builder you're using on your WordPress installation.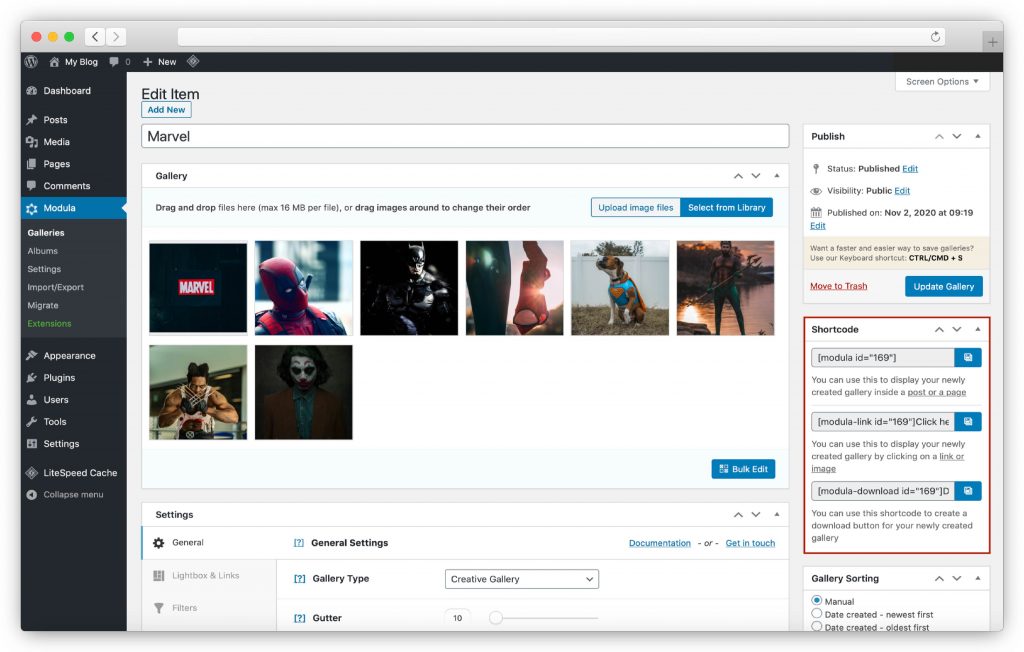 Once you've created your stunning gallery with Modula and it's time to share it with the world, you only need to copy the shortcode from the edit area (shown above) and then paste it into your WordPress post or page.
However, if you're a fan of the new WordPress Gutenberg block editor, you may prefer to use Modula's all-new Gutenberg block to add it. Here's how to do that:
Inserting Modula galleries into posts or pages in WordPress Gutenberg
An alternative method of inserting galleries created using Modula is with our Gutenberg block—type/modula to insert the Gutenberg block and select your gallery from the dropdown.

Or alternatively, click the Modula icon (shown below) and then select the gallery you wish to insert using the dropdown shown above.

---
And that's it
You've now wholly moved your photography website or portfolio from Flickr to WordPress – and thanks to Modula, your photos must look beautiful on your website.
So, that's all for this time! We hope you found this tutorial helpful and that we made the transition from Flickr to WordPress seamless.
You may also be interested in this guide we put together to show photographers the best places to sell their photos online.
Get Modula PRO
Get the #1 gallery plugin for your WordPress site today!
100,000+ happy users