How to create a gallery page for WordPress with downloadable images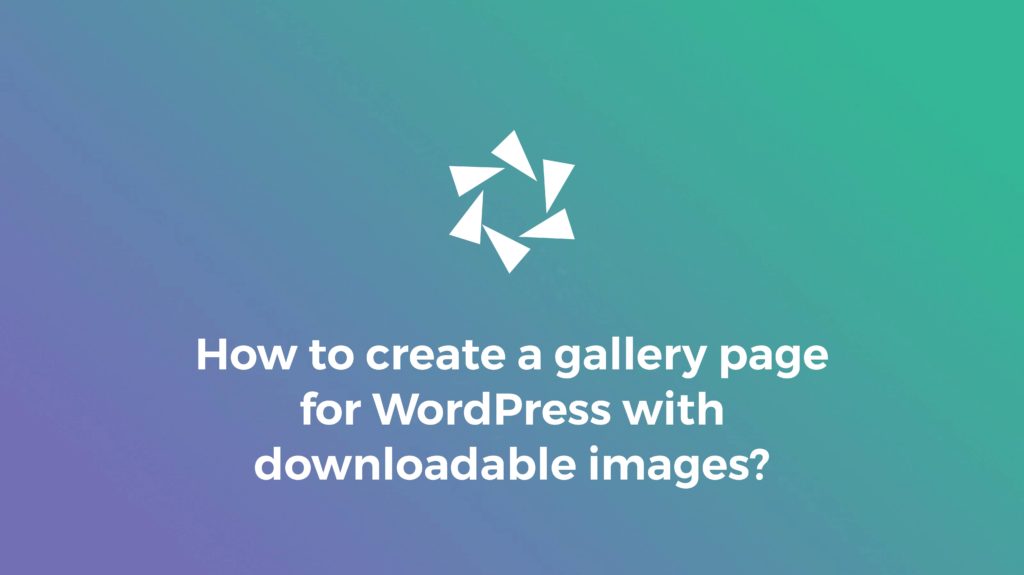 Are you in need of a tool that allows your clients to download images for free? This article has everything you need.
The best thing about WordPress is that it provides over 58,000 free plugins intended to make your job easier and increase your workflow. Each plugin includes certain features for a specific purpose – to create galleries, build forms, improve SEO, and so on.
But which plugin helps you to create a WordPress gallery with downloadable images? I'll tell you a secret: try Modula.
---
In this article, we will share:
Why use Modula to create a gallery page for WordPress;
How to create a gallery with downloadable images;
Features that will make your WordPress gallery more visually appealing;
And much more.
---
---
🥁 Why use Modula to create a gallery page for WordPress
Whether you're a beginner or professional, Modula is the perfect match for anyone. It provides all the whistles and bells you'd expect from a gallery plugin because it offers a ton of powerful features:
4 grid types – creative, custom, slider, and masonry;
Gallery features: 42 image hover effects, lightbox gallery, filterable galleries, and 4 image loading effects;
Social sharing button – allow your website visitors to share your masterpieces on social media platforms;
Video extension – to include videos in your galleries or create video galleries;
Albums creation – to organize your galleries into albums;
Password-protection – create password-protected media files;
 Add a watermark to your pictures – you can add an image or a text to protect your photos from image theft;
Speed up extension – to load your photos as fast as possible;
Migration tool – to move your galleries to another plugin;
Zoom extension – so that your website visitors can see your masterpieces in detail;
EXIF extension – to display data from your image directly into your gallery and lightbox view;
Modula Whitelabel – to replace any occurrence of Modula with your brand name and logo;
Modula Defaults – to create multiple gallery defaults, each with its unique name and values;
User Roles – allow admins to decide which user roles can create, edit, and remove galleries and albums, as well as defaults/presets.
And the best part? Modula provides a DOWNLOAD extension that allows your website visitors to download various images from your gallery. You will have to upgrade to Modula PRO to benefit from these features – pricing starts at [modula_pricing package=starter].
---
🧰 How to create a gallery page for WordPress with downloadable images
First of all, you will need to install and activate Modula. It is a super easy process that won't take you more than 1 minute. Next, we can start creating our interesting gallery.
As I said before, Modula comes with a big bunch of powerful features. You can build unlimited galleries and each of them with various customizations:
If there's a gallery of your interest, follow these guides. But right now, I'll show you how to create a WordPress gallery with downloadable images.
---
🏞 Create an image gallery
When you want to create an image or video gallery using this plugin, go to your WordPress menu > Modula > Add New.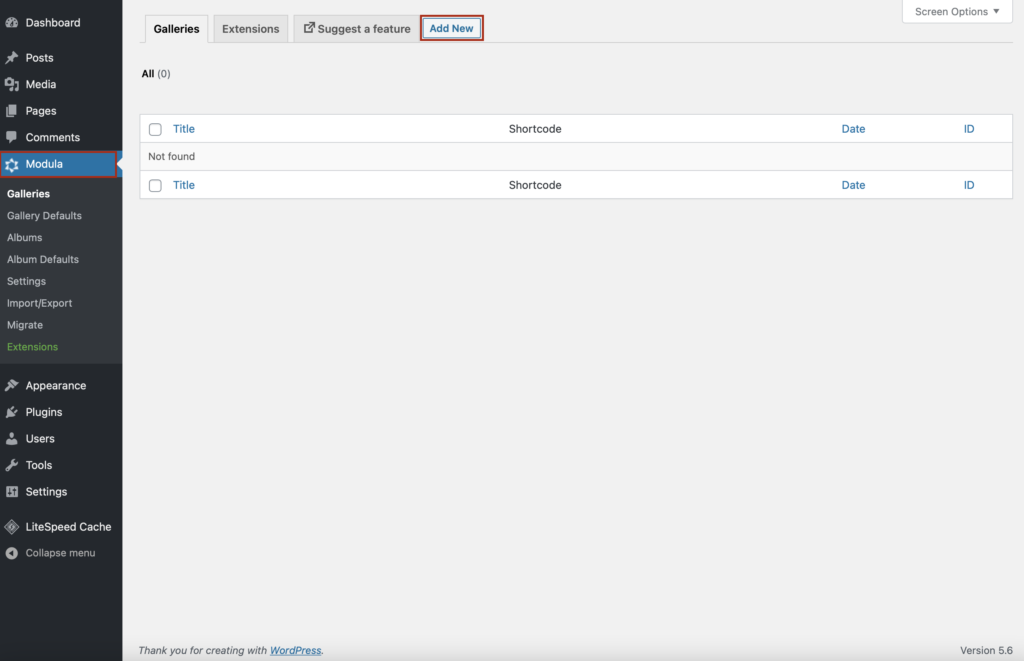 Next, name your gallery so you don't forget later and start uploading your files (you can upload multiple images at once).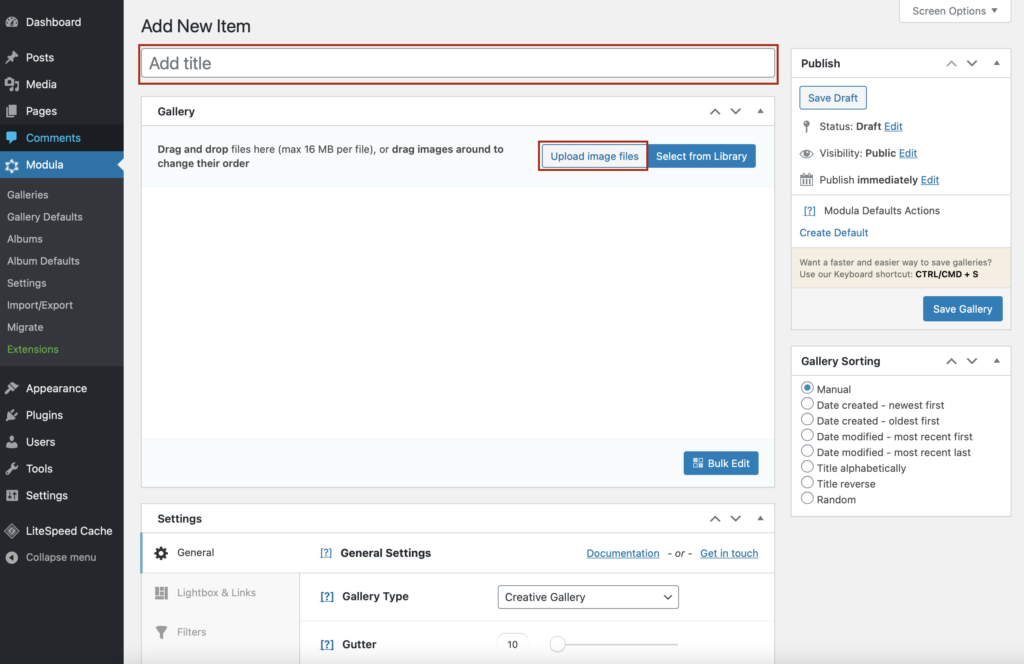 ---
🔲 Add a grid type
To make sure your images are organized in an attractive manner, choose a grid type and arrange them according to your style. I'll use the custom grid for this tutorial.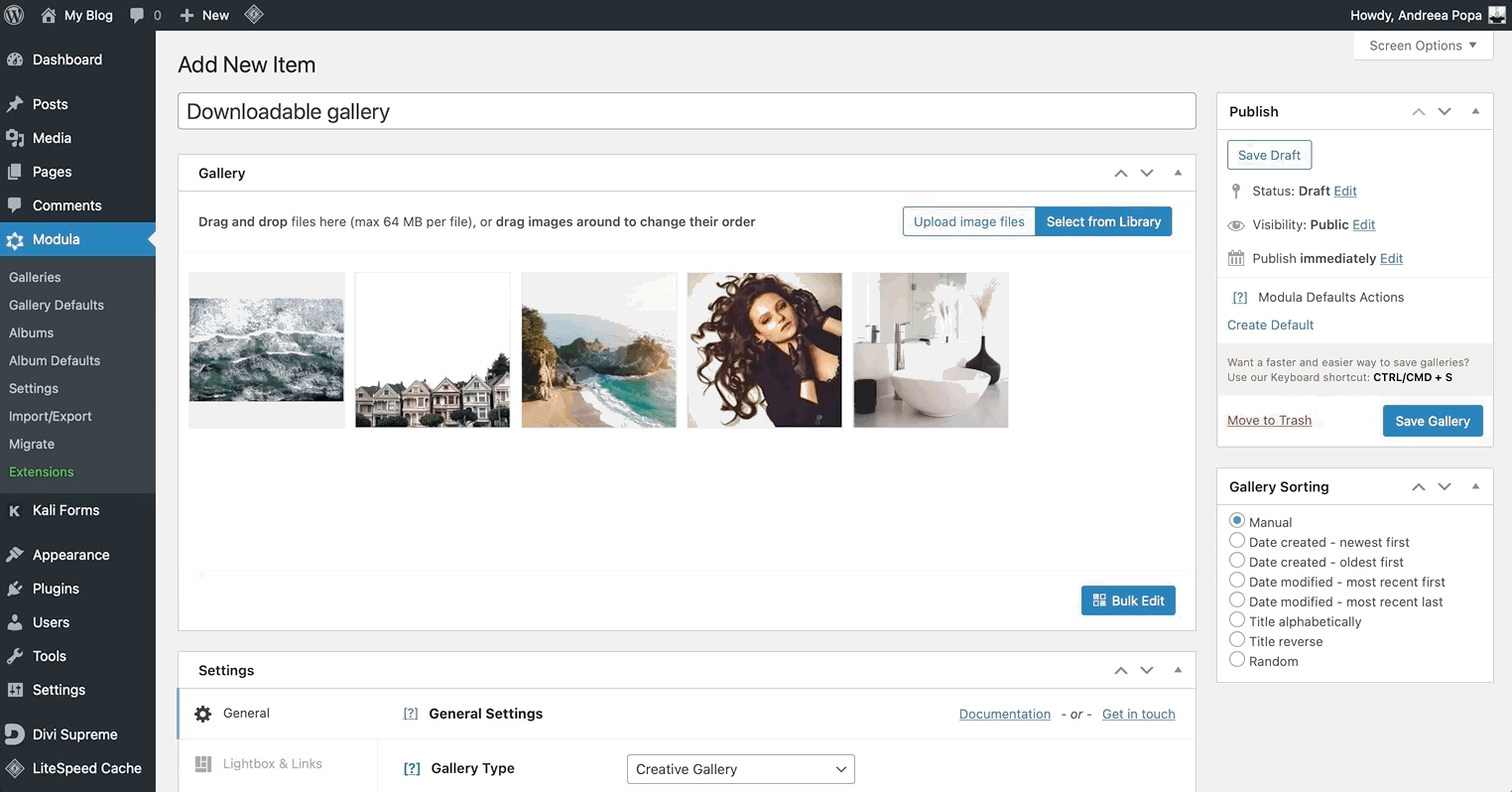 ---
⬇ Enable download
Now, I'll teach you how to create a WordPress gallery with downloadable images. Go to Download Settings > Enable Download.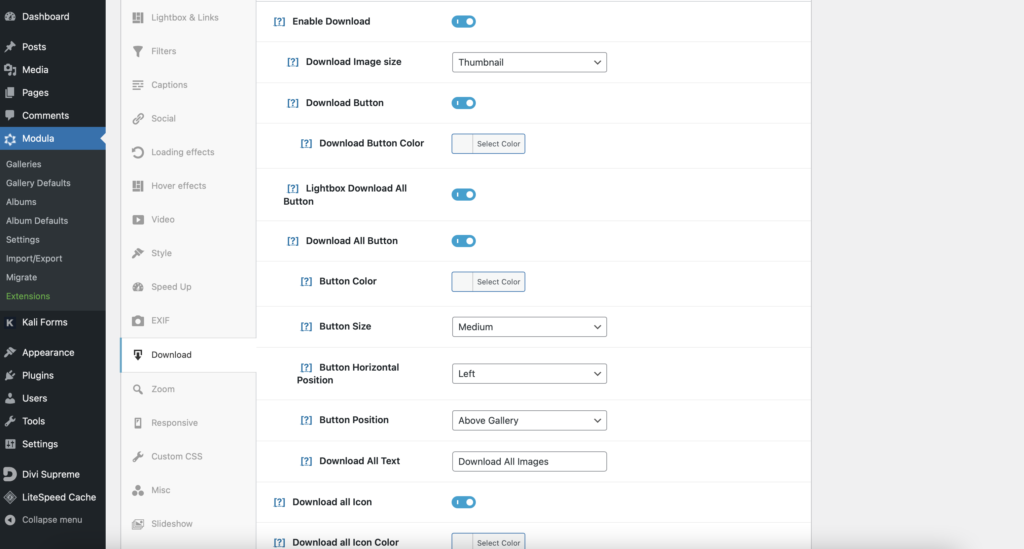 Depending on the settings enabled, you can add a download icon on your thumbnails to download each image, or a 'download all images' button above the gallery. You can also add a 'download all' button inside the lightbox.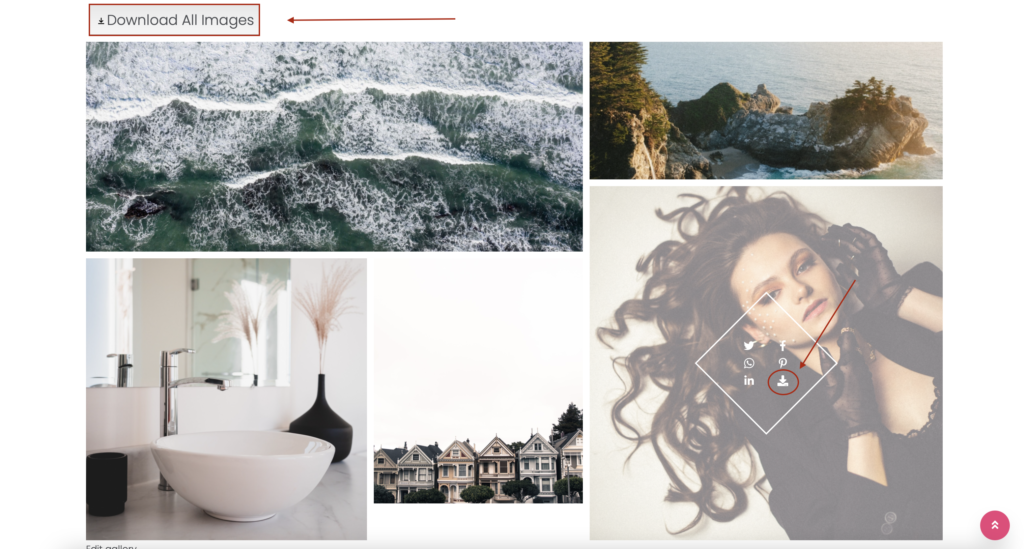 ---
➕ Add more customization to your WordPress gallery with downloadable images
Everything here is customizable. You can customize images, videos, and galleries as well. Besides all features presented above, you can add titles and captions to your pictures, change your social icons' color, choose from various fonts, and so on.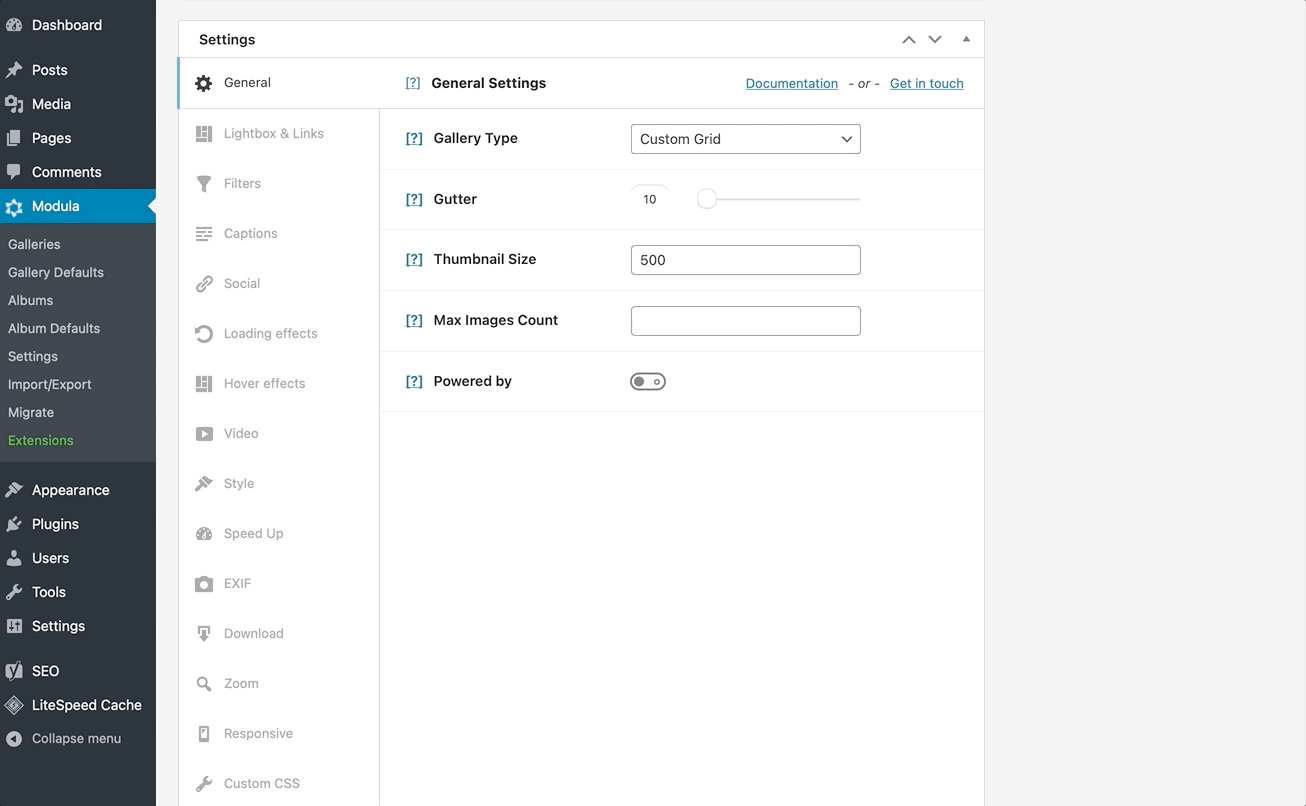 ---
✅ Save your WordPress downloadable gallery
Once you're happy with your gallery, all you have to do is click Save Gallery.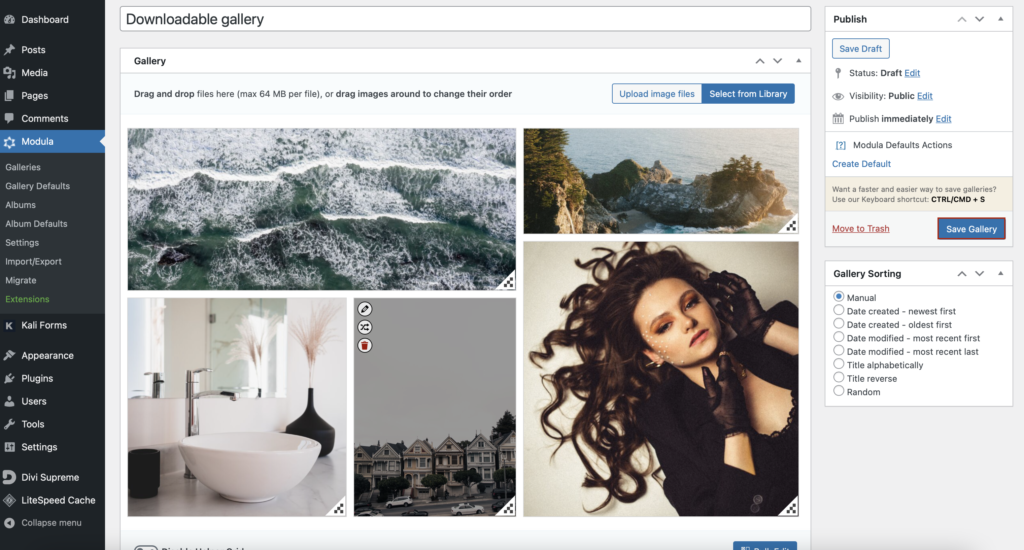 Modula will generate a shortcode with your gallery's link. Next, you can copy and paste the shortcode into a page or post. You can create a new page/post or paste it into an existing one.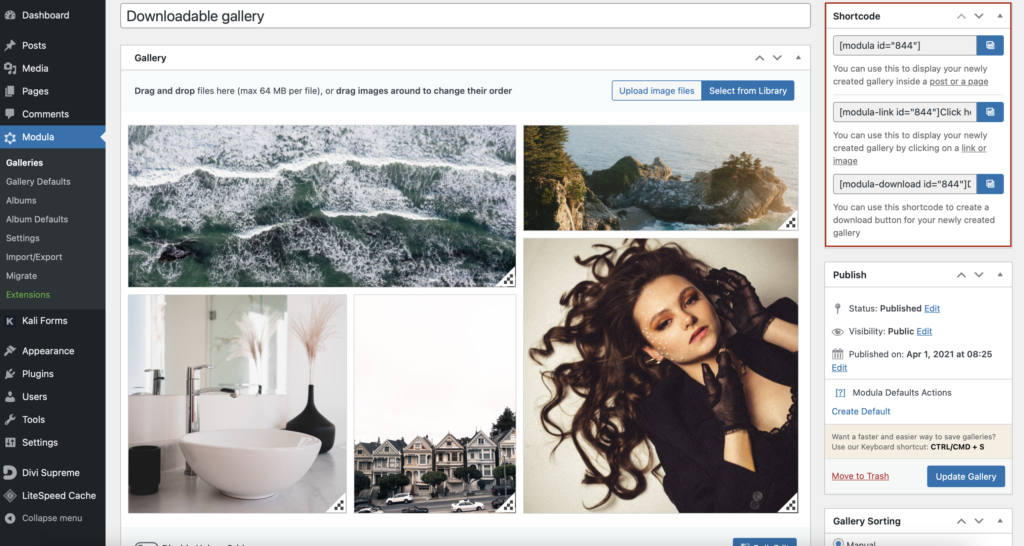 ---
⭐ Final thoughts
There's one thing for sure – you can improve the user experience with Modula and enhance your website with just a few clicks.
Upgrade this plugin and allow your visitors to download images from your gallery page.