Modula Lite: Features and Limitations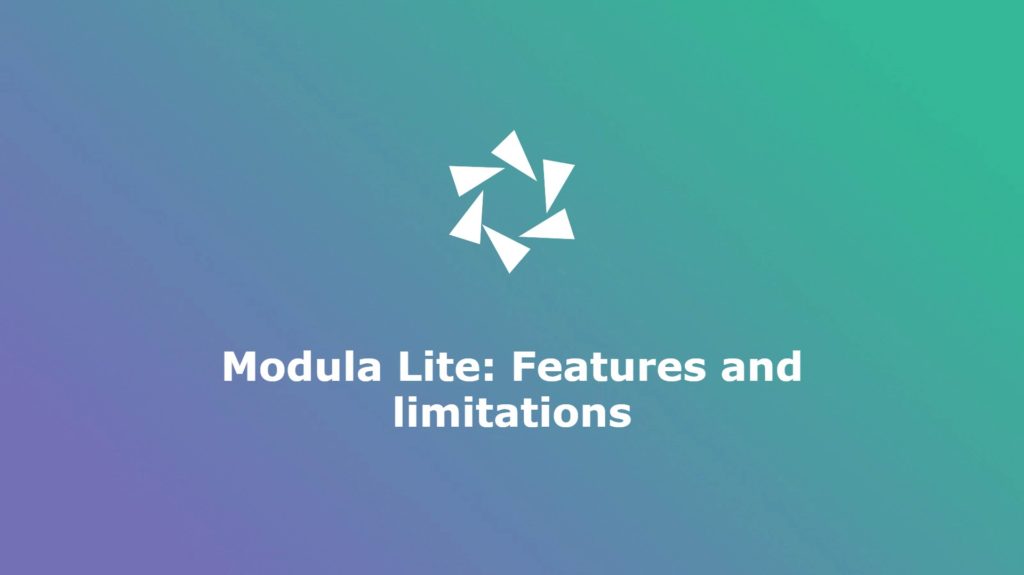 Have you ever wondered the difference between Modula Lite and Modula PRO? What features are free, and what not? How limited is Modula Lite? Keep still! In this article, we will share everything you need to know about Modula Lite, its features, and its limitations.
---
This article will show you:
everything you need to know about the free version of the Modula plugin;
the features of Modula Lite;
create galleries with Modula Lite;
and much more.
---
---
Modula, free WordPress gallery plugin
There are many different free WordPress plugins. But the question is, are they showing your work in the best possible light? I am afraid that the answer is no. Now comes the next question: Why is Modula different? That's a question I am going to answer in this article.
Why Modula? Because it is easy to use, highly customizable, and mobile-responsive. This freemium plugin helps you style both video and photo galleries with no need for coding.
Modula Lite comes with sufficient features to help you build a catchy gallery. And you could upgrade to the premium version anytime to access many amazing add-ons.
---
Modula Lite features
Here's a feature list of things available in the LITE version:
General – Edit the appearance and style of the photo gallery.
Lightbox & Links – Open images in lightbox galleries and directly link to each image.
Caption – Change each image's caption's font, size, and color.
Social – Enable social sharing icons to allow visitors to share your work.
Loading effects – Generate effects on images that are loading.
Hover effects – Change cursor appearance and add effects when hovering over an image.
Style – Edit border and shadow settings.
Custom CSS – Customize the photo gallery your way using CSS.
---
What galleries can you create with the free version of the Modula plugin?
Let's see what free image gallery we can create with Modula Lite.
General settings for Modula Lite
You can choose from three gallery types: creative gallery, custom grid, and columns. The slider option is only available with Modula PRO.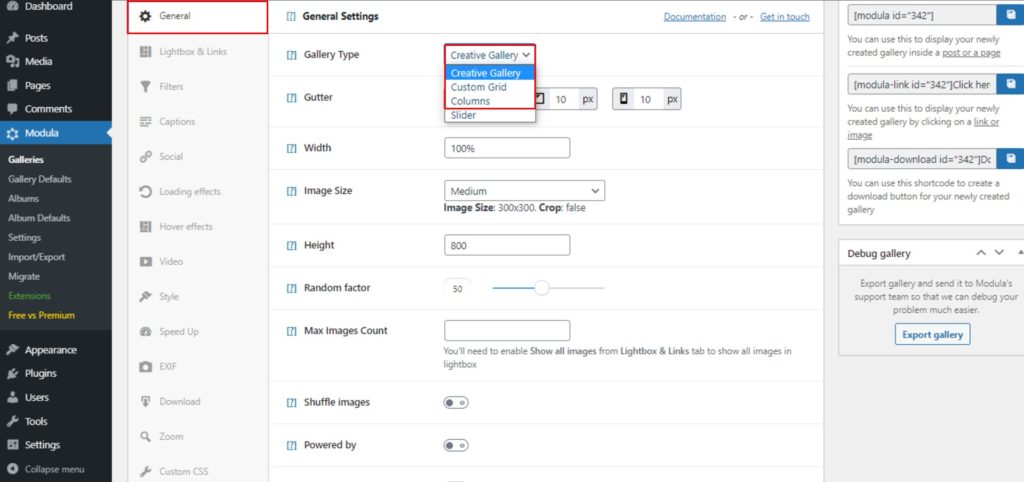 ---
Creative gallery
If we choose the creative gallery type, we can play with the gutter, width, adjust the image size in the photo gallery, height, random factor, enable shuffle images, or powered by, but we can not enable pagination because it is a premium feature.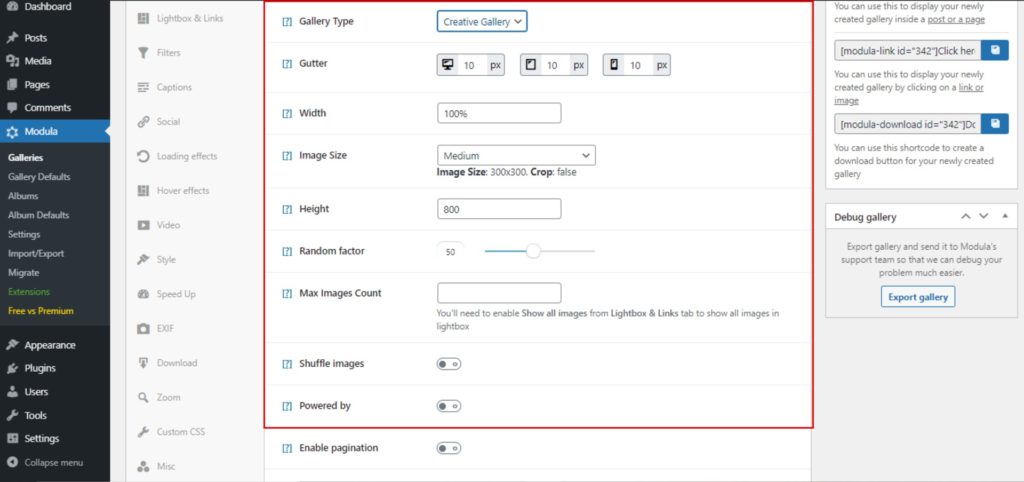 ---
Custom grid
When it comes to custom grid gallery type, the features we can play with are the gutter, image size, max images count, mobile max images count for a custom responsive grid, and powered by.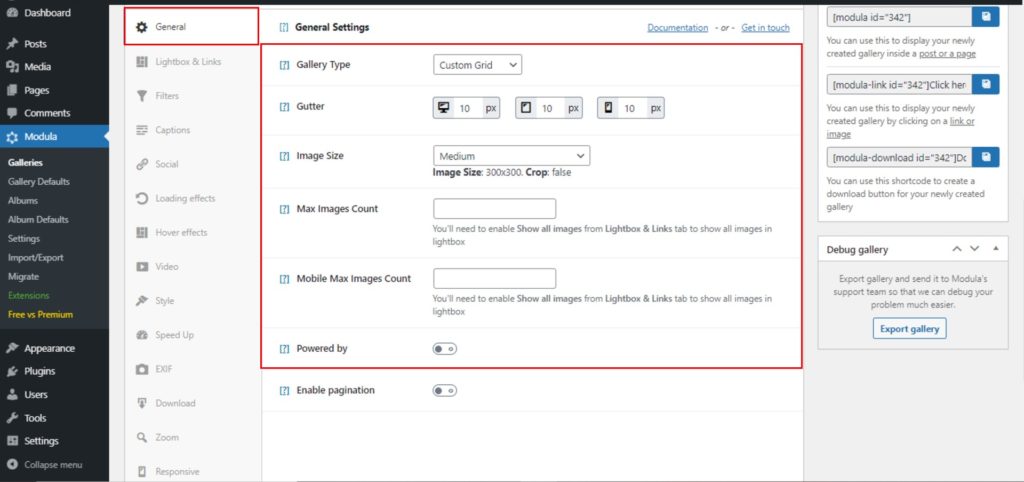 ---
Columns (masonry gallery)
The last gallery type is columns. Here, we can choose the column type and edit the settings for columns, like row height and last row alignment. Again, we can edit the gutter, image size, width, and so on.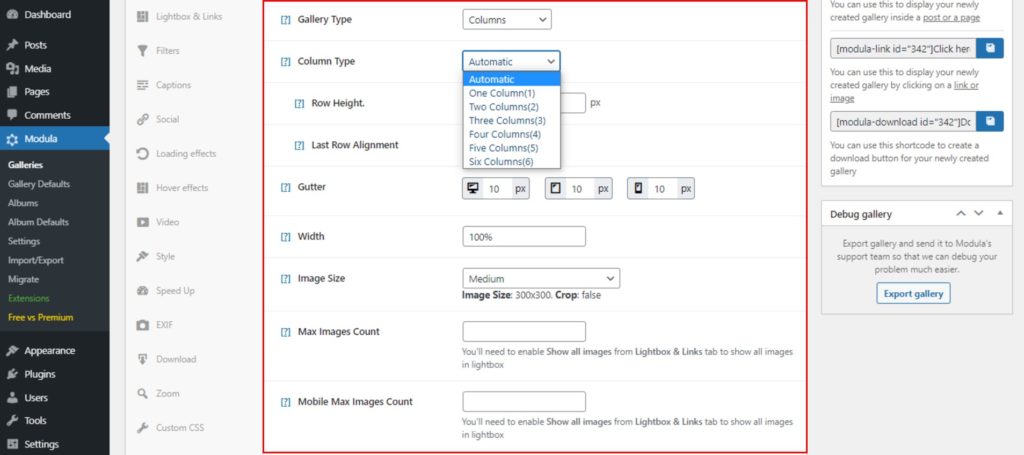 ---
Lightbox & Links
Another feature Modula Lite has is a beautiful lightbox powered by FancyBox. You can create a stunning free online gallery and set the lightbox options in only a few minutes.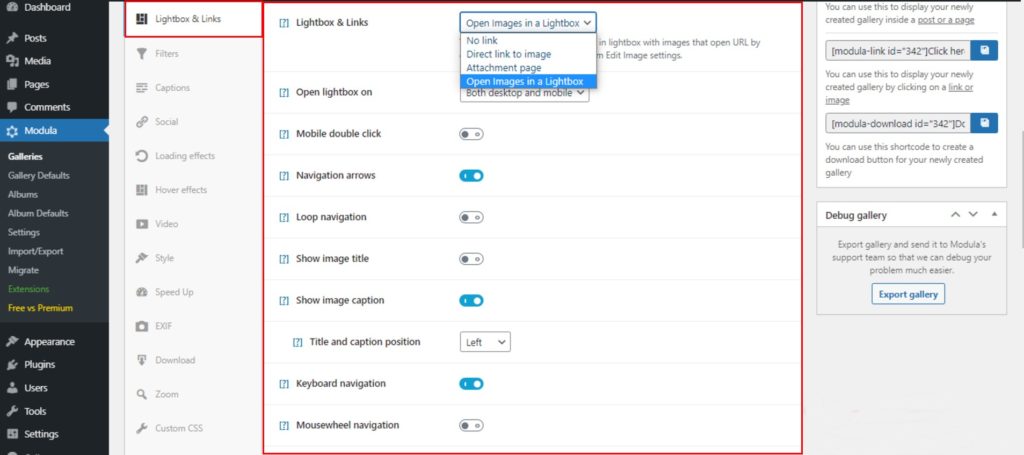 At the same time, you can enable the toolbar, like the share button or thumbnail button. With Modula, you can create a free WordPress thumbnail gallery.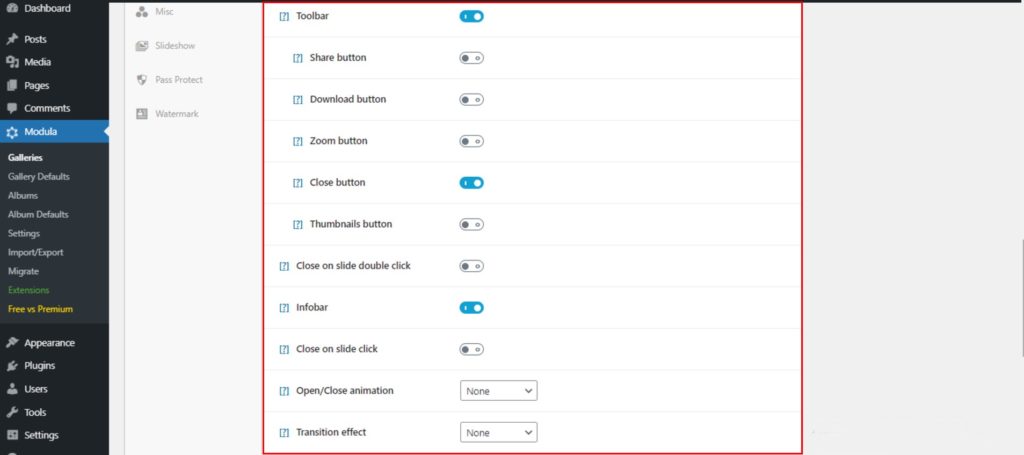 ---
Caption
Regarding captions, we have two different captions: title caption and caption text. Within this feature, you can edit all that means caption color, font, and font size for title caption and caption text.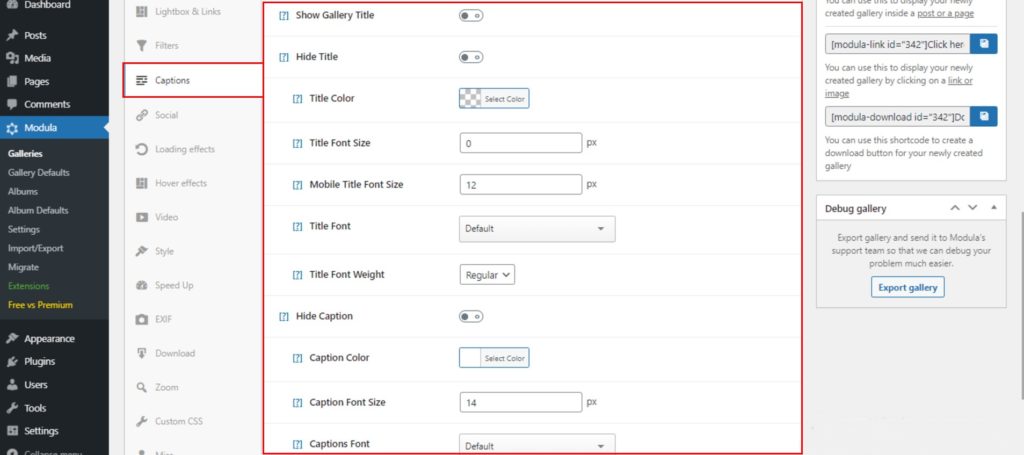 ---
Social media
Next, let's see more about the social media feature. You can add social media icons to your gallery and let visitors share your work.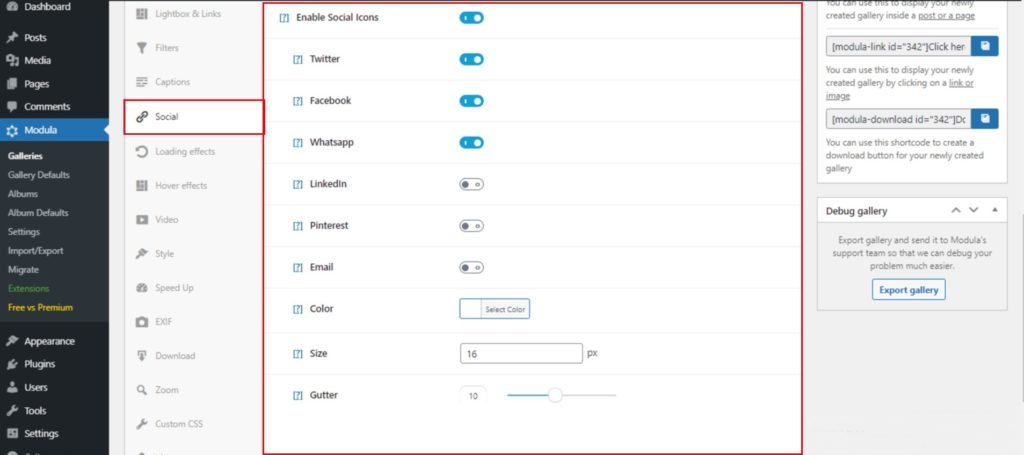 ---
Loading effects
With Modula Lite, you can take advantage of the scale and rotate effects and enable Load in view.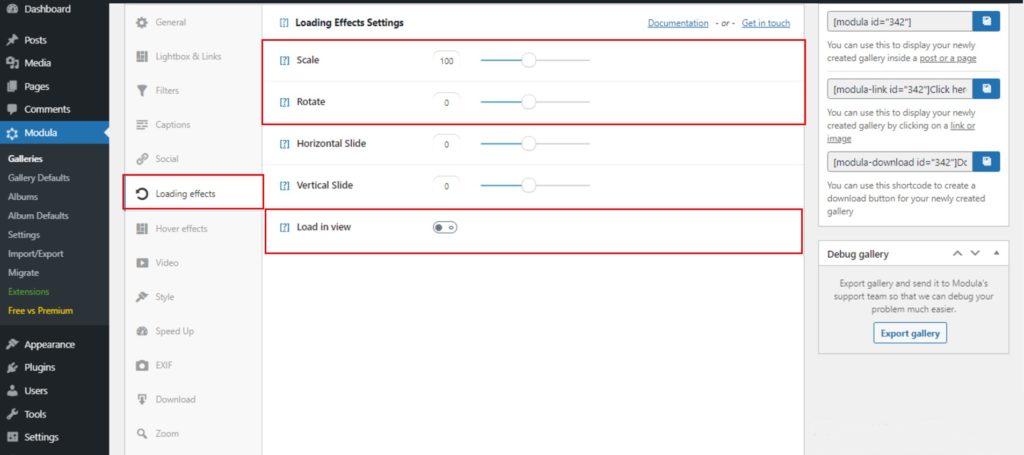 ---
Hover effects
When it comes to hover effects, there are only 2 available in the free version. With the PRO version, you have more than 40 hover effects.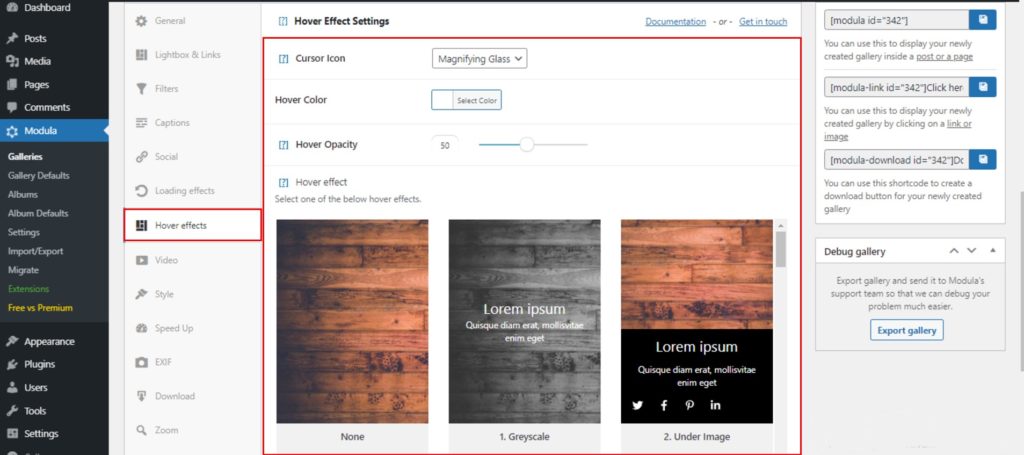 ---
Style settings
Next, we can style our gallery by adding a border or a shadow.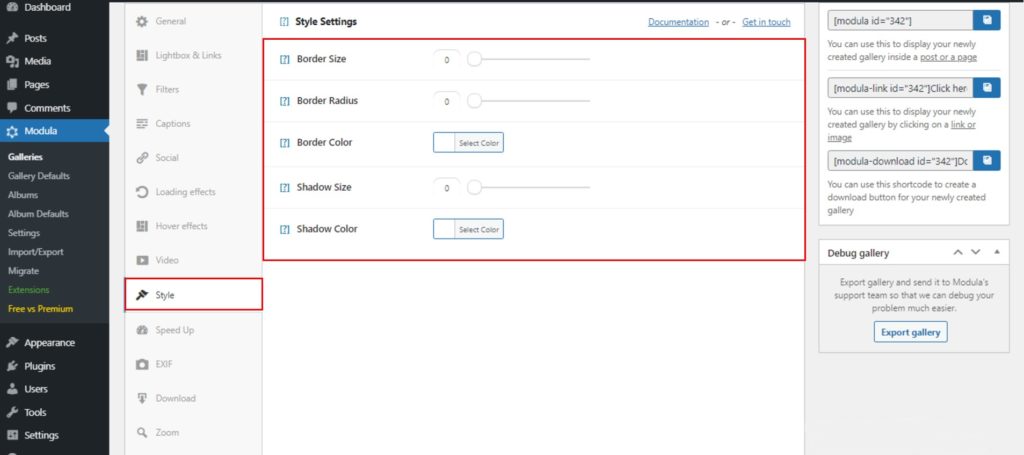 ---
Custom CSS – Modula lite
If you are a professional and you want to style your gallery more, there is the option to add custom CSS to your gallery too.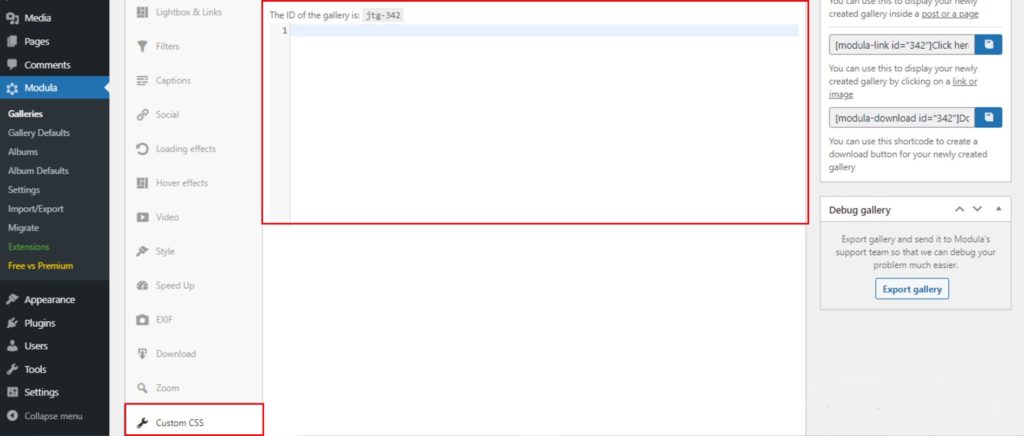 Here's how you can create an image gallery with the free version of Modula:
---
Premium features
Now that we talked about free Modula features, let me list the features available with Modula PRO; pricing starts at $39: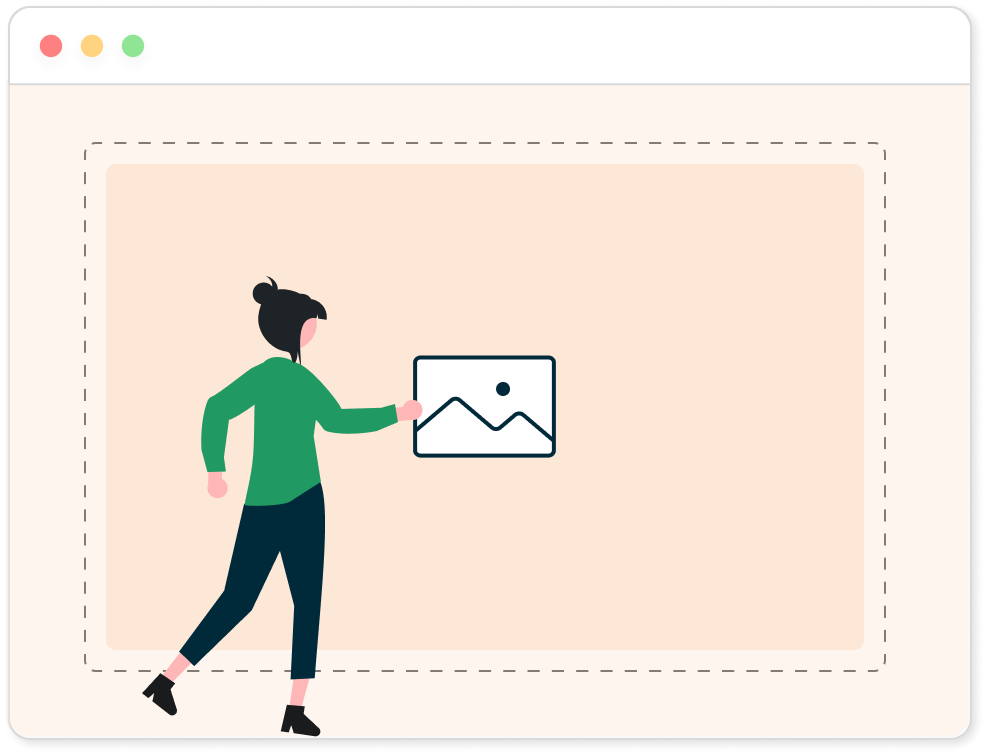 Modula Gallery Plugin
Create stunning, responsive photo galleries with ease. Showcase your work, captivate your audience, and boost engagement. You don't need to do any coding.
Filters – Enable/disable image filtering/sorting;
Hover effects – Choose from more than 40 hover & loading effects;
Videos – Create stunning video galleries;
Albums – Group your media files into albums to have an organized gallery;
Defaults – Import & re-use the settings from your existing galleries when creating new ones;
Role Management – Grant access to multiple users so they can also edit, add, and delete galleries;
Downloads – Let your visitors download the images;
EXIF – Set up EXIF metadata to display alongside your images in the lightbox;
Zoom – Add a "zoom" option that enables visitors to zoom in/out of your images when they are displayed in the lightbox;
Password Protection – Password-protect your galleries and allow only a few people to access your files;
Slider – Turn your galleries into sliders and enable an option that allows your images to display as a slideshow;
SEO Deeplink – Create indexable URLs for each of your galleries;
Right-Click Protection – Prevents people from downloading your work using the right-click mouse function;
Advanced Shortcode – Link out to your galleries without creating unique pages for each;
SpeedUp – Optimizes and resizes your images automatically for the web. It saves you time and helps your images load faster.
---
Final thoughts
As you can see, Modula Lite offers some powerful features for creating simple but stunning galleries. Modula PRO comes in handy if you want to create professional galleries with more effects and animations.
Start creating unique galleries meant to delight your visitors!