Are you looking for a WordPress image gallery plugin with thumbnails integration?
Lucky for you, we prepared a straightforward tutorial on how to create an image gallery with thumbnails in WordPress. With that in mind, we recommend you take advantage of Modula, a freemium WordPress image gallery plugin with thumbnails, to build the most dynamic galleries (even if they are image galleries, video galleries, or a mixture of both).
---
In this article, we will show you:
how you can add thumbnails with the help of a WordPress image gallery plugin;
steps to follow when creating an image gallery with thumbnails using Modula;
features that will make your WordPress thumbnail galleries more visually appealing;
and much more.
---
---
🛠 Install and activate Modula
Before we start creating our WordPress thumbnail gallery, you need to install and activate Modula plugin. Go to your WordPress dashboard > Plugins > Add new.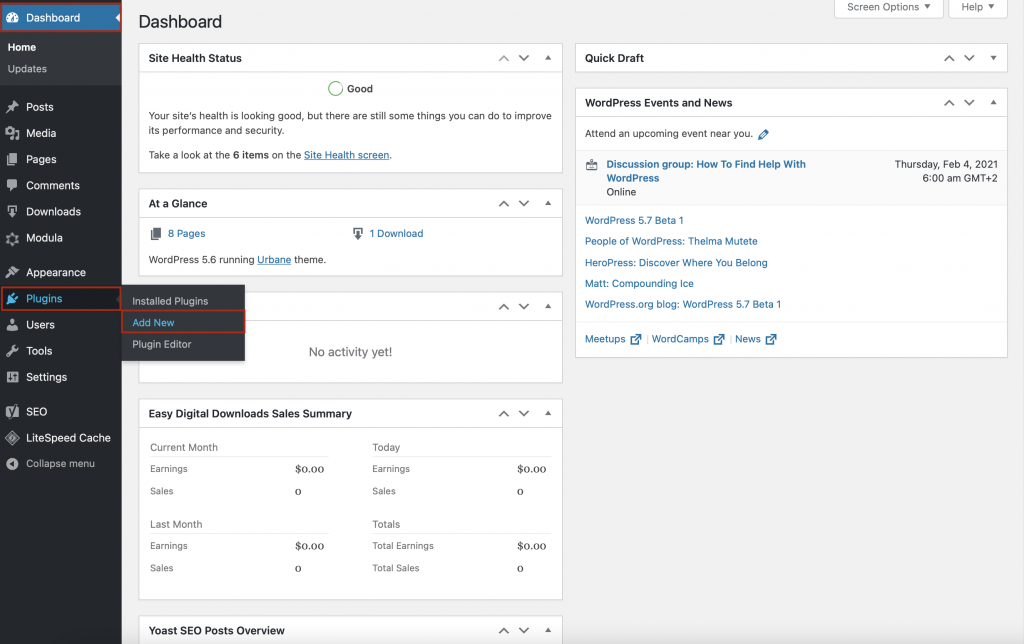 In the search bar on the upper right corner, type Modula, and once you find the plugin, press Install Now.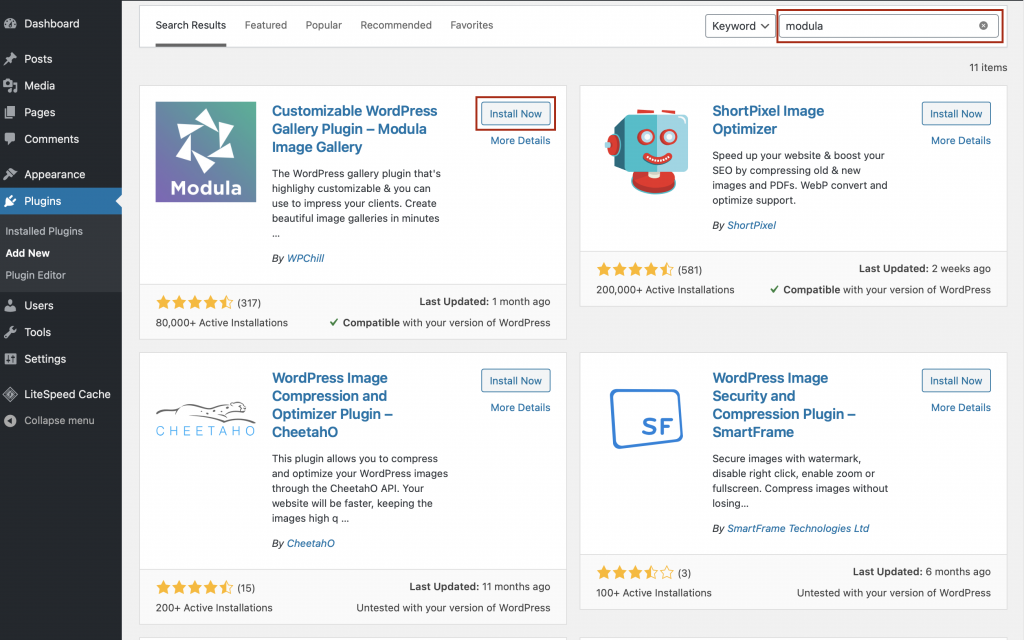 You will have to wait a couple of minutes and then click on Activate. The Modula plugin will pop up in your WordPress dashboard. Now, let's see how you can create thumbnail galleries!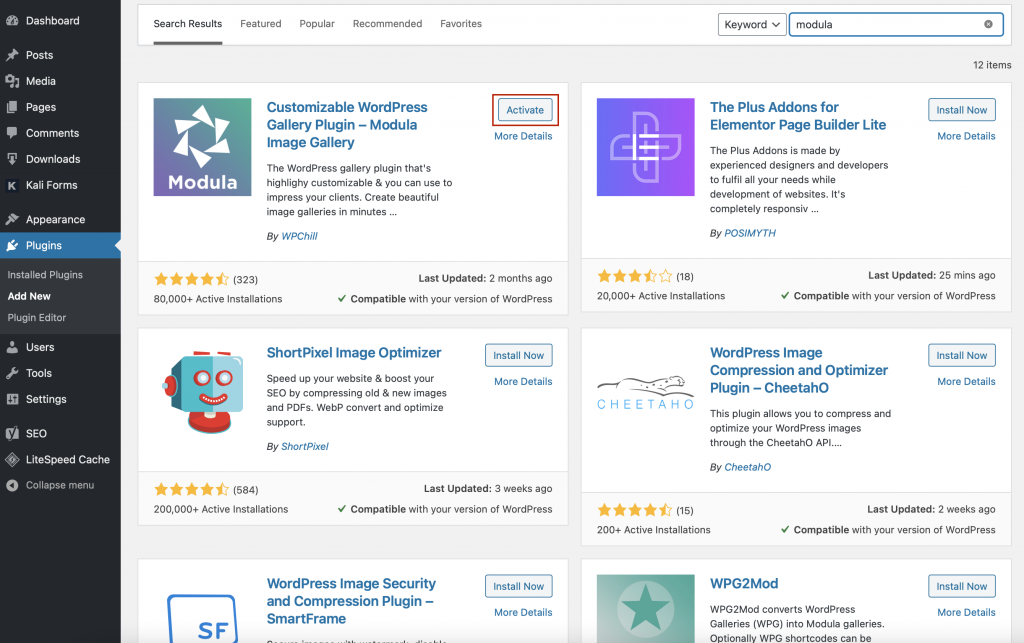 ---
🏞 Create an image gallery
Every time from now on, when you want to create an image gallery, click on Modula icon, and then press Add new.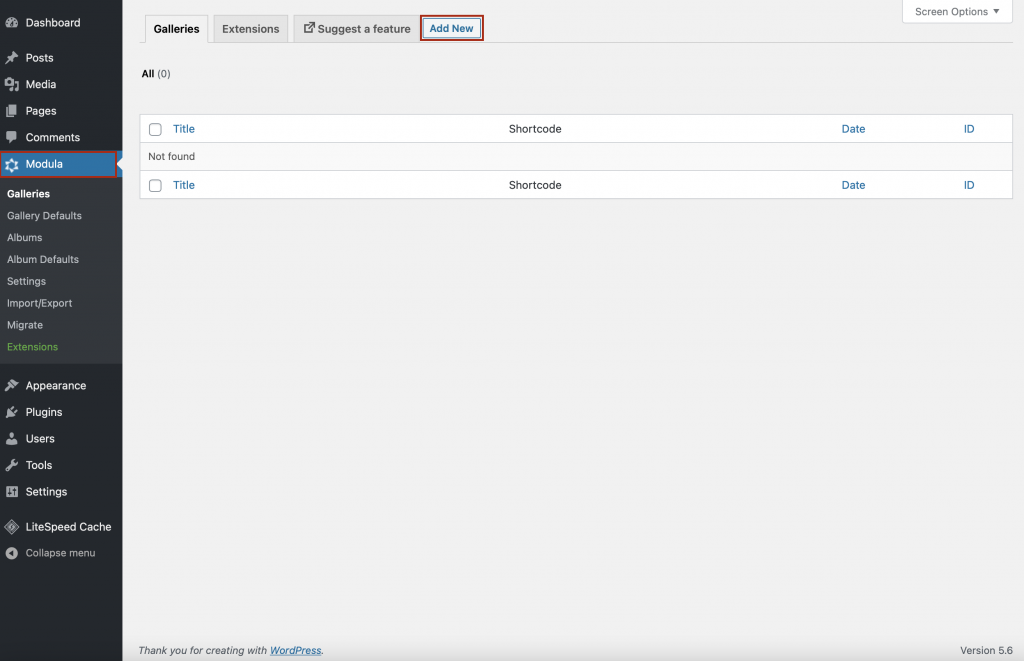 Now, you can start by adding a descriptive title to your WordPress thumbnail gallery and upload your images.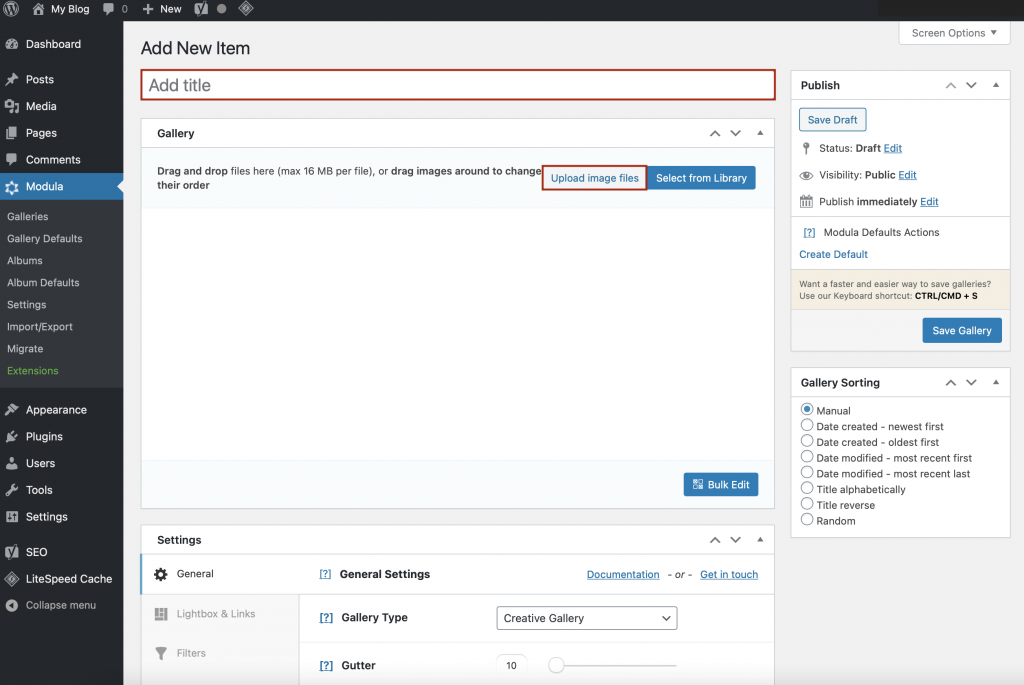 Thanks to Modula's drag-and-drop interface, you can arrange images in your galleries according to your preferences.
---
🔲 Add custom grid
The most fantastic thing you can do with your galleries is to add custom grids. How? Scroll down and go to General Settings. In the gallery type, tick custom grid.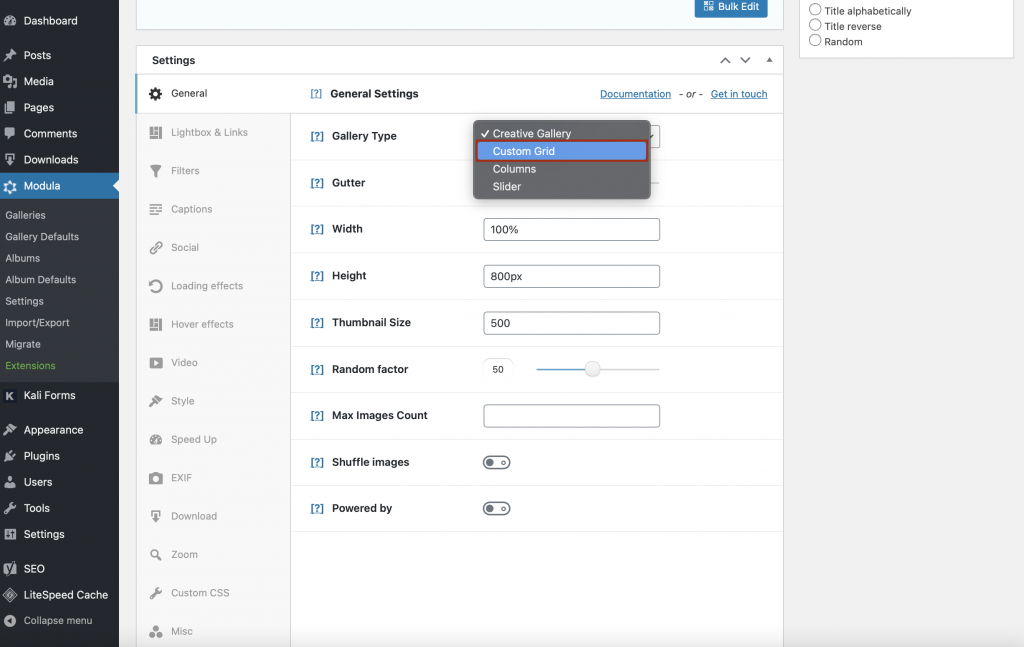 Now, you can freely resize your images, controlling their heights, widths and aspect ratio.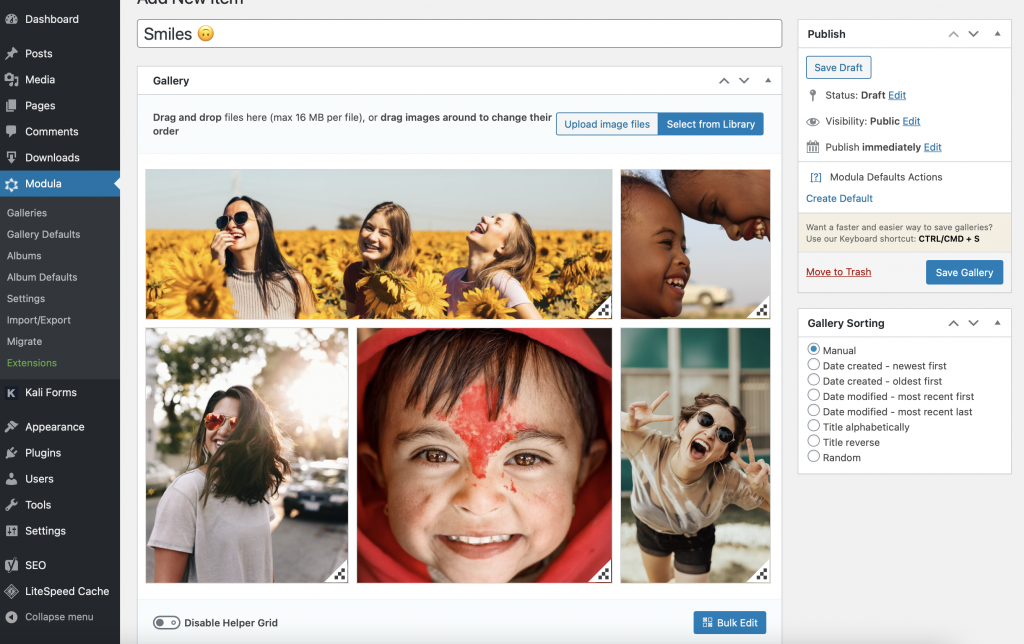 ---
➡ Go to Lightbox and Links to create a WordPress image gallery with thumbnails
After you have set up your images' size, go to Lightbox and Links. Scrolling down the page, you will find the thumbnails' settings. Here I will show you how to create an image gallery with thumbnails by using Modula.
What can you do in this section?
Add the thumbnails button in Lightbox toolbar;
Auto start thumbnails – display thumbnails on lightbox opening;
Thumb axis – select vertical or horizontal scrolling for thumbnails;
Thumbnails at bottom – place the thumbnails at the bottom of the lightbox;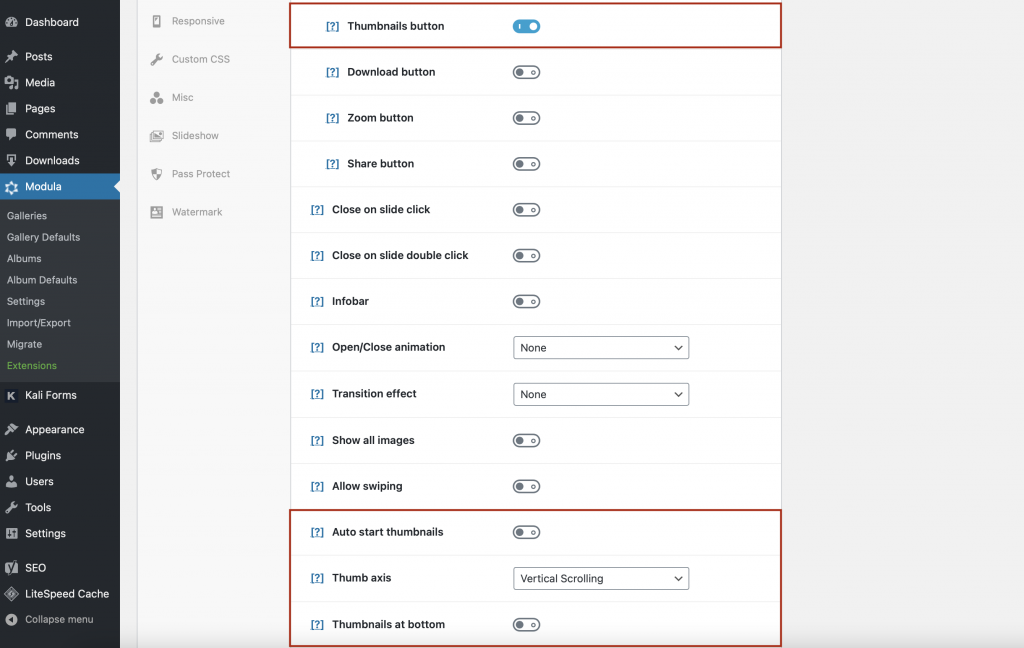 You can also add close/open animation, transition effect, and many other dynamic functions.
---
➕ Add more functions
As you can see, everything here is customizable. If you want to make your galleries more entertaining for the viewers, take advantage of all Modula's features and customize your thumbnail photo gallery in a beautiful manner.
Moreover, using Modula you can create responsive image galleries with thumbnails in just a few clicks. You want your galleries to look impressive on any device, don't you?
---
✅ Save your image gallery and add it to your website
Once you have customized your thumbnail gallery, don't forget to click on Save Gallery. You don't want to lose all changes and start over.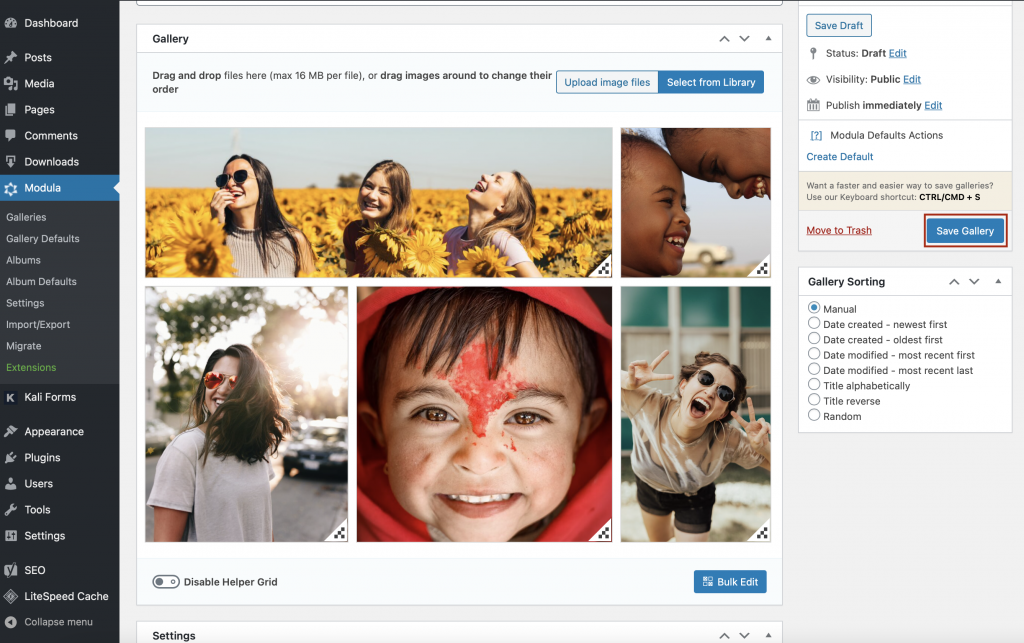 After you save your WordPress thumbnail gallery, a shortcode with the copy link will be generated. All you have to do is to copy and paste the shortcode into a post or a page.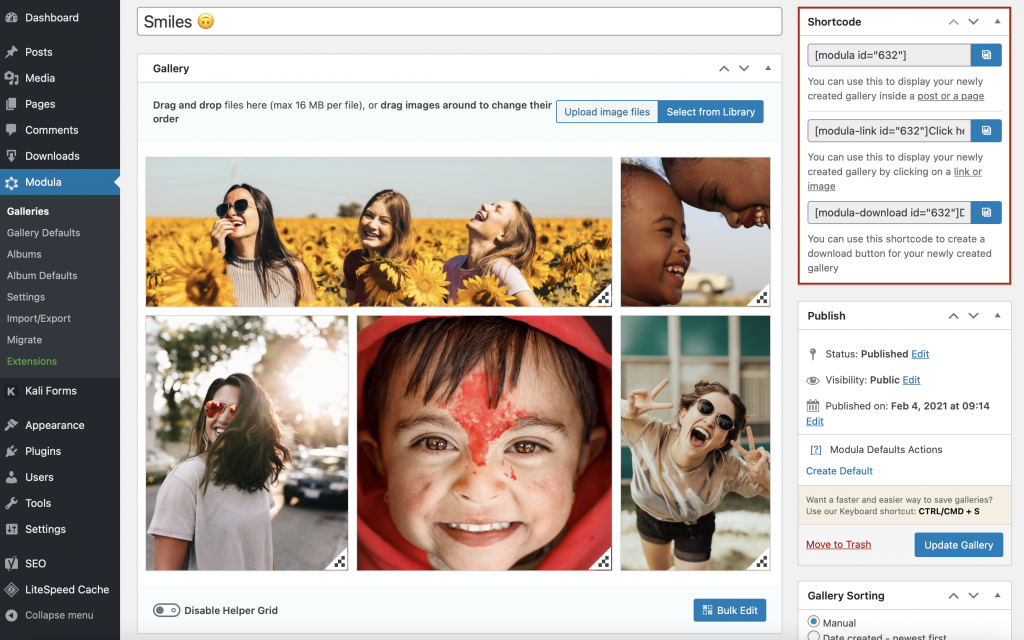 ---
⭐ Final thoughts – Create an image gallery with thumbnails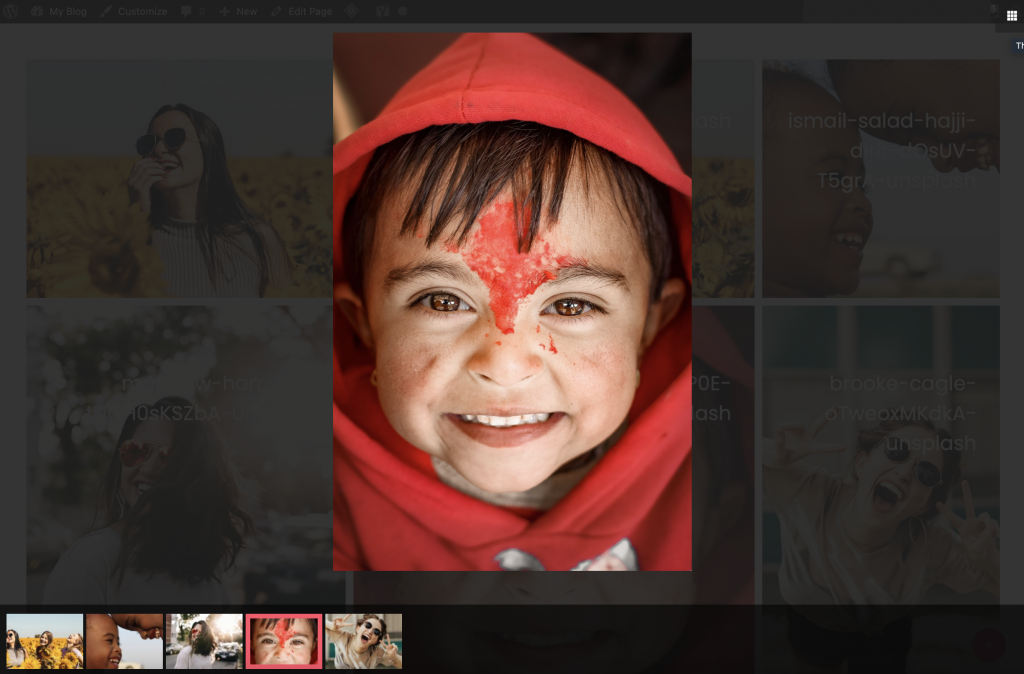 Therefore, this is how your lightbox image gallery with thumbnails will look if you choose to use Modula. Creating an image gallery with thumbnails is not so difficult. All you need is a WordPress image gallery plugin that lets you add thumbnails into your Lightbox.
Don't forget that with Modula, you can have complete control over your galleries' look.