Top 5 photo editing WordPress plugins for 2023
We know that, in photography, the real struggle is taking the perfect picture. Fortunately for you, some brilliant minds created photo editing WordPress plugins to help you enhance your photographs in the best ways possible.
---
In this article, you'll find:
benefits of using photo editing plugins
features to look for in a photo editing tool
an overview of each photo editing plugin
a few other things you should consider before choosing a plugin.
Without further ado, let's dive right in.
---
Table of contents
---
🥁 Benefits of using photo editing WordPress plugins
With the right photo editing WordPress plugin, you can…
Divide a picture into several layers and apply adjustments at different levels of that image without affecting the whole photograph.
Adjust metrics like exposure, white balance, and colors.
Apply gradient colors to your photographs and transform them into colorful masterpieces.
Make your images look more appealing by adding image effects and filters.
Use various tools to add text, shapes, crop, and resize pictures.
Use them as photo editing software alternatives and increase your workflow.
And once you are done editing your pictures, you can create a photography portfolio to showcase your pictures stunningly. You can do this within 5 minutes with the most user-friendly gallery plugin, Modula.
Did you know that Modula also has its own photo editing features? That's right, you don't need to use another app or software to edit your photos before uploading them to your website. You can do it right inside Modula!
Here are some of the cool things you can do with Modula's photo editing features:
Crop: You can crop your photos to any size or shape you want. You can also use the aspect ratio tool to make sure your photos fit perfectly in your gallery.
Rotate: You can rotate your photos by 90 degrees clockwise or counterclockwise. You can also flip them horizontally or vertically.
Resize: You can resize your photos to make them smaller or larger. You can also use the quality slider to adjust the compression level and file size of your photos.
Filter: You can apply different filters to your photos to change their mood and style. You can choose from 12 filters, such as sepia, grayscale, vintage, and more.
Adjust: You can adjust the brightness, contrast, saturation, and exposure of your photos. You can also use the advanced settings to tweak the shadows, highlights, whites, blacks, clarity, and vibrance.
With Modula's photo editing features, you can make your photos look amazing without leaving WordPress. You can save time and hassle by editing your photos right before adding them to your gallery. And you can always undo or redo any changes you make.
---
🔎 Things to consider when choosing a photo editing plugin
Whether you want to edit your pictures or design logos for your WordPress website, you need a powerful photo editing tool with the right features. The best solution will allow you to handle a lot of functionalities similar to popular editing software such as Adobe Photoshop or Lightroom.
Depending on your specific requirements, here's a list of features to look for in photo editing WordPress plugins:
A user-friendly interface
Layer management
Text, shapes, borders, and fonts
Pre-designed templates
Various filters and image effects
Contrast, brightness, hue, saturation, and RGB modifications
Resizing, rotating, and flipping tools
Zooming tool
Photograph cropping
Redo and Undo options
Watermark addition to preventing theft of your original work
Although photo editing WordPress plugins can be pretty powerful, some editing capabilities can only be achieved only with dedicated and professional editing software, like Photoshop or Lightroom. Also, if you're looking for budget-friendly alternatives to Photoshop, check out our top picks with similar features.
---
Plans at a glance
---
Our best photo editing WordPress plugins
We've made a selection of the best photo editing plugins that can help you beautifully display your work. Let's take a look!
♟️ WP Paint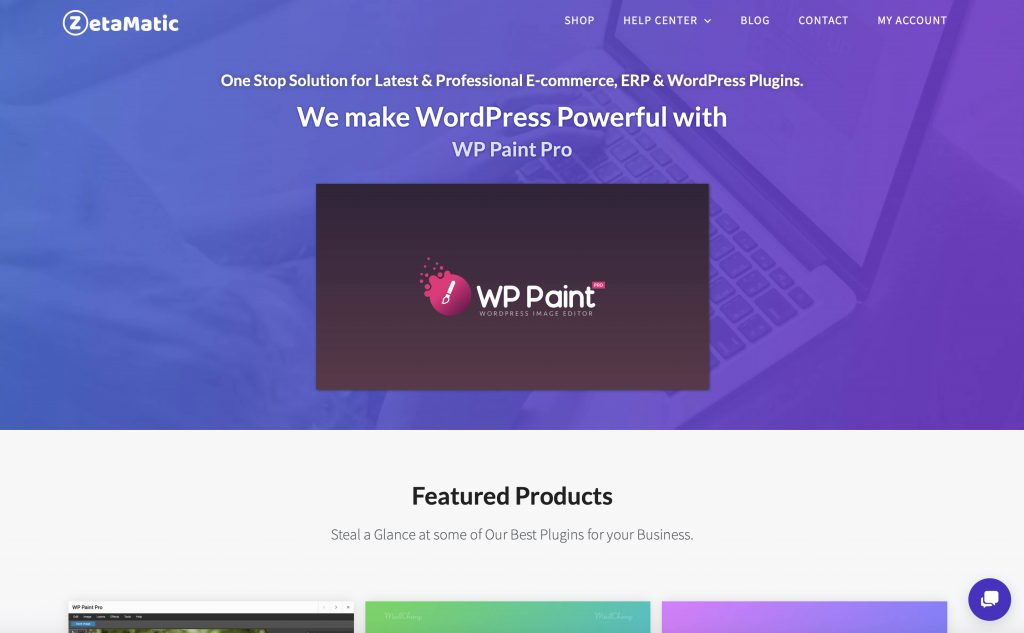 Are you tired of switching to any desktop-based photo editing software? WP Paint, an exceptional WordPress image editor, has you covered! It comes with an intuitive interface similar to Photoshop or other photo editors.
WP Paint is one of the best photo editing WordPress plugins based on an HTML 5 image editor. Plus, it's easy to use. For example, you can edit your pictures by going to the Media Library in your WordPress dashboard and utilizing all the editing features.
This feature-packed photo editor solution allows you to edit your photographs, modify your images, and manage layers. It also offers a significant amount of photo editing features.
⭐ WP Paint features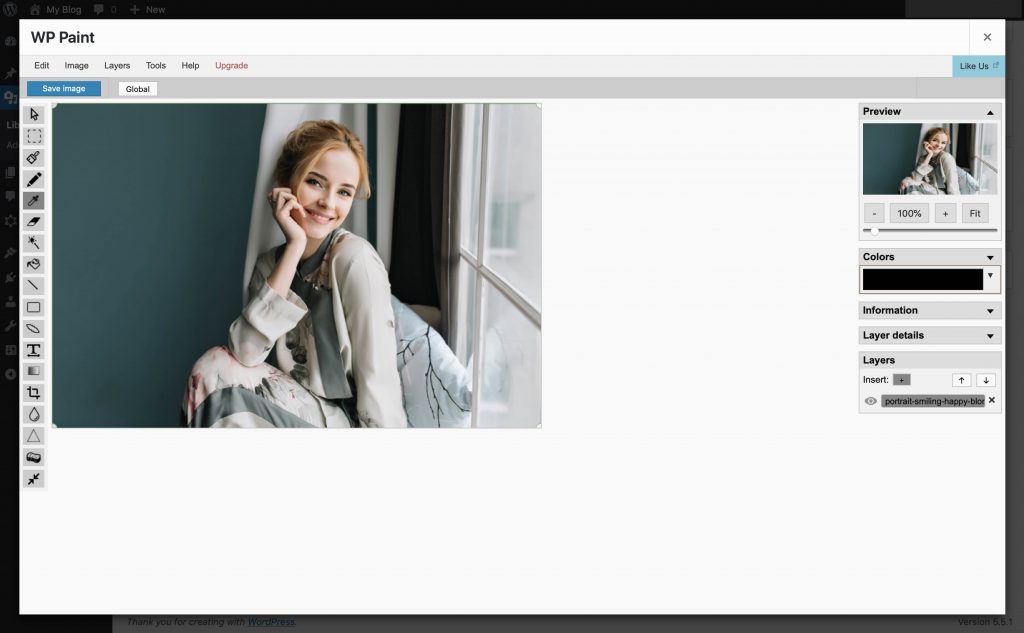 When it comes to photo editing features, WP Paint breaks the ice. Whether you pay for the PRO version or choose the free one, you'll benefit from all the features an image editor should provide.
Let's see what WP Paint's feature strengths are:
Add a watermark to your pictures to keep them safe from thieves.
Attach stickers to your images and make your photographs more appealing.
Return to the previous photo if you don't like the adjustments.
Colorize your images using the built-in gradient tool.
Make edits by using multiple layers.
Manipulate images using professional tools such as retouch, restore, crop, resize, and erase.
Copy specific regions of pixels and add them to other images with the clone tool.
Utilize a large number of image effects and filters.
Correct colors by adjusting the contrast, brightness, hue, luminance, saturation, and RGB.
Tap into the drawing tools and freestyle your edits.
Use the integrated tools panel with utensils such as shapes, text, blur, sharpen, and the magic wand tool.
💰 Pricing
| | |
| --- | --- |
| What you pay/year | Supported sites |
| $39.99 | Single site |
| $99.99 | 2-5 sites |
| $399.99 | Unlimited sites |
---
Every pricing plan for WP Paint PRO comes with a 14-day money-back guarantee and one year of full support and updates. If you choose to extend your plan after one year, you'll get a 20% discount.
Choosing WP Paint PRO will also get you additional features. For instance, with it you can add stickers to your images, apply a watermark to keep them safe, restore them to their initial state, and copy certain regions of pixels.
💡Best photo editing WordPress plugin for…
WP Paint is a great photo editing choice if you need a plugin that provides a large variety of tools. It has a tools panel that integrates powerful instruments for editing your images.

From cropping, resizing, retouching, and restoring to shapes, text, gradient, magic wand, and clone tools, you'll get everything you need to edit your photos in one plugin.
👍 Advantages
You can apply gradient colors to your images.
The clone tool will allow you to copy regions of pixels from one location to another – even it is one the same or different layers.
With this powerful plugin, you can add a watermark to your pictures and keep them safe.
The magic wand tool will help you easily create custom stickers.
👎 Disadvantages
Compared to other photo editing WordPress plugins, WP Paint doesn't include borders or frames.
It doesn't provide flipping and zooming functionalities.
---
♟️ Image Editor by Pixo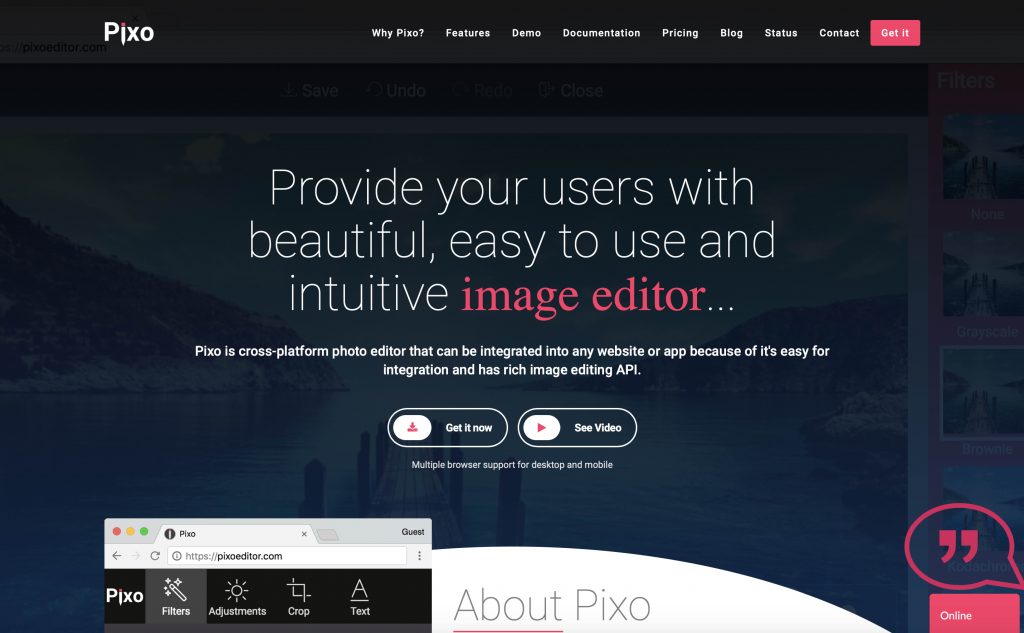 Are you looking for an image editor tool that can be integrated into any web application? Here it is! Pixo is a cross-platform image editor that fully replaces WordPress' default image editor with its functionalities.
You can start editing your pictures right away by clicking on Edit Image. From there, you'll see that Pixo's features are integrated into your WordPress website.
This photo editing WordPress plugin allows you to adjust brightness, contrast, hue, saturation, color, blur, noise, and pixelated images. It also provides basic editing features such as adding text, stickers, shapes, applying filters, cropping, flipping, and rotating your pictures.
When used with WP Paint – the solution we mentioned above – Pixo provides stunning photo frames that will undoubtedly make your images more impressive.
But wait, there's more. Pixo offers its users an Undo option that will allow you to return to the original picture and a Redo button for easier manipulation of edits.
⭐ Pixo features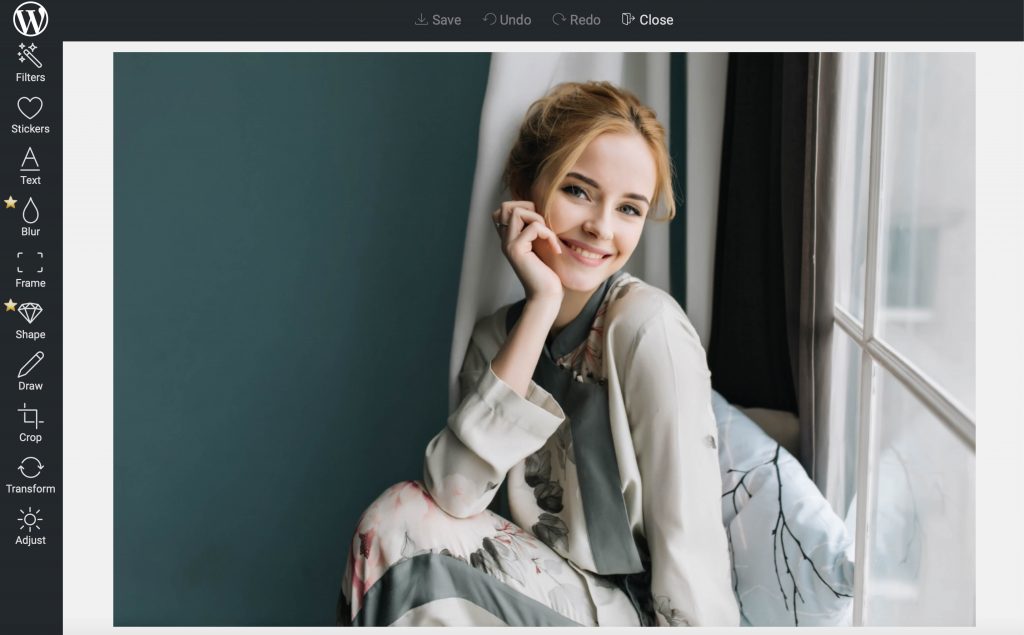 When it comes to features, Pixo smoothes the path. If you go with one of the paid plans, which we recommend, you'll have more control over the editing tools and your pictures.
Let's see what this photo editor plugin is capable of:
Photo editing API (application programming interface)
Advanced templates, Instagram-like filters, and more professional image filters
Impressive photo frames
Variety when it comes to text and font choices
Drawing tools
Blur and shape features
Stock and custom stickers
Custom colors/logo
Adjustment of brightness, contrast, hue, saturation, color
Cropping, rotating, and flipping pictures
Undo/Redo option for all features
Image optimization by TinyPNG
More image sizes to save your pictures
Gutenberg Block Editor support
Mobile-friendly design
Automatic updates
💰 Pricing
| | | |
| --- | --- | --- |
| Plan | What you pay/year | Number of saved images/mo |
| Small | $84 | 1000 |
| Medium | $168 | 2500 |
| Large | Contact them | Unlimited saved images |
---
Pixo has a free plan and three pricing plans that differ depending on the number of edited images you can save monthly. And the great part is, with Pixo, you're only charged for the images you save. This means you never pay for what you don't use.
The free version of Pixo allows you to edit just 100 pictures. If you choose a PRO version plan, you can modify more images, benefit from premium image editing API support, and take advantage of the full-featured image editor. So, take advantage of the generous 30-day trial period and see if Pixo is the solution for you.
💡Best photo editing WordPress plugin for…
This photo editing WordPress plugin provides the most powerful image editing features. You can add multiple image effects and adjust contrast, saturation, hue, brightness, and RGB.
With this image editor, you will undoubtedly get the desired look for your photographs.
👍 Advantages
Pixo Editor comes with a photo editing API that supports all modern browsers.
It's available for any device – mobile, tablet, laptop, PC.
Because it's an online service, the updates and new releases are performed automatically.
Your images will be highly optimized by TinyPNG.
👎 Disadvantages
This image editor doesn't have integrated multiple layers to make different adjustments to an image.
---
♟️ DigiWidgets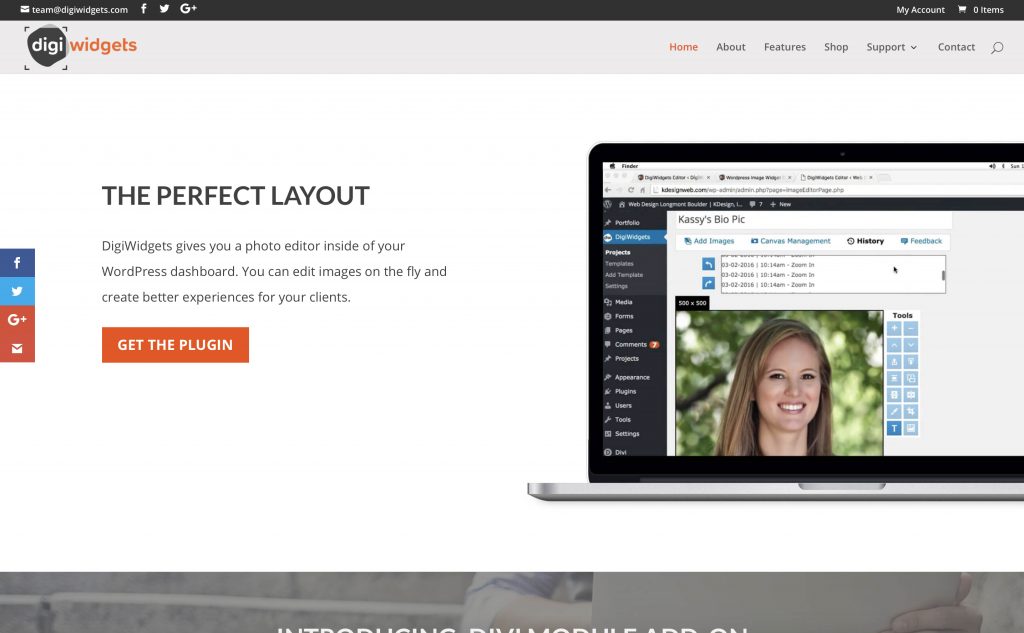 Have you ever wished you had a photo editor in your WordPress dashboard? Well, you've met your match! DigiWidgets Image Editor is another excellent photo editing WordPress plugin that makes editing easy, whether you're a beginner or a professional photographer.
This image editor provides essential functionality – cropping, resizing, rotating, flipping, and adding image filters. Thanks to its history-tracking, multiple layers, Google fonts, and predesigned templates, it's a good Photoshop alternative.
If you're a designer or a developer, you can use a template to create WordPress websites for clients. You can even build a customized template for each image area on your website.
DigiWidgets' pricing plans differ depending on the number of supported sites you need. The more you pay for your plan, the more sites you can use the plugin on.
The premium version of this WordPress image editor plugin provides features such as rectangle and circle cropping, unlimited custom templates, and more filters, such as the removal of white and opacity. With the premium plan, you can also view your project's history and easily navigate to any point within the history.
⭐ DigiWidgets features
Compared to other WordPress photo editing plugins, DigiWidgets has Photoshop-style features that give you more control over your images.
Let's see what I'm talking about:
Facebook, Twitter, and custom templates
Multiple layers
A large variety of Google fonts
History tracking – you can come back to the original image at any time
Various filters – including grayscale, brightness, and contrast effects
Image flipping both horizontally and vertically
Resizing and rotation of images and text
Rectangle and circle cropping
Border application to images or the entire canvas
💰 Pricing
| | | |
| --- | --- | --- |
| Plan | What you pay/year | Supported sites |
| Grasshopper | $15.99 | 1 |
| Sempai | $29.99 | 3 |
| Master | $59.99 | 50 |
---
DigiWidgets offers three pricing plans: Grasshopper, Sempai, and Master – each plan supporting a different number of sites.
If you choose the PRO version, you can take advantage of unlimited custom templates, rectangle and circle cropping, more filters (including removing white and opacity), and you can view all history of your project. Also, you will get one year of support and updates.
💡Best photo editing WordPress plugin for…
DigiWidgets is one of the best photo editing WordPress plugins that provide excellent predefined templates. With the template feature, you will no longer have distorted, squashed, or wrong-sized images. 
👍 Advantages
This image editing plugin offers a large variety of Google fonts so that you can add to your pictures beautiful font styles.
The template feature is intended for designers or developers that want their clients to add or edit images on their website easily.
👎 Disadvantages
It lacks filters and image effects – the only adjustment you can make is changing grayscale, brightness, and contrast.
---
♟️ Thumbnail Editor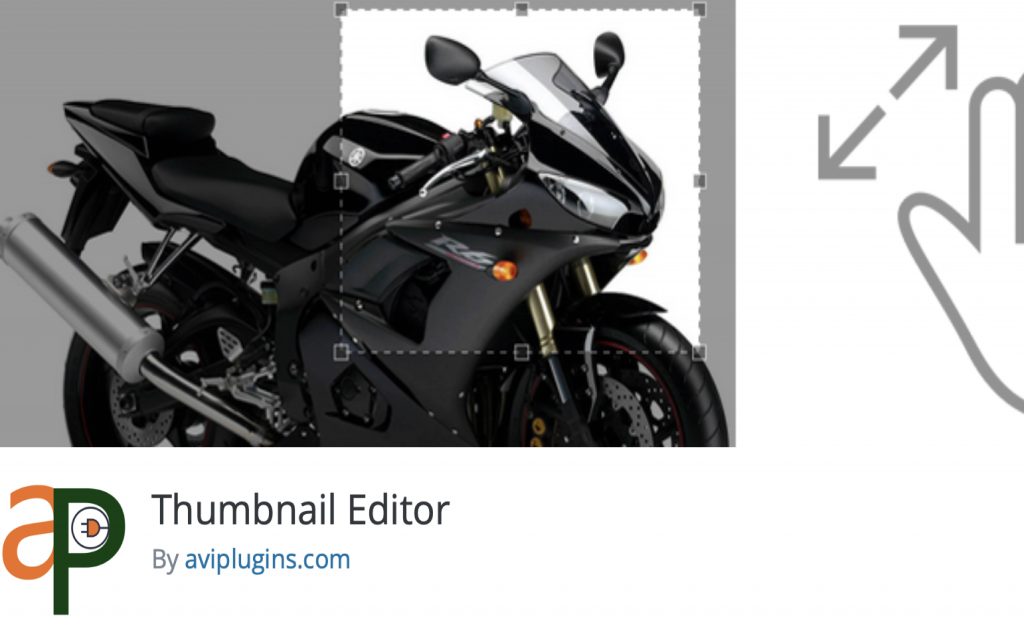 Have you ever accidentally cropped the wrong section of a photo when it came to creating thumbnail images? Don't worry anymore. With Thumbnail Editor, you can take full control over WordPress thumbnail images and get the perfect look – every single time.
After you upload your pictures to your WordPress Media Library, you'll find the Crop thumbnail button after clicking the image. This button takes you straight to the crop tool and lets you get started with your thumbnail creation.
In addition, Thumbnail Editor automatically generates different sizes of your pictures. You can easily copy the shortcode of whichever size you like and paste it on any page or post. Plus, you can do this manually by resizing the photograph. The image files supported for editing are JPG, JPEG, GIF, and PNG.
⭐ Thumbnail Editor features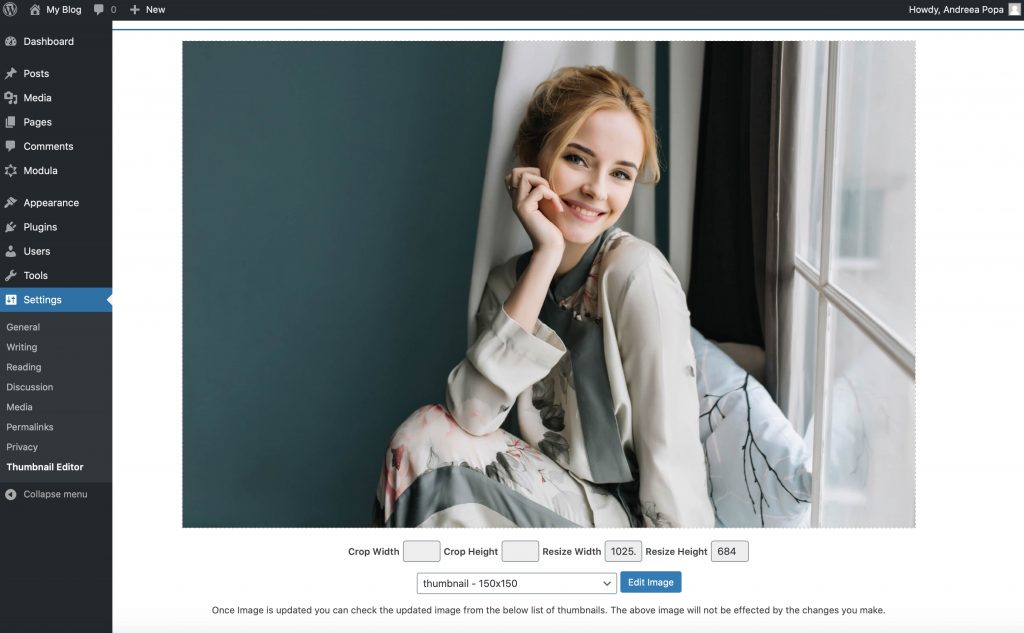 Besides the fact it provides basic features just like the other photo editing WordPress plugins showcased in this article, Thumbnail Editor is a good option for resizing thumbnails.
But let's see the whole feature package that this image editor offers:
One-click thumbnail generator
Multiple sizes of thumbnail
Add custom text – you can even add your signature
Multiple font styles
Image effects such as grayscale, sketch, negative, as well as color effects
Image borders with various colors of borders
Revert Back option
Shortcode support
Amazon S3 Bucket support
💰 Pricing
Thumbnail Editor offers a free and a paid version. The free version comes with basic features – crop and resize.
However, suppose you pay a mere $2.00/year for the premium version. In that case, you'll benefit from features such as custom image borders, image effects such as grayscale, negative, sketch, and image colors, revert option, custom text and fonts, full support, and updates for one year.
💡Best photo editing WordPress plugin for…
When it comes to editing thumbnail sizes, Thumbnail Editor wins the prize. It's simple, easy to use, and you can get the desired size of your thumbnails with only a few clicks.
👍 Advantages
Thumbnail editor allows you to edit images with different formats – JPG, JPEG, GIF, and PNG.
You can use the generated shortcode to copy and paste it on any page or post.
If you want to, you can apply your signature on images.
👎 Disadvantages
This image editor doesn't include flipping and rotating tools.
You won't benefit from multiple layers that help you make more adjustments to one picture.
---
♟️ WP Image Zoom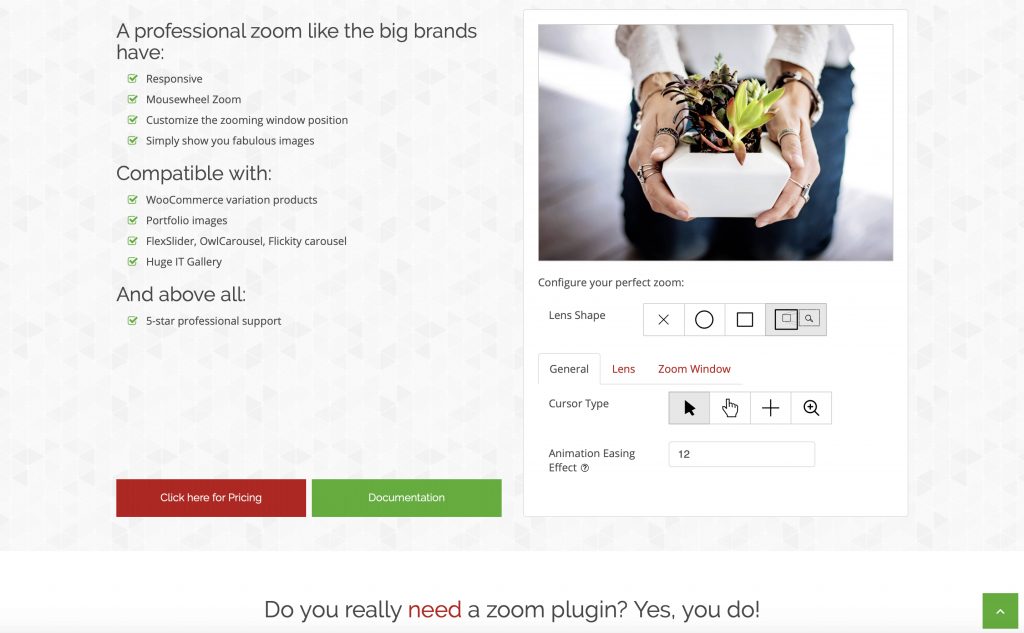 Are you seeking a robust, modern, and configurable image zoom plugin? You found it! WP Image Zoom is one of the greatest photo editing WordPress plugins in the market, allowing you to create a magnifying glass on your images.
After installing the plugin, you can start editing your pictures with WP Image Zoom in your WordPress dashboard.
Zooming images will allow you to see what you can't see in a normal-sized picture. Your visitors will be able to see the impressive details of your images.
Using WP Image Zoom will undoubtedly enhance your users' experience and revenue. This might be your sign if you've ever thought of selling photos online. With the help of a zoom plugin that lets visitors get a good impression of your product by seeing images' details, you'll land more sales and generate more money.
⭐ WP Image Zoom features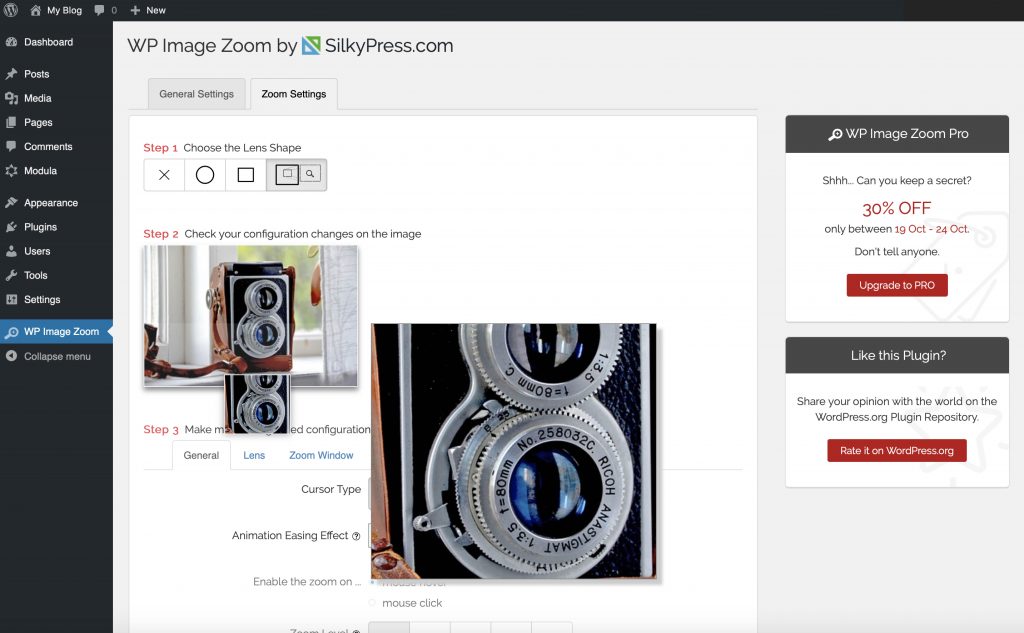 WP Image Zoom is a photo editing WordPress plugin focusing on the zoom feature. However, it provides other editing features to make your pictures look more appealing.
Here are some of its best features:
Four zooming types – inner zoom, round lens, square lens, and outer zoom
Mousewheel zoom
Fade effect – fade in or fade out
Animation Easing Effect – the zooming lens follows the mouse cursor over the picture with a sleaking delay
Integrates into pages and posts – you will find the button for applying the zooming effect on any page/post
Extremely configurable – control zooming lens size, border size, and its color, plus round corners, and add shadows
Works with WooCommerce – if you want to sell pictures online, you can easily enable zoom on all your product images
Support for Gutenberg block editor and the most popular page builders: WPBakery, Elementor, Beaver Builder, and Divi Builder
See how you can add a photo gallery in Divi Builder.
💰 Pricing
| | | |
| --- | --- | --- |
| Plan | What you pay/year | Supported sites |
| Personal | $78.90 | 1 site |
| Developer | $157.90 | 10 sites |
| Big Agency | $325.90 | 50 sites |
---
There is a free version of WP Zoom Image. However, the premium version of WP Image Zoom comes with three pricing plans – each supporting a different number of sites. If you upgrade the plugin to WP Image Zoom PRO, you'll get 1-year automatic updates and 5-star support. After the license expires, you can renew it with a 40% discount for the next year.
The PRO version works with WooCommerce variations, portfolio pages, Easy Digital Downloads featured images, and MarketPress (WordPress eCommerce). Also, you can choose the zoom window position (left or right), use more than one image on the same page, and get custom theme support.
💡Best photo editing WordPress plugin for…
WP Image Zoom is an excellent photo editing WordPress plugin with a powerful zoom feature best suited for those who want to give site visitors a close-up of their photography. It's super responsive, easy to configure, and has many styling options that allow you and your visitors to see particular image details.
👍 Advantages
This image editor offers a powerful zooming tool that includes four different types: inner zoom, square lens, round lens, and outer zoom.
You can control the zooming lens size, border size, color, rounded corner, and shadow.
👎 Disadvantages
WP Image Zoom lacks photo editing tools like cropping, resizing, flipping, rotating, and doesn't provide image effects for your pictures.
---
🏆 Best photo editing WordPress plugins: Final Verdict
Depending on your needs, you can take advantage of each WordPress image editor plugin featured in this article, as they all include a free version for their users.
🥇 If you need a powerful image editor that offers a large variety of photo editing tools, WP Paint is the perfect choice for you.
🥈 If you are a photographer and need more image effects and color corrections to apply to your images, go with Pixo Editor.
🥉 If you need a photo editing tool that allows you to take full control over the WordPress thumbnails, you should choose Thumbnail Editor.
So go ahead and showcase your awesome edited images with the help of Modula. You won't regret it!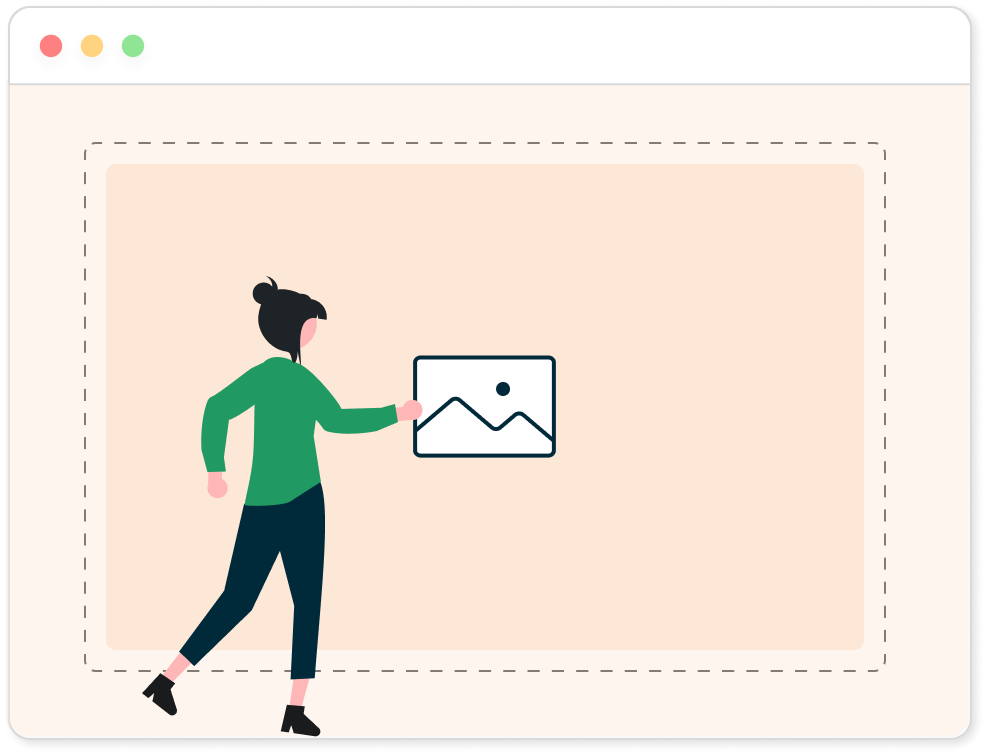 Modula Gallery Plugin
Create stunning, responsive photo galleries with ease. Showcase your work, captivate your audience, and boost engagement. You don't need to do any coding.
Get Modula PRO
Get the #1 gallery plugin for your WordPress site today!
100,000+ happy users
This is the PERFECT article. Thank you!