The 5 Best Stock Photography Sites for Selling Your Photos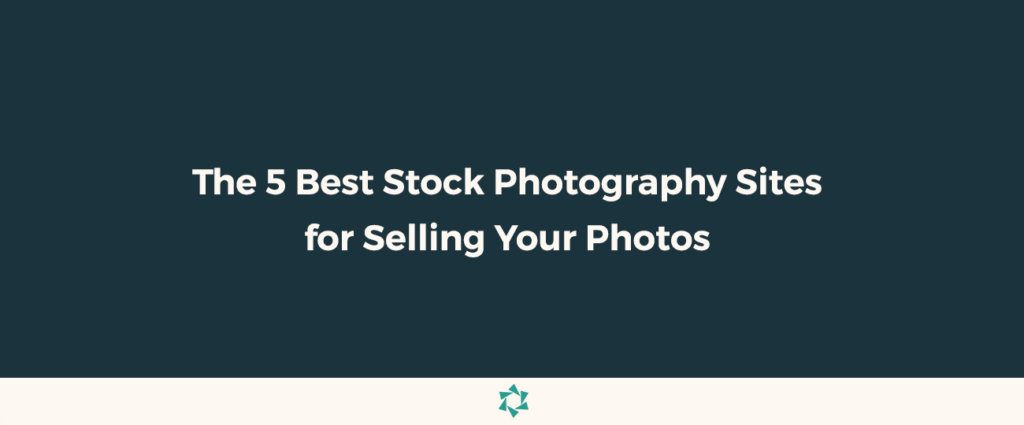 It's not always easy to make money as a photographer. And, as cameras get more accessible, the industry gets flooded with new talent, and prices drop, it's becoming even harder. For that reason, you may want to diversify in order to keep the funds coming in. One way to do that is by selling your photography through stock photography websites.
In this article, you'll discover:
benefits of selling your photos on stock photography sites;
things to consider when comparing stock photo sites;
an overview of the top ten stock sites photographers are using today;
our thoughts on free stock photography websites;
and a few other things you should consider before selling your photos online.
---
Benefits of selling your photography on stock photo sites
Although it's a competitive niche, there are many ways to make money as a photographer. The most obvious benefit for photographers selling their photos via a stock photo site is that with focused effort, it can be a way to make a decent amount of passive income while maintaining complete control over what, when, and where you shoot.
Additionally, selling stock photos gives you an opportunity to expand your audience and build a strong and diverse portfolio.
However, there are challenges to being successful at selling stock photography. Don't expect to simply upload hundreds of photos to a site and start raking in a bunch of money. Don't miss the tips and tricks in Photos That Sell: A Guide to Successful Stock Photography for detailed information on how to make lots of money from stock photography sites.
---
---
Things to consider when comparing stock photography sites
So you've decided to start selling your photos through a stock photography website, but how do you choose which one (or which ones) to use? Here are some things to consider, because each of them is slightly different in its approach.
Royalties/Commission: Some stock photo sites pay 10% commission while others pay up to 80%.
Photo requirements: each site will have different requirements for the content, quality, and file size.
Exclusivity: some sites will require exclusivity, meaning you can't sell your photos anywhere else. Others will make exclusivity optional but will pay you more for it.
Competition: More popular sites give you a better chance of being seen, but also give you more competition so it can be harder for your photos to stand out.
Niche: some sites specialize in a particular niche. If you excel in a specialty, this might be a great option for you. For example, Images with Heart features all stock photography of animals and markets to the pet industry.
---
Stock photography sites at a glance
1. iStock
iStock is a big name in the stock photo business. The site was acquired many years ago by Getty Images, but its pricing and commission structure is kept very different from Getty's. However, you do need to use the Getty Contributor app in order to upload images.
When you upload photos via the app, Getty will decide which of their sites your images will be sold on, based on where they feel they will sell best. In most cases, contributors are offered an agreement on iStock, and the best iStock images are also shown on Getty.
How much do they pay?
iStock royalties start at a measly 15%. If you give them exclusive rights to your images, you can earn between 25% and 45%. Without exclusivity, these are some of the lowest commission rates in the industry. With iStock, you need to make a lot of sales to make money. Fortunately for iStock, they actually have the massive traffic and reach needed to make that happen.
How to become a contributor:
Contributing to iStock is done through the Getty Images Contributor app. Through the app, you'll upload 3 to 6 sample images and submit an application. If approved, you'll receive an invitation to join via the app.
iStock Advantages
– High traffic
– Potential to make a lot of sales
iStock Disadvantages
– Low commission
– Lots of competition
– Current contributors seem unhappy with recent changes
– Royalties have been steadily dropping
With some of the lowest commission rates in the industry, it's difficult to justify iStock for new photographers. However, contributors that have been using it for some time say that they are still there because they are still making money at it. That's simply because the site gets so much traffic that they're able to make money despite those abysmally low royalties.
iStock is a good option for photographers who want to diversify and make their images available on many stock photo sites. While the higher commission is appealing, we do not recommend giving them exclusive rights to your images.
---
2. Shutterstock
Next on the list, Shutterstock is another industry leader in the stock photo game. They claim to have paid out more than a billion dollars to their contributors in the last 16 years they've been doing business and those who got in early will attest to that. Shutterstock has traditionally been well-loved by photographers. However, they've made some changes in the last year that resulted in lower commission rates for their contributors — for some, it resulted in them losing 50% or more of the commissions they had been getting. Lots of photographers are angry with them these days and rightfully so.
Despite that, the site has a rock-solid reputation, great traffic and high sales, and some amazing tools for contributors. There's a global community for networking; a monthly shot list of the content that's in demand; and even a platform to make more money creating custom content for brands. So it's still a place to consider, but definitely not the only place to hang your hat.
How much do they pay?
Due to a recent deduction in their pay structure, Shutterstock's commission starts at 15% for each image sold with opportunities to make up to 40%. Because it is a microstock site (like iStock), you'll need to sell a LOT of photos to make significant money. They sell their photos for such a low price with their subscription model that contributors only earn pennies per sale. Still, the potential to make money does exist.
How to become a contributor:
Contributing to Shutterstock is done by first filling out an application on their website. You'll also need to submit a few of your best images for review by the site's in-house team to be sure they meet their quality guidelines.
Shutterstock Advantages
– High traffic
– Potential to make a lot of sales
Shutterstock Disadvantages
– Lots of competition makes it harder to be seen
– Current contributors have seen a big drop in commission
– Must sell a lot to make money
Stock photography sites may not be as lucrative as they used to be — and that's true for much of the photography industry as a whole. While Shutterstock may not be making photographers as much money as it used to, it remains a viable option for now. Additionally, Shutterstock provides its contributors with many useful tools and extras that most other sites do not.
Shutterstock is still a good option for new photographers, especially for the contributor resources. But, we don't recommend making it your only option. It would be really difficult to make a living wage with this site alone.
---
3. Alamy
Alamy is a more traditional stock photography website than the other two we've reviewed so far. They charge their users a lot more per photo, and thus, your commission per photo is also higher. At the same time, it seems they have stricter standards for accepting contributors. They also boast some big-name clients and have a philosophy rooted in philanthropy.
Alamy also offers plenty of resources for their contributors, including a contributor forum and a monthly list of needs so you can shoot specific photos for their platform.
How much do they pay?
Alamy offers a 50% commission on images with an exclusive license and 40% on non-exclusive photos. If you're a student photographer, the site has a student project that pays 100% commission for two years and is dedicated to helping new photographers succeed in their chosen profession.
How to become a contributor:
Contributing to Alamy is done by filling out an application on their website and uploading your first three images for review. Be sure to review their very specific image guidelines to ensure your photos pass the quality control process.
Alamy Advantages
– High commission
– Well-respected, having been in business for 21 years
Alamy Disadvantages
– Contributor platform is not user friendly
– Strict standards for contributors
– Less traffic leads to fewer sales
Alamy seems to have higher standards than some of its high-volume/low-cost competitors. For that reason, it may take a bit more effort on your end to get accepted as a contributor and to build up an image archive. That said, it will be worth the effort when you start bringing in more than $50 per sale in some cases.
Alamy is a good option for professional photographers who are willing to comply with strict quality standards. Student photographers should definitely sign up for their 100% commission program.
---
4. Adobe Stock
Relatively new to the stock photo game, Adobe Stock has quickly become one of the top players. The way they did it was by increasing royalties — as you can imagine, that got contributors interested in joining their site right away! Then, they integrated the site with Adobe Creative Cloud and Microsoft PowerPoint and heavily promoted it, which resulted in lots of sales.
Considering Adobe Stock is only 6 years old, if they continue growing the way they have been, they'll be serious competition for Shutterstock in no time.
How much do they pay?
Adobe Stock pays a 33% commission on images with a non-exclusive license. As a bonus, Adobe also gives complimentary one-year Creative Cloud plans to contributors who have a certain number of image downloads in a single year.
How to become a contributor:
Becoming an Adobe Stock contributor is simple, especially if you already have an Adobe ID. If not, you'll first need to create one after you click "Become a Contributor" on the Adobe Stock website. Then you'll upload your images, paying special attention to Adobe's image guidelines. Submitted images must go through a review process before they will be made available for sale.
Adobe Stock Advantages
– Good commission
– Seamless integration with Creative Cloud and PowerPoint
– Current users report growing commissions
Adobe Stock Disadvantages
– New on the market, less traffic than the competition
– No mobile app for contributors
Adobe Stock might be the new kid on the block when it comes to stock photography, but they are part of a company whose name is synonymous with creatives and photographers. So the move to include a stock image site under their umbrella made perfect sense.
At a time when contributors are seeing other sites cut their commissions and daily sales are slowing, Adobe Stock is showing steady growth. They don't offer the highest commission in the industry, but their commission is fair and sustainable, so hopefully, it won't be lowered any time soon.
Adobe Stock is a good fit for any photographer who is serious about selling stock photography as an income source.
---
5. Dreamstime
Dreamstime is one of the oldest stock photography sites on the web, having launched 15 years ago. It's a microstock site, similar in pricing strategy to iStock and Shutterstock. However, many contributors prefer selling their photos through Dreamstime because they consistently earn money there.
Dreamstime contributors have nothing but great things to say about their contributor forum and the friendly staff.
How much do they pay?
Dreamstime commission starts at 25% for non-exclusive images up to 60% for the highest tiered exclusive images. This results in royalties ranging from $0.35 up to over $40 for extended licenses. If you're comfortable selling RAW files, you can make even more commission by offering them as an option.
They also offer other ways to earn money — through referrals, with monthly themed photo assignments, prizes at certain milestones, and blog contests.
How to become a contributor:
To become a contributor, start by creating a free account. Once you do that, you can immediately begin uploading images. However, only upload your best photos to ensure they'll be approved. There's a limit on the number of photos you can upload and it's based on your approval rating.
Dreamstime Advantages
– Good commission
– More ways to earn extra money
– Great contributor forum and friendly staff
– Partnership with Google
Dreamstime Disadvantages
– Not as well known as other sites, less traffic
– The submission tool is slow and needs an upgrade
Dreamstime doesn't offer the highest (or the lowest) commission rates in the industry, but they do offer something that none of the others do — lots of other opportunities for contributors to earn money. They also provide a friendly and fun environment for their contributors to connect.
The site is a good fit for photographers who like to be socially involved with their community. It's also good for amateur photographers, as their review process isn't as strict as the other stock photo sites.
Also, if you're toying with the idea of offering an image with exclusivity, this would be a good site to test it on because you can choose individual photos to be exclusive instead of having to make your entire collection exclusive.
---
🏆 Final Verdict: Best Stock Photography Site
Considering everything that's been said above, it would benefit you to submit images to more than one stock photo site. Most of them don't require you to offer exclusivity, although it is an option that pays more if you do. That said, here's our pick for the best stock photography site for selling your photography:
🥇 If you're a professional photographer who is serious about selling stock photography, go with Adobe Stock. This site is showing steady growth in paid commissions for its contributors while the competing sites have been slashing their royalties.
🥈 If you're a new photographer, then choose Dreamstime for its fun and friendly community and less strict submission guidelines.
---
What about free stock photography sites?
The last several years have ushered in a host of websites that offer stock photographs for free. They're gaining in popularity — and for good reason. First, most obviously, because the images are free to use. But also, because they're great quality and oftentimes more authentic than the staged photos you'll find on traditional stock photo sites.
Example free stock photography sites include Pexels, Unsplash, and Pixabay.
Why contribute to free stock photography sites?
For many photographers, it doesn't make any sense to offer up your work for free. However, the thousands of contributors to these sites have found their reasons to do it, including:
Visibility: just getting their work out there and having it be seen
Exposure: many photographers claim to have been hired after getting significant exposure on free sites like Unsplash and Pexels
Praise: the free sites give you the option to send thank you notes and money to the photographers and many of them do earn money that way
Competition: some photographers do it just for the bragging rights of being one of the site's featured photographers
Inspiration: since they aren't getting paid, it gives them more creative freedom or a chance to test out new ideas
Free stock photography sites are not a viable option for making money, but they do have a useful place in the industry, even if it's just to shake up the status quo.
---
If you're interested in other ways to sell your photography on the internet in addition to stock photography sites, then check out this article on How to Sell Your Photos Online.