How to install Modula WordPress plugin (+PRO version activation)
How to install Modula in WordPress
The download process is a simple one and will only take a few minutes. You need to go to your WordPress Dashboard and look for Plugins. Then, click on Add New.
There will appear a new page with a search bar in the upper right corner, so type Modula. When you will be able to see it, click on the Install Now button.
The installation process might take a few seconds. When it is done, the Install Now button will change into Activate button. Click on it and activate the Modula photo gallery plugin.
Modula will pop up in your WordPress dashboard.
Until now, we have installed and activated the free version of the Modula plugin. Let's see how to upgrade the premium version and activate the purchased license on your website.
---
What you get with Modula PRO
Now that you how to install Modula in WordPress and you have the free version of Modula already installed, maybe you are wondering why you should upgrade to the Modula PRO gallery plugin? Here are a few features that Modula PRO offers:
Downloads – Allow visitors to download your images/albums;
EXIF – Allows you to display data from your image directly into your gallery and lightbox view;
Zoom – So your website visitors can see your work in detail;
Albums – Start organizing your media files into albums. This way, your clients will find the piece they are looking for, easily;
Defaults – Maybe you want to re-use a styled gallery you already created. With this feature you can import & re-use the settings from your existing galleries when creating new ones;
Password Protection – Don't let people steal your pictures and password protect your galleries. It allows only a few people to access your files;
Slider – Ever wanted to create a slider? Turn your galleries into sliders and enable an option that allows your images to display as a slideshow;
Filters – Maybe you want your visitors to have the option to sort the images from the gallery into different categories. Enable/disable image filtering/sorting and group your gallery as you please;
Hover effects – Did you already create a gallery, but you feel like it needs something more? Choose from more than 40 hover & loading effects to give it a special glow;
Videos – There is a video gallery you are looking for? Don't worry! With this feature you can create stunning video galleries;
Advanced Shortcode –Do you want to share your gallery within a page or a post? Use the shortcodes to link out to your galleries without creating unique pages for each;
SpeedUp – Do you have a problem with the loading time? Optimizes and resizes your images automatically for the web with the speedup feature. It saves you time and helps your images load faster.
SEO Deeplink – Want to be in total control over your SEO? Create indexable URLs for each of your galleries and take full control over your SEO;
Right-Click Protection – Are your visitors using the right-click to download our work? Enable this feature to prevent people from downloading your work using the right-click mouse function;
Pagination – allows you to showcase your gallery images/videos on pages;
Modula Whitelabel – to replace any occurrence of Modula with your brand name and logo;
Modula User Roles – allow admins to decide which user roles can create, edit, and remove galleries and albums, as well as defaults/presets.
---
Purchase Modula
To be able to upgrade, you need to purchase a plan that fits your needs. You can do that by going to the Pricing page where you'll find 4 pricing plans: Starter, Trio, Business, and Agency. These licenses are active for one year, but you can also opt for a lifetime license.
Click on the Buy Now button under the plan you choose to go with.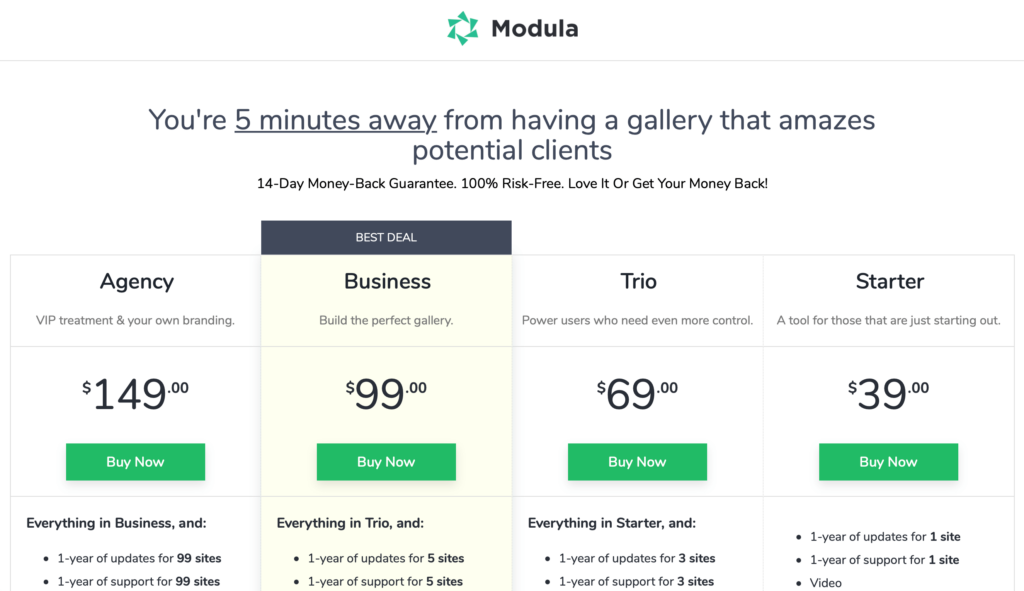 It will pop up a new page, the checkout page. Here you can find the option to renew a license key or add a discount code. Follow the steps to complete the purchase.

When the process is over, you will get a purchase confirmation email containing the zip files for Modula PRO and your main license key. What's a license key? It is used to use Modula's extensions to benefit from updates and premium support. The license key is active for a year, and when it expires, you can renew it as I showed you before.
---
Install the premium plugin and extensions
We already got the zip file containing the upgrade within the purchase confirmation email. Download them from the email. Now go to your website's admin Dashboard > Plugins > Add New > Upload plugin > Choose file > Install Now. You won't be able to upgrade if you do not have the Modula lite version already installed. Follow the first steps from this article to install the Modula lite version in WordPress.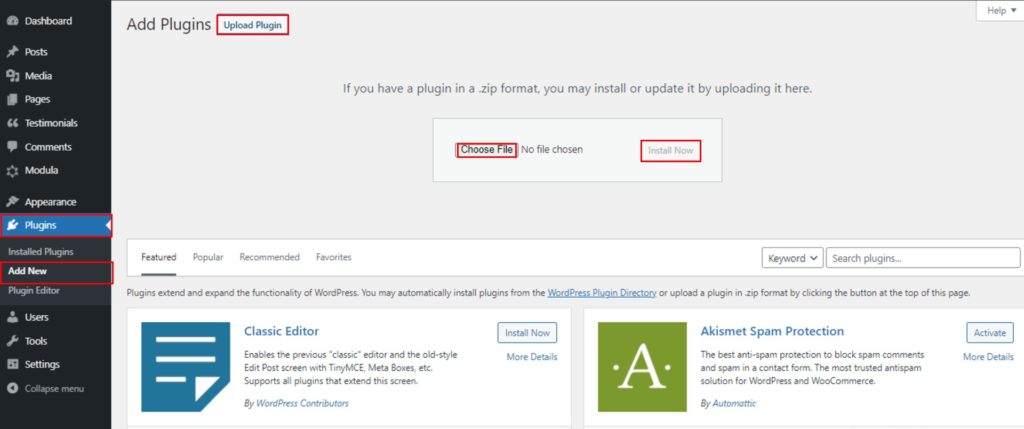 ---
Activate the license key
To activate your license key, copy it, go to Modula > Setting > License key, and paste your license key. Click on the Activate License button to activate it.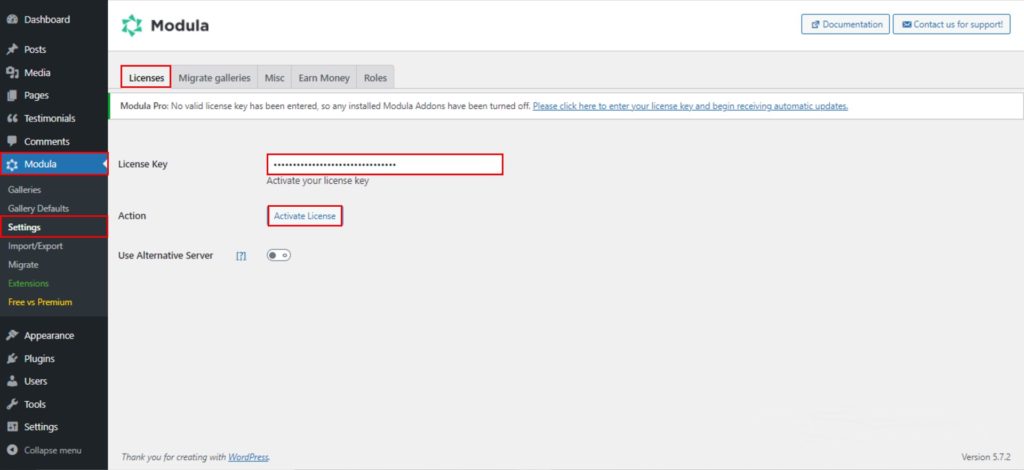 ---
Renewing the license
Don't worry! All your purchased plans are renewed automatically each year unless you cancel your subscription.
To manually renew your subscription(s), go to your Modula account, log in and go to Purchase History > View licenses. Choose the license you want to renew and click on Renew now or Renew license. When the license is about to expire, you will be notified by email, so you don't have to worry.
What happens with your subscription if you choose not to renew it
Each annual subscription can be turned into a single payment because it can be stopped anytime you want.
The license works like this: you pay the fee for a one-year license which grants you access to our extensions (so you can download them), premium support, and updates.
This does not mean that you will be able to use the Modula PRO for only one year, you can keep it and use it for however long you need along with all its premium features and options.
If you stop the yearly payment, the only thing that will expire is your license, after a year, and with it the option to use Modula's extensions (Modula Albums, Modula Speed Up, Modula Video, etc), to update the extensions, as well as the premium support. However, Modula Pro (lightbox settings, caption settings, hover effects, filters) will still be active and will not be converted back to the lite/free version installed on your website and still using it.
About The Author

Miha B
Mihaela has a strong affinity for literature - from the classical to the contemporary, she finds great solace in the written word. She is a dog enthusiast and has a particular fondness for spending time with her furry friends.