How To Filter Your Image/Video Portfolio By Category In WordPress (Using Modula Gallery)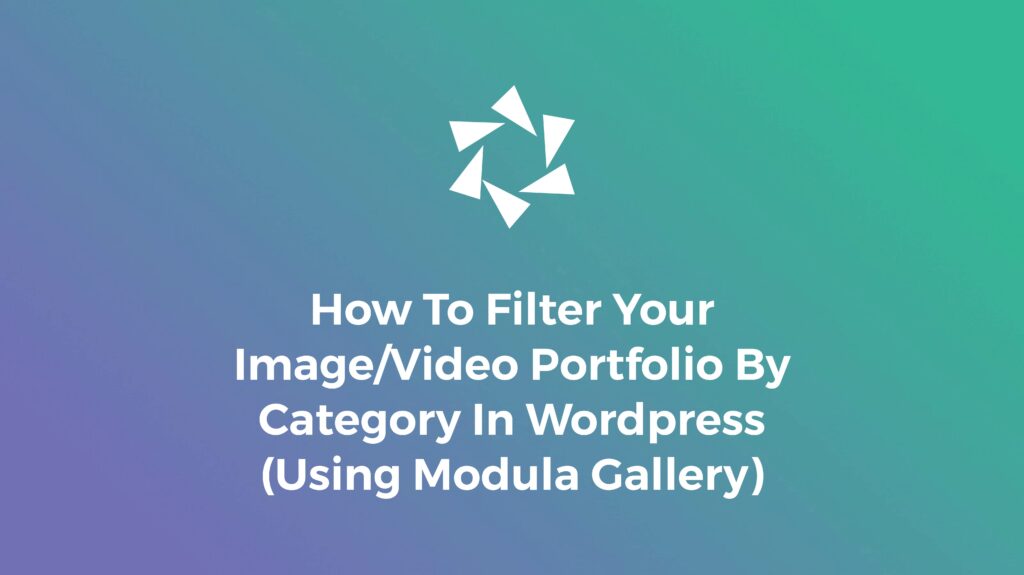 Looking for a WordPress photo gallery plugin designed to help you create galleries with categories? Welcome aboard! We're here to show you all the steps to filter your WordPress portfolio by category, taking advantage of such a plugin.
---
This article will show you:
Best portfolio plugin with categories;
How to setup a gallery wall in WordPress with categories;
More customization for your WordPress gallery with category filter;
And much more.
---
---
Why use Modula to create a WordPress image gallery with categories?
Are you looking for an easy way to filter your WordPress portfolio? Modula comes to your aid. It doesn't require any coding skills; it is user-friendly and fully mobile responsive as well. You can use a lot of features to create and style your galleries. Here are some examples of what kind of galleries you can create with Modula:
---
How to create a WordPress photo gallery with categories using Modula?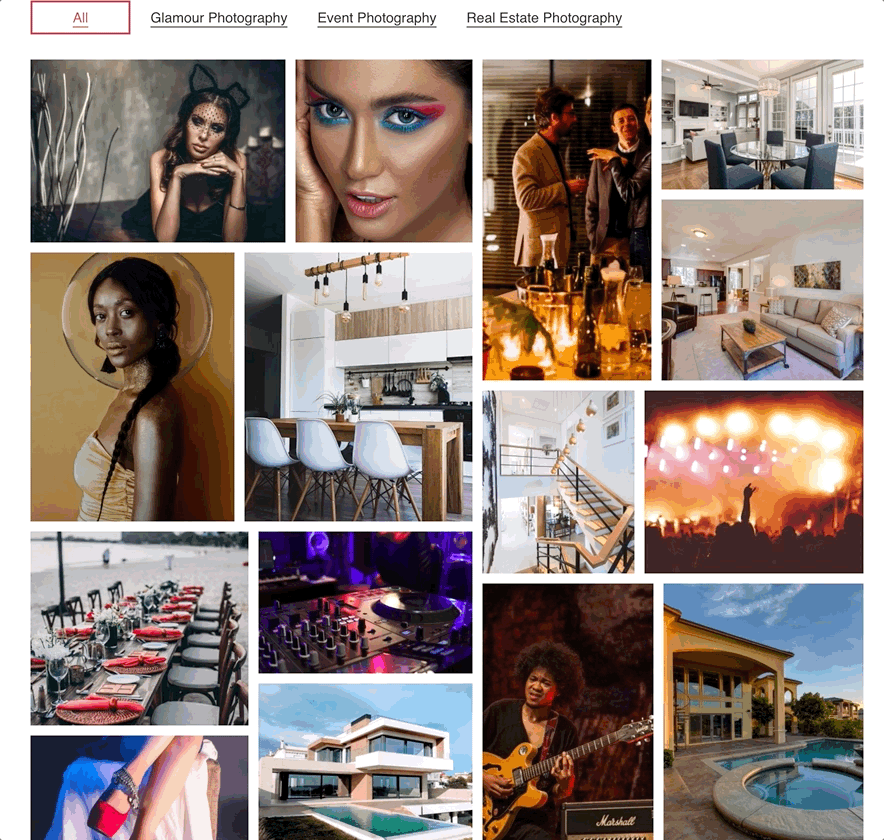 Creating a new gallery with Modula is an easy and short process. It won't take you more than one minute. After that, you can edit it for how long you will like.
In order to create a WordPress gallery with categories, we need to install and activate Modula. Once you have the plugin installed and activated, you can start creating your portfolio.
---
Step 1: Create a new gallery portfolio with categories
To create a new photo gallery with categories and filters, go to Modula > Galleries > Add New.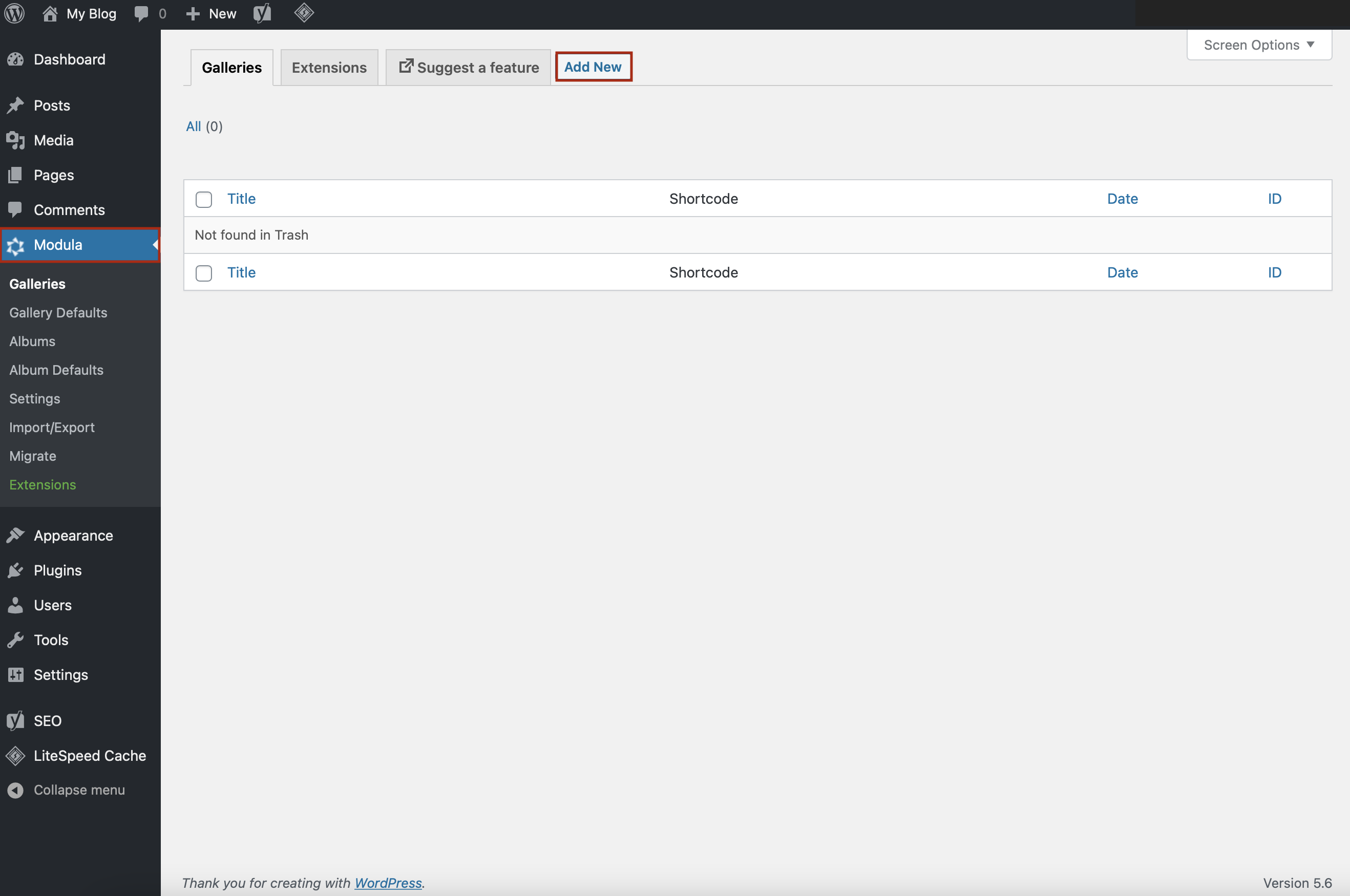 Next, add a suggestive title and start uploading images or selecting them from the Library. You can organize your images as you need with the drag and drop builder.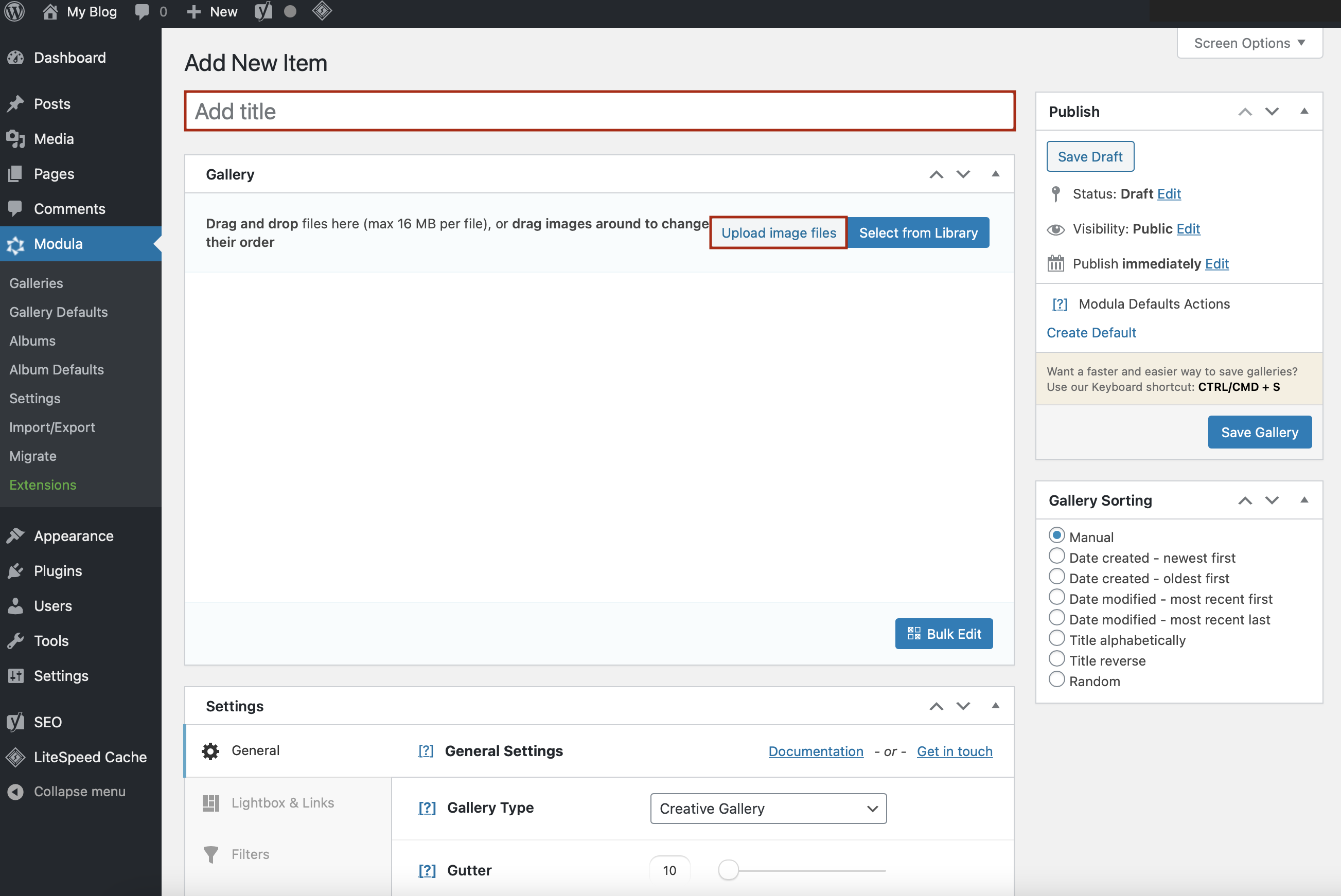 ---
Step 2: Filter WordPress portfolio by category
Your gallery can contain many images, so it will be easier for your visitors if you sort them using filters. You can do that with Filters functionality. Go to Settings > Filters > Add new filter and write down as many filters as you need.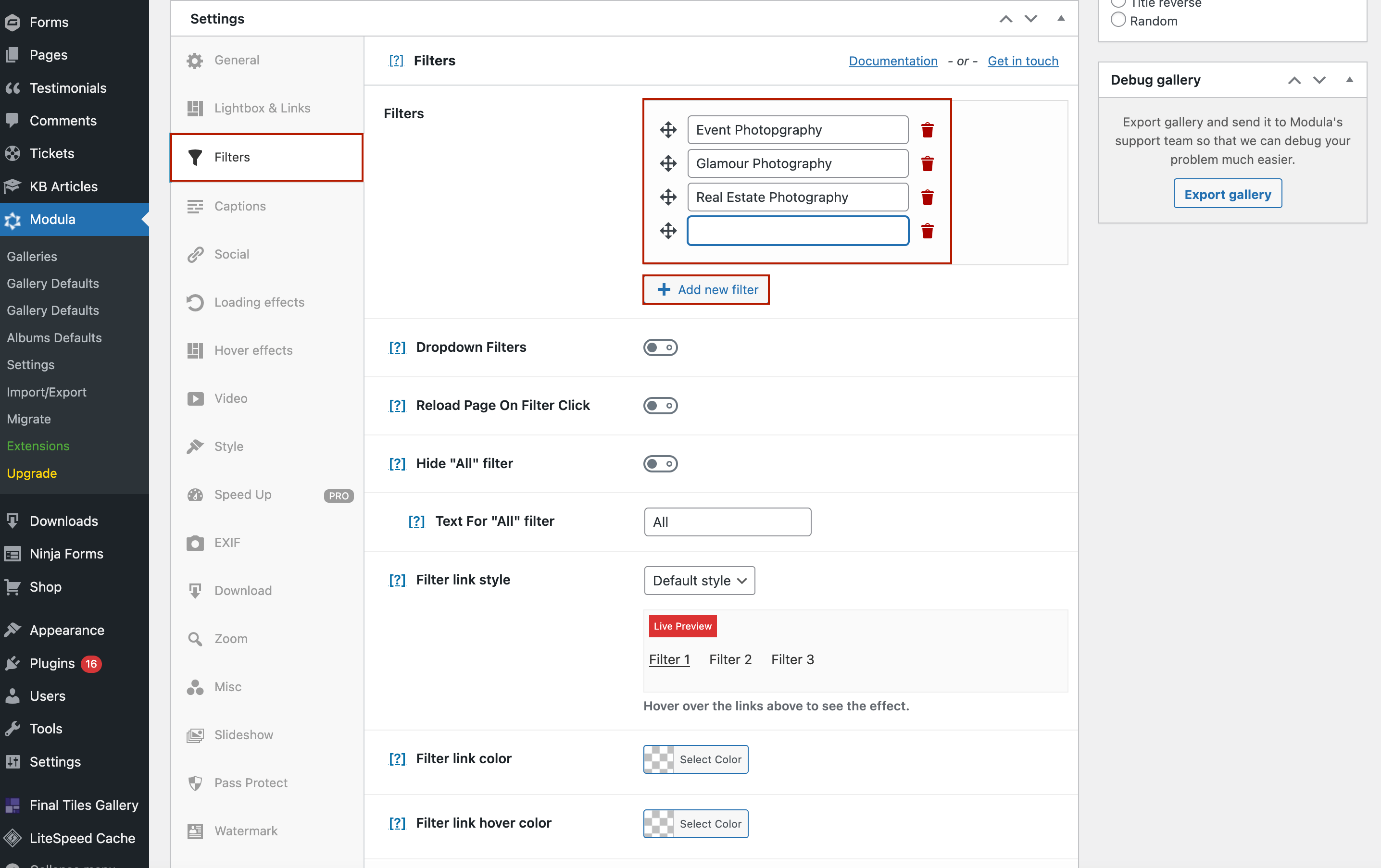 After creating filters, you need to assign images to them. All you need to do is to go over an image and click on the edit icon. This icon is on the left side of each image.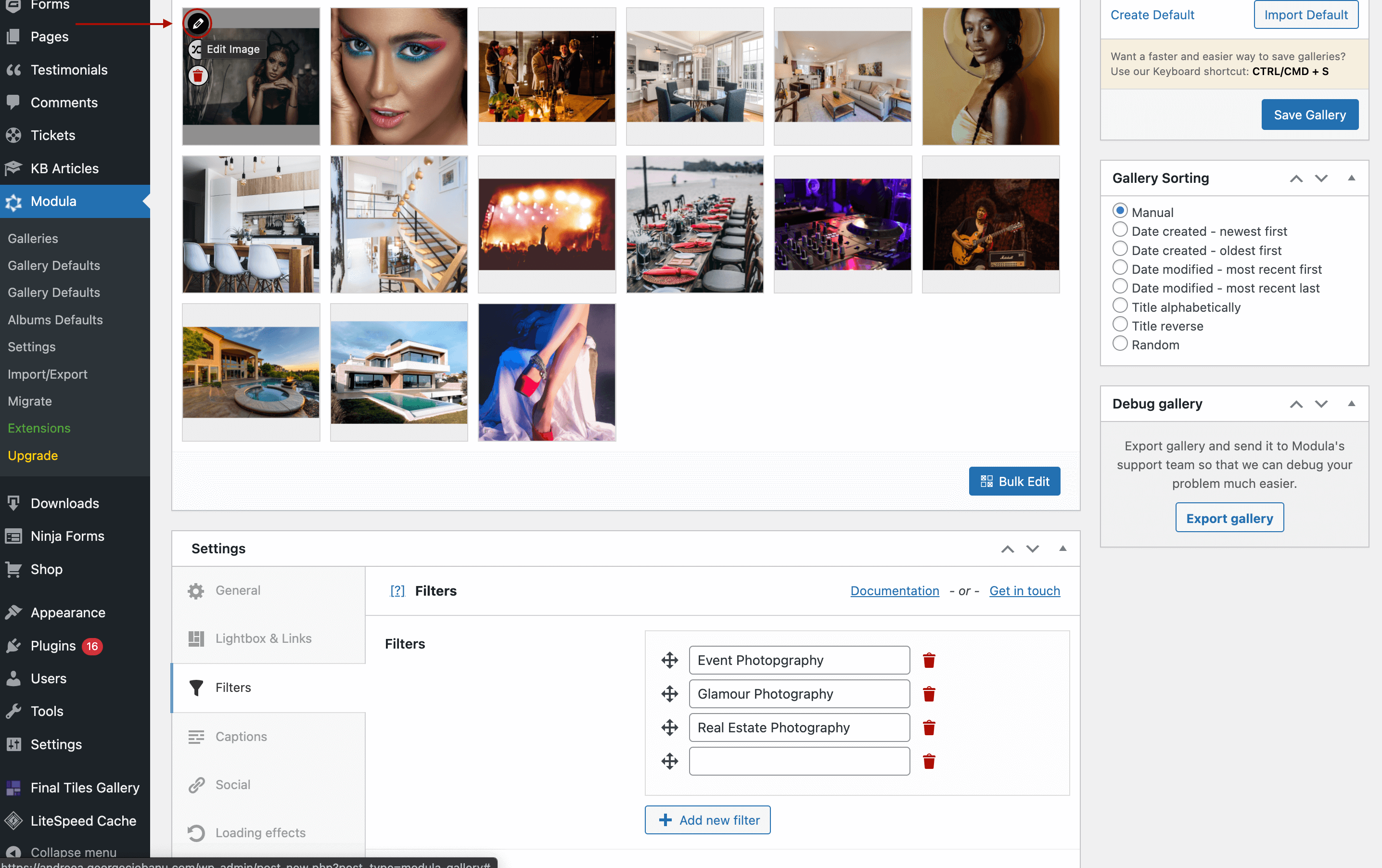 Go all the way down to the filters section and add a filter or more, as you like.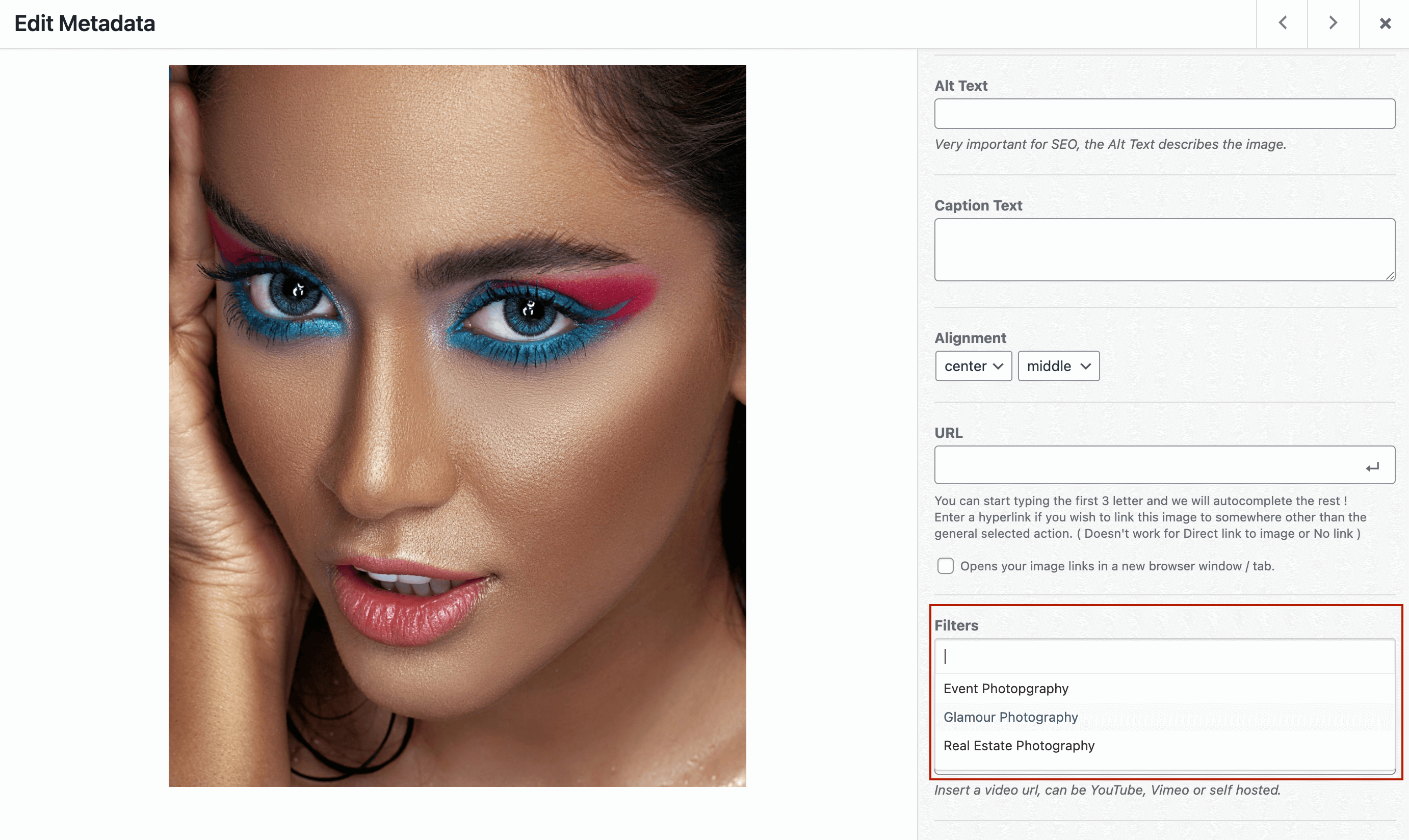 If you want to add a filter to more than one image, you can go to Bulk Edit button.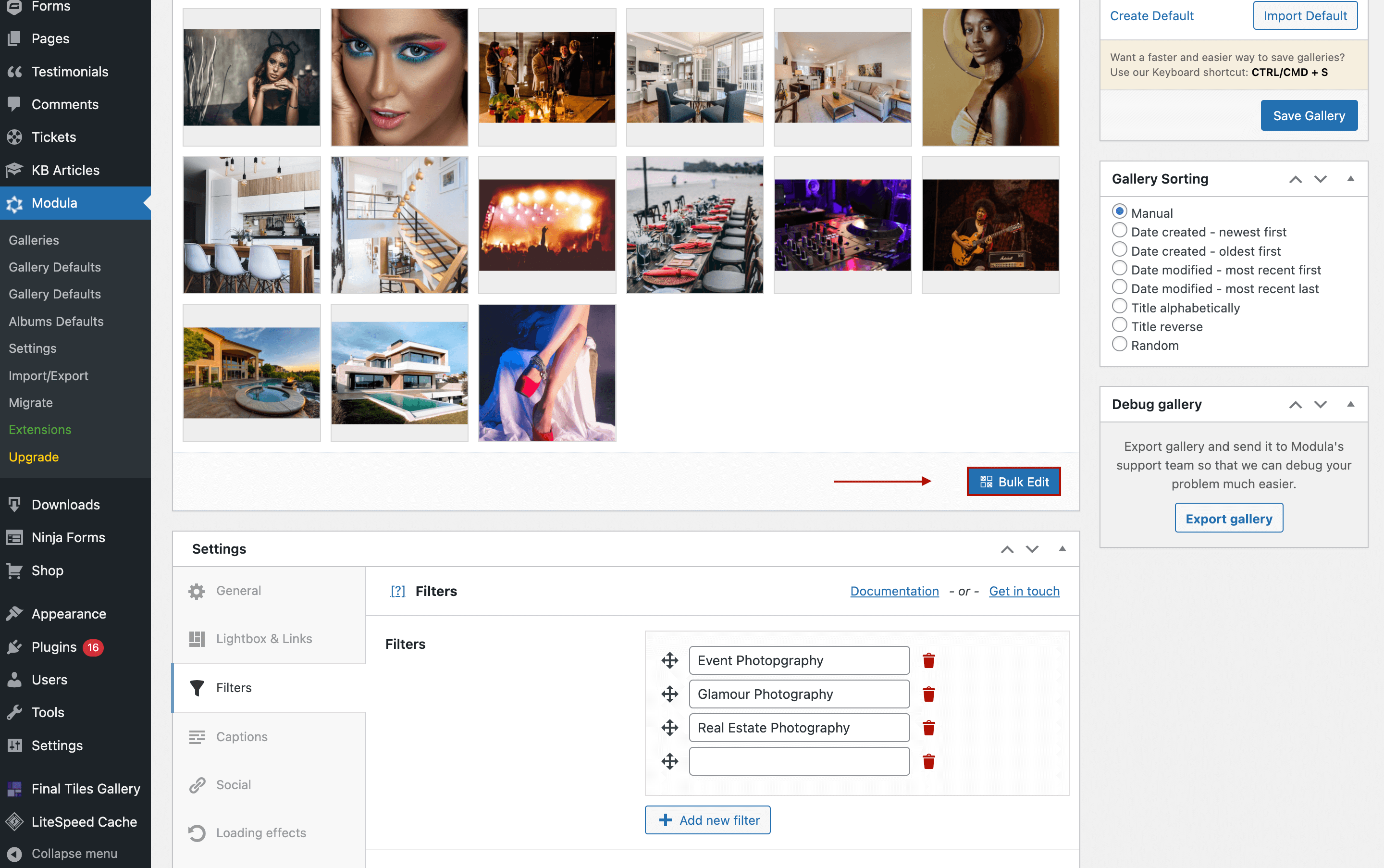 This will take you to a new page where you can select all the images you want to group and add filters from your list.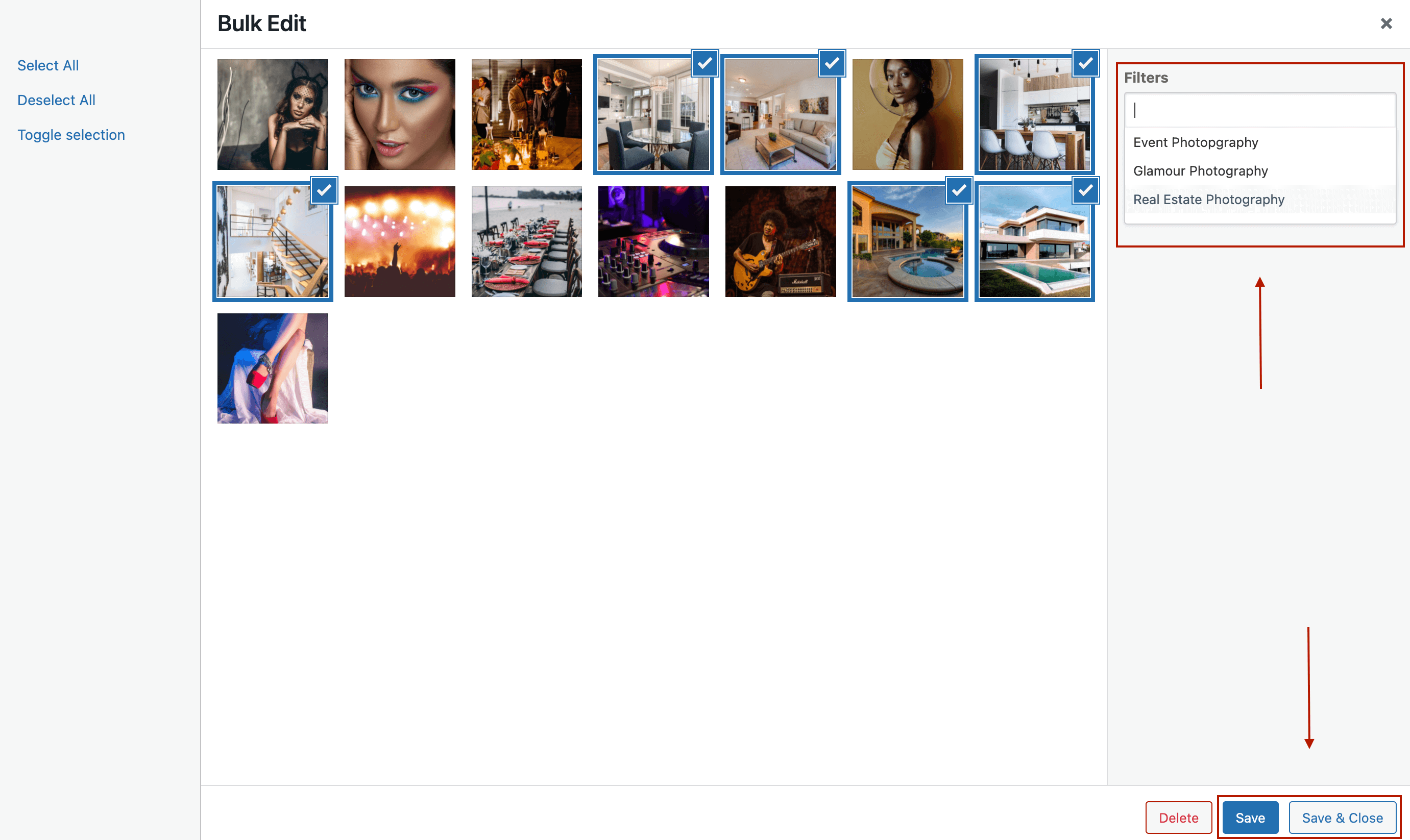 Don't forget to click Save and Save & Close to ensure that your WordPress portfolio is filtered by category. If you want to repeat this process, you can simply click on the Save button and Deselect All, then repeat the process shown below. The process is the same for both image and video portfolios.
---
Step 3: Customize filters
Moreover, after selecting the filters and adding them, there is an option that allows you to edit the way they show up. How can we style our filters to create a photo gallery with categories and descriptions?
Simply go to the Filters section. Here you will find a bunch of features for customizing your filters. You can enable dropdown, and as a result, it will display filters on the page as a dropdown menu. Furthermore, there is an option of reloading the page when a filter is clicked.
If you're wondering how to hide all filters in the Modula gallery, just tick the Hide "All" filter, and they will disappear.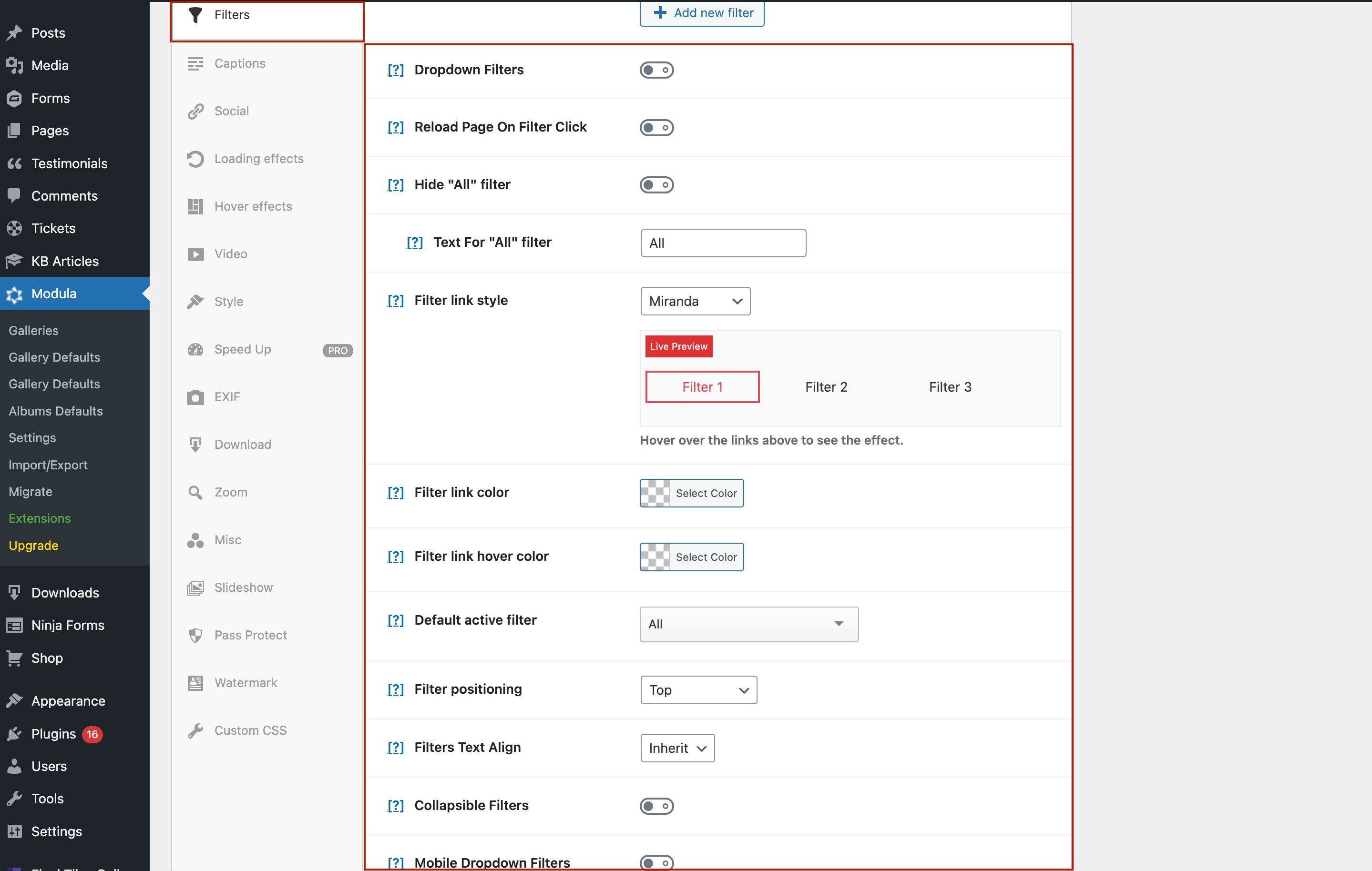 You can change the color for the filter link or filter text. Of course, you can change the color on hover too. There is a default filter that will appear on the page at the beginning. The default filter is All, so all visitors will be able to see all images. After clicking on a filter, it will load the selected option. If you need more customizations for your filters, you can use Modula custom codes to change the filters' font, add padding, increase spacing between filters, and make the font larger.
Once you're done with editing filters, don't forget about customizing the entire gallery.
---
Customize your gallery
The best part about Modula is that it provides four grid types to display your images as you please. Go to Settings > General > Gallery Type and choose a gallery type.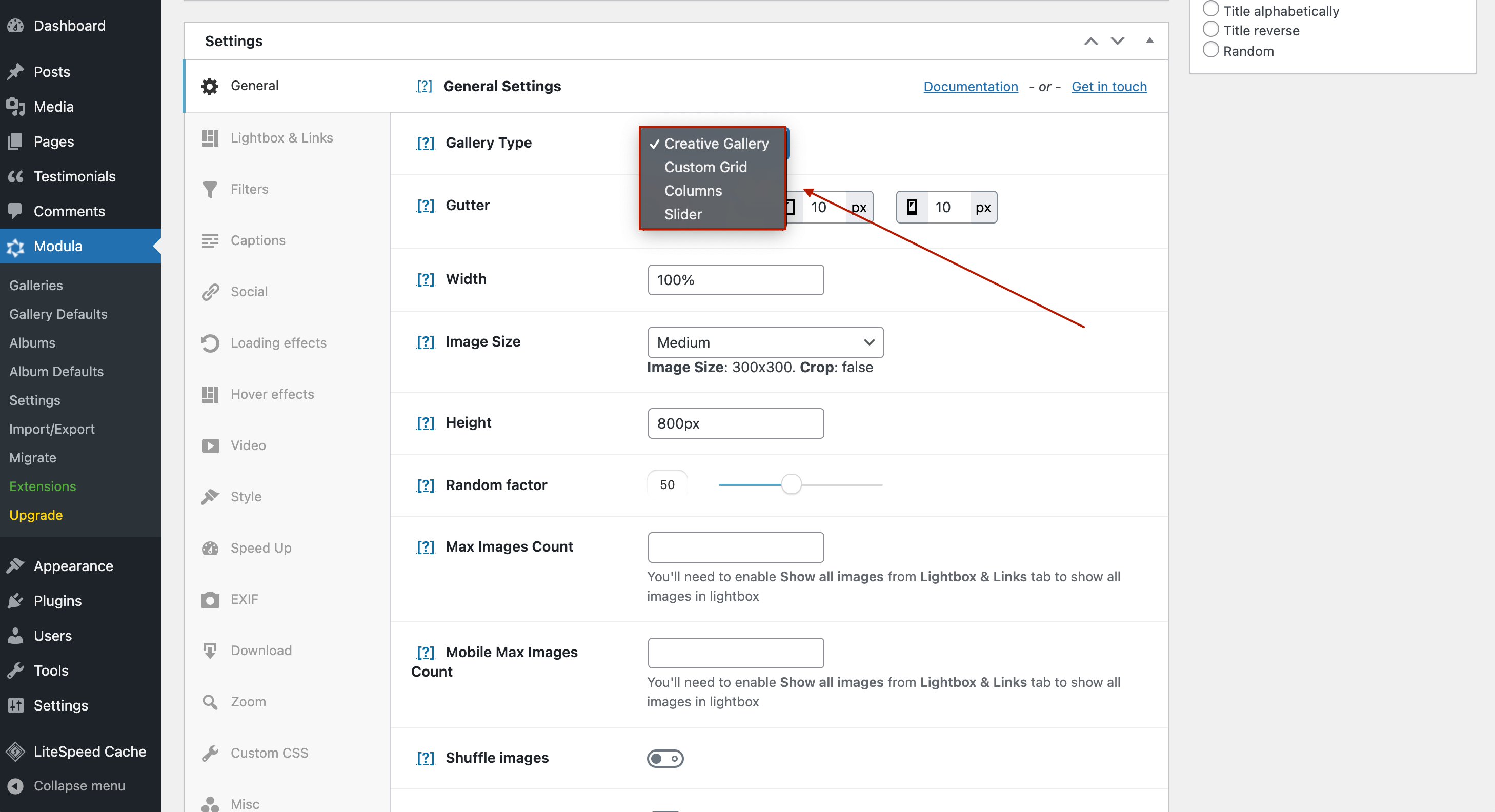 You can also add hover effects for a visually appealing gallery.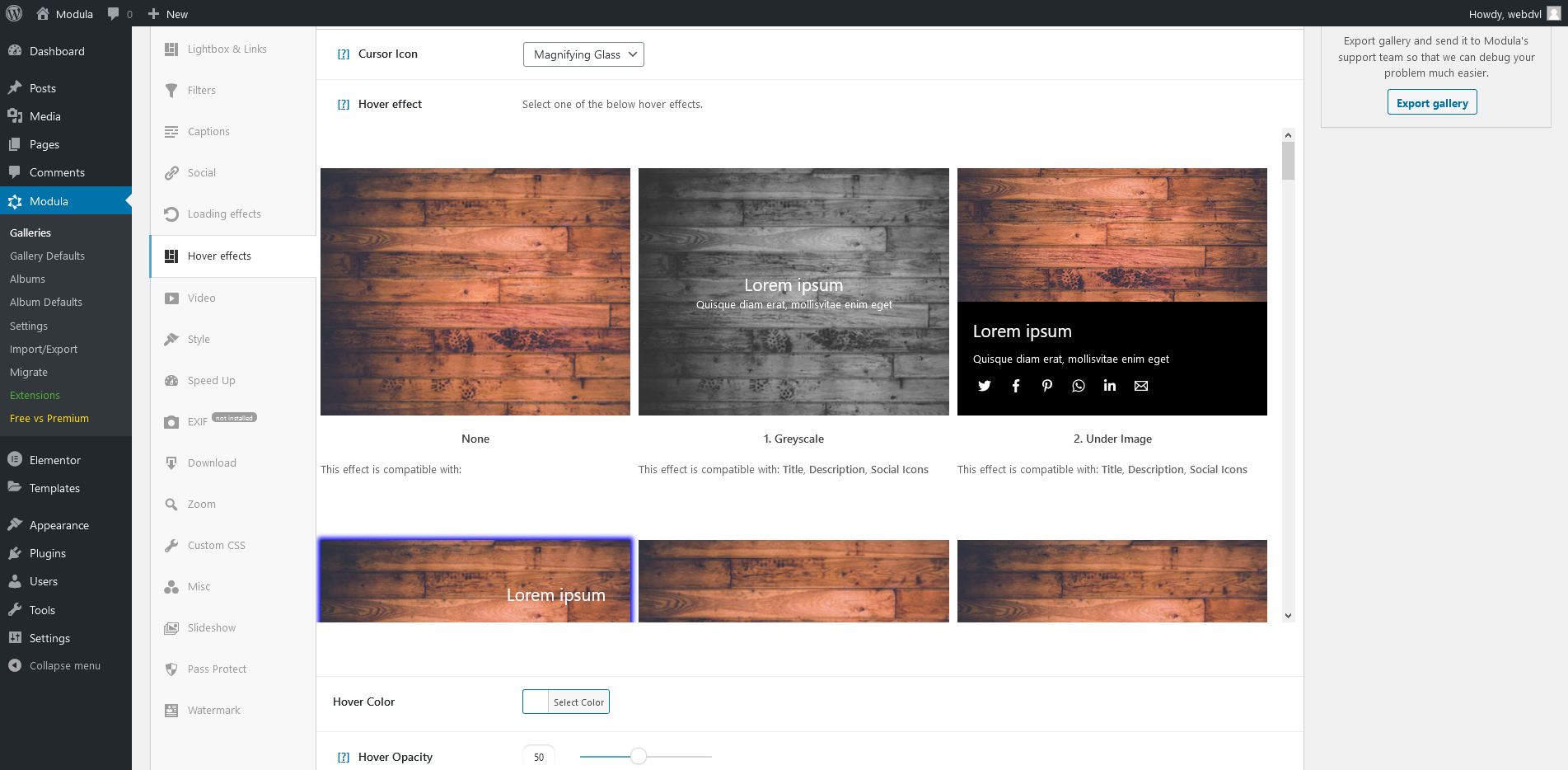 Then, you'd better transform your gallery into a responsive one. But how to create a responsive photo gallery with categories? Go to Responsive > Custom Responsiveness and enable the button. Your image gallery with categories is fully responsive now.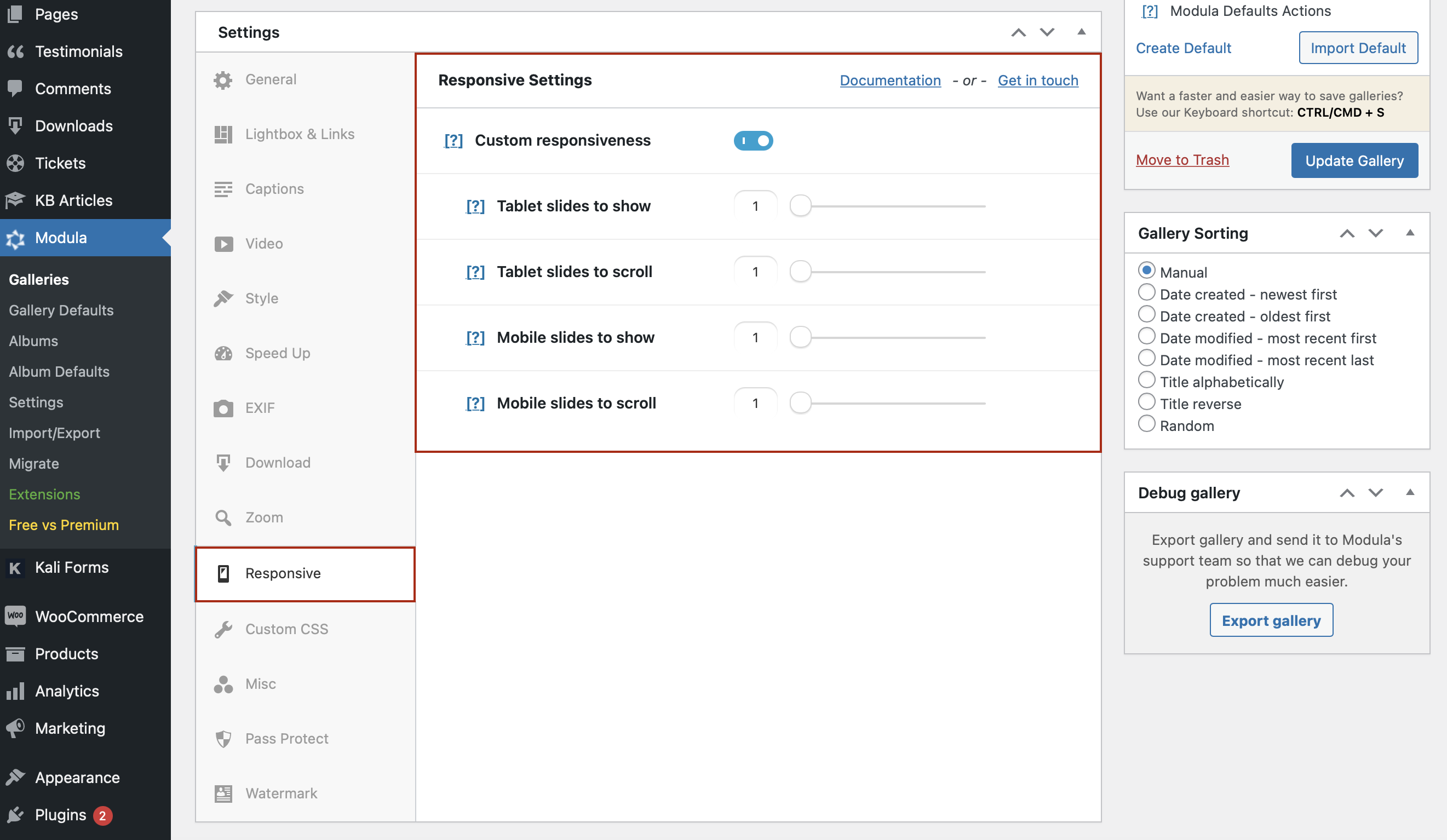 After finishing all the styling for your responsive image gallery with categories, don't forget to save it. Then, add the generated shortcode to your page or post.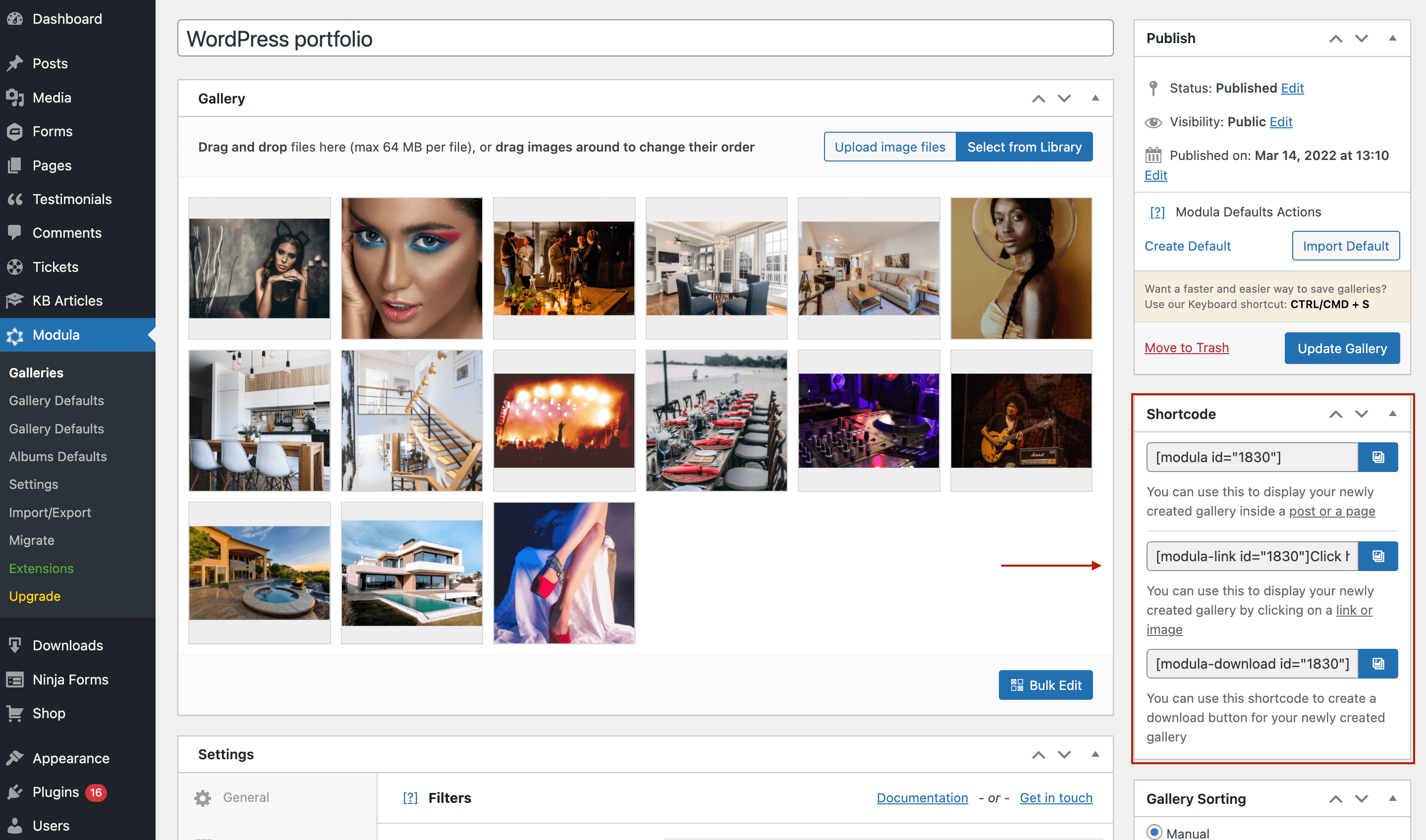 ---
Final thoughts – How to filter WordPress portfolio by category
Modula is a perfect choice for anyone looking for a powerful plugin designed to style galleries. It is an easy-to-use WordPress photo gallery plugin with categories suitable for both beginners and professionals. The steps to create a gallery grid with categories are easy to follow and don't require code skills. You can achieve all this with Modula's Starter pricing plan.
Create your WordPress gallery with Modula and you won't be disappointed.