Upgrade your license from your account
You will need to go to your account page by clicking here. From there you will be able to upgrade to another plan. For example, if you have the Starter plan and want to upgrade to Trio or Business you can do so directly from your account by following the next steps.
Once you are in your account you will see your user dashboard and purchase history > click on View Licenses.
Just go to View licenses and once there you will see your license, its activation limit, status (expired, active, inactive, disabled), expiration date, extend license, manage sites, and view upgrades.
To upgrade your license, click on ' View upgrades' and on that panel, you will see the upgrade possibilities and the price.
If you have the Starter plan, you will see all three upgrade options: Trio and Business. If you have the Trio plan, you will only see the upgrade link for Business.
Click 'upgrade license' for the one you want and it will send you to the checkout so you can purchase that upgrade.

At the checkout, you will see the upgrade added to your cart.
Downgrades are not currently possible. If you want to downgrade your plan you will have to wait for your subscription to expire and then purchase another plan.
Upgrade your license using an URL
Another way to upgrade is using this URL: wp-modula.com/pricing/?license=your_license_key
You will need to replace 'your_license_key' with your Modula key > and then paste this URL in your browser's address bar > hit Enter and you will see the pricing page with the upgrade options.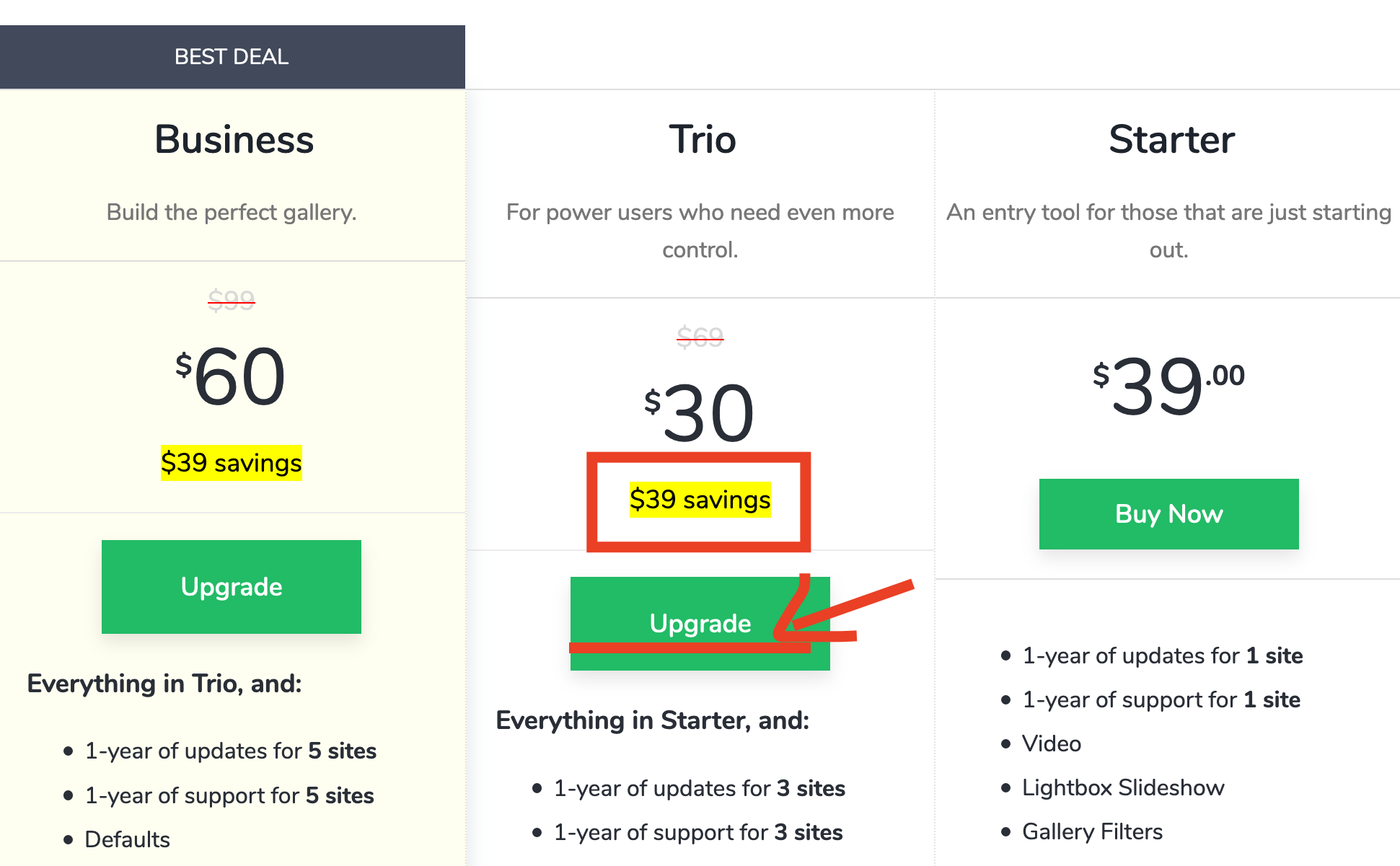 For each upgrade, you will only pay the difference between the 2 plans. If you already purchased a Starter license and want to upgrade to Trio, you will only be paying $30.
Upgrade your license through your WordPress dashboard
You can also upgrade your plan from the dashboard in WordPress. Just go to your WP dashboard > Modula > click on Extensions.
If you have a plan that can be upgraded (Starter/Trio) you will see the extensions to which you can upgrade to. You need to click the Upgrade button under the one you want in order to upgrade to a different plan.
After you click on the Upgrade button you will be automatically sent to the pricing list displaying your upgrade possibilities > choose the one you want to purchase and click Upgrade.