How to install an extension?
To get started, you have to log in to wp-modula.com/my-account
After logging in to your Modula account, please access My Account > Purchase History.

Then to download Modula Right Click Protection click on 'View Details and Downloads'. Click on it and it will download the zip file to your computer.
If you are using the browser Safari on a Mac, when you download the zip file it extracts the file from the archive directly to your computer (you might only see the file folder with the plugin's files in it, instead of the zip). If that is the case, then try and download the zip from your account using a different browser, or check your Trash, as the zip file should be there. To see how to prevent Safari from unzipping files please follow this tutorial.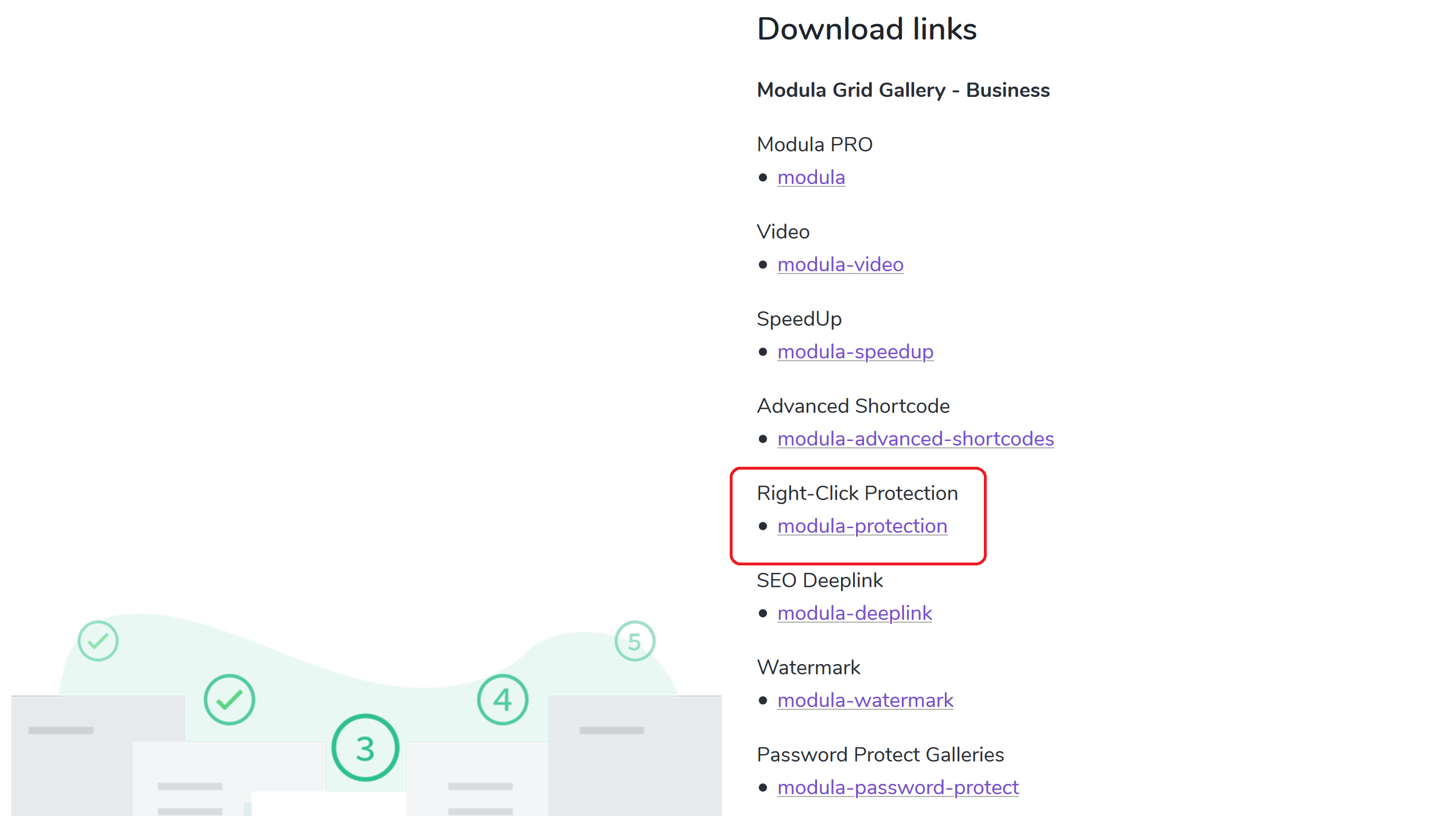 To install and activate the plugin, go to your WordPress dashboard, and follow the steps:
Go to your dashboard > Plugins > Add New > Upload Plugin > select the .zip file you downloaded from the wp-modula.com website. After this, click on the 'Install Now' button, and wait for the file to load. Lastly, press the 'Activate' button to get it done.
If you need help uploading the extension to your WordPress site please follow this tutorial here. You will need to watch 'Method 2: Upload Plugin' timestamp 1:24.
Modula Right Click Protection
Modula Right Click Protection will allow users to prevent visitors from downloading images by disabling right click and Alt+click. This premium extension allows you to retain full ownership of your creative work. To deter visitors from downloading images it also disables CTRL+U so they cannot see the page's source code. 
To activate this setting you will have to have this extension installed. Please see here how to install extensions from your account.
Once installed and active, you can enable it by going to your WP dashboard > Modula > Galleries > edit your gallery > scroll down to Misc under Settings > and toggle it to 'ON'. Click here to see a gallery with this feature turned on. You will notice you cannot right-click on this page nor when you open the lightbox. Opening the page source using CTRL+U is also disabled.